As a wedding photographer, you often spend more time with the bride or groom than many of their friends or family. It's important to establish a good relationship with the couple, so they relax in front of the camera and let you capture natural moments throughout the day.
We always feel privileged to share a couple's wedding day with them and love to capture all the little details they have worked hard for months to organise.
When I first met Kirsty and Robert they were both so easy to get on with and were happy for us to advise and guide them on how and when would be best to take photos. So when the Big Day finally arrived with more sun than we'd seen for weeks, we were really excited about the day that lay ahead.
I started my day with Kirsty and her maids as they were getting ready.
The colour theme was "Cadbury purple".
From the window, the girls were able to see the guests as they arrived at the hotel without being seen themselves.

While Kirsty and her maids were in one end of the hotel, Robert and his ushers were getting ready at the other end.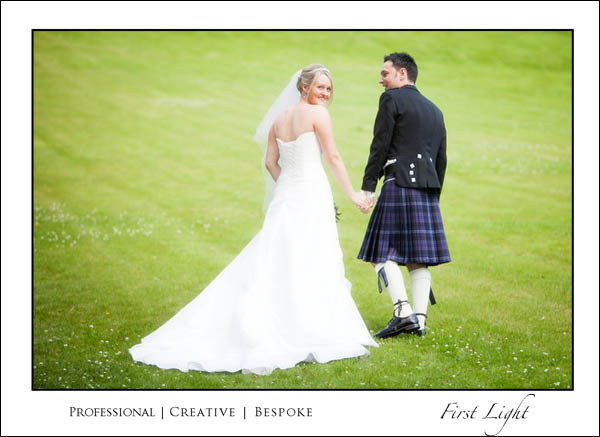 After dinner, many guests headed back outside to enjoy the warm evening sun.
Warm-up act before the first dance…
Not everyone appreciated the music…
We had such a fantastic time capturing this wedding! Kirsty and Robert are so close to their family and friends- we really enjoyed getting to know so many of them.
Kirsty and Robert, we wish you lots of happiness together and hope you are having a brilliant honeymoon.
We look forward to showing you the rest of the photos when you are back!