Wedding Photography, Broxmouth Park, Dunbar
Nathalie is Swiss/ Scottish, Lennert is Belgian. They live together in Switzerland, got engaged in Portofino and were married in Bonnie Scotland – proof that beautiful things grow from a solid, European base 🙂
Below is the story of their beautiful, light, happy, inspired-by-nature wedding.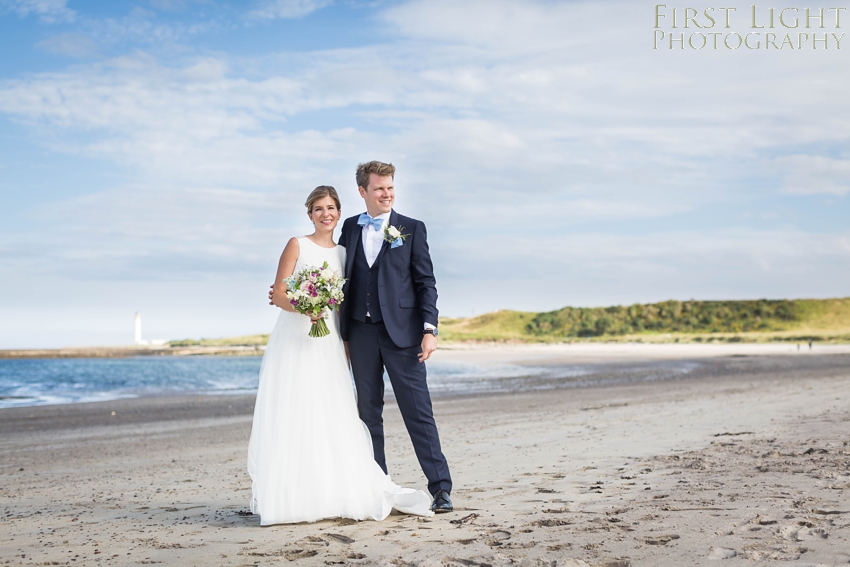 We love shooting weddings at Broxmouth – the house and grounds are great for photography. It was great to be back there in August to photograph Nathalie and Lennert's Scottish/ Swiss/ Belgian wedding. Here's what they had to say about Broxmouth Park:
"We first visited in November, and even on a winter's day, we were stunned. The beautiful mansion is set in a grand, well-groomed park, dominated by a gorgeous Lebanese Cedar. Couples can use the lovely rooms inside the house for more intimate weddings, or the top notch marquee tent on the lawn for larger parties. The food was excellent, even with a large number of guests; and the service during our day was impeccable. Between the lush gardens, the sheep, the horses and the wild deer we spotted in the early mornings, it was a wonderful place to stay and to celebrate our wedding."
We couldn't agree more!
Both Nathalie and Lennert started the day at Broxmouth, though managed to stay out of sight of each other.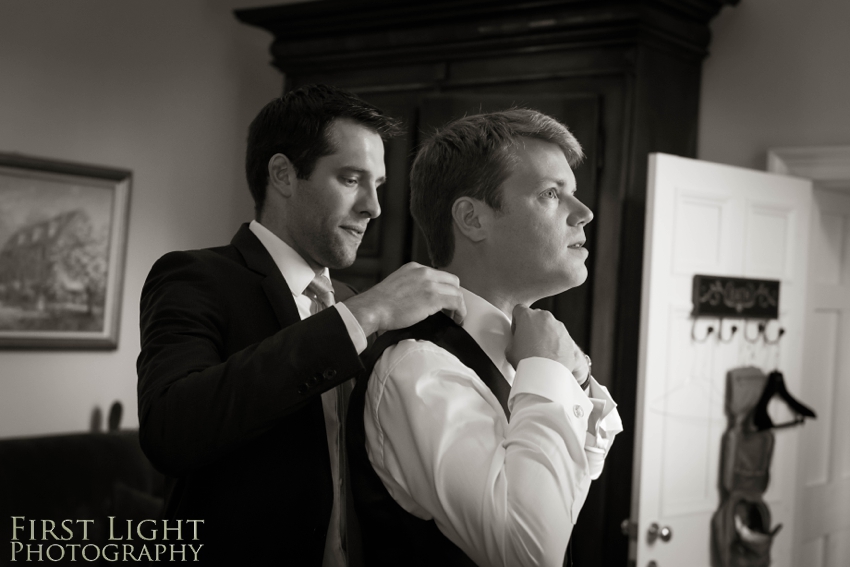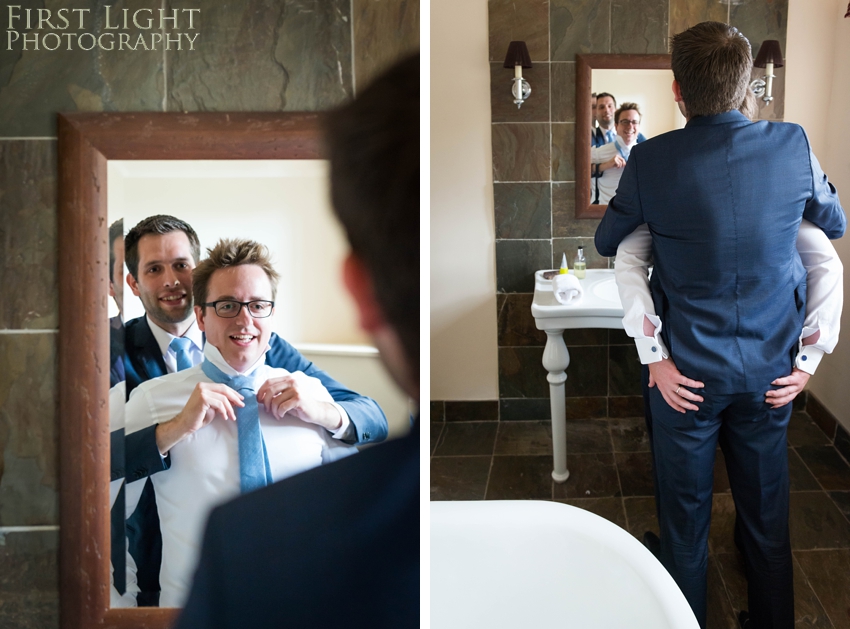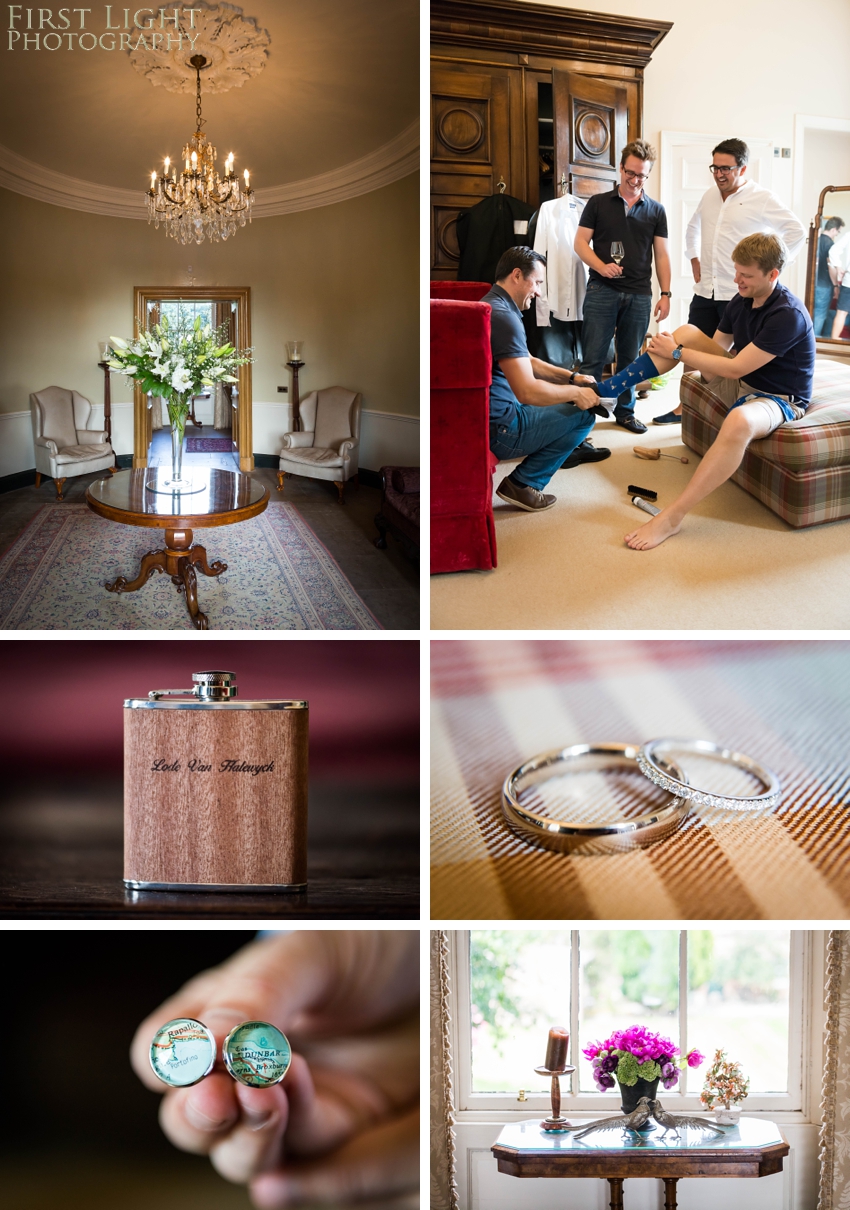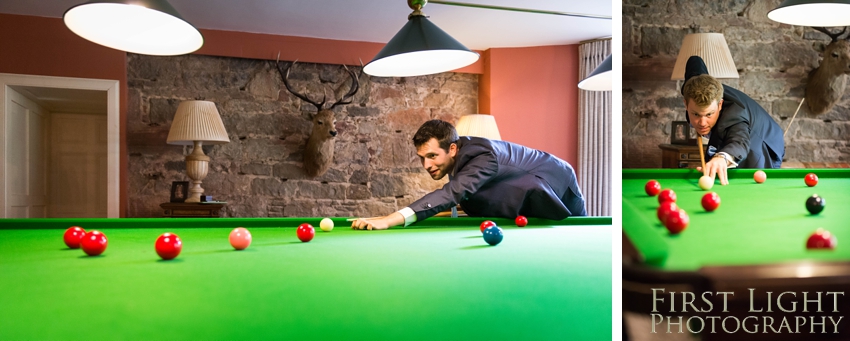 Here is how Nathalie described her dress: "
The dress is completely different to what I thought I wanted. I was going to go with the total princess look with something BIG… I went on the first trials with my mum and my maid of honour; and the first shop owner recommended I indeed go with something big as I only had one shot at such a dress. I tried many on that first day, and several looked really nice, but I just felt like I was dressing up, wearing costumes – not exactly how you want to feel on your wedding day…
I met THE dress on my second day dress hunting, and it just felt like a glove the minute I tried it on. It was dainty with transparent lace in the back, a little bohemian and had that tulle skirt which was the one thing I would not compromise on! By the way, I highly recommend tulle – I somehow cut my finger during the wedding day and the stains washed right off the tulle with just some cold water!
I wore my grandmother's vintage bracelet from the 1920s, borrowed pearl earrings from my mum, and a beautiful headpiece by Lottie Designs. That's about it – I thought the dress did enough and didn't need much more."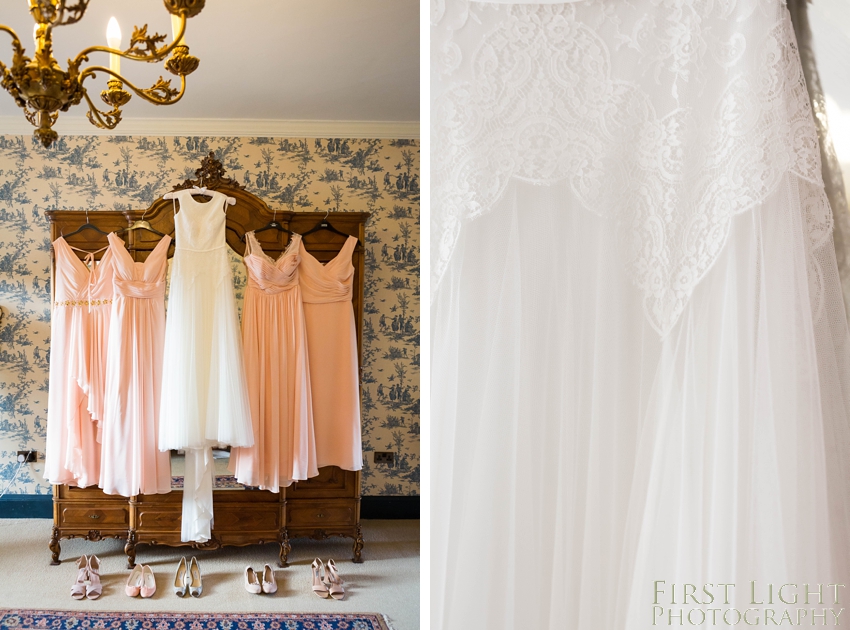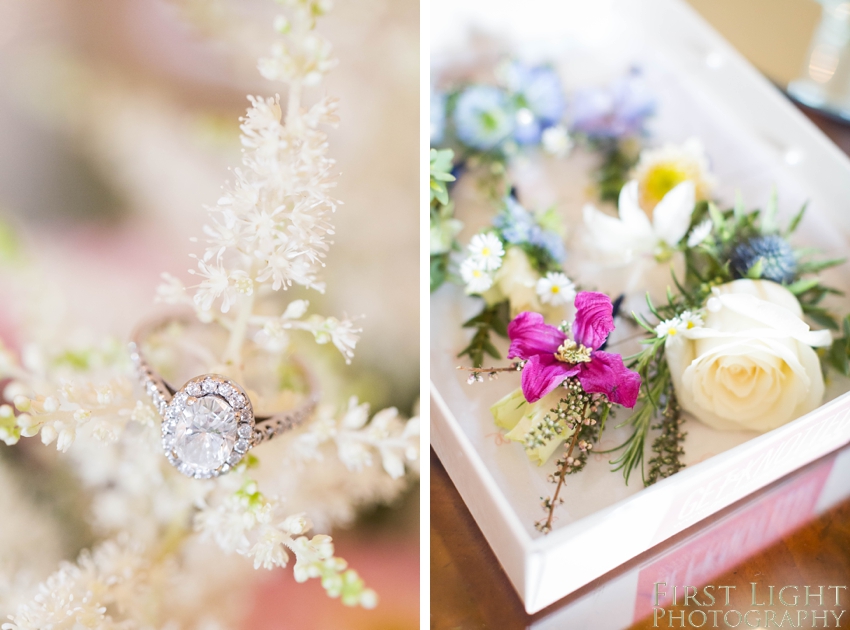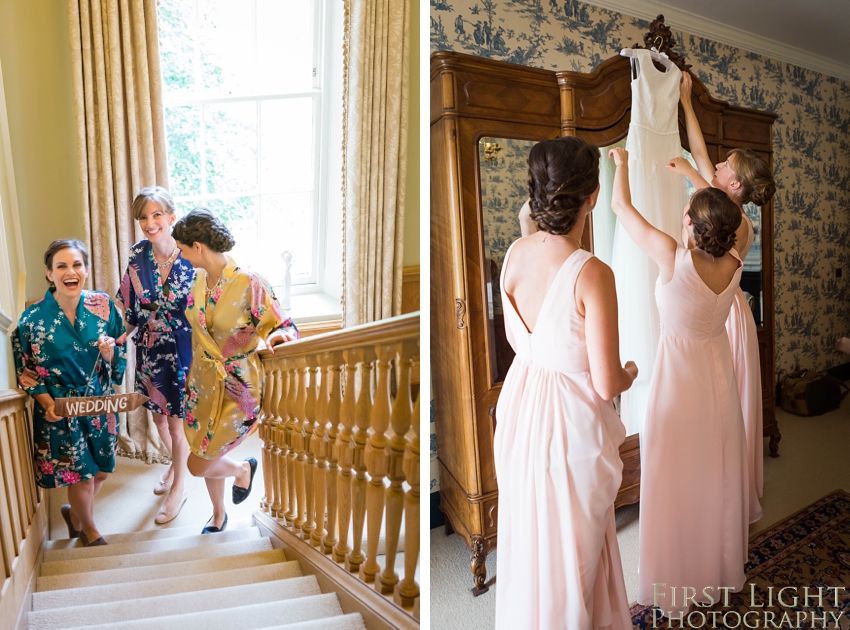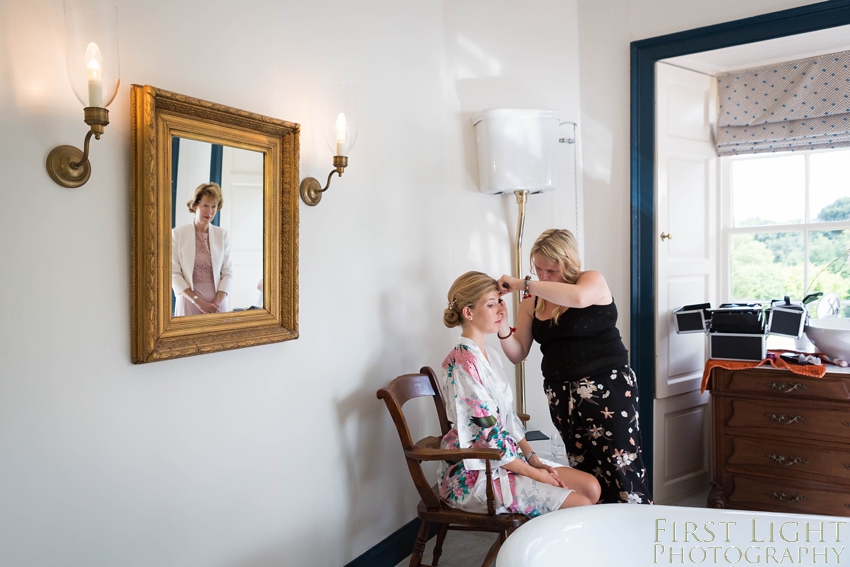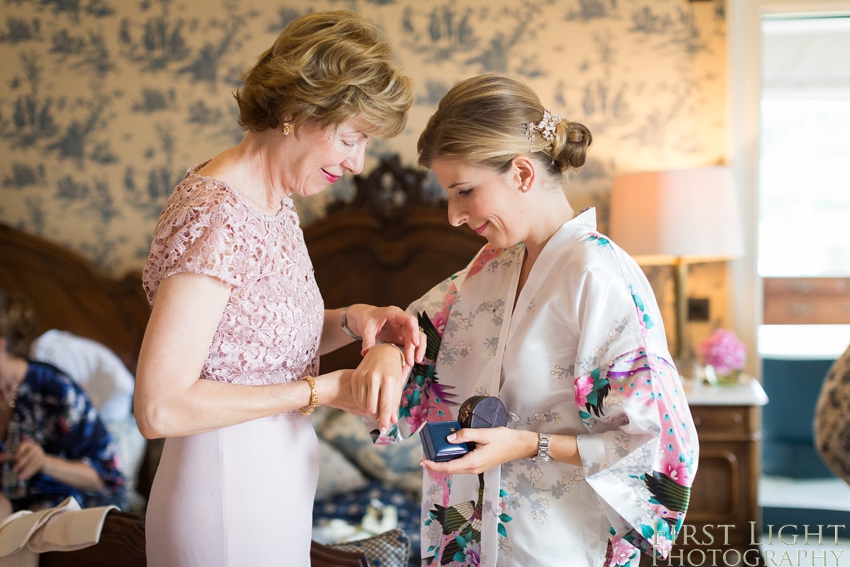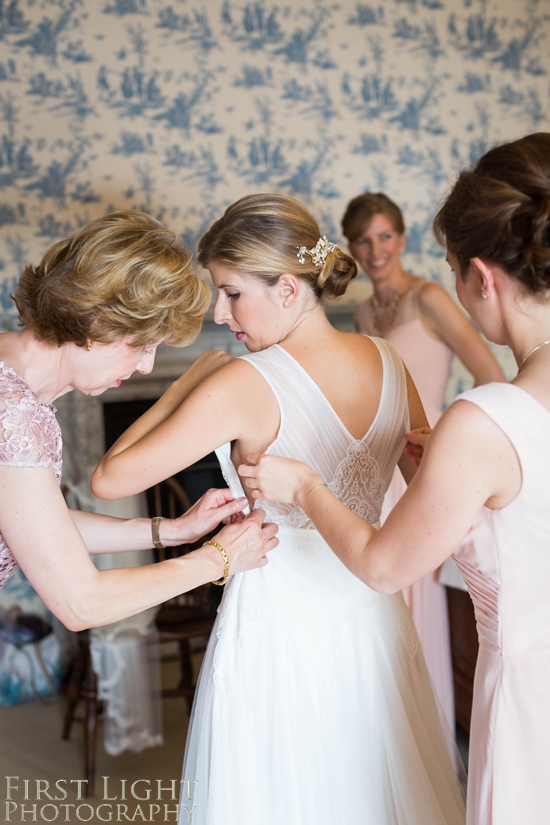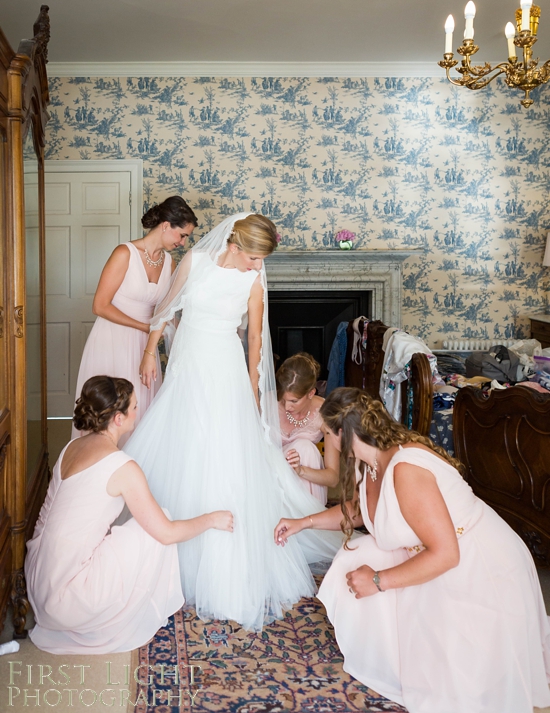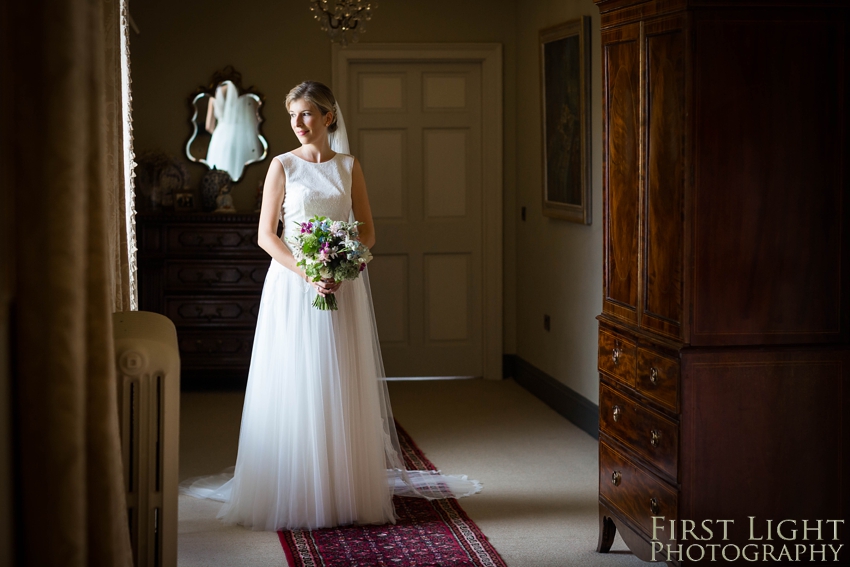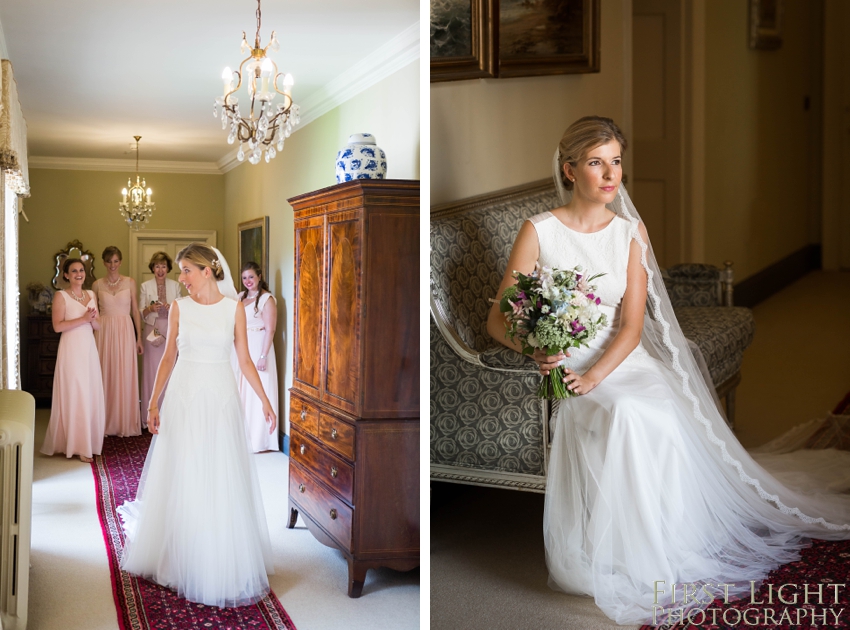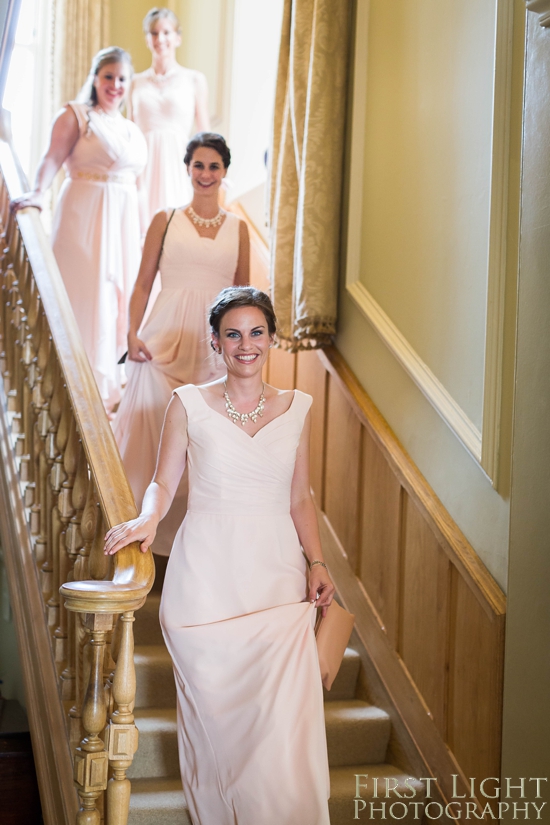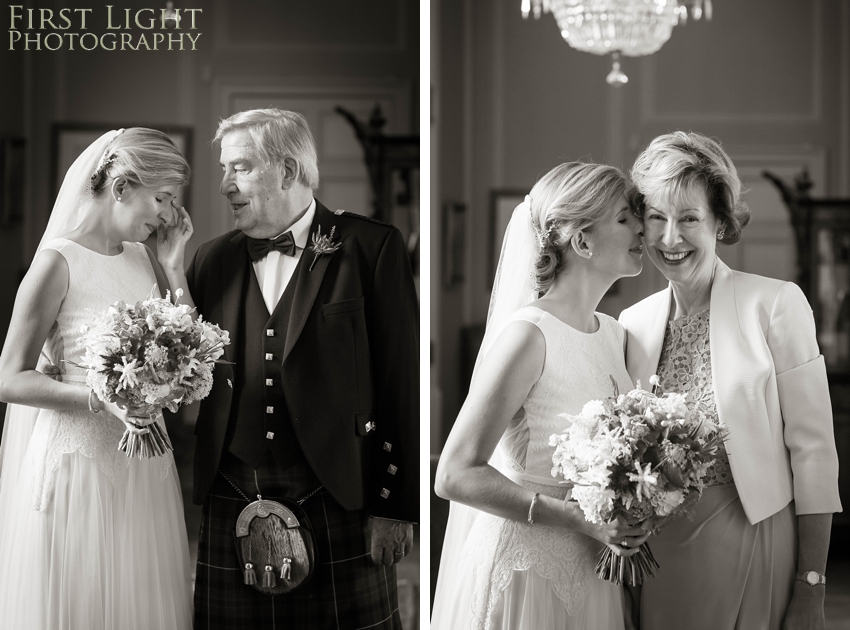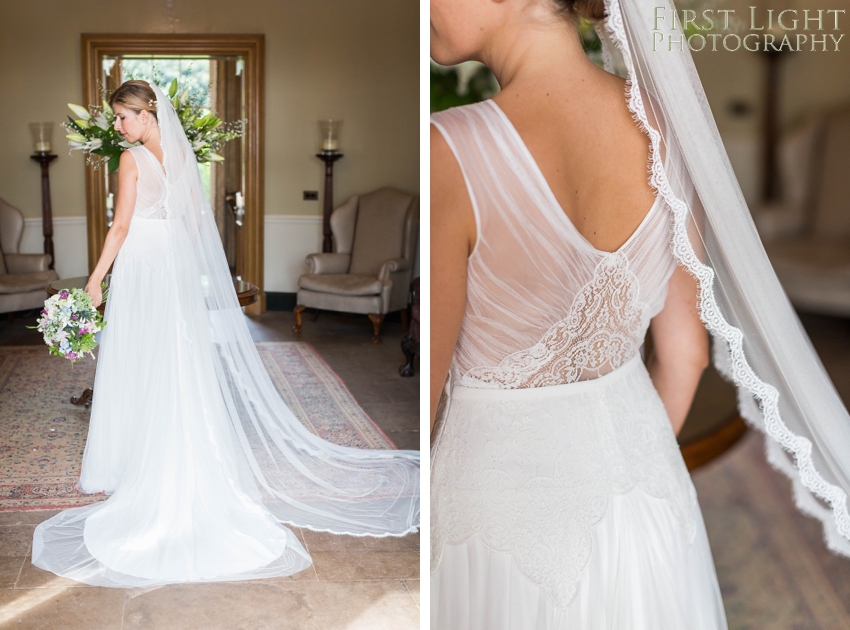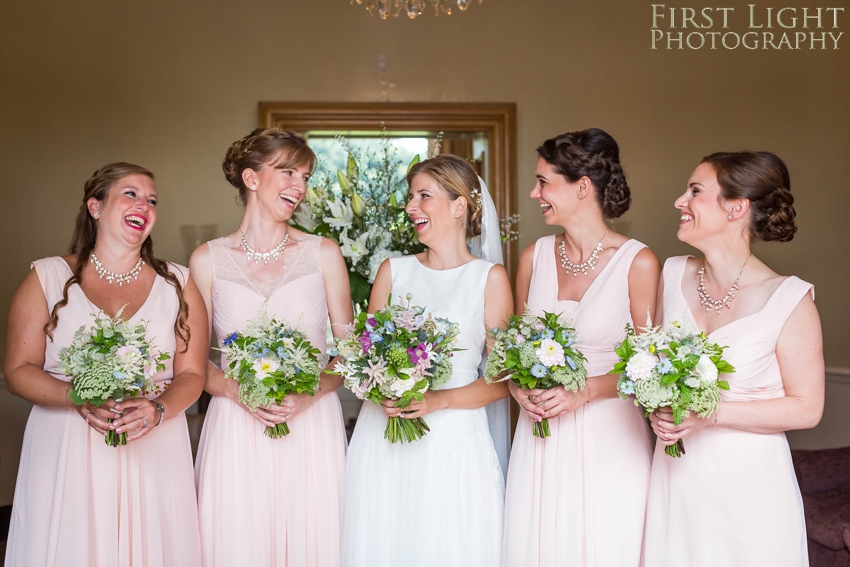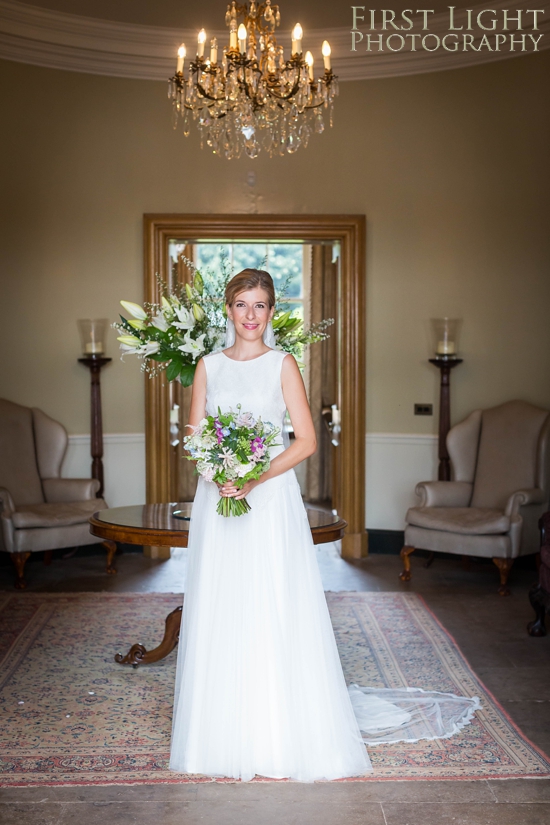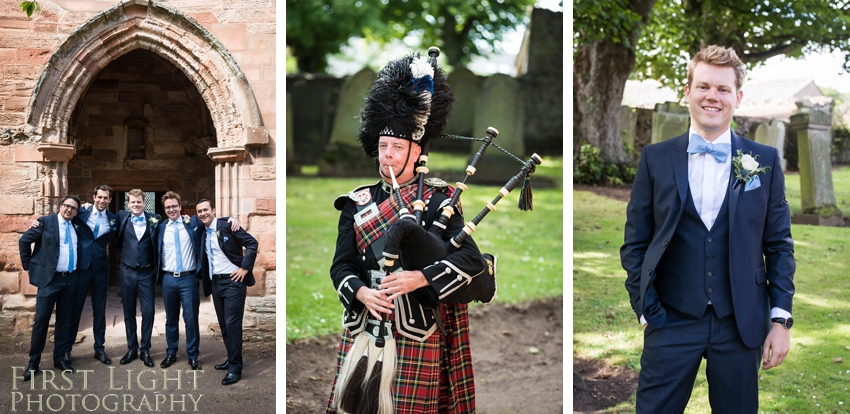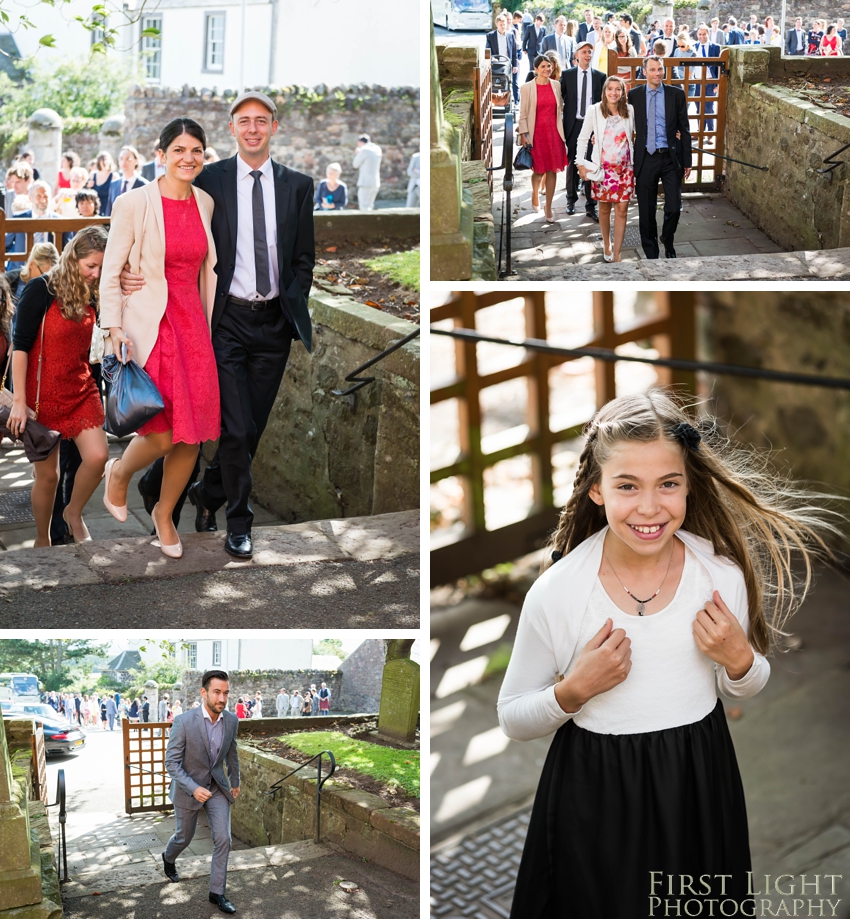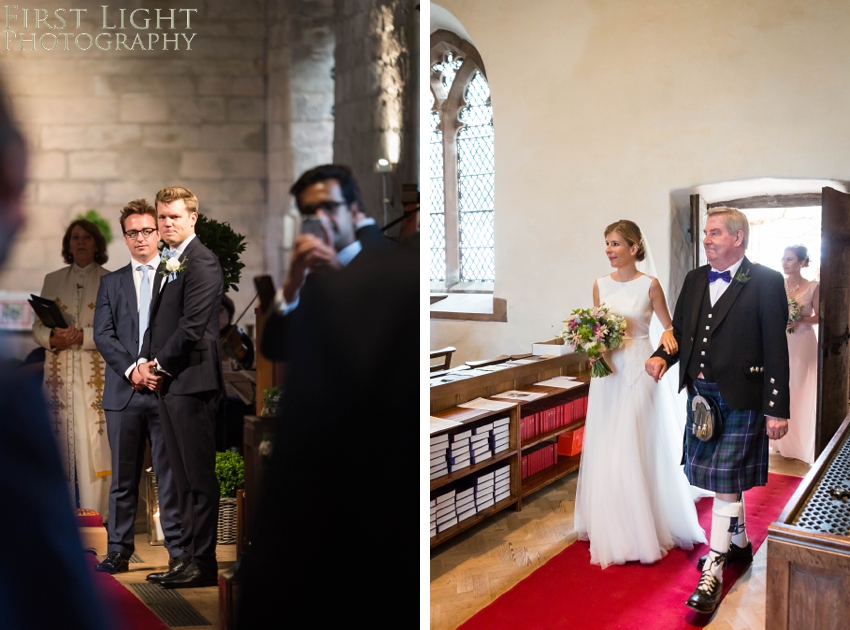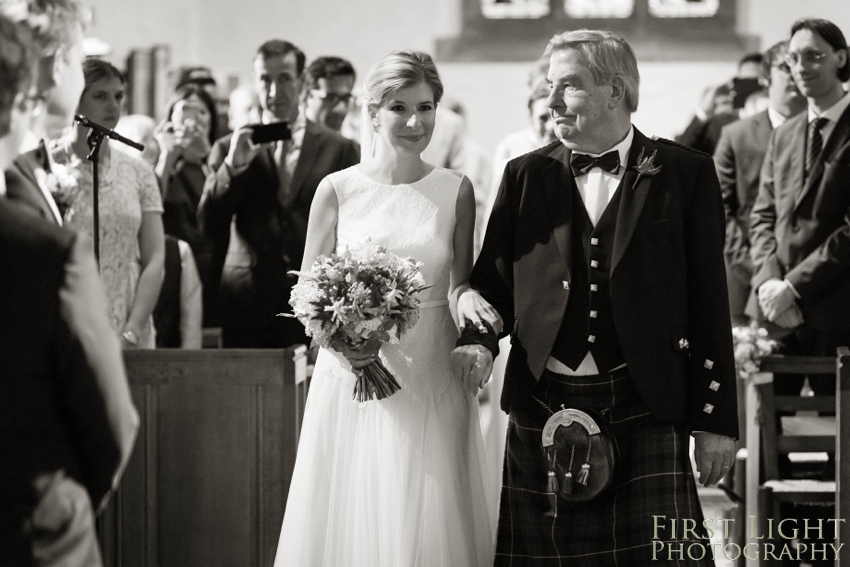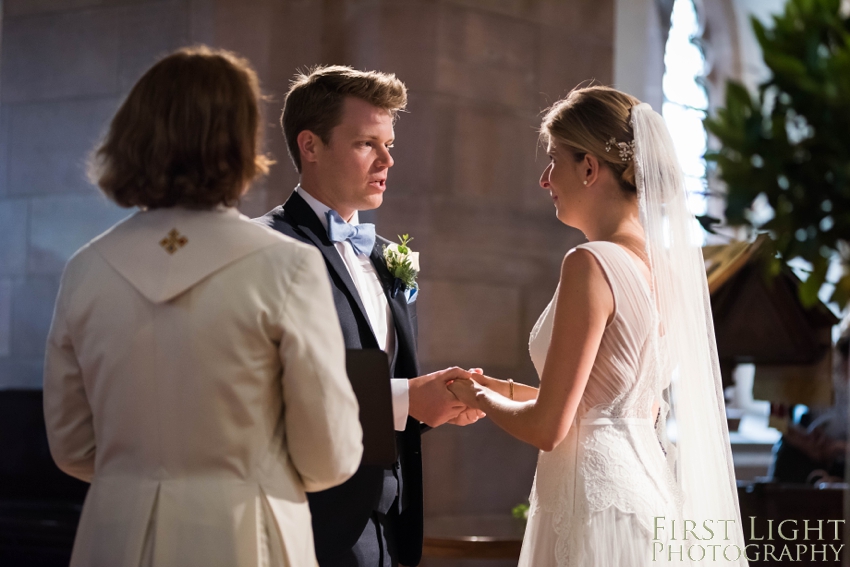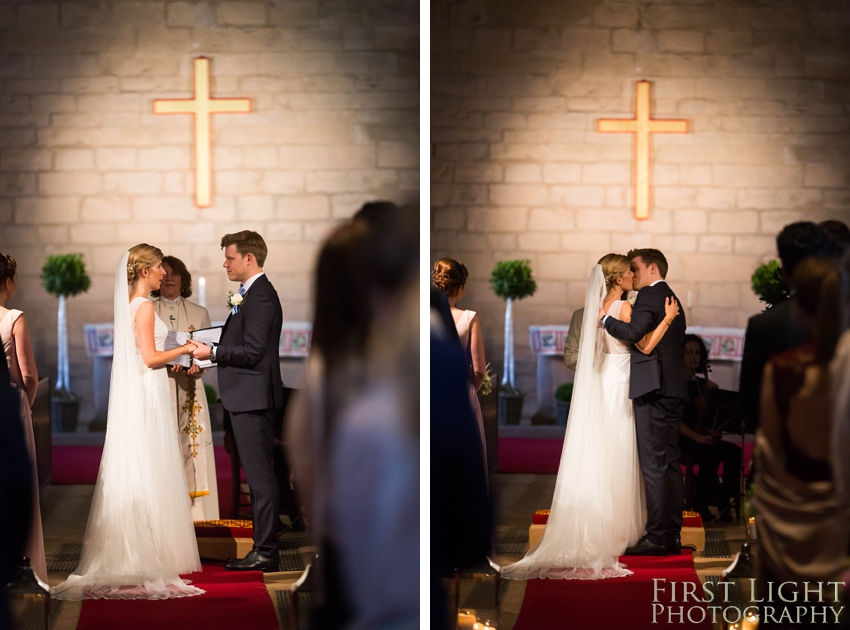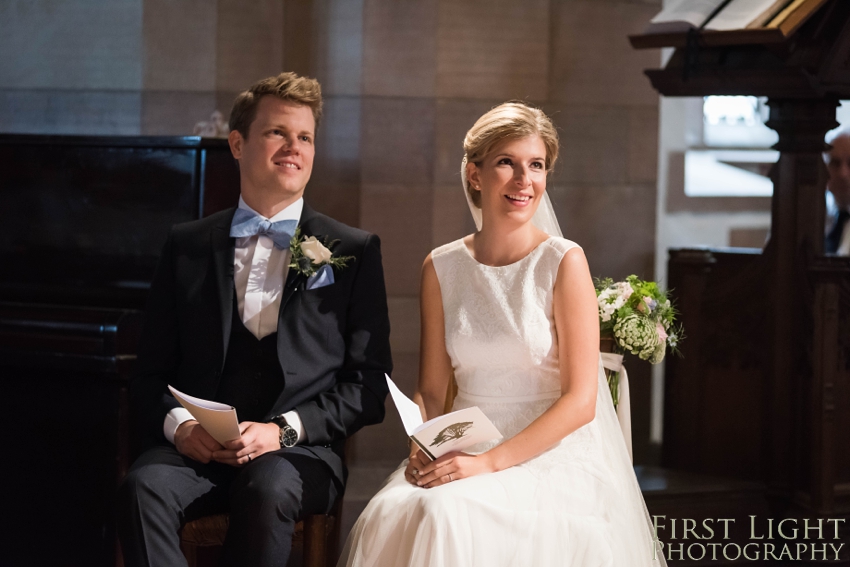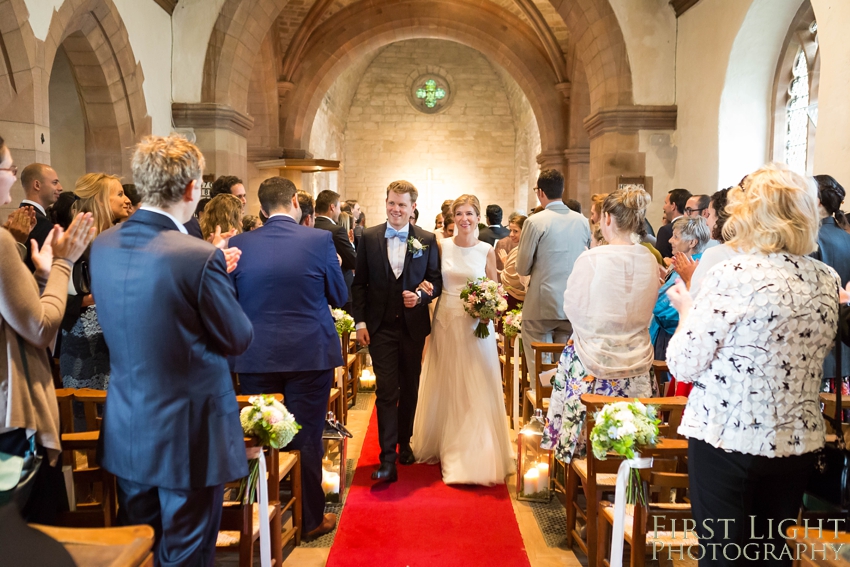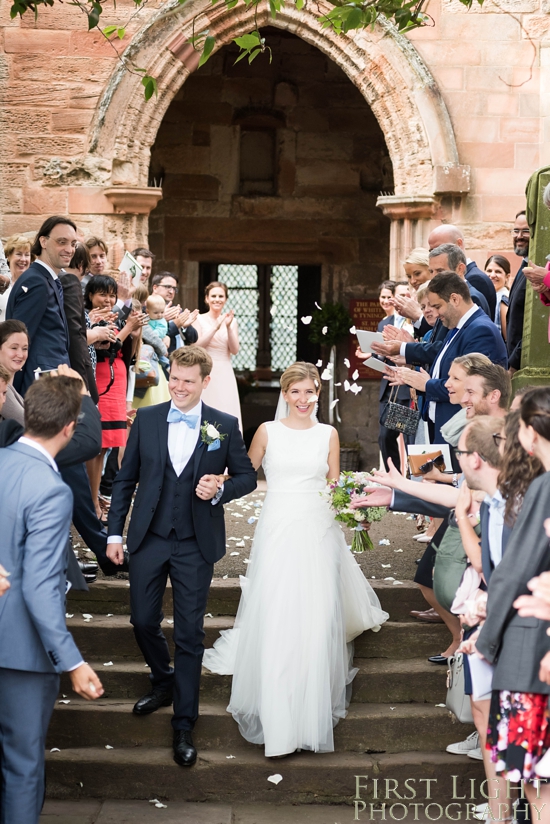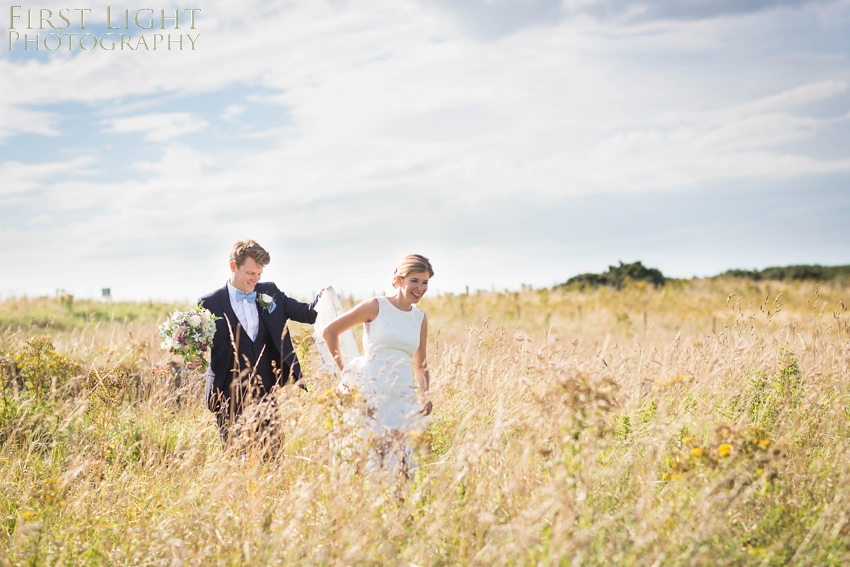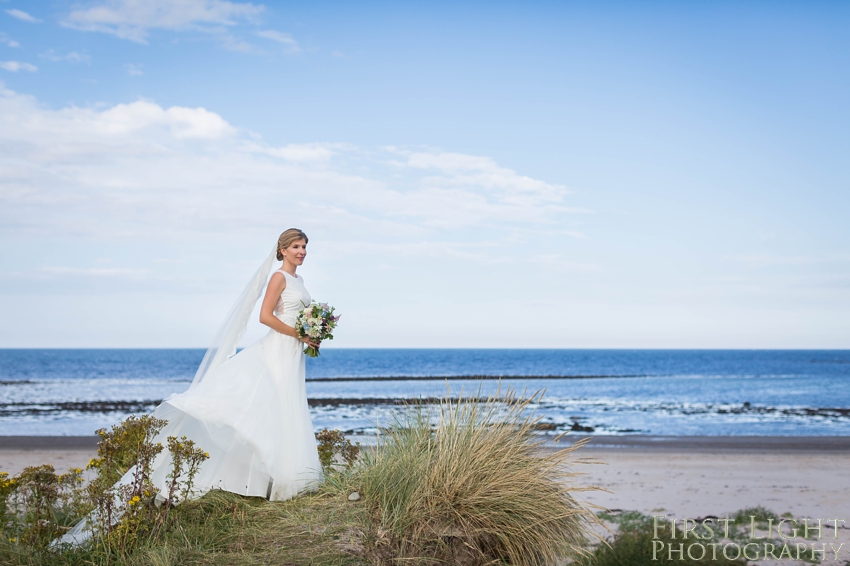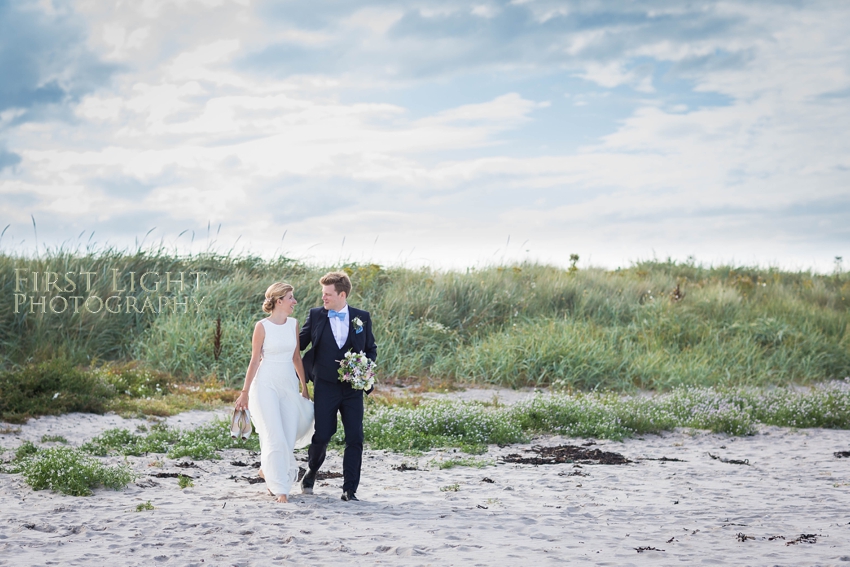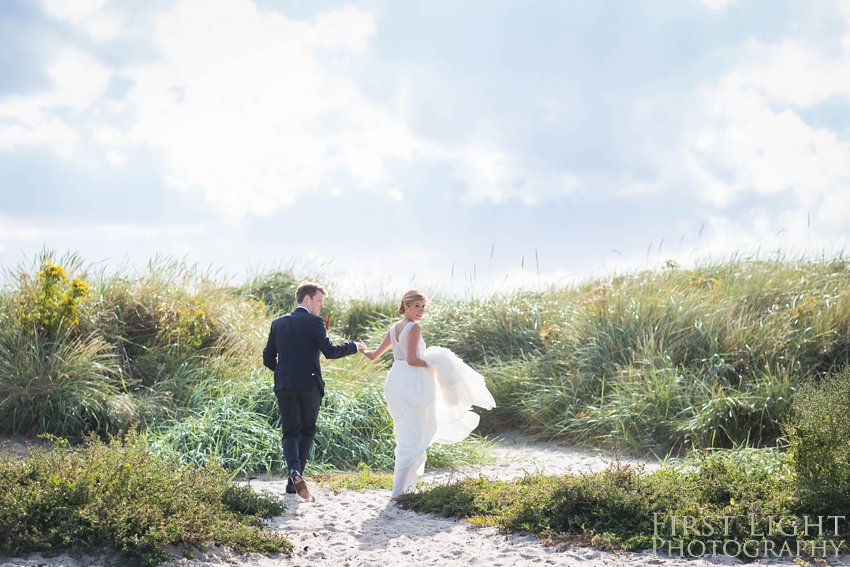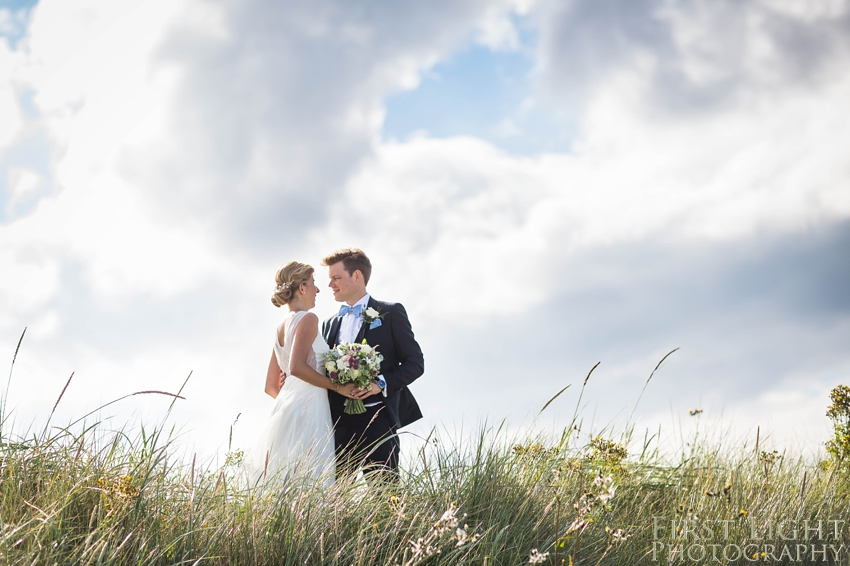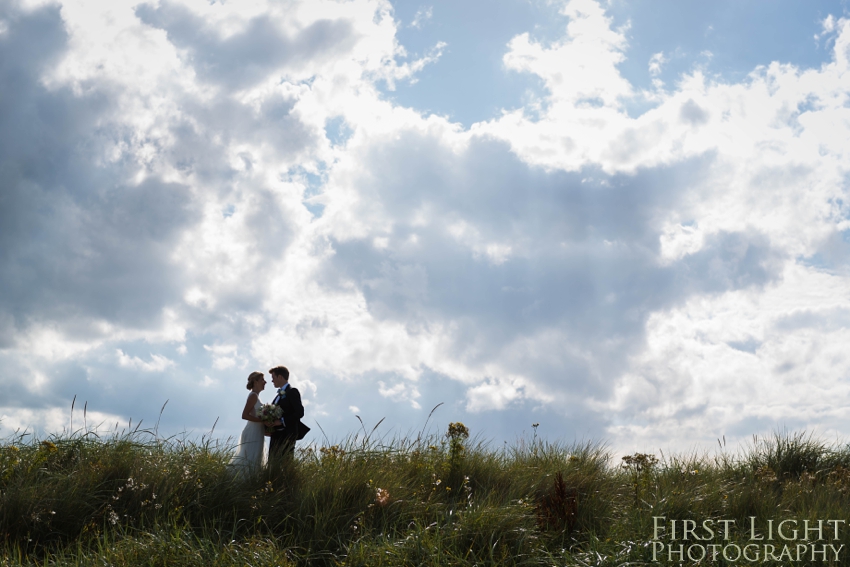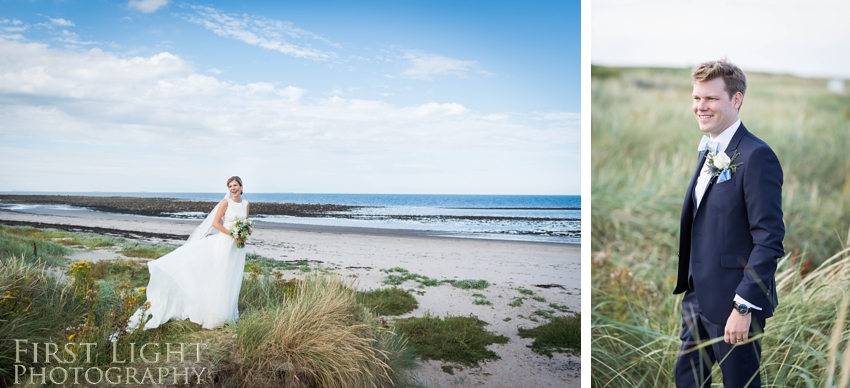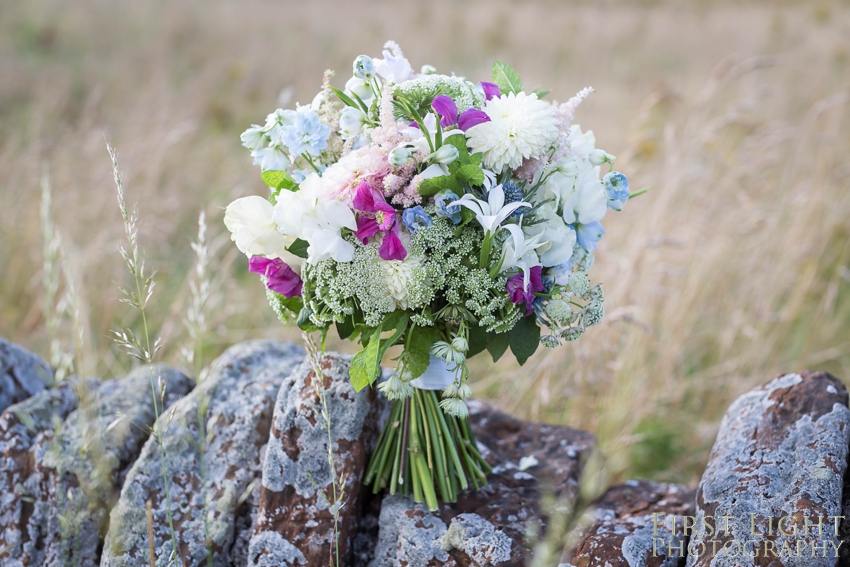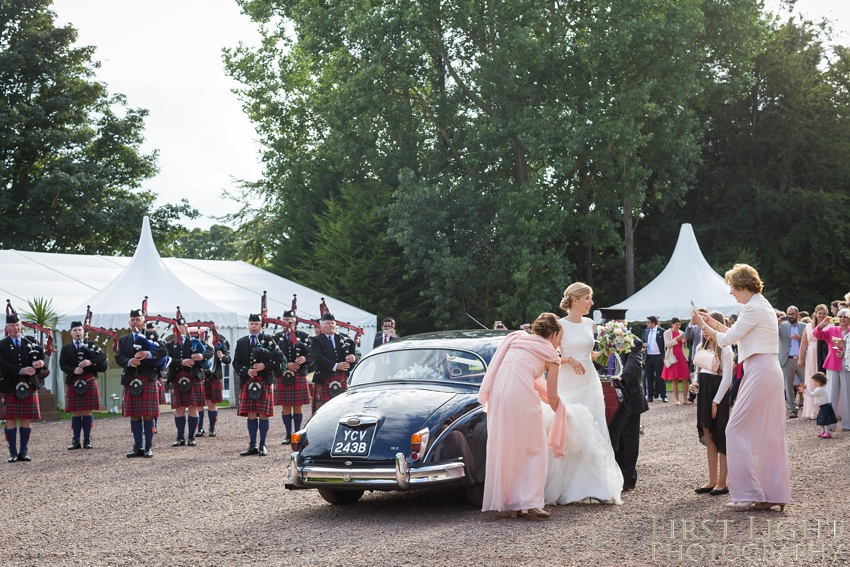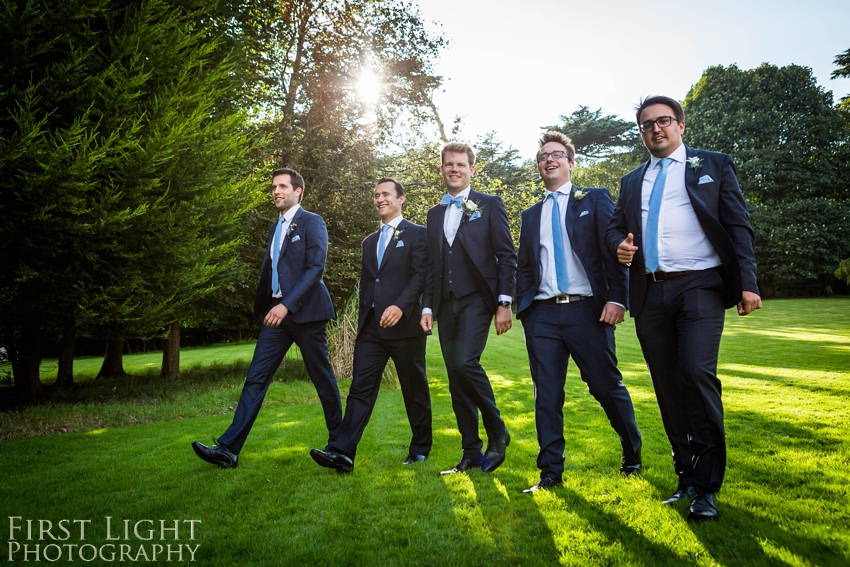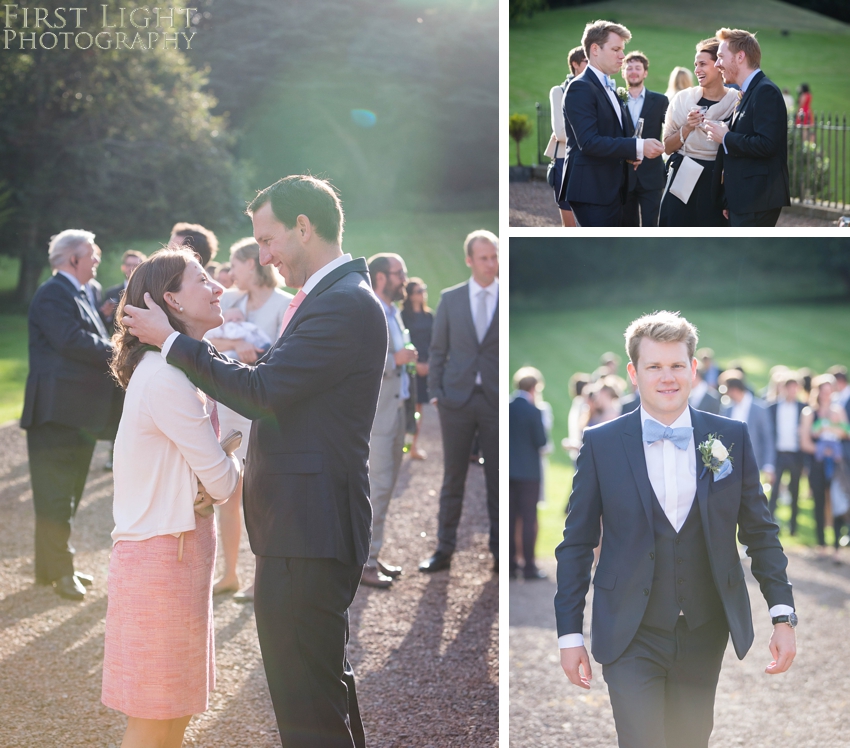 Nathalie described their wedding style as "inpired by nature":
I am very keen on sustainability and wanted a local, fresh and natural feel to the wedding. We wished to work with locally grown flowers and plants- using soft colors, wooden crates, and vintage jugs and pots. All of the flowers from the church were reused in the marquee, as well as the bridesmaids' bouquets. Get Knotted recommended using bay trees, which are very decorative and a nice sustainable touch as they get reused. We also used lots and lots of candles for a romantic atmosphere. It was important for us to honour the people who are no longer with us, and we had a lovely ladder table with photos of them, flowers and candles – this was extremely special to us.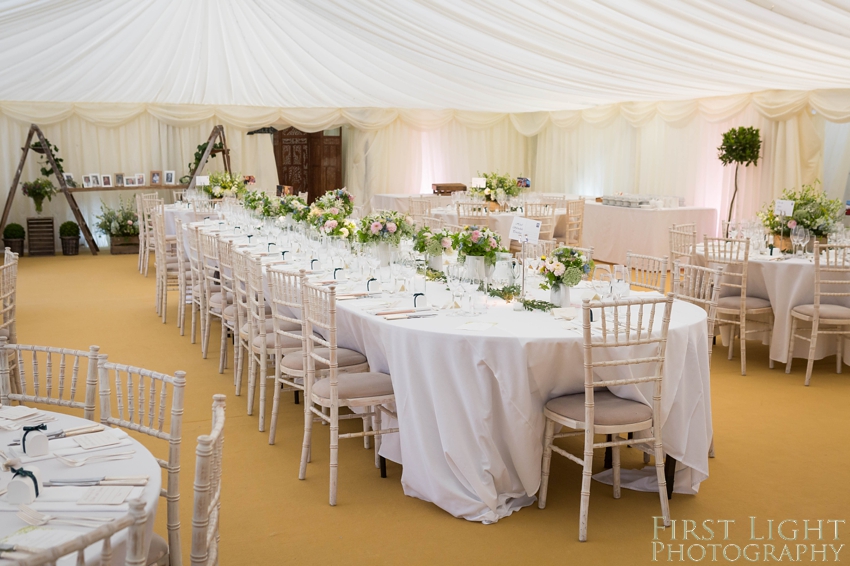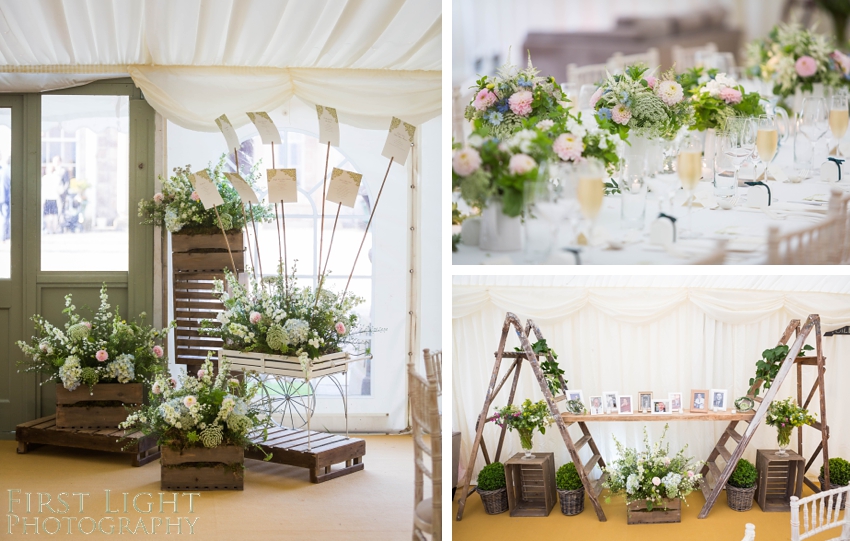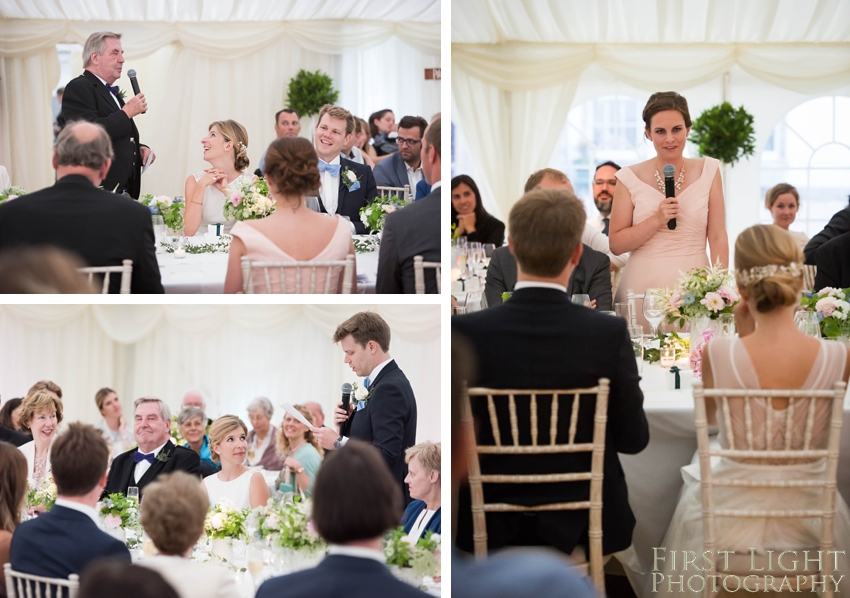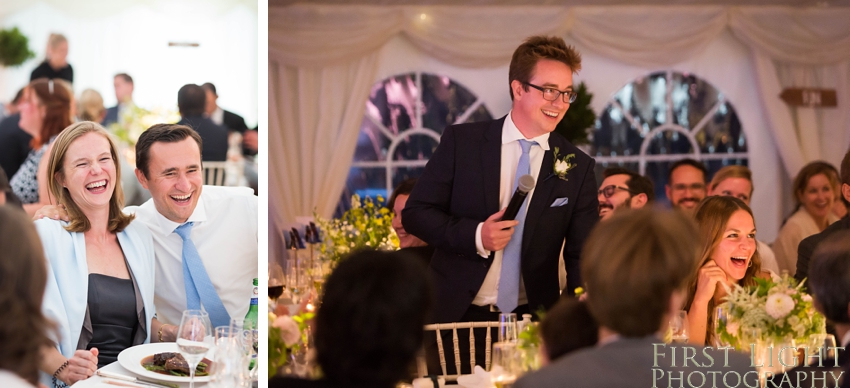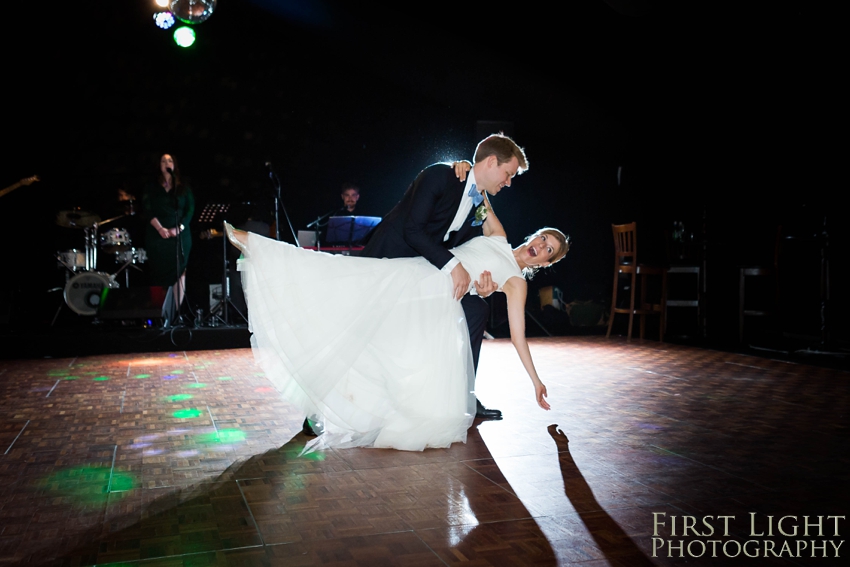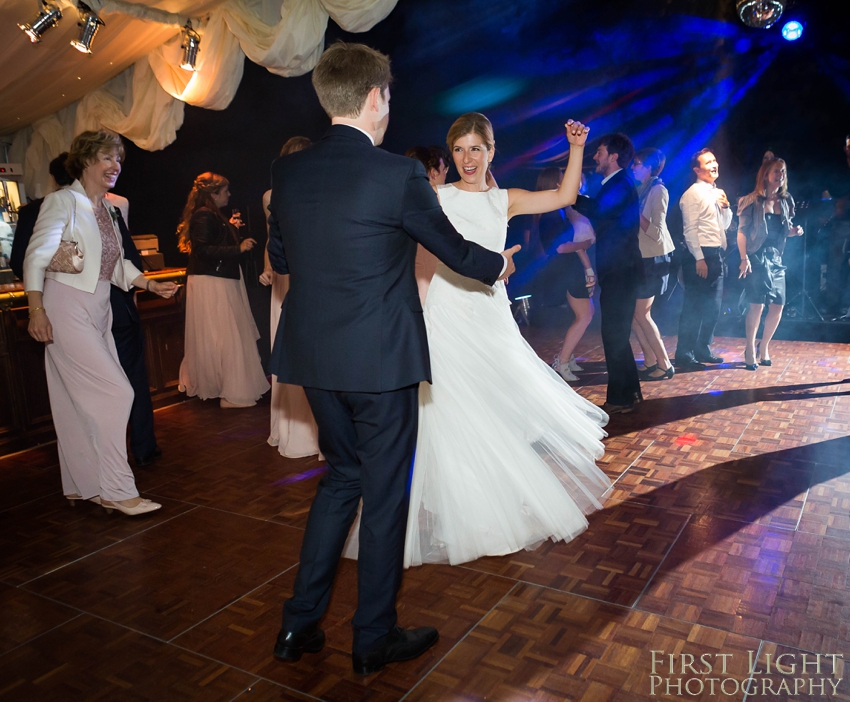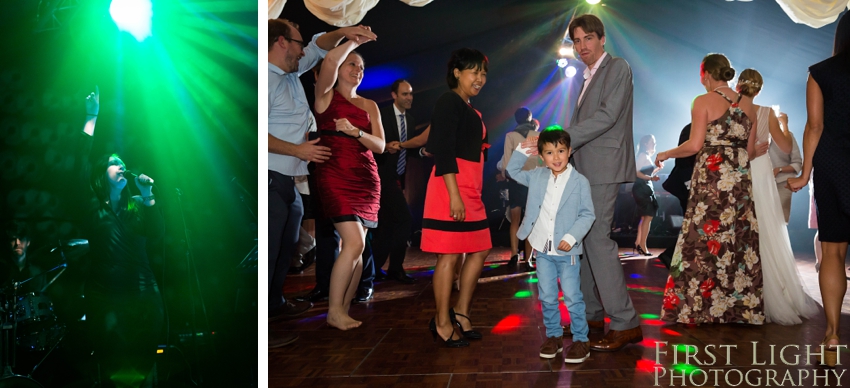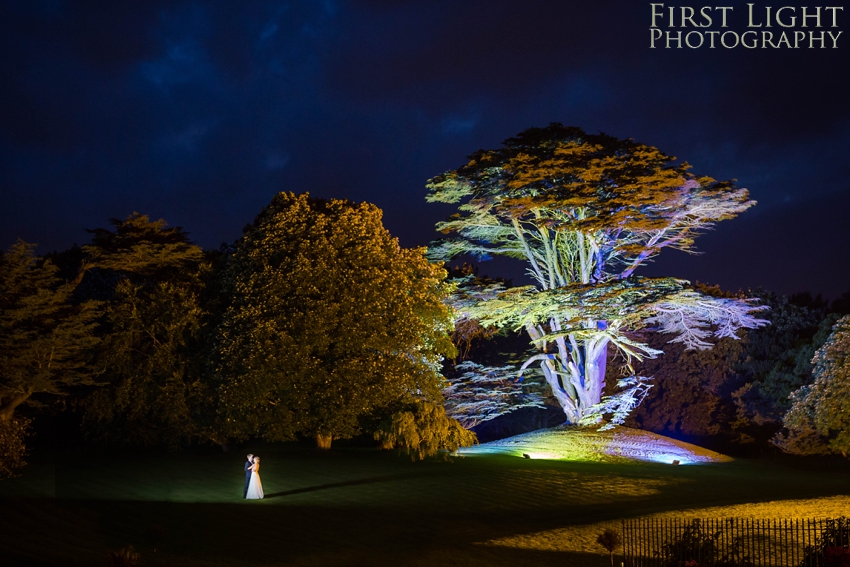 Nathalie and Lennert left us this wonderful review (Thank you for the kind words guys!):
"We could not recommend Ditte and Chris, her co-photographer, more – the whole experience with First Light was professional, friendly and especially fun! They made us and our guests feel comfortable from the moment we met them, and made a lot of effort to get to know us and understand what we wanted. Both are extremely talented photographers who pay attention to tiny details we would never notice but make the pictures so authentic and natural – we really feel like each photo reflects us and our wedding. We shared many laughs during our photo shoot, yet they knew how to fade into the crowd during our celebrations, leaving room for super natural, "unposed" pictures as well. Ditte was also extremely responsive and patient with us throughout the creation of our album, and everything was shipped internationally to us in lovely boxes with nice details – we loved it! Needless to say, we are delighted…"
Nathalie and Lennert's suppliers included:
Church: St Mary's Parish Church, Whitekirk
Venue: Broxmouth Park
Florist: Get Knotted
Hair stylist: Gwen Mckenzie – Mckenzie Hair Design
Make-up: Eye Candy Scotland
Musicians – The Quartet and The Magic Keys
Transport: Ecosse Classic