If you are thinking of planning a surprise wedding proposal in Edinburgh, but don't know where to start, I can help!
Proposal planning can be a daunting task – you only get one shot at it, and the story of how and where you did it will be told over and over again. You'll want to make it a good story!
With some careful planning and attention to detail, you can create a memorable and romantic moment that your partner will cherish forever.
I have been lucky enough to capture many beautiful proposals in and around Edinburgh, and have gathered some of the tips and ideas I have learned over the years to help you make your Edinburgh proposal an amazing experience.
Tips to help you plan a successful surprise wedding proposal
Choose the perfect location: Consider your partner's interests and what kind of setting would be meaningful to them. Whether it's a quiet park, a scenic overlook, or a favorite restaurant, choose a location that will create a romantic and intimate atmosphere.
Arrange for a photographer or videographer Well, I would say that… But honestly, how wonderful for you both to be able to relive this moment? If you are visiting Edinburgh, you will be able to treasure professional photographs of the two of you in this beautiful city.
Practice what you want to say You'll want to express your love and commitment in a heartfelt way, so practice what you want to say beforehand to ensure you convey your feelings clearly and confidently.
Consider the timing: Make sure you plan the proposal at a time when your partner will be available and able to enjoy the moment without distractions.
Enlist the help of friends and family: This is very much an optional point! Most proposals are a moment between two people, but if you want to involve friends or family in the proposal, make sure you coordinate with them ahead of time so they can help you pull off the surprise.
Be flexible: Despite careful planning, unexpected things can happen. Try not to worry – your partner most likely won't know what you're about to do, so won't know if your Plan A doesn't work out. Be prepared to adapt to any unforeseen circumstances and stay focused on the goal of creating a memorable and romantic moment to share with your partner.

Why you should hire a photographer for your wedding proposal in Edinburgh:
Capture the Moment: Hiring a photographer ensures that you'll have high-quality, professional photos of your proposal. They'll be able to choose the best angle for the perfect backdrop and make sure that the lighting is just right.
Memories to Treasure: Proposing to your partner is a once-in-a-lifetime moment, and having professional photos will allow you to relive the moment again and again. You'll be able to cherish these photos for years to come.
Share with Loved Ones: Your proposal photos will be something you'll want to share with your loved ones. Hiring a photographer means that you'll have beautiful images to share with family and friends.
Professional Expertise: Photographers are experts at capturing emotion and storytelling through their work. They'll be able to help you create a story with your proposal photos and capture the love and joy between you and your partner.
Experience of Edinburgh: A professional photographer in Edinburgh will have experience with the best locations for photos in the city, as well as knowledge of the best time of day for lighting. They'll be able to provide suggestions and recommendations to make your photos even better. Here are some of my top recommendations for beautiful places to propose in Edinburgh.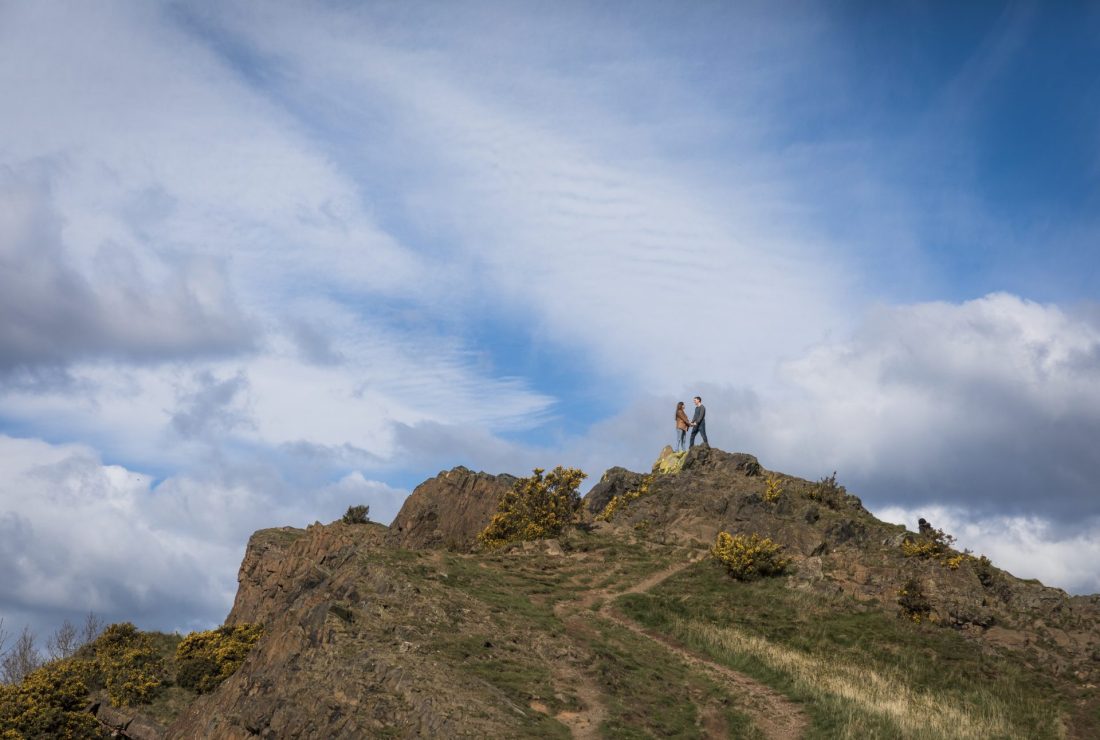 Tips for hiring a photographer for your wedding proposal in Edinburgh:
Start your search early. It's important to start your search for a photographer early, as the best photographers tend to get booked up quickly. Look for photographers who have experience shooting wedding proposals in Edinburgh – this will help them guide you through the planning of your big moment.
Do you like their style? Before you hire a photographer, be sure to check out their portfolio to make sure their style matches what you're looking for. Look for photographers who have experience shooting in low light, as the lighting in Edinburgh can be challenging.
Communicate your vision When you find a photographer that you like, be sure to communicate your vision for the proposal. Would you like the photographer to be a secret, capturing the proposal without your partner knowing? Or are you hiring your photographer for a "couple photoshoot", which then turns into a surprise proposal? Your photographer will be able to give you suggestions for locations or angles that you hadn't considered.
Plan for discretion If you're planning a surprise proposal, make sure to discuss how the photographer will be discreet in capturing the moment without being noticed by your partner. A good photographer will be able to blend in and capture the moment without interrupting the flow of events. The way I usually do this is simply by pretending to be a tourist taking photographs of Edinburgh – hide in plain sight!
Consider the logistics When planning your proposal, it's worth considering what time of day to do it – certain popular places to propose in Edinburgh will be busy through the day, but virtually abandoned at sunrise and sunset. You'll need to coordinate with the photographer to ensure that they arrive at the location at the right time and that they are able to capture the moment without being noticed.
I would love to help you plan your wedding proposal in Edinburgh! Send me a message with a little information about what you're hoping for, and we can start planning!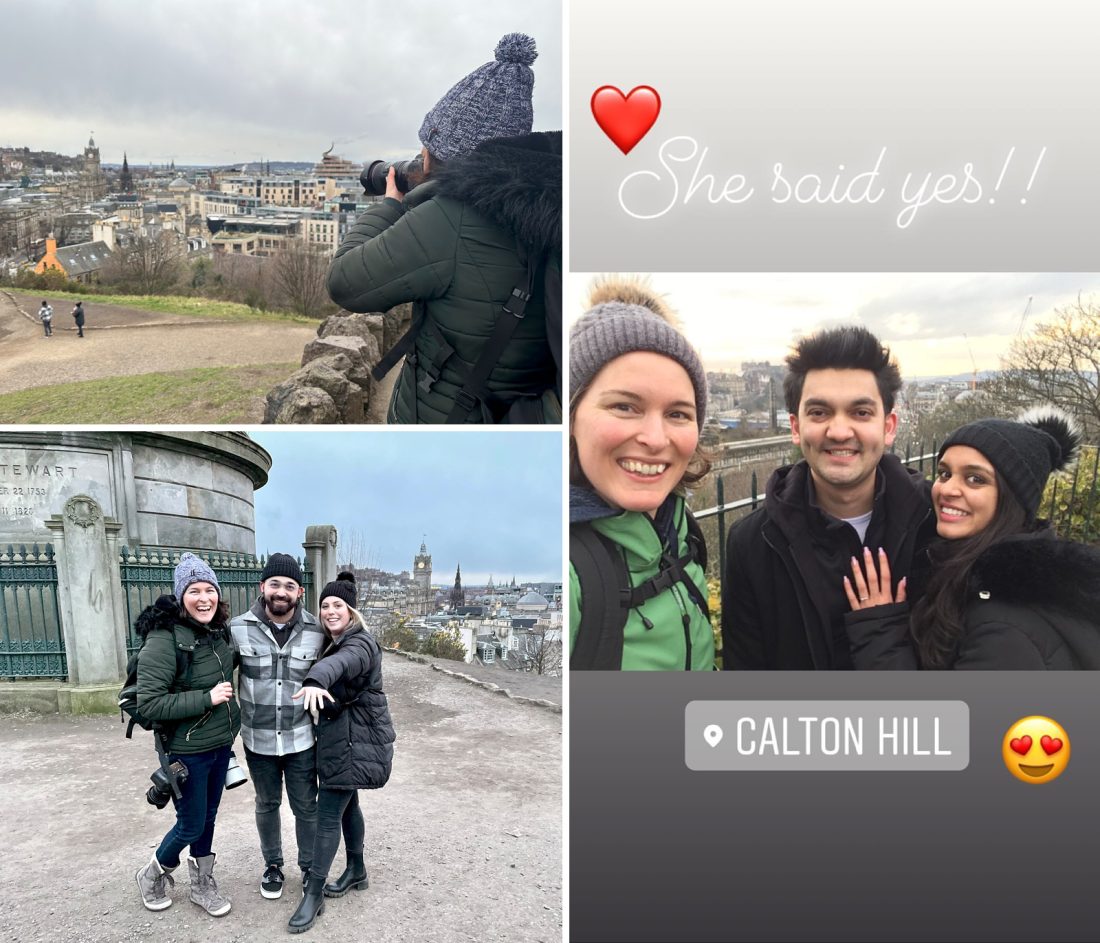 Get in touch to discuss your plans