Posted on 11 February, 2015 by under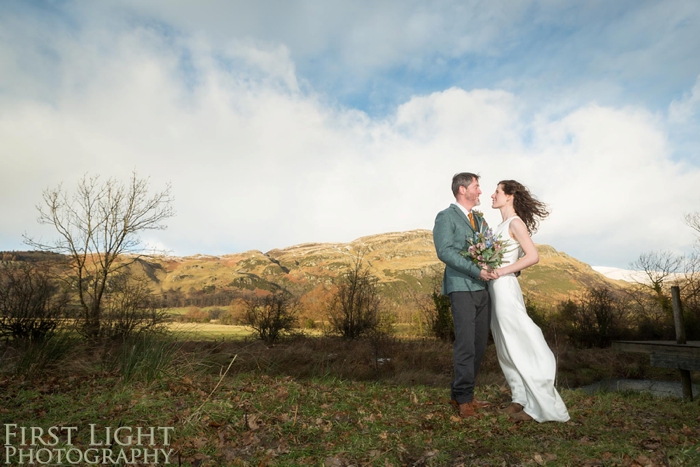 As a wedding photographer there is a bit of a busman's holiday when friends get married – do you offer to take the photos and spend the day viewing events through a lens, thinking about the best shots – or do you attend only as a guest, hands tied by your side, twitching trigger finger under control?
When my friends Cat and Rob told us they were getting married they were determined that I would be there as their friend and guest, but were delighted when I offered to take some photos. We found a good balance where I was able to attend the whole day as a guest, laugh, cry, kiss, dance and eat, but also take some photos for them. My wonderful husband joined the photography team, as did a very talented photography friend, Hugh Webster. Between us we managed to strike a perfect balance of professionalism and nonsense…
The wedding itself was simply fantastic. Cat and Rob run the food business Wild Rover Food, catering for weddings, festivals and events, cooking local, seasonal, foraged, organic and extremely tasty food. Their wedding was done with the same can-do ethos as their business; a friendly, fun, homemade, heart-warming affair. It was nearly impossible to put my camera down, although the sloe gin prosecco (with sloes picked near Rob's family's farm of course!) and the fantastic company meant that when I did, I had the most fantastic day and night!
Here's a little preview of their day:
Doesn't it look like a wonderful day? It was!
Cat and Rob, I hope you are having a wonderful time on your honeymoon – we can't wait to see you again and hear all about your adventures.
Lots of love,
Ditte, Clark & Hugh xx
Cat and Rob's amazing suppliers included:
Wedding Dress: Charlie Brear
Bridal Shoes: Dune
Mother-of-the-Bride outfit: Freja Designer Dressmaking
Bridal bouquet: Planet Flowers
Flowers and decorations: friends and family
Humanist Celebrant: Peter MacDonald
Catering: Wild Rover Food
Photography: First Light Photography and Hugh Webster