Laura and Julian's wedding at Whitekirk Church and Broxmouth Park, Dunbar
How do you plan a wedding in Scotland while holding down demanding jobs, and living 5000 miles away? It can be tough, but with a helpful (to say the least!) set of parents(-in-law) on the ground and lots and lots of Skype calls, it can be done!
Laura and her team started their day with a leisurely lunch and prep at Broxmouth Park. When I got there I just followed the sound of laughter to find the room where they were.
She had picked the amazing Gwen Avinou and Lucy Gourlay for her hair and makeup.
How cute is little Evie in her flowergirl dress??
Matched perfectly by the wonderfully cheeky Jack..
We love a confetti shower!
Back at Broxmouth Park, we headed off for some photos with the newly-weds, along the shore of the lake and in the woodland behind the house.
Beautiful white and blue flowers adorned the house, marquee… and lions. You can't have a lion without a garland, right?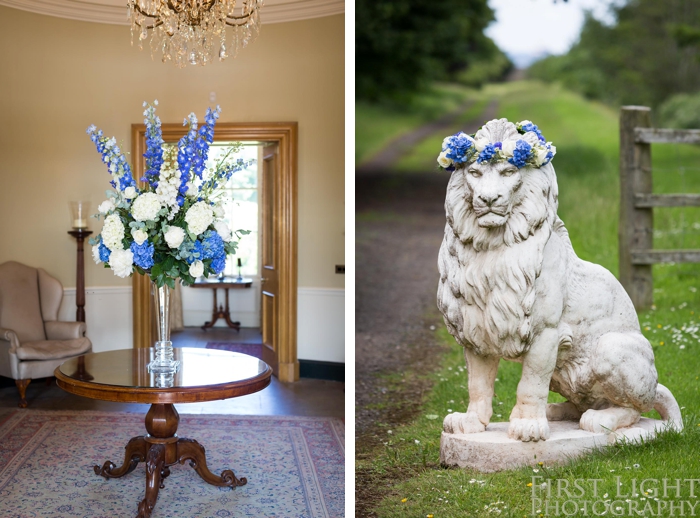 Laura and Jules are keen skiers, so they had chosen a ski theme for the marquee, with VIP ski passes as place names, plus a gorgeous cake, table plan and photo booth full of skiing props
Handy to have talented bagpiping friends…
Laura and Jules' first dance was amazing! After a minute or so, it turned into a wedding floor flashmob – Cue lots of cheers from the audience!
The dancefloor quickly filled up, and guests also took advantage of the amazing photobooth Laura had arranged.
Laura and Jules, we can't thank you and your families enough for the warm welcome we got at your wedding – it was such a fun day and night.
We hope you have a wonderful honeymoon (thanks for the photos and updates!) and really look forward to showing you the rest of the photographs soon!
Ditte & Chris x
Laura and Jules' lovely suppliers included:
Venue: Broxmouth Park
Makeup: LG Makeup
Hair: Gwen Avinou
Florist: Planet Flowers
Table plan and place settings: Scamp Creative
Props: Blue Parrot Company
Band: The Capitals
Photography: First Light Photography