Edinburgh Castle Winter Wedding

For memorable Scottish wedding venues, I struggle to see how you could top Edinburgh Castle!
Yvonne and Jason's wedding was every kind of wonderful. A completely laid-back couple who never stopped smiling, their happiness and excitement rubbed off on everyone else too.
The couple started their day at the Balmoral Hotel, at No.1 Princes Street, a landmark in the centre of Edinburgh. Fun fact: their grand clock has been set three minutes fast since 1902 to ensure the people of Edinburgh wouldn't miss their trains?

Yvonne and Jason's son Saul looking exceptionally dapper for his parent's big day.

After relaxing and getting ready at the hotel with family and friends, the couple headed to Edinburgh Castle for the wedding. One of the most famous landmarks in Scotland, Edinburgh Castle is quite possibly one of the most magnificent settings you can have for a wedding. There has been a royal castle on the rock since at least the 12th century, and the site was used as a royal residence until 1633. Today the castle provides a stunning backdrop for weddings, both intimate and grand ceremonies.

Yvonne and Jason's ceremony and following reception took place in the Castle's Queen Anne Room.

The bride and groom, set against the dramatic backdrop of Edinburgh's historic Old Town and Arthur's Seat. We were so lucky with the weather and light – this was just before the sun started to set, so we had lots of colour and texture in the sky!

Following the freezing(!) sunset photos, we headed to the castle's medieval Grand Hall for photographs with family and friends.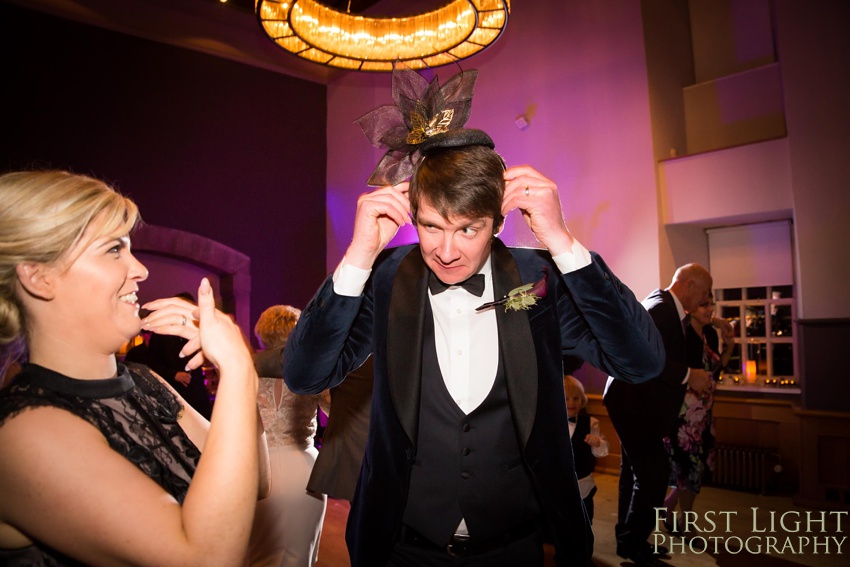 Yvonne and Jason, it's been such a joy getting to know your and your families – thank you for having us there and for trusting us to capture your day the way you wanted.
We wish you every happiness together and hope we'll get the chance to catch up with you again one day.
Yvonne and Jason's amazing suppliers included:
Venue: Edinburgh Castle
Florist: Rosepark
Band: Bahookie
Bridal Hair: Yvonne, a hairdresser, did her own
Make-up/ Bridesmaids' Hair: Dickson Reid
Cake: 3D Cakes