It's always a treat photographing weddings at Dundas Castle – the wedding team there are incredibly efficient and nice, making for a very happy experience for us. Add to that a lovely couple, beautiful colourful flowers, an adorable flowergirl and the never-ending light at midsummer (remember midsummer?), and the set-up for a great wedding is there!
Dawn's bridesmaids' dresses didn't arrive on time for the wedding, so the girls had to do a last-minute dash to the shops to find four identical dresses in four different sizes all in stock. Thankfully they found these beautiful dresses, which were perfect.
Dawn's colourful flowers looked and smelled amazing.
Dundas Castle's cake-cutting sword is always a great talking point…
Pre-service cocktail anyone?
Dawn's family shield was displayed at the altar in the Auld Keep. The team from Narcissus Flowers has done an amaing job adorning the altar with flowers, candles, moss, sticks, petals and other natural elements.
Two seconds after this photos was taken a gust of wind blew off Dawn's veil!
The Rhododendron bushes were exceedingly cooperative and bloomed beautifully for Dawn and James' wedding day – we couldn't not take some photos there!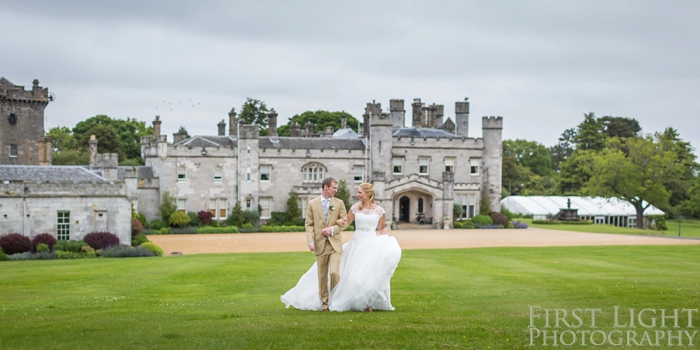 The marquee was set up with a pink and purple decor, with flower arrangements in stone urns and live birch trees to give a light and summery feel.
…plus this highly popular sweet bar, set up by one of Dawn's sisters.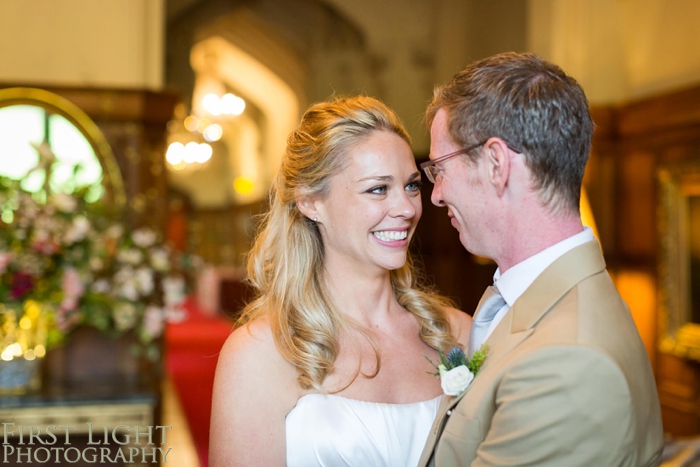 Dawn had bought a sparkly white sequin dress to change into for her the dancing. There was no way she'd be able to pull off their flawless routine in her big wedding dress!
The dancefloor quickly filled up for the ceilidh dancing
This picture was taken at 21.17 – Love light summer evenings!
Dawn and James, thank you so much for sharing your happy day with us – it has been such a pleasure getting to know you and your families.
We wish you a lifetime of happiness together and look forward to making your album for you!
Ditte & Chris
Dawn and James' suppliers included:
Venue: Dundas Castle
Hair & make-up: Made-Up
Flowers: Narcissus Flowers
Catering: Sodexo Prestige
Band: Jiggers
Photography: First Light