We are OBSESSED with our wedding album – it's absolute perfection and we show everyone and look at it ourselves all the time 💕💕💕 our friends and family all agree that it has completely overshot our wildest dreams of what it would look like. 💫
Very few couples come to us with a fixed idea of how they want their wedding album to look. Some have seen their parents' albums and are pleasantly surprised when they learn how far wedding albums have come since then (we don't do glue-on or stick-in photo albums…). 
Over the years we have done extensive research on album suppliers, album styles, materials, papers, printing etc. in order to provide unique and personalised albums of an extremely high quality. We are super proud of our album range and the feedback we get from couples when they receive their albums suggests that they love them as much as we do!
We like to bring a few albums along to meetings with our couples to give them an idea of what to expect, but did you know that we have over 3 million different album combination options?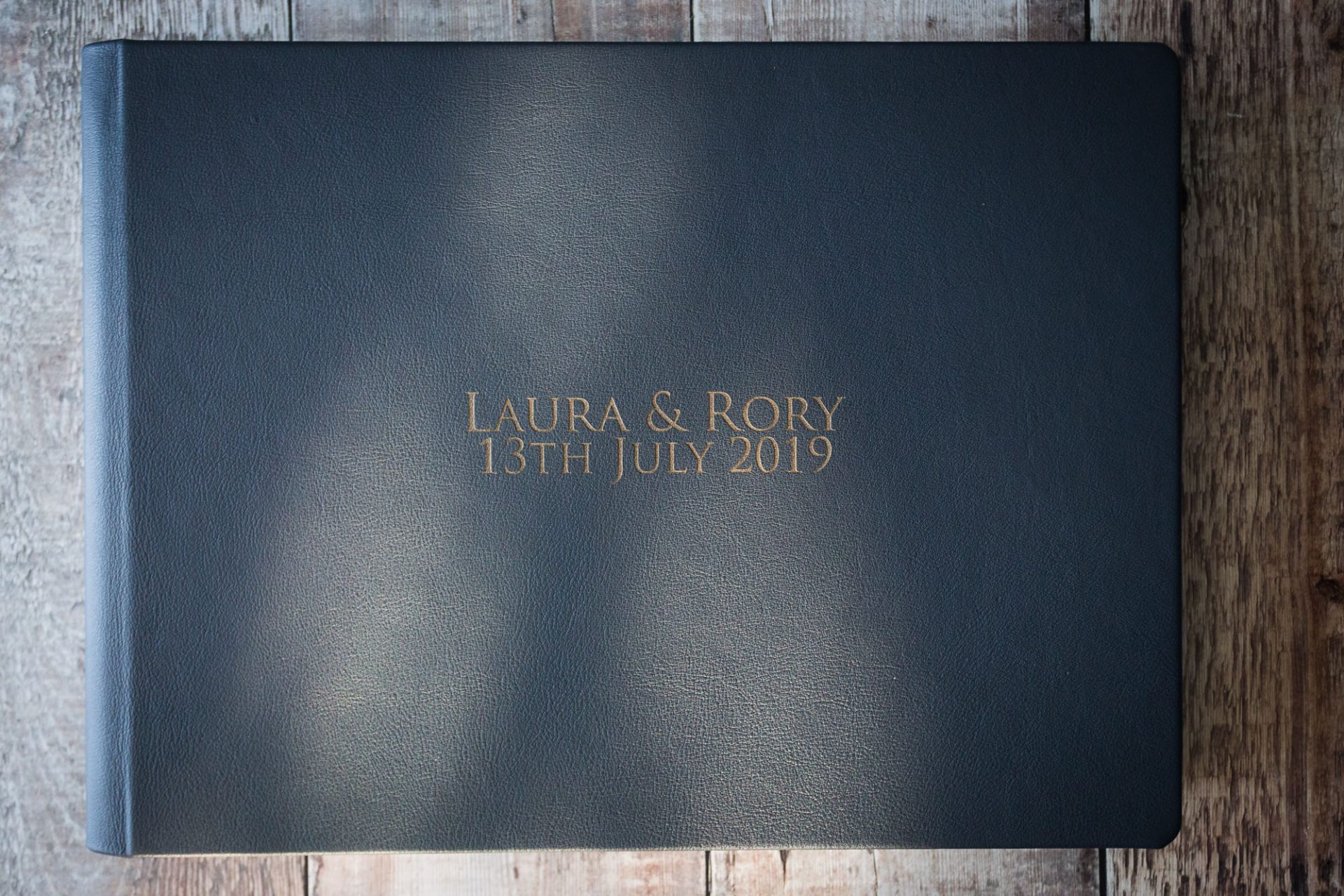 So, what does a First Light wedding album cover look like?
 The answer to that is: (Almost) anything you want it to look like!
 We work with an album lab that offers a huge range of materials and ennoblements, allowing us to personalise every aspect of the album. We sit down with every one of our couples (in person or virtually) to create an album that is perfect for them, often integrating graphic design elements from their wedding.
Below I'll go through a few of these options and show you some of the albums we have created for our couples.
Wedding album cover materials
We can offer 24 different types of material in different colour ways, resulting in approximately 300 different cover material options. Add to that a huge range of ennoblement options and other personalisations, and you'll end up somewhere between 3 and 4 million options!
Here are some of the First Light favourites:
Leather
Understandably a firm favourite with many couples – leather the traditional luxury wedding album cover of choice. We have a beautiful selection of premium leathers to choose from, meaning it should be easy to find a texture and colour to suit everyone.
For our vegan clients, we have a big range of eco leathers.
Suede
Loved by couples who want a soft feel with muted colours.
Wood
This one gets an interesting reaction from couples, who either love it or immediately reject it. I love the handcrafted natural oak wood coupled with a leather spine and back.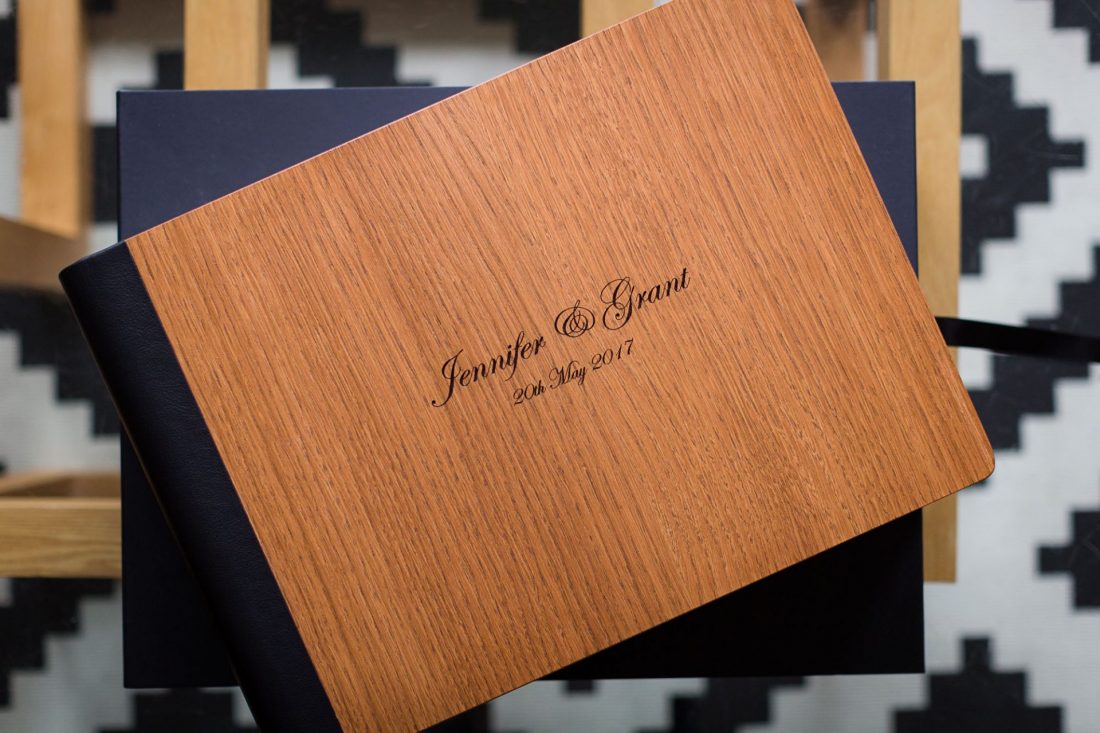 Cotton & Linen
A gorgeous newcomer in our album range, which I predict will become very popular – I'll be writing more about these and posting more images soon!

Next-level personalisation
If none of the cover materials suit you, or you want something super personalised, you can supply your own fabric for the cover! The album below was made in the groom's family tartan, coupled with a blue leather. How gorgeous is that?
Ennoblements
 Gold/ Silver Embossing
Of all out ennoblement options, the gold and silver embossings are by far the most popular. A silver or gold foil is embossed into cover of the album. Simple, classic, luxurious.
Naked Embossing
Subtle. Stunning.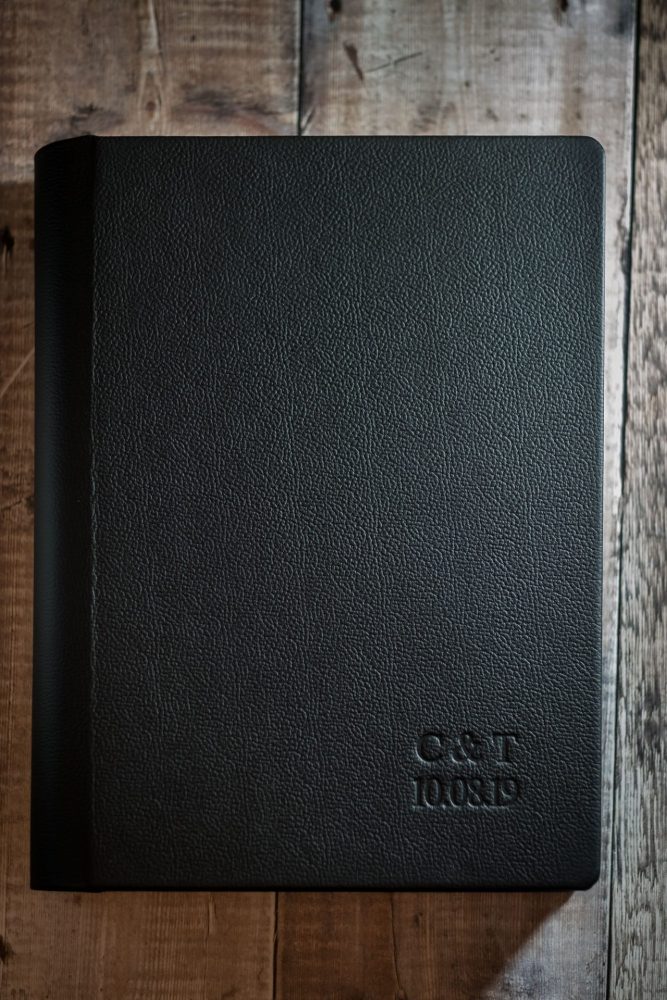 Laser Engraving
A laser engraved cover will have your names and date cut into the leather/ wood on the cover. A subtle, but stunning ennoblement.
Raised Gold/ Silver Varnish
For personalised monograms and other small illustrations, the raised varnish is a perfect solution. The office is always full of "Ahh"s and "Oooh"s when we open an album with raised varnish cover.
Colour Overprinting
If you had an illustration or a personalised font on your wedding stationery, you might like this to be used as a cover for your wedding album too. This can be achieved by using colour overprinting on your cover.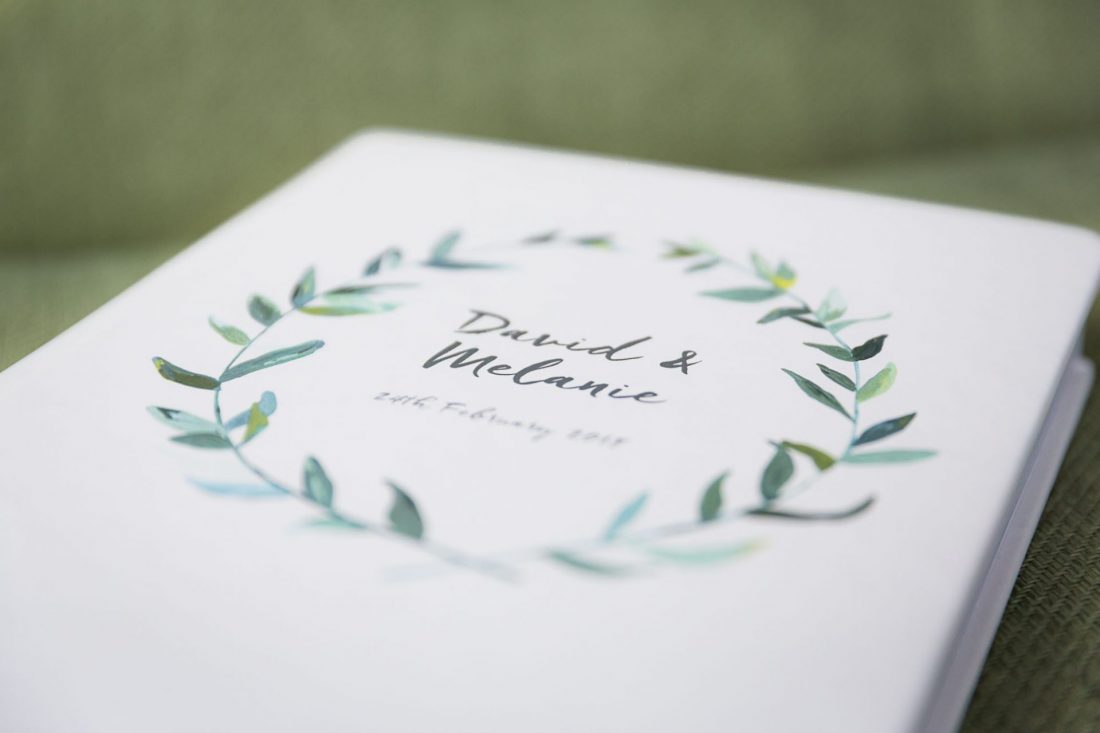 Which album cover is your favourite?
If you would like to learn more about our wedding albums, then here are some useful links:
Our Most Popular Luxury Album – The Storybook
Wedding album – Classic Mounted wedding album
"..a huge thank you for delivering our wedding albums on Friday. We absolutely love them. The quality of the albums and photographs is outstanding, the presentation box, the paper, the list is endless. A wonderful collection of memories that we cannot stop looking at…"