Welcome back to the wedding adventure of Lori and Hiten (
If you missed the pre-pre-wedding gathering you can find it here
)
Day 2 saw the arrival of the rest of the guests, most of whom had flown from other continents to be there.
Day 2 also gave guests a true demonstration of how Scottish Spring works, with torrential rain, snowflakes the size of my hand and the odd peep of sunshine…
Guests were welcomed into the warm house with afternoon tea and a glass of Pimms
The couple had arranged for a treasure hunt around the grounds of Kinross House. Just a small matter of giant snowflakes falling outside to contend with…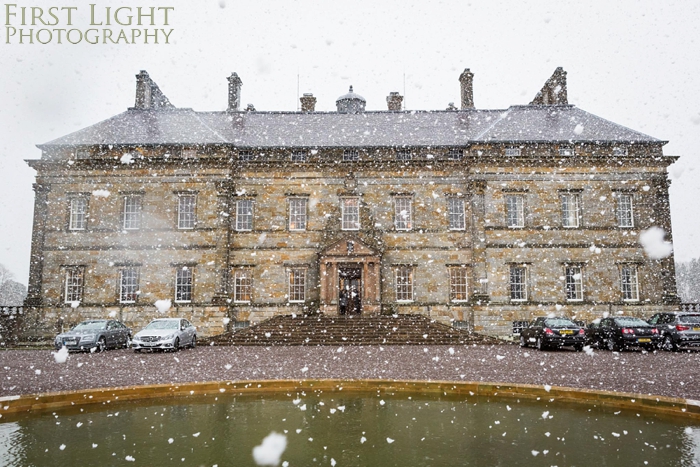 …but these soon passed, and most guests were game for a spot of treasure hunting!
Once warmed up and dried off, guests prepared for a Scottish banquet in the evening.
Trestle tables were set up with a gorgeous flower and candle display – heather, thistles, lavender, pine cones, feathers, wood and moss gave it a beautiful Scottish feel (and it smelled amazing!). Not a whiff of tartan in sight!
Lori wore what she referred to as her "Game of Thrones dress". It was in-cre-dible.
After dinner, guests were invited outside where there were the Stirling Burgh Pipe Band performed a Beating Retreat.
(I am not a huge fan of bagpipes, but a beating retreat with two dozen pipers and drummers appear out of the dark playing gives me goosebumps every time. In fact, I've got goosebumps even thinking about it!)
Needless to say, guests were thrilled!
Afterwards, the couple raised a toast with the Pipe Major in a traditional Scottish quaich.
If you would like to see the full story, here are the links to all four days: