After two days of spoiling their guests with wonderful food, games, entertainment and fun, it was time for the serious part. The reason we were all there; it was time for Lori and Hiten's Kinross House wedding!
Do you ever look at the clock and notice patterns in the time? Like 00.00 or 11.11 or 22.22 or 12.34? I always do, and so do Lori and Hiten. "Their time" is 11.11am, so that was the time they decided they wanted to get married. This meant an early start to the day and a longer-than-usual wedding day to fill. Which was NO problem…
These magnificent creatures welcomed guests at the front door. The eagles were there too…
Lori's beautiful black wedding dress, studded with white flowers.
Love Lori's beautiful custom-made hairpiece.
11.11am…
Lori and Hiten chose a humanist service, which included readings by both of them…
…and a handfasting
The ring bearer was called Sage and she was gorgeous.
Her orange eyes reveal she is a crepuscular owl, meaning she is more active at dusk and dawn, but she still did an impeccable job despite the hour…
Five seconds after this photo was taken the heavens opened and guests had to rush back inside!
The trestle tables had been transformed from the Scottish banquet set-up the night before, to a lighter, fresher, white and green design for the wedding lunch with trailing Martini vases and Lily of the valleys in apothecary glass jars.
After lunch, the guests were invited outside into the garden for a falconry display.
I got to hold an eagle! Such an incredible experience!
I love it when brides make speeches!
While guests were eating cake and drinking tea, we had time to take some portraits of Lori in her stunning outfit.
Something borrowed; Lori's ring, bracelet and necklace from De Beers.
Did I mention I love this hat?
Lori is a huge lover of history so we had discussed taking some Edwardian-style portraits. The inspiration for these were old portraits we had looked at together of women with distant, sometimes-melancholic-sometimes-dreamy looks off into an imagined distance. I love how Lori's strong, playful, confident, beautiful personality shows in these photos.
If you were to stand at the front gate of Kinross House, open the front and back doors of the house and look straight through, you would see the castle on the island in Loch Leven. The house and the gardens were deliberately designed this way.
I love it that the double rainbow perfectly frames the island too.
The evening part of the wedding was a white tie affair.
"Lily of the Valley" and "Talisker Storm" cocktails were served during cocktail hour.
I just love this picture of Hiten helping his son with the final touches of this outfit. The serious faces. The ritual. The rite of passage.
Lori's evening dress did not disappoint.
Lori and Hiten both love books, so we obviously had to take some photos in the library.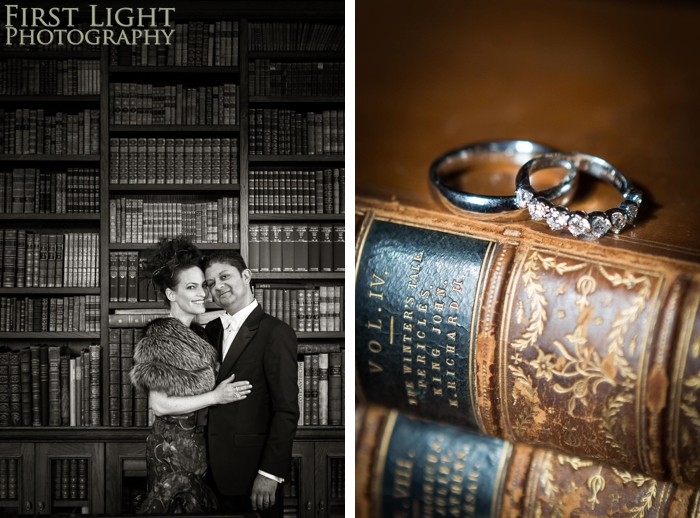 How to make an entrance!
Big candelabras were added to the table for the evening part of the wedding.
DJ Sam Totolee kept the dance floor jumping all night
I love these gorgeous women.
What a stunning, stunning day it was.
And as if that weren't enough, there is more to come tomorrow for Day 4, a Gatsby-inspired black tie event. With animal masks, two more incredible dresses and a the most incredible hat (yes, another one!)
If you would like to see the full story, here are the links to all four days: