Posted on 7 March, 2019 by under
Today is World Book Day – a marker in our calendars for people everywhere to celebrate their favourite books. And for the parents among us to worry about what bloody character we can dress our kids in before they have to leave for school in 6 minutes. Ahem.
Over the years we've been lucky enough to photograph the weddings of several writers, illustrators, editors and children of writers. We have also photographed many weddings in venues with magnificent libraries or with book/ library/ dictionary themes.
Below is a small selection of some of our bookish photographs (can you refer to a photograph as bookish, or does that just work for people?)
I could have posted many more, but I might just go read a book instead…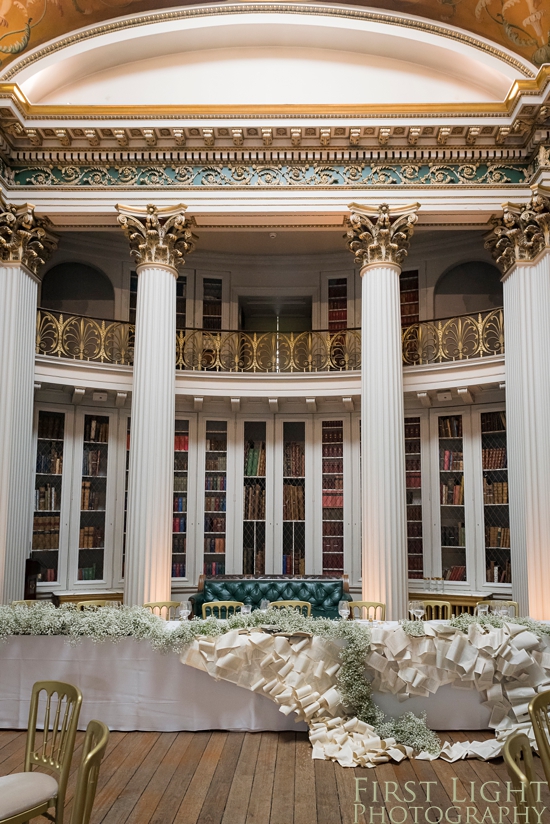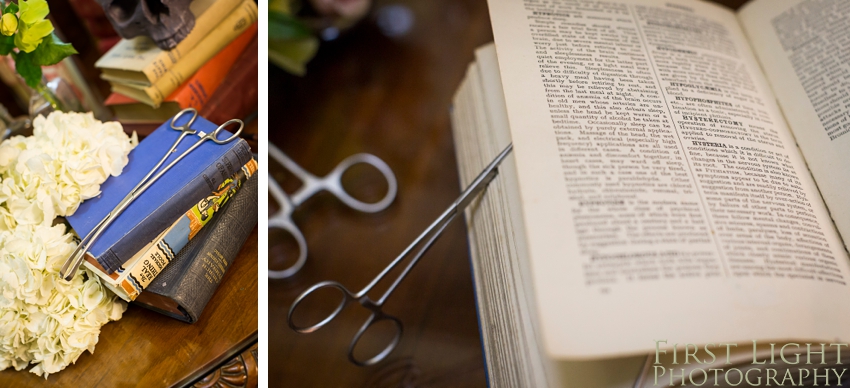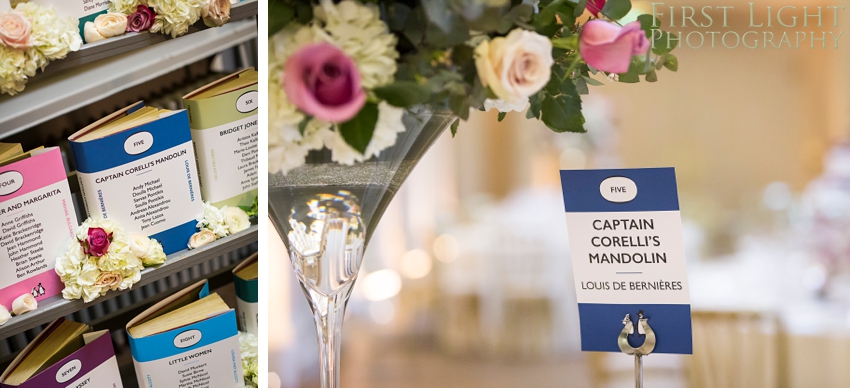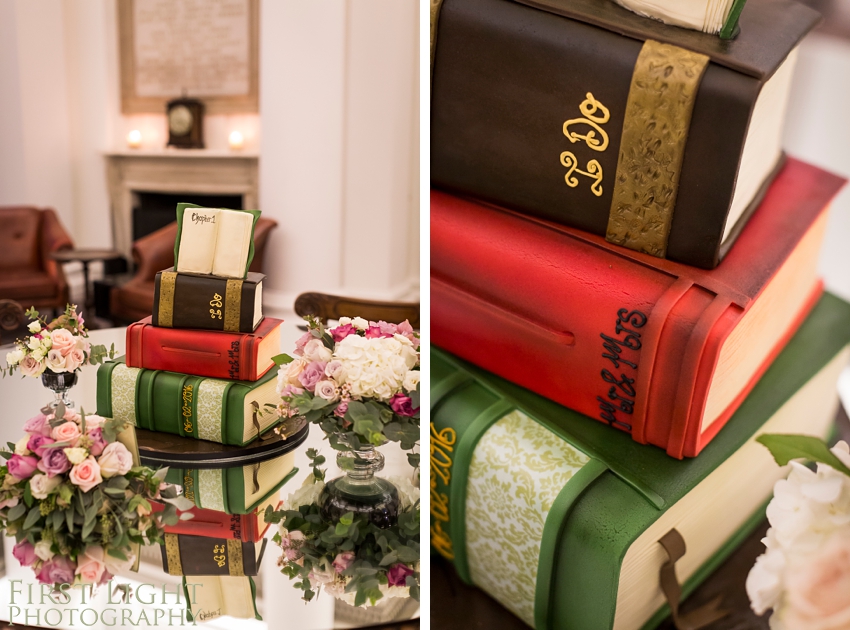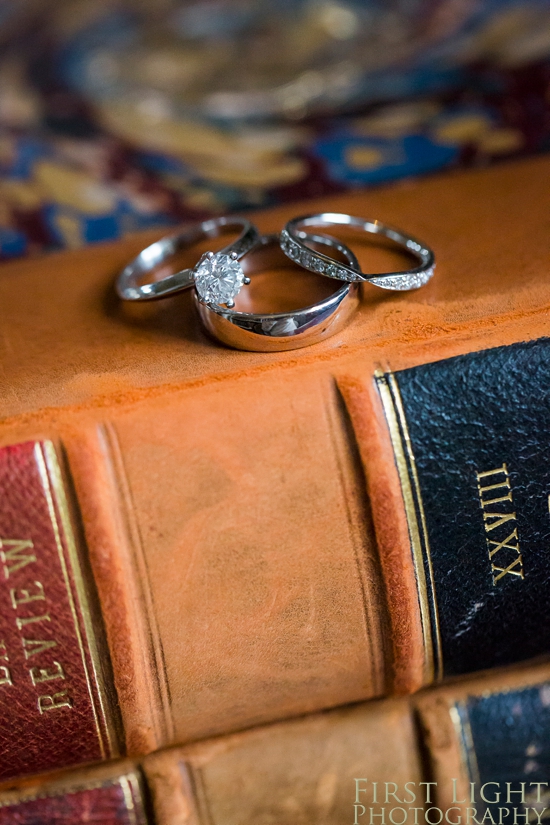 Posted on 23 February, 2019 by under
A year ago I had the pleasure of doing the wedding photography for Mel and David's intimate wedding at Gilmerton House.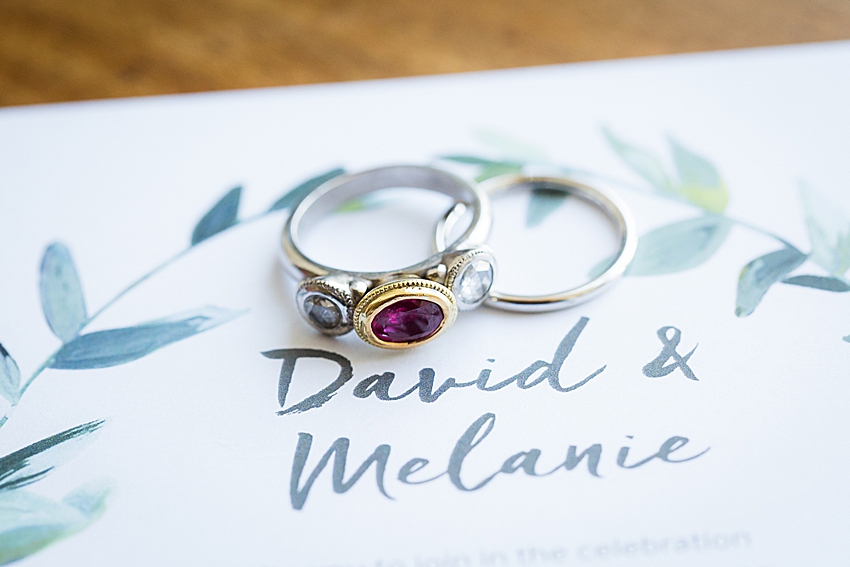 A little while after the wedding, The Times newspaper called me asking if I had captured any couples who would be interesting to feature in the paper. I immediately thought of Mel and David, who were happy to tell their story.
You can read the article below, and see some photographs of their very happy, intimate wedding day: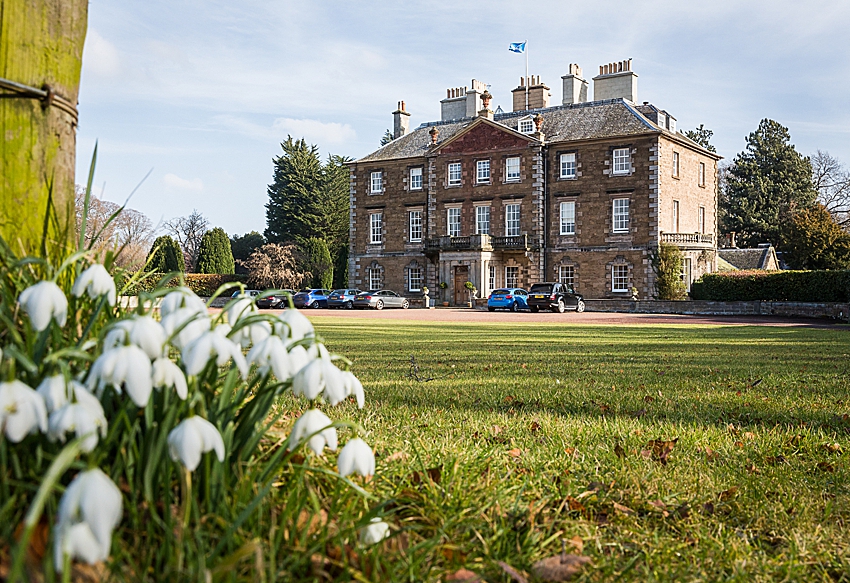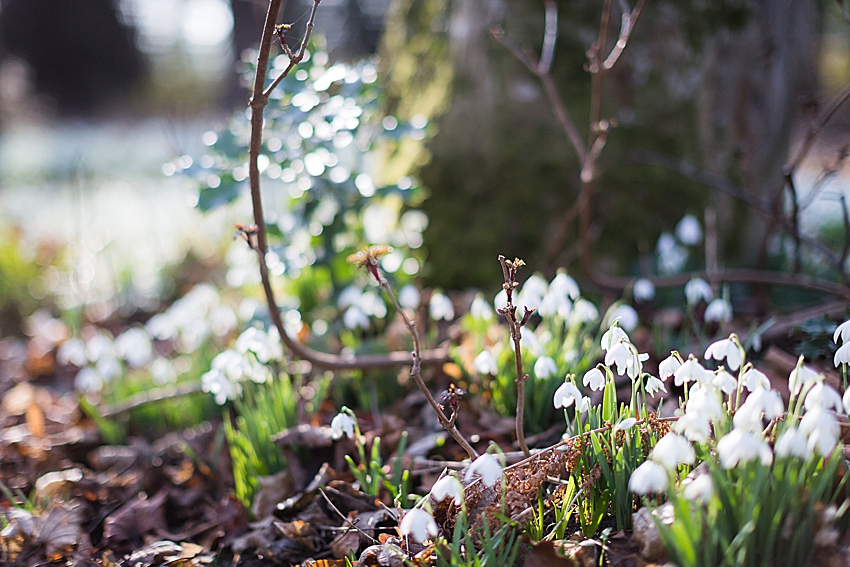 "Melanie Pumfrey, 60, who works in marketing, and Sir David Kinloch, managing director of Gilmerton Land Services, 66, were married on February 24, 2018, at Gilmerton House in East Lothian
Getting married to Mel in the upstairs drawing room of his childhood home was a watershed moment for David. "It was perfect," he says. "It drew the line under what we have done here together."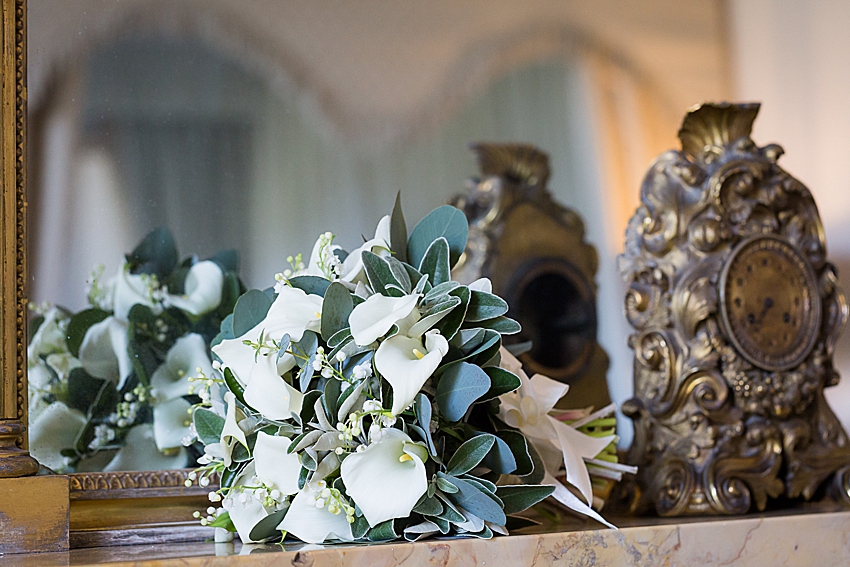 Mel and David have transformed Gilmerton House in East Lothian into a tasteful venue for private use, with all the trappings of a country pile. The Beckhams have been among the guests at the handsome Georgian mansion, which hosts about 14 weddings every year and has its own butler.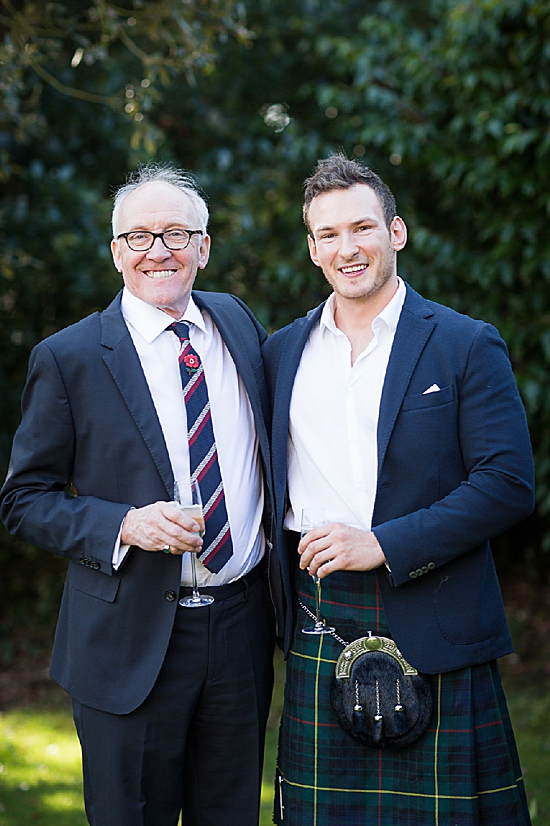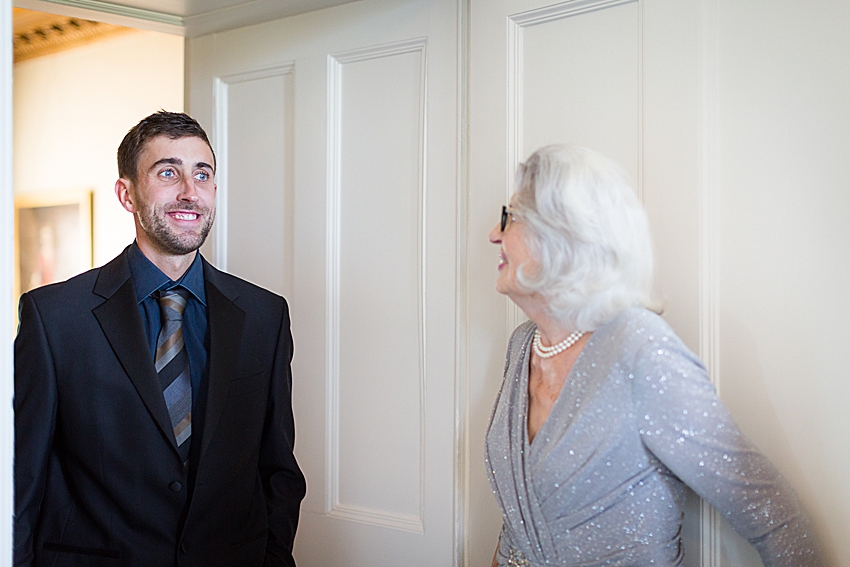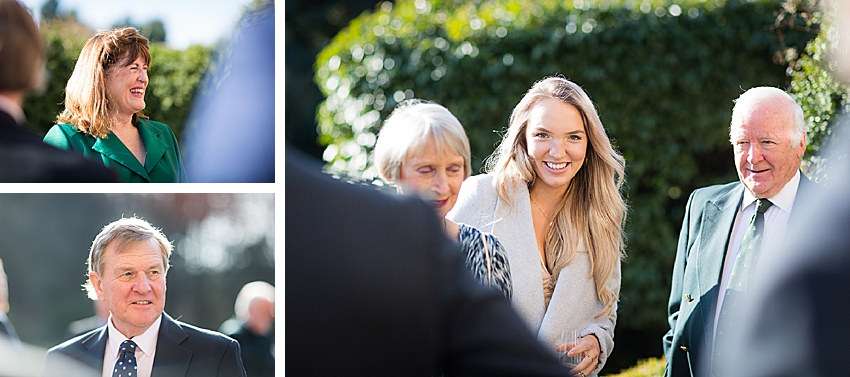 David was one of six siblings raised in Gilmerton, which has been in the Kinloch family for 600 years. He went to boarding school at Gordonstoun and then lived in Yorkshire with his first wife, with whom he has a son and daughter. He returned to live in Gilmerton with his second wife and turned it into a business.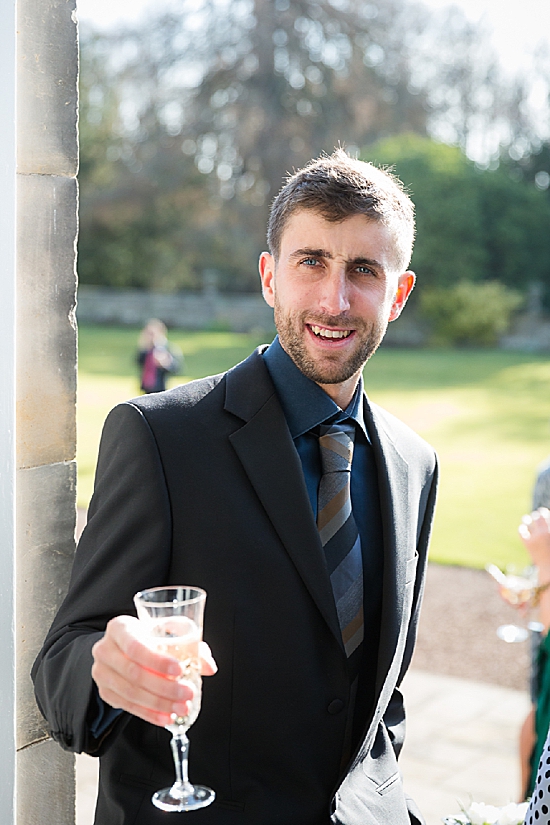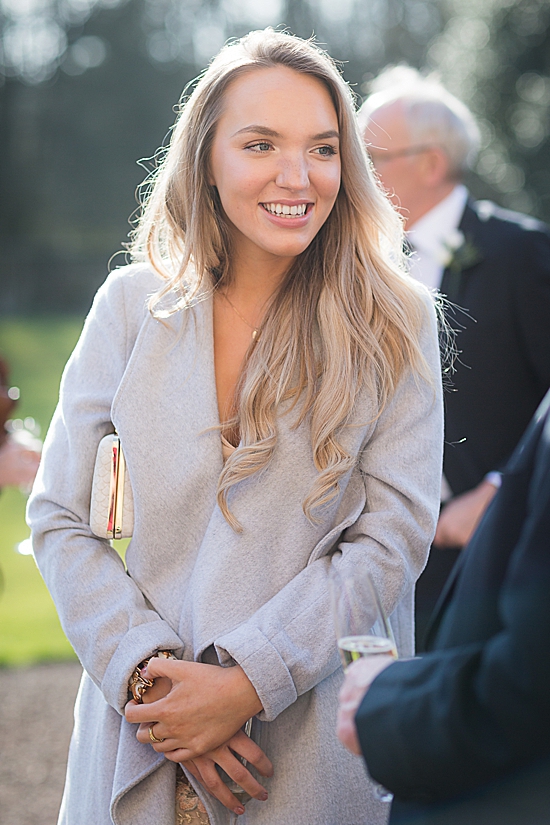 Mel and David got to know one another through mutual friends. "It was quite a slow burner," Mel says. She and her first husband, the father of her three sons, divorced in 2005. David's second marriage ended in 2008. Mel was then running a B&B from her house in North Berwick. She is a cordon bleu-trained cook with a background in interior design.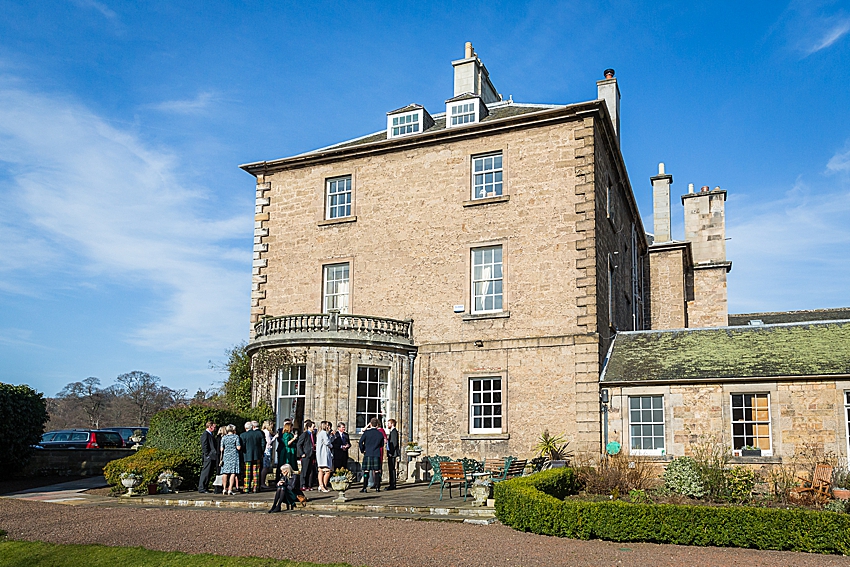 As well as being general manager of Gilmerton, David is managing director of Gilmerton Land Services, which was inspired by a school project. The company clears disused underground former military and industrial sites, recovering lost assets. "My first lesson was cutting off a transmitter receiver site next to Gordonstoun and grounding all the aircraft."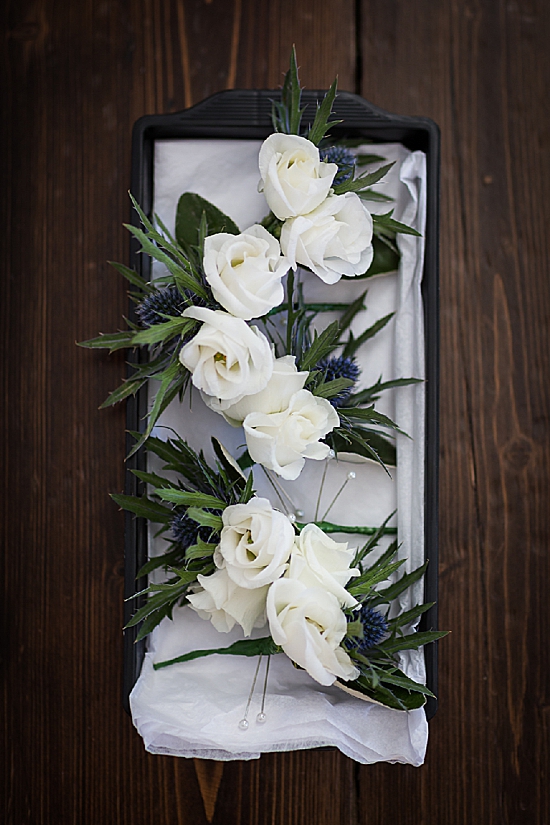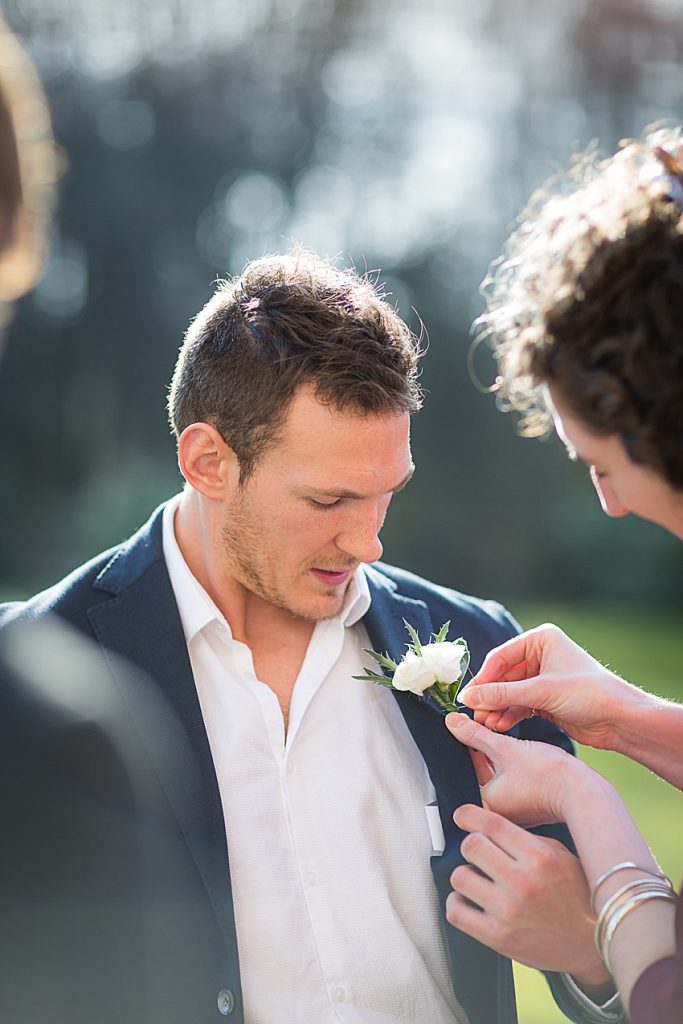 David fell instantly for Mel. "Her laughter," he says. "Her smile. Even the way she speaks is gentle. There was a warmth there." He appreciates her thoughtfulness and the calm way she resolves problems. "I actually do believe she is an angel," he says.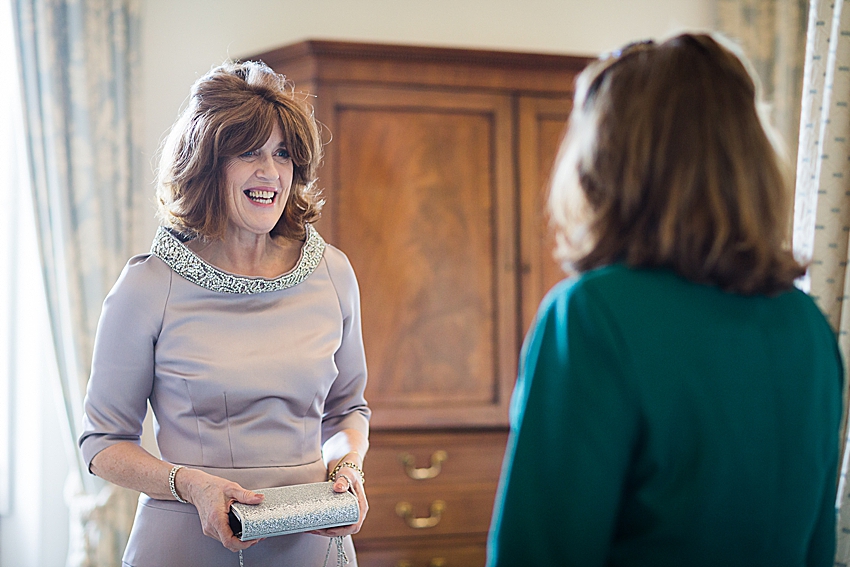 Mel and David's relationship took time to develop as they navigated their own lives independently of one another. He has two sons by his second wife. Over time, Mel became involved in the modernisation and marketing of Gilmerton. "I was actually quite resistant at first," says David, who has a twin sister. "I would say, 'That bathroom's fine. Just leave it be. I did it up in 1980.' I hate disruption. She very cleverly changed my mind by not reacting straight away. It took her a long time."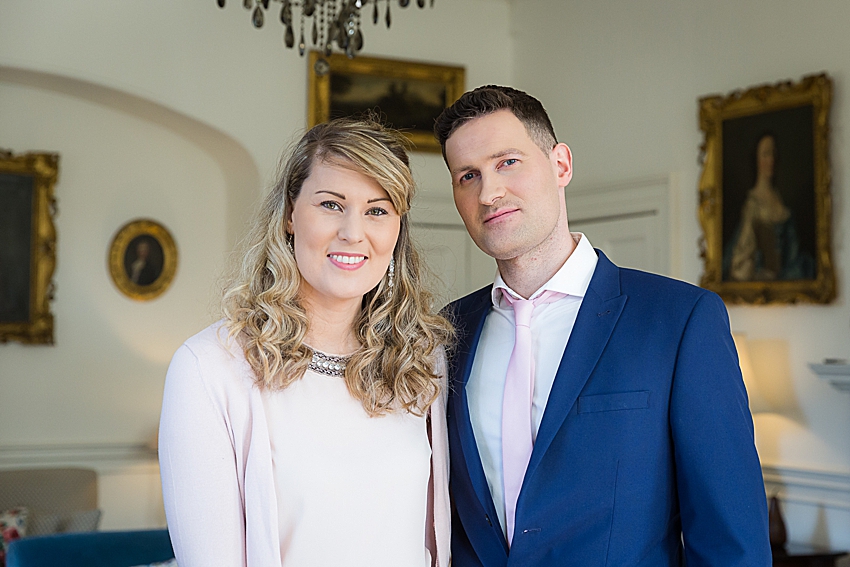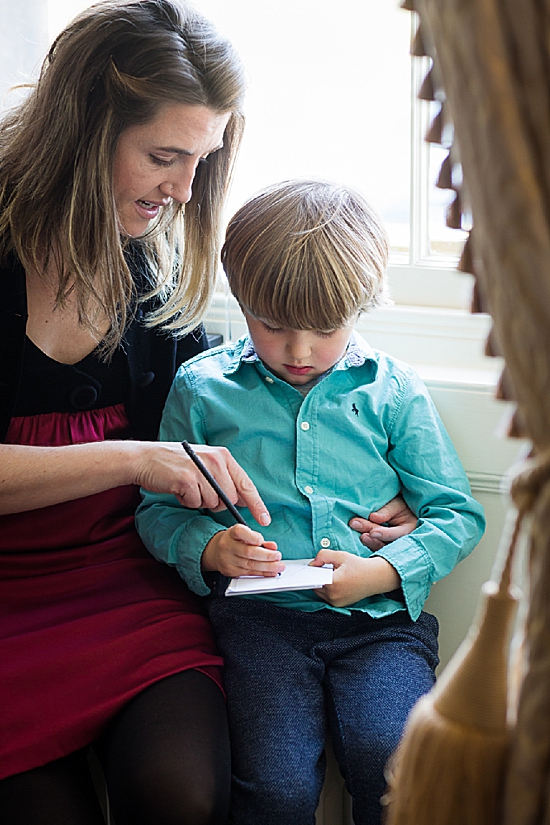 Mel enjoys David's zest for life. "He is a very charming man," she says. "He's quite eccentric. He gets extremely passionate about things. He has a massive love for life, which is very refreshing, and sees the positive in everything.
"He is crazy about recycling and has an amazing wood-burning boiler system. He is passionate about diggers and machinery and engineering. Anything to do with the war and he is happy." She describes herself as more cynical. "I'm the doubting one."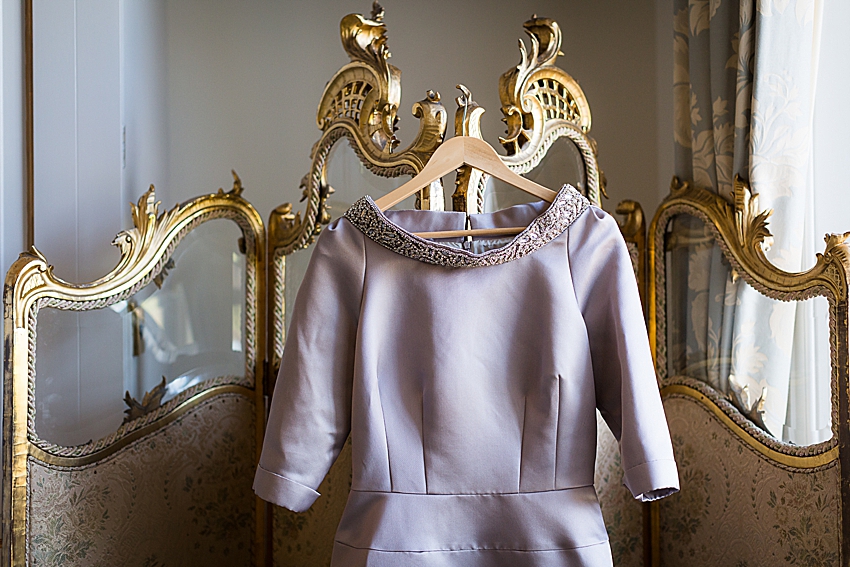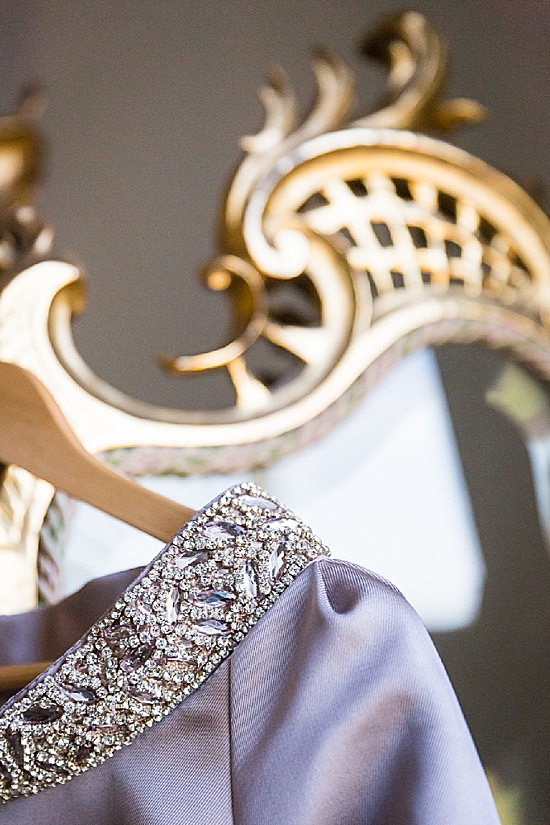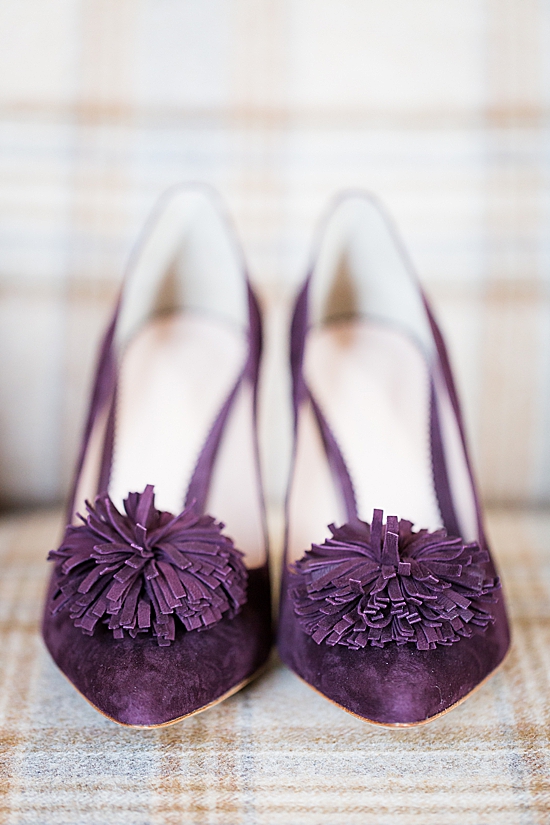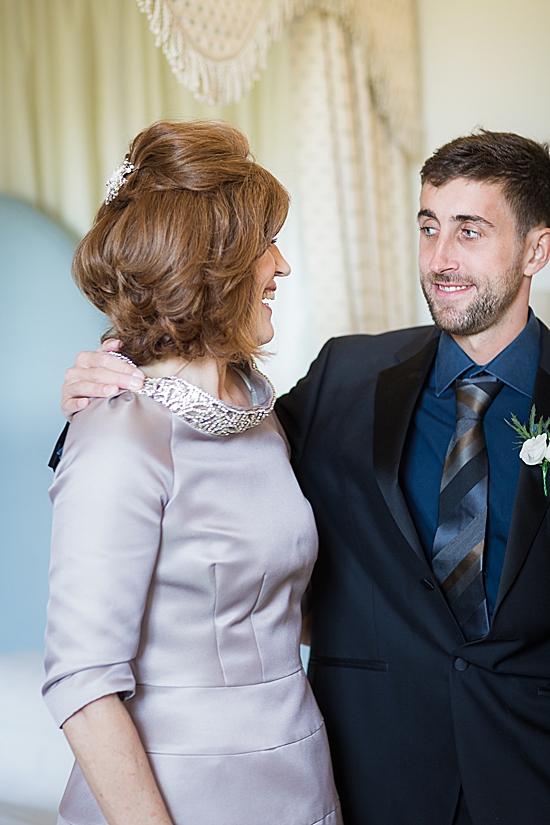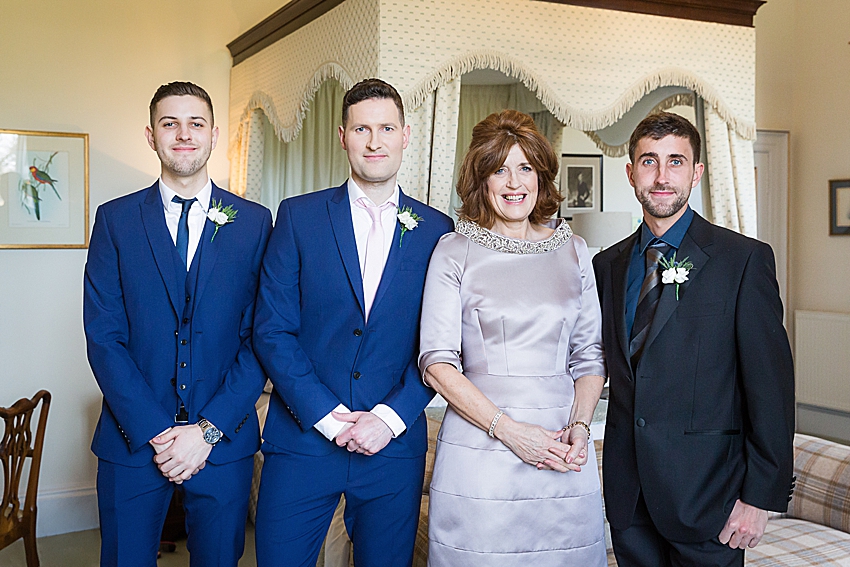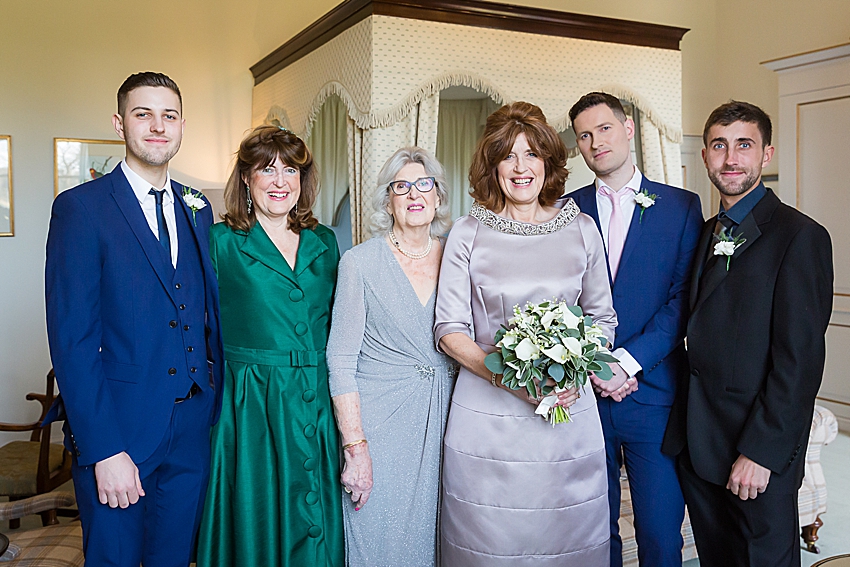 In 2010 David proposed to Mel with a ring in the drawing room at her house. She assured him that she wanted to be married, but the idea of getting married, "the whole show", stalled any plans. "I didn't look at it like an engagement," she says. Her mother referred to the ring David gave her as a "friendship ring".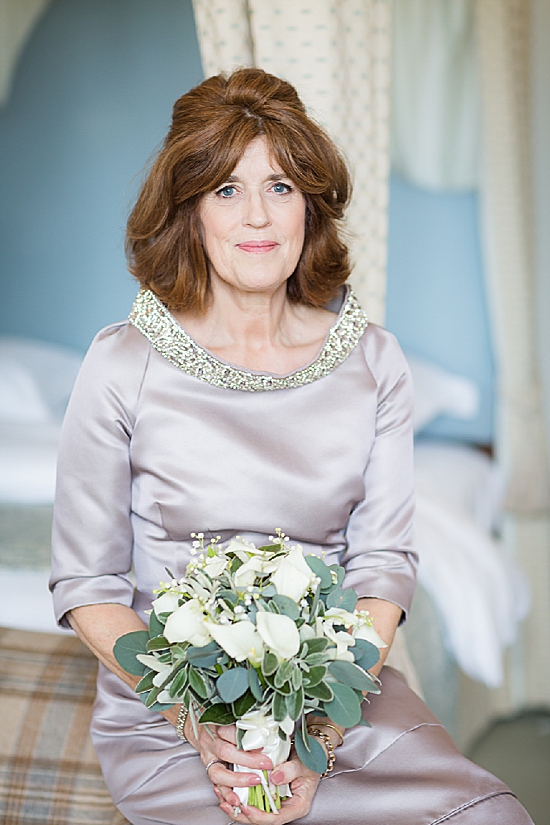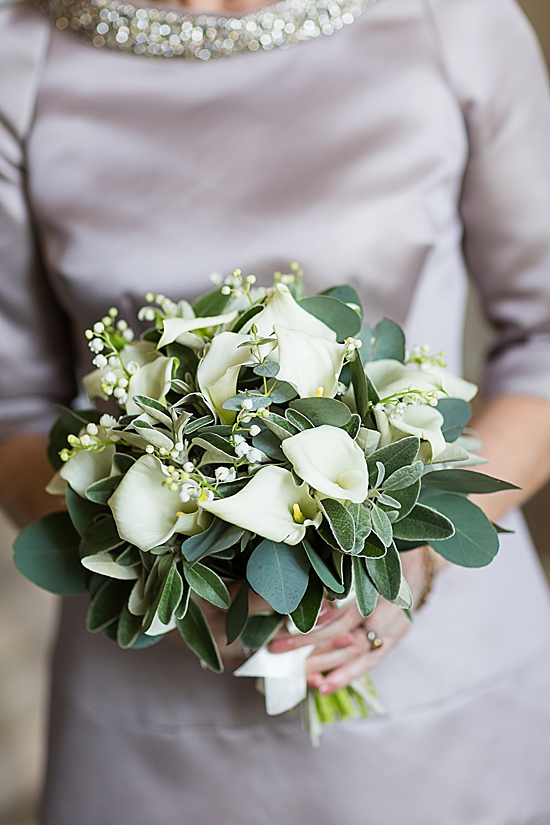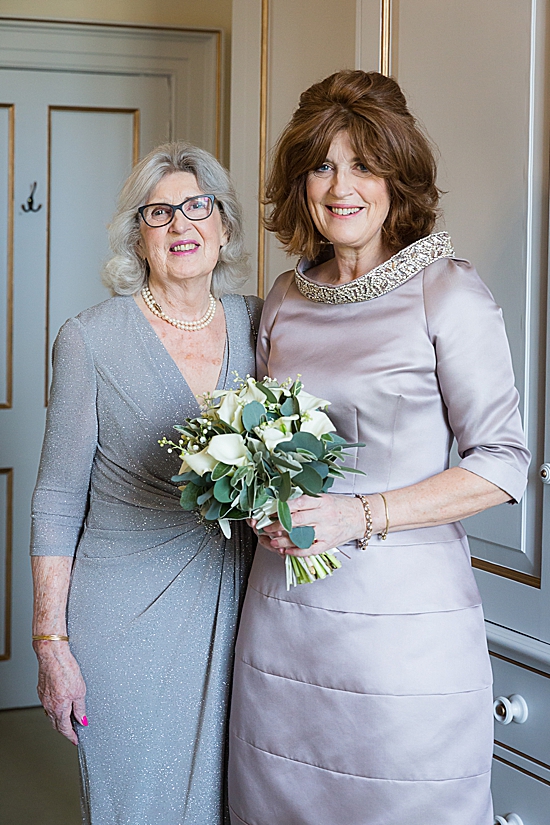 Six years later Mel moved in with David, into a flat in the south wing of Gilmerton, which used to be his nursery. She felt cautious about giving up her "perceived independence".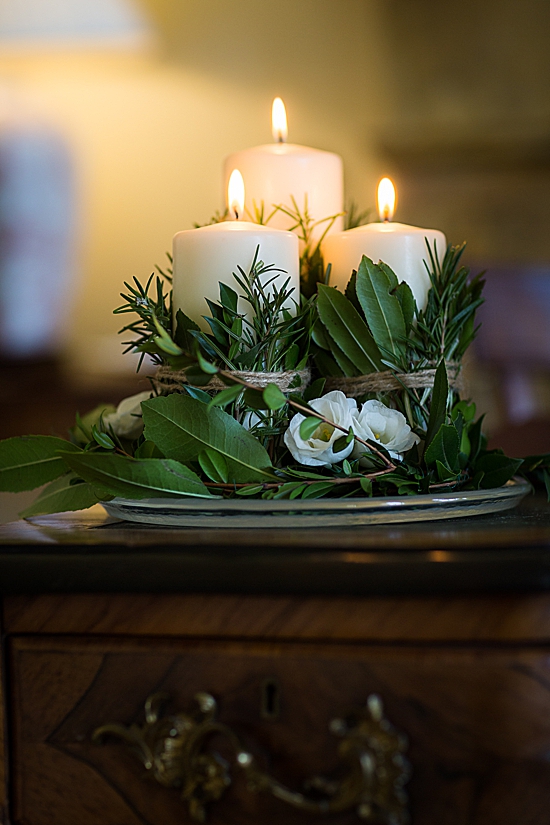 It was witnessing a couple, who had both been married before, in an intimate ceremony at Gilmerton last summer that made her realise the sort of wedding she wanted. "I wanted a lot of happy people and no awkwardness," Mel says. "And nobody being there because they felt they should be there. I wanted it small enough for everybody to talk to each other."
"I wanted everybody to be really chilled out," David says. His youngest son, Matthew, was best man. Mel walked in on the arm of her eldest son, Jack. Her father died 32 years ago.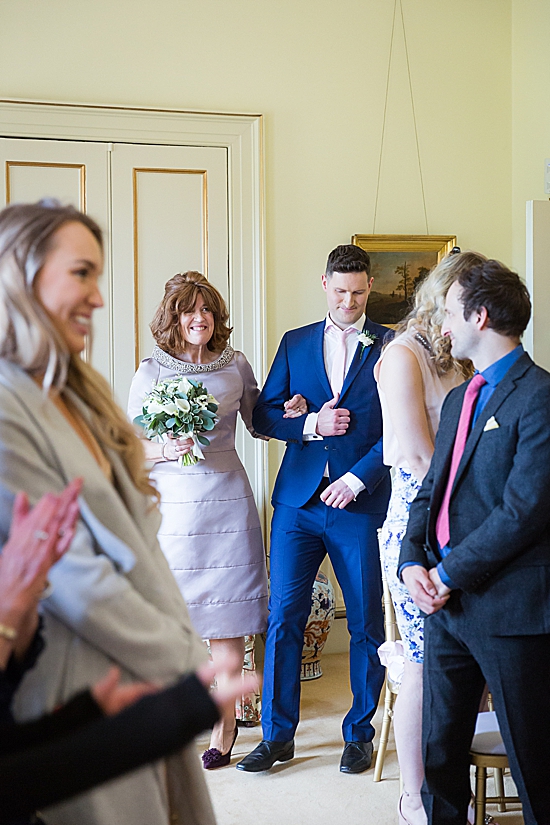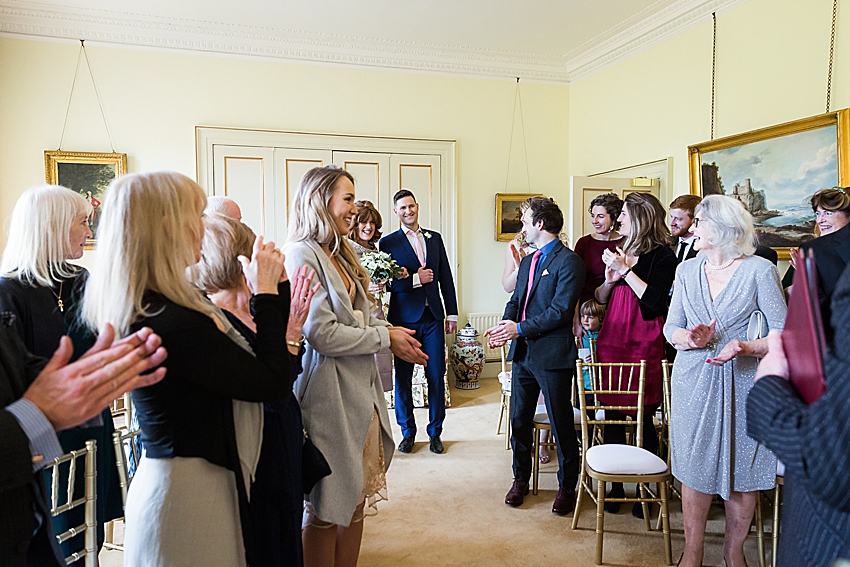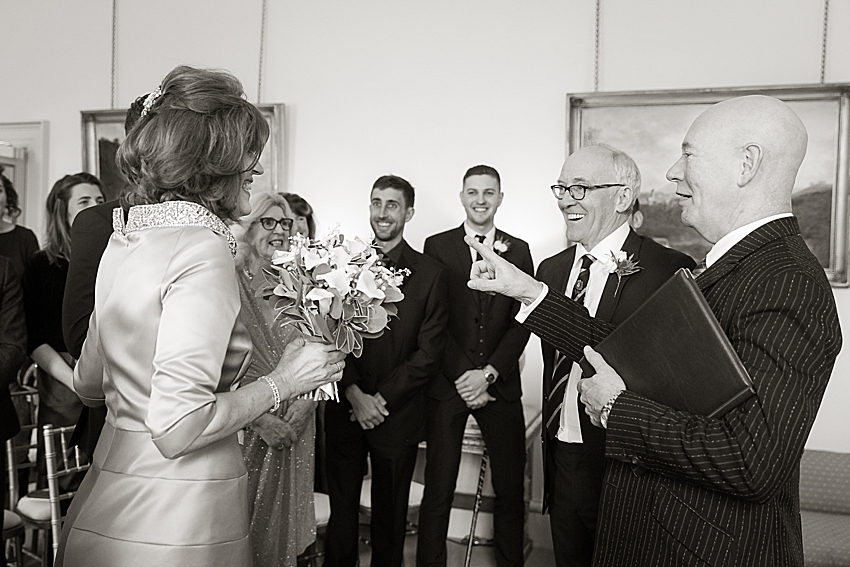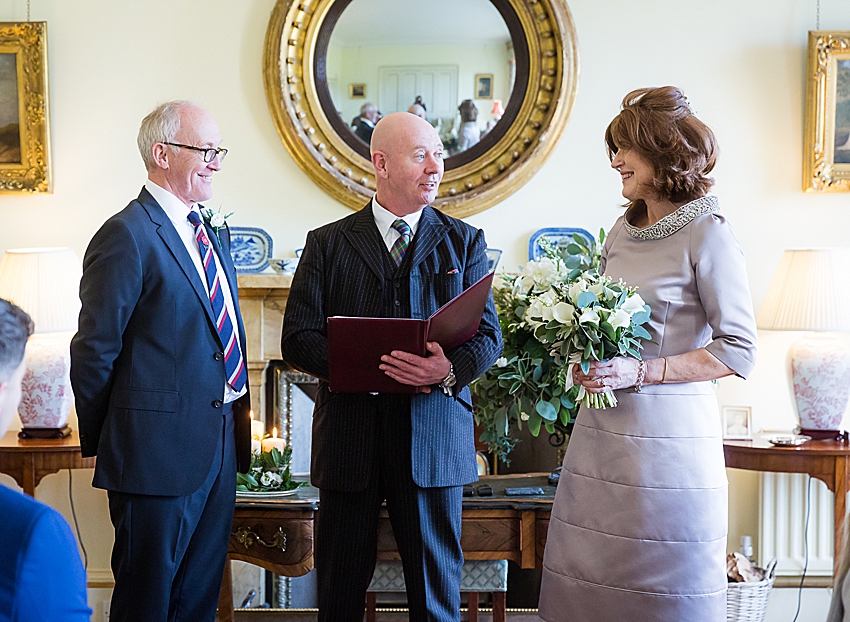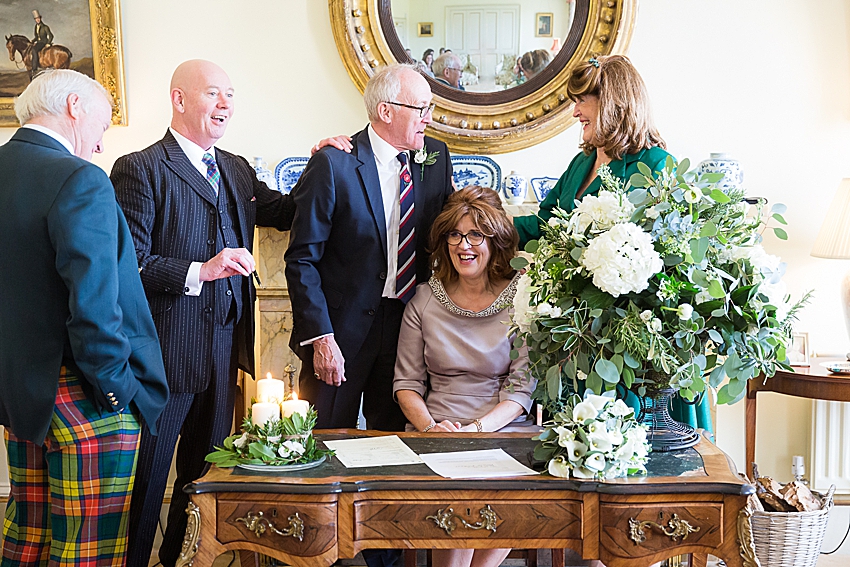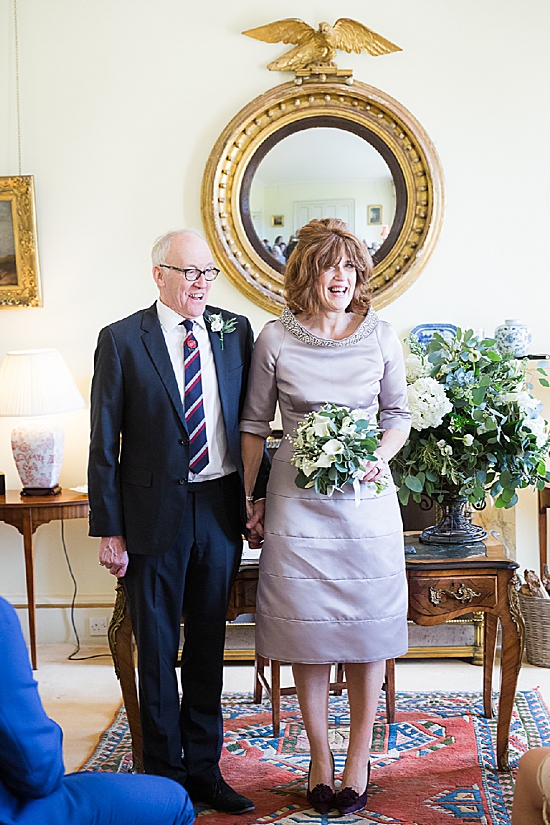 Mel's elder sister went with her to London for the first fitting of her satin wedding dress by the British designer Suzannah. Only members of the family were invited to the humanist ceremony, for which the couple wrote their vows.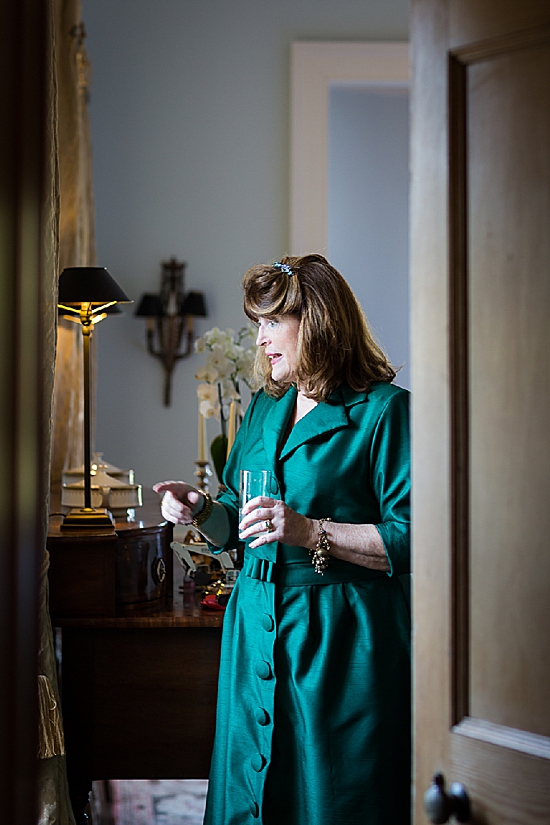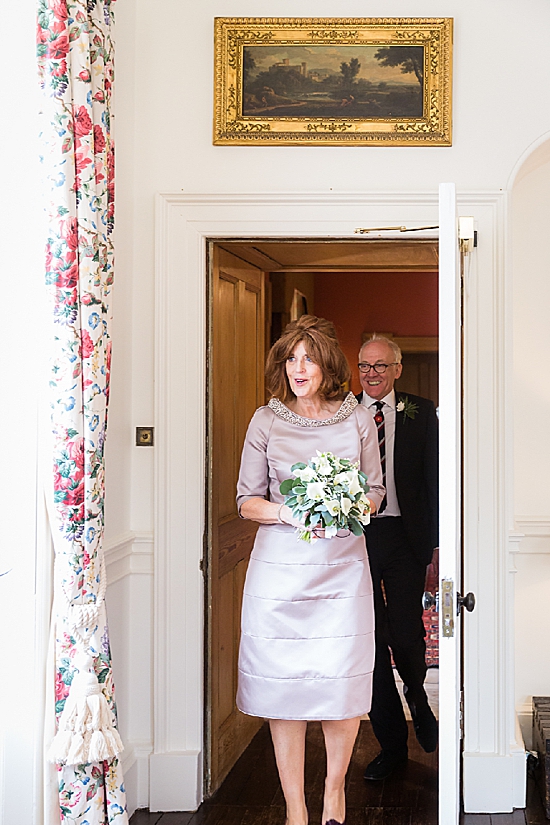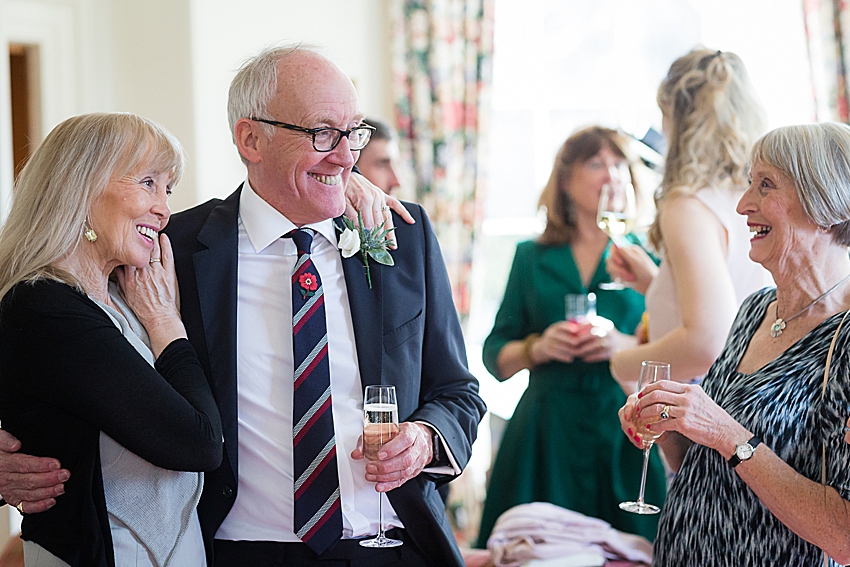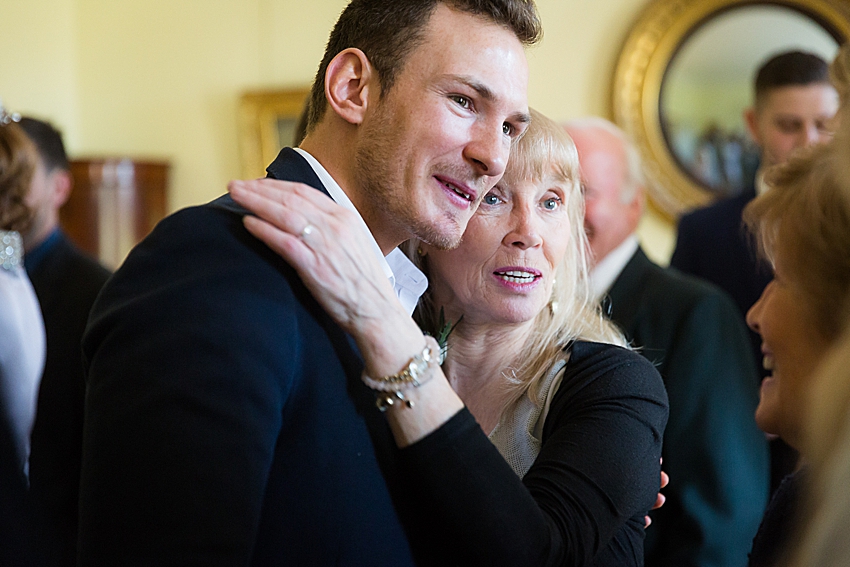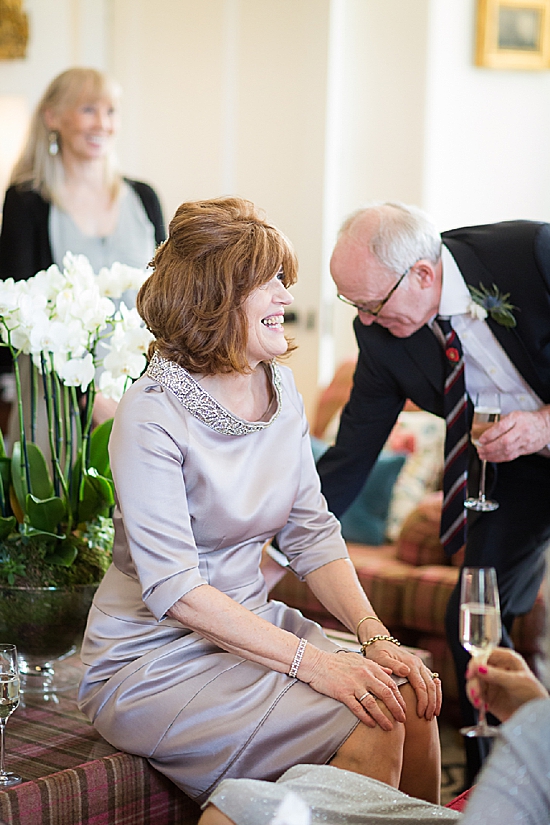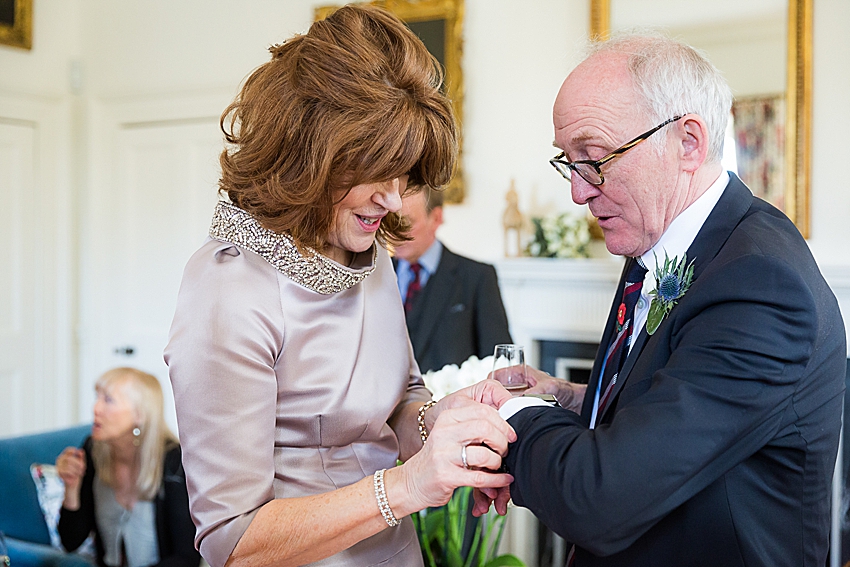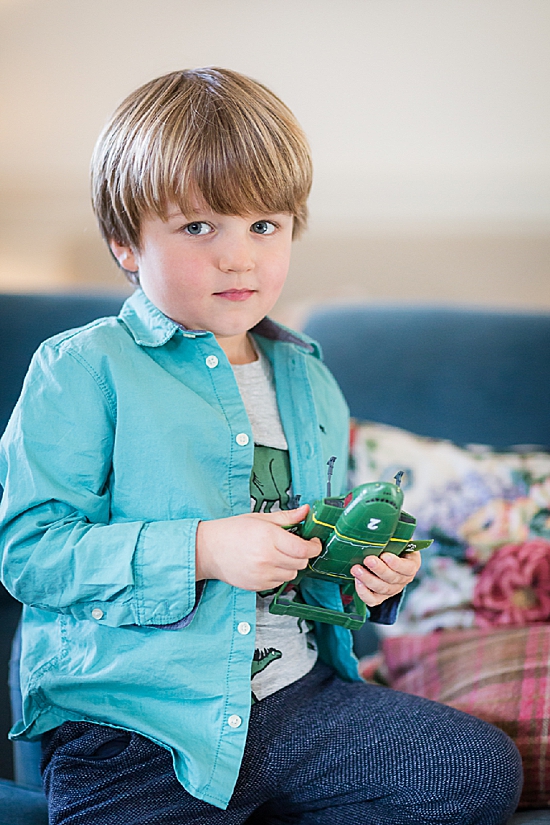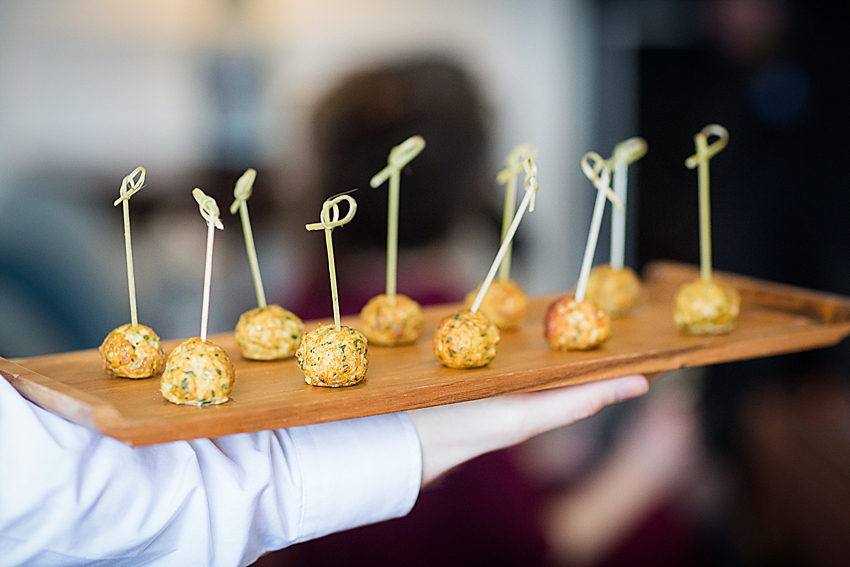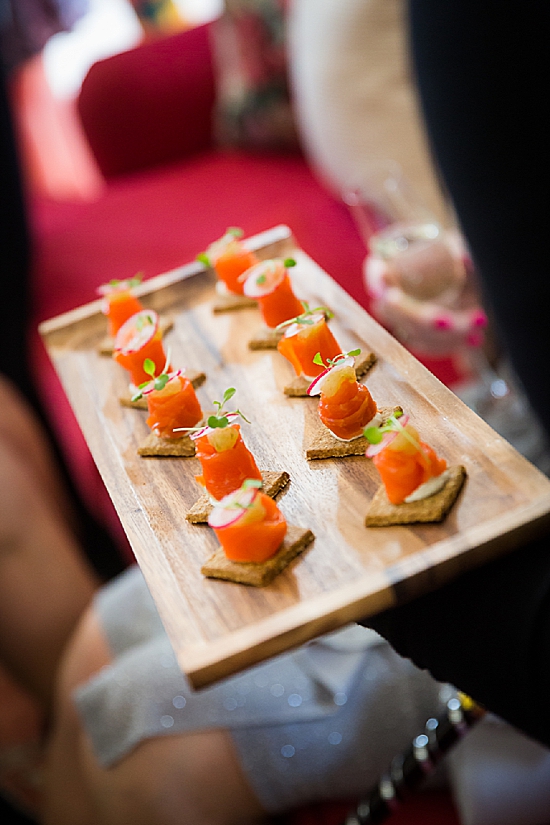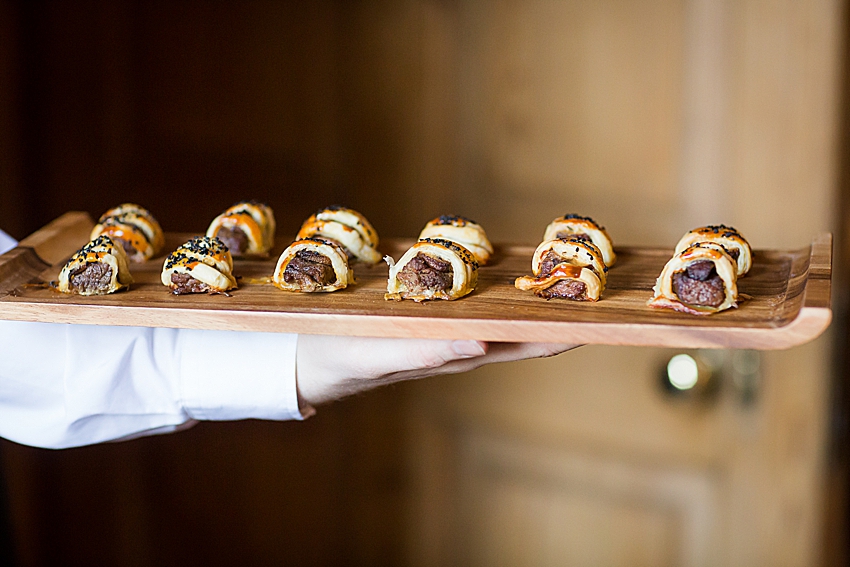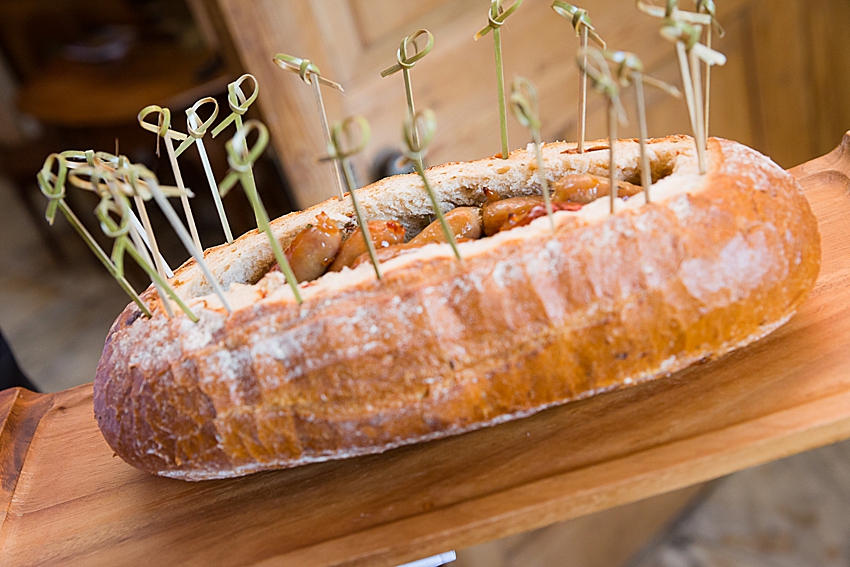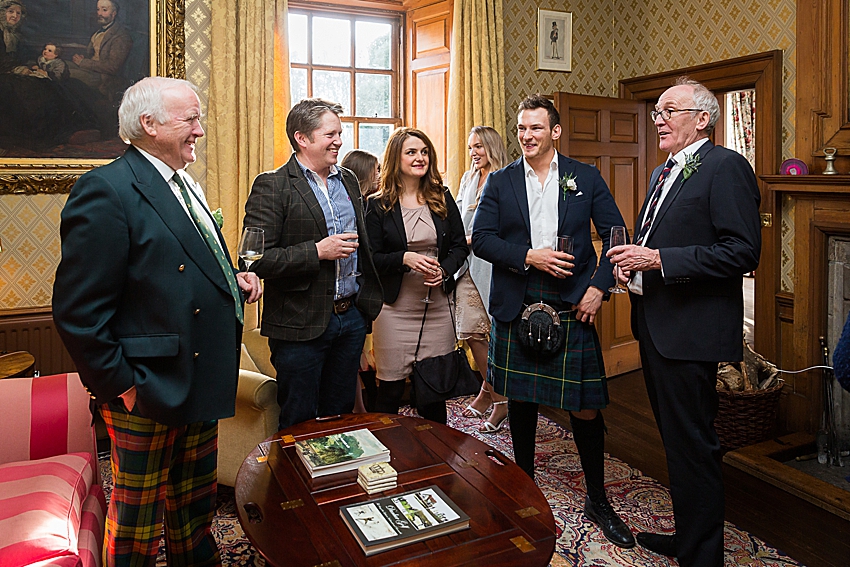 Canapés and champagne were served in the garden afterwards. The television was kept on in the snug for the Scotland rugby team's victory over England in the Six Nations Championship. "I was mortified because I'm English," says Mel, who grew up in Yorkshire.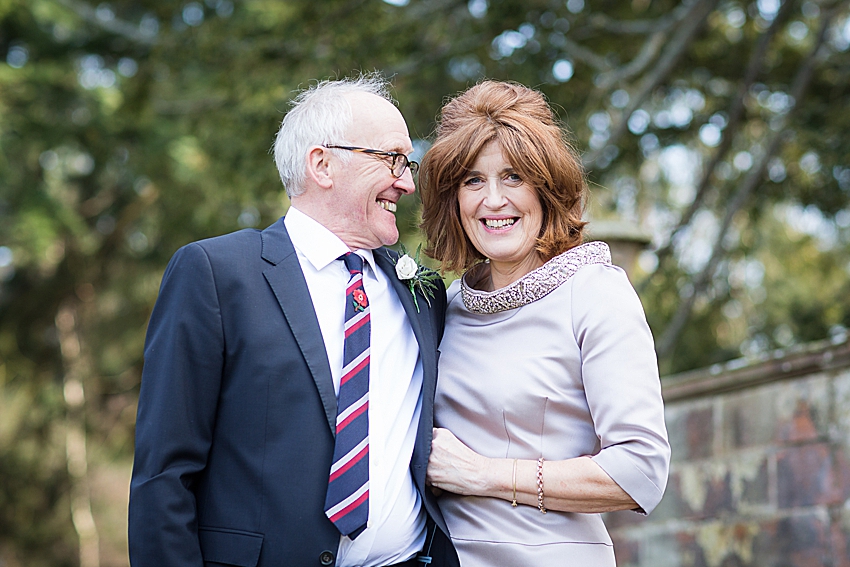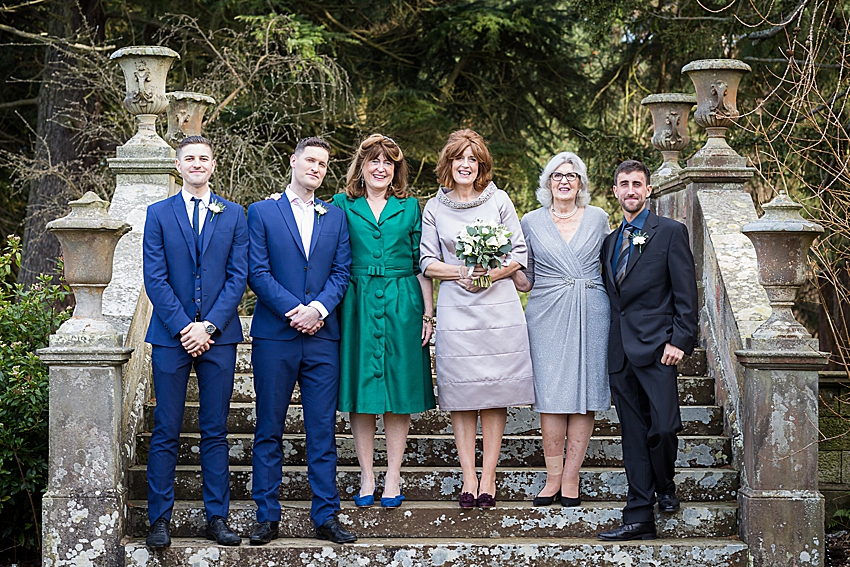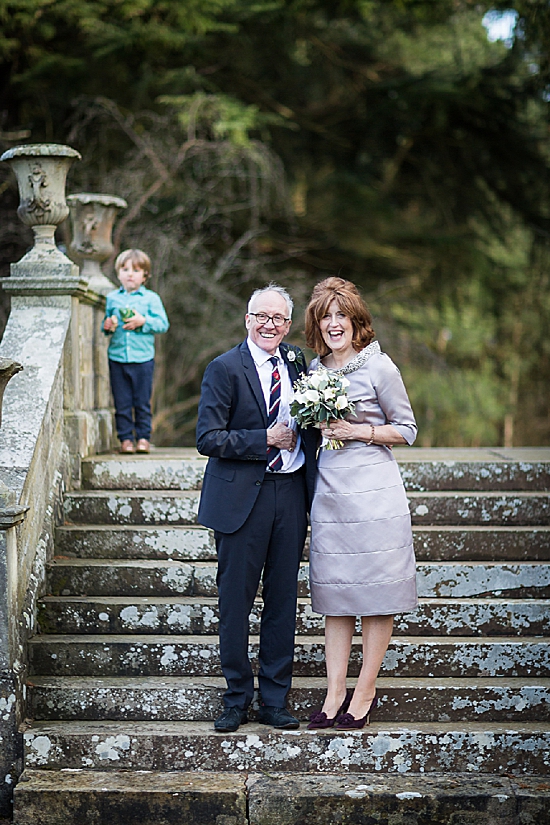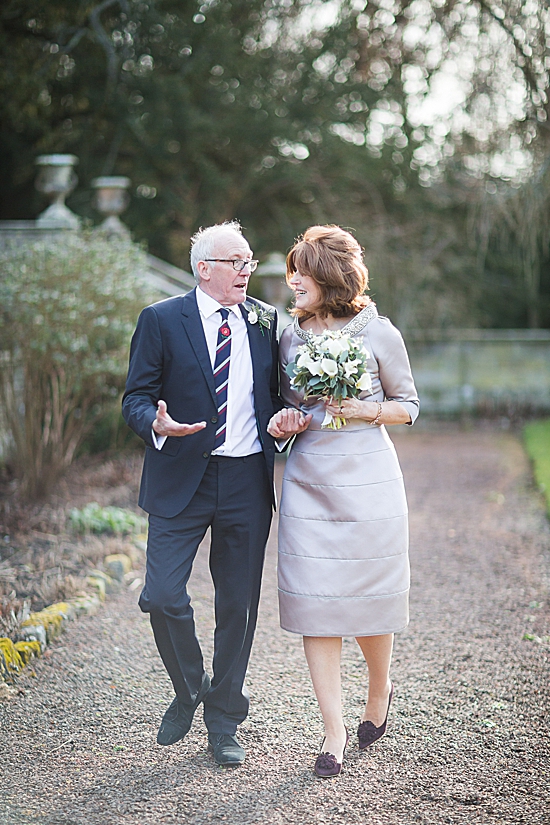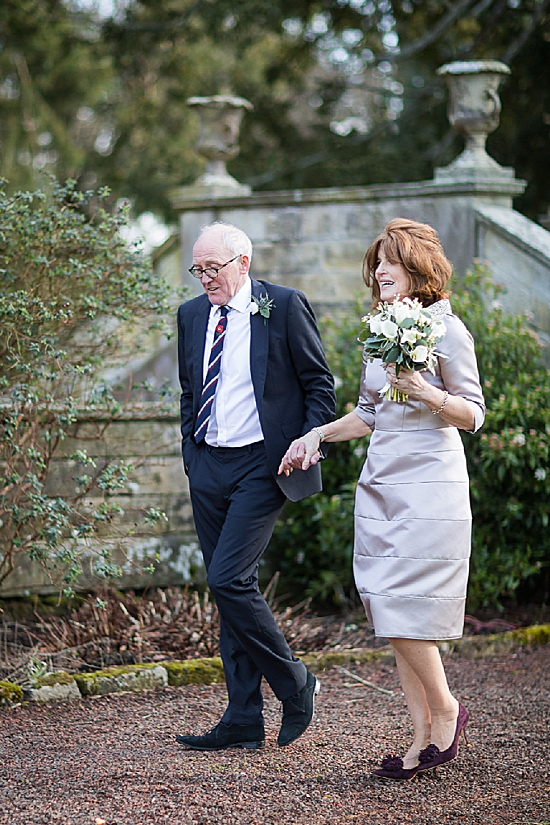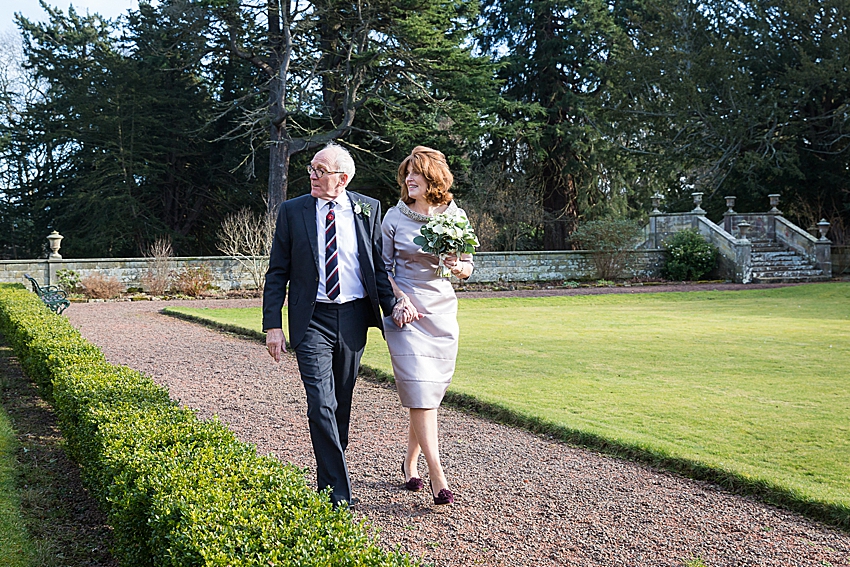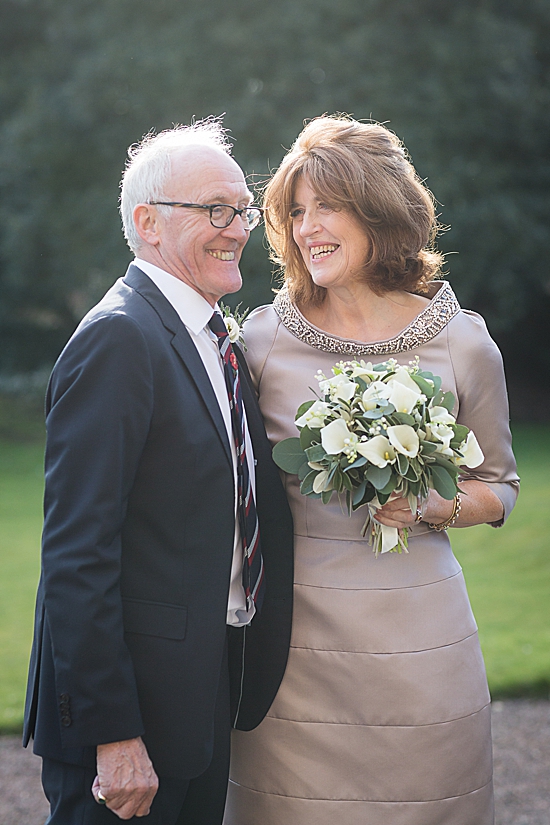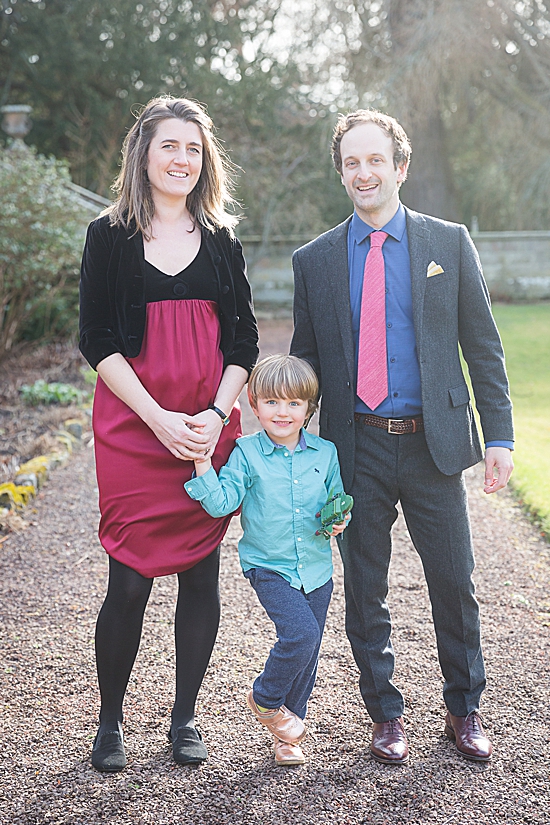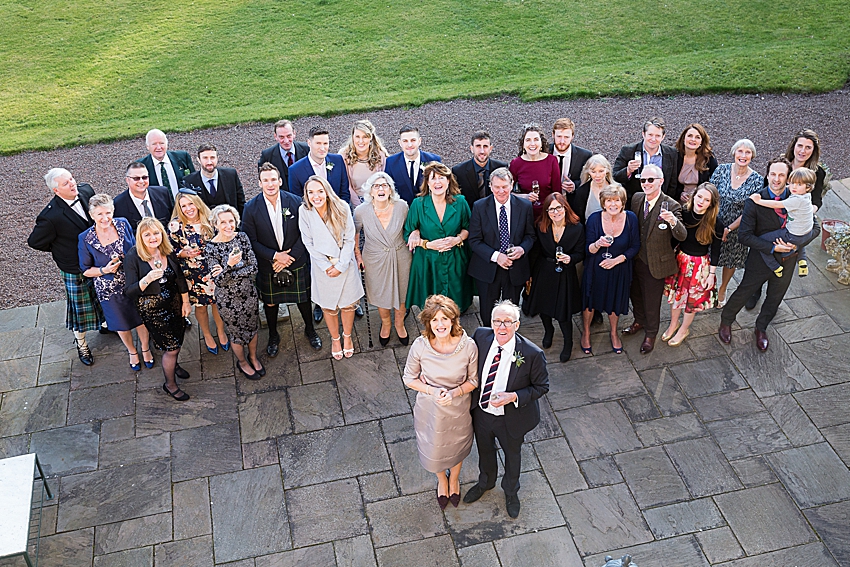 Thirty-five guests, including staff at Gilmerton, sat down to afternoon tea in the music room. "Sitting at the table and watching everybody talking and laughing was so nice," Mel says.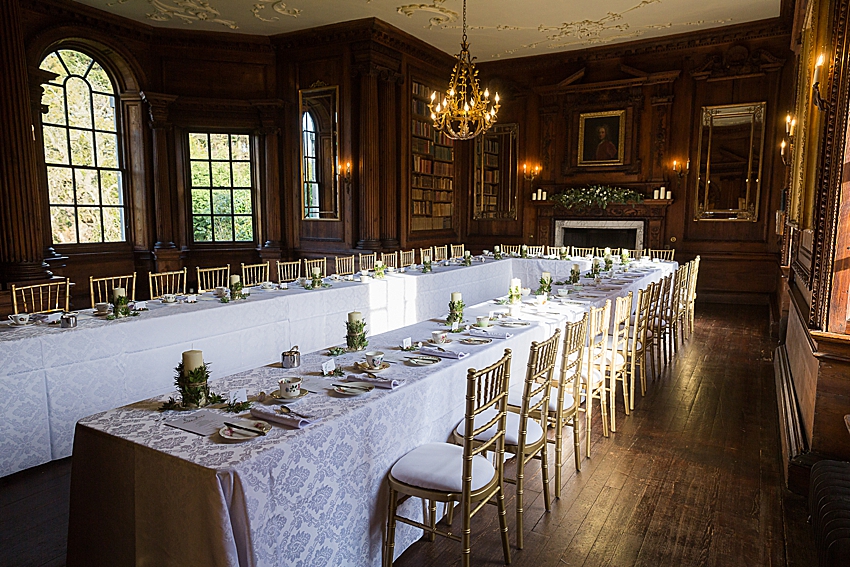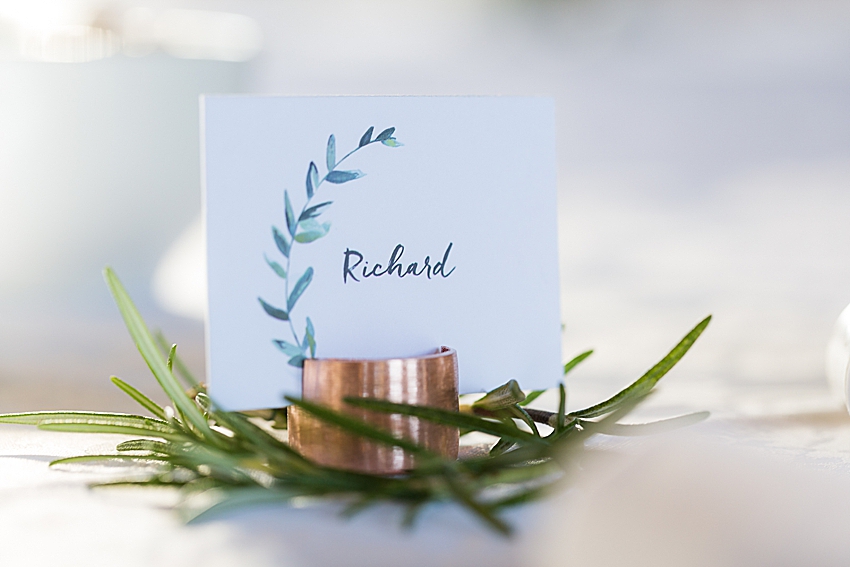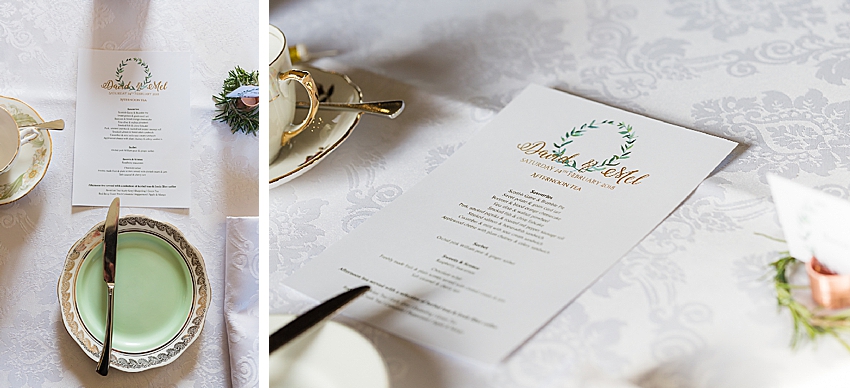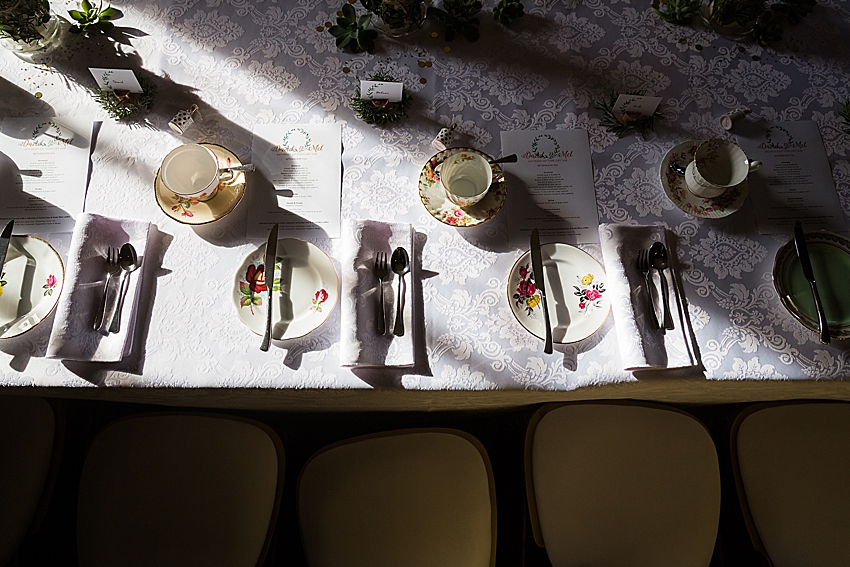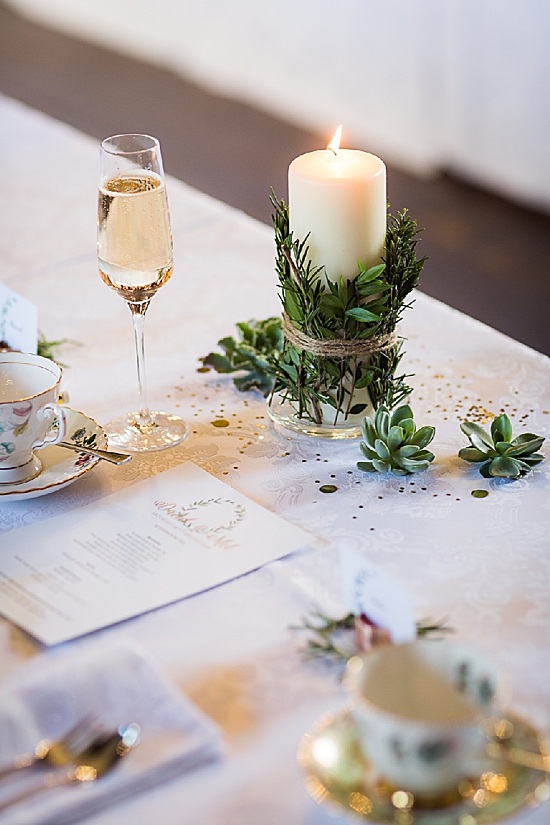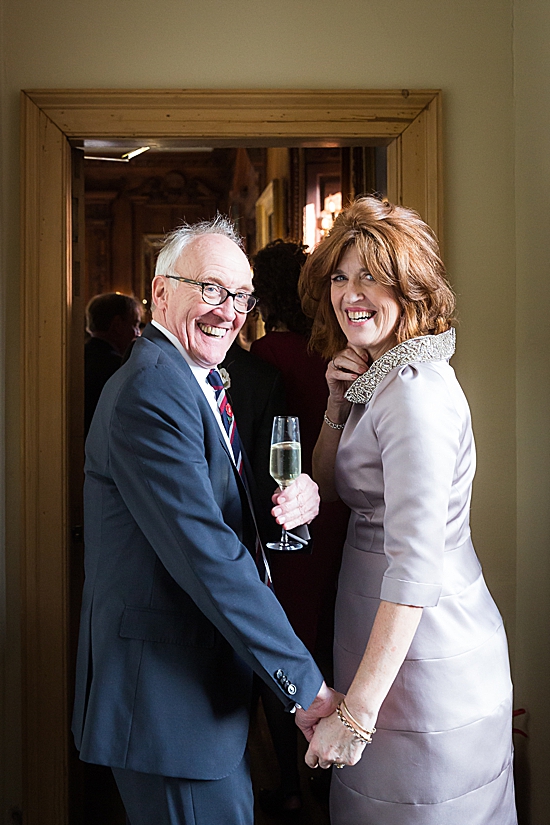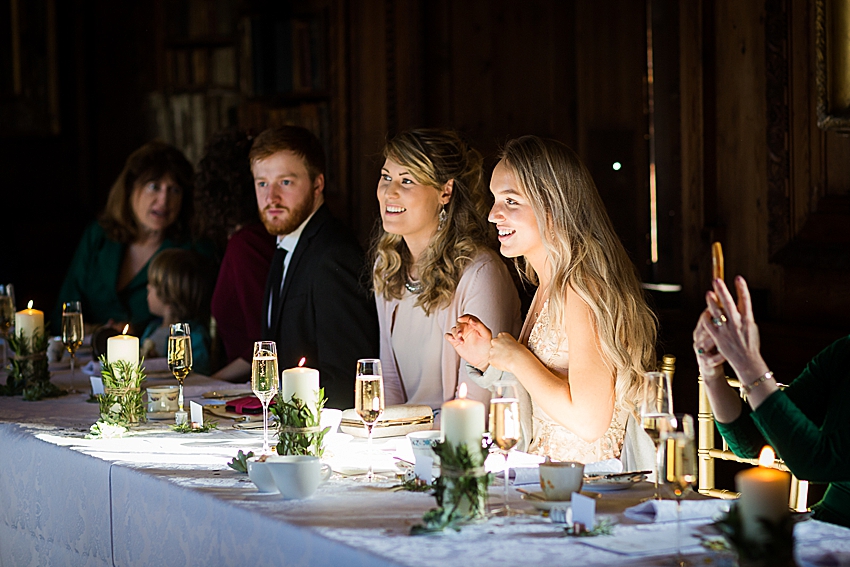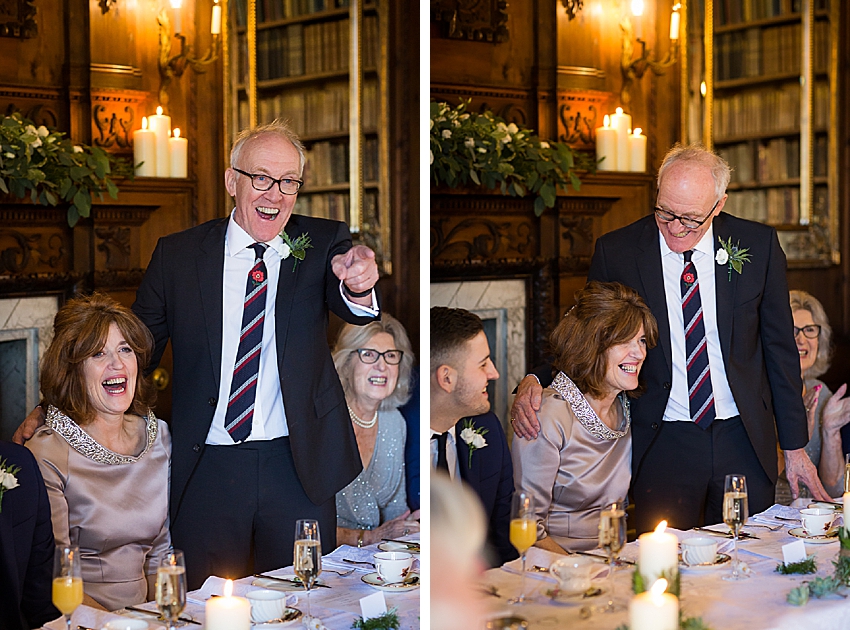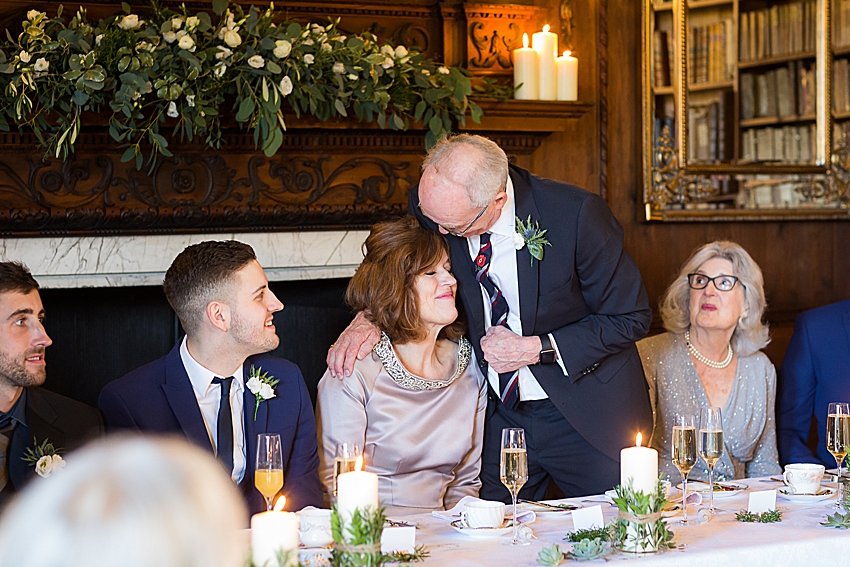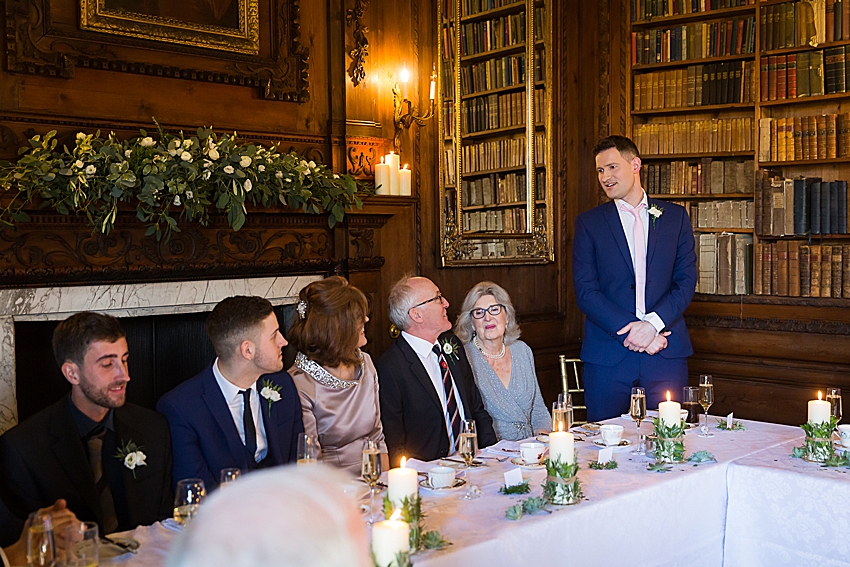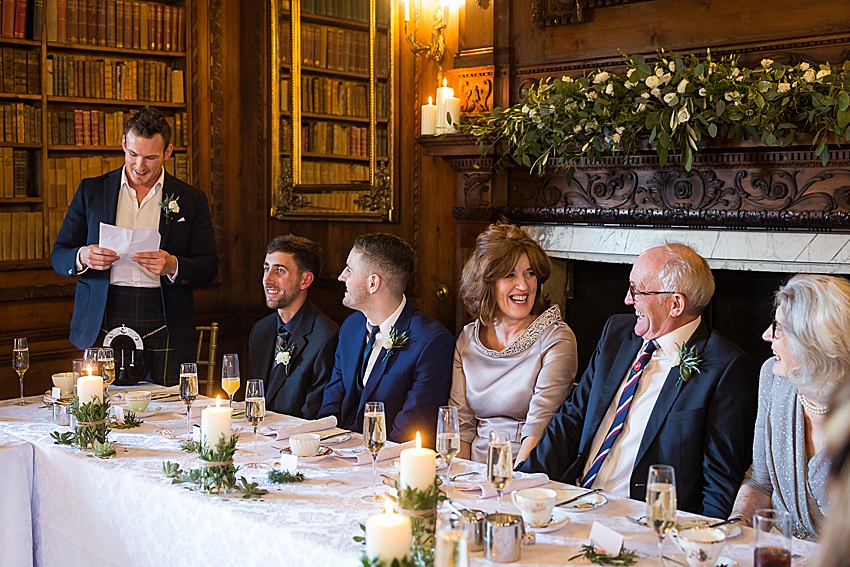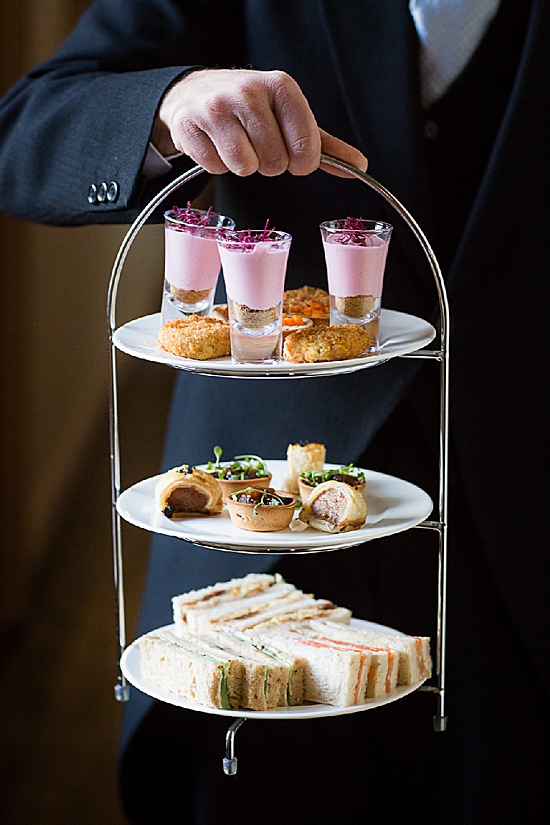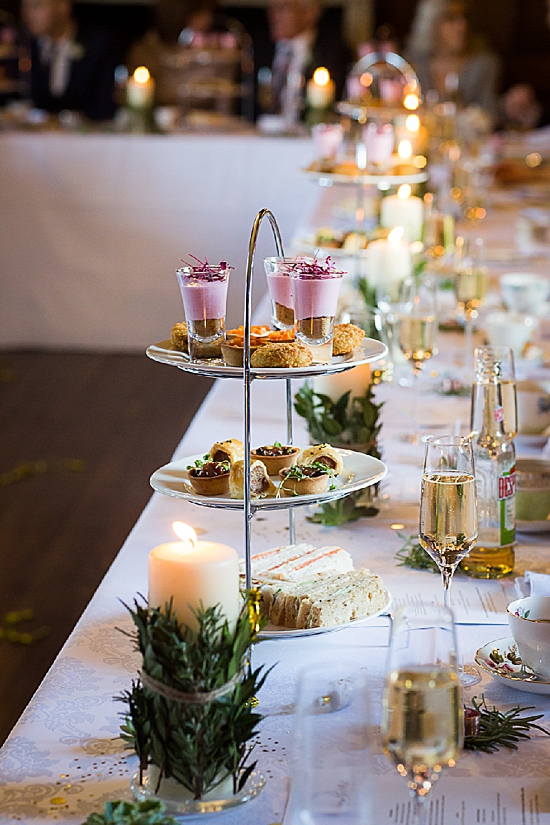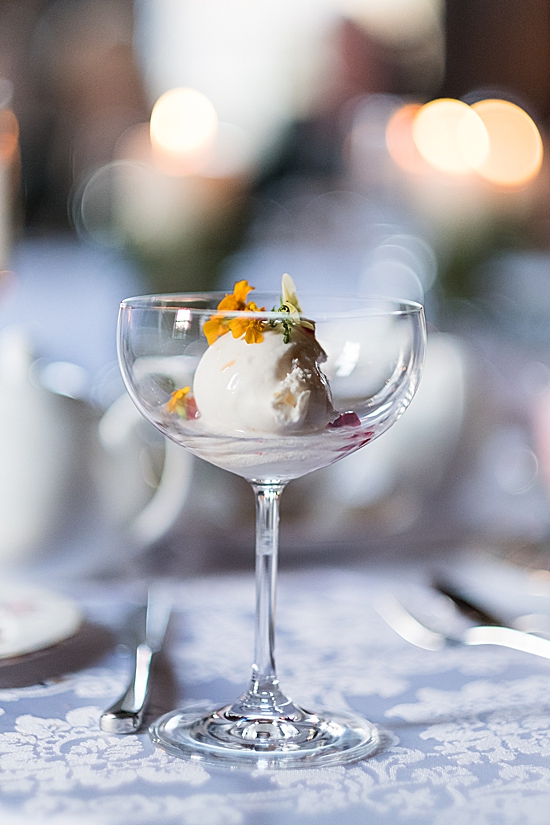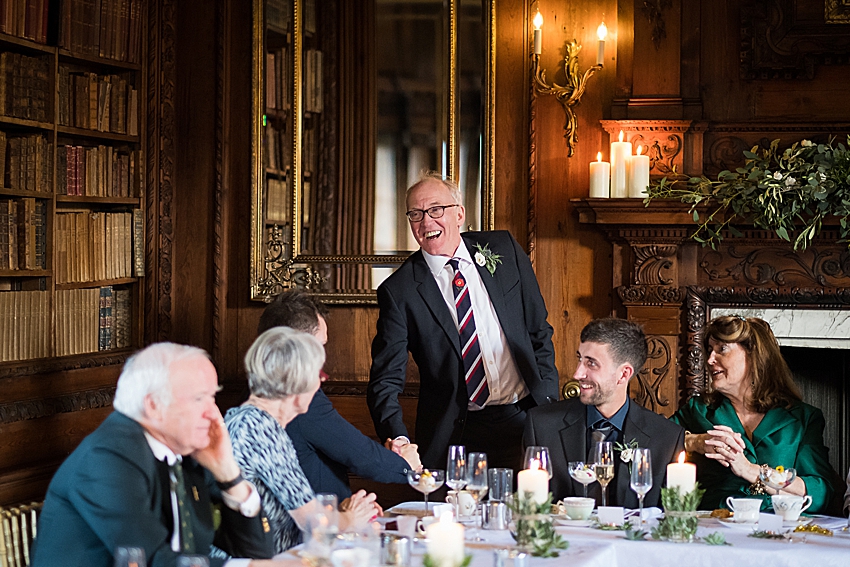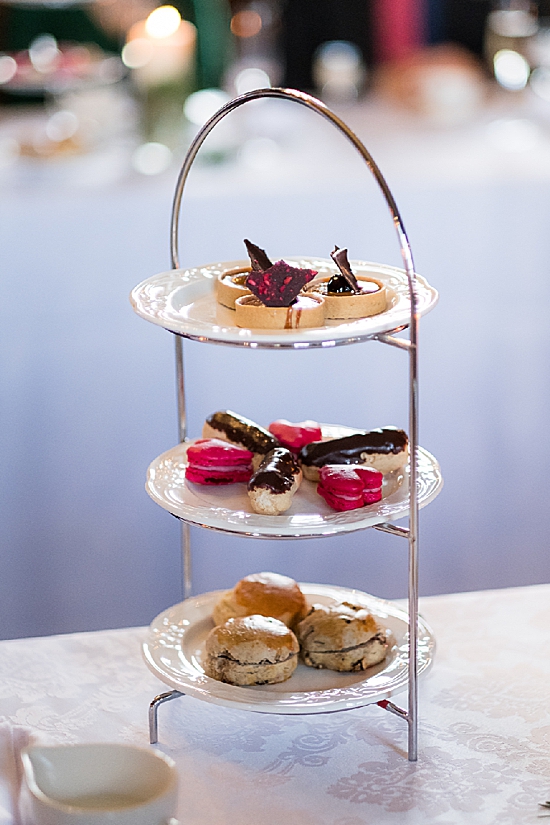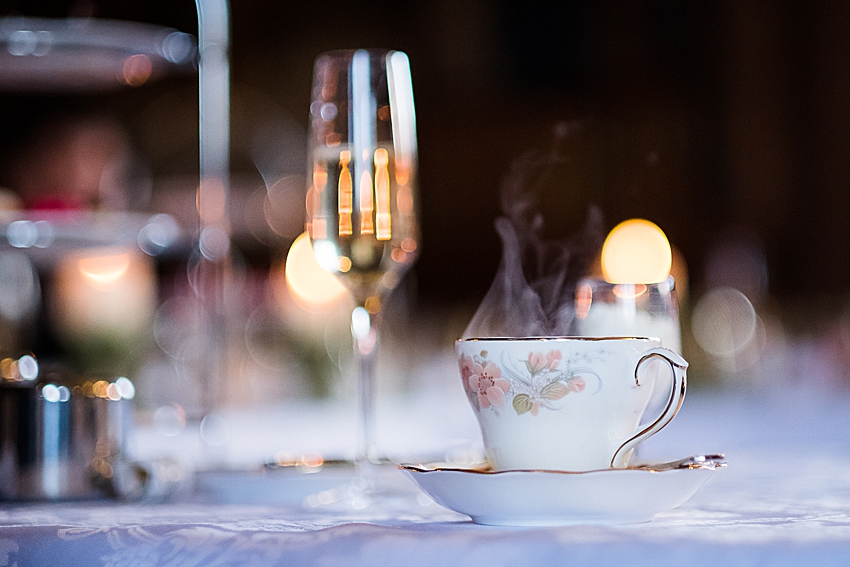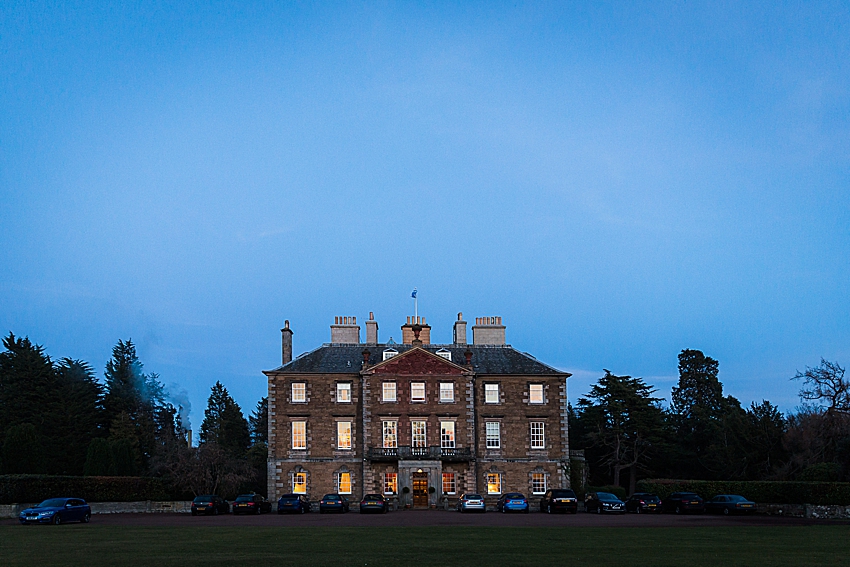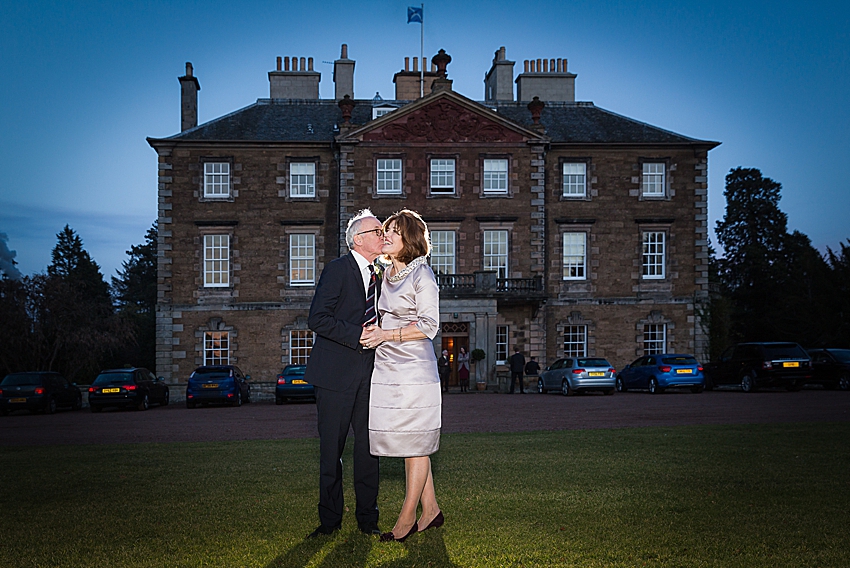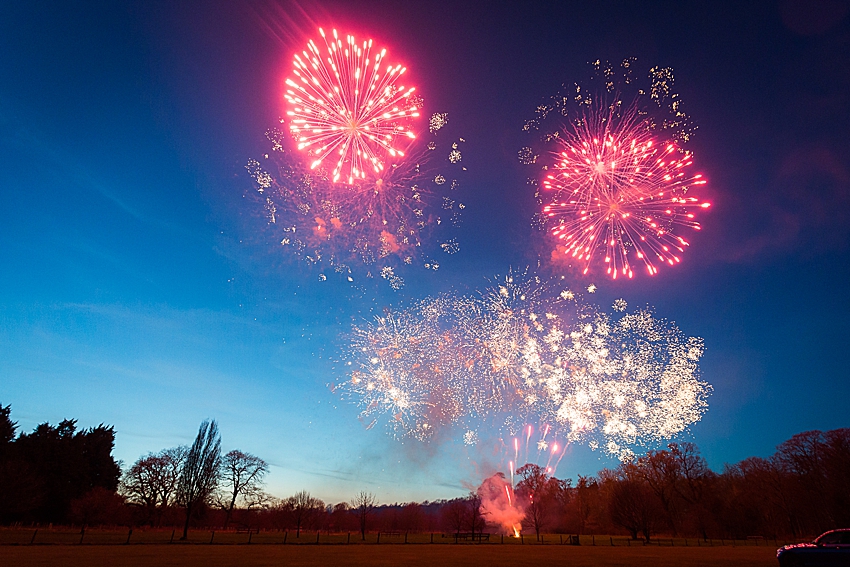 There was a fireworks display at dusk."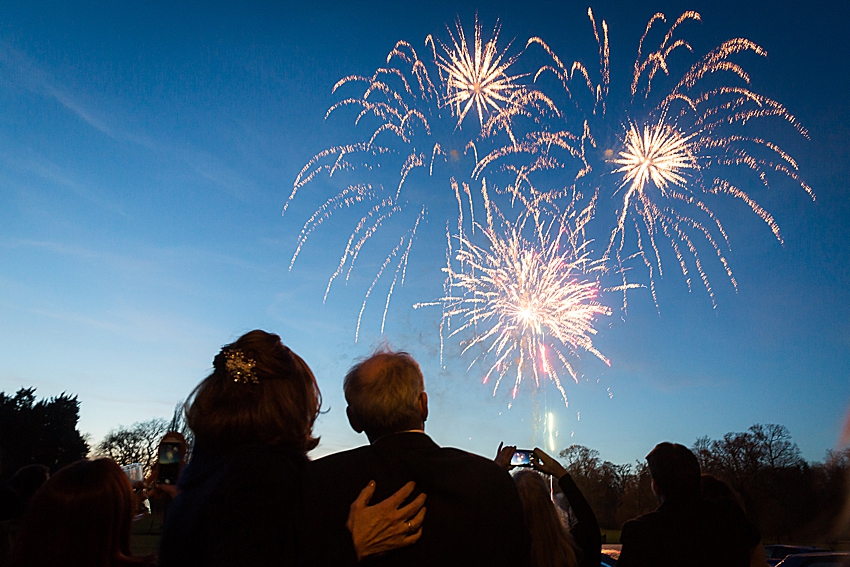 Thank you to Morag Preston for the lovely article.
And thank you so much Melanie and David for choosing First Light to capture your day!
Mel and David's suppliers included:
Venue: Gilmerton House
Dress: Suzannah
Florist: Secret Garden Events Florist
Catering: Heritage Portfolio
Stationery: Elise Rayment Creativeh
Fireworks: 21cc
Wedding Photography: First Light Photography
Posted on 15 February, 2019 by under
Getting married in February doesn't necessarily mean dark, wet, windy days. Sheelagh and Jamie's wedding was filled with golden winter light, the most beautiful bespoke contemporary wedding gown, tons of fairy lights and lots of laughter.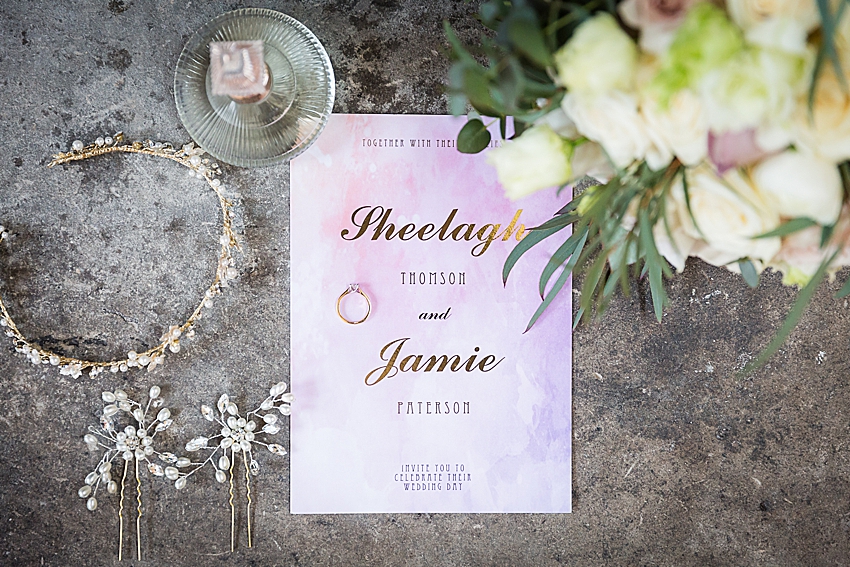 Sheelagh and Jamie met whilst students at the University of Edinburgh and wed after a decade together on a bright February day at the magnificent Mansfield Traquair. This stunning venue is a former church situated in Edinburgh's New Town, and is filled with murals by Scottish artist Phoebe Anna Traquair, and yes a lot of golden hued fairy lights, which create a magical atmosphere for weddings.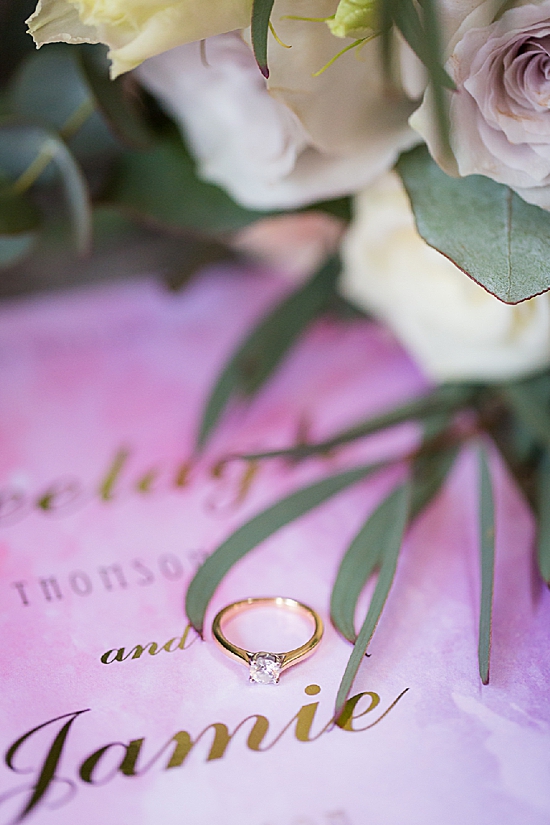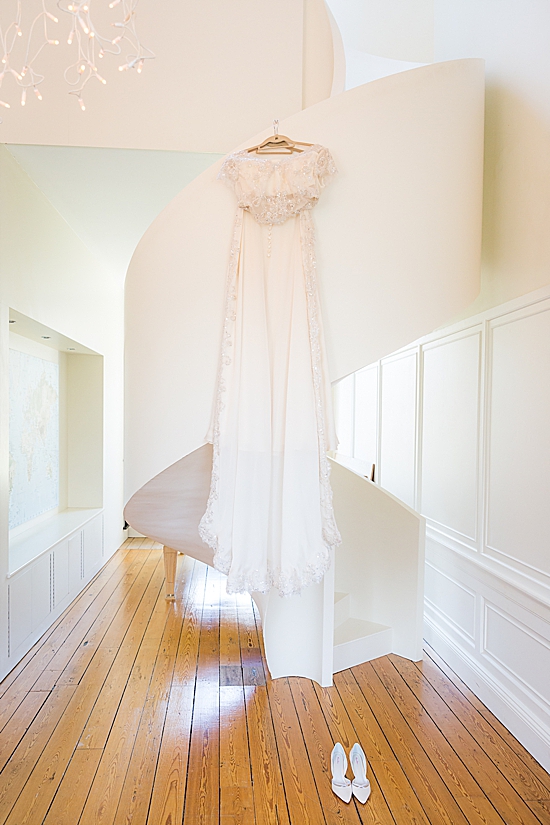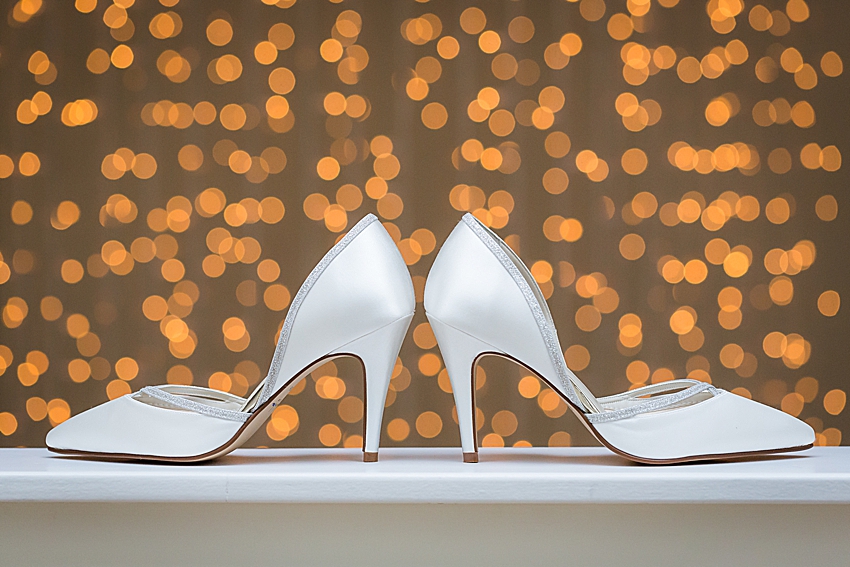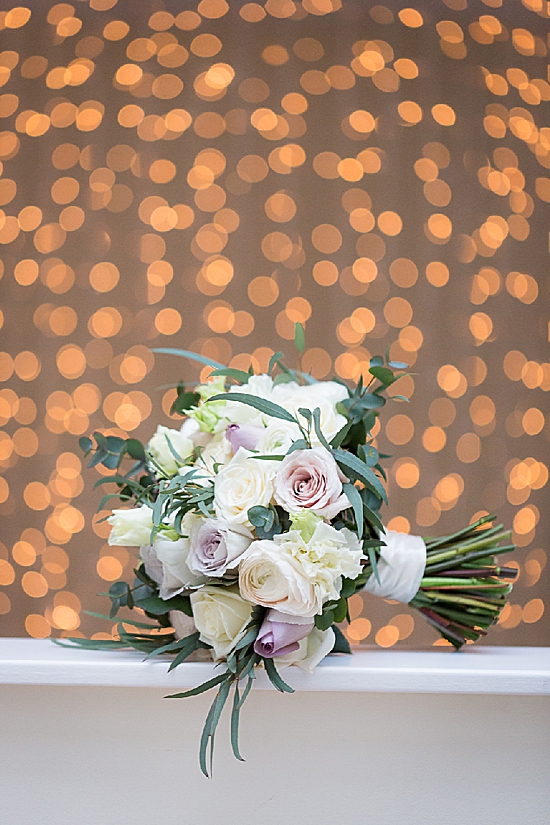 The elegant handtied bouquets and magnificent floral arrangements decorating Mansfield Traquair, were created by Edinburgh florist-of-dreams Planet Flowers.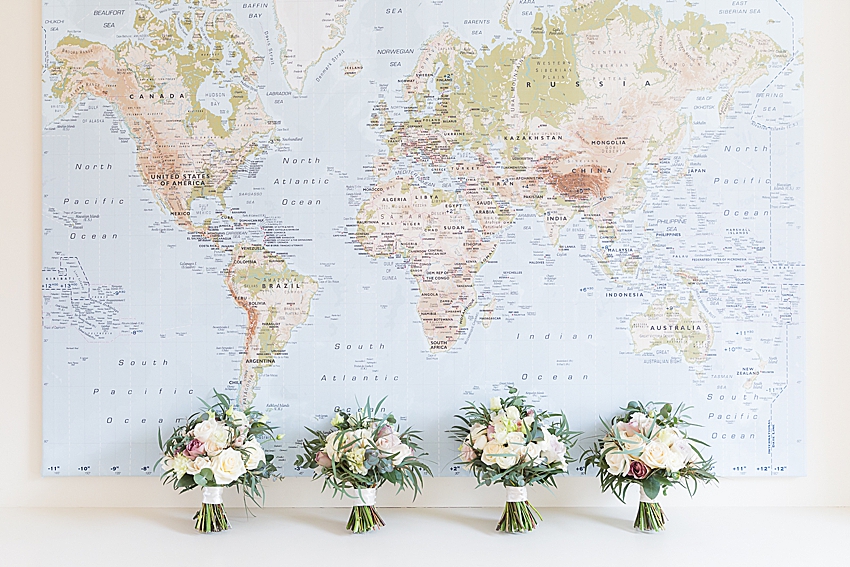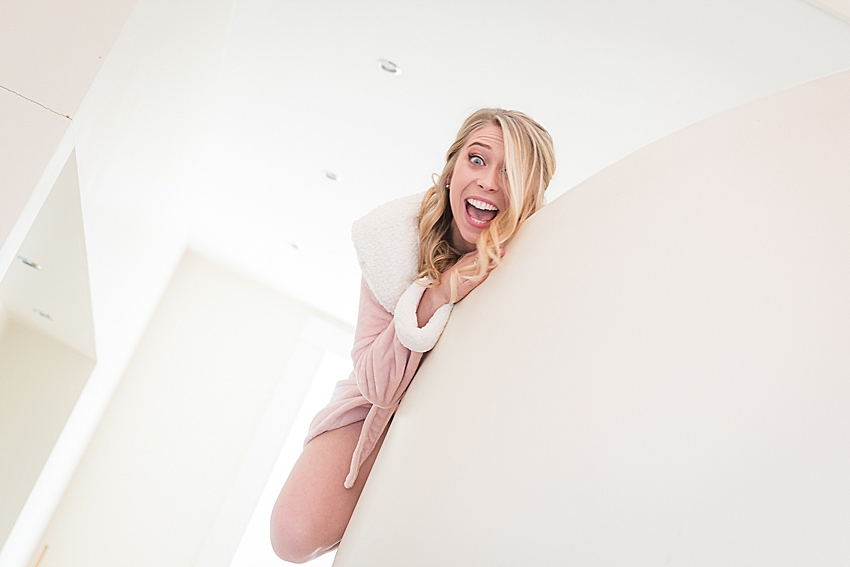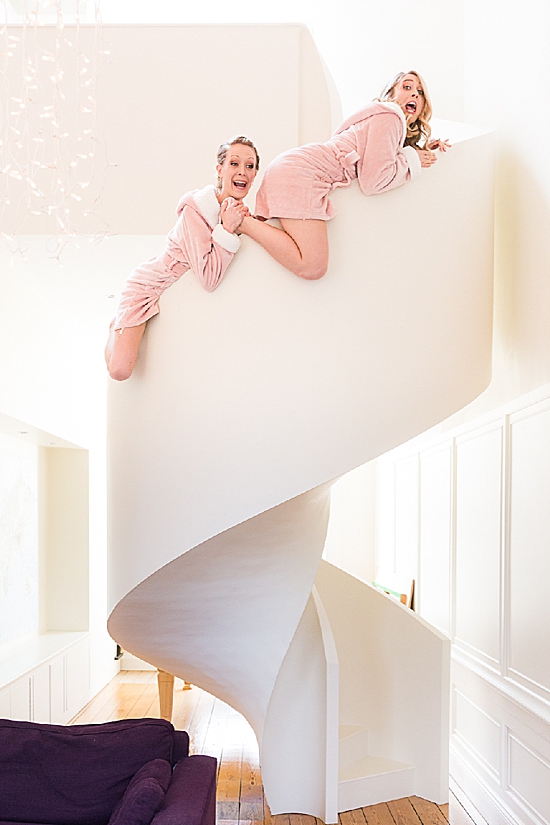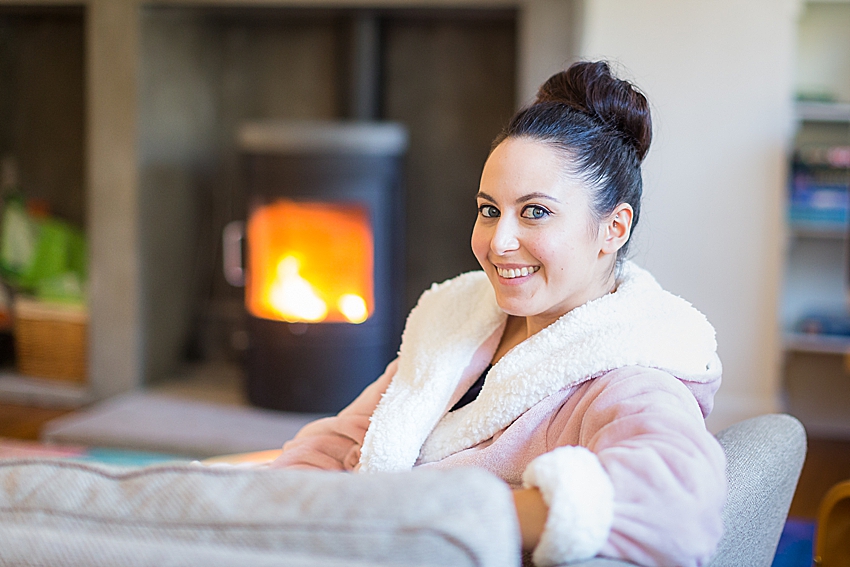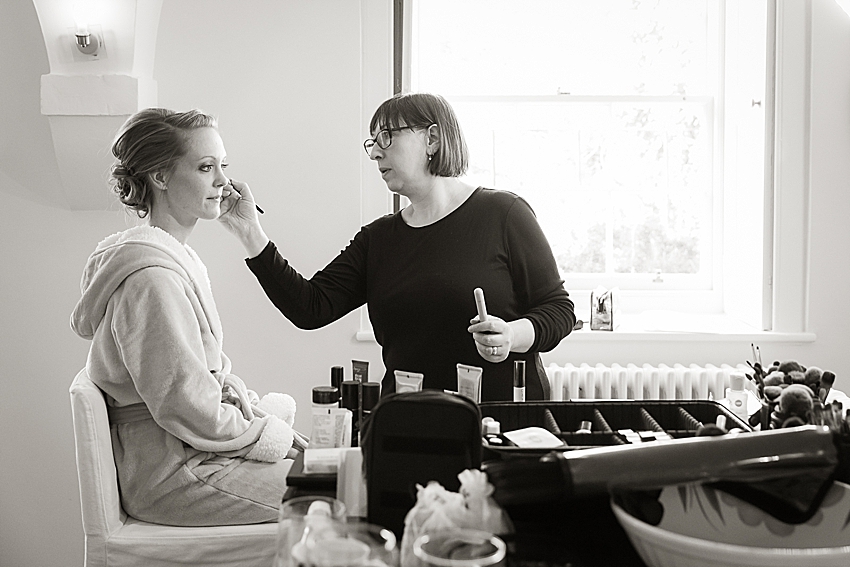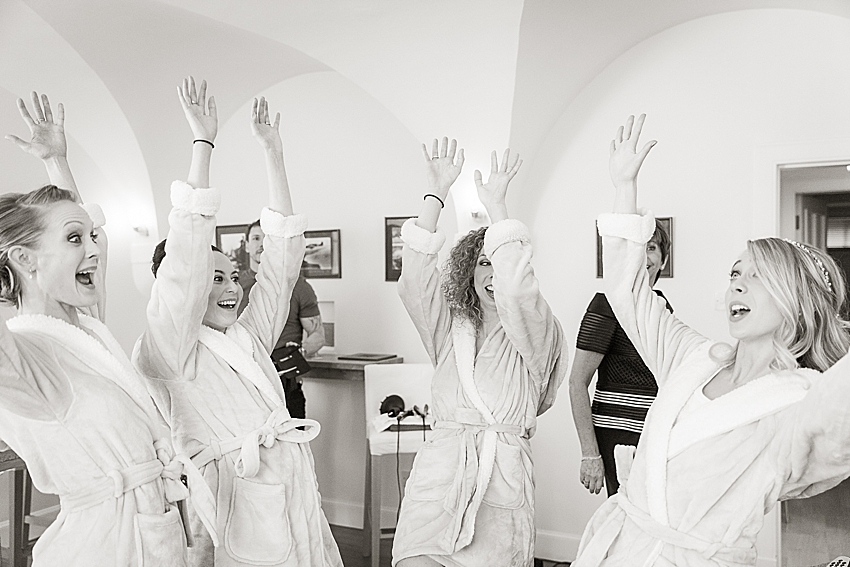 The bride's exquisite gown was designed and created by Edinburgh based Freja Designer Dressmaking . Sheelagh worked in close collaboration with Mette at Freja, resulting in the the stylish two piece consisting of a sequinned lace cropped top and embellished flowing silk skirt.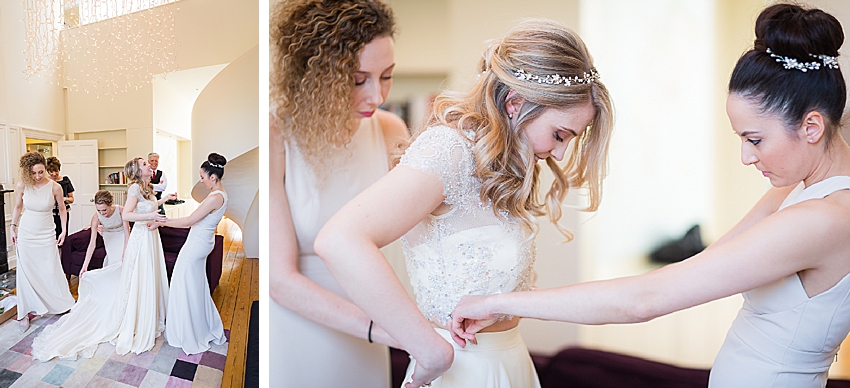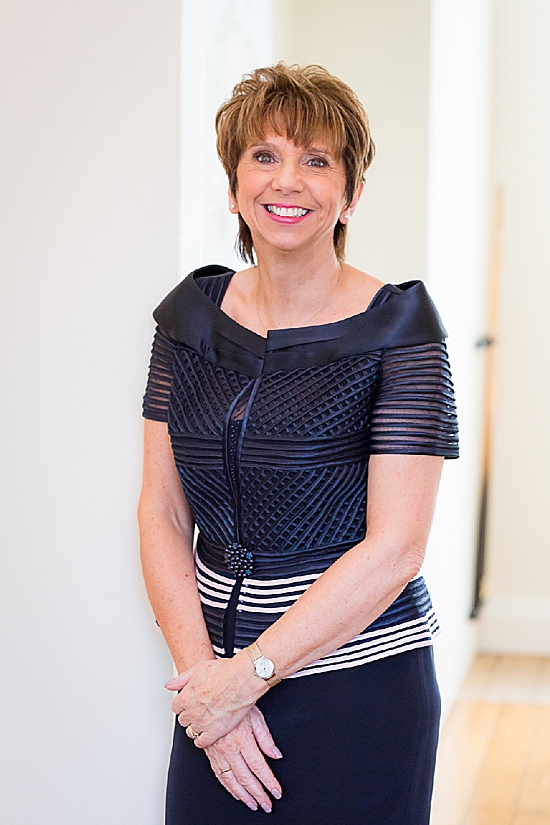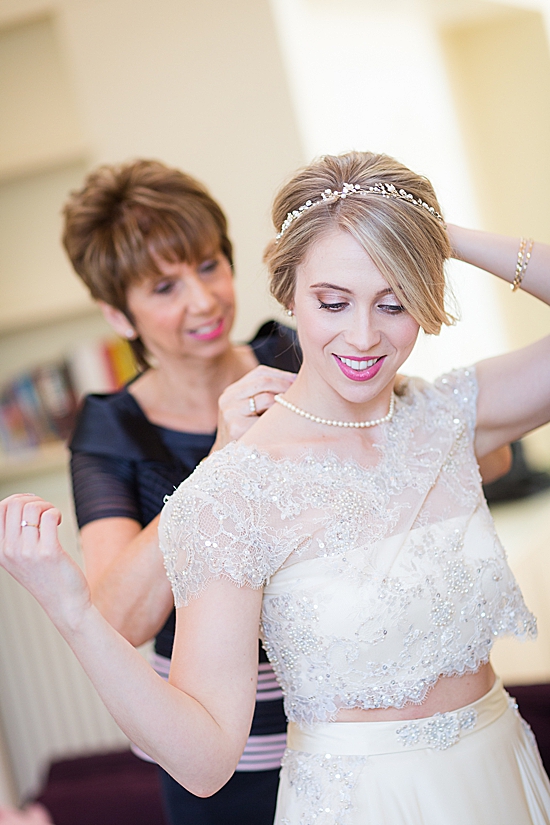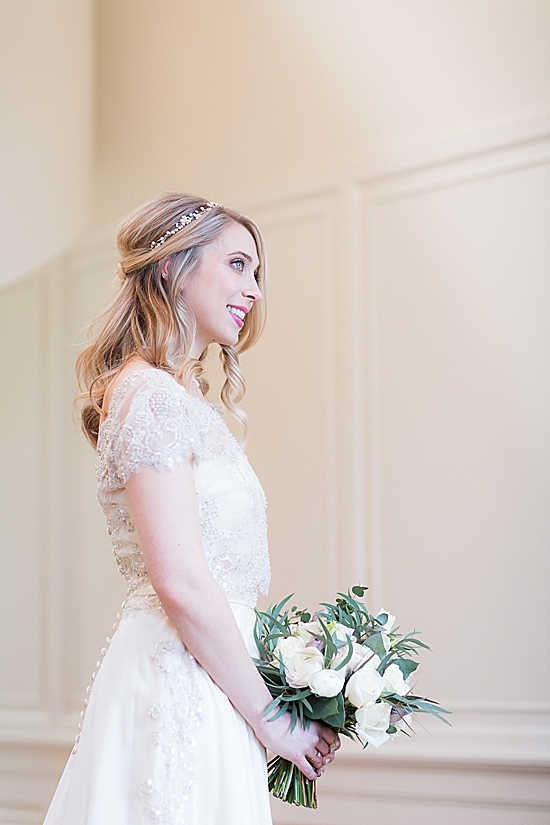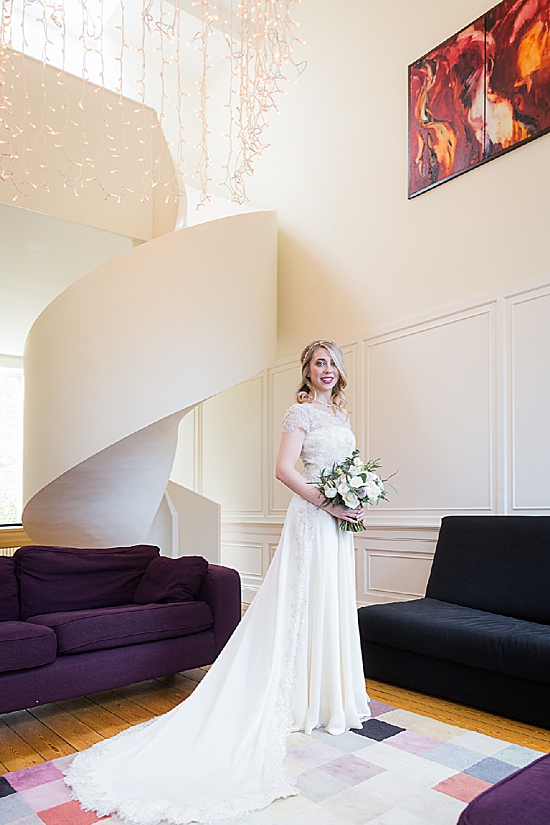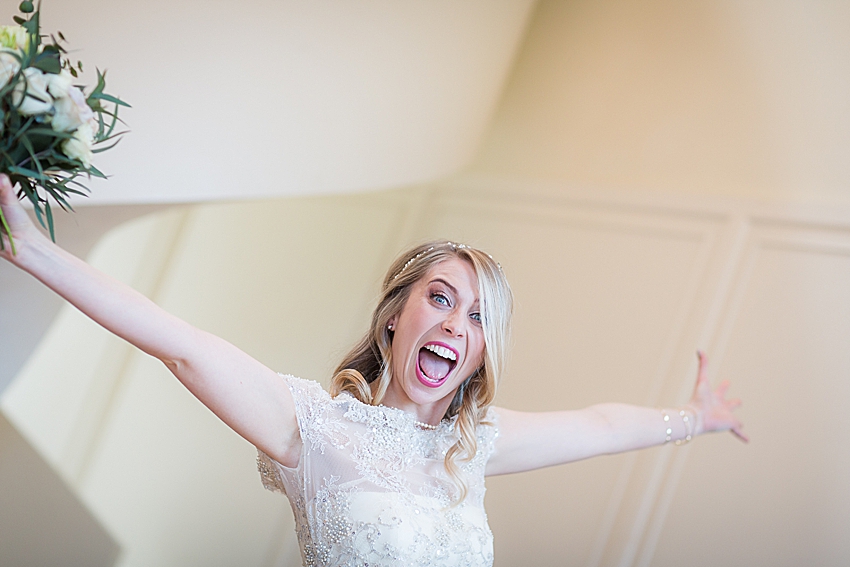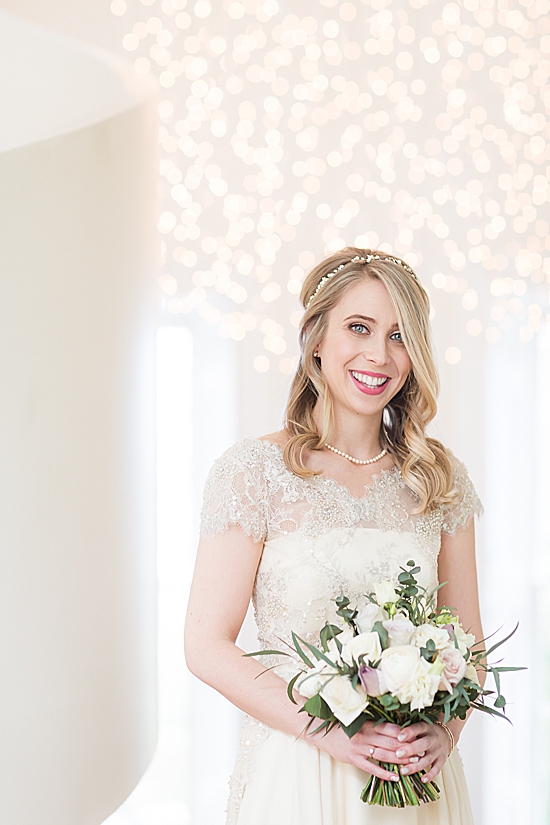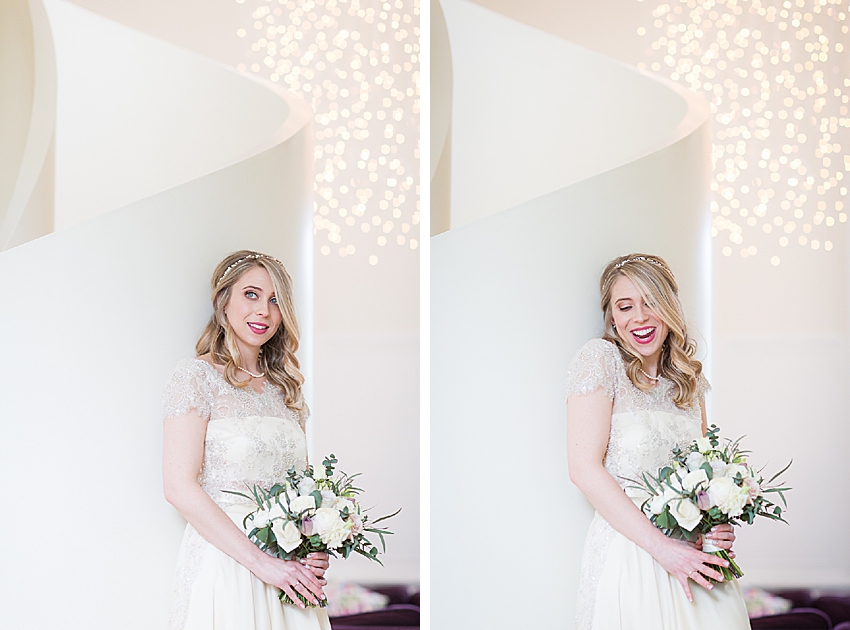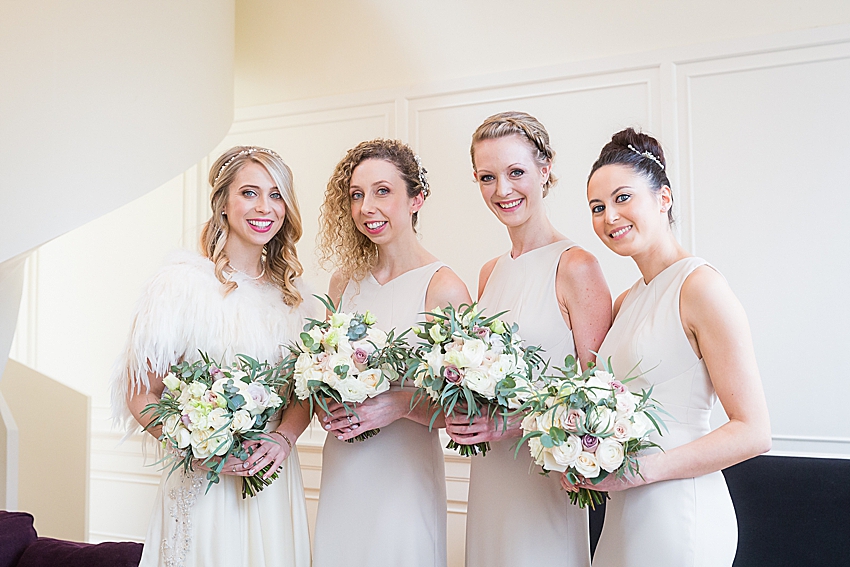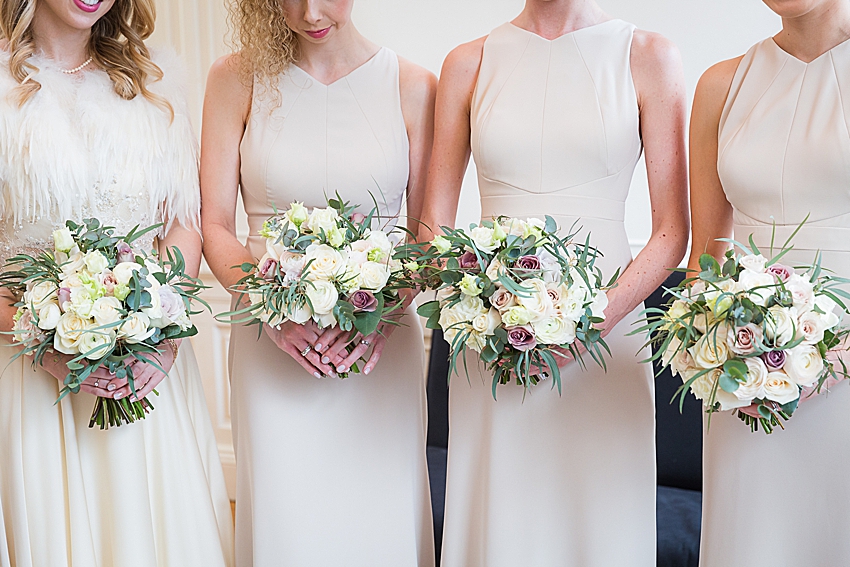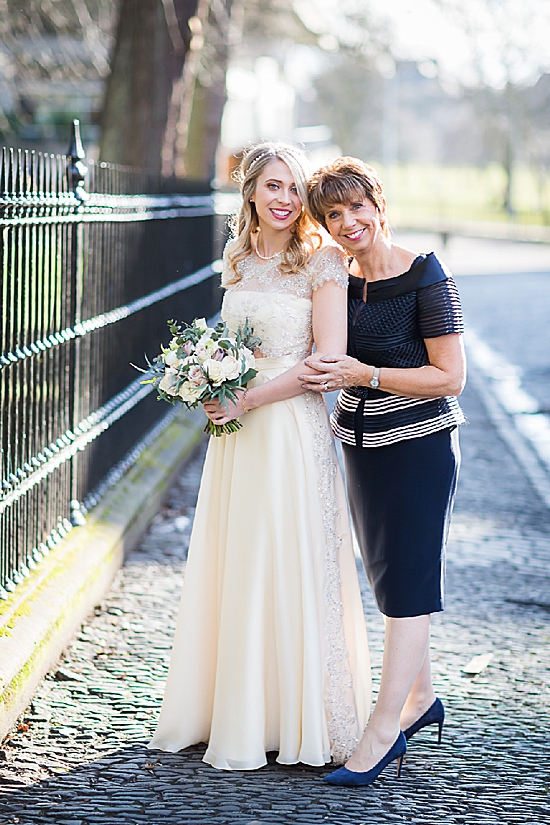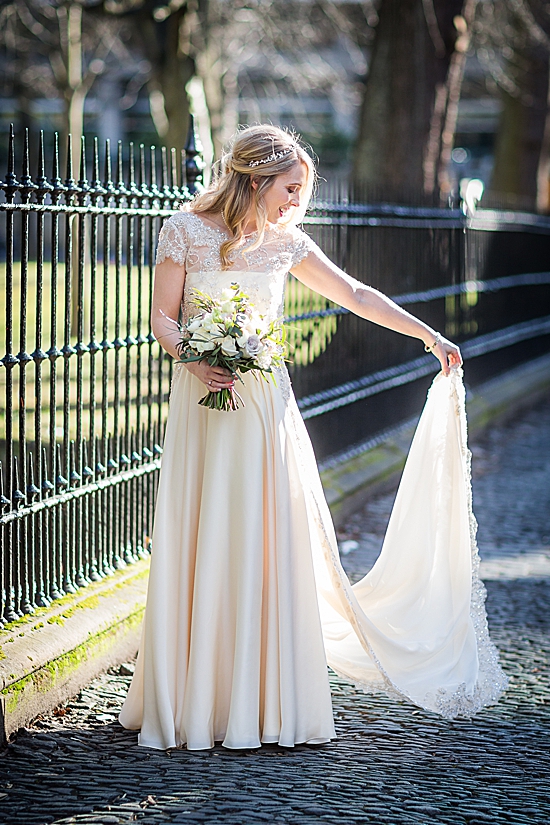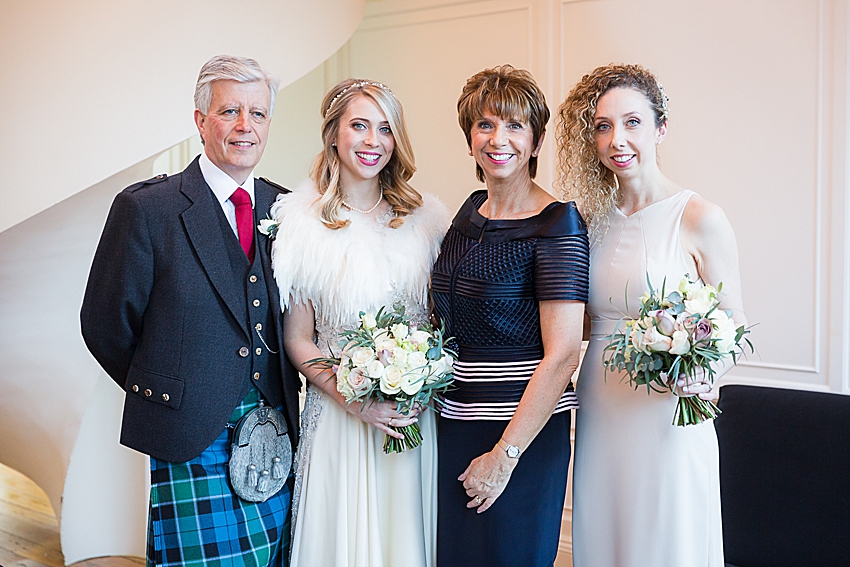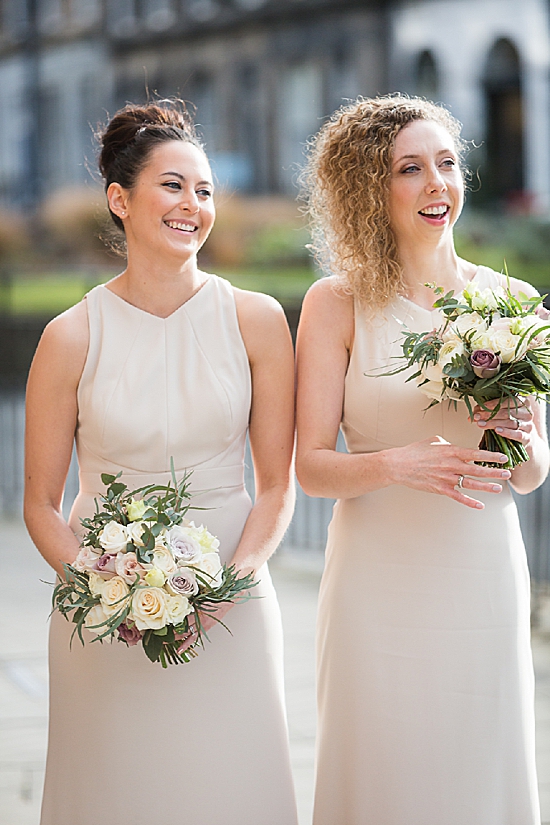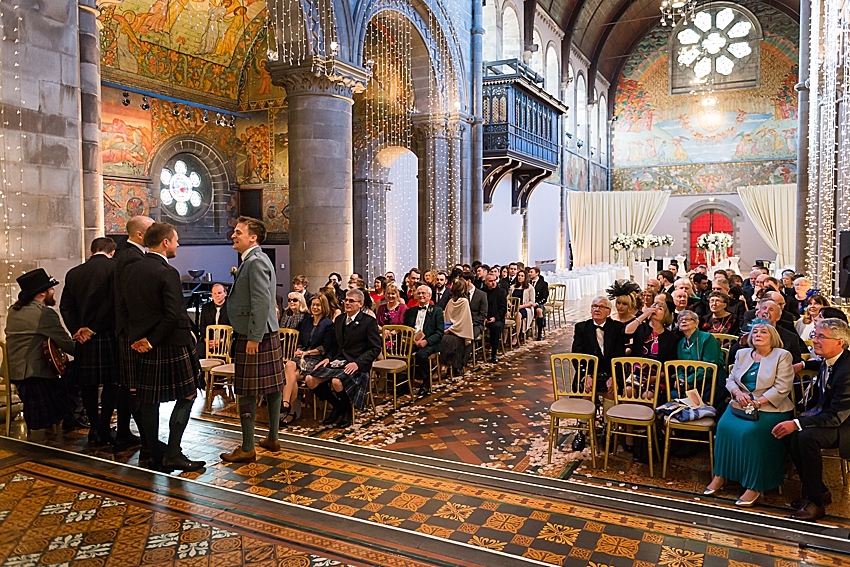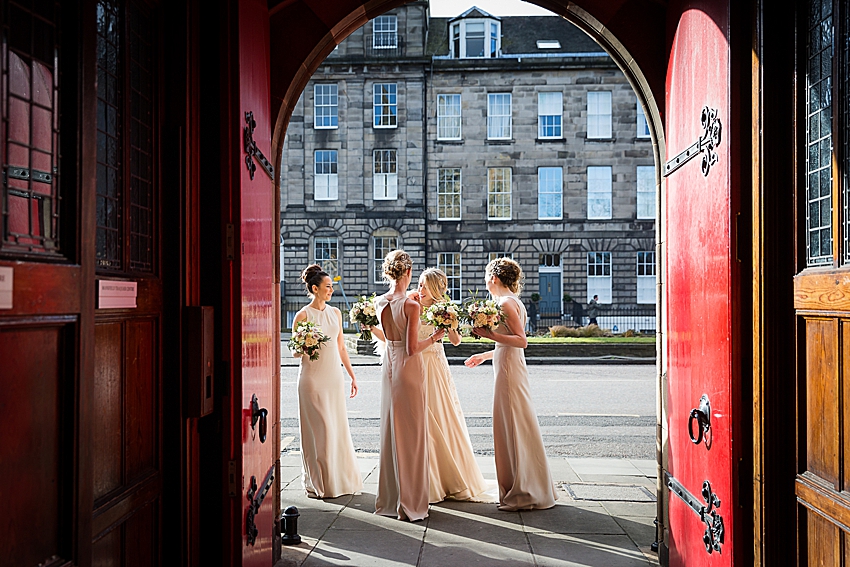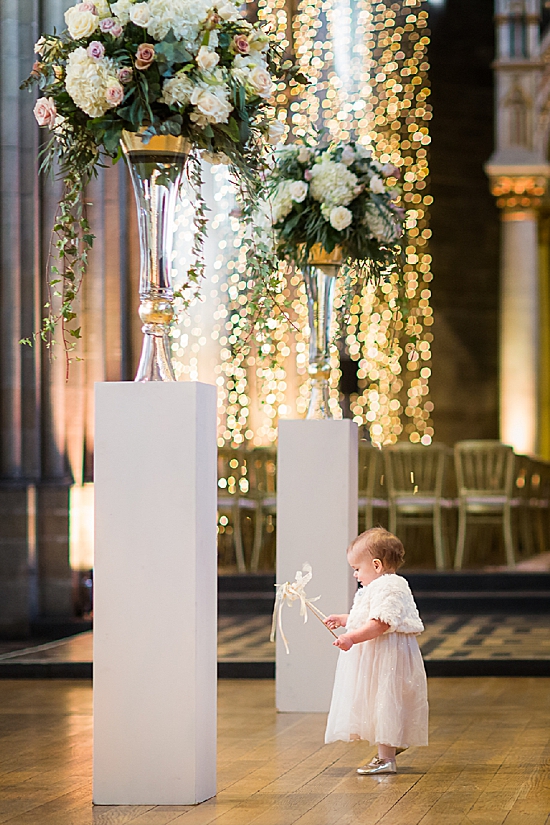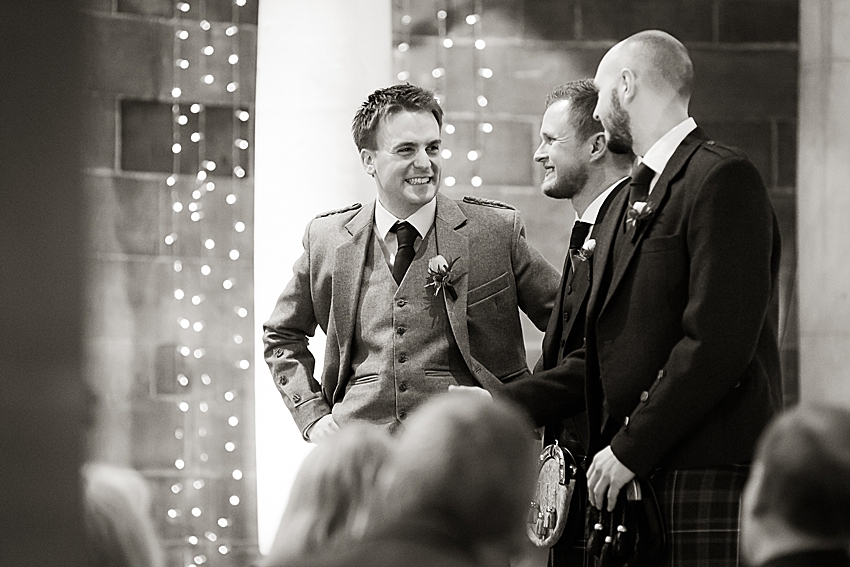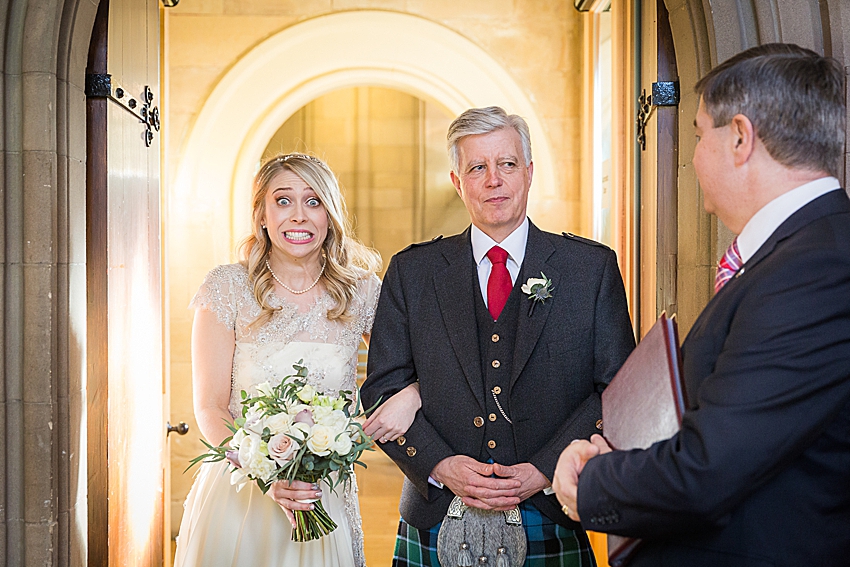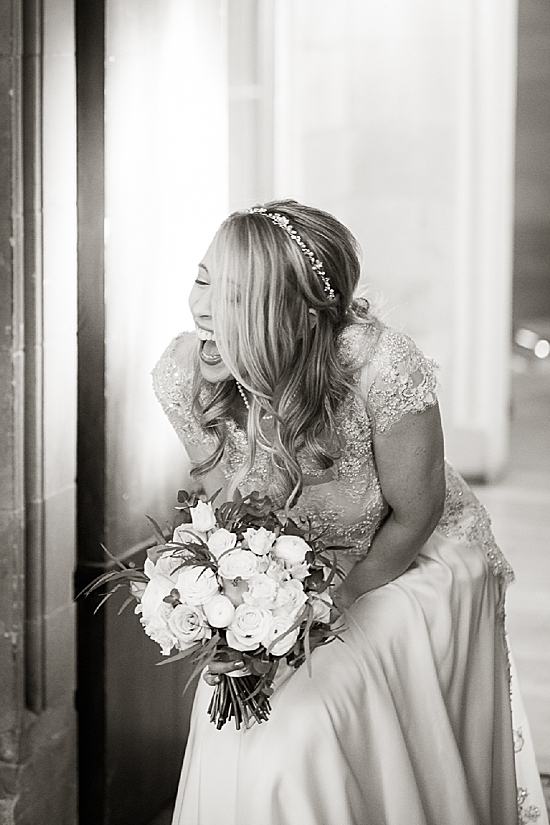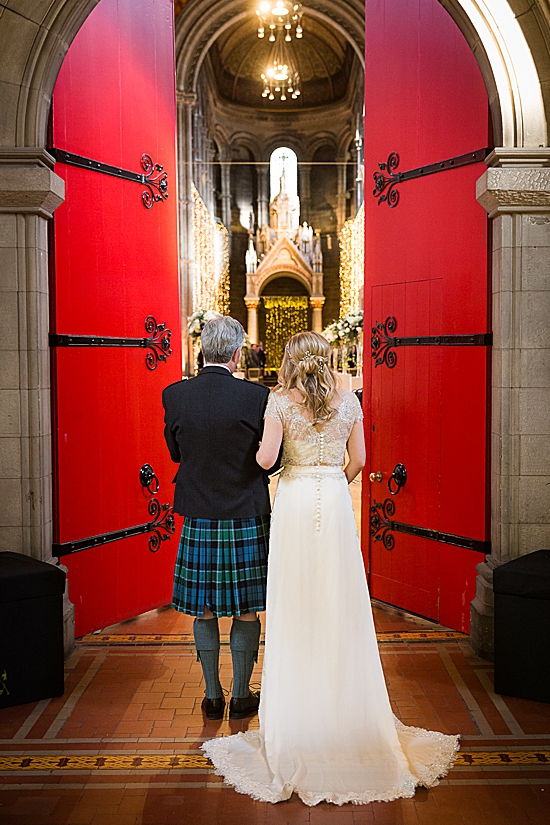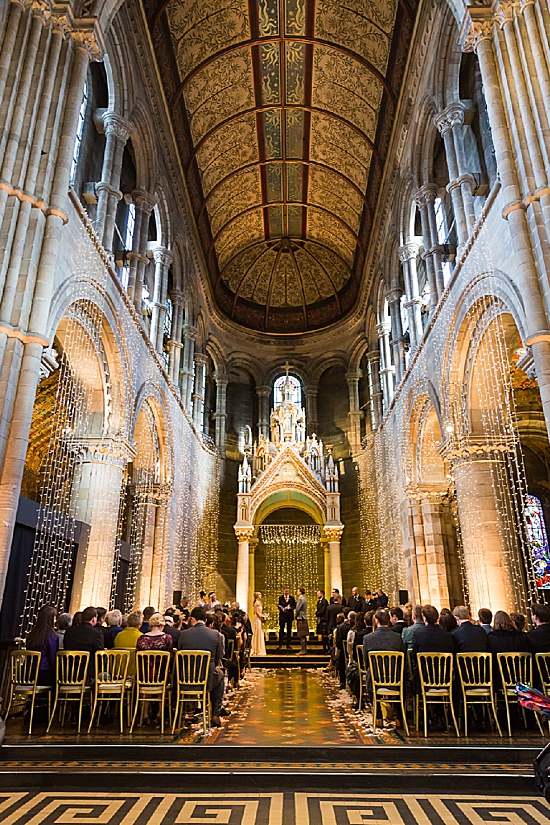 You'd have to look far to find anything to beat the interior of Mansfield Traquair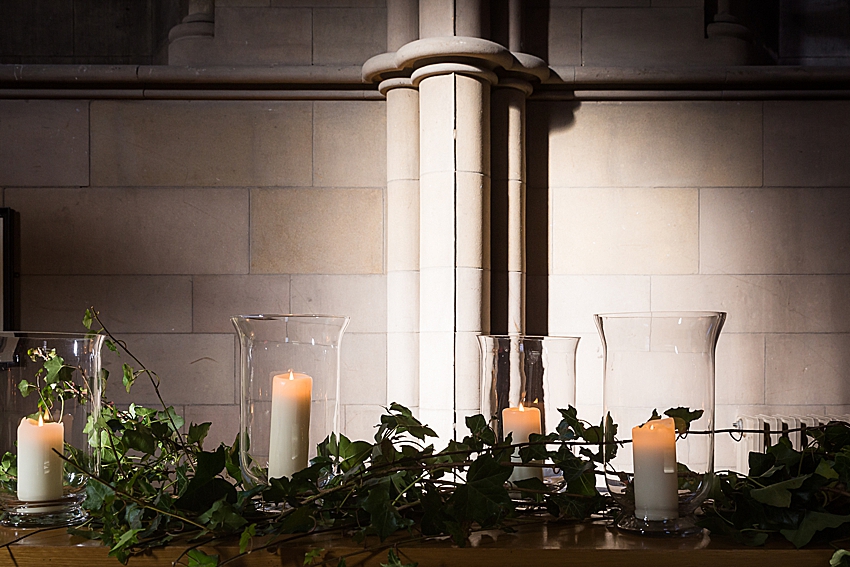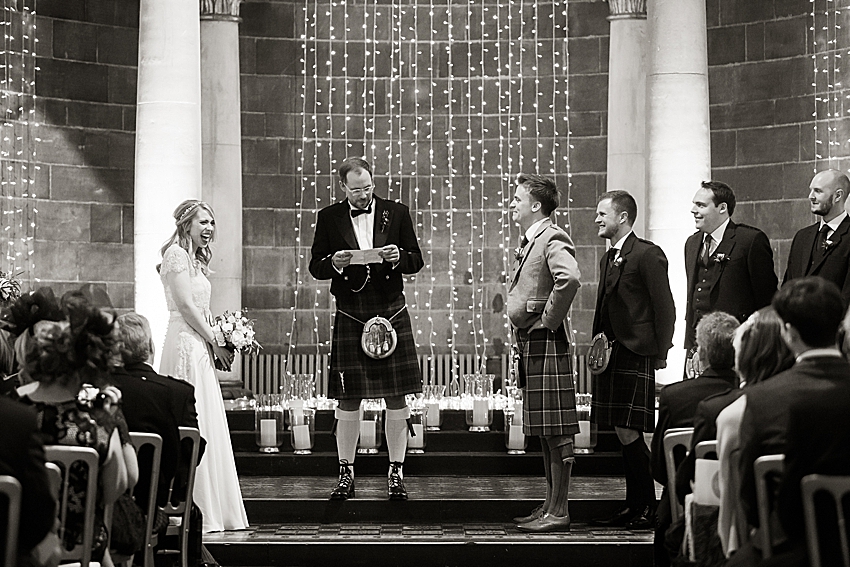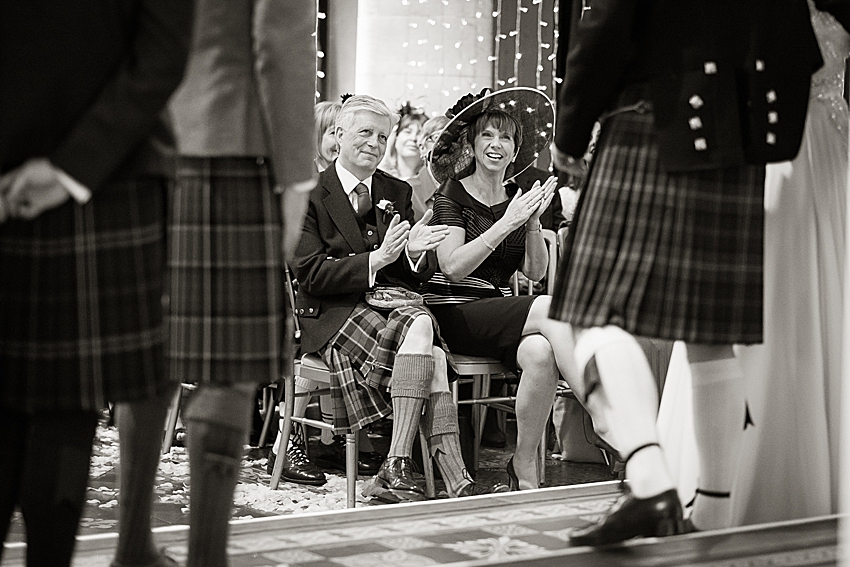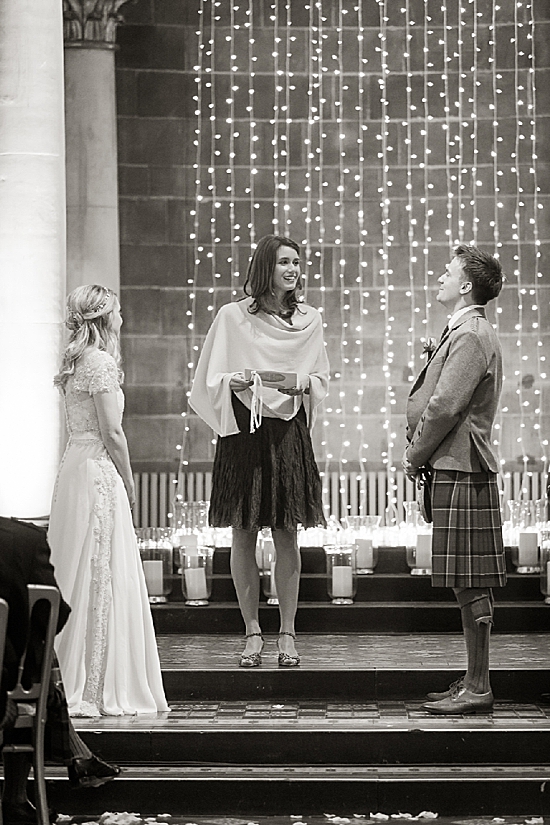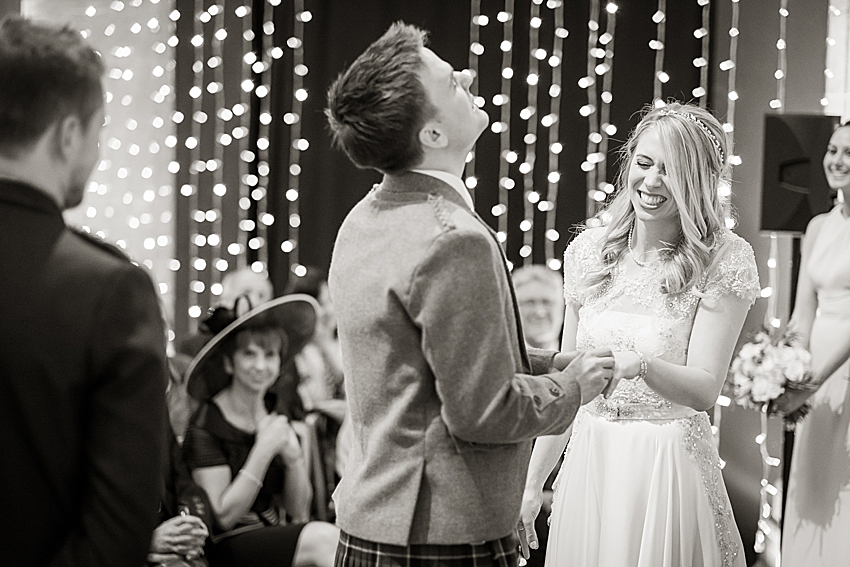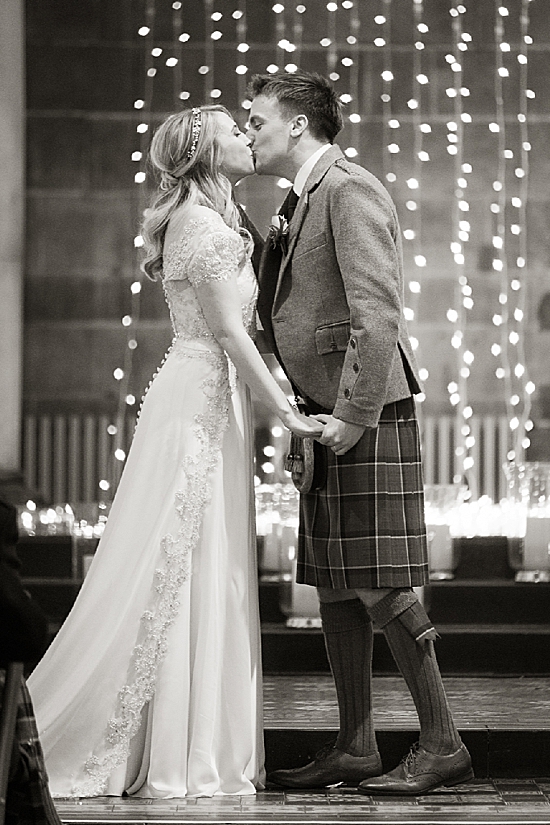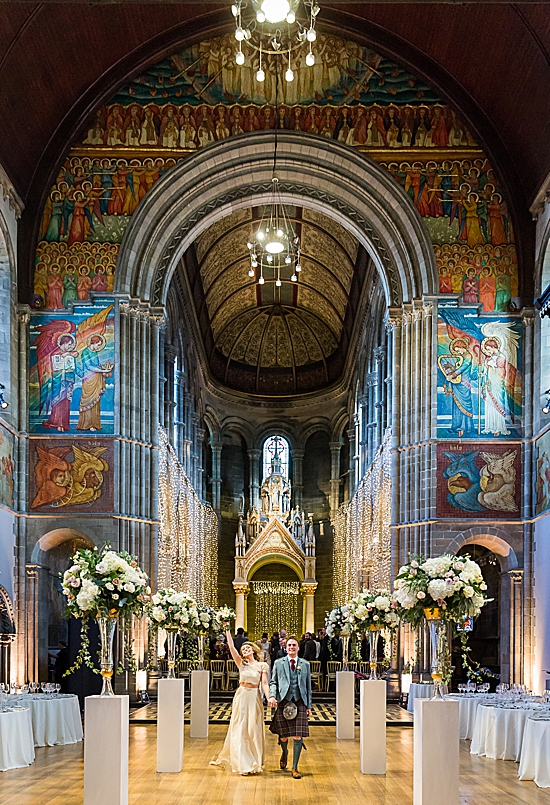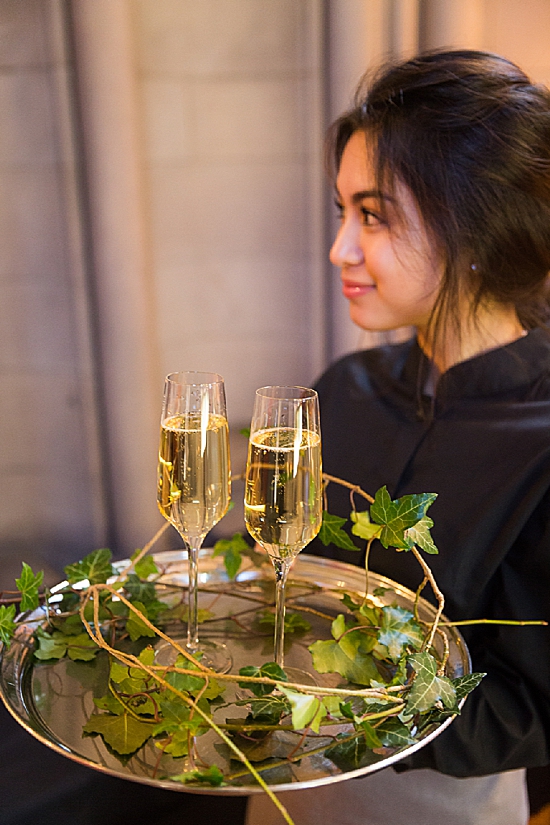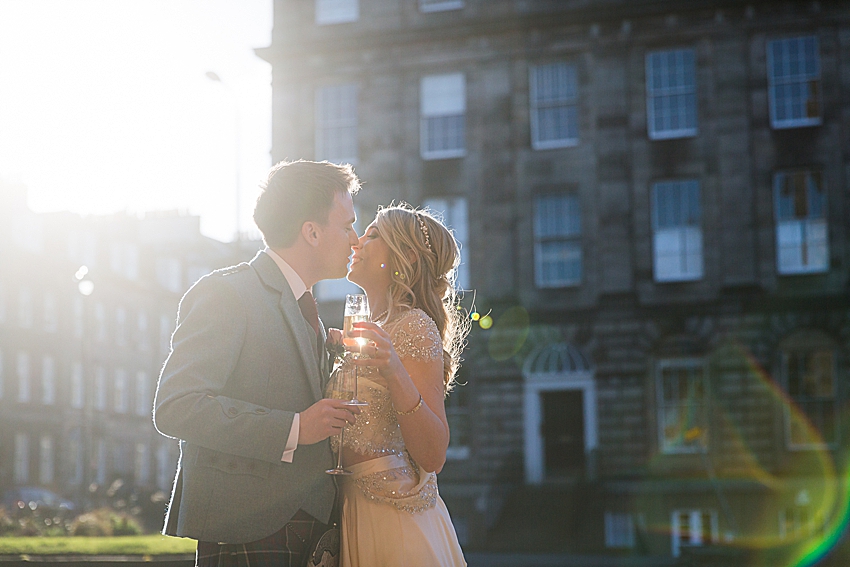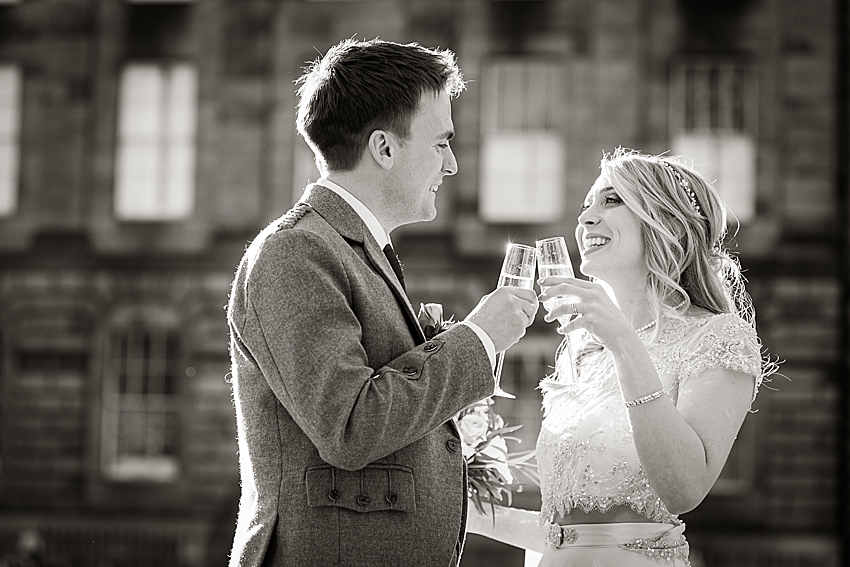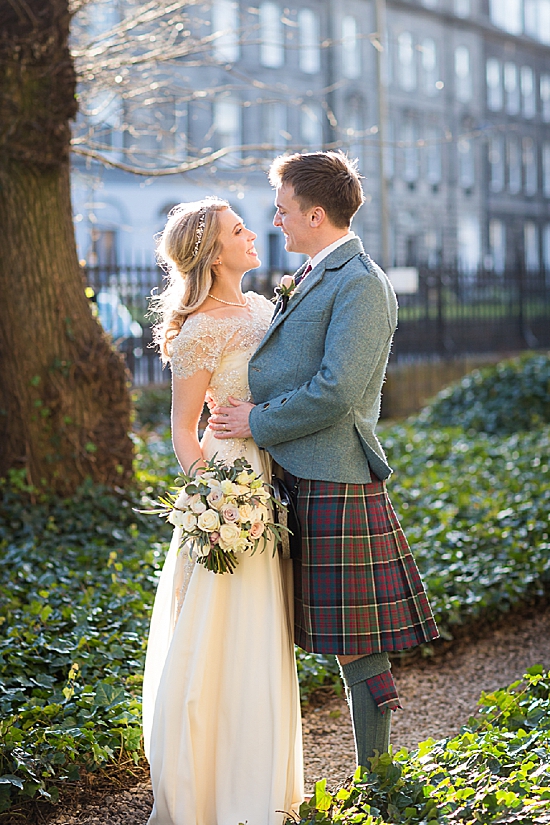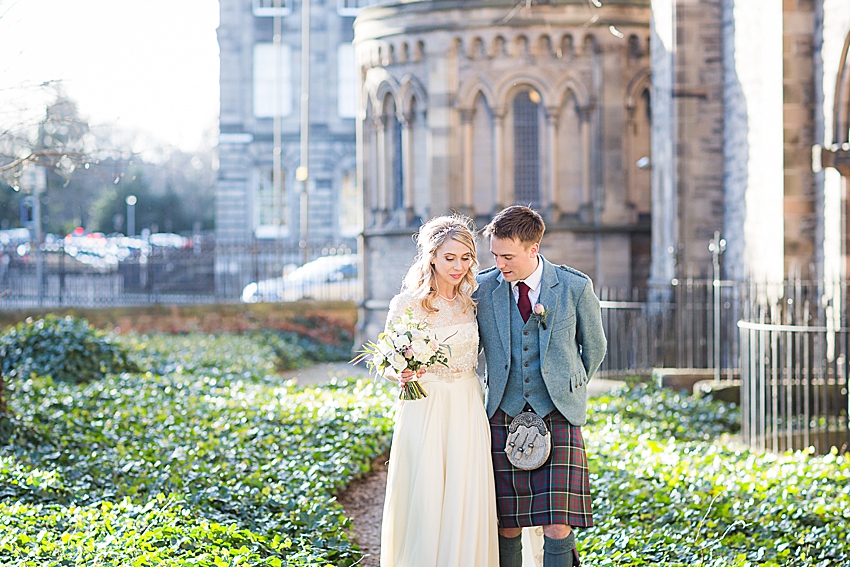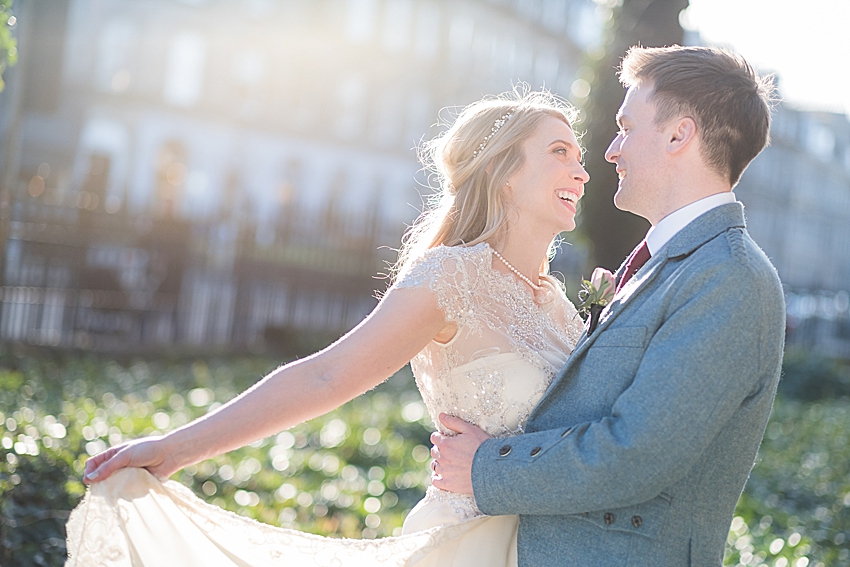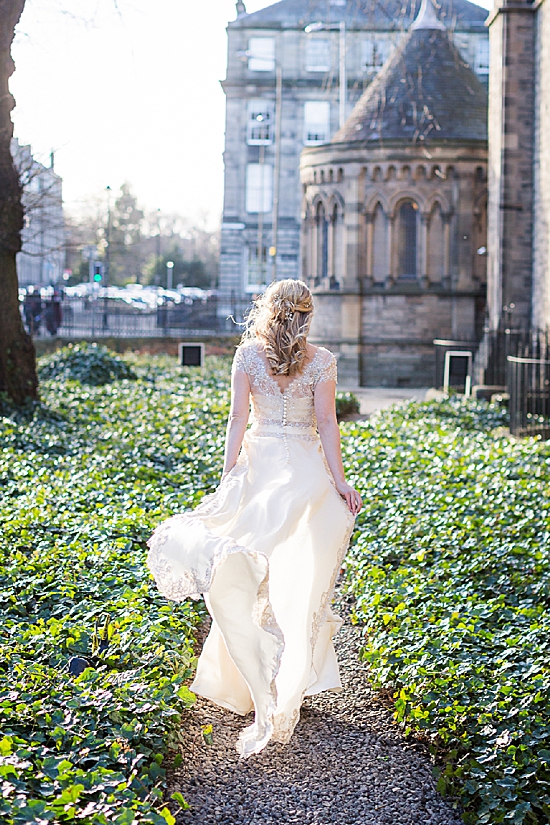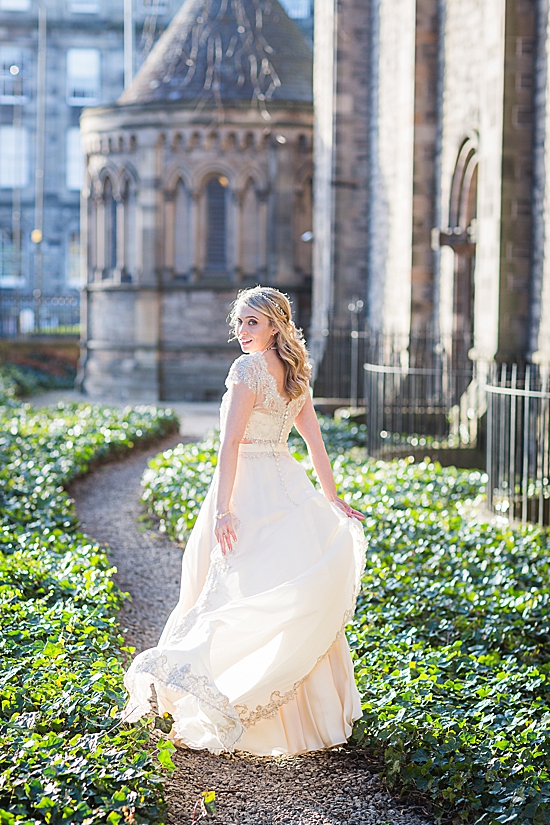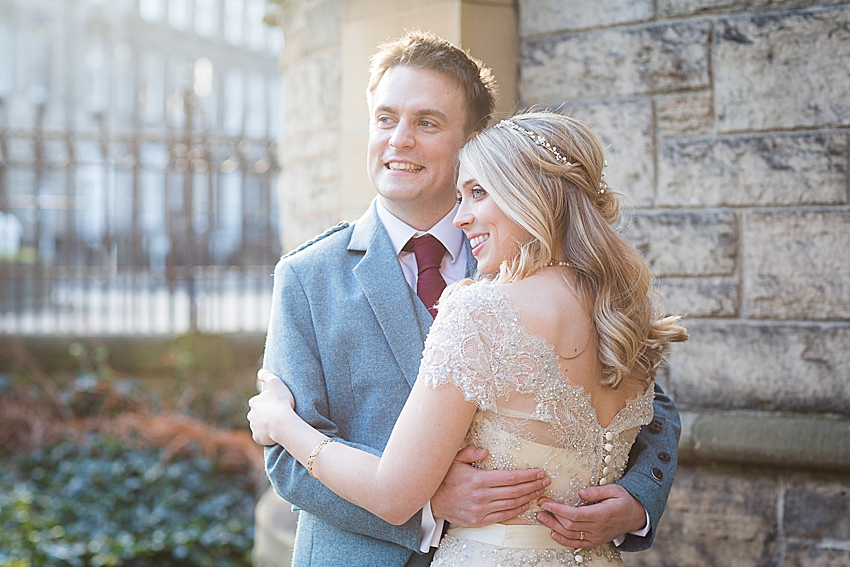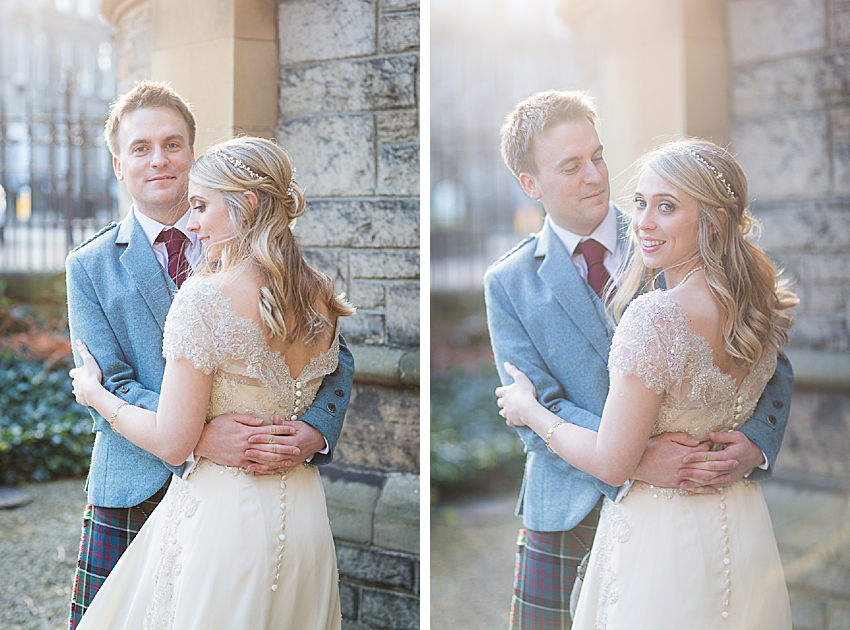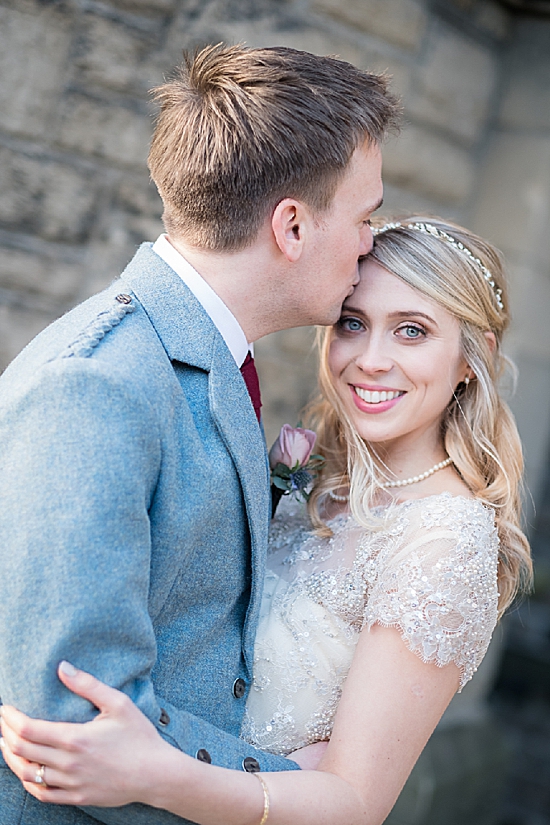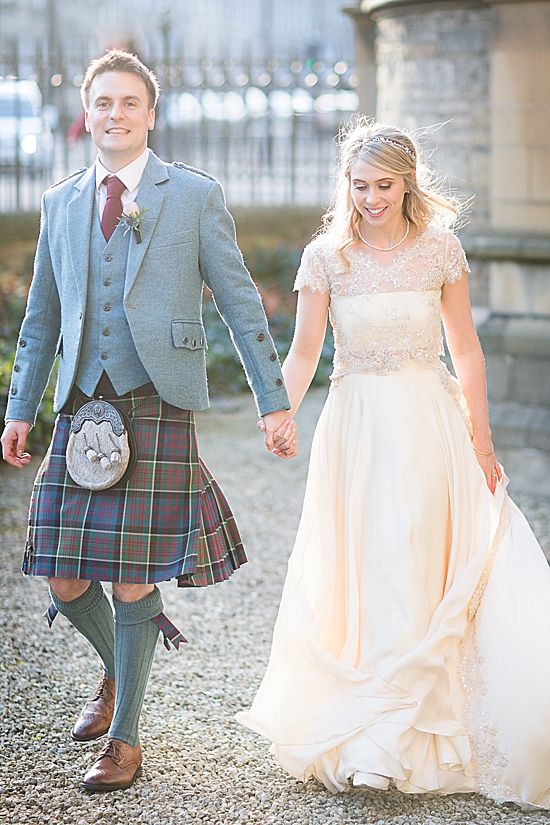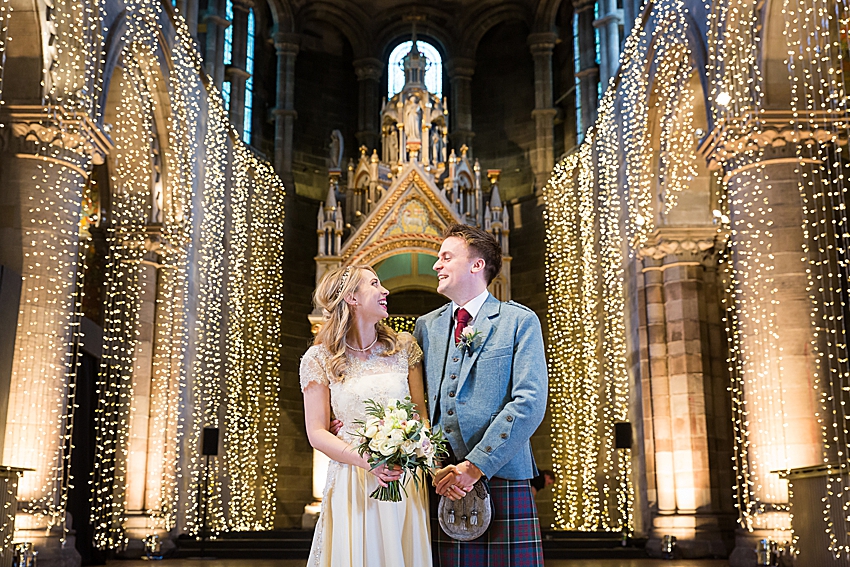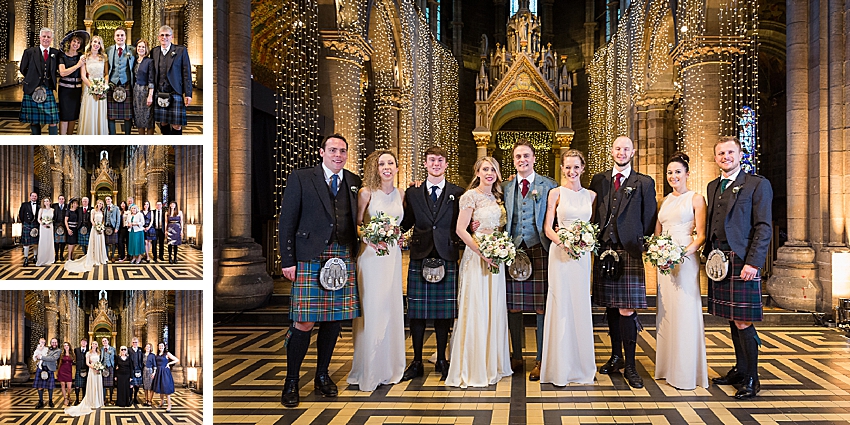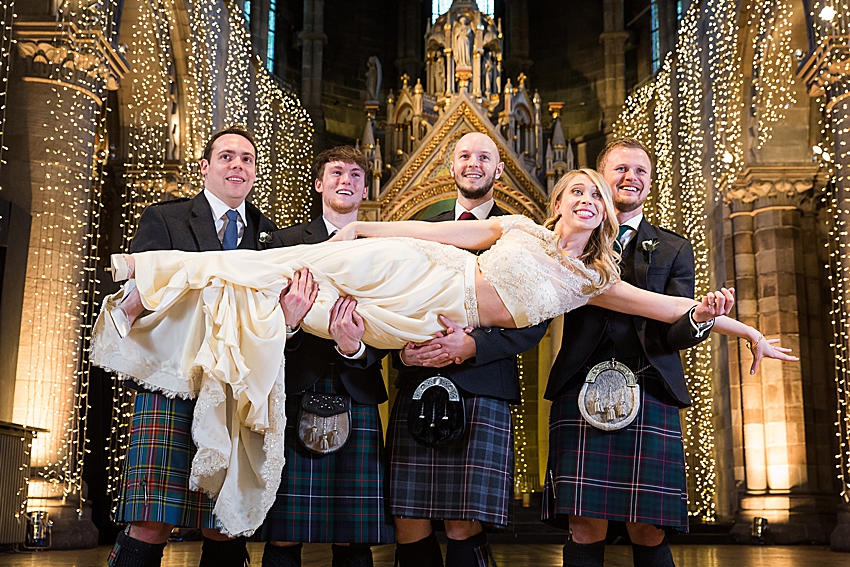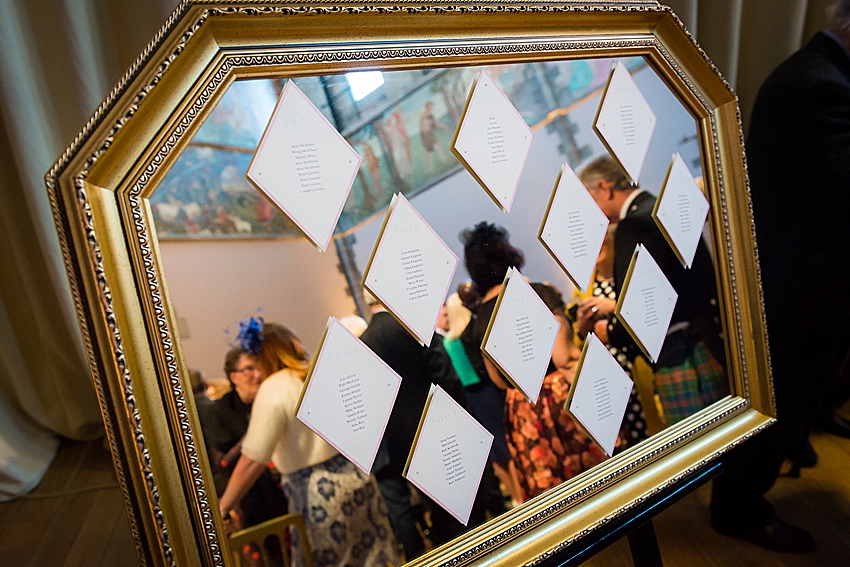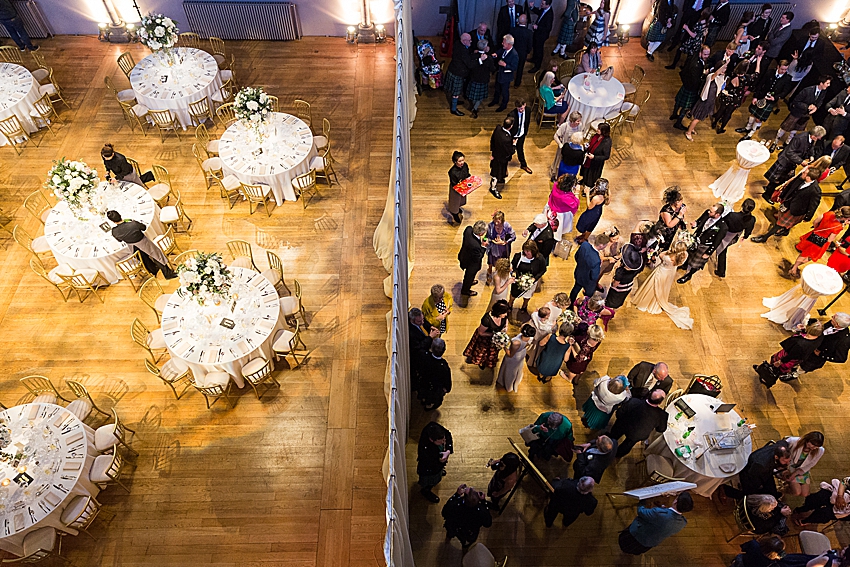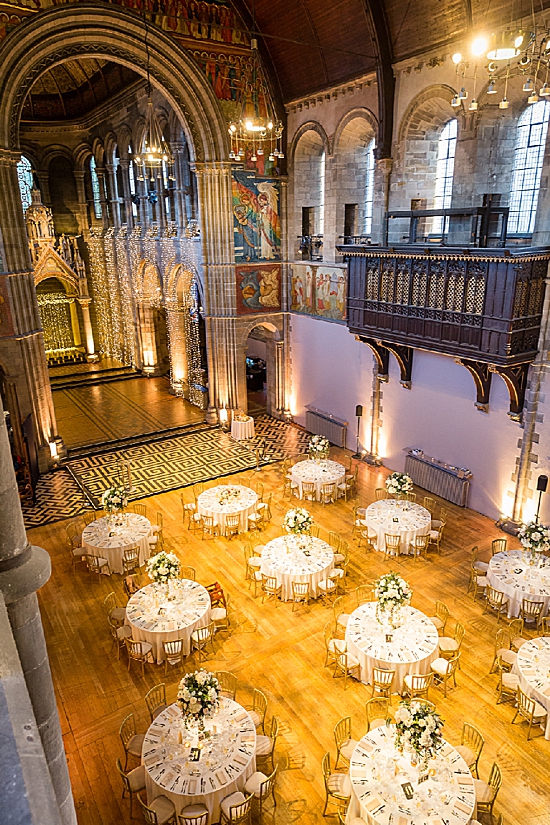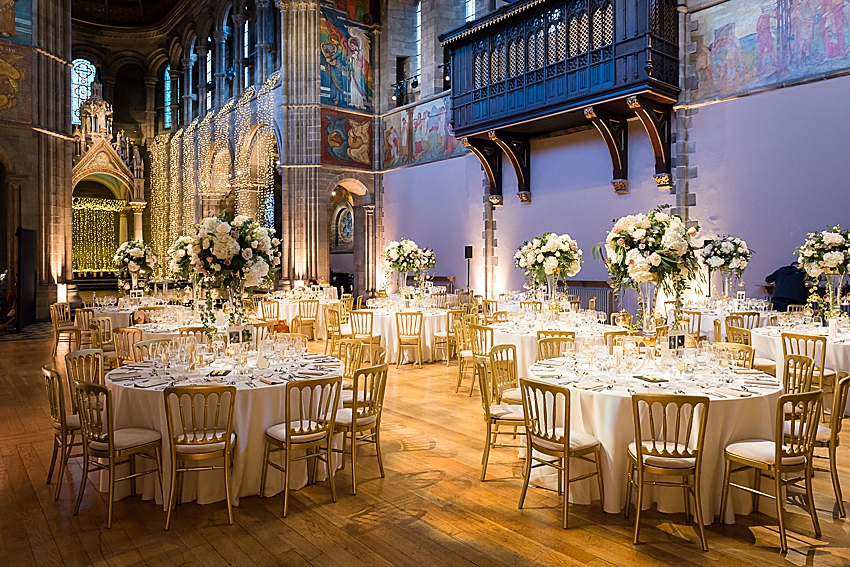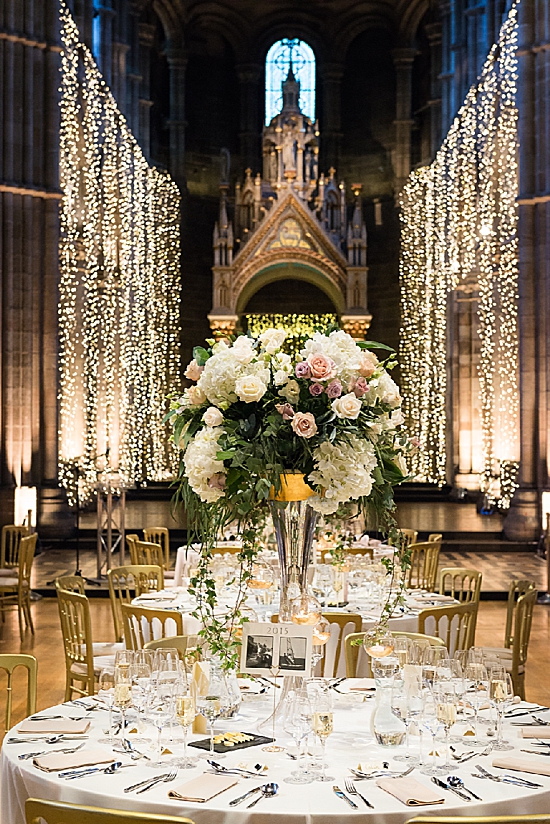 Gorgeous candlelit table arrangements and floral centrepieces of cream and soft pink by Planet Flowers.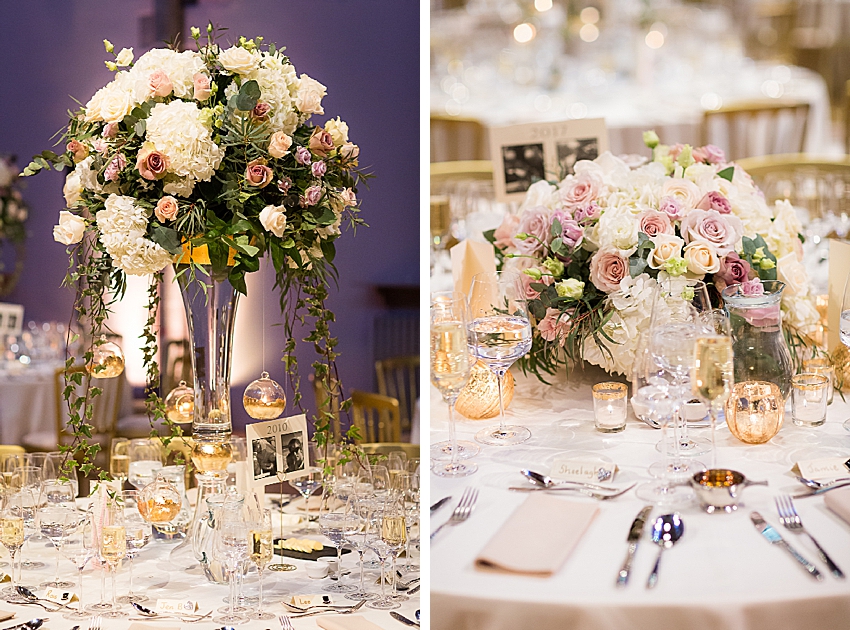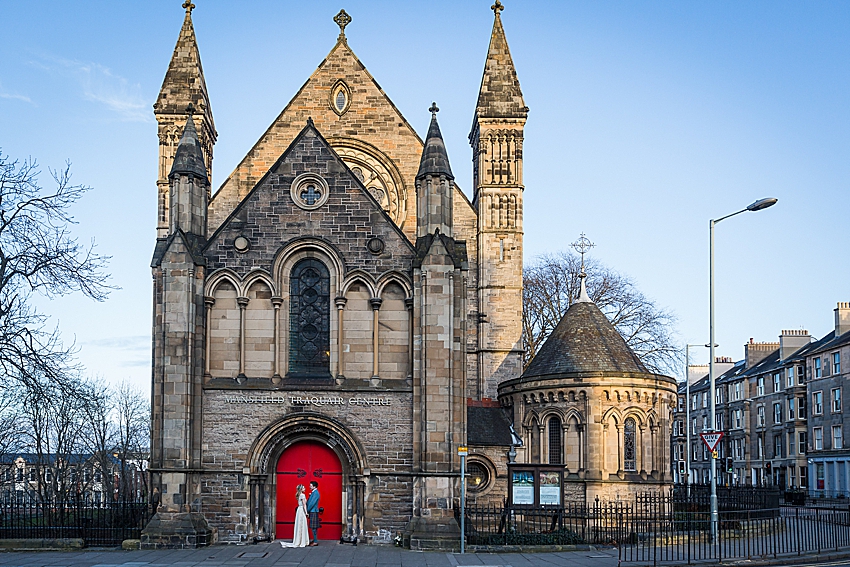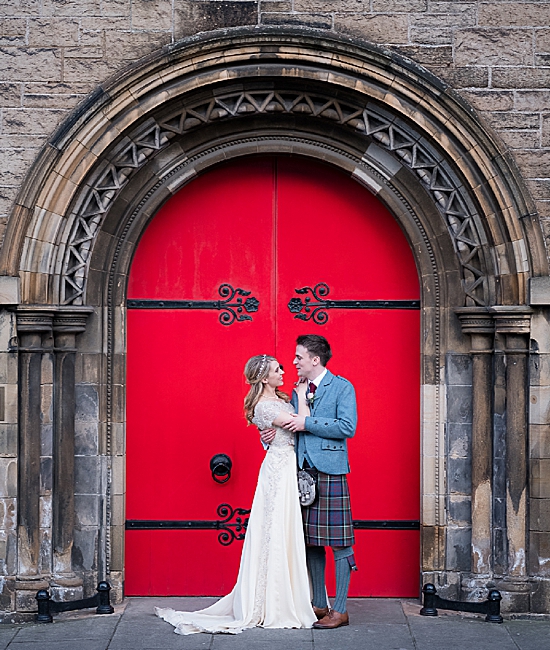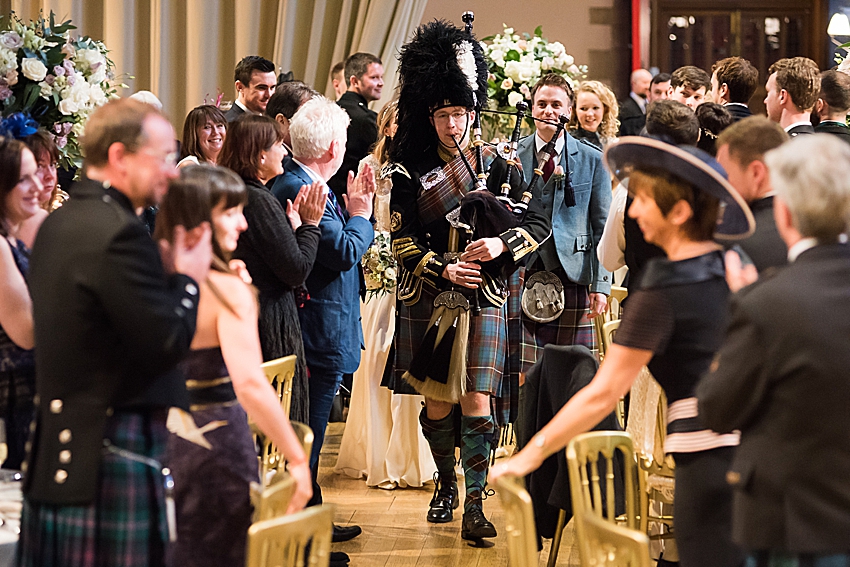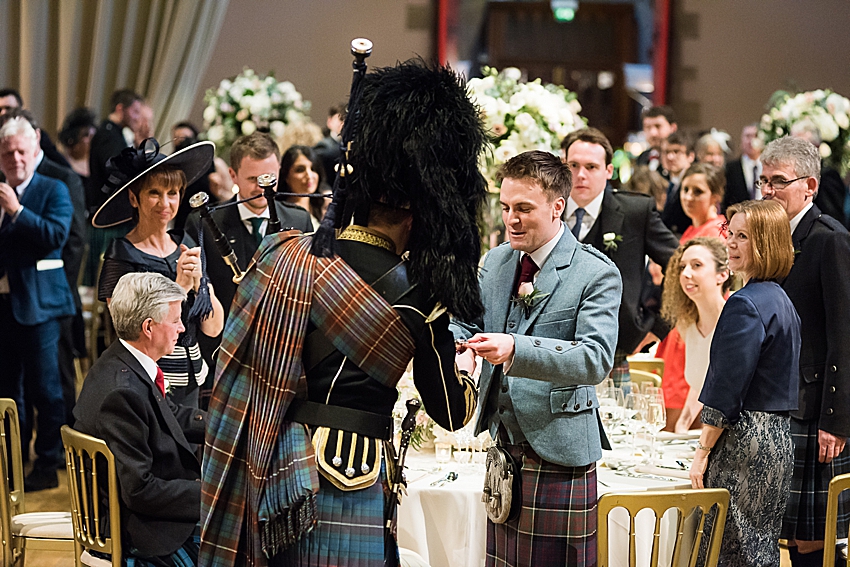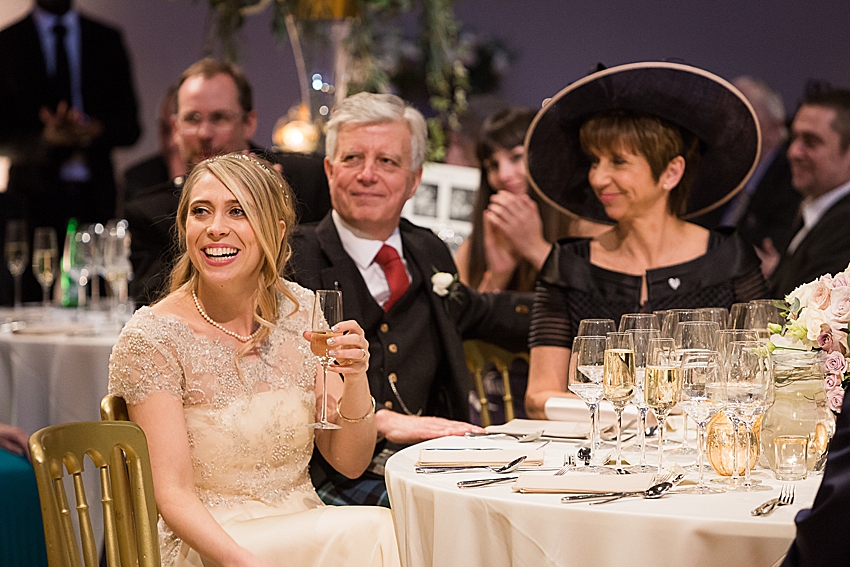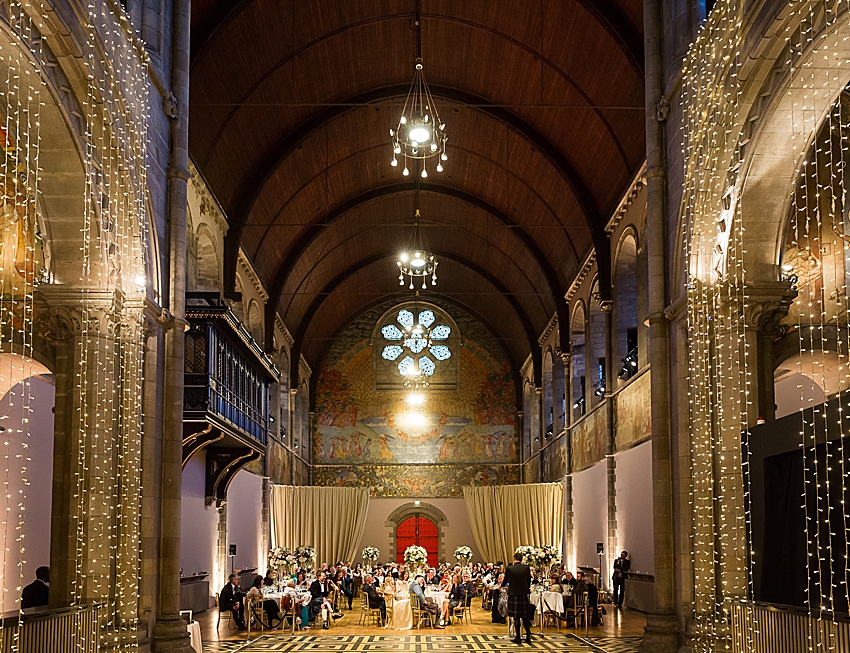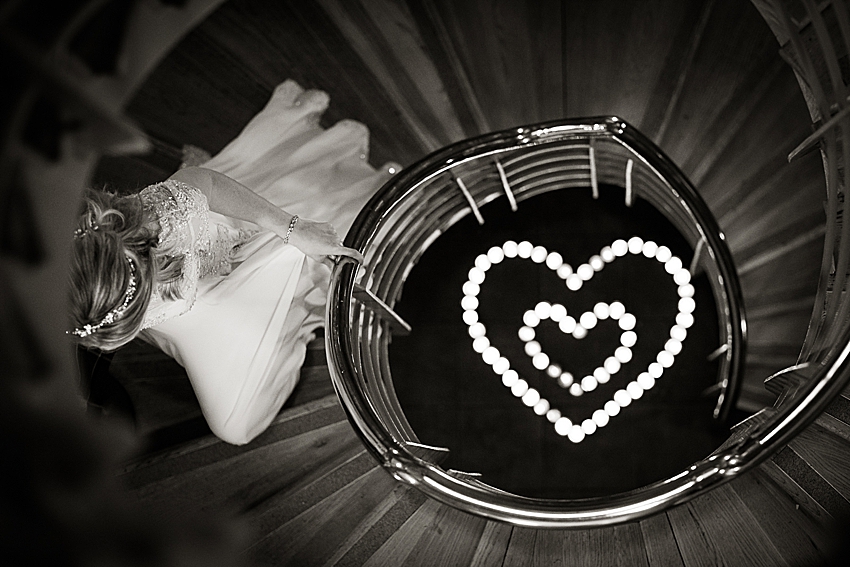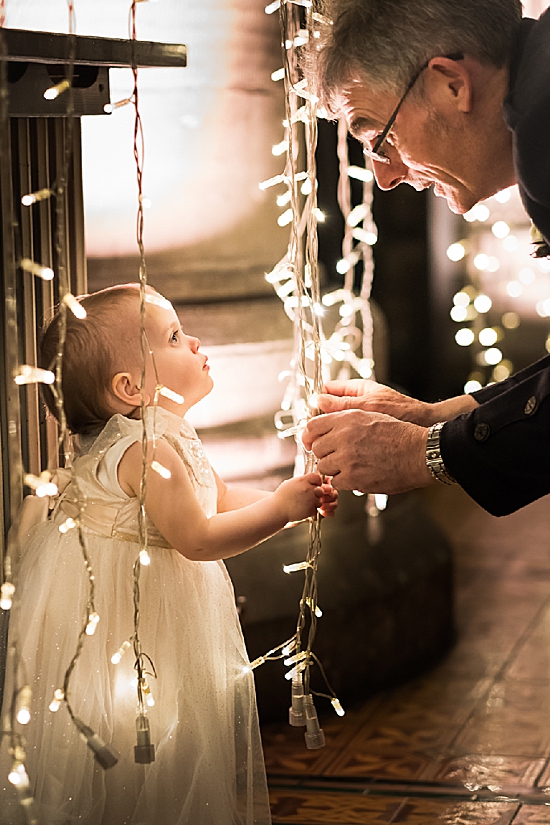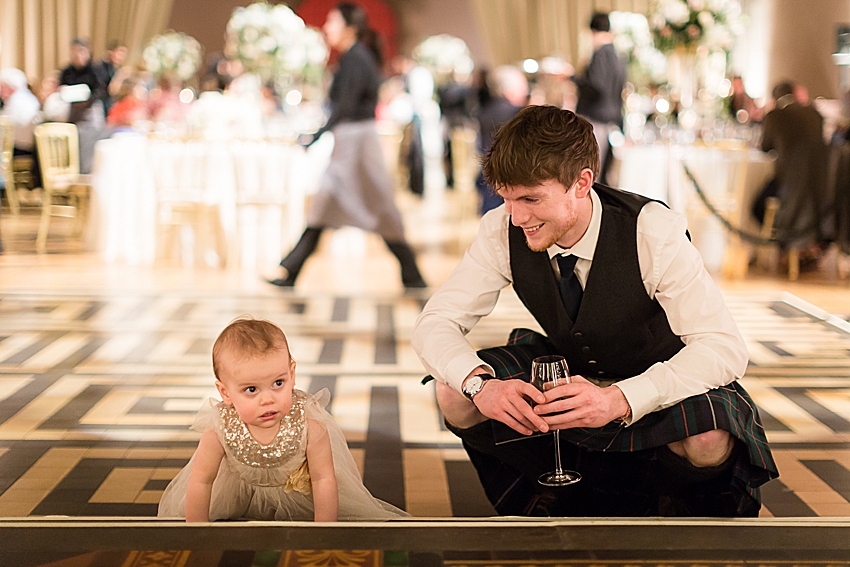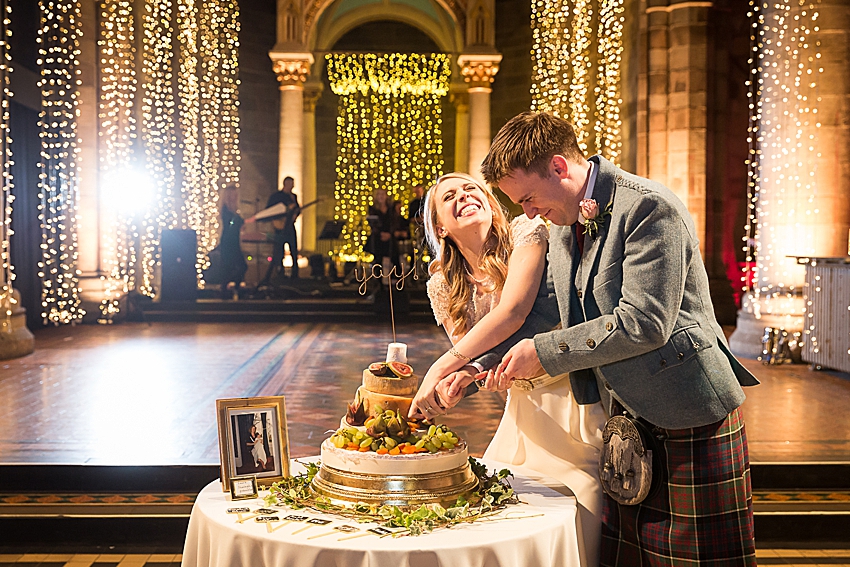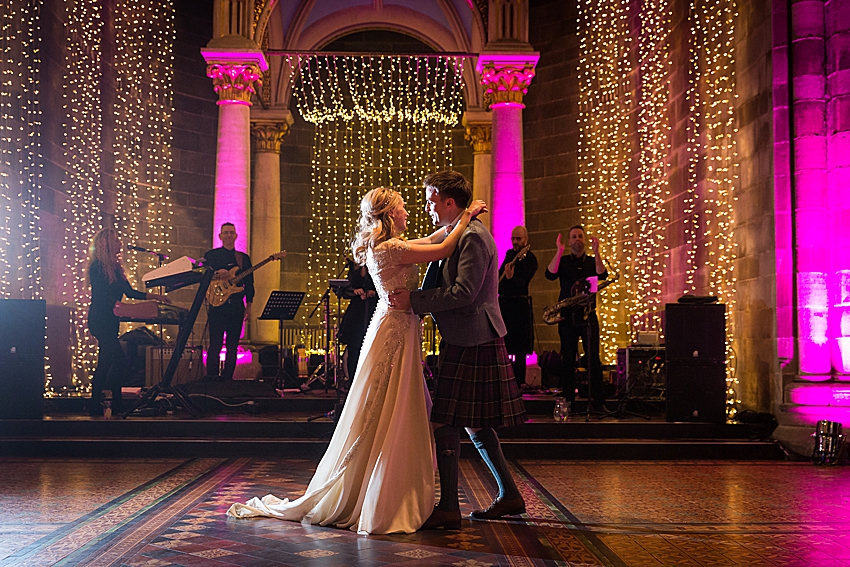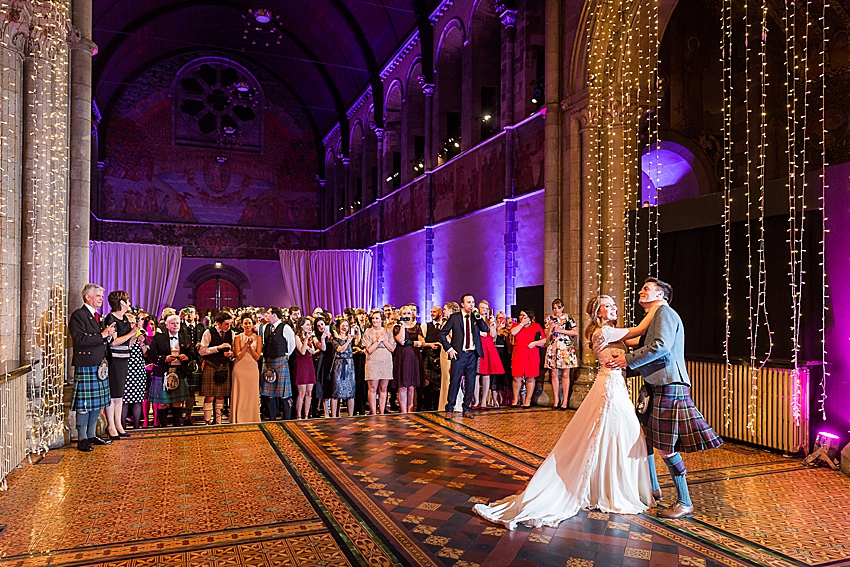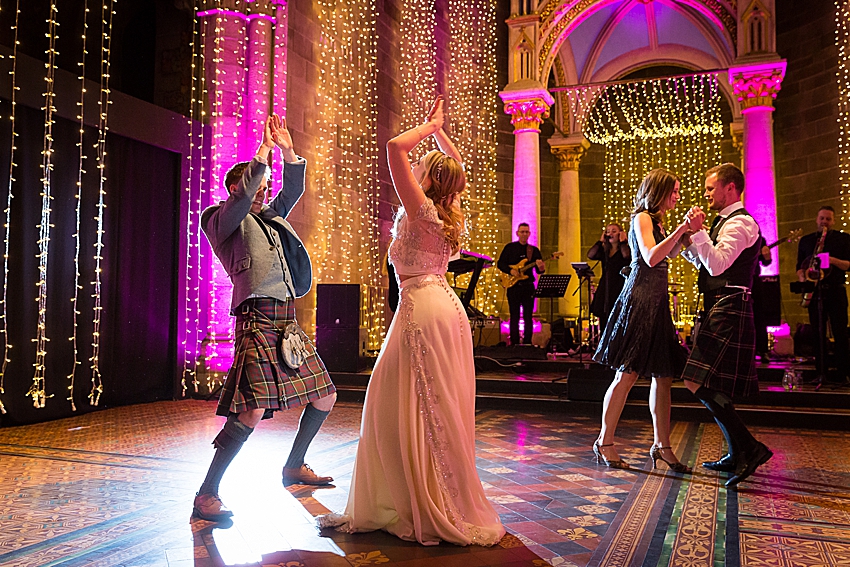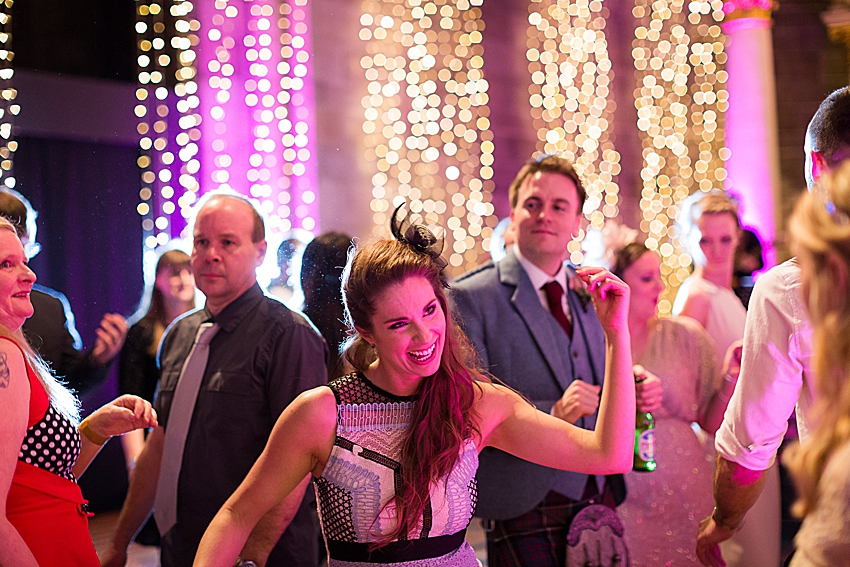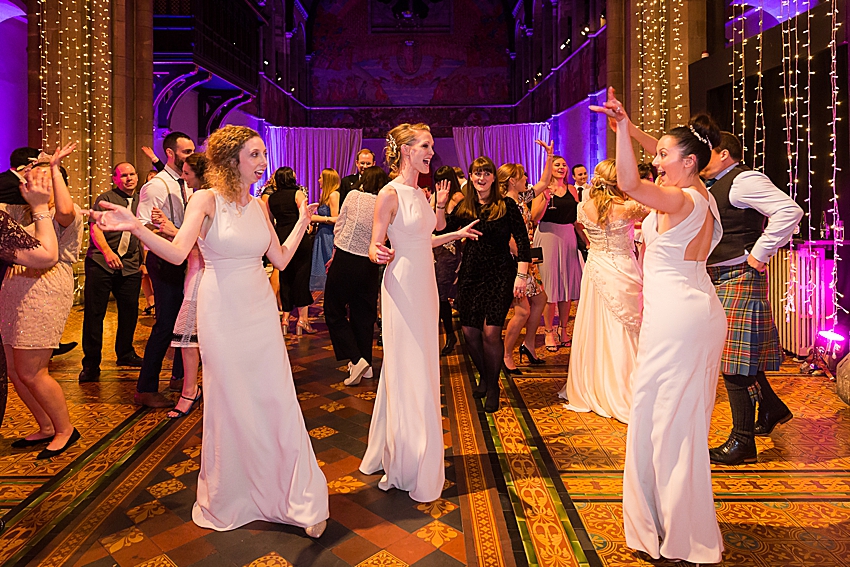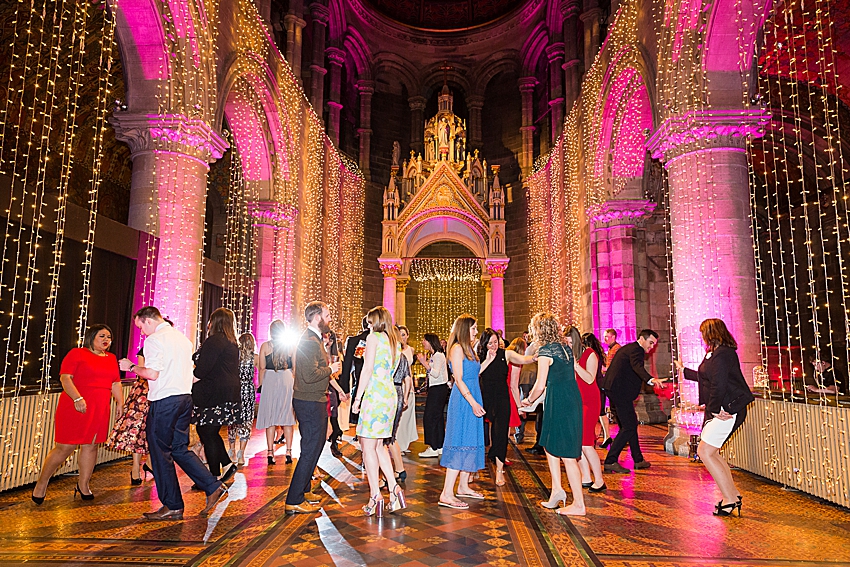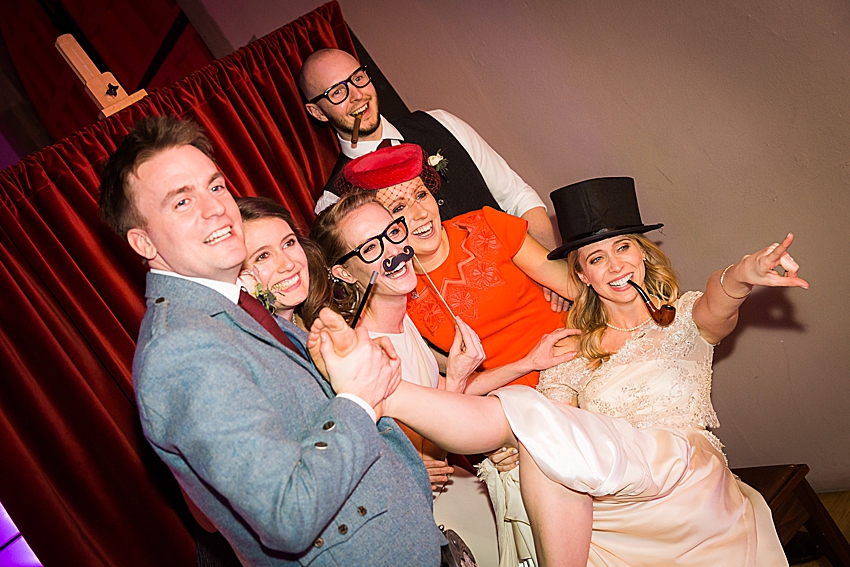 Sheelagh left us this lovely review, we felt we just had to share:
"Ditte is incredibly passionate about her work and is very flexible and talented at capturing moments. She seemed to capture everything in our day yet was not intrusive. Jamie and I do not usually enjoy getting our photograph taken and it is a testimony to Ditte that our couples shoot was one of our favourite parts of the day. She is extremely professional and accommodating and ensures you have fantastic photographs to treasure forever."
Thank you so much Sheelagh and Jamie for choosing us to capture your day, we laughed and smiled and laughed so much that day. Please please can we do it again??
Sheelagh and Jamie's wedding suppliers included:
Posted on 6 February, 2019 by under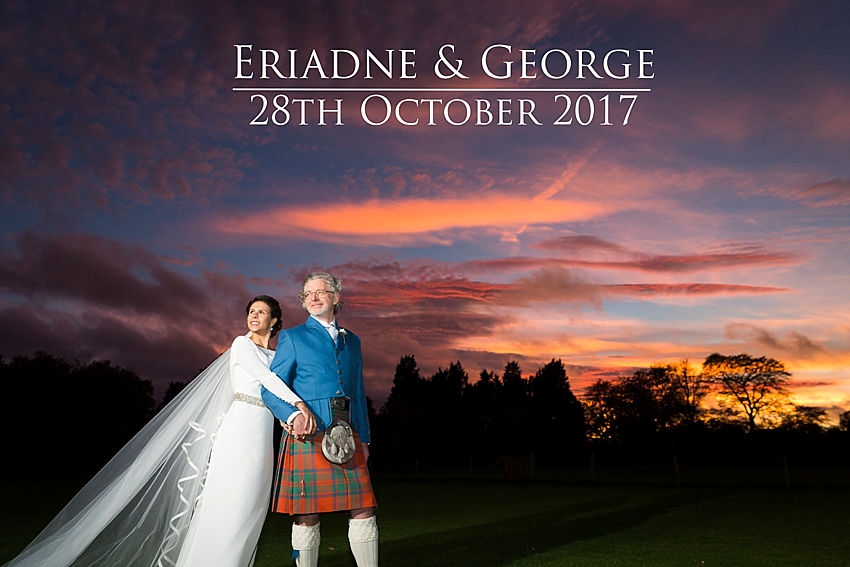 On one particularly blustery October day we headed to Gilmerton House near North Berwick in East Lothian to capture the beautiful family wedding of Eriadne and George. Gilmerton House is a breathtaking location to get married and, as you can see, has some incredible sunsets to boot!
Eriadne and George, and their gorgeous kids got ready at Gilmerton House, before heading to the pretty eighteenth century Athelstaneford Church to say their wedding vows. The couple then headed back to Gilmerton House in style in a vintage Rolls Royce, to celebrate over dinner and on the dance floor with family and friends.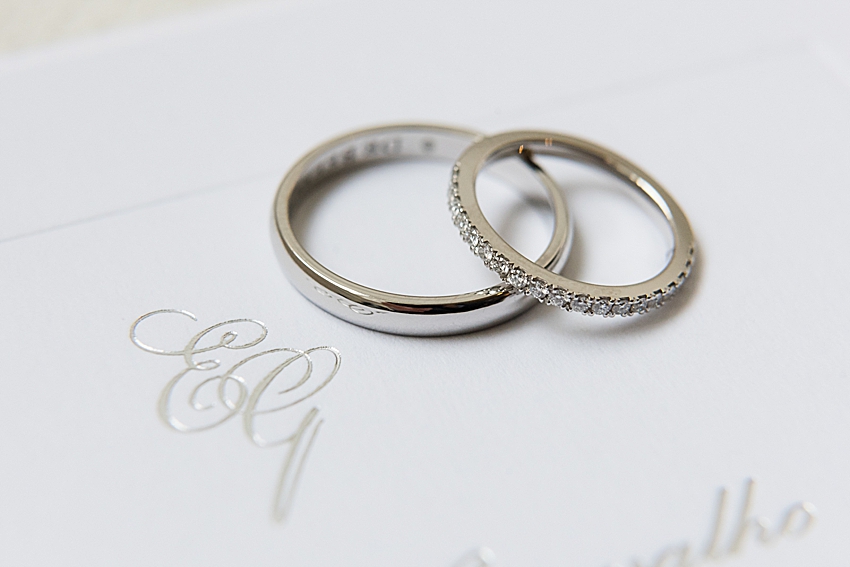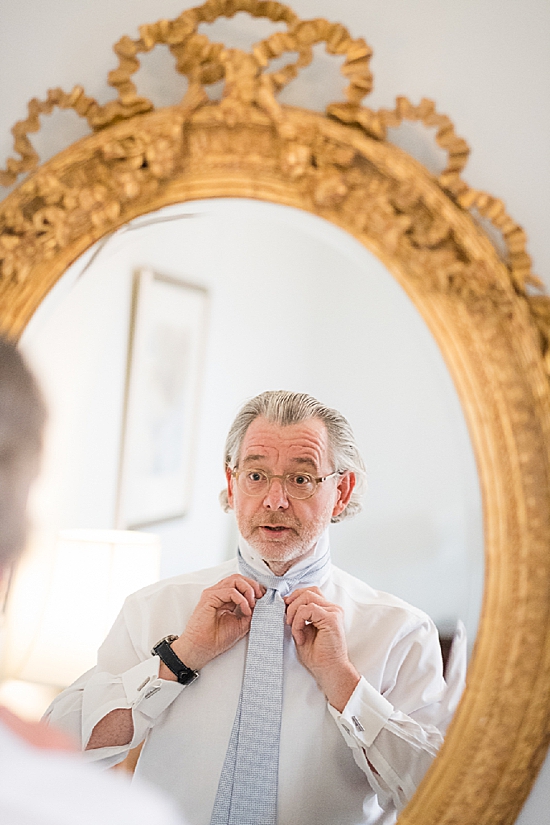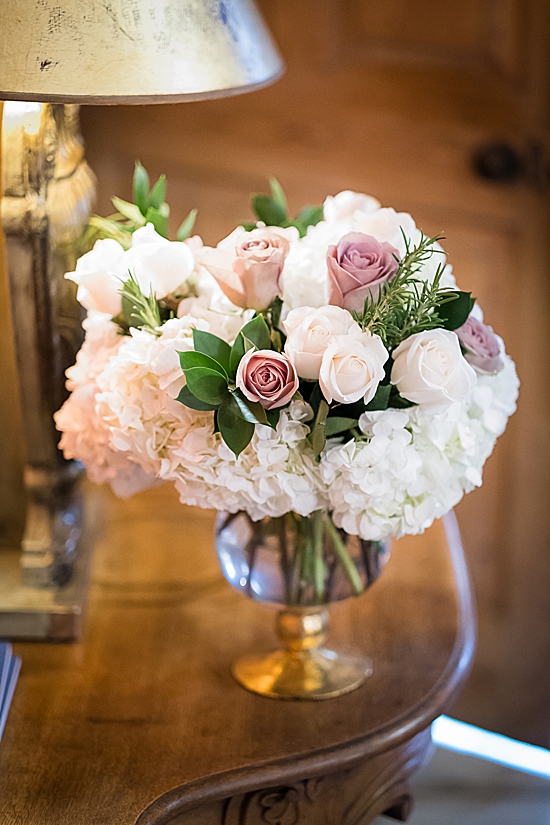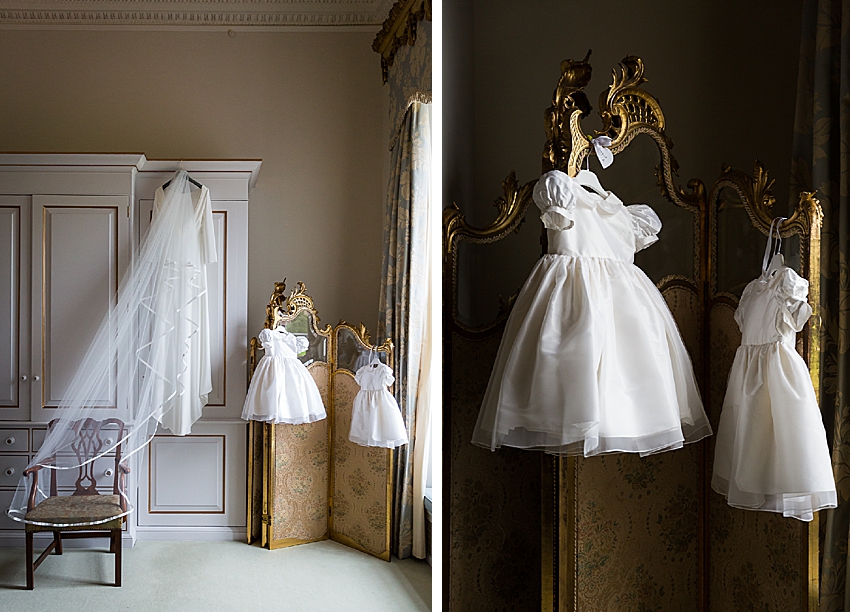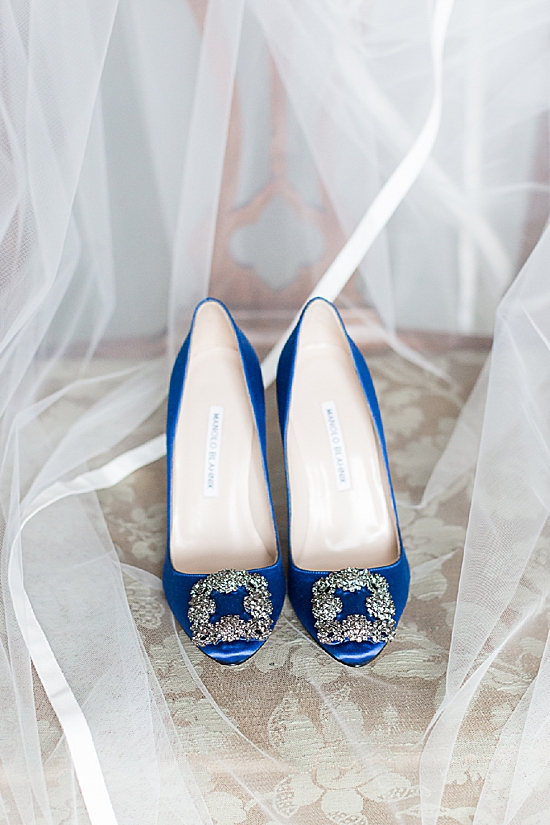 Eriadne's stunning royal blue satin shoes decorated with Swarovski crystal buckles by Manolo Blahnik.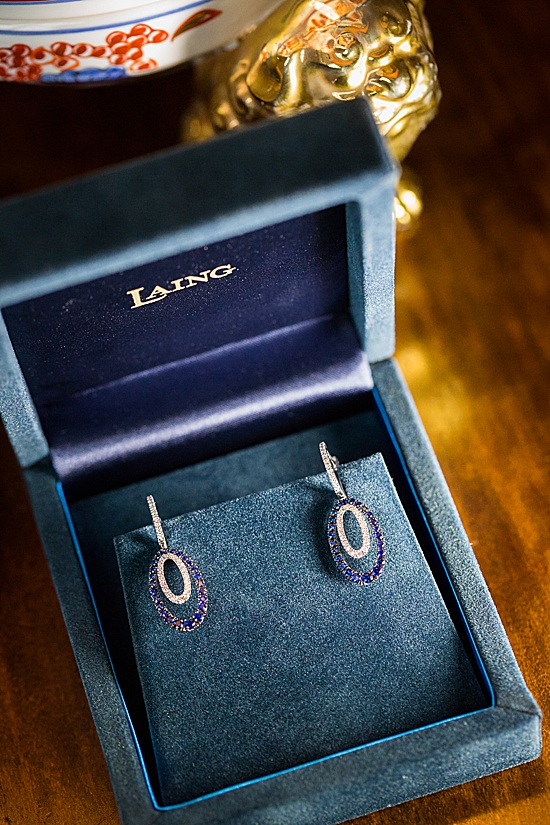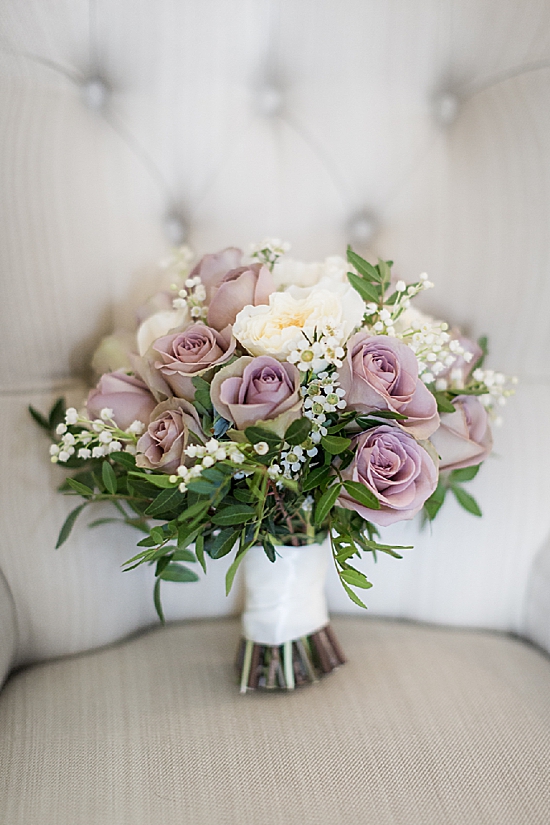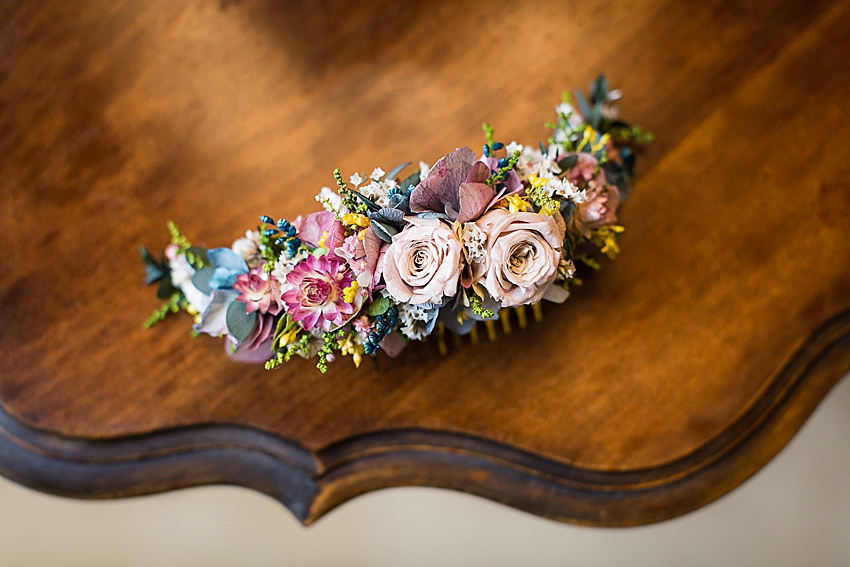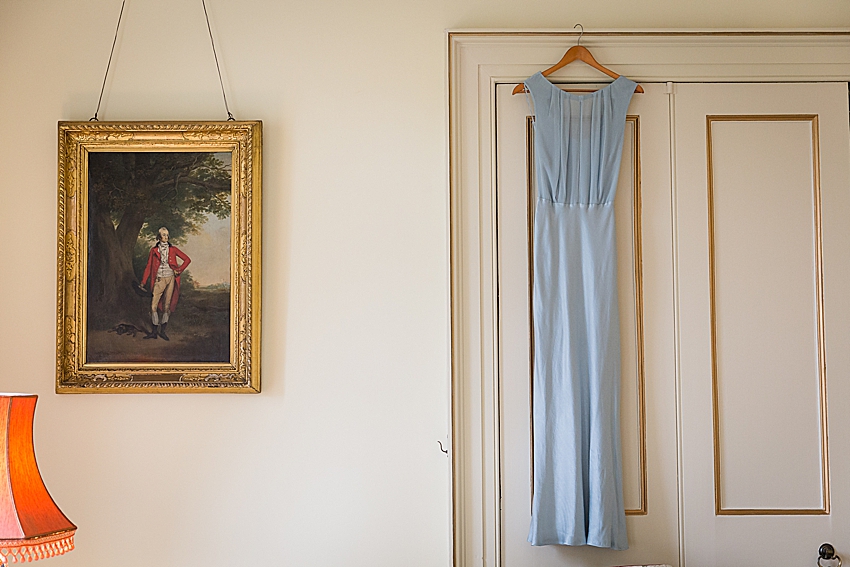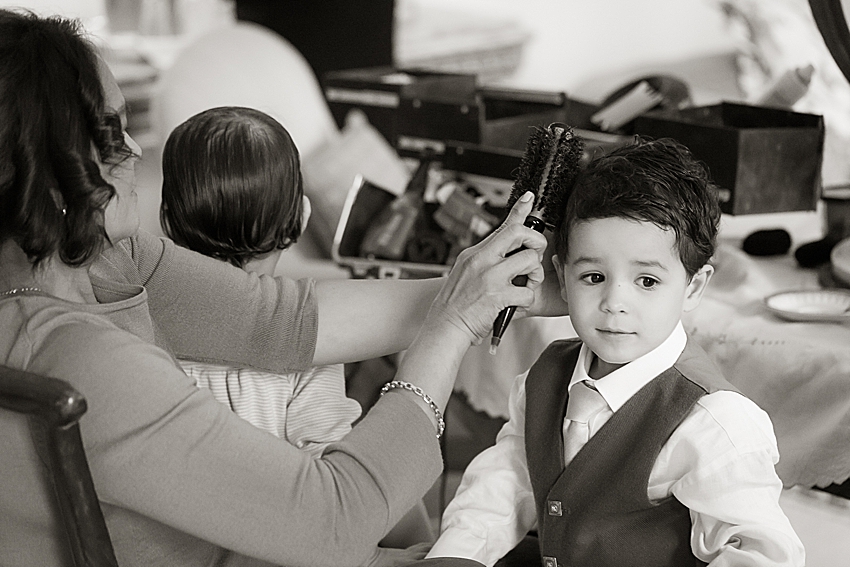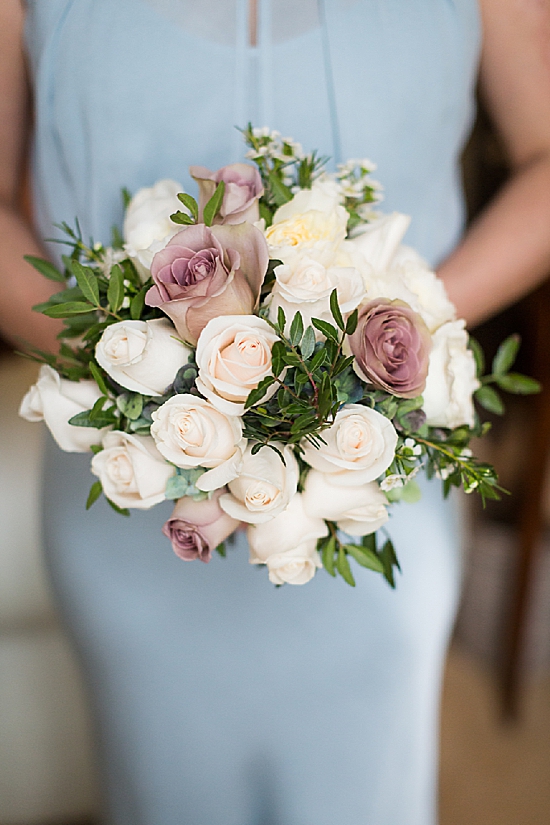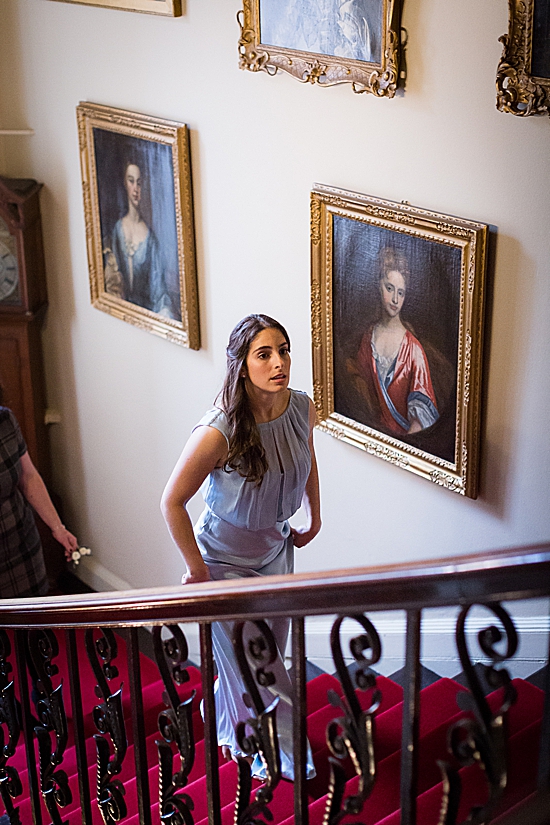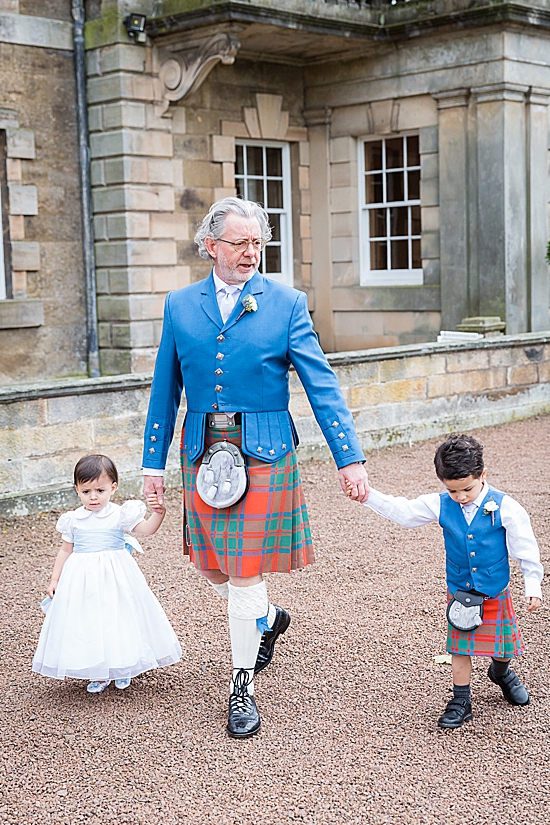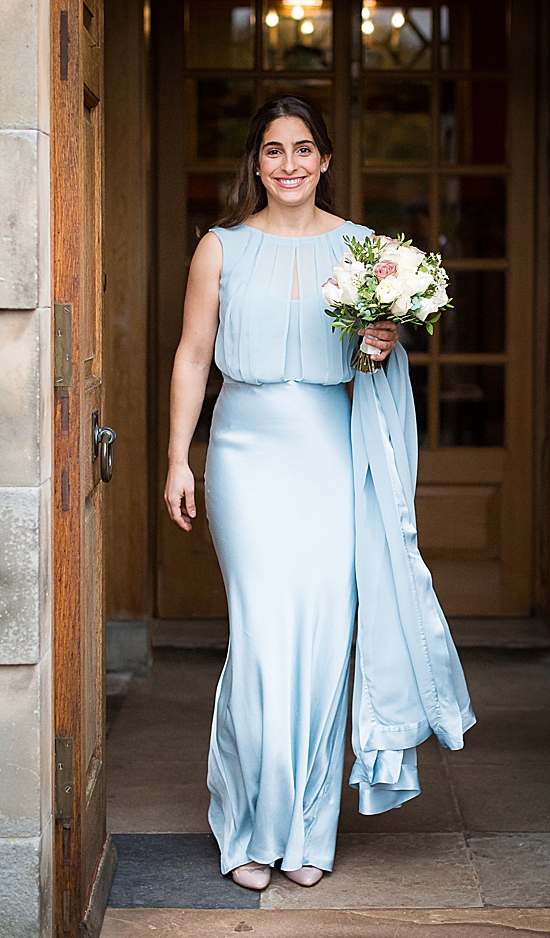 The floral arch was a knock-out! I have no idea how Planet Flowers managed to get it up and get it to stay in the wild winds…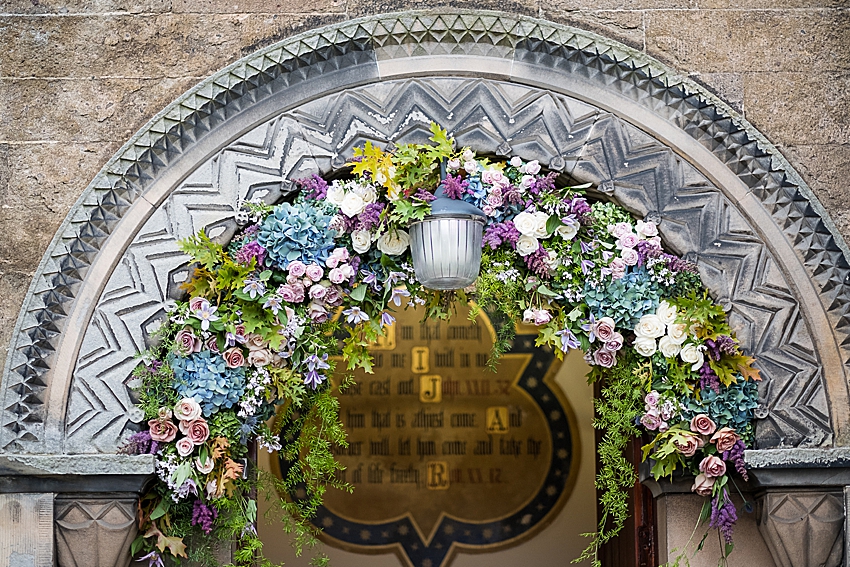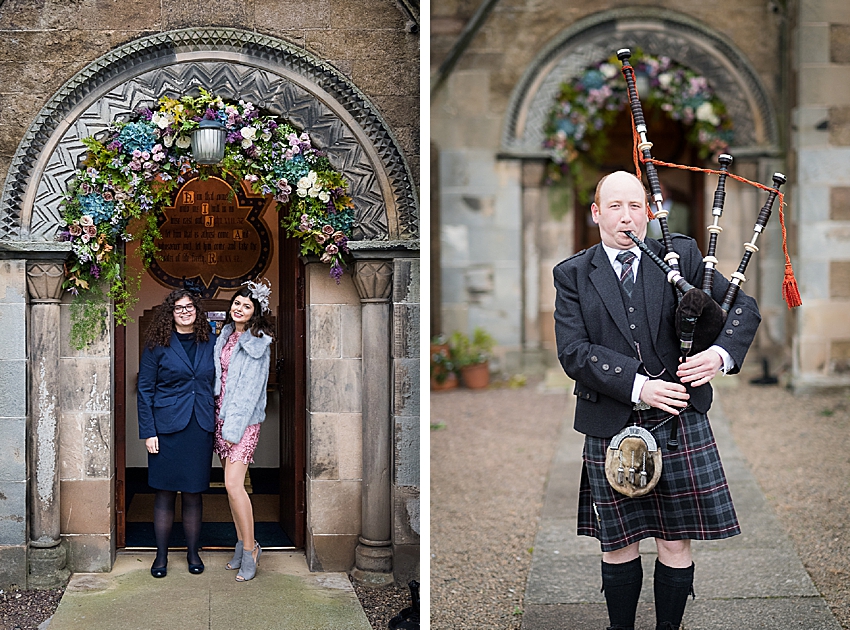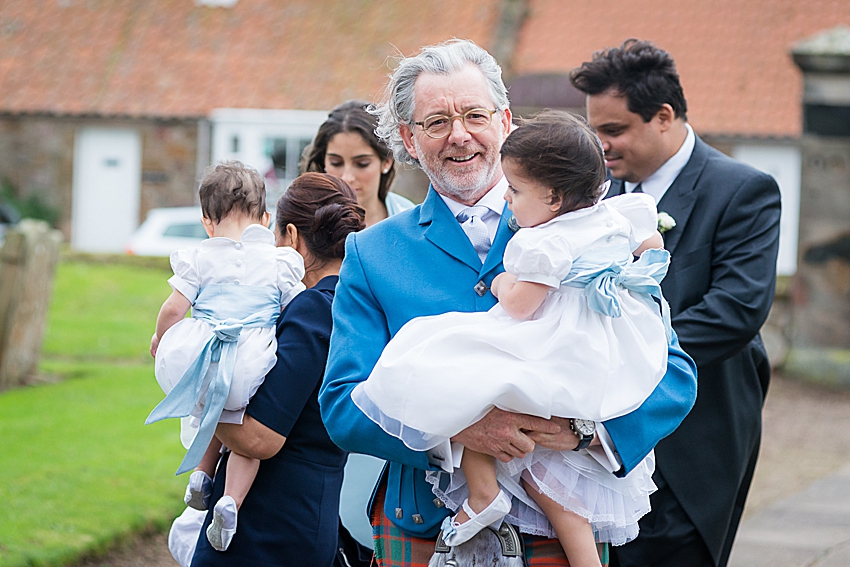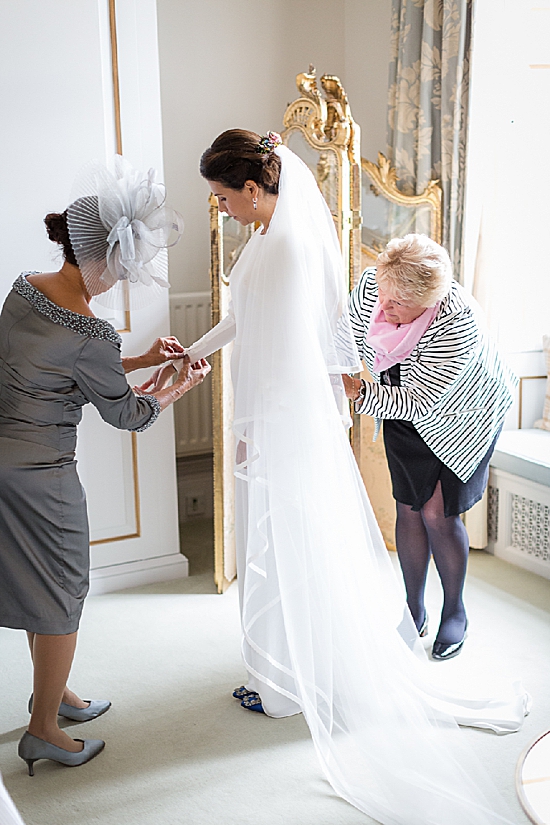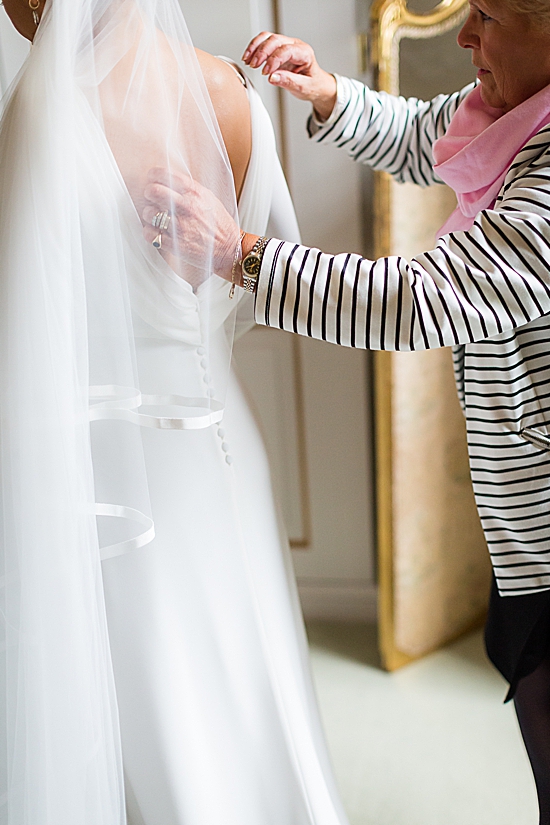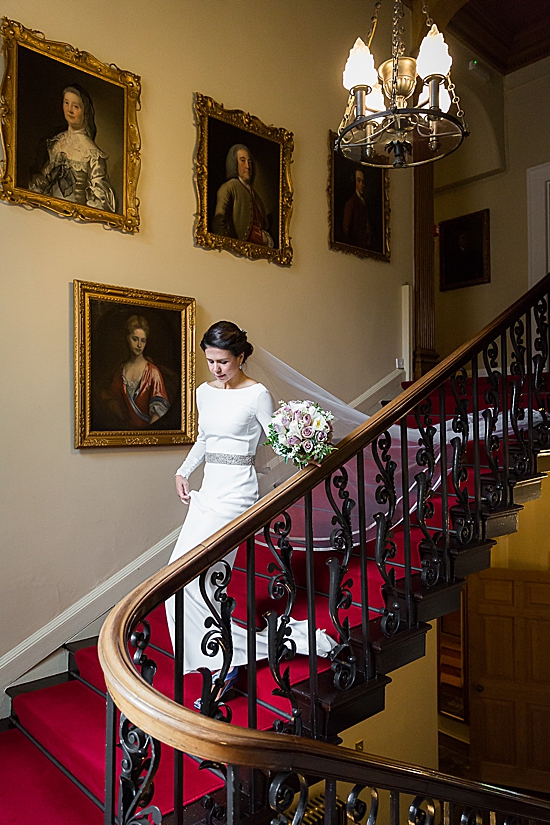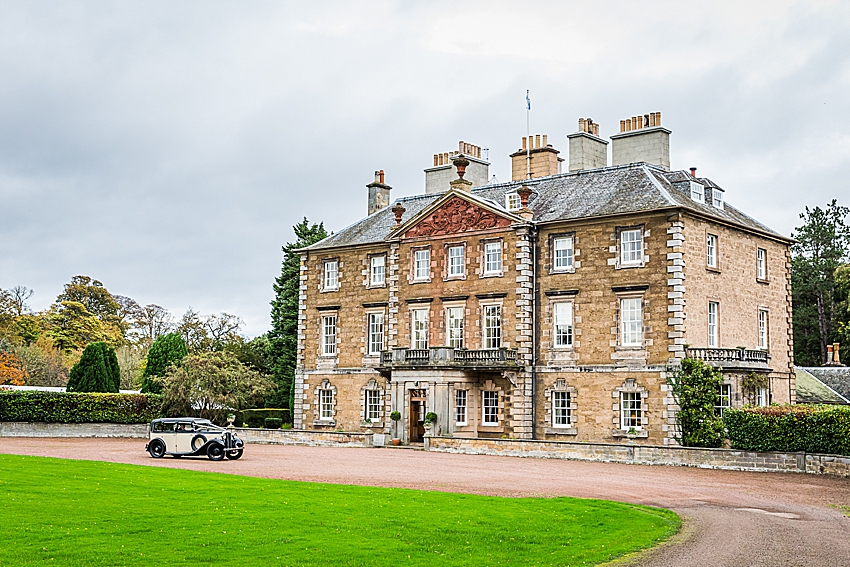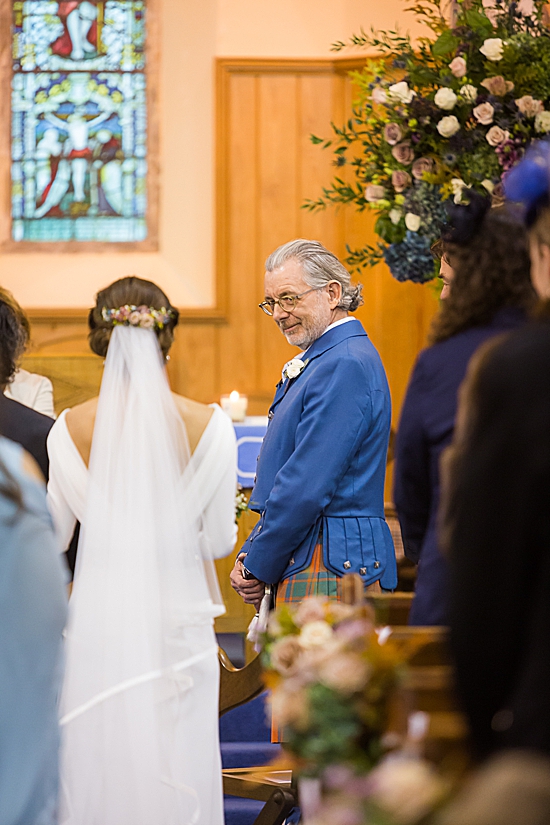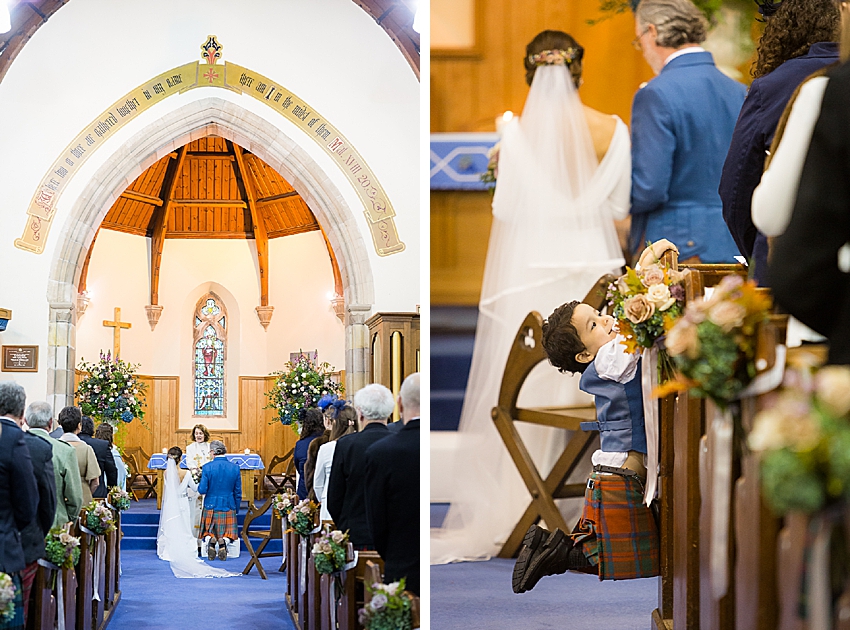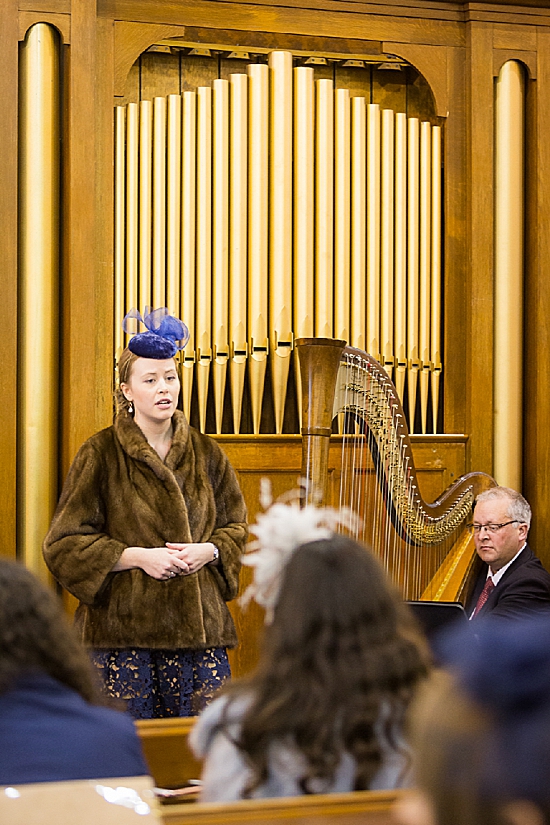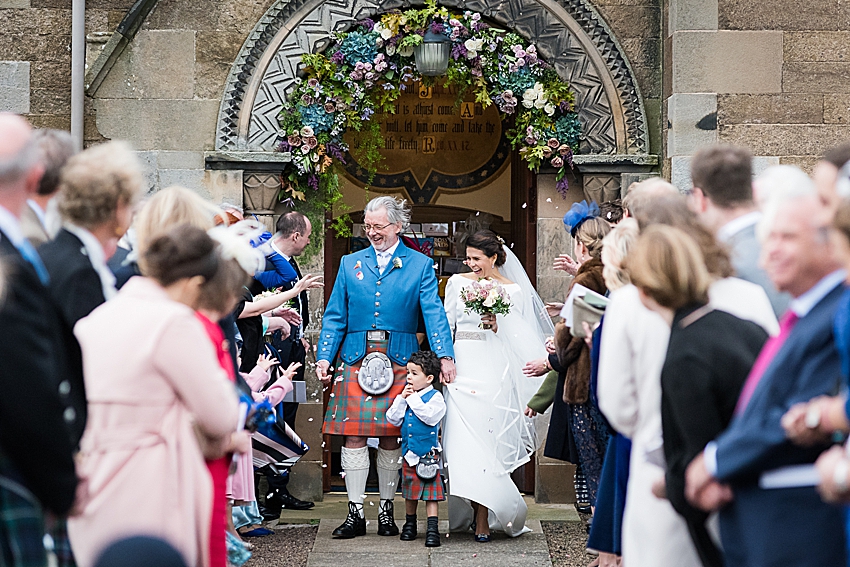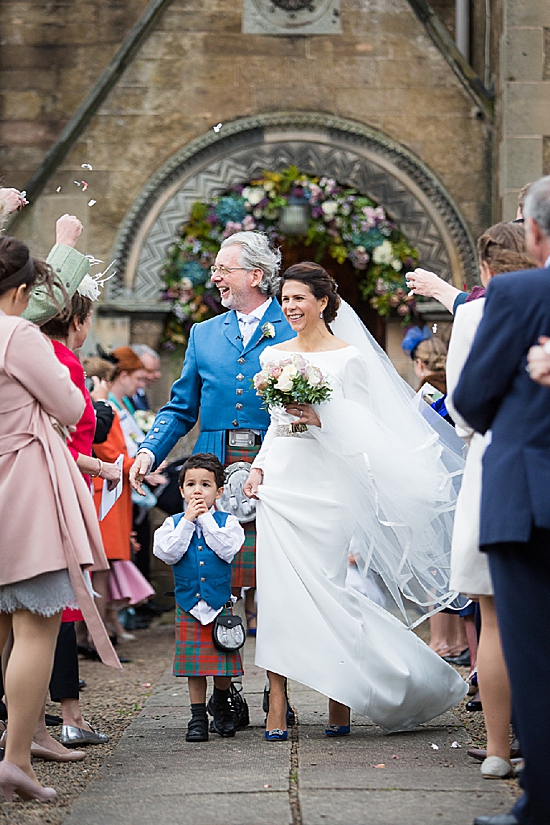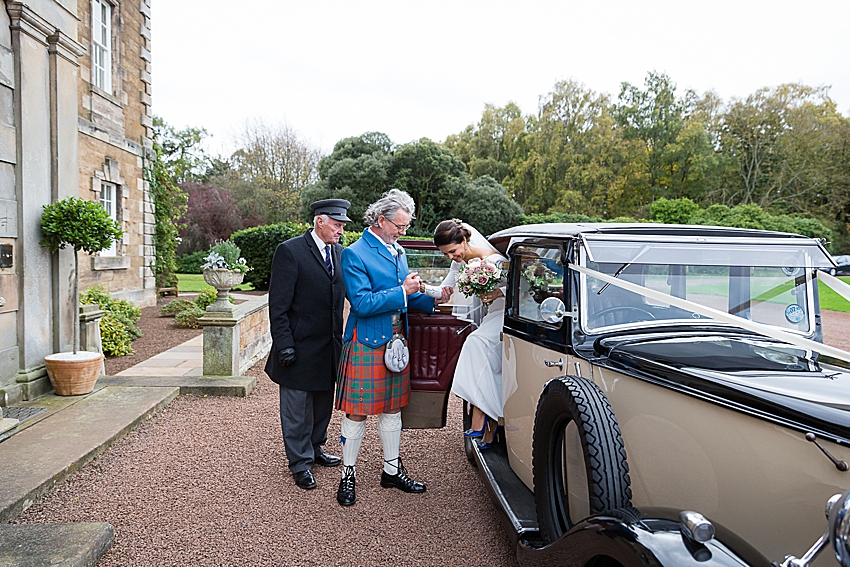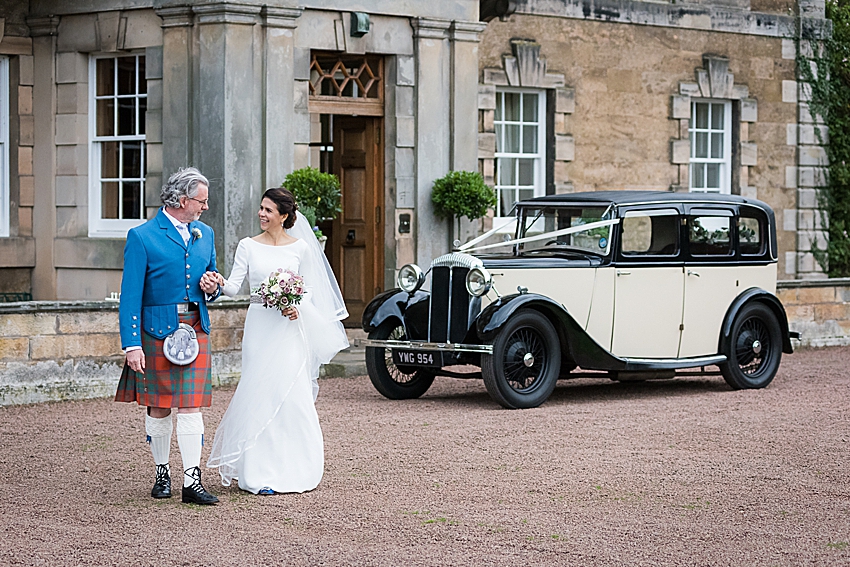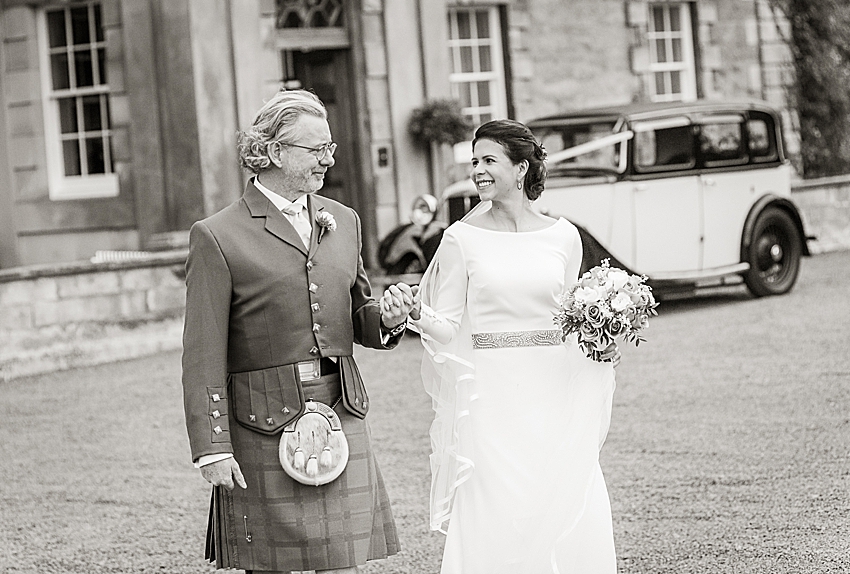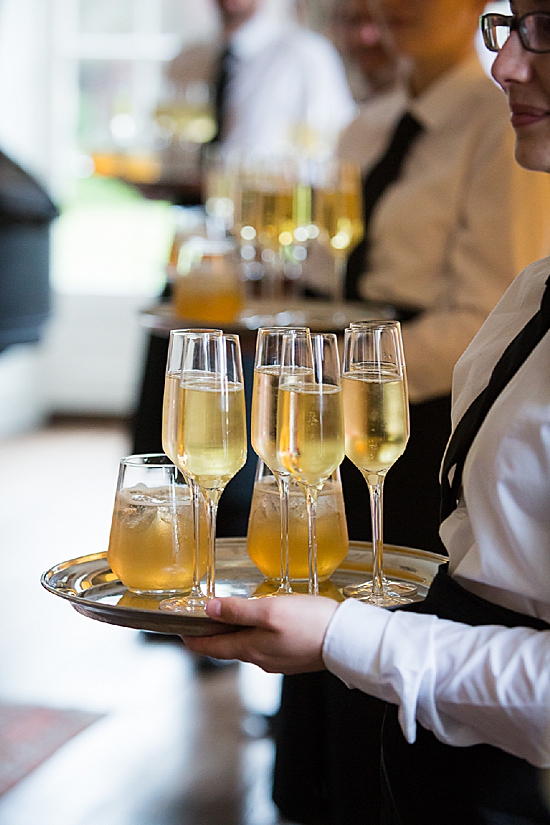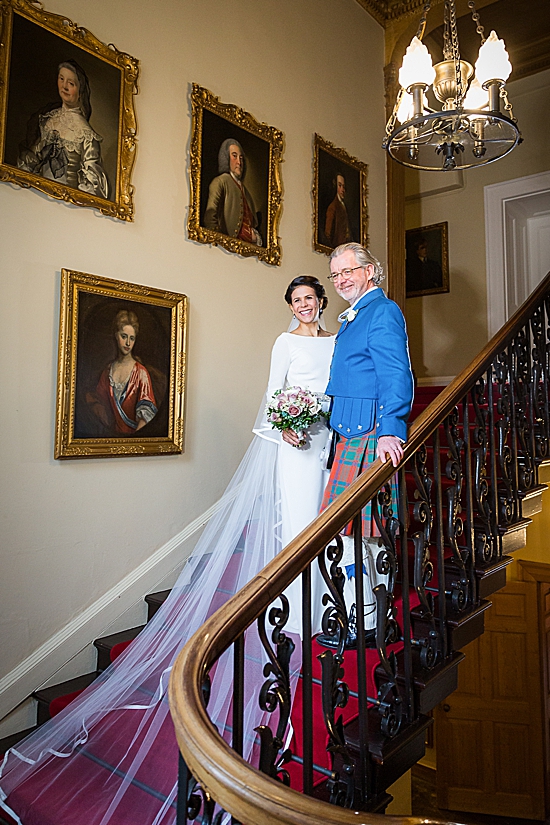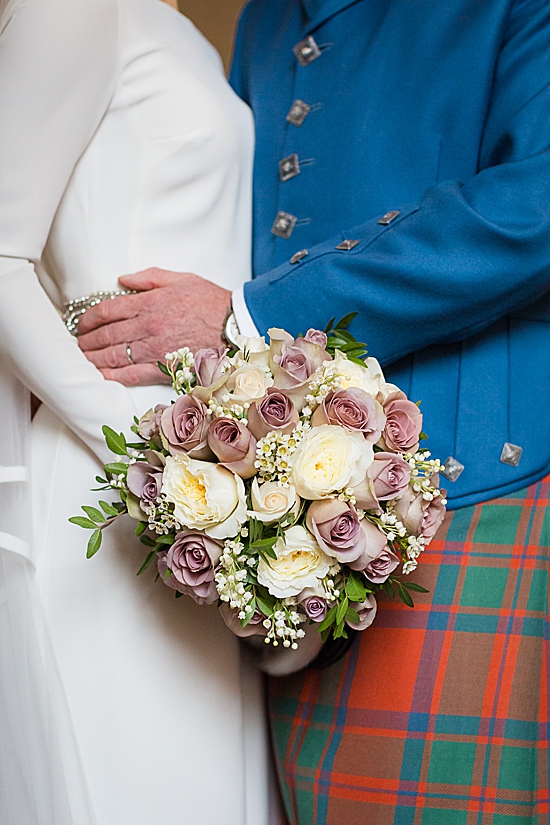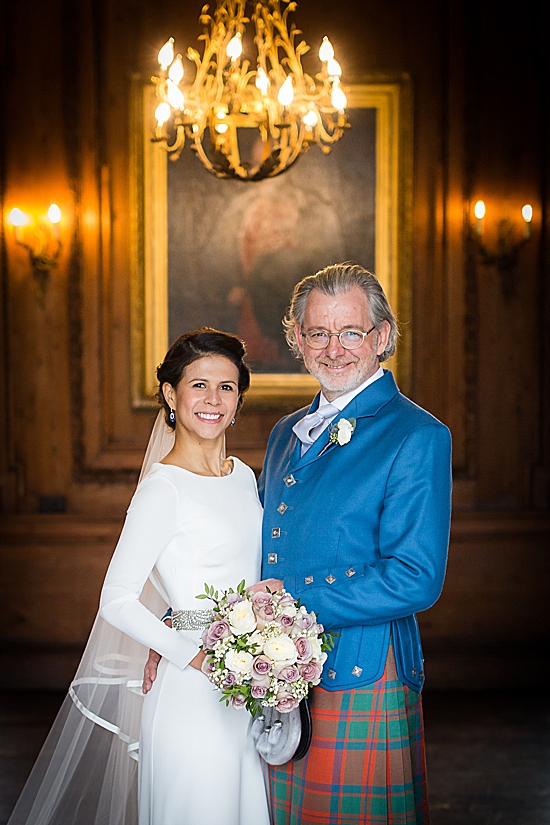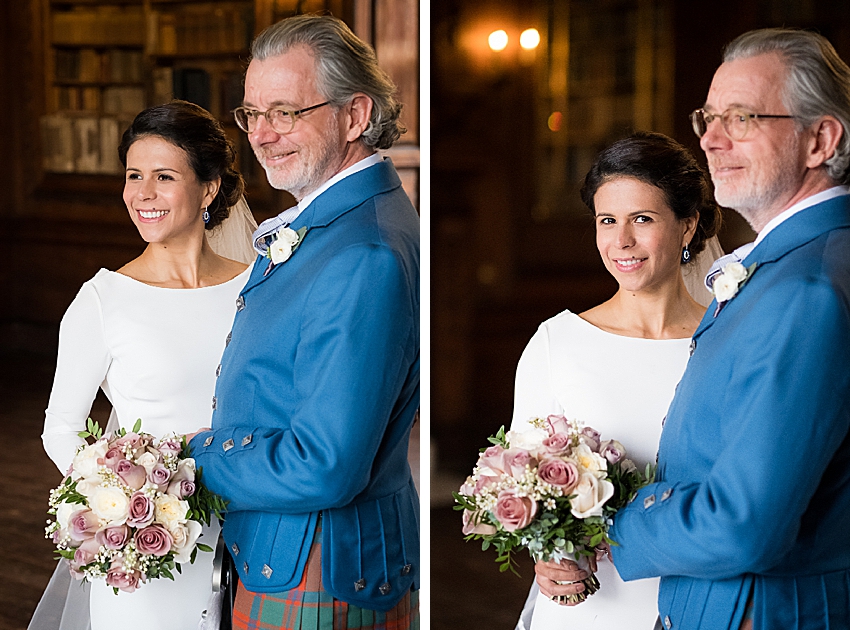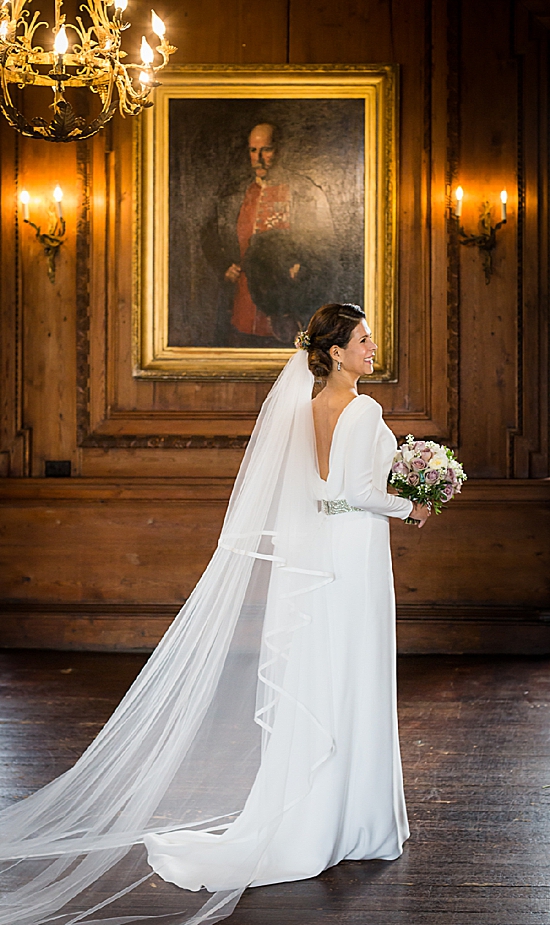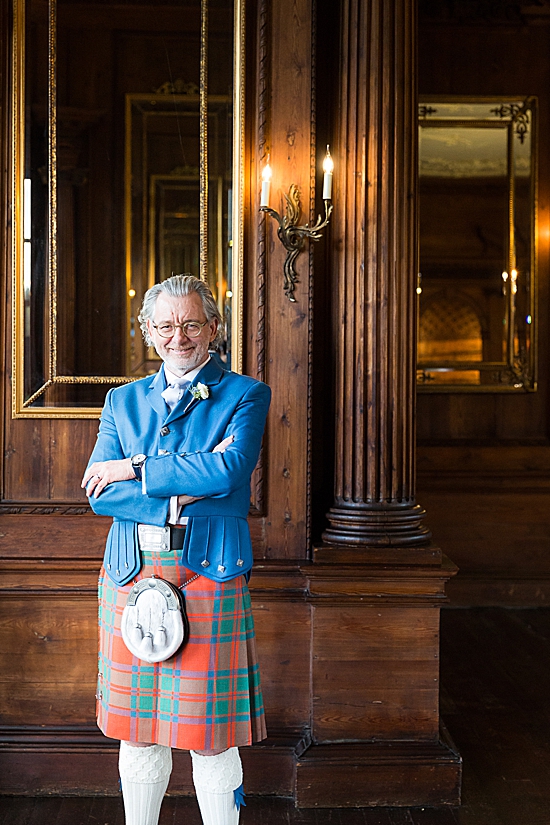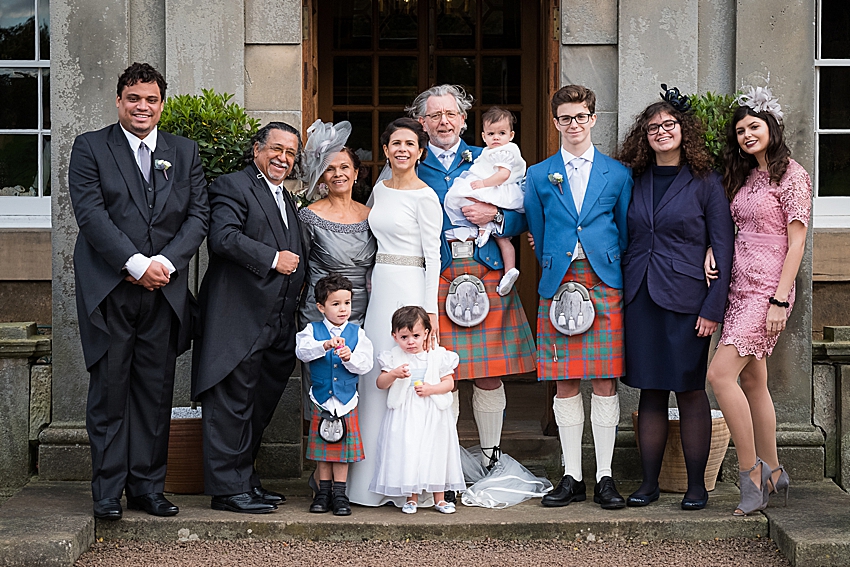 Eriadne's floral brief was "Autumnal, but not Autumn colours". Think Planet Flowers aced it!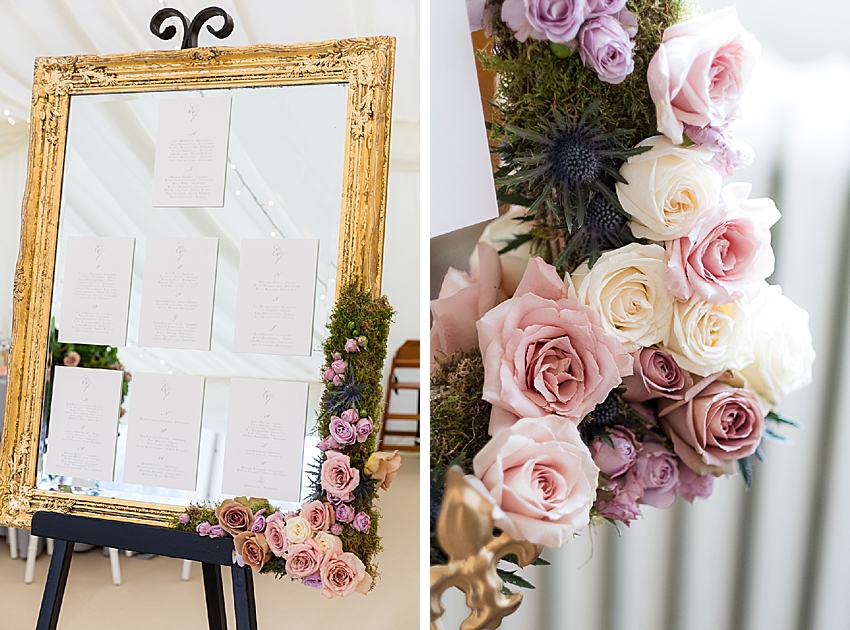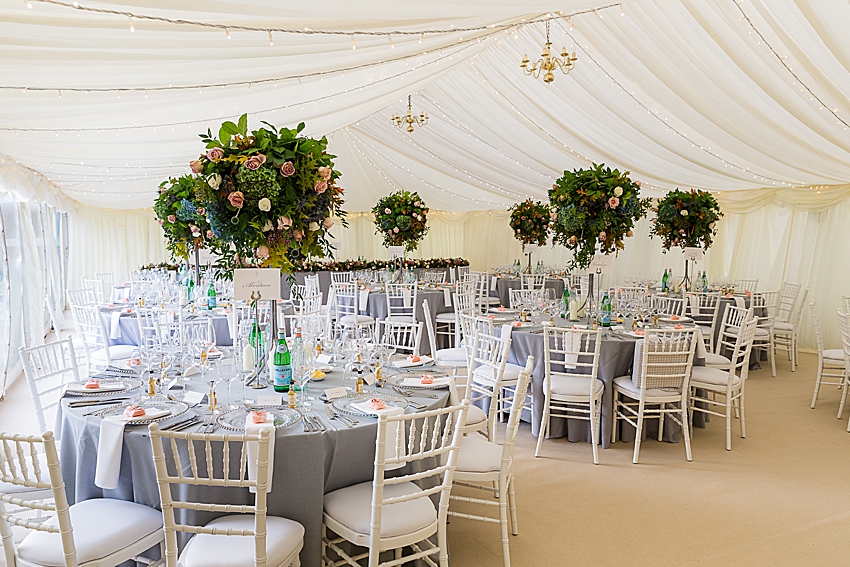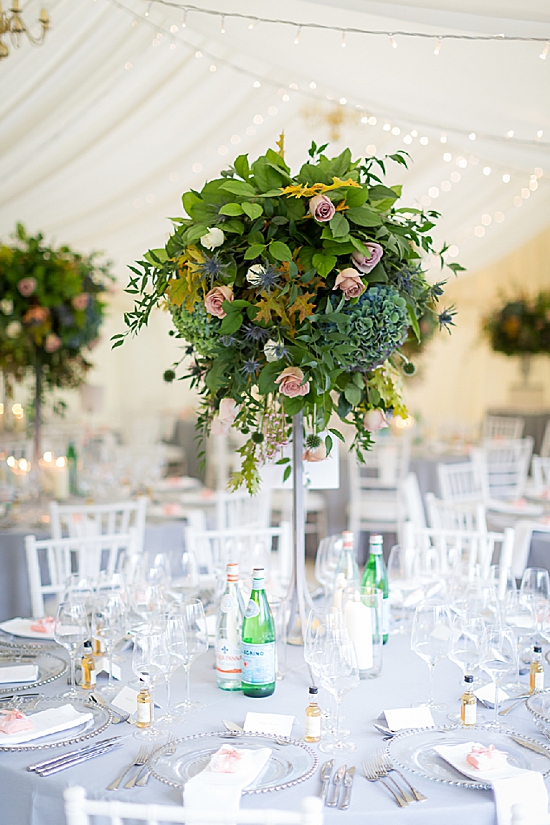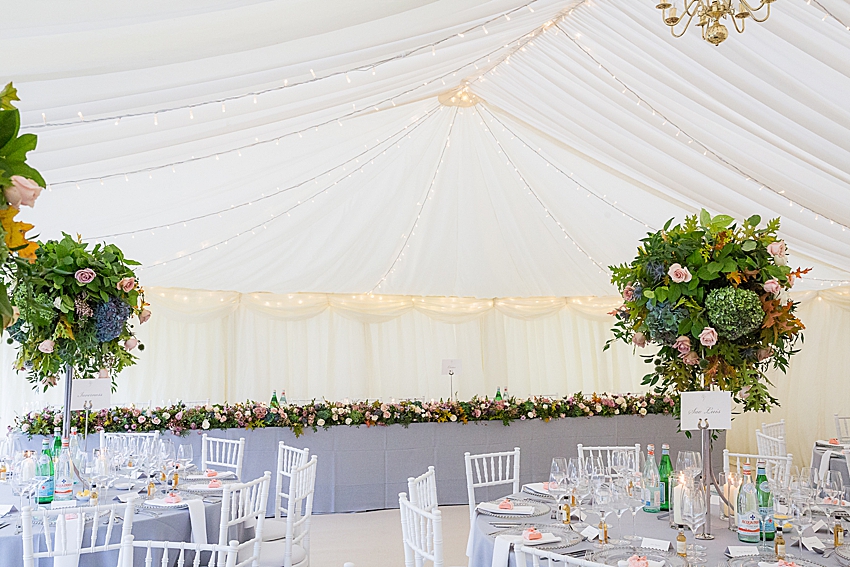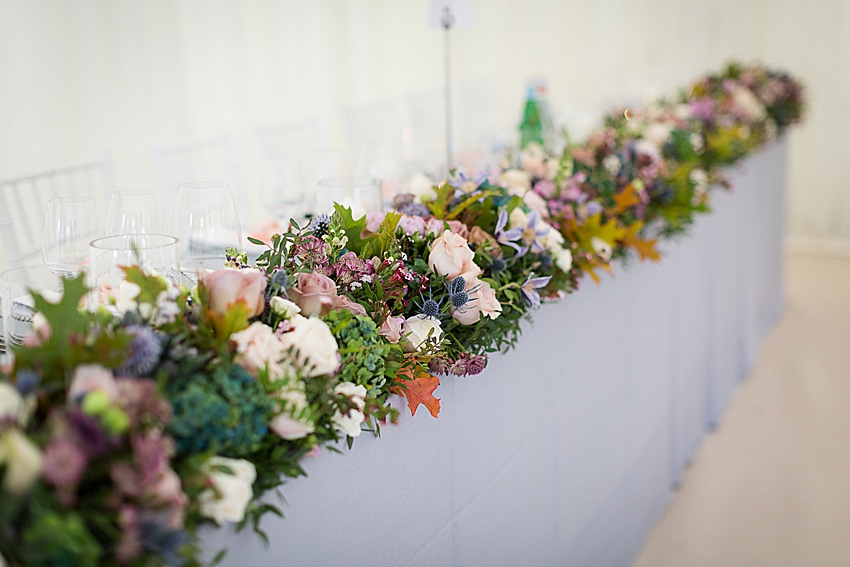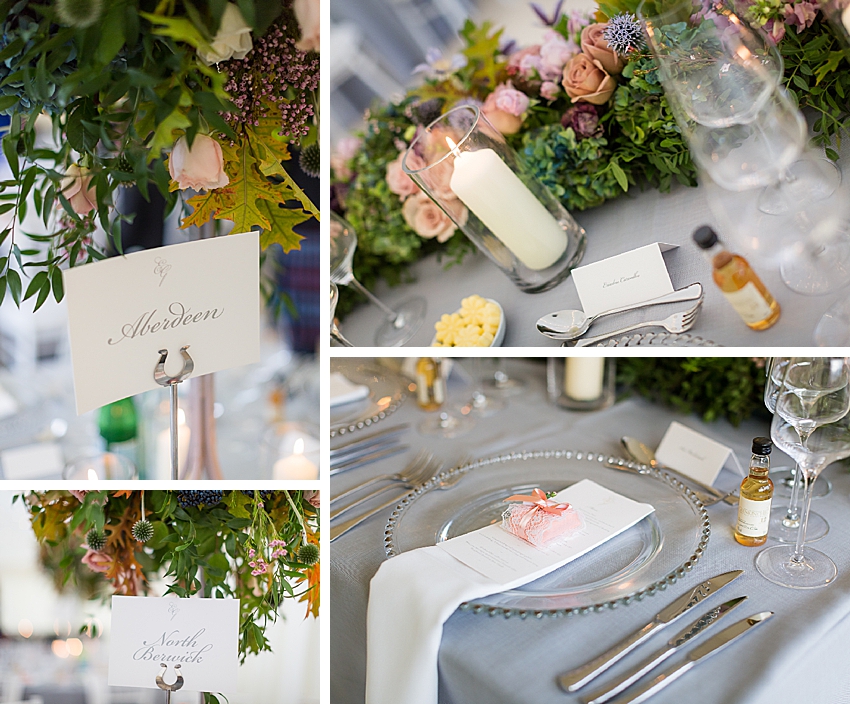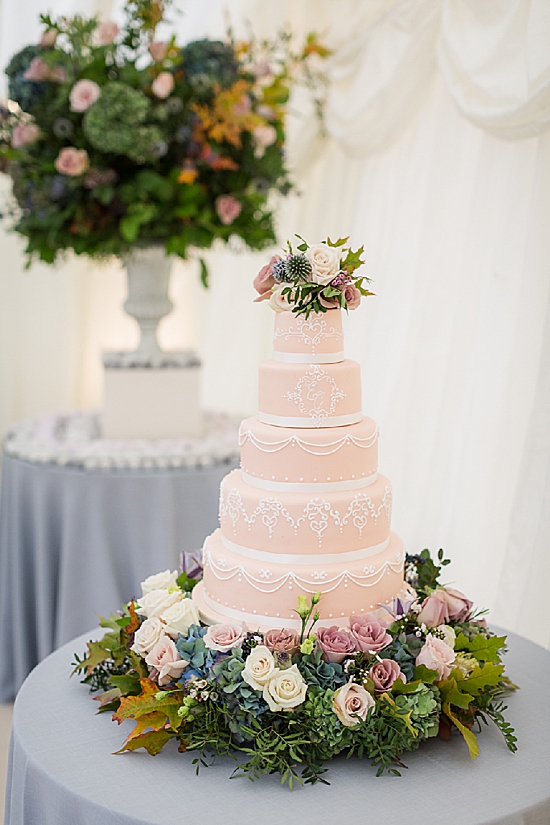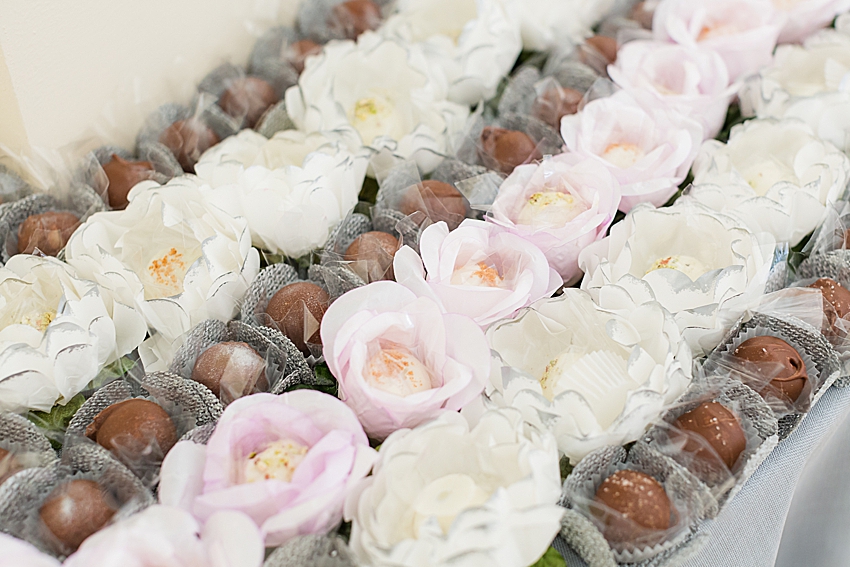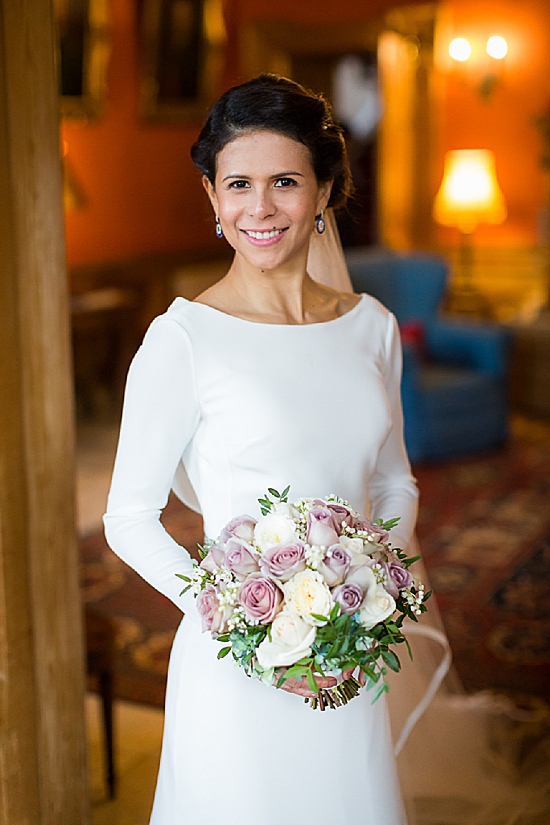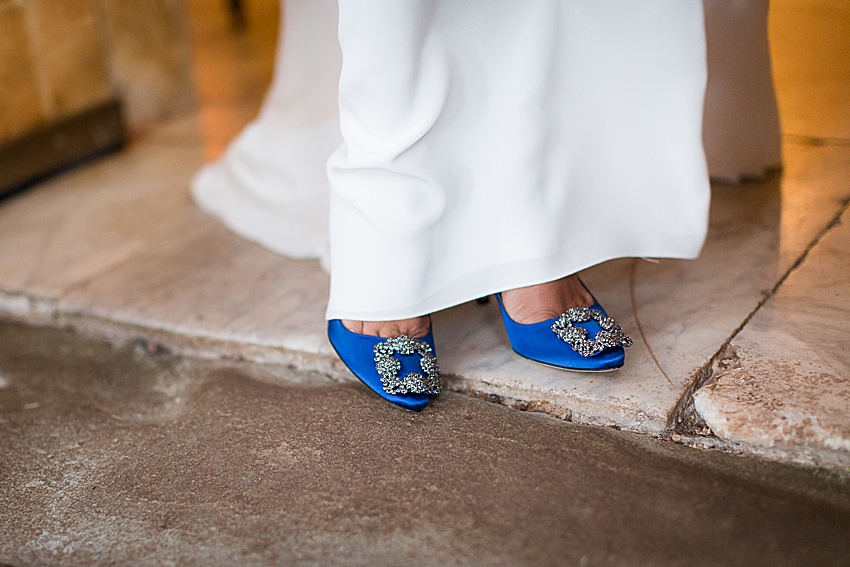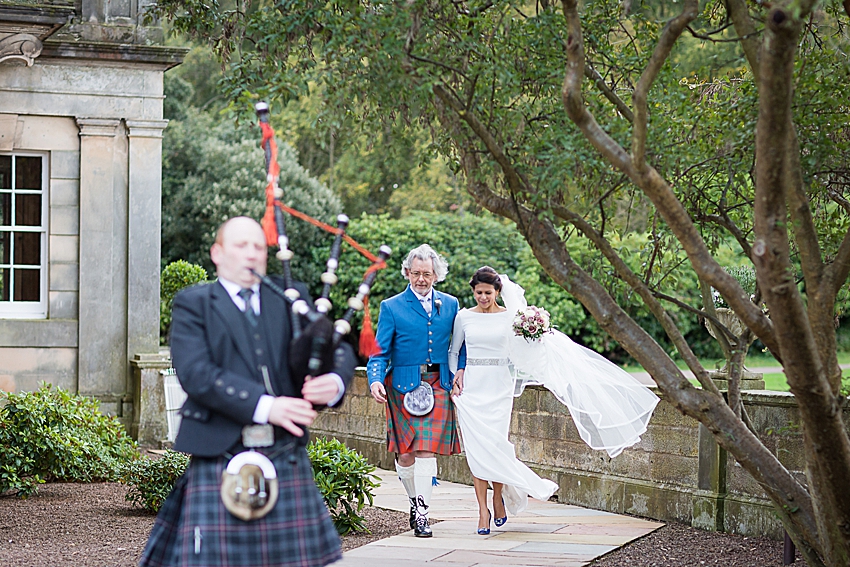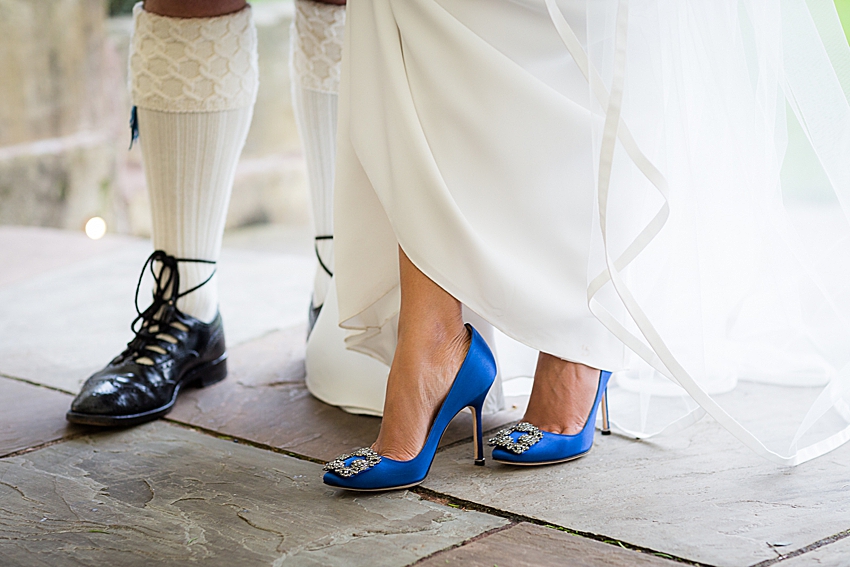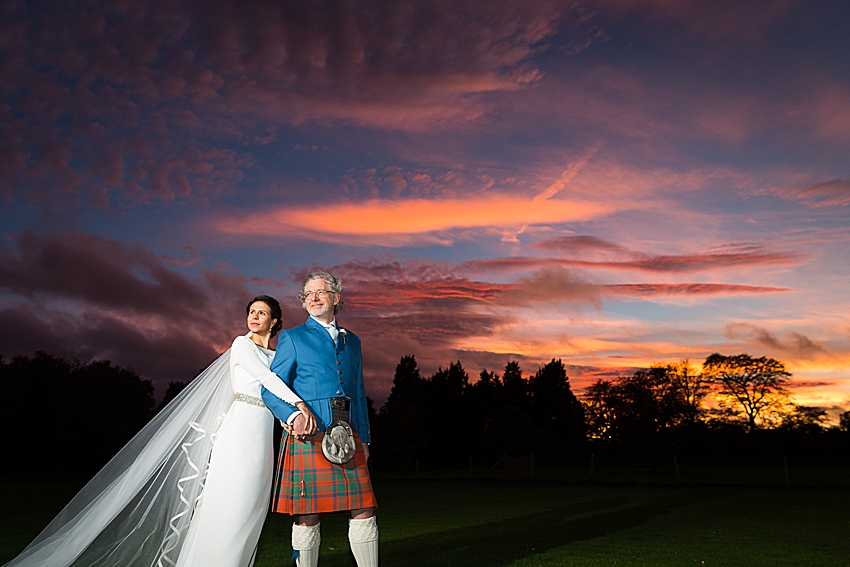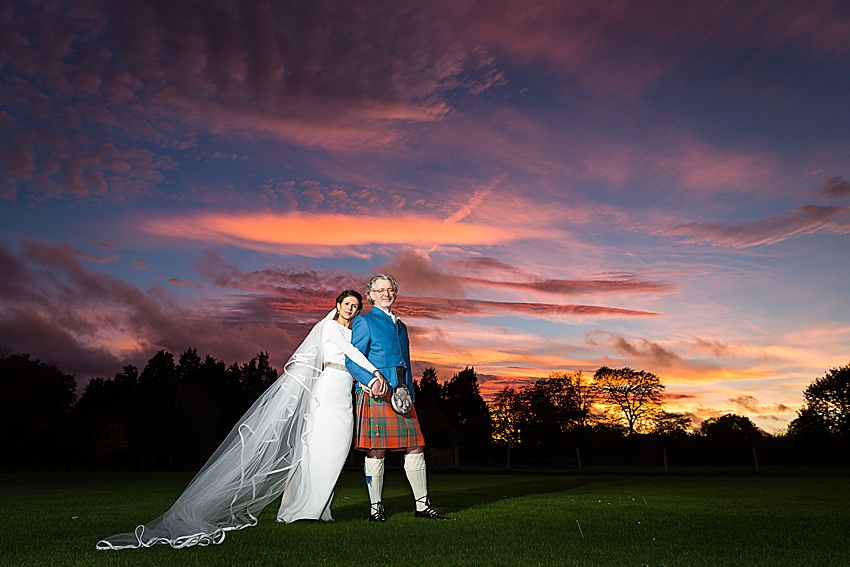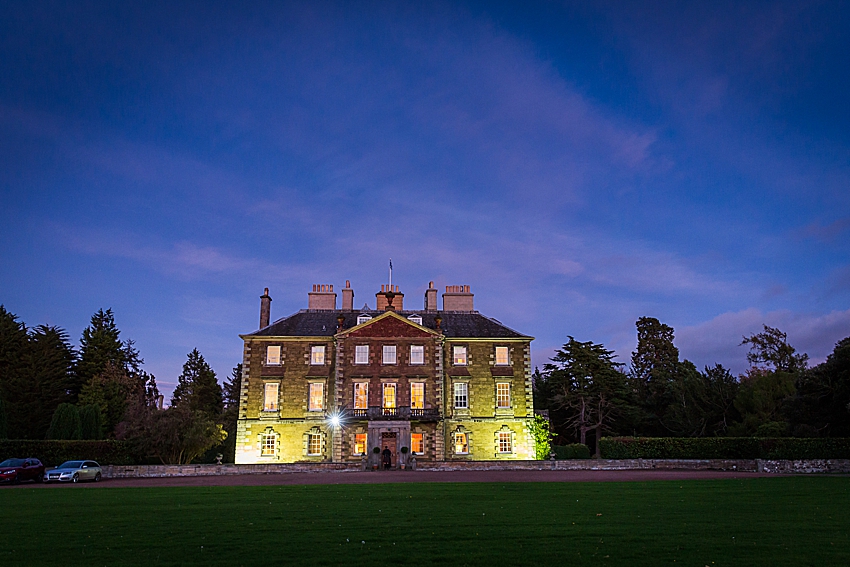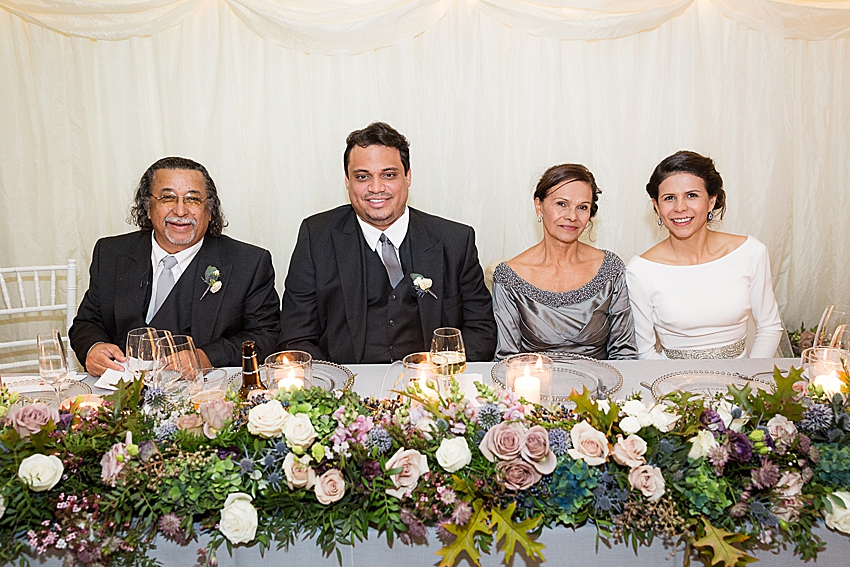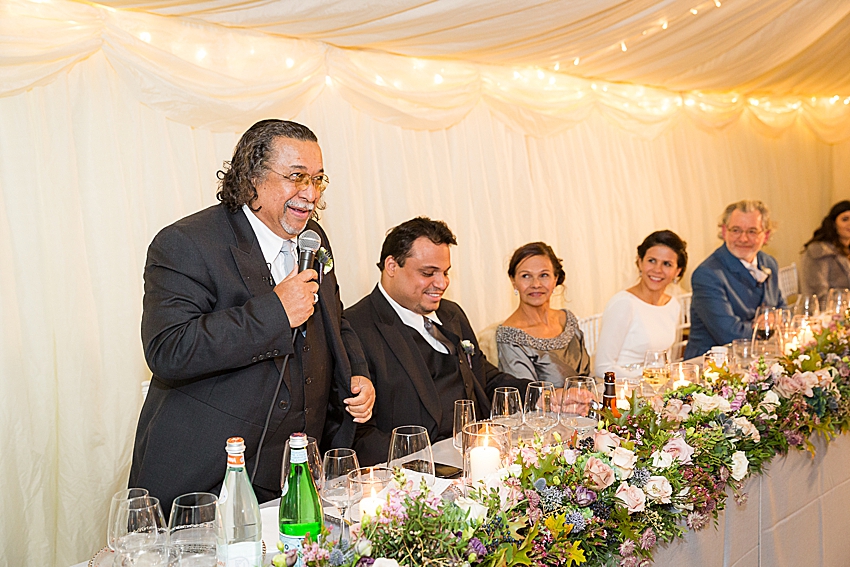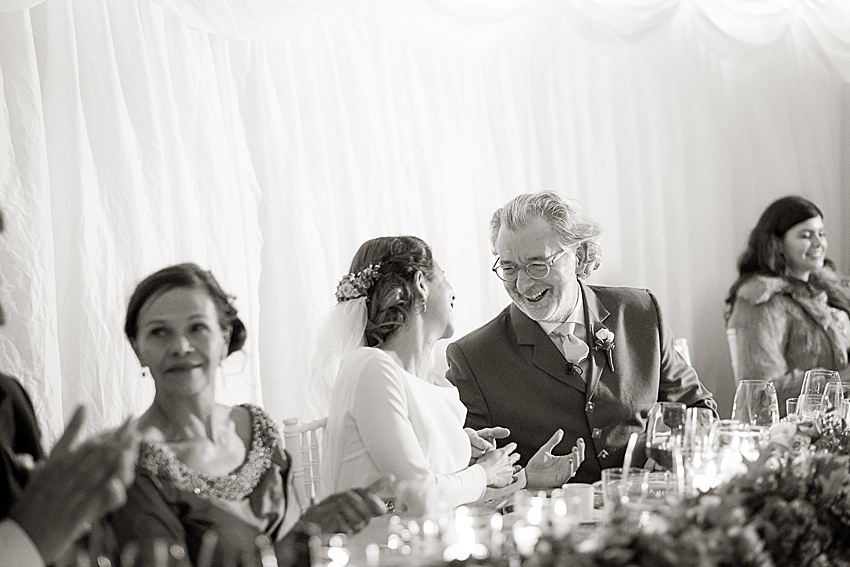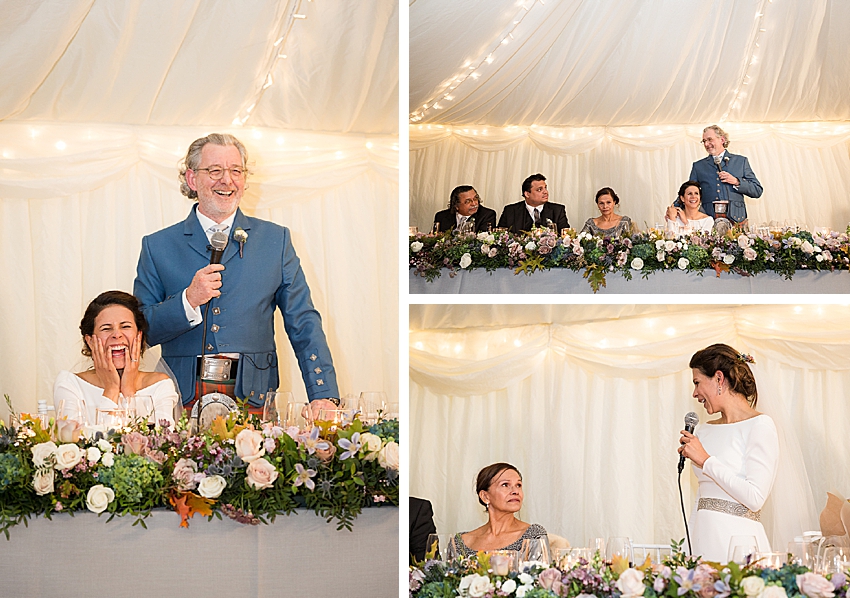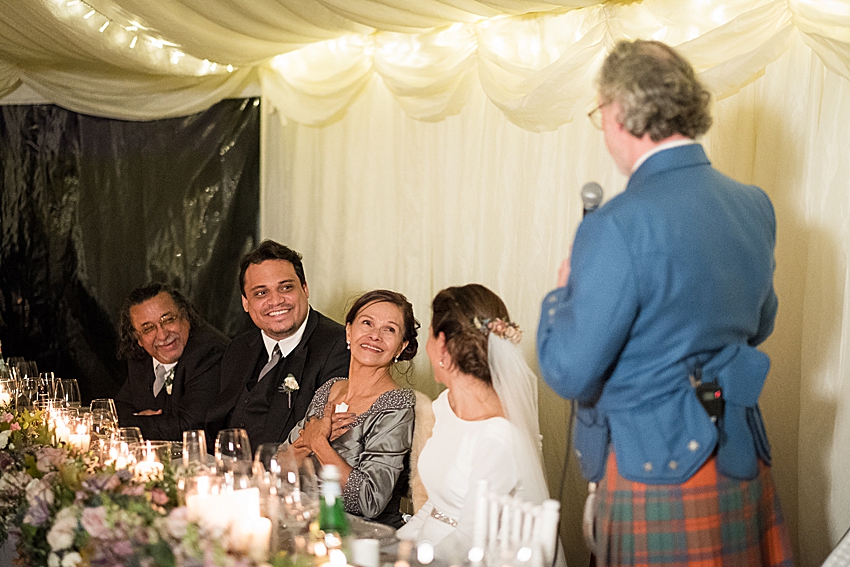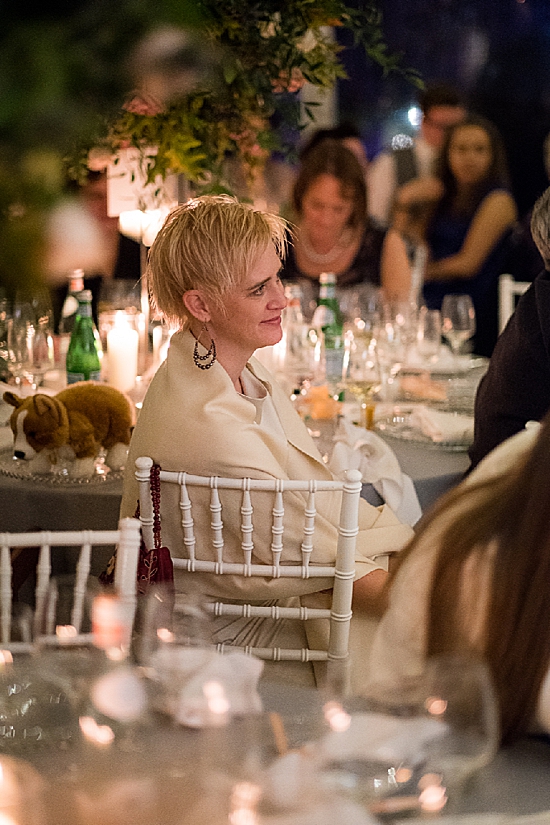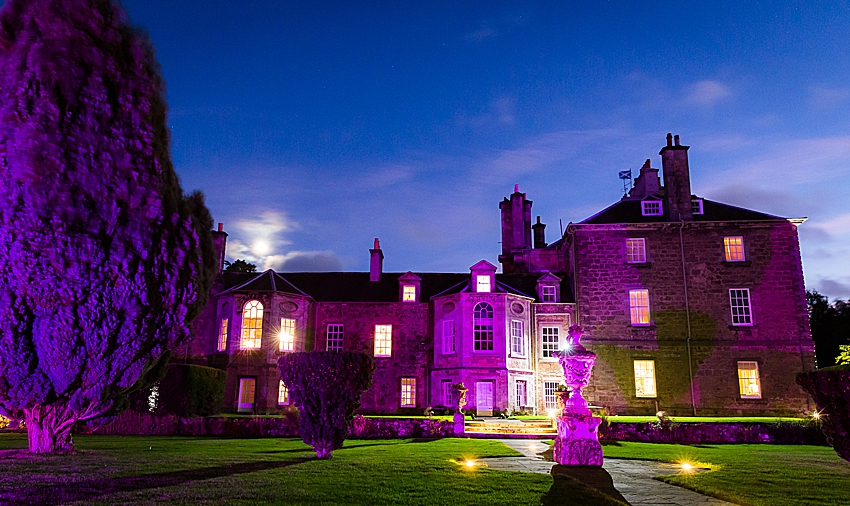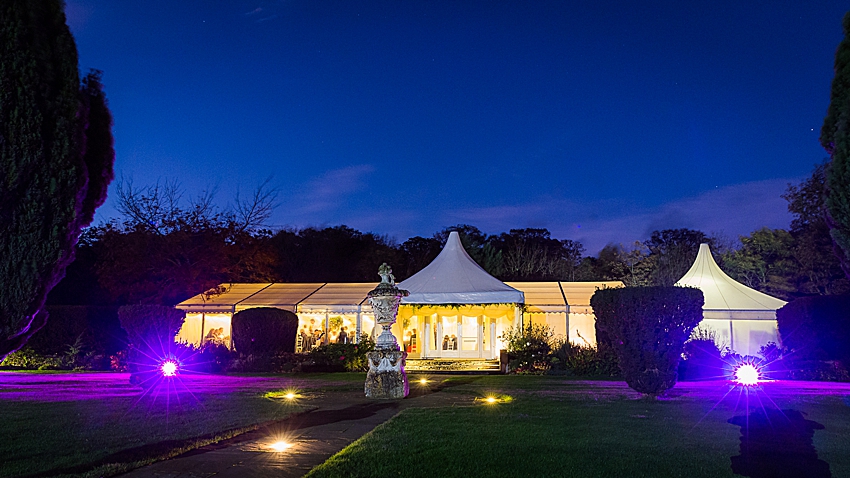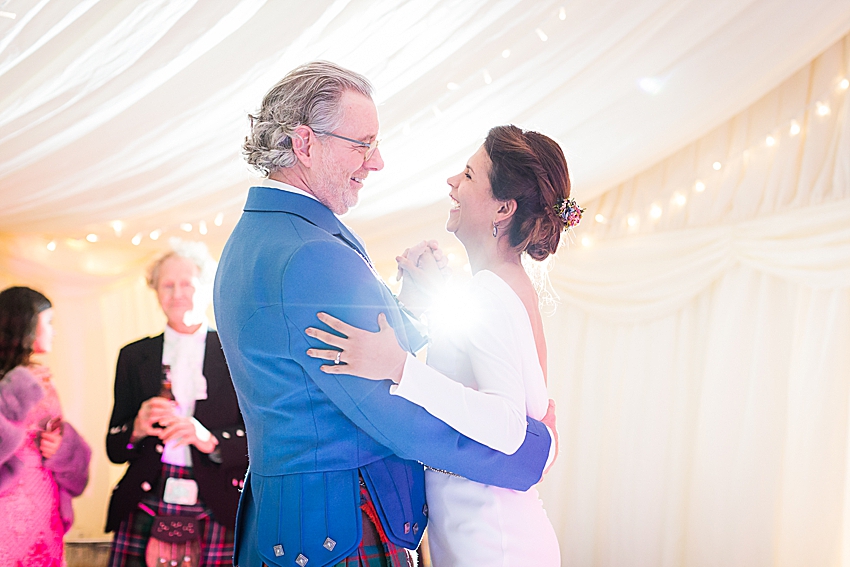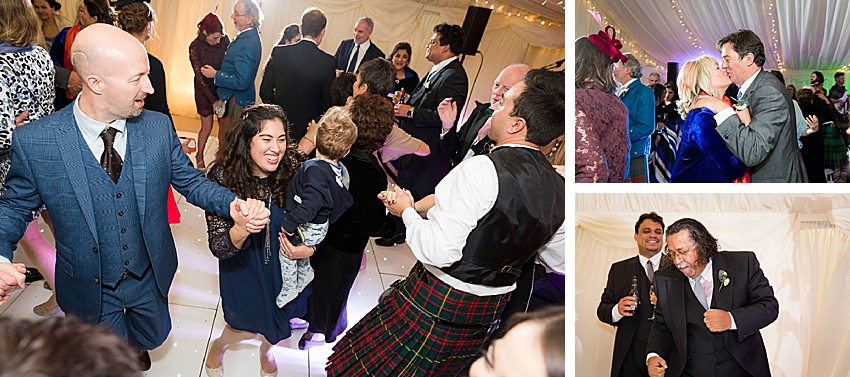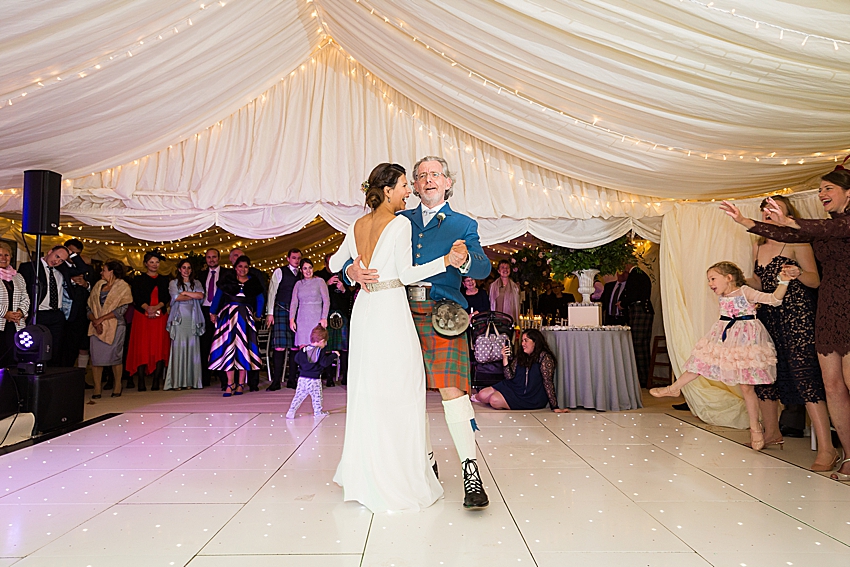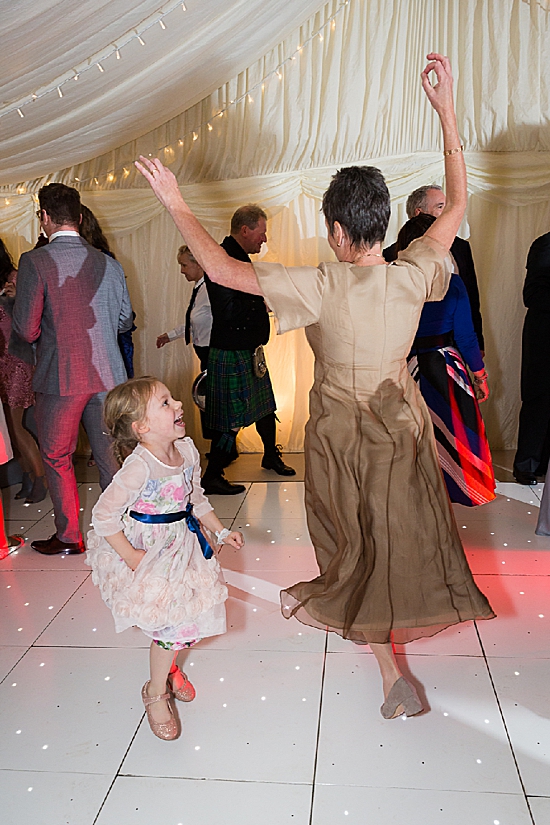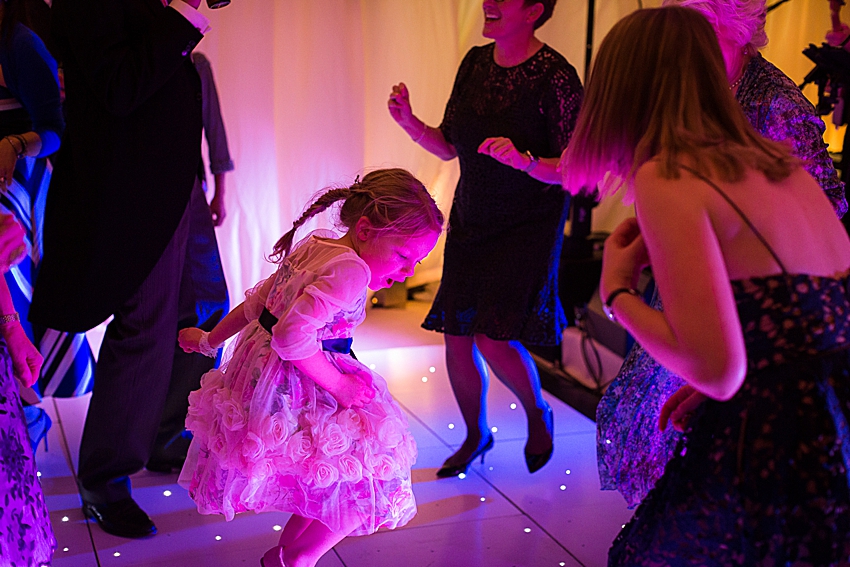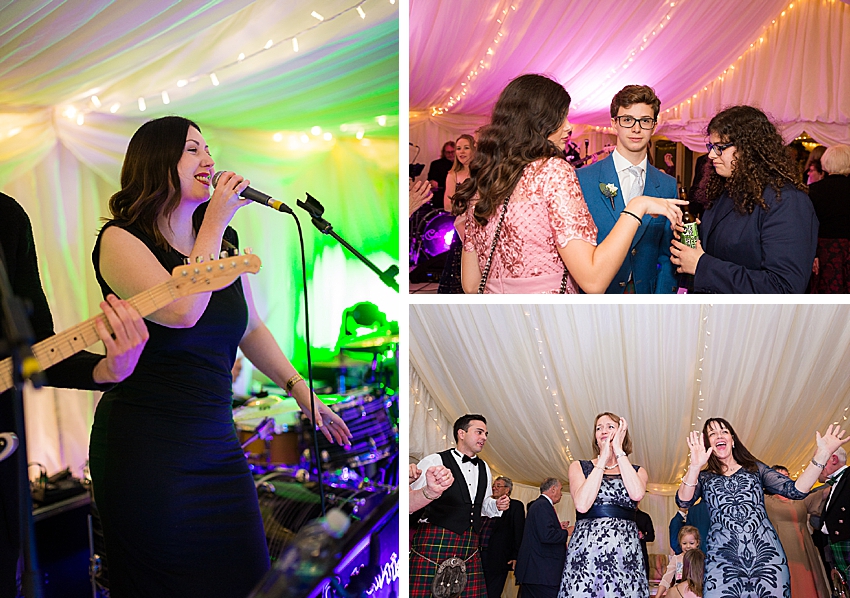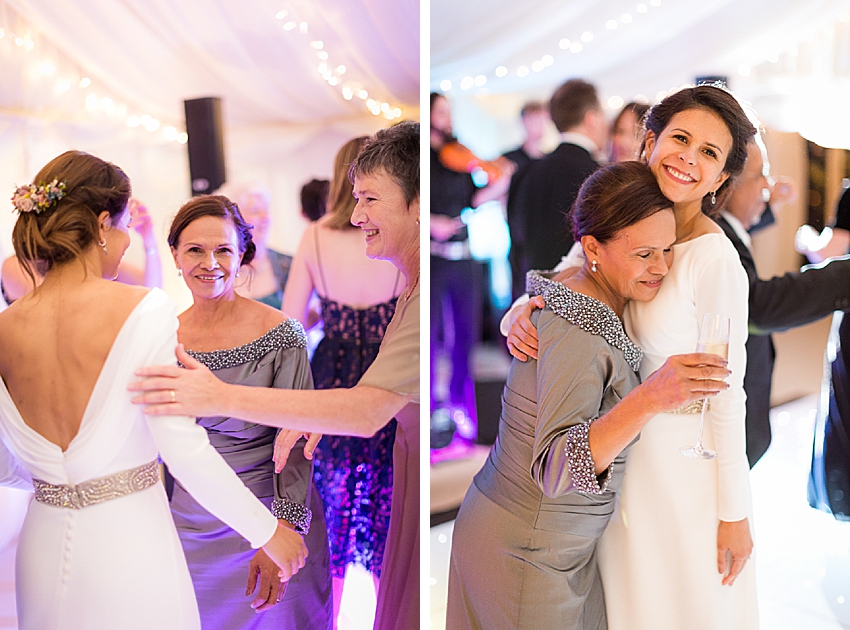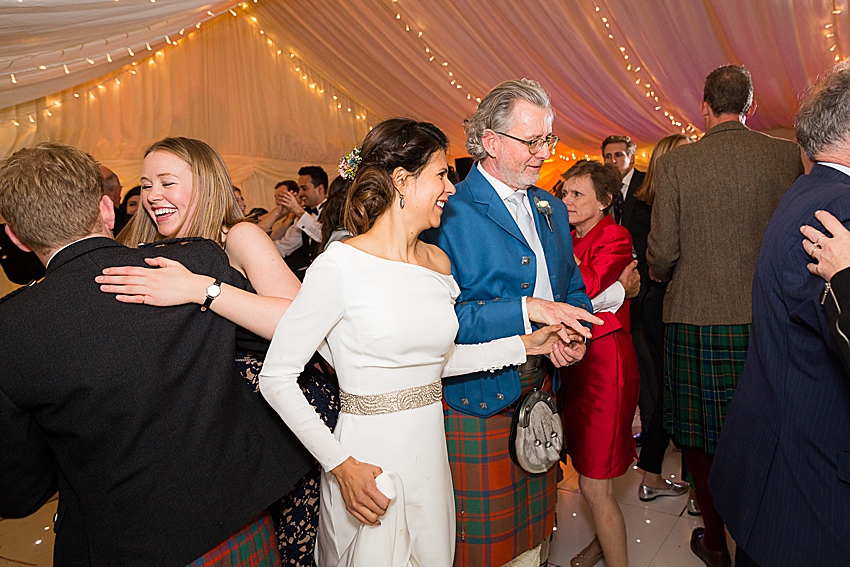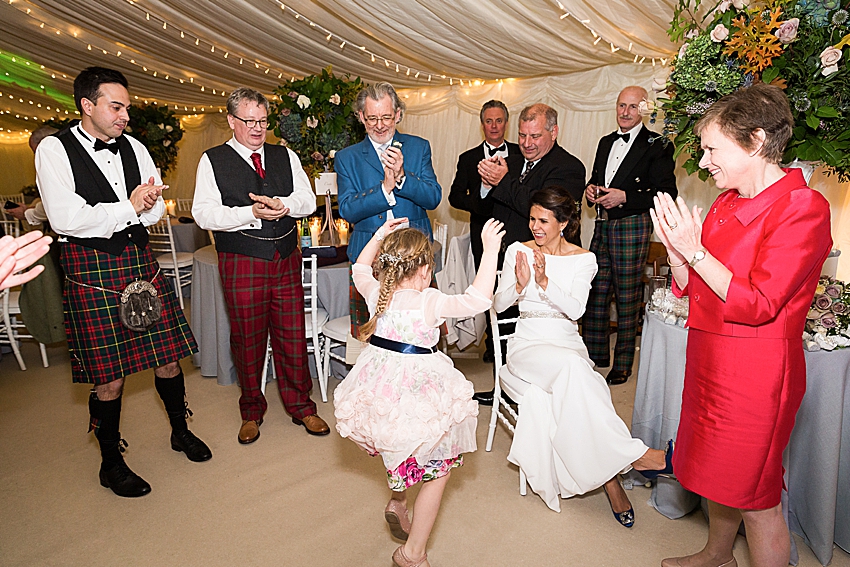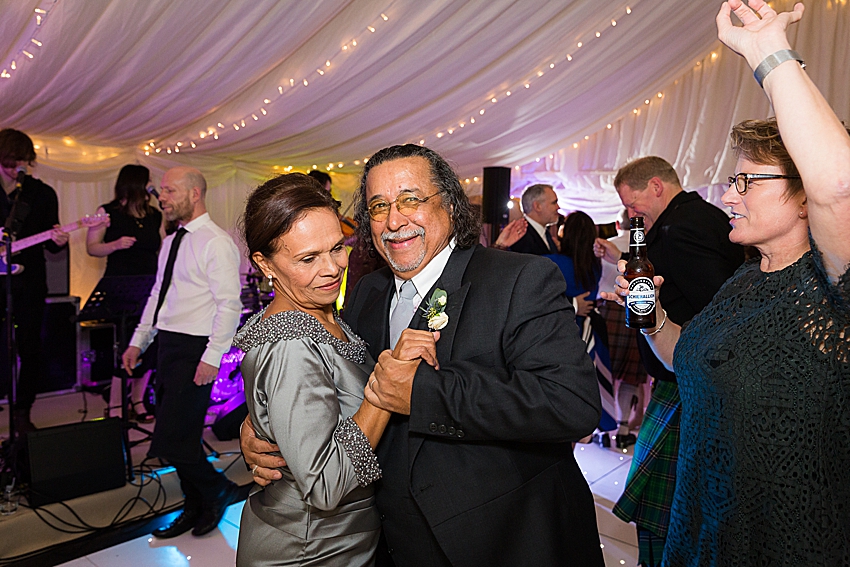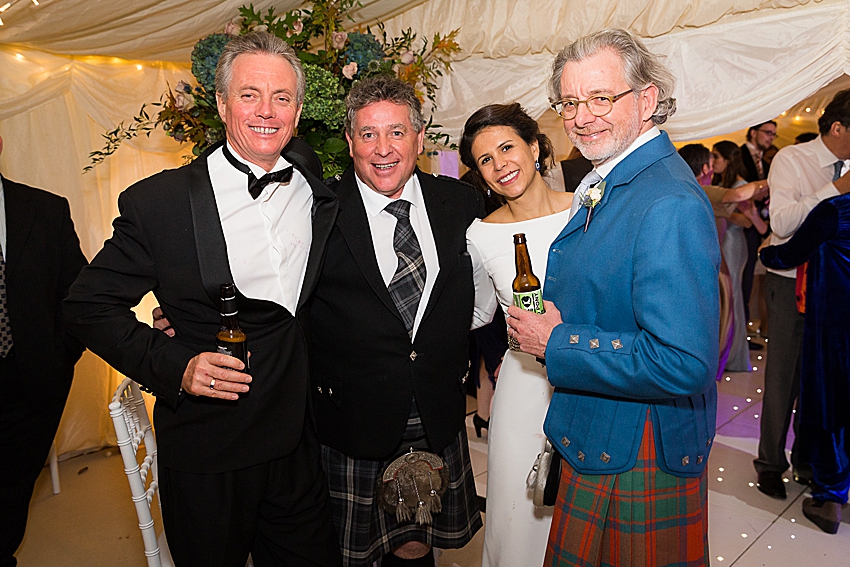 Thank you Eriadne and George for choosing us to capture your wedding, it was such a pleasure. We wish you and your family all the very best for the future.
Eriadne and George's wedding suppliers included:
Posted on 25 January, 2019 by under
I'm thrilled to have won an award for one of my wedding images! This image of Lynsey putting her veil on before getting married has won Picture of the Year on The Wedding Community​!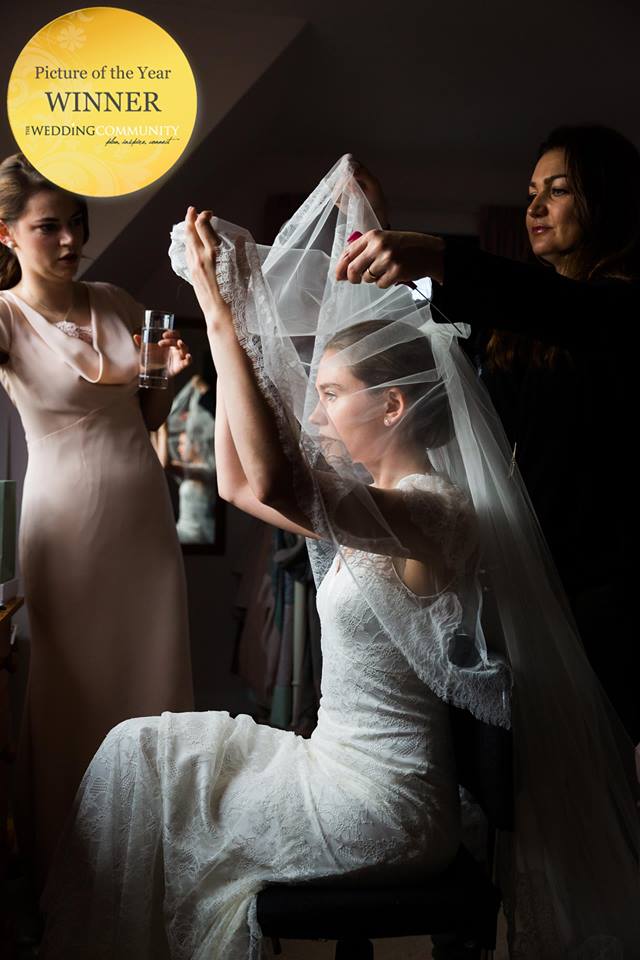 This image was captured in Lynsey's childhood bedroom, full of the usual wedding morning chaos of make-up, clothes, bags and other paraphernalia.
Thankfully there was a lovely directional light falling into the room from the off-set window, which I was able to use to focus on this beautiful moment, excluding everything else…
You can see more photos from this beautiful Edinburgh wedding on our blog
Dress and veil by Freja Designer Dressmaking​
Bridal Hair by Mckenzie Hair Design​
Posted on 24 January, 2019 by under
As I'm sitting in the office looking out on the frosty grass and spring bulbs regretting their early emergence, I'm enjoying looking back at this summer wedding we photographed in East Lothian.
Annie and Ryan were married in the pretty village church Humbie Kirk and then celebrated with family and friends at Annie's family home.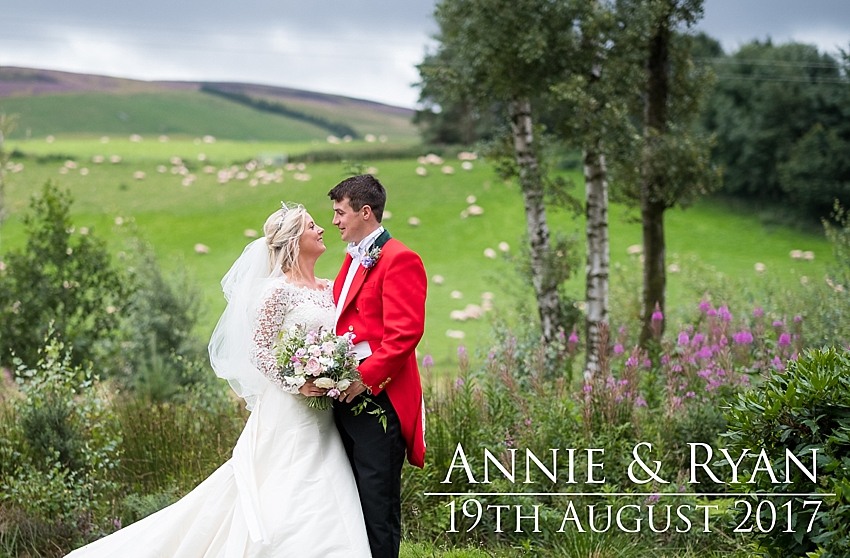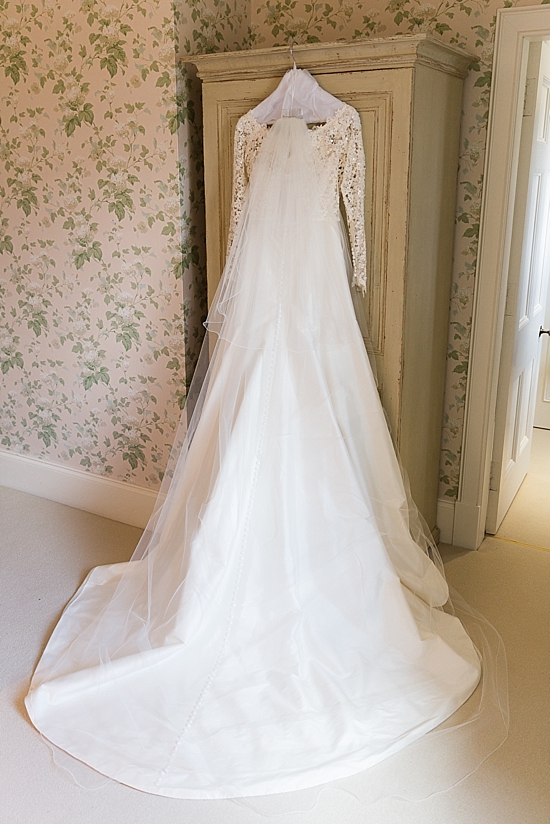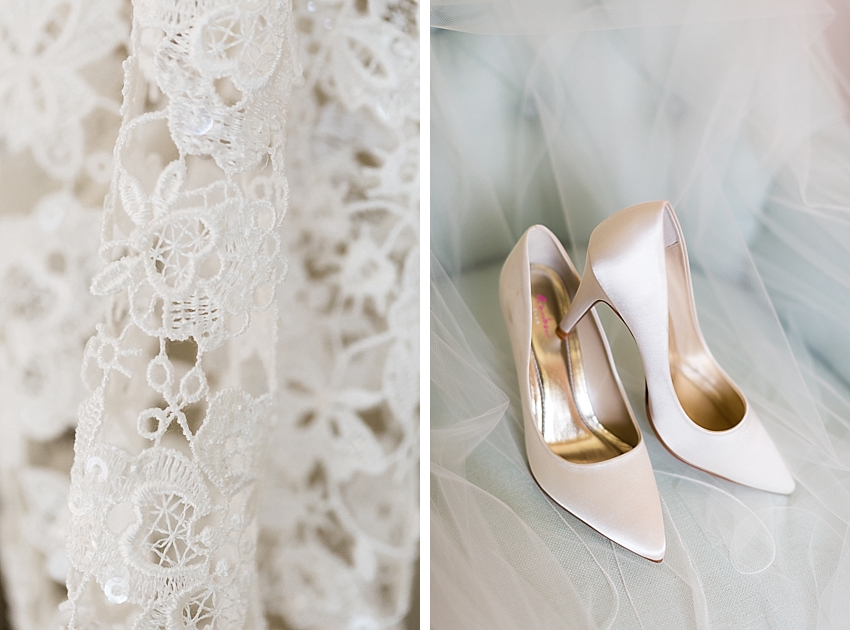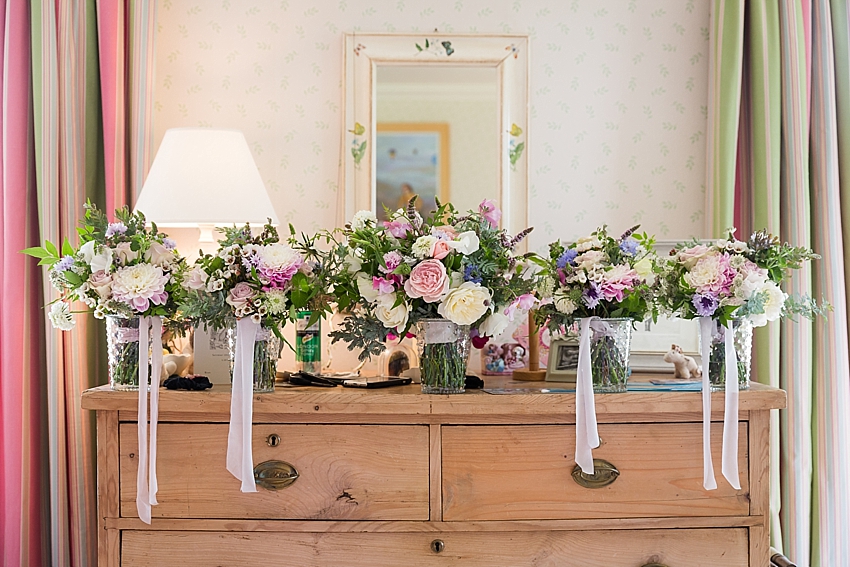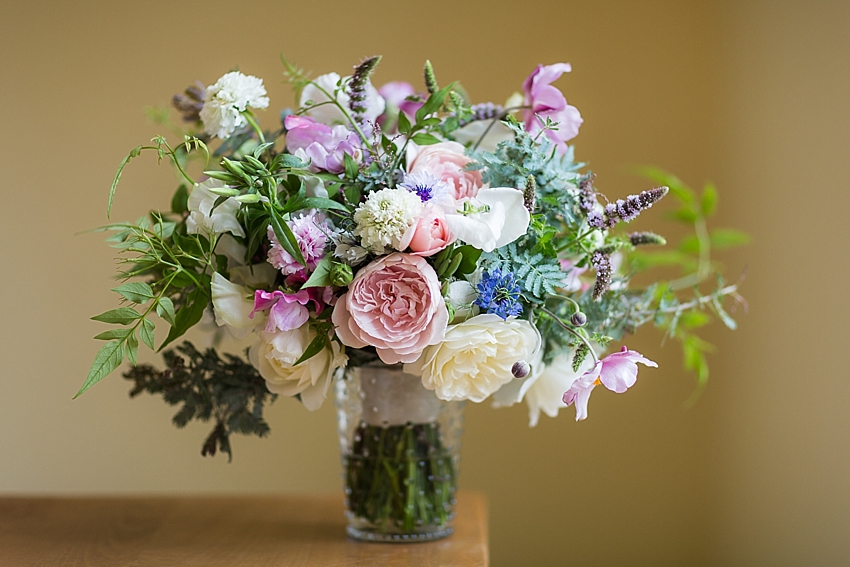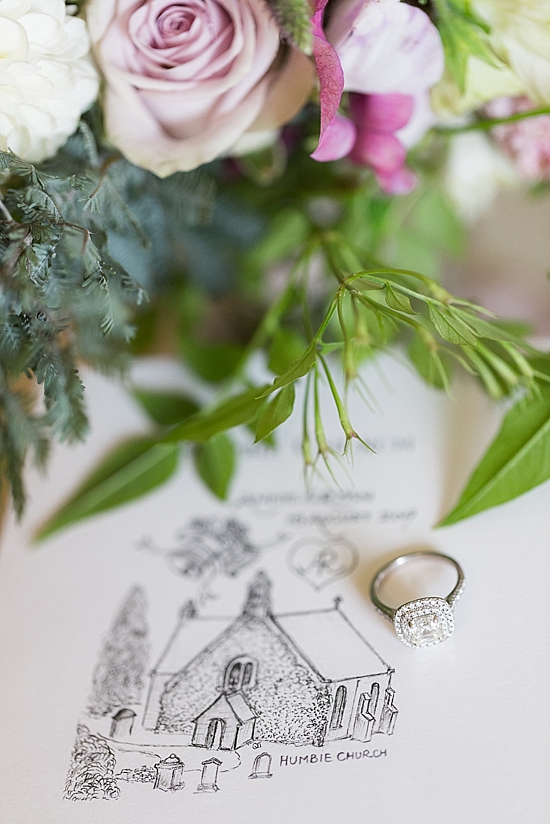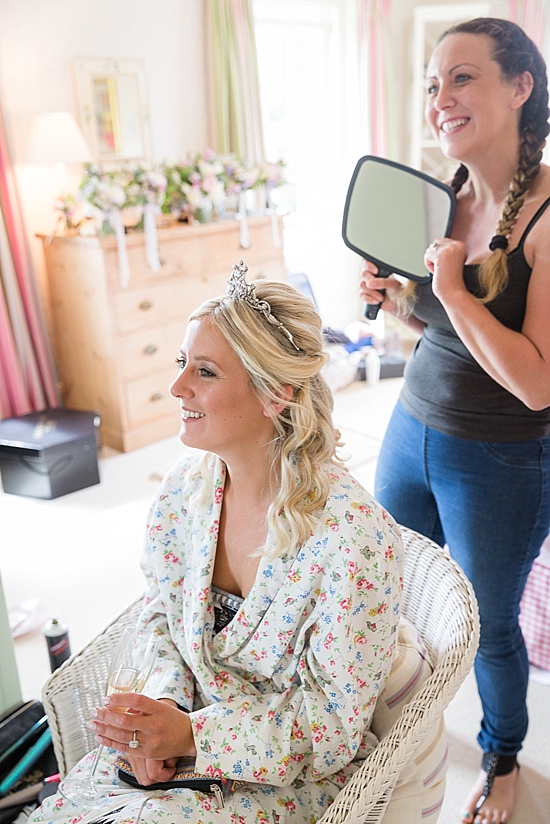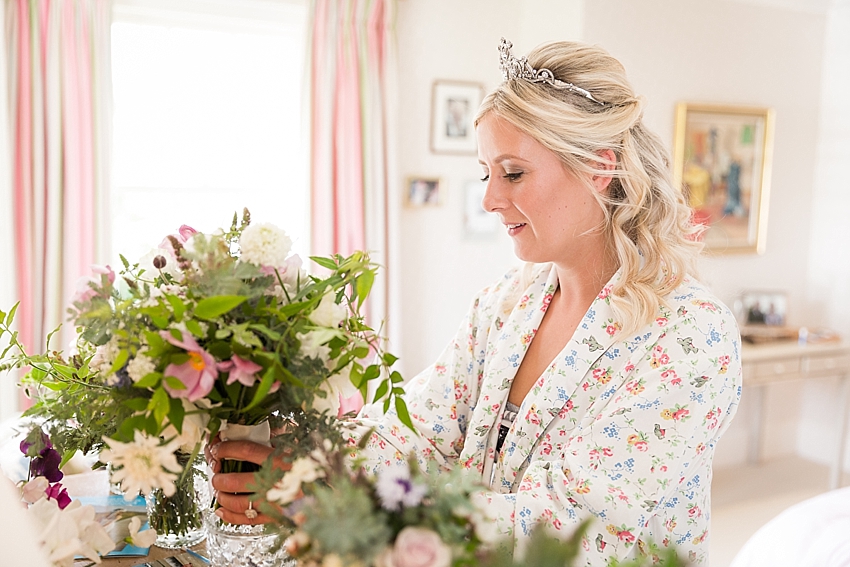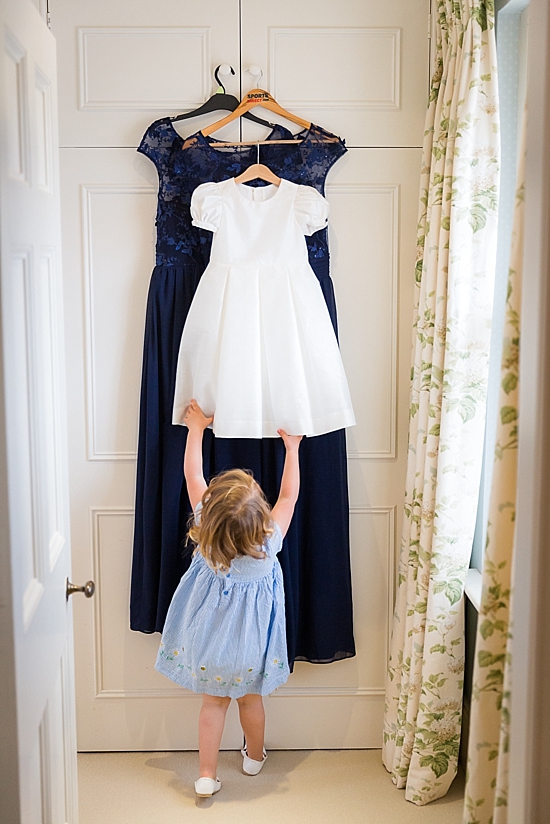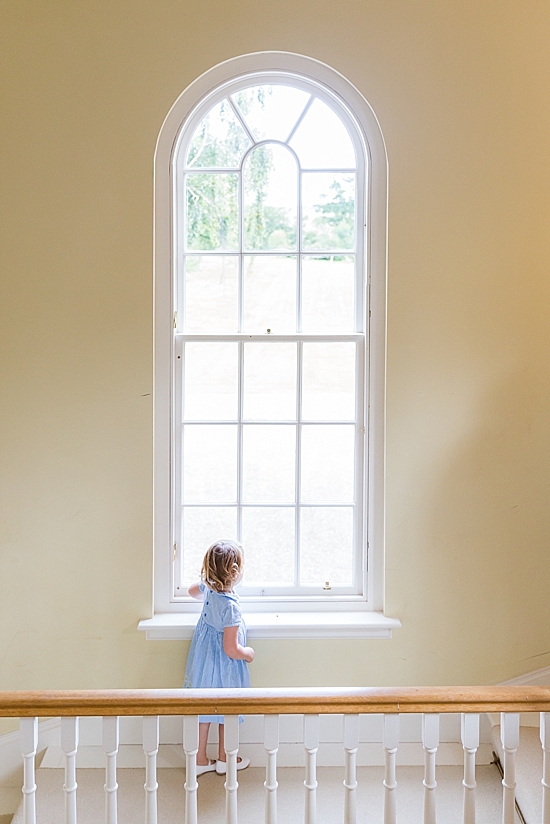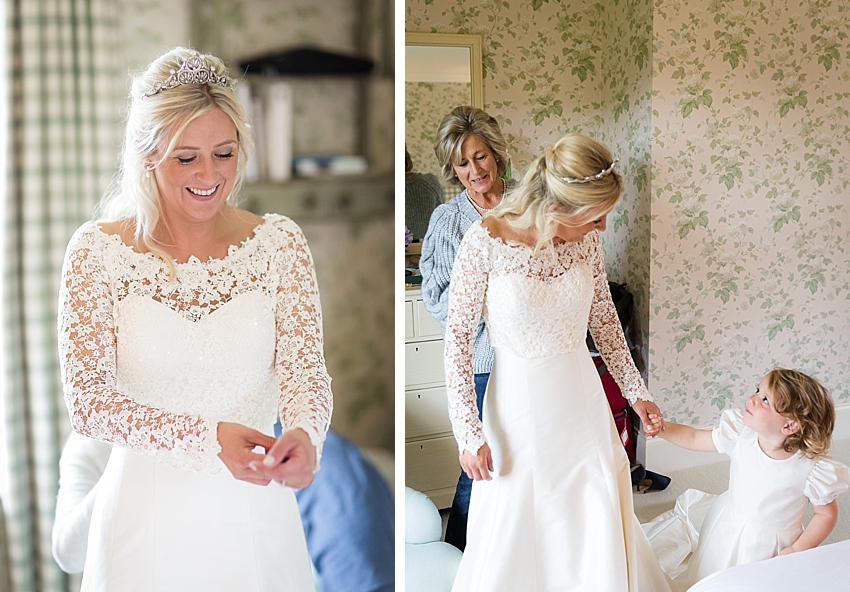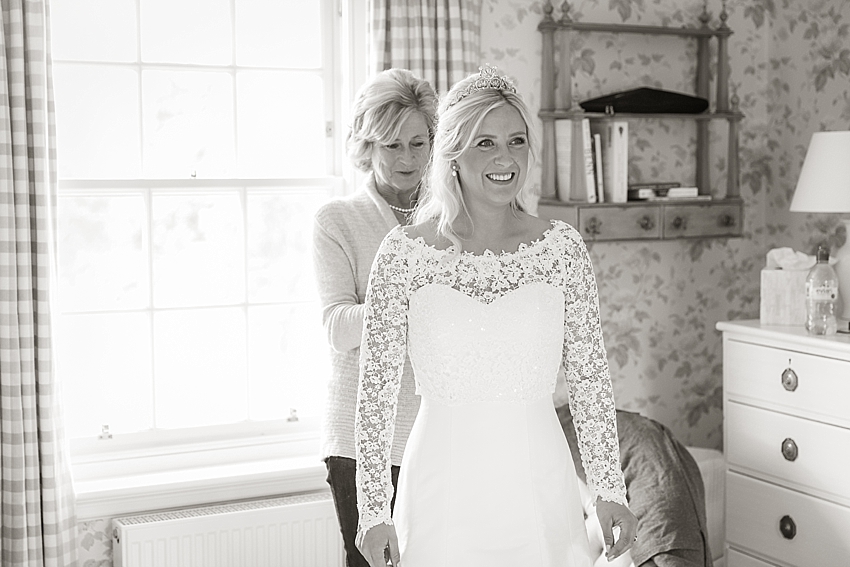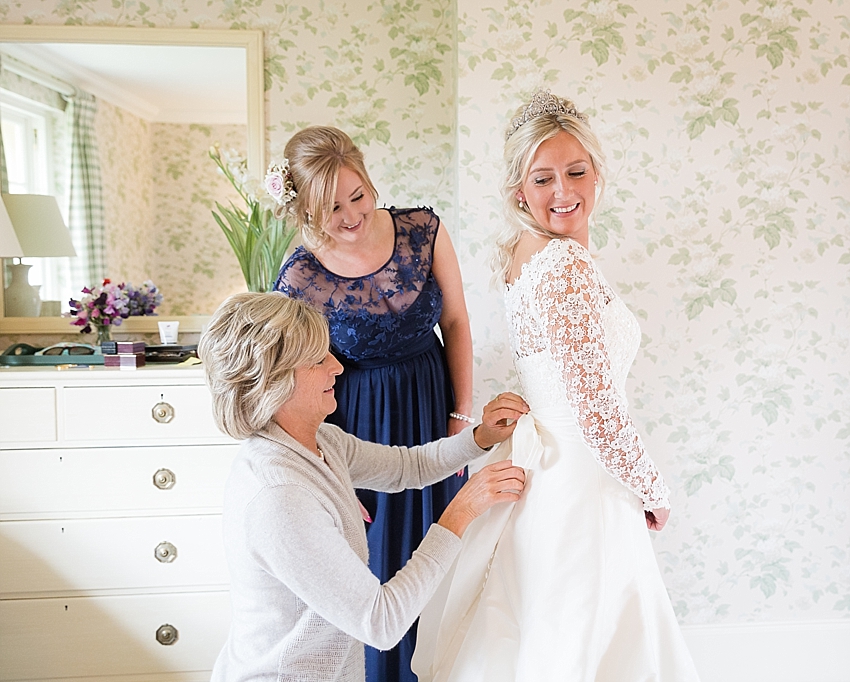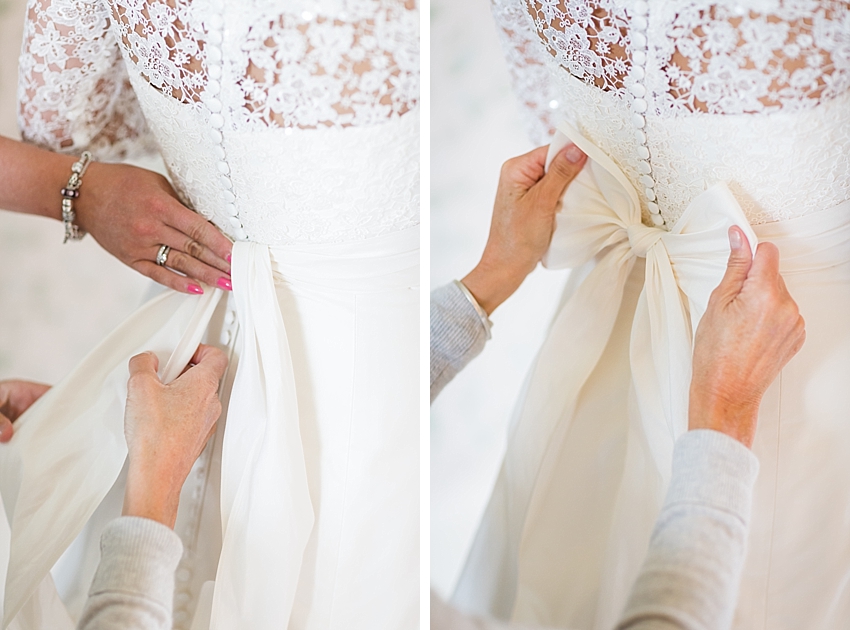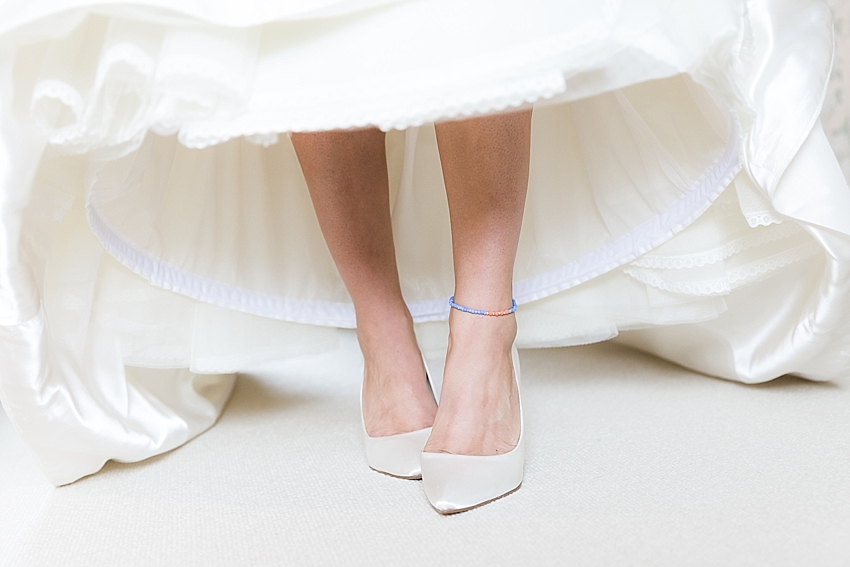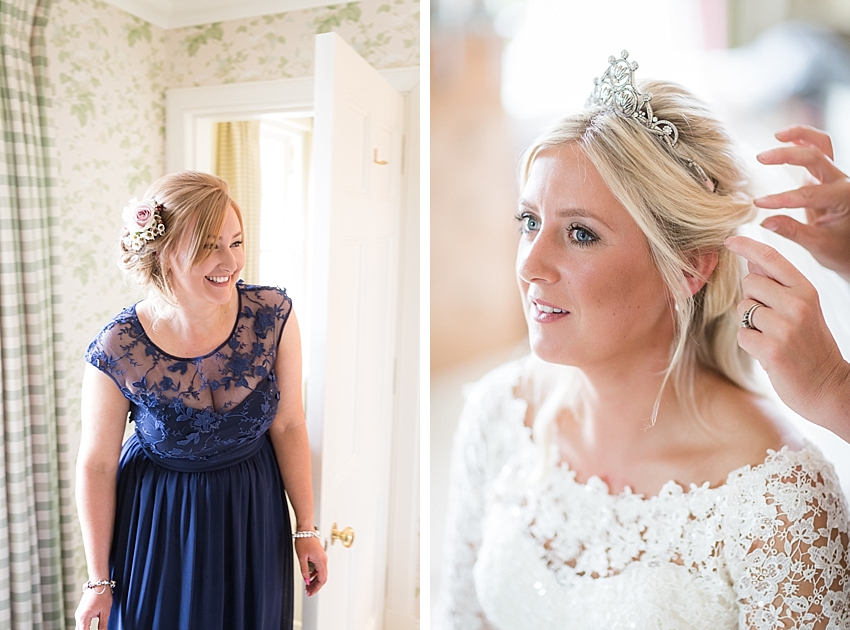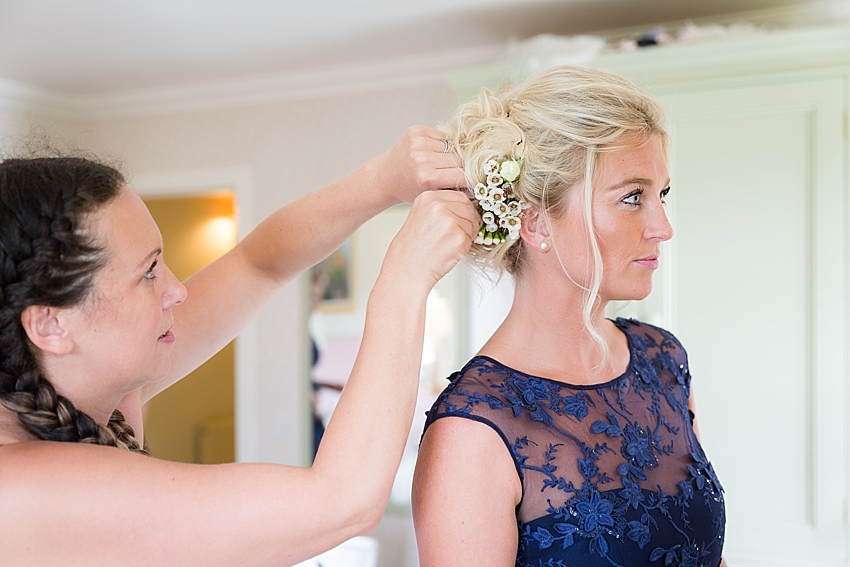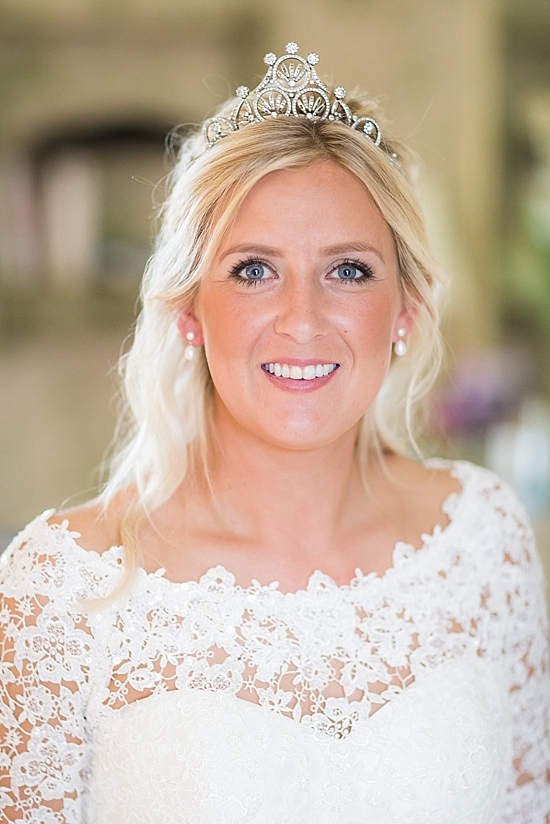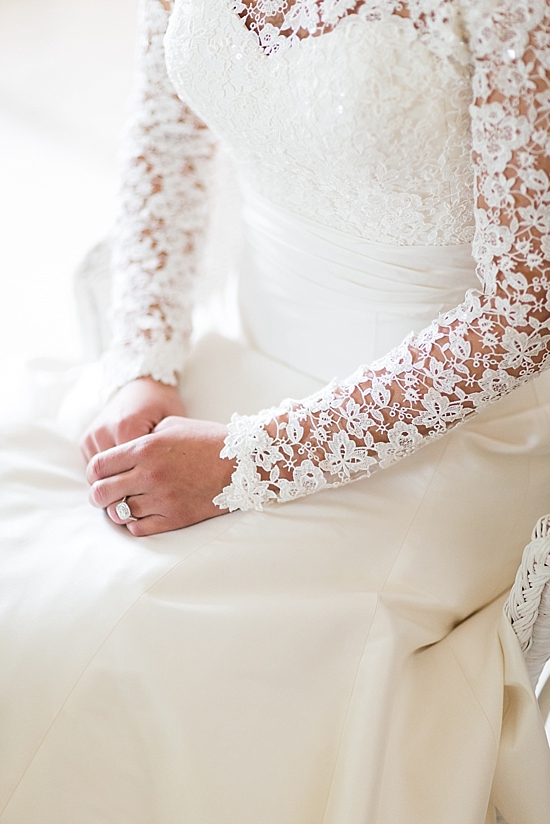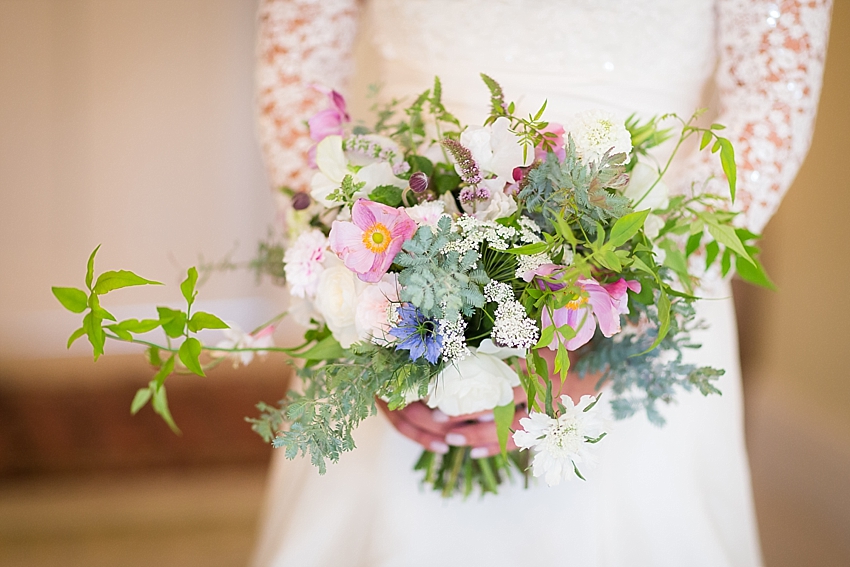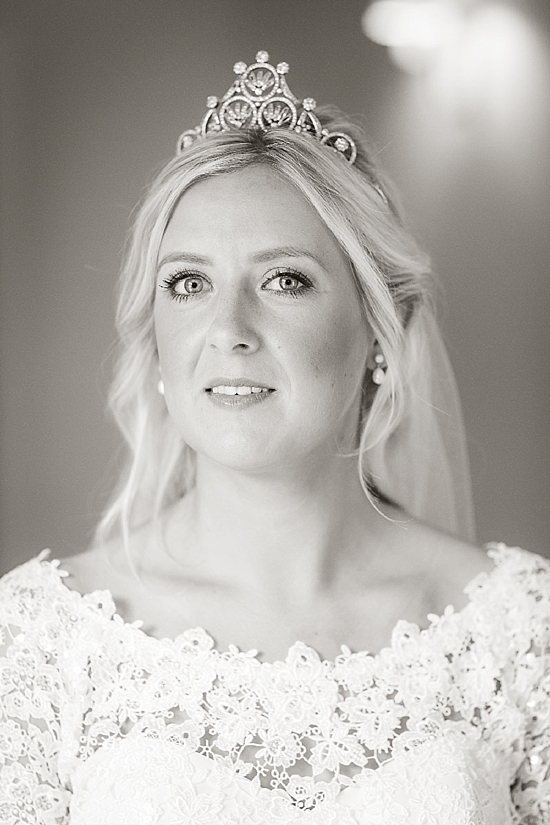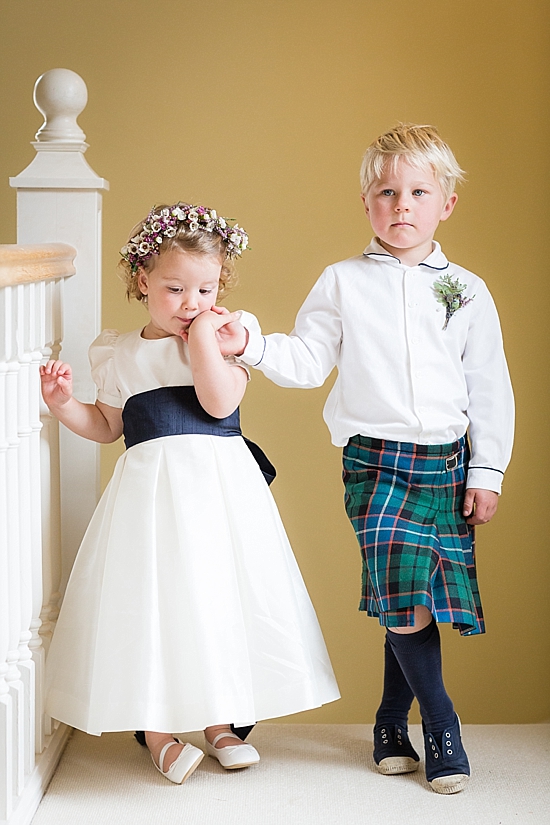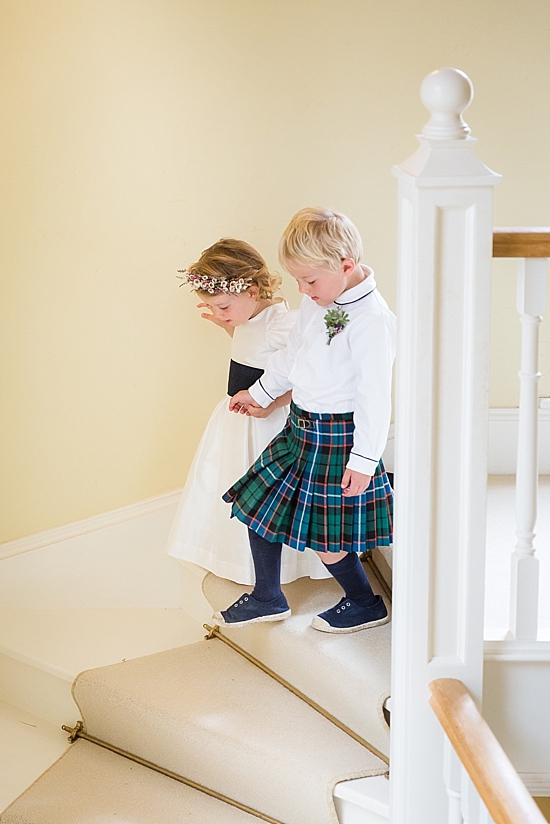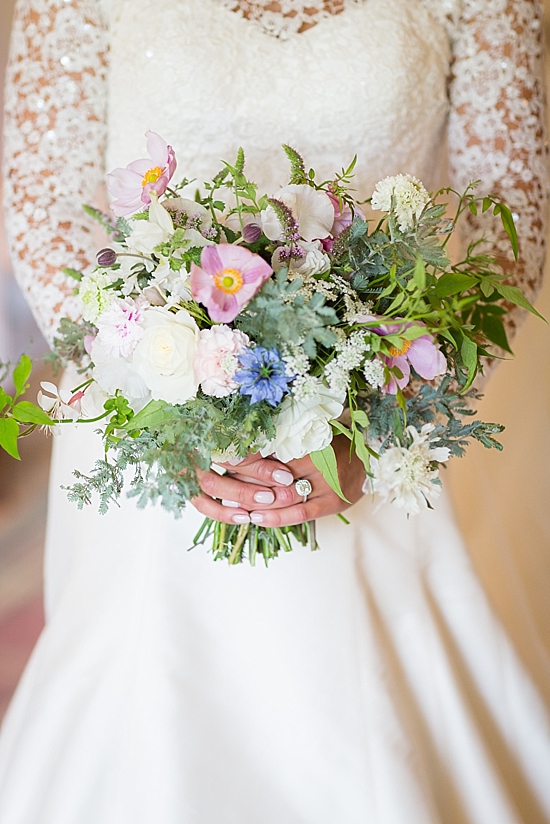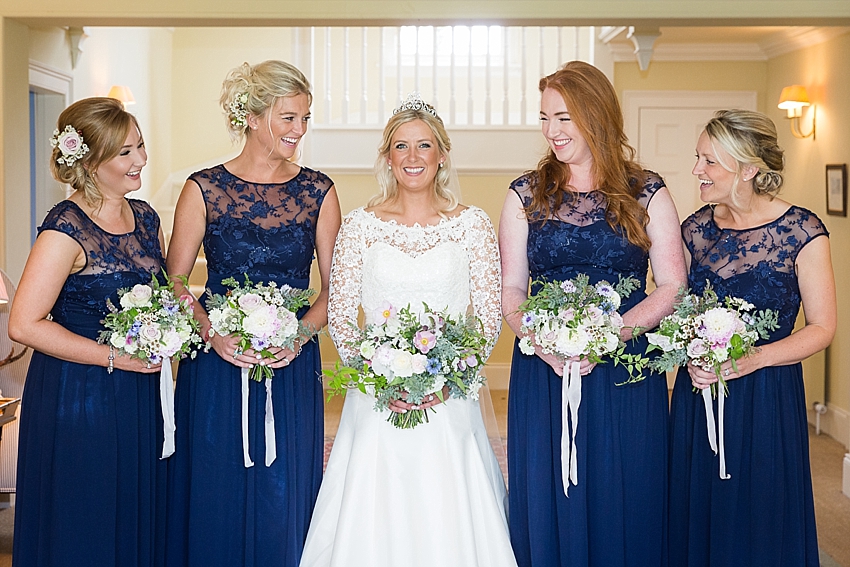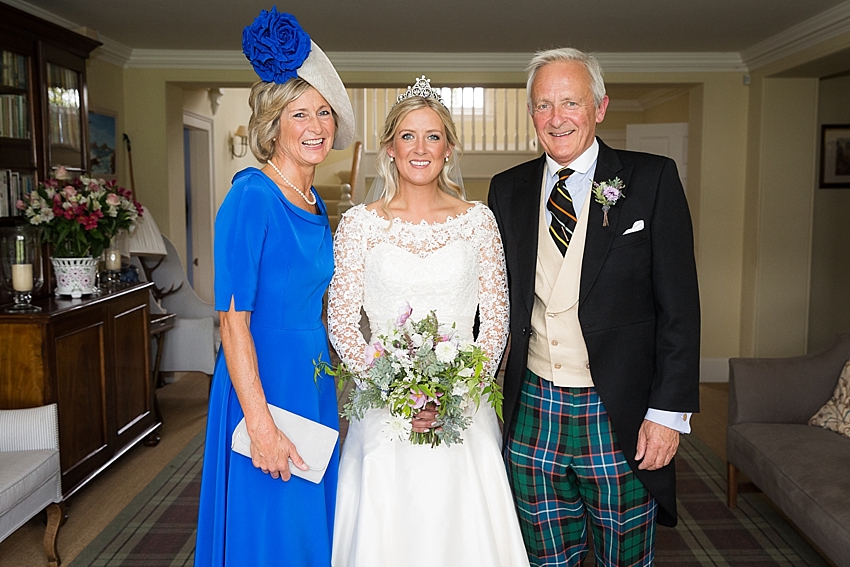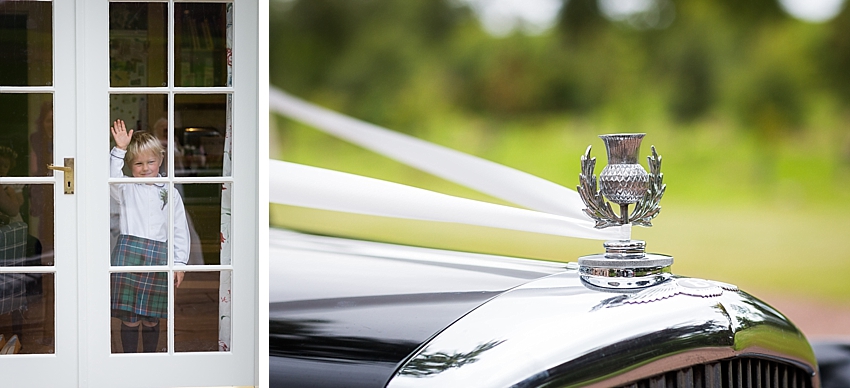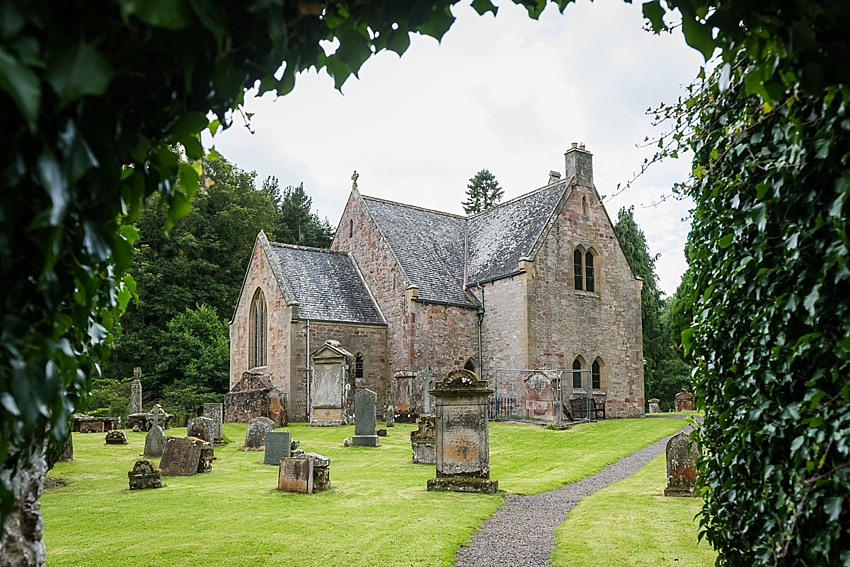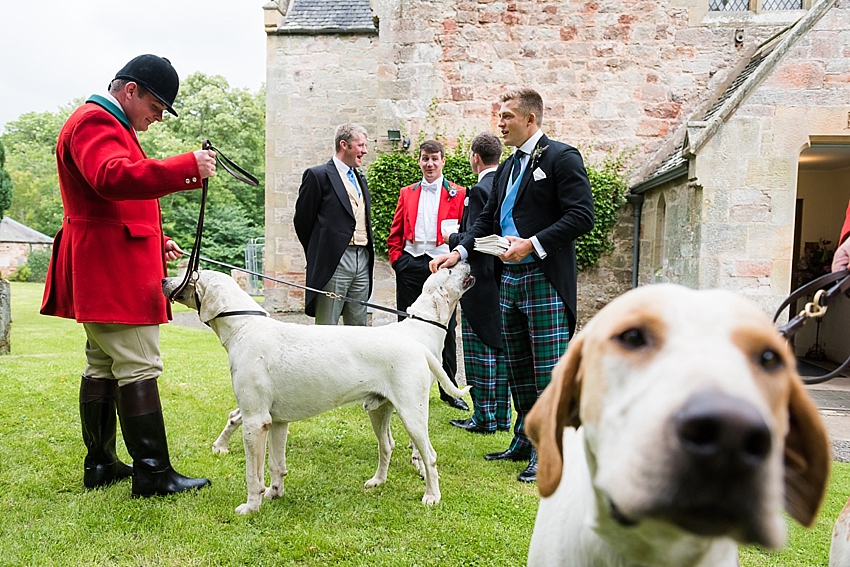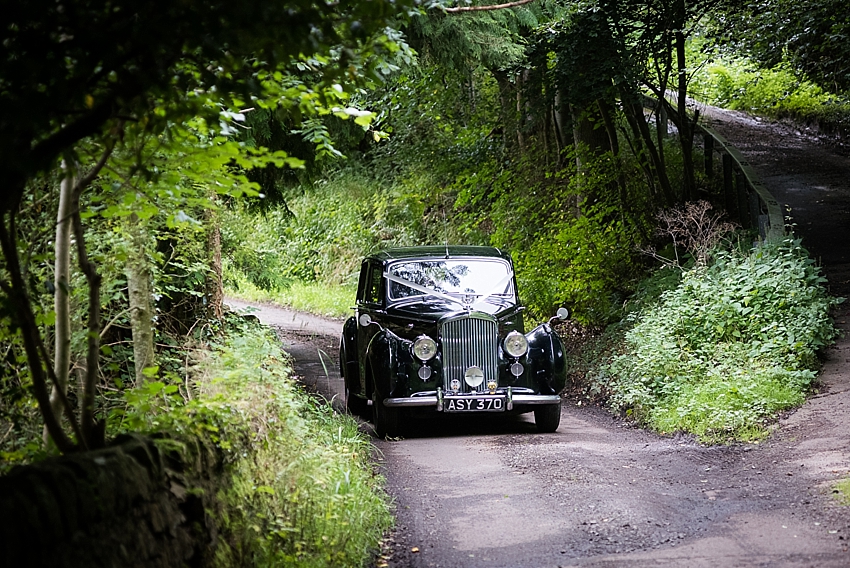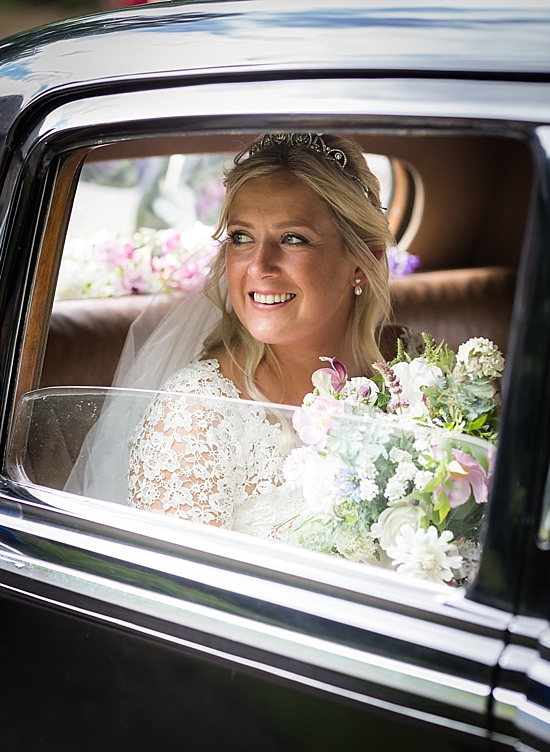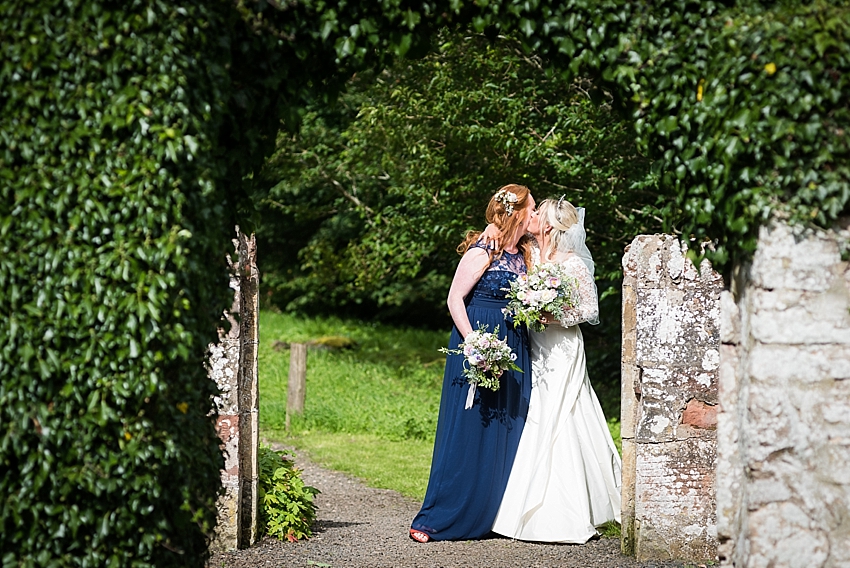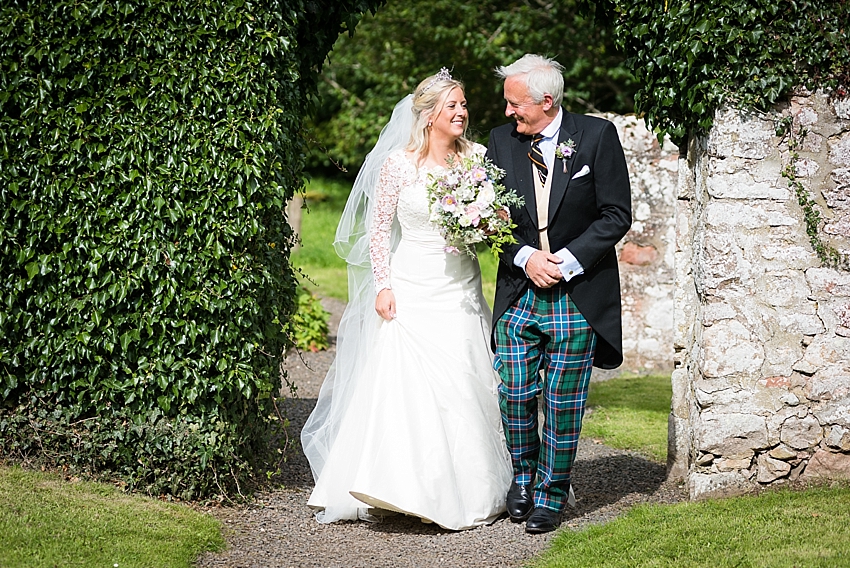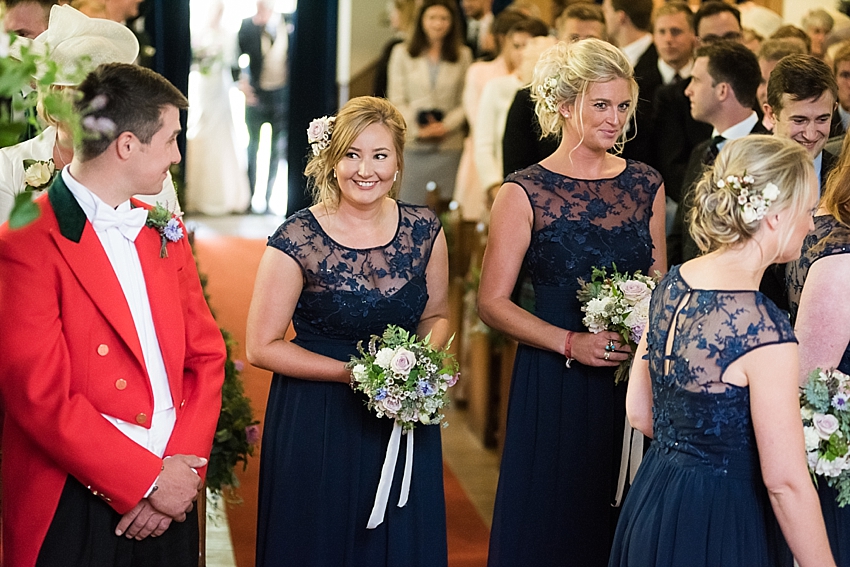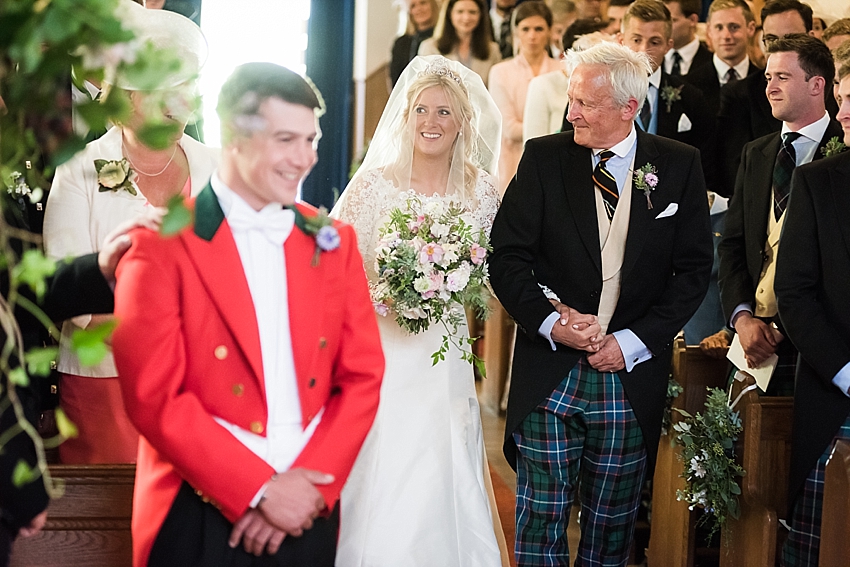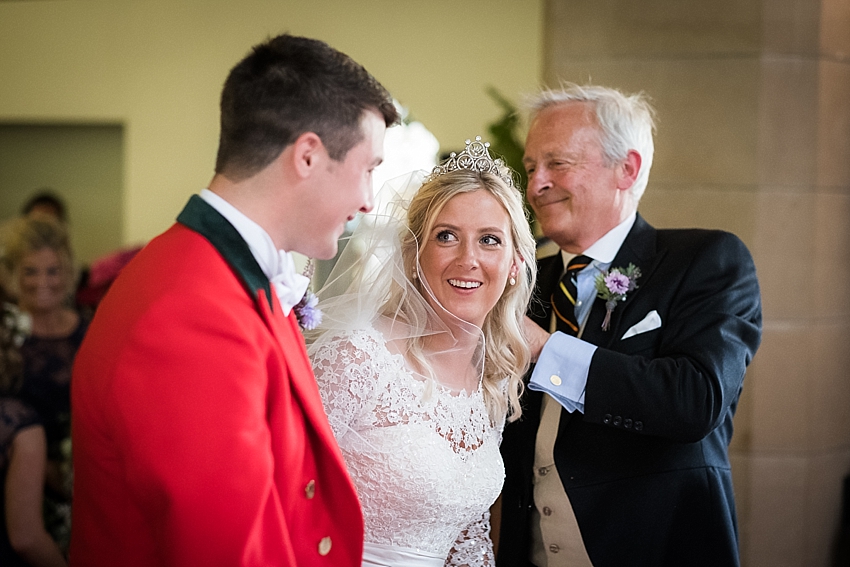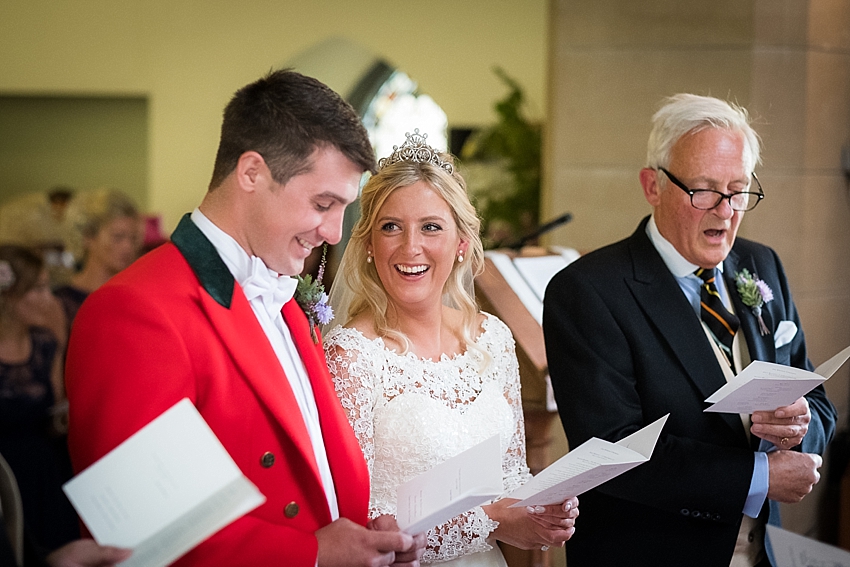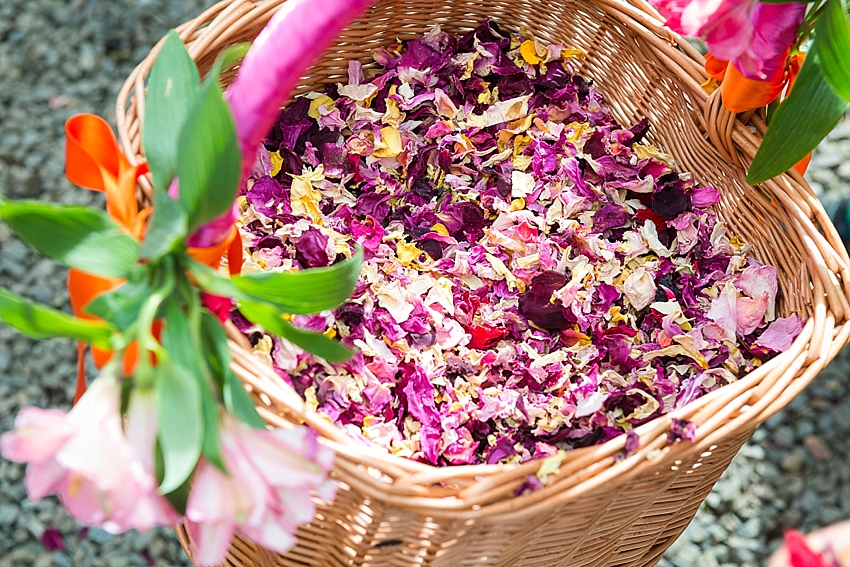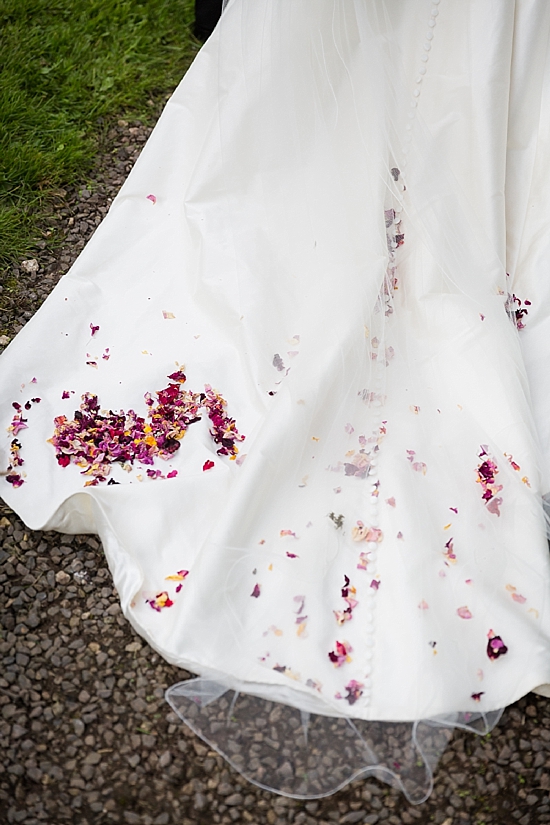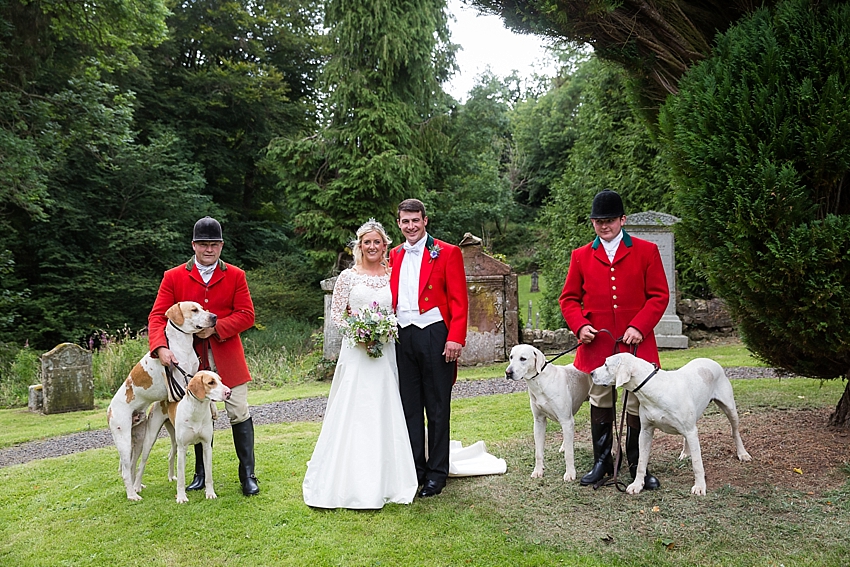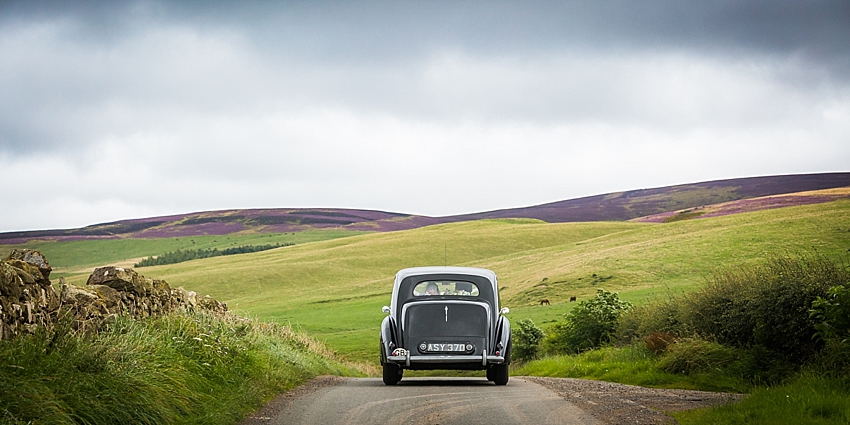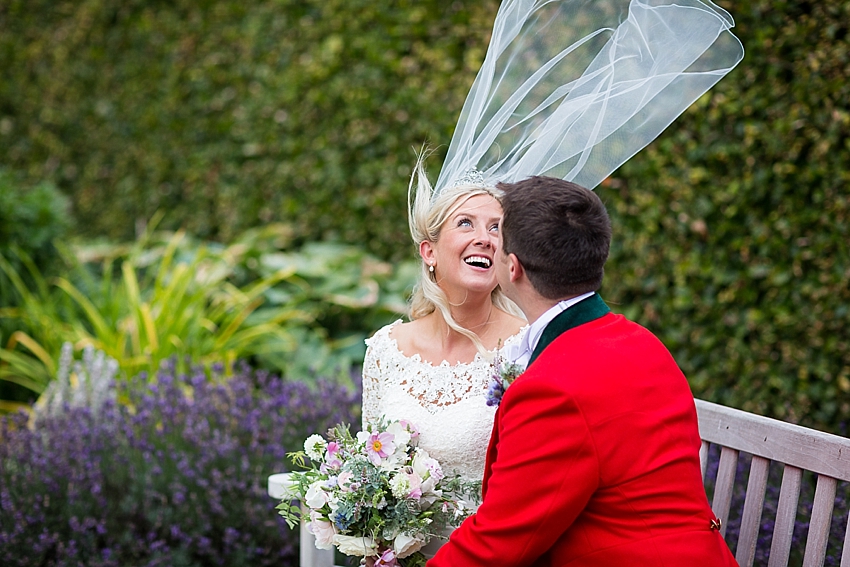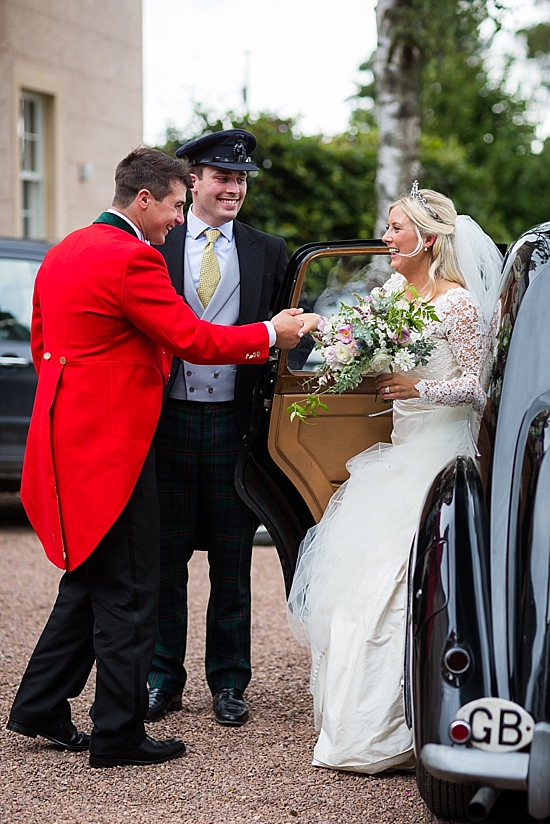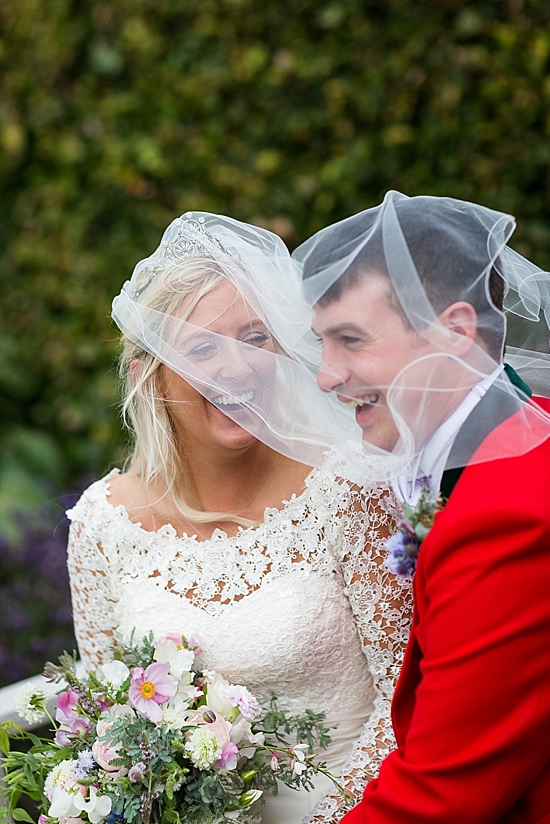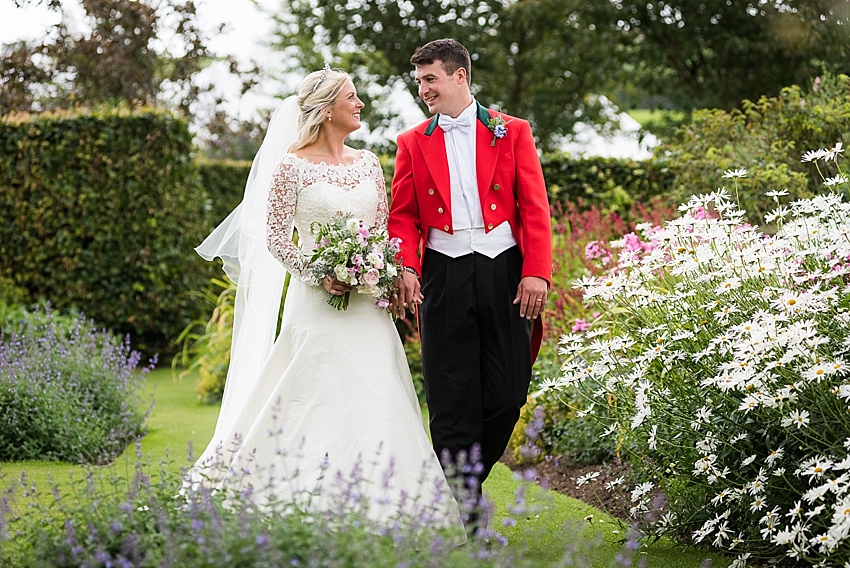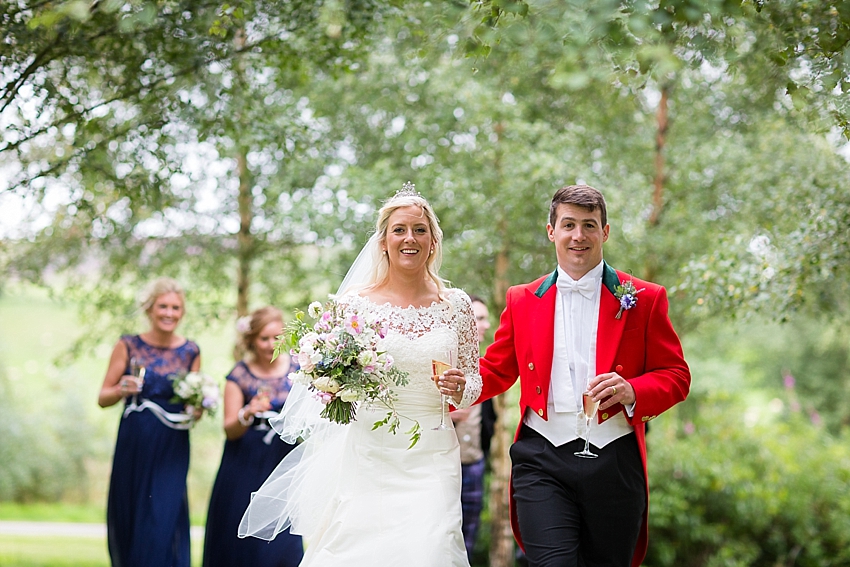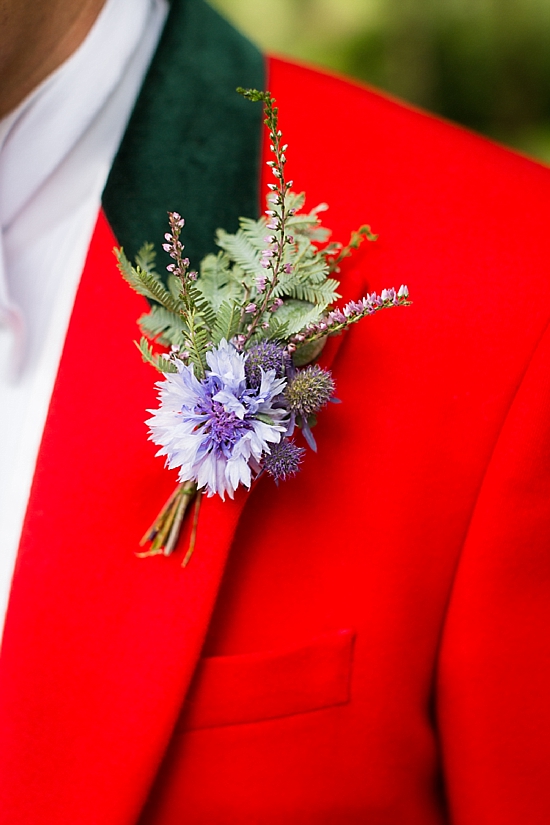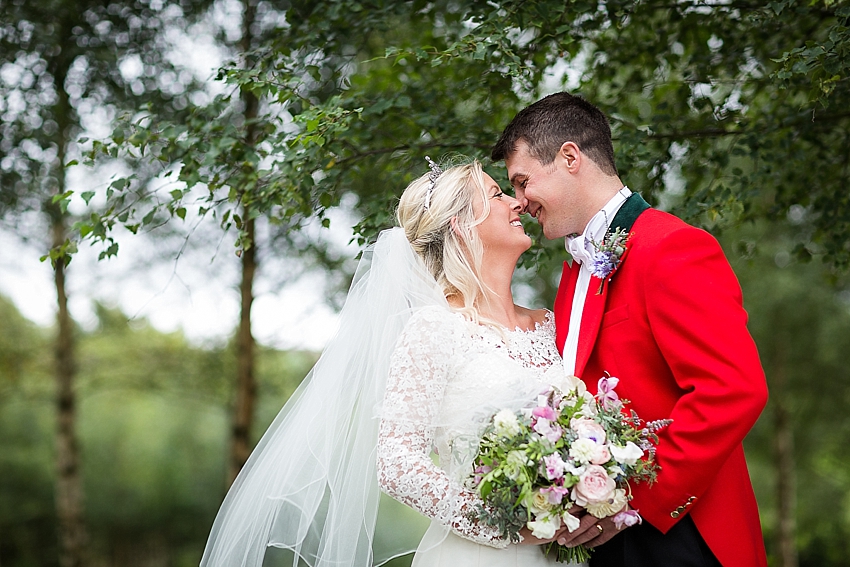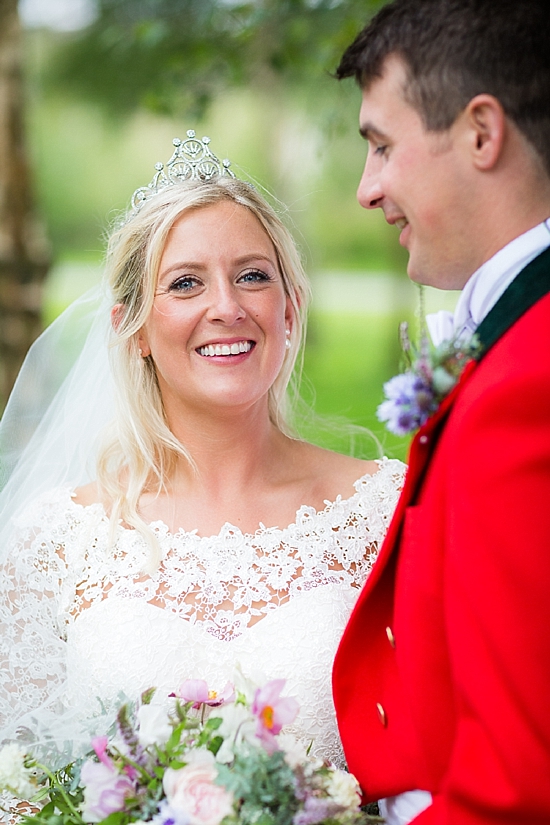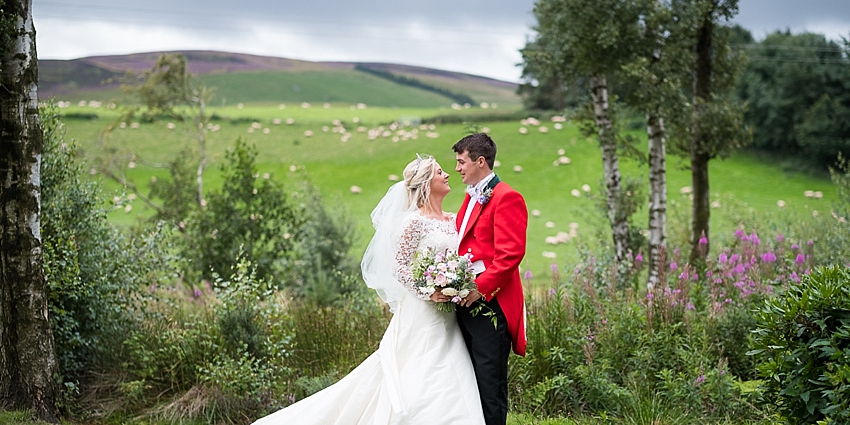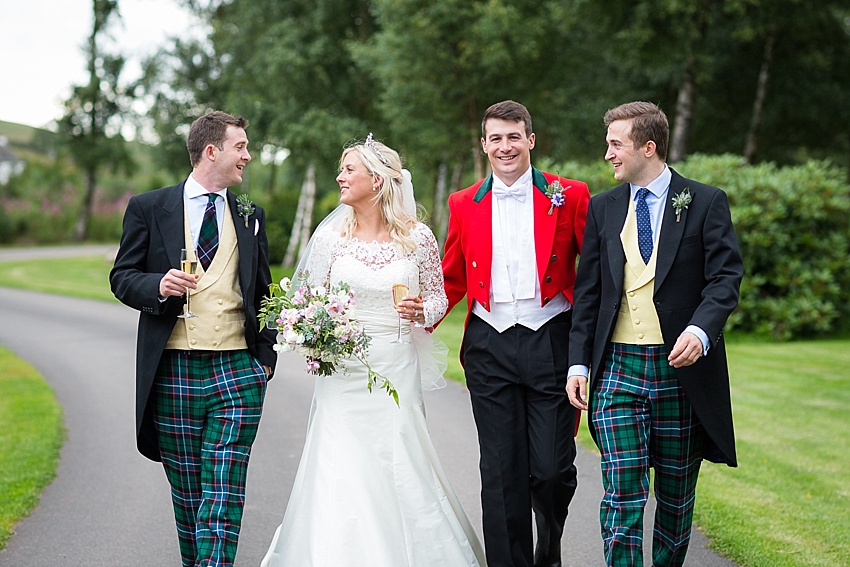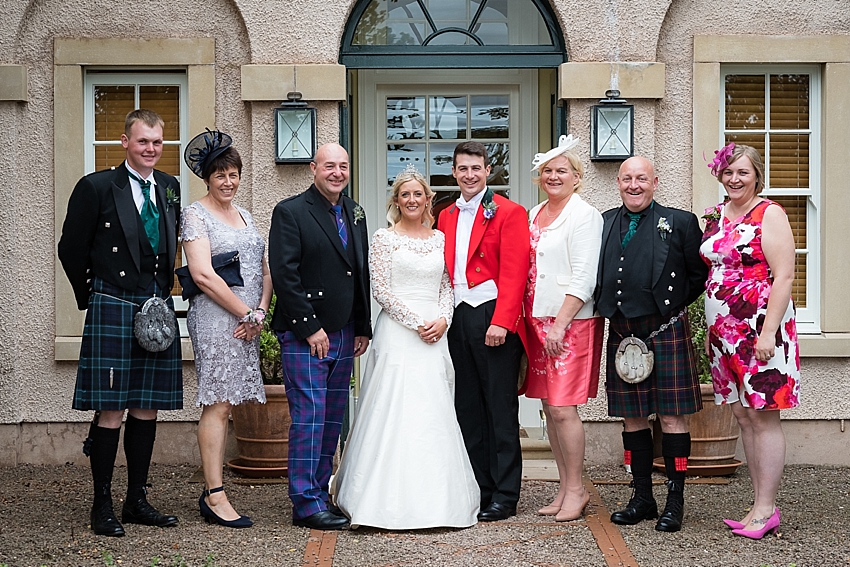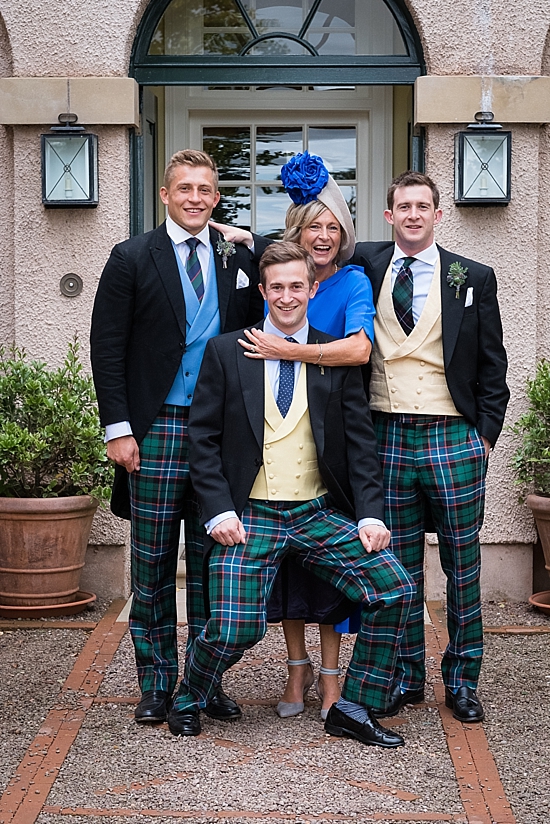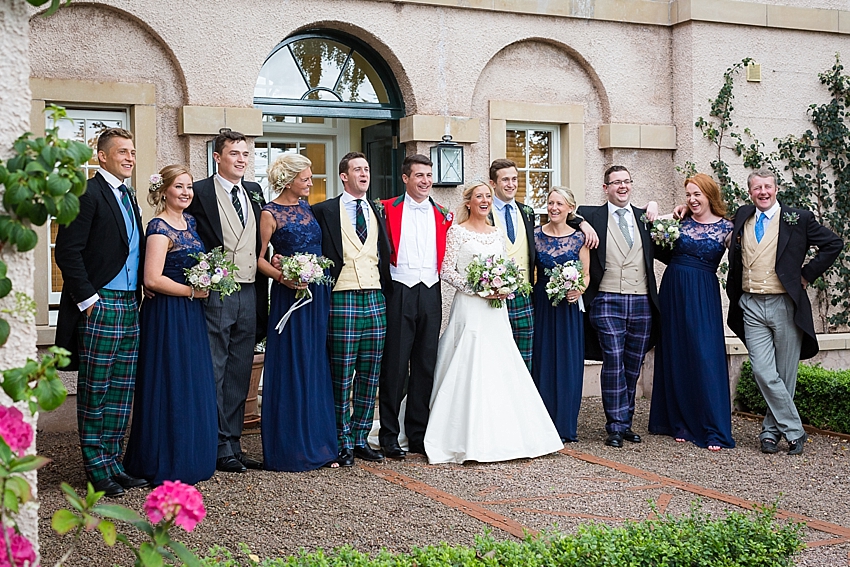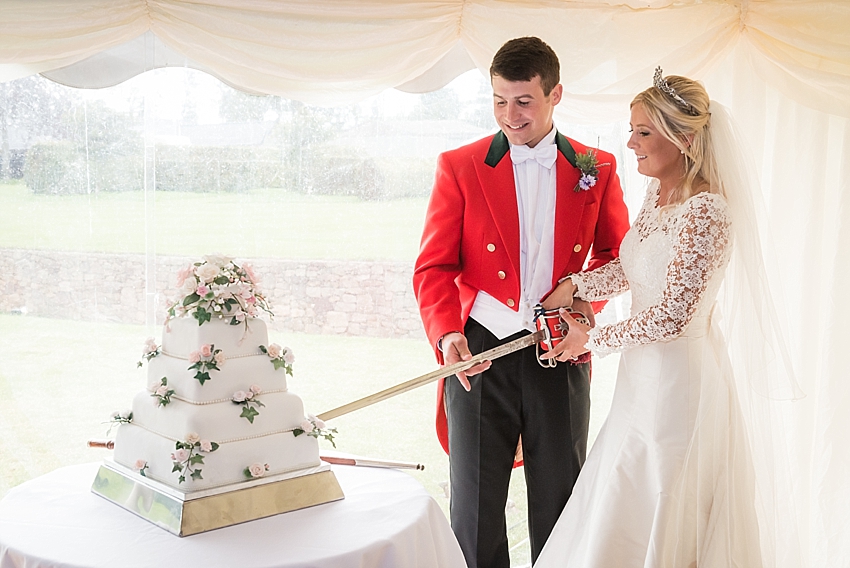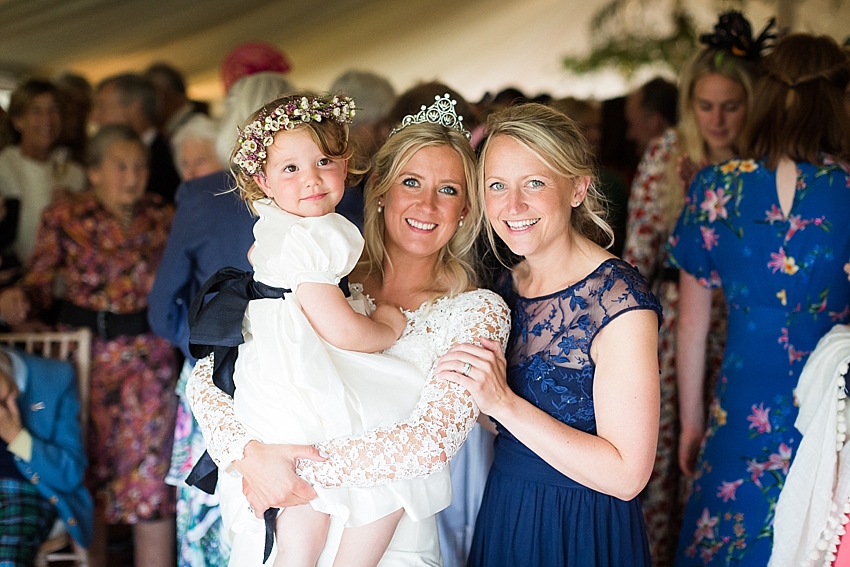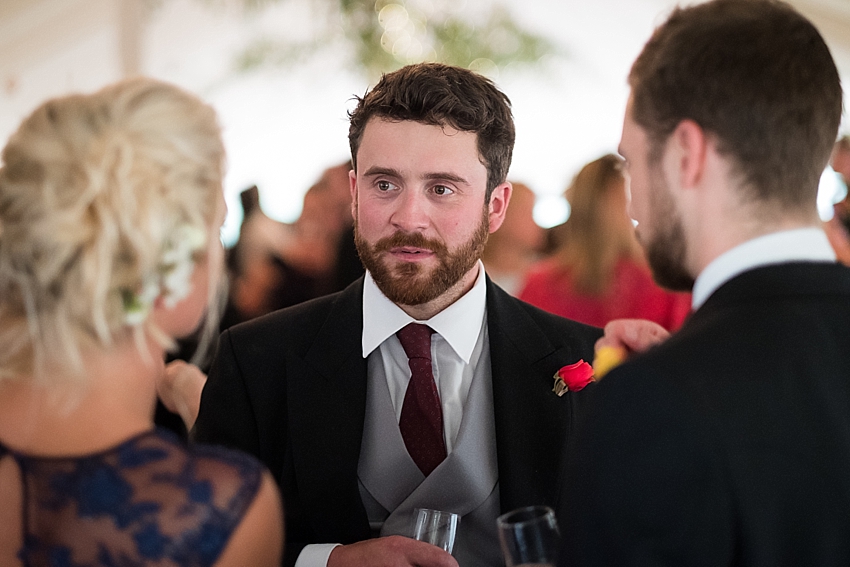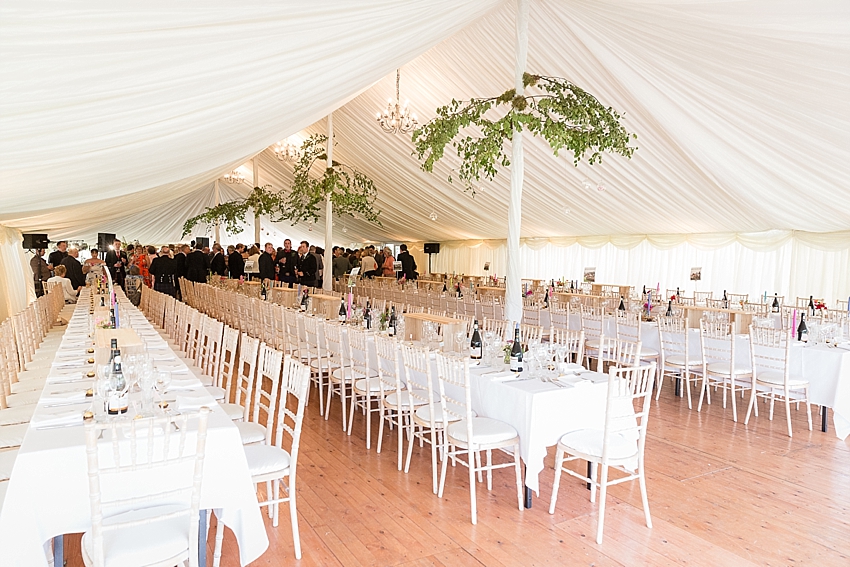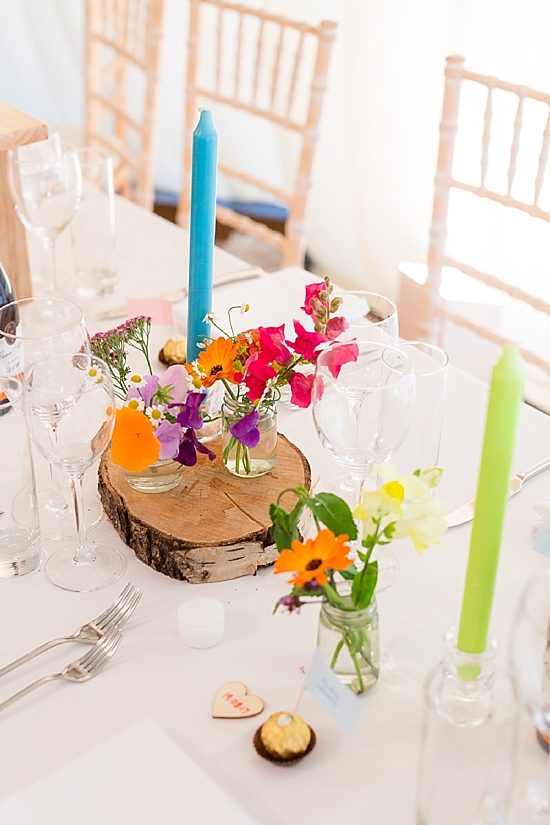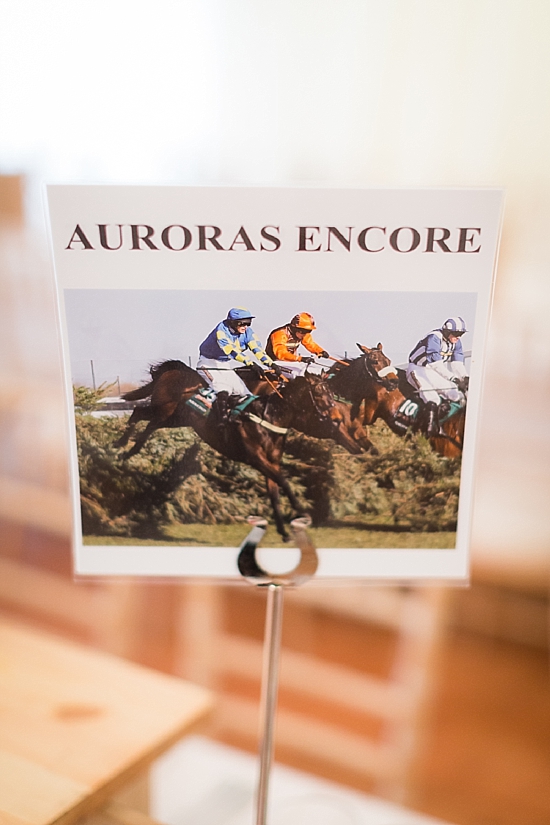 Auroras Encore, the name of the horse Ryan was riding when he won the Grand National. It would only seem fitting that the top table was named after it.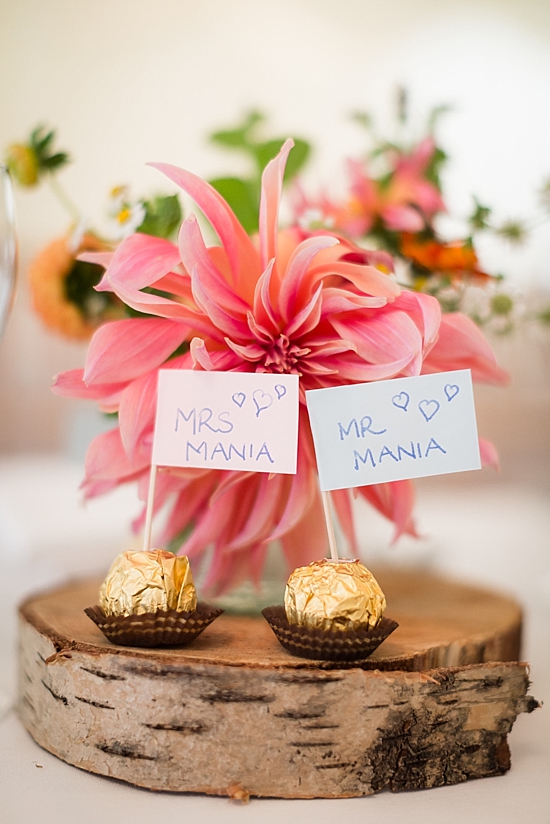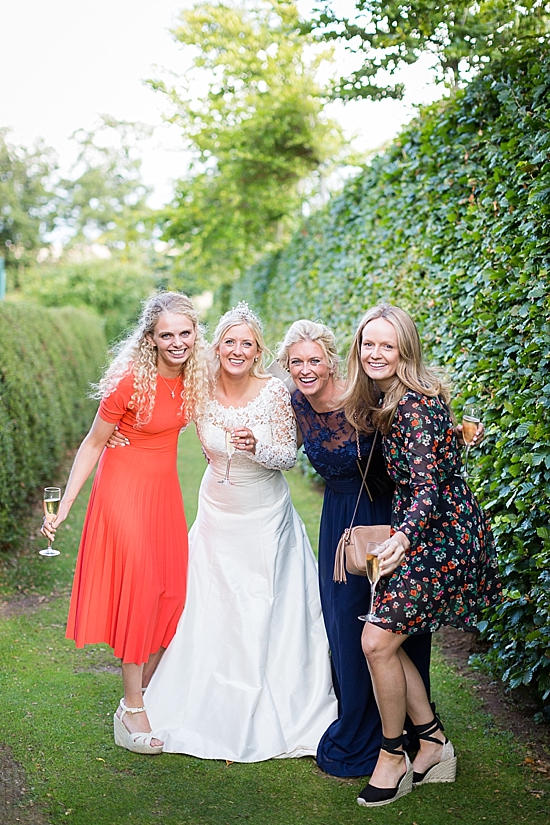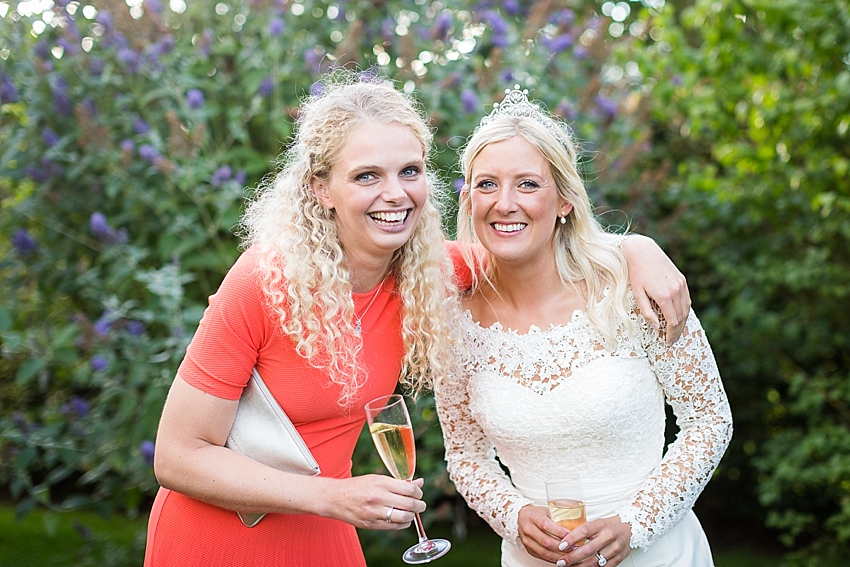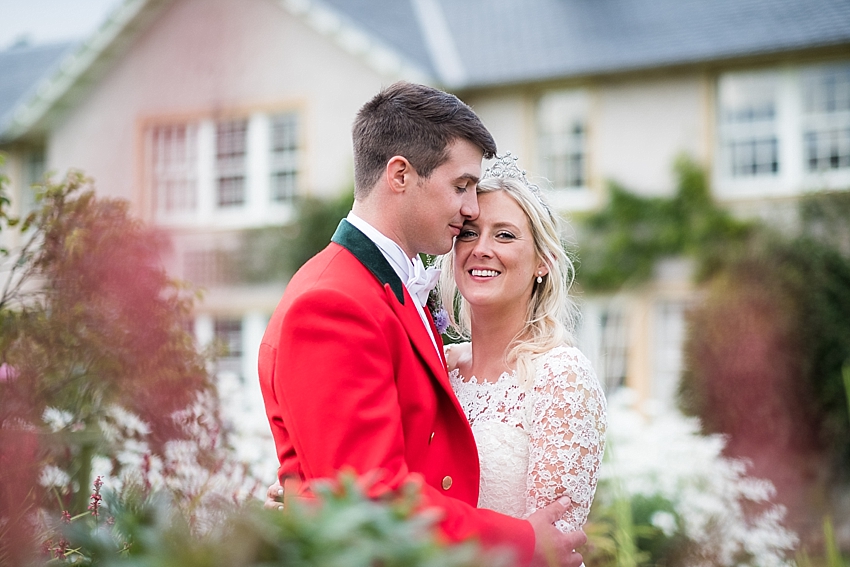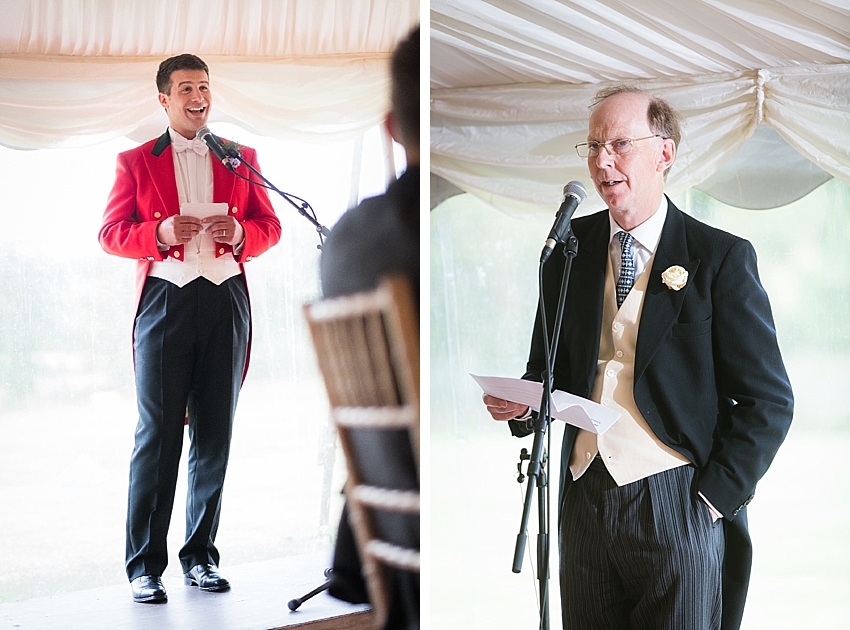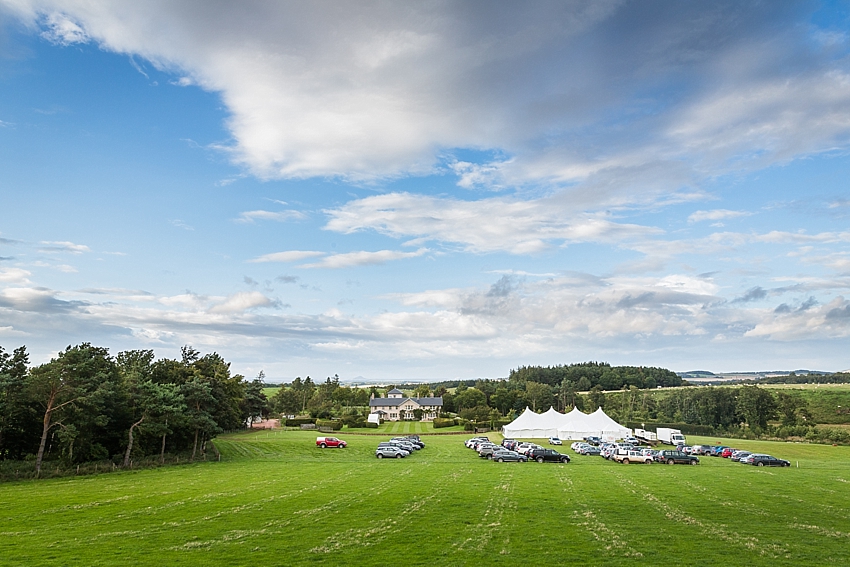 Annie and Ryan's awesome suppliers included:
Videographer: Studio Four Media
Florist: Adelaide's Secret Garden
Marquee: Myreton Marquees
Lighting: Tower Productions
Catering: Ror's Kitchen
Posted on 11 December, 2018 by under
Thanks to The Wedding Community​ for choosing one of our images for their Picture of the Day.
This image was captured in Lynsey's childhood bedroom, full of the usual wedding morning chaos of make-up, clothes, bags and other paraphernalia.
Thankfully there was a lovely directional light falling into the room from the window, which I was able to use to focus on this beautiful moment, excluding everything else…
You can see more photos from this beautiful Edinburgh wedding on our blog
Dress and veil by Freja Designer Dressmaking​
Bridal Hair by Mckenzie Hair Design​
Posted on 7 December, 2018 by under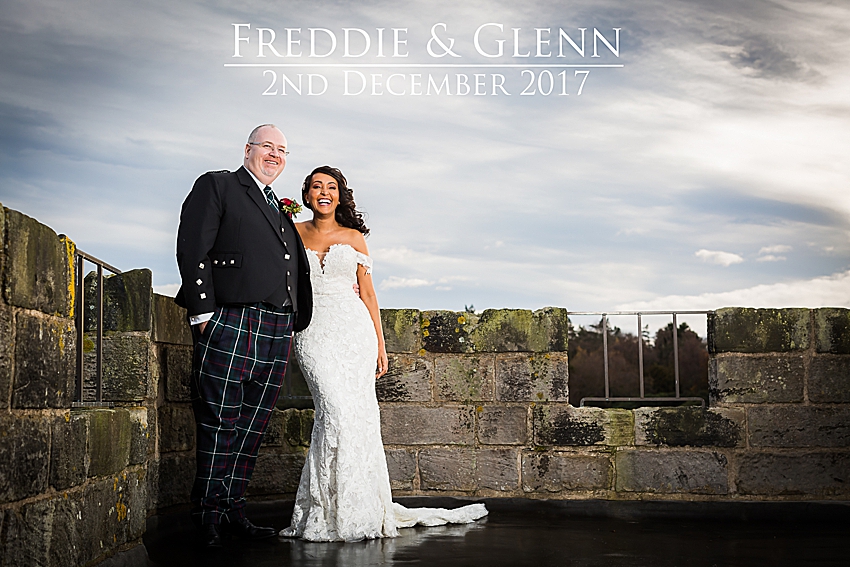 When Freddie and Glenn decided to elope to Edinburgh for their wedding, they knew they wanted to throw a wedding party like no other a year later. For this occasion (and what an occasion it was!), they gathered family and friends at Dundas Castle to throw a helluva party, combining a mixture of Scottish and Ethiopian traditions.
The day included an intimate humanist ceremony in Dundas Castle's atmospheric Auld Keep, followed by canapés and dinner, a magician, a girls' choir, Ethiopian dances, fireworks and a Beating Retreat from a full pipe band.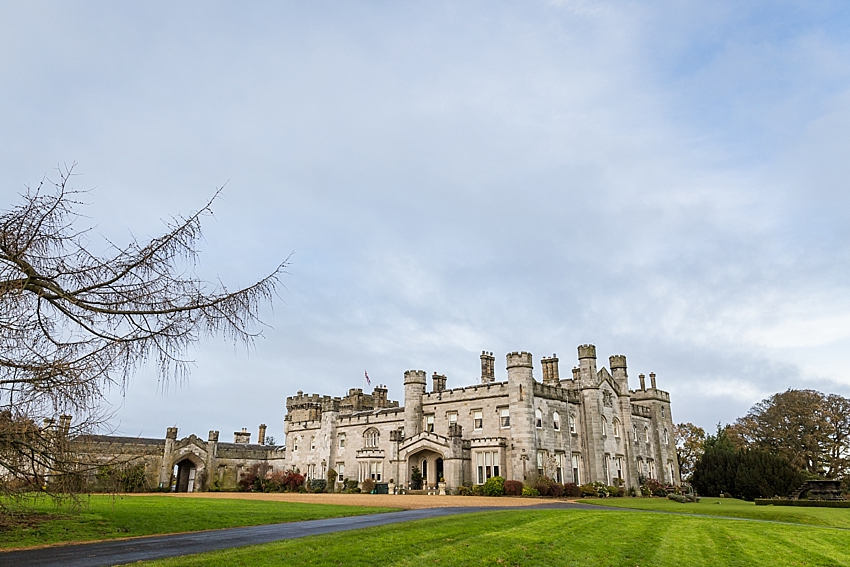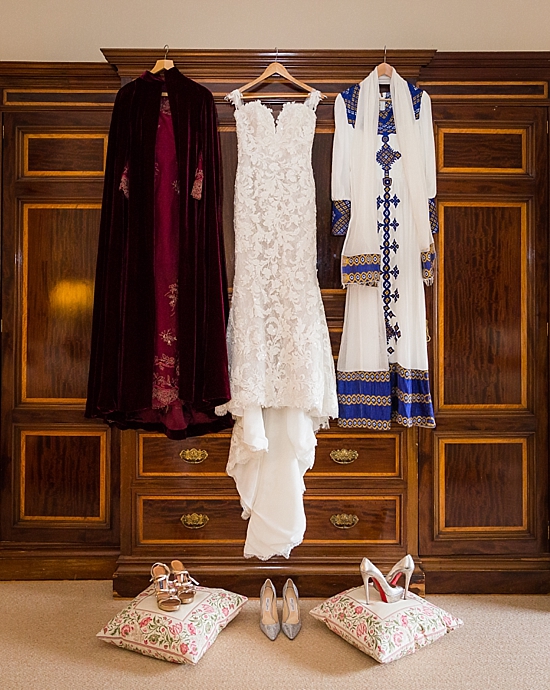 Freddie wore three stunning gowns throughout the day, beginning with a classical ivory lace and sequinned encrusted dress for the wedding ceremony. This was followed by a glamorous wine coloured evening gown accessorised with the most beautifully rich velvet cape (which she designed herself!) and finally beautifully embroidered traditional Ethiopian gown.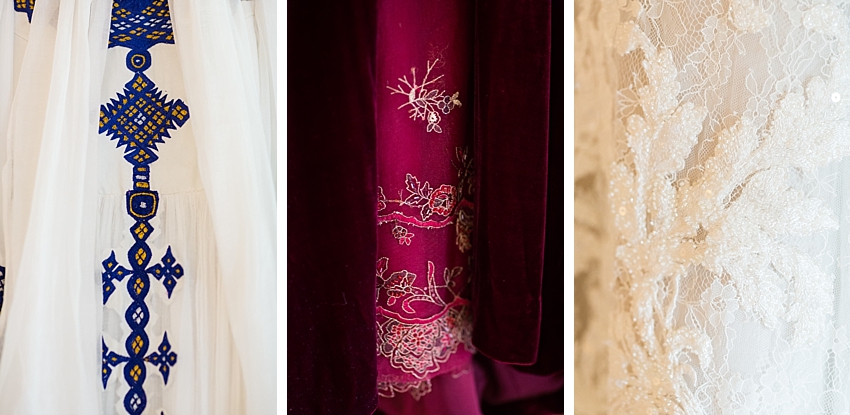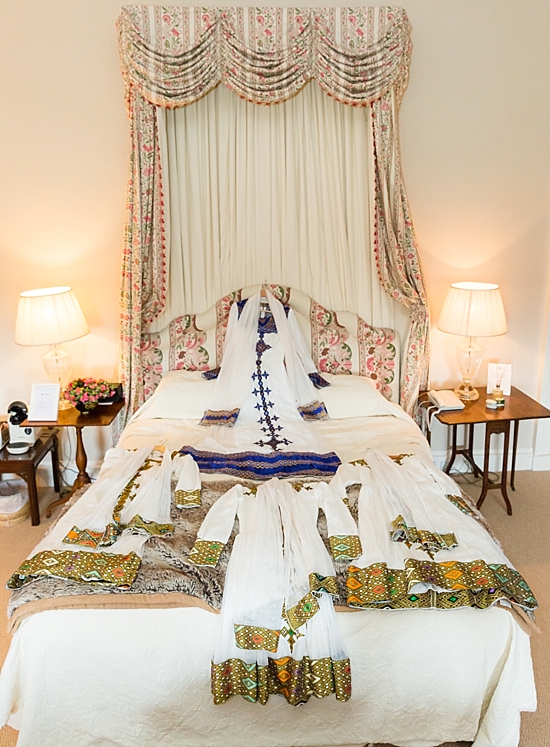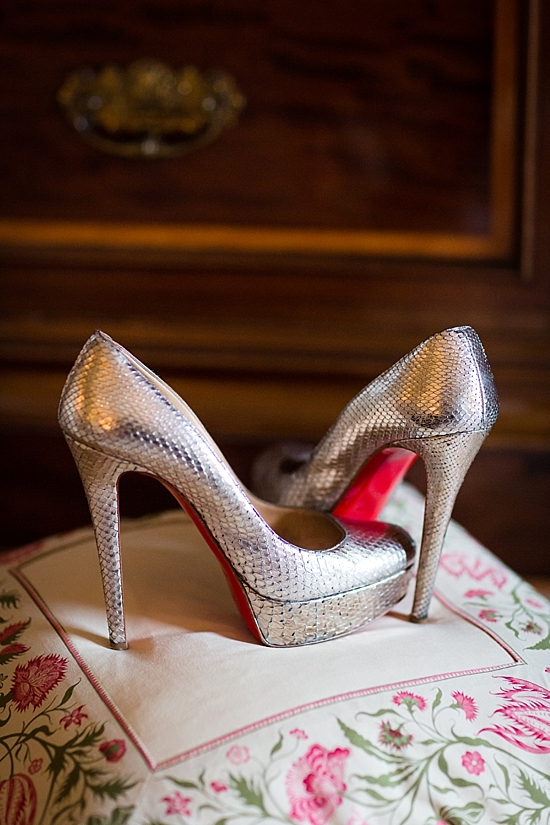 Silver Christian Louboutin shoes and intricately decorated gold jewellery worn by Freddie.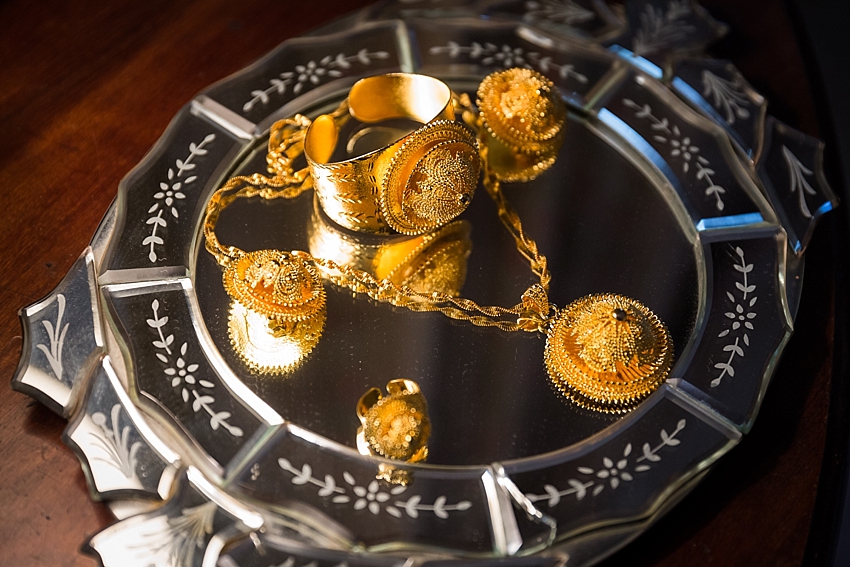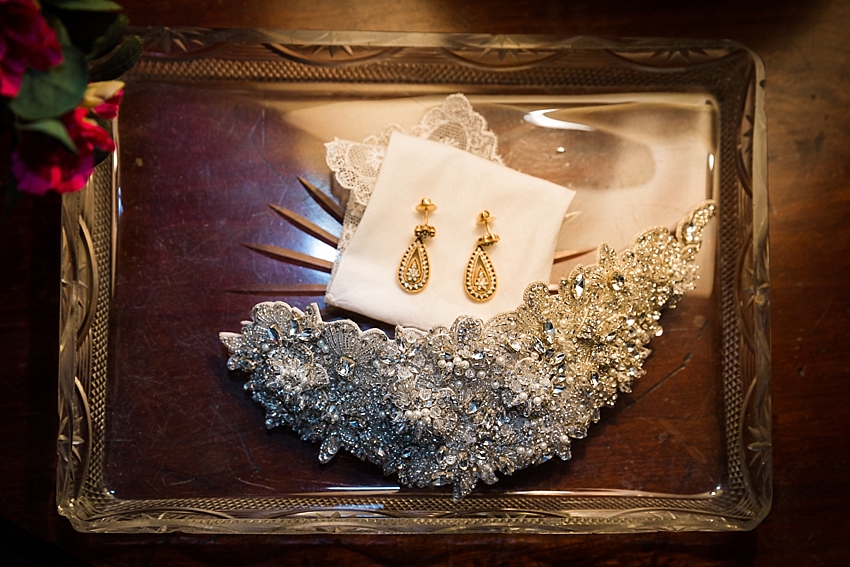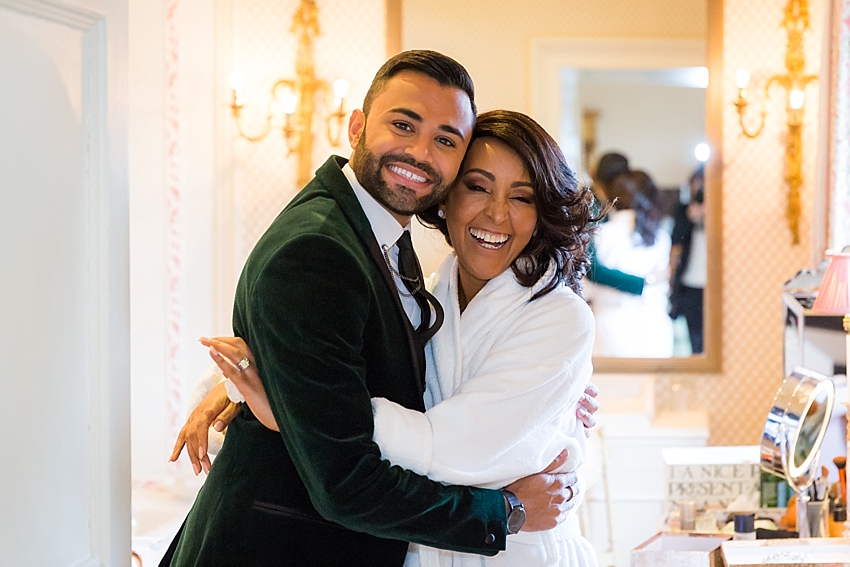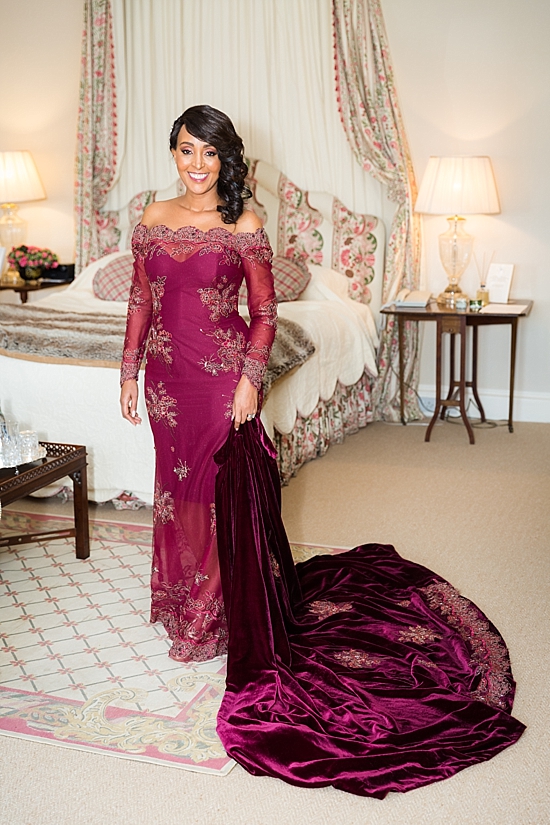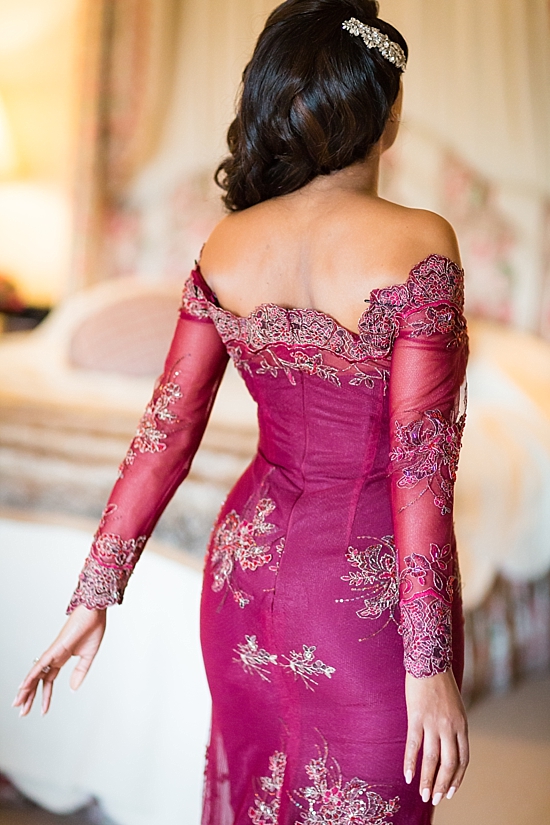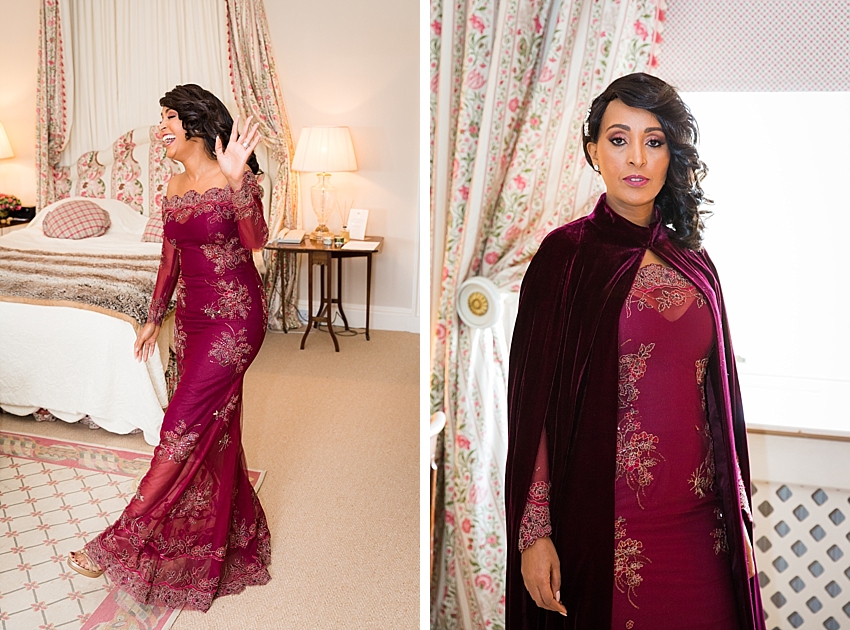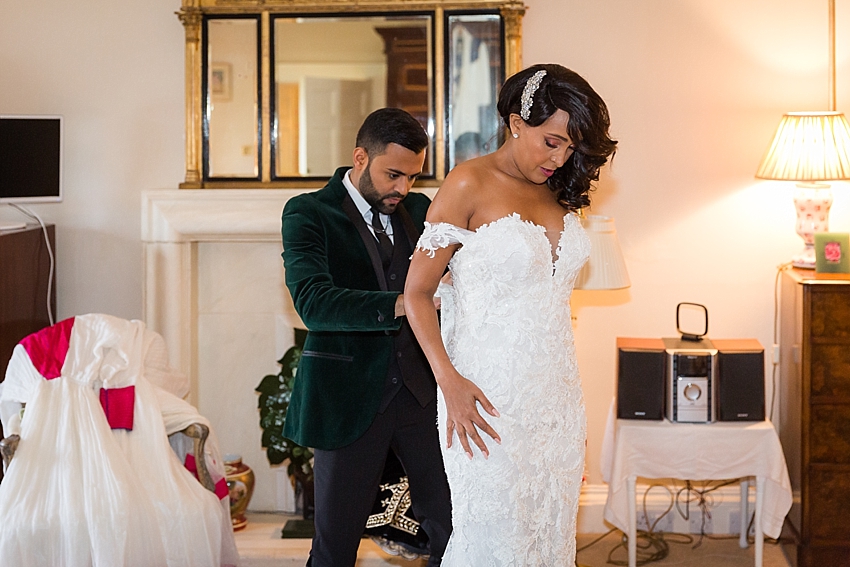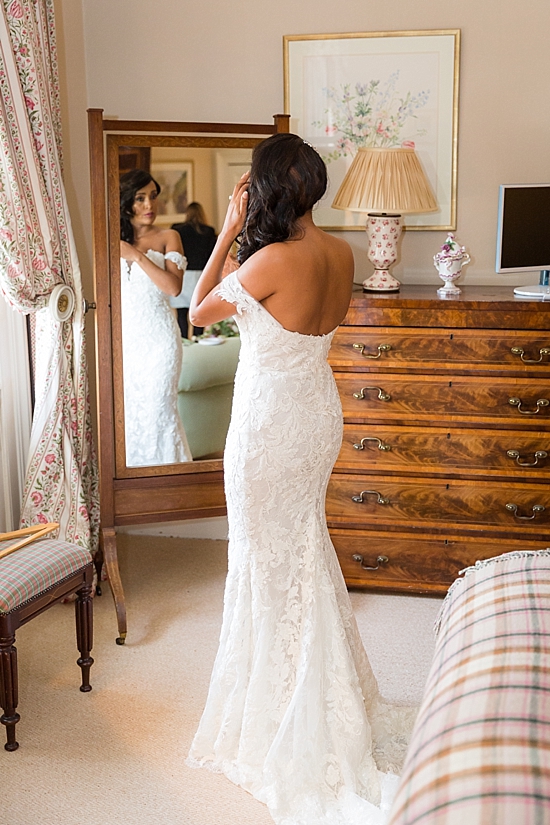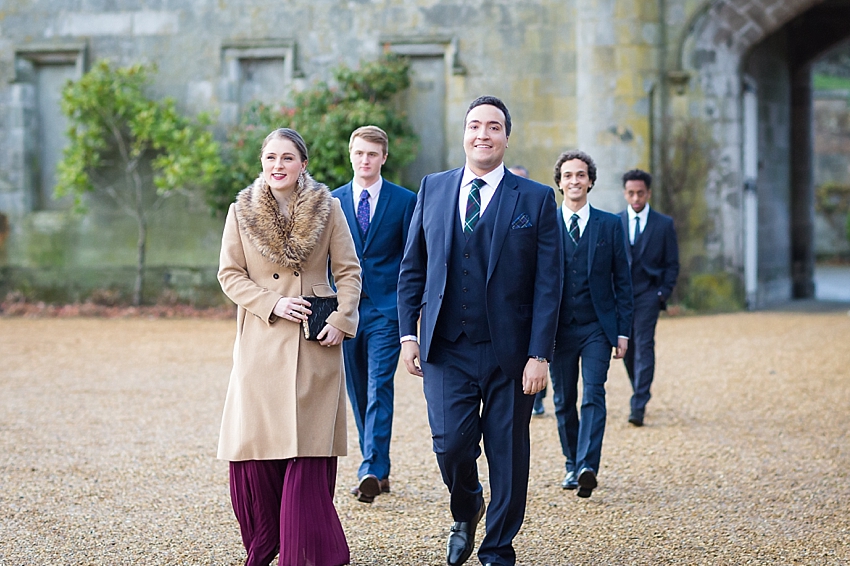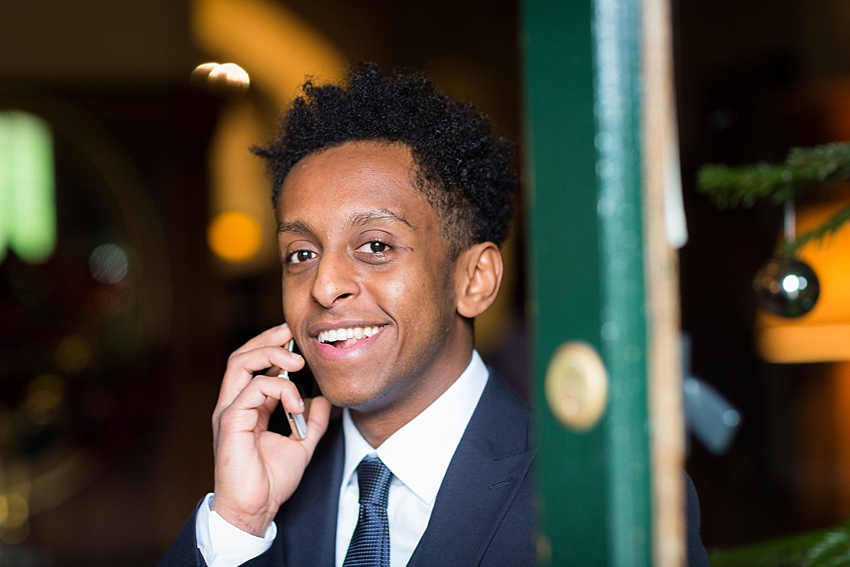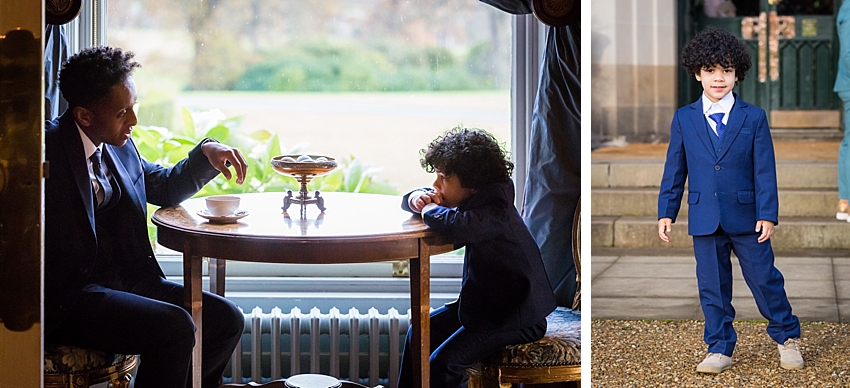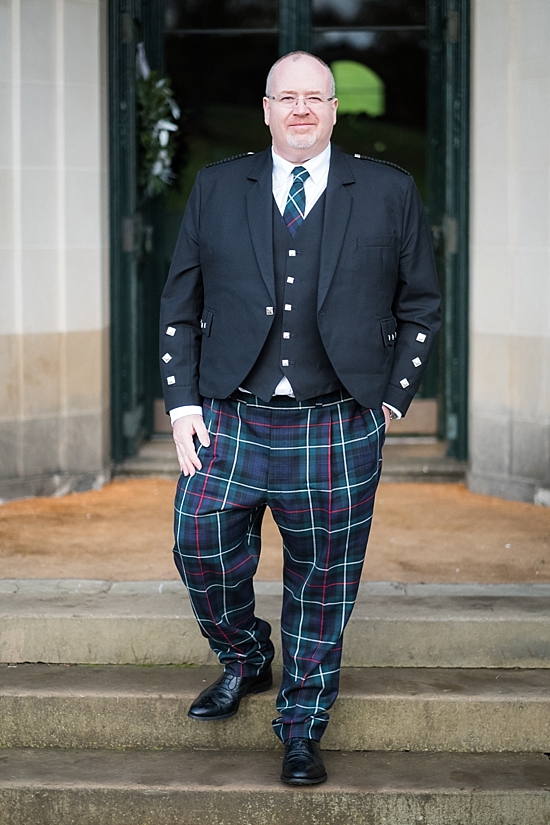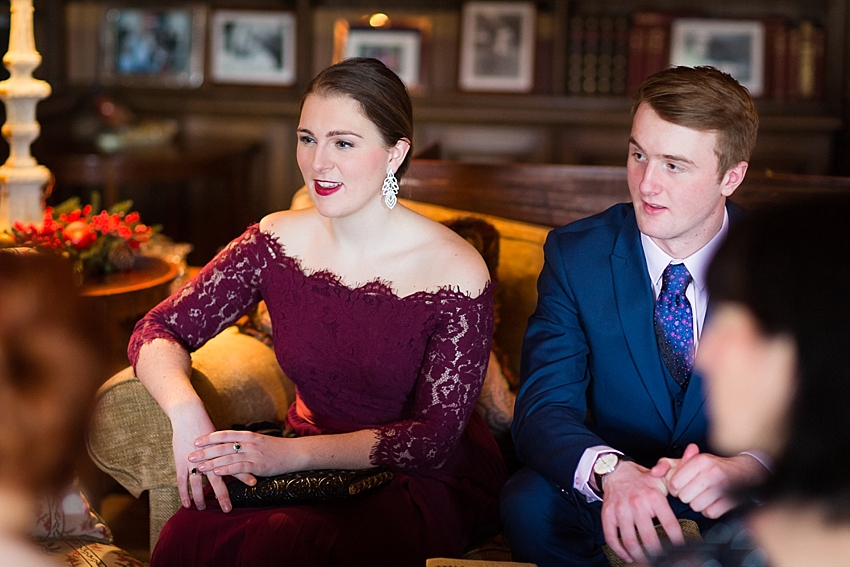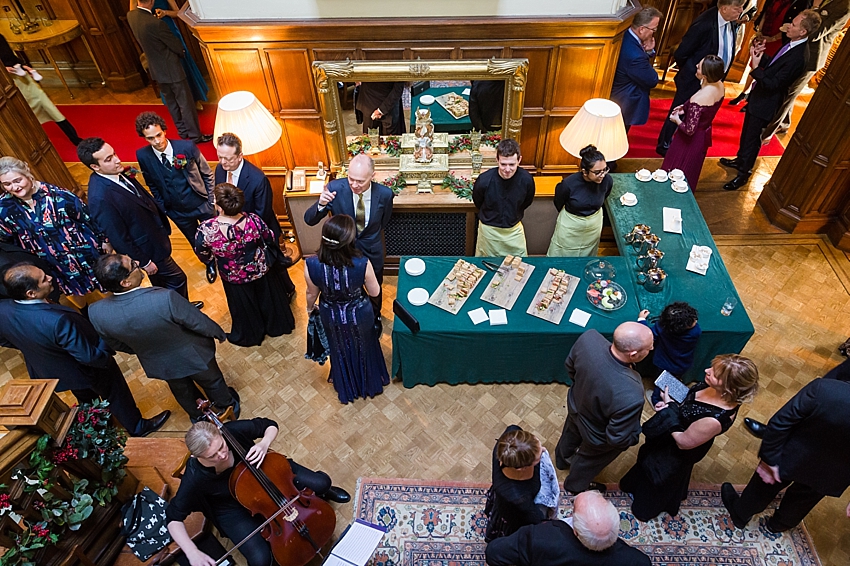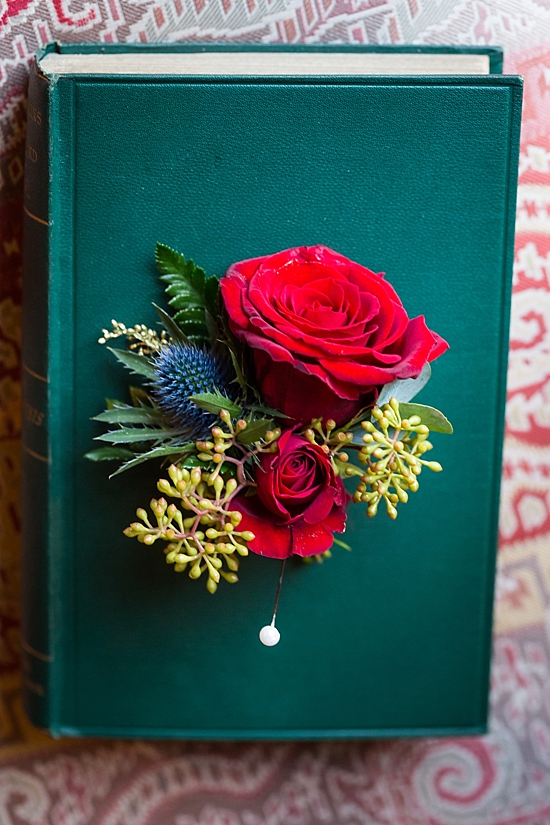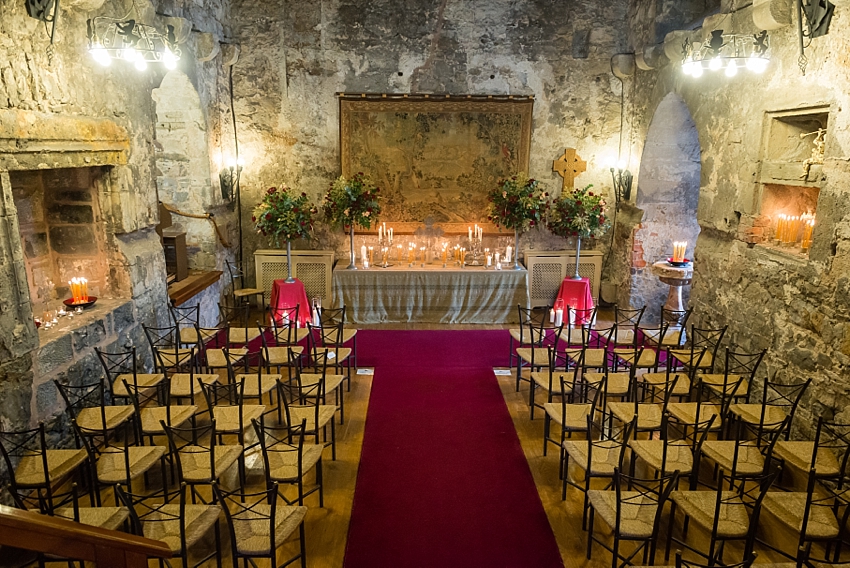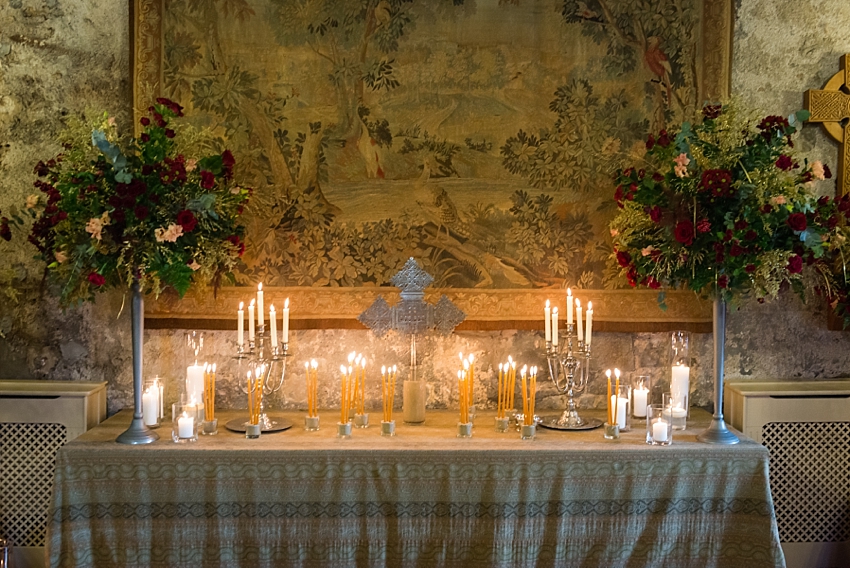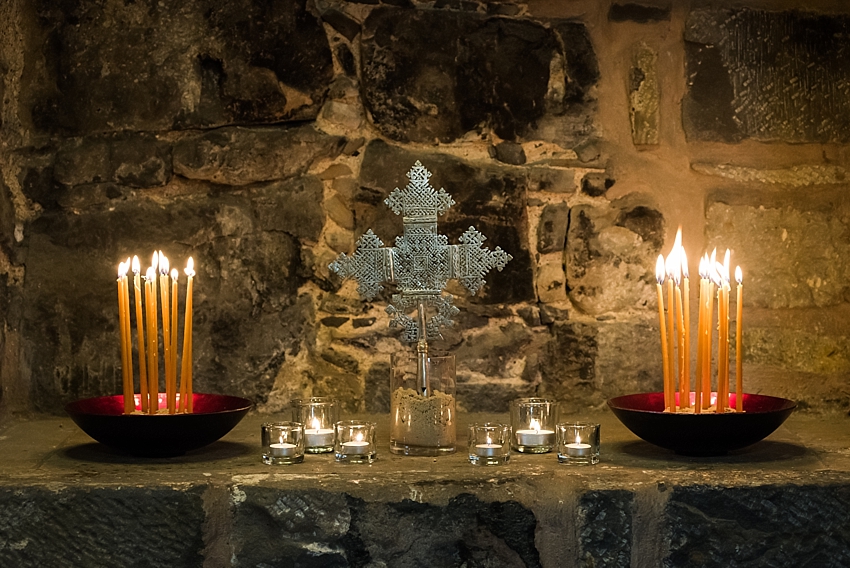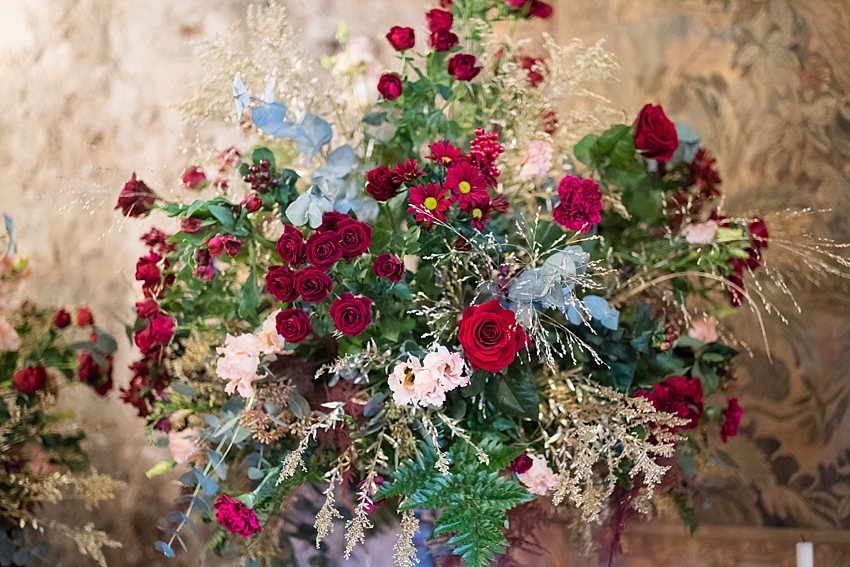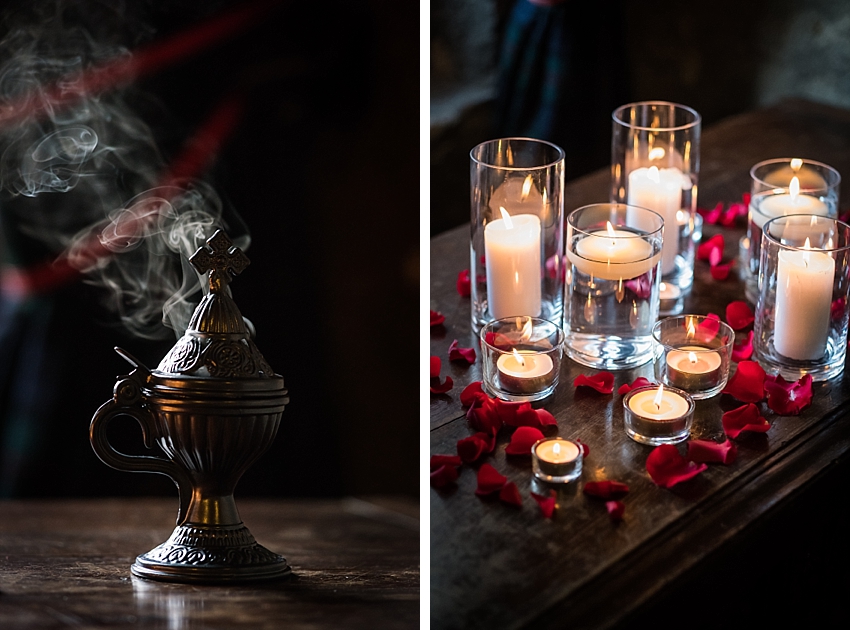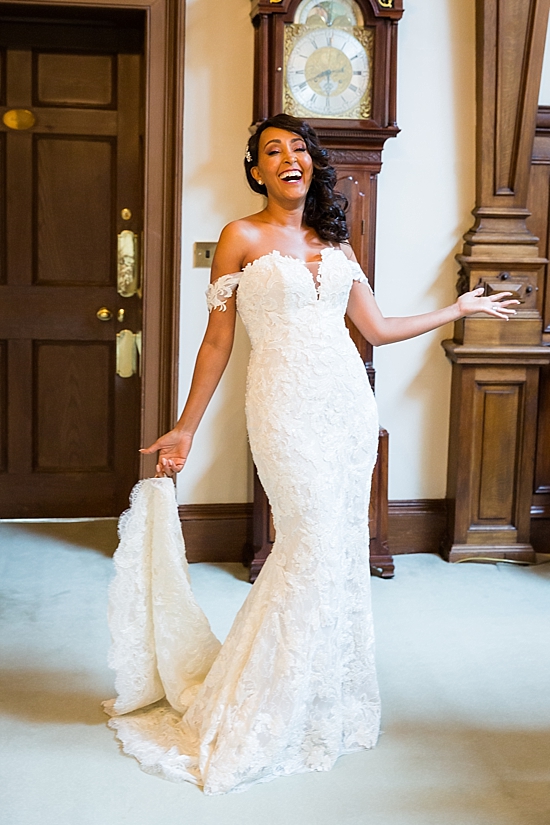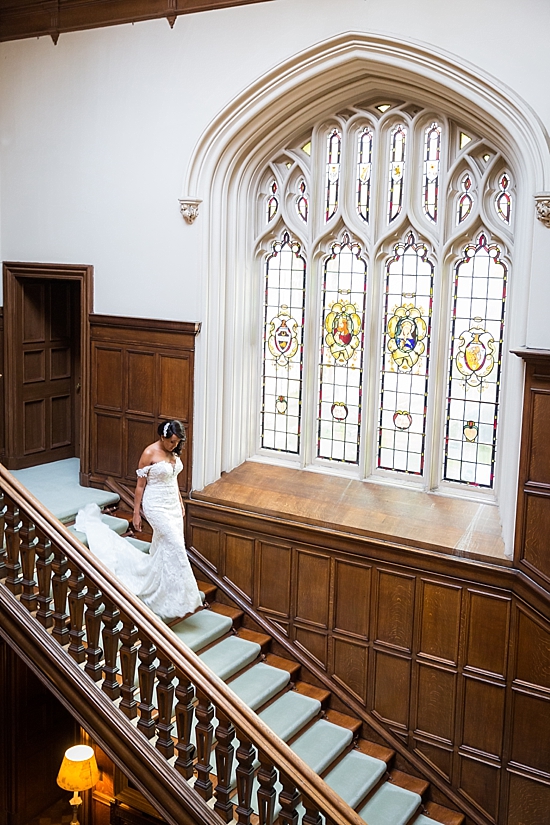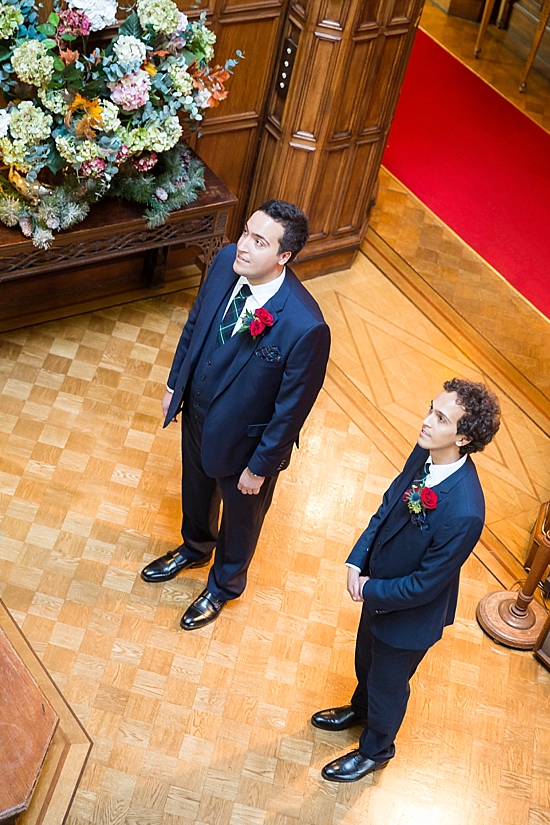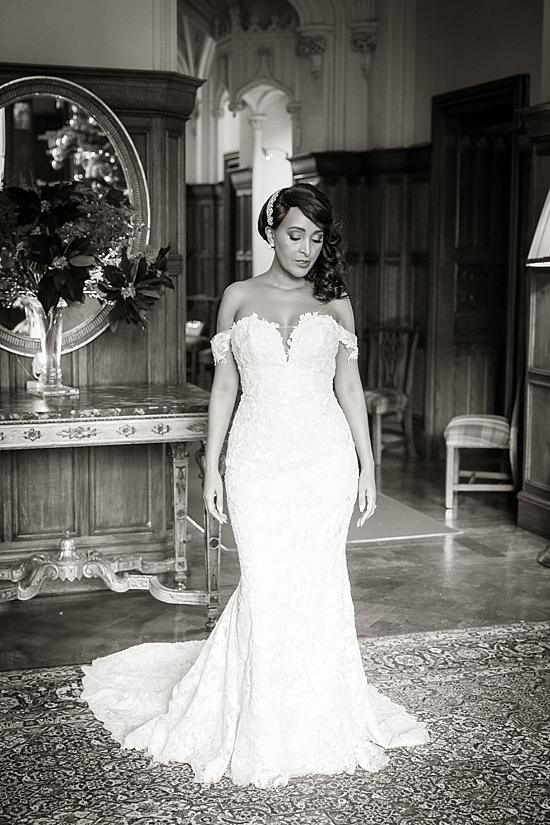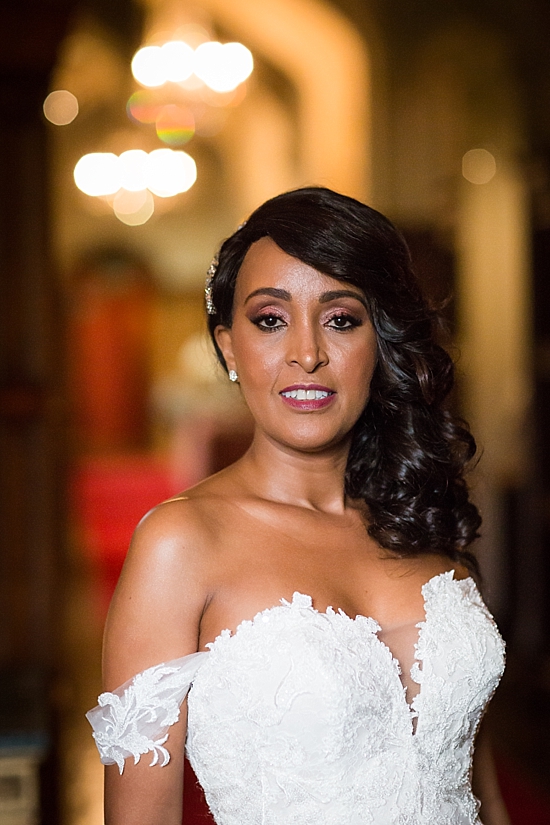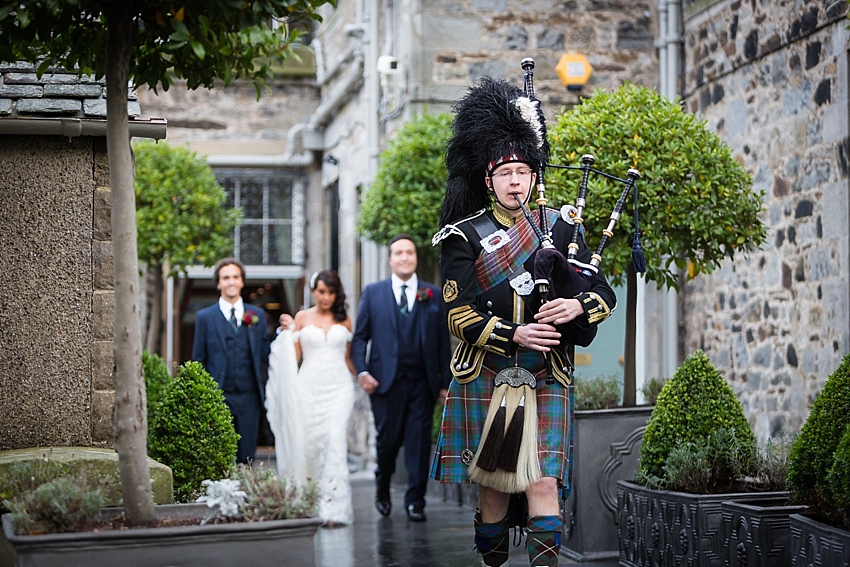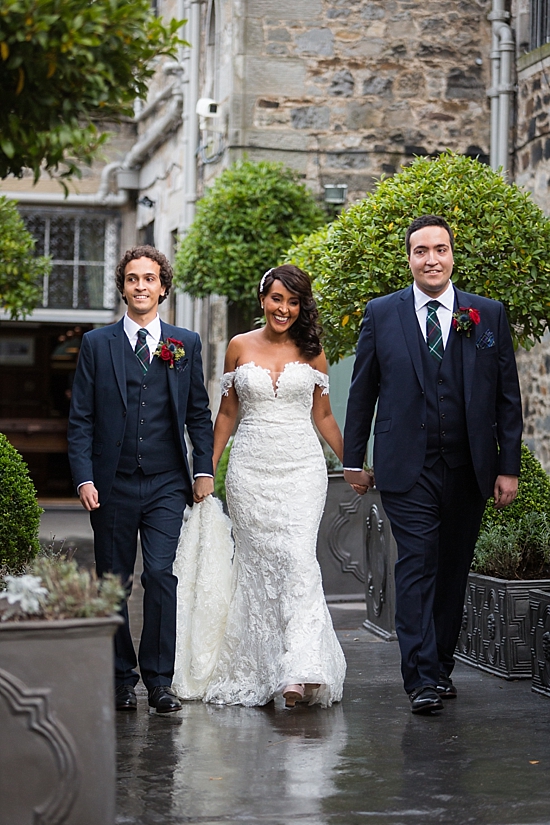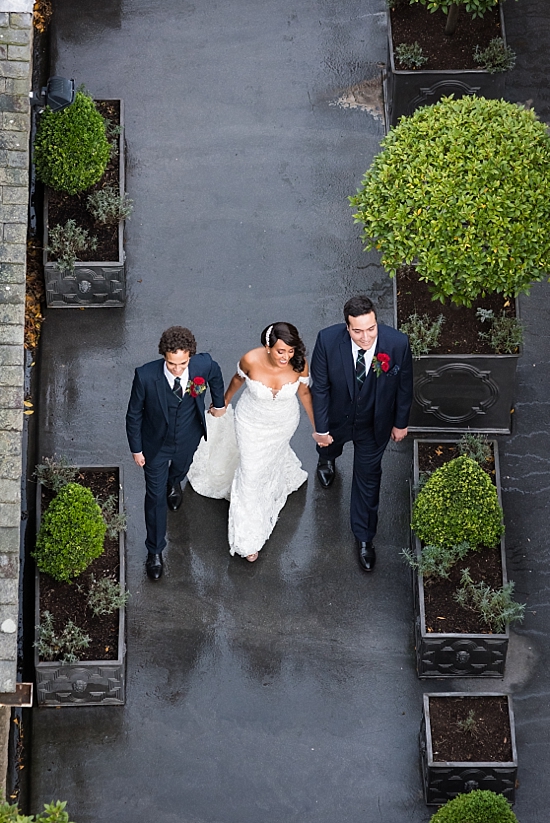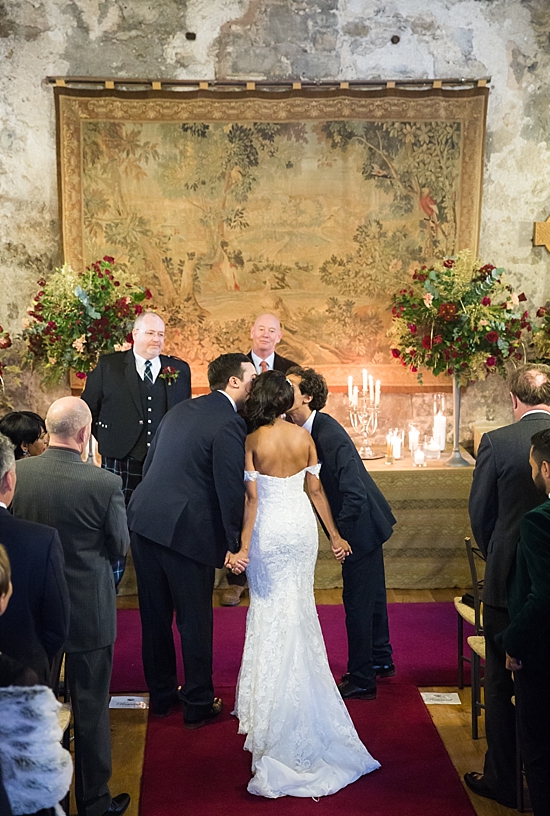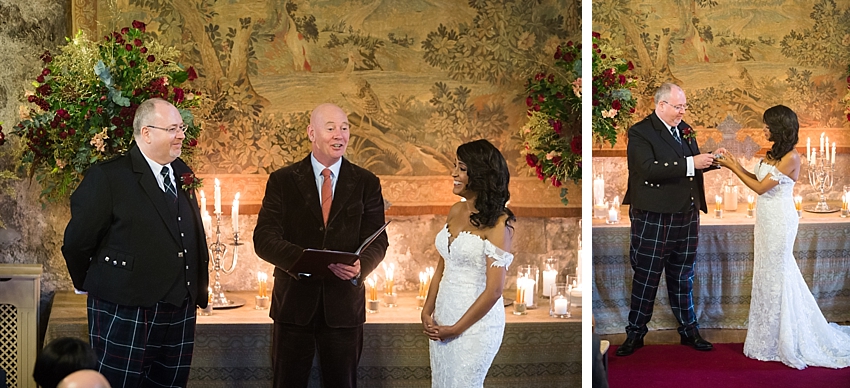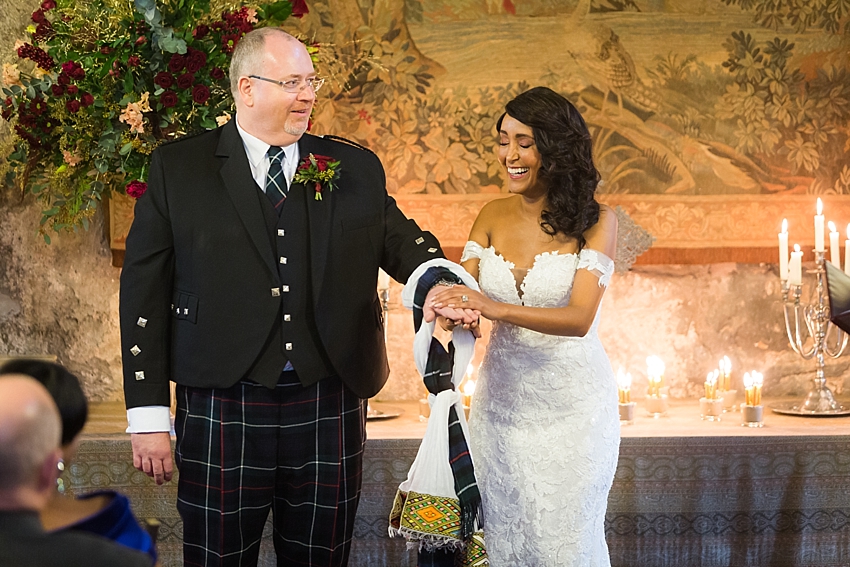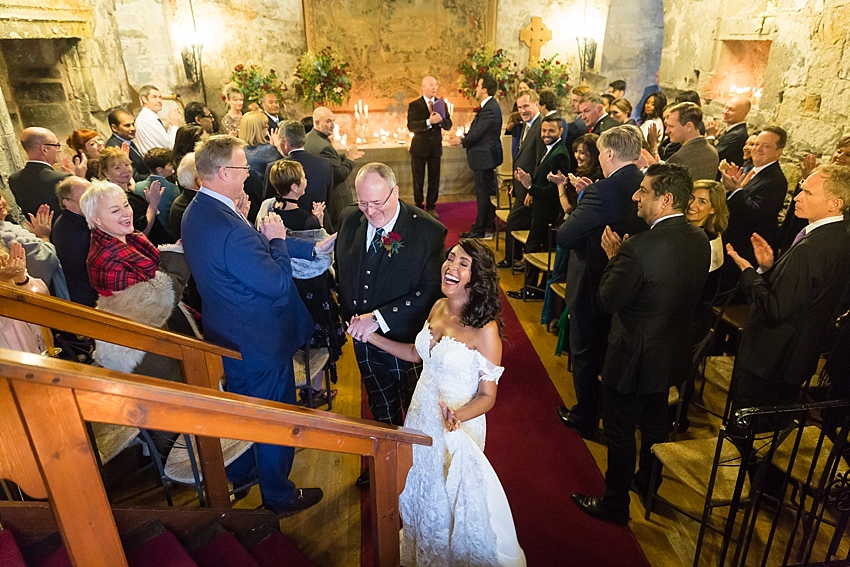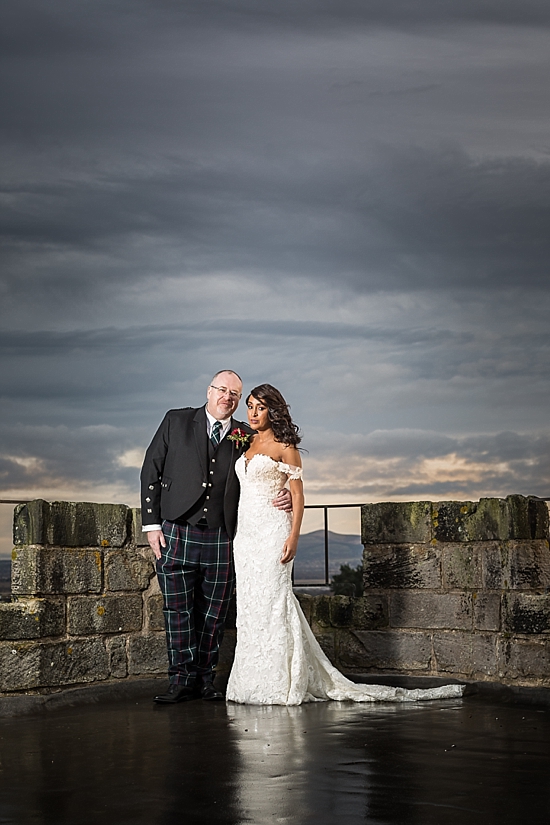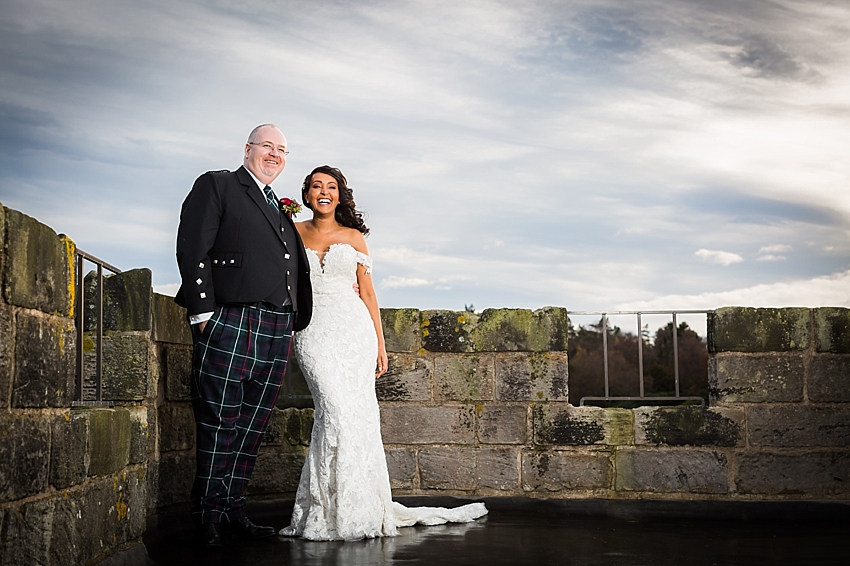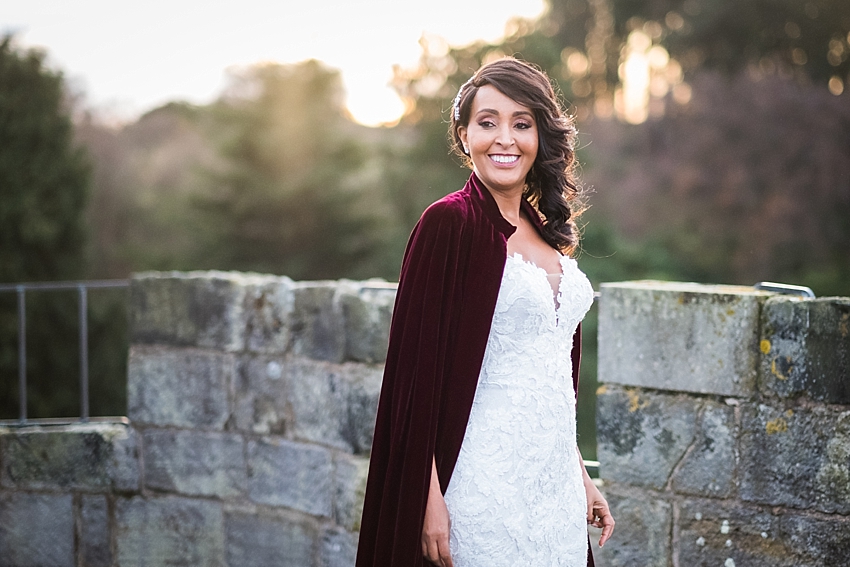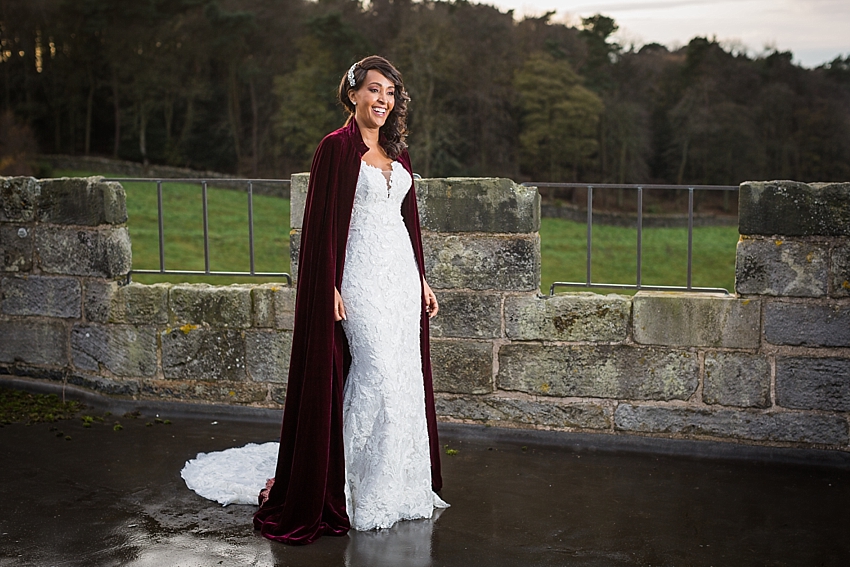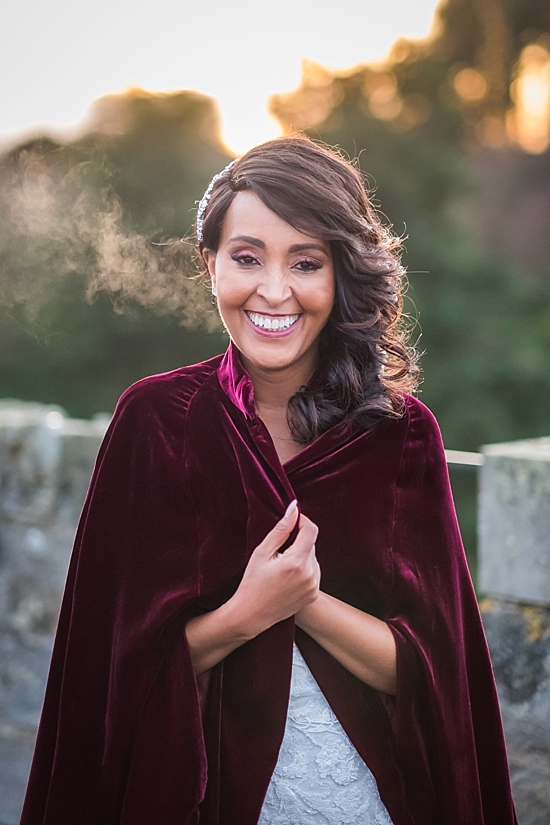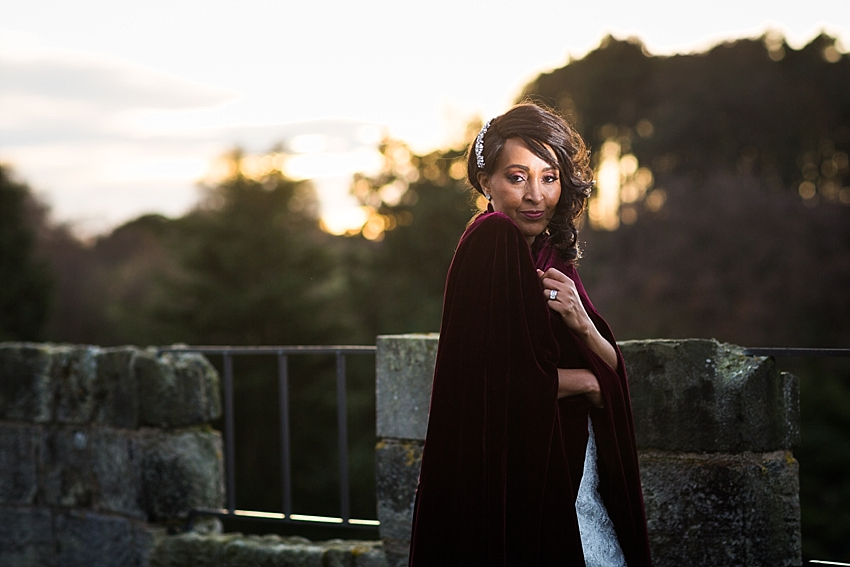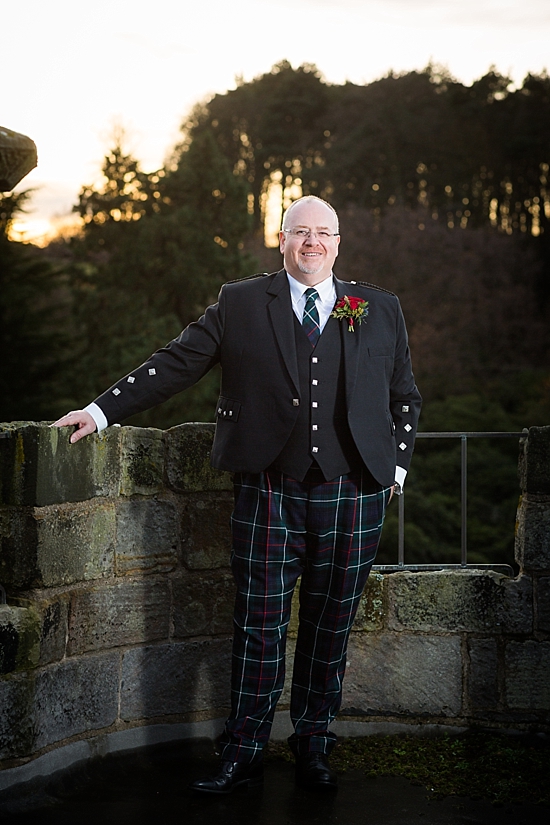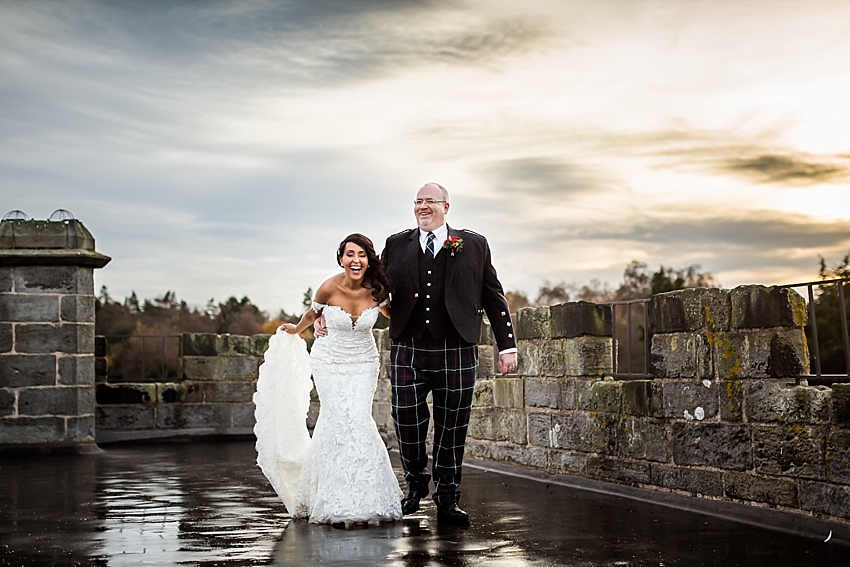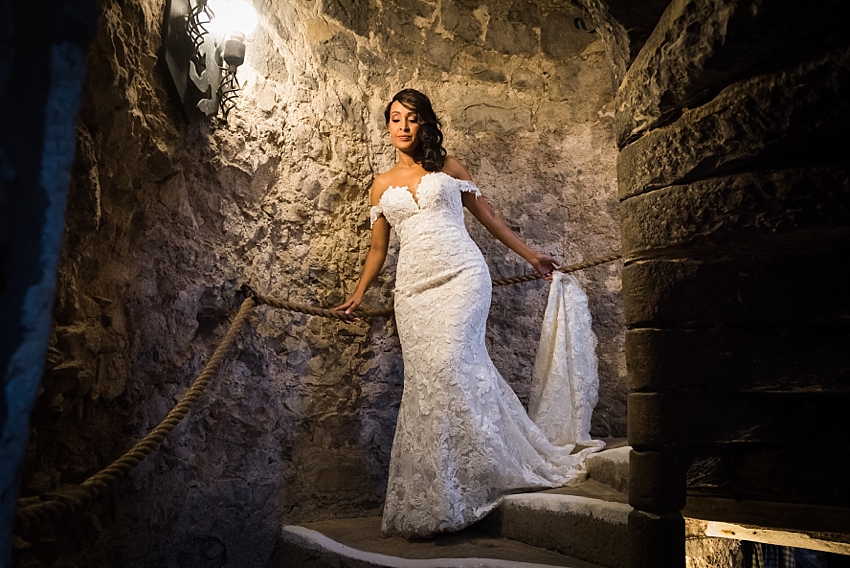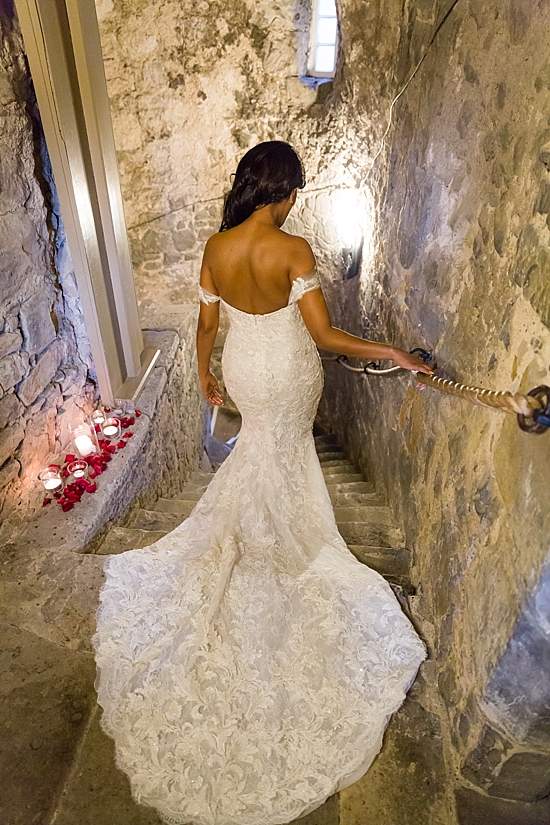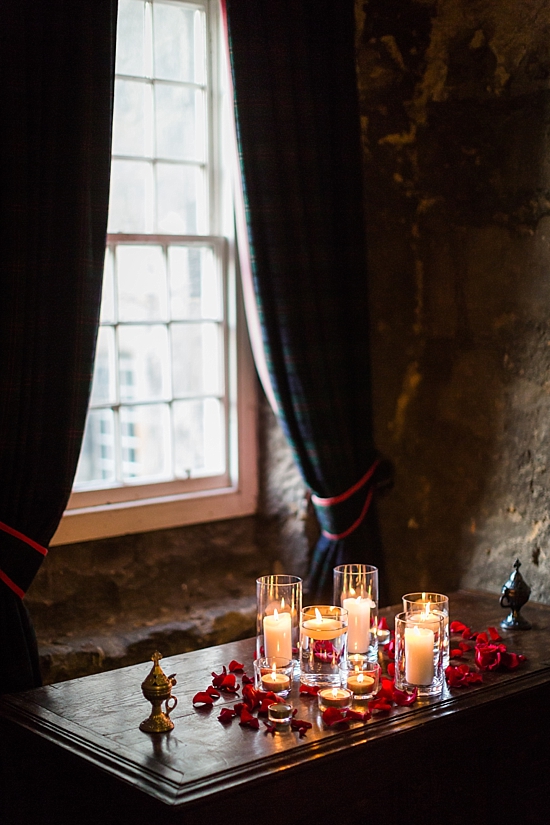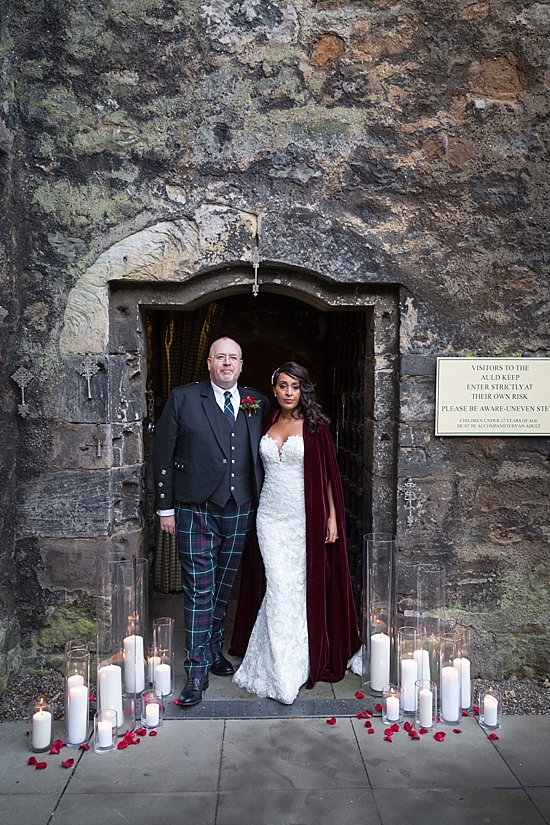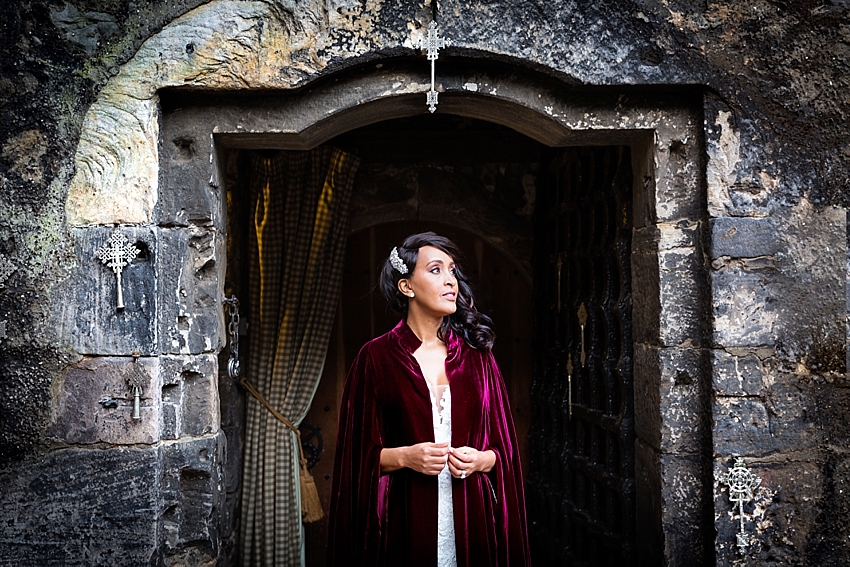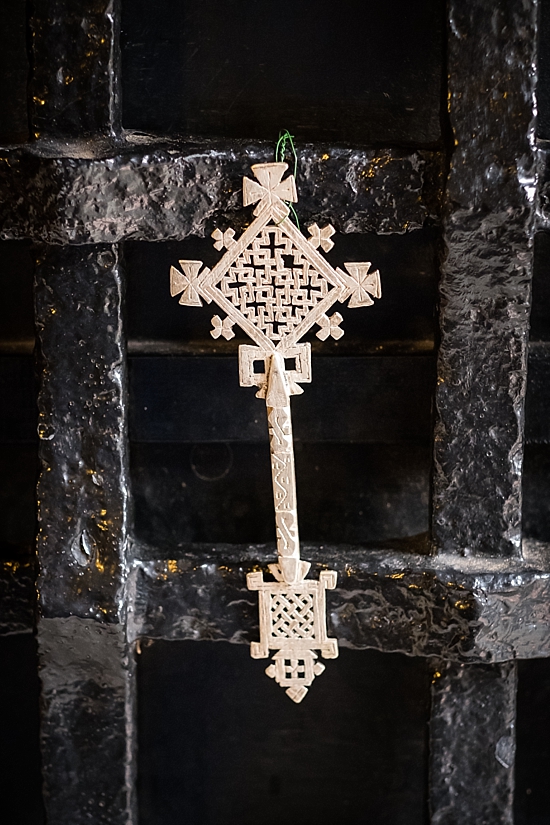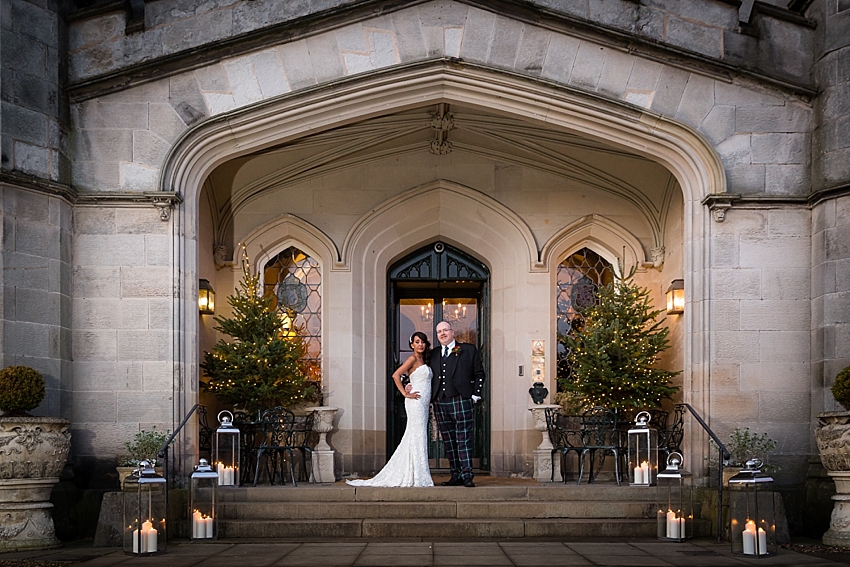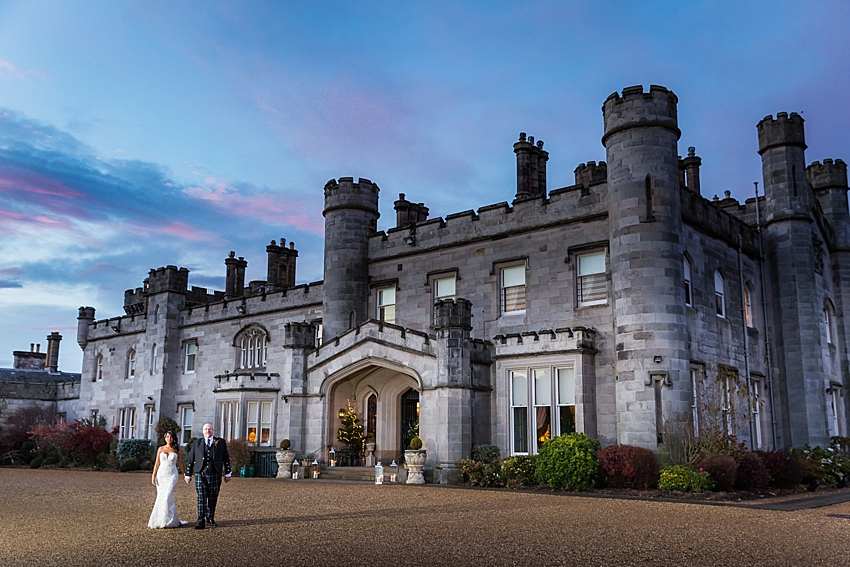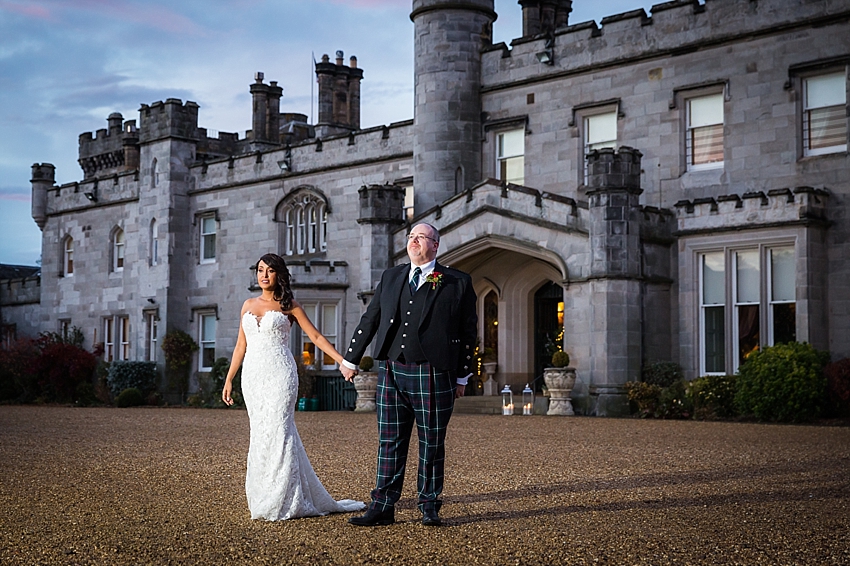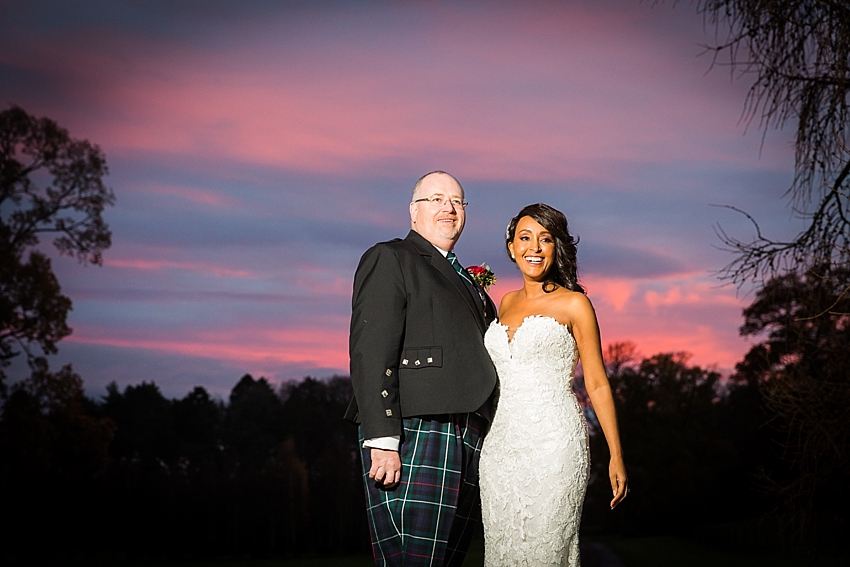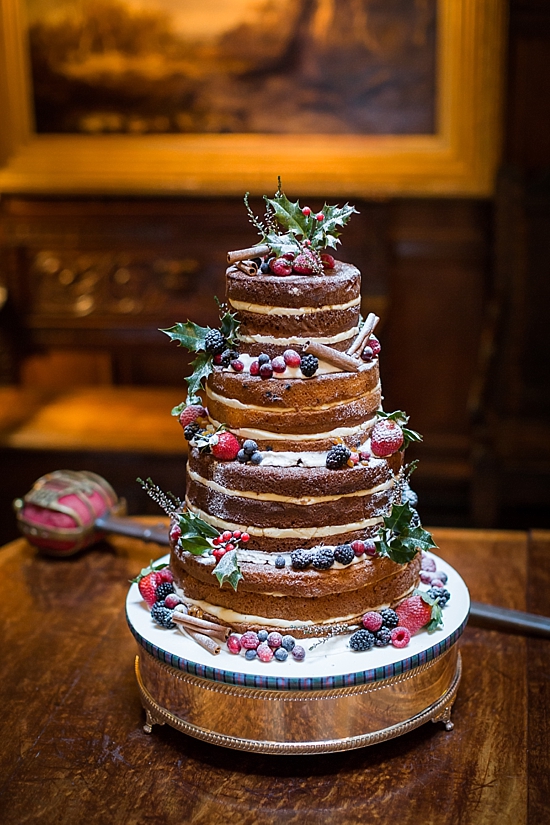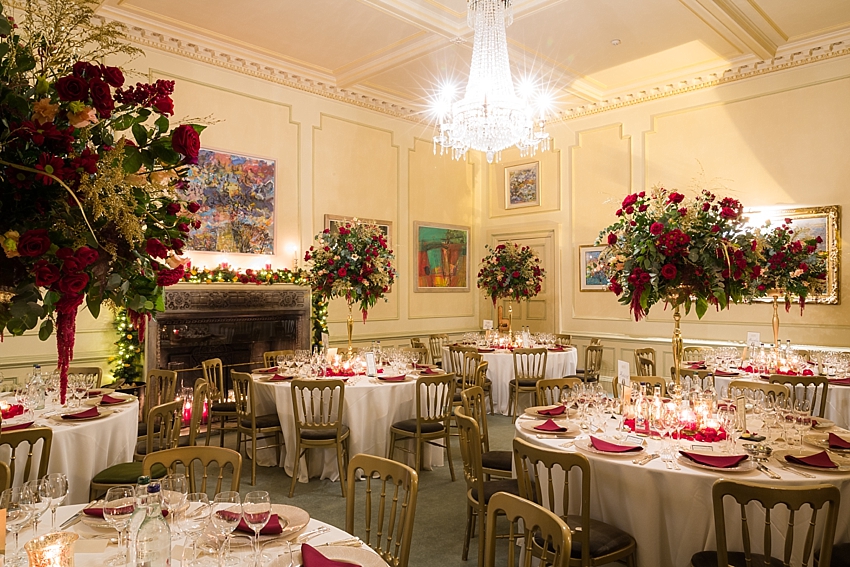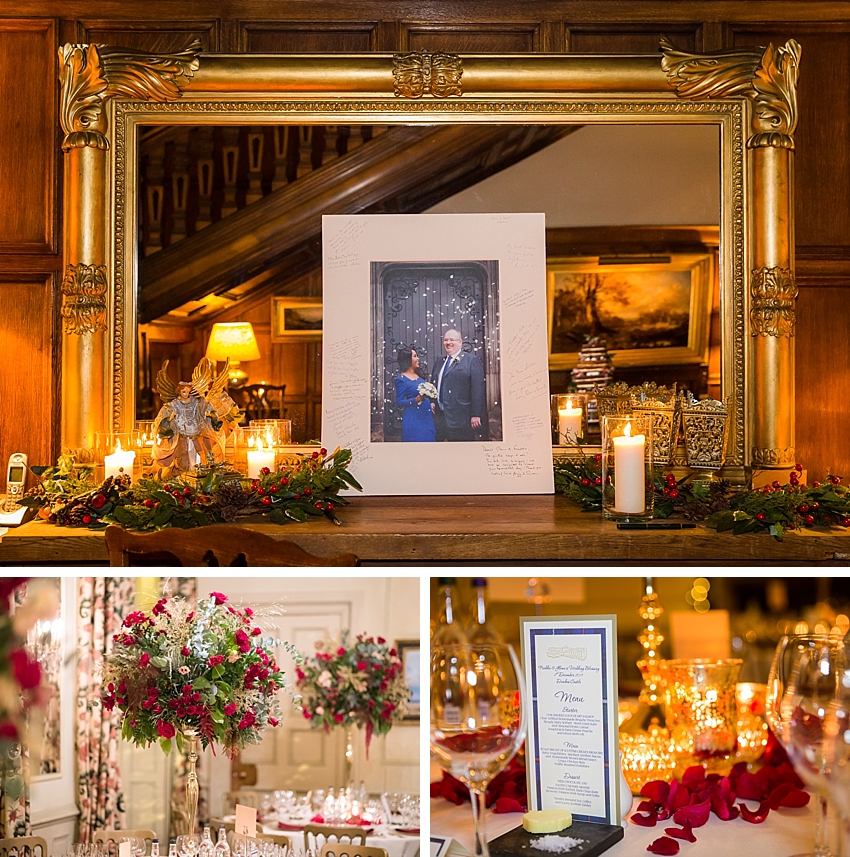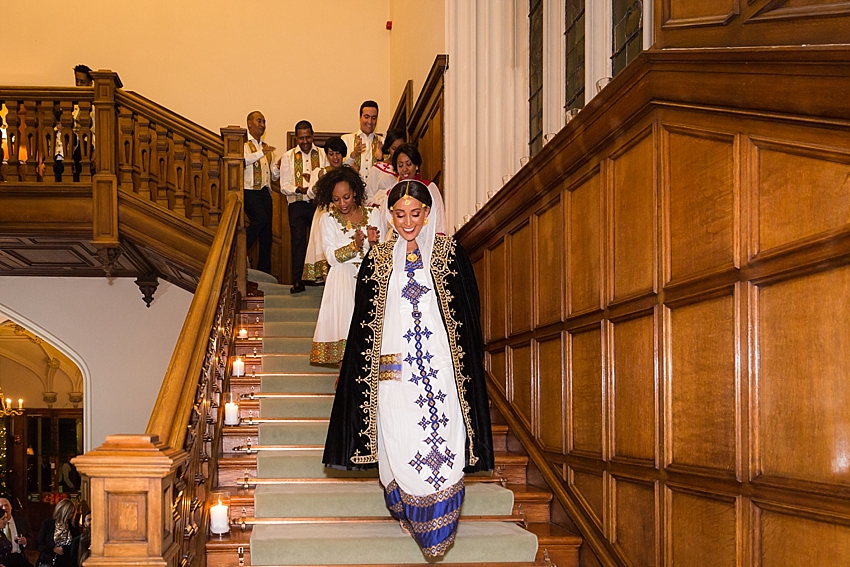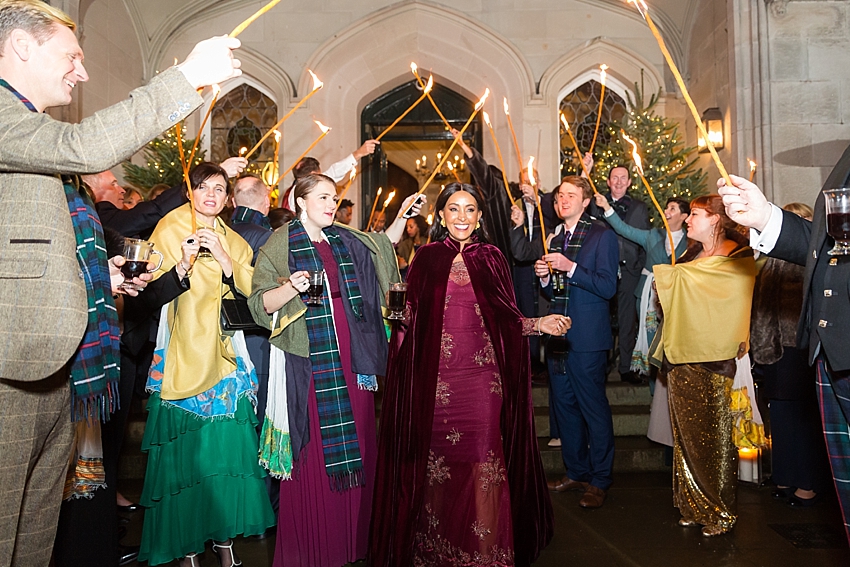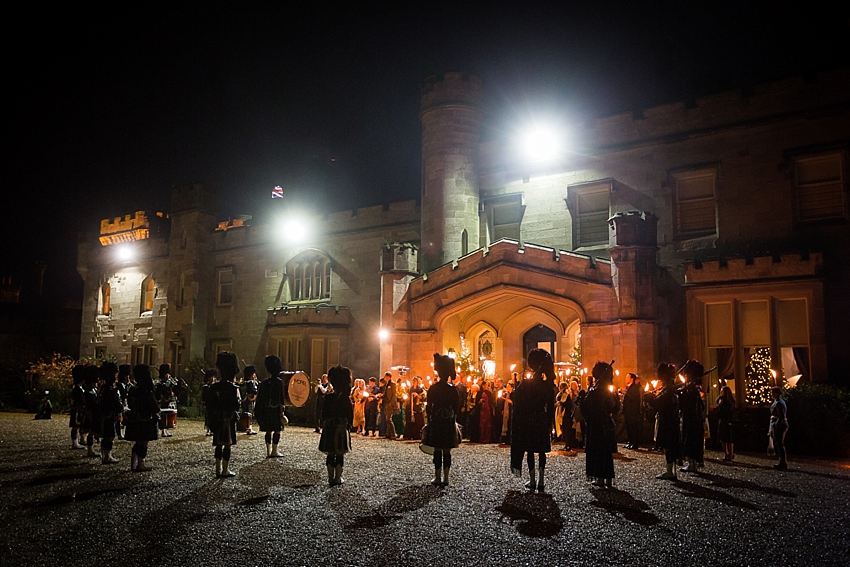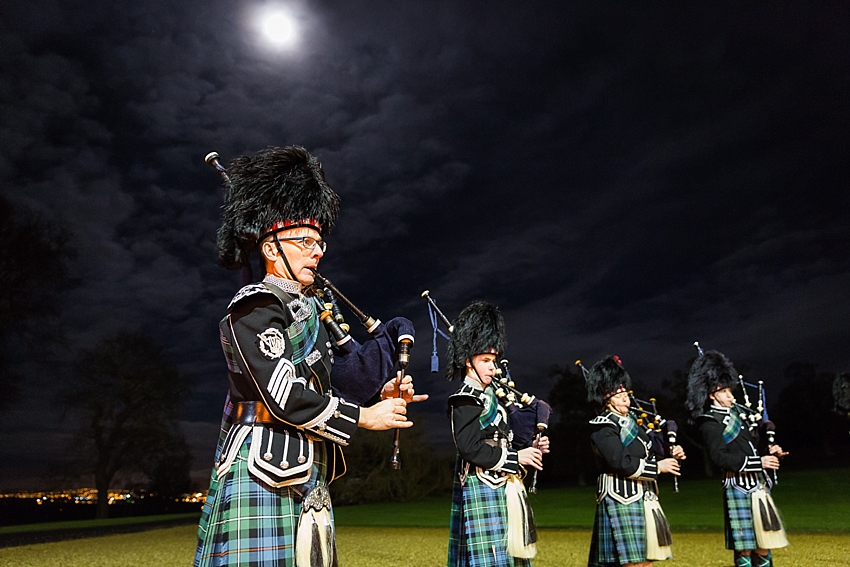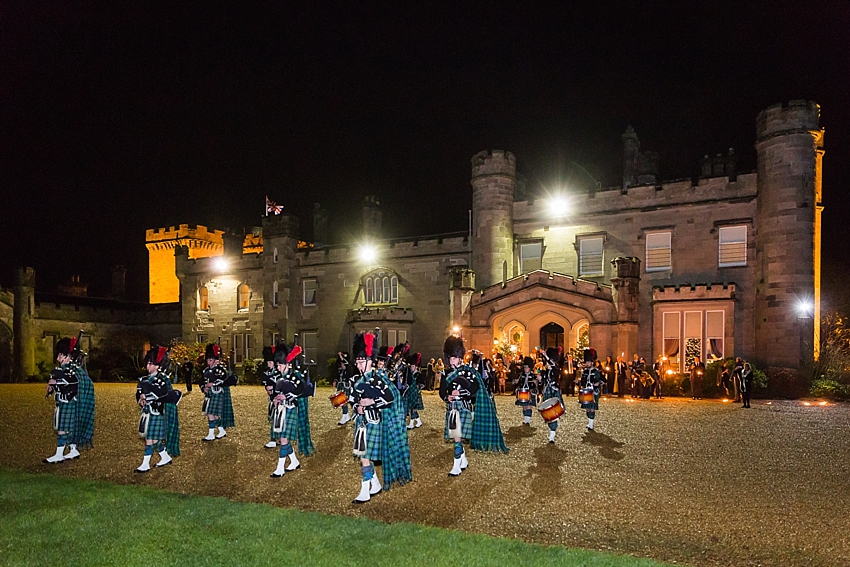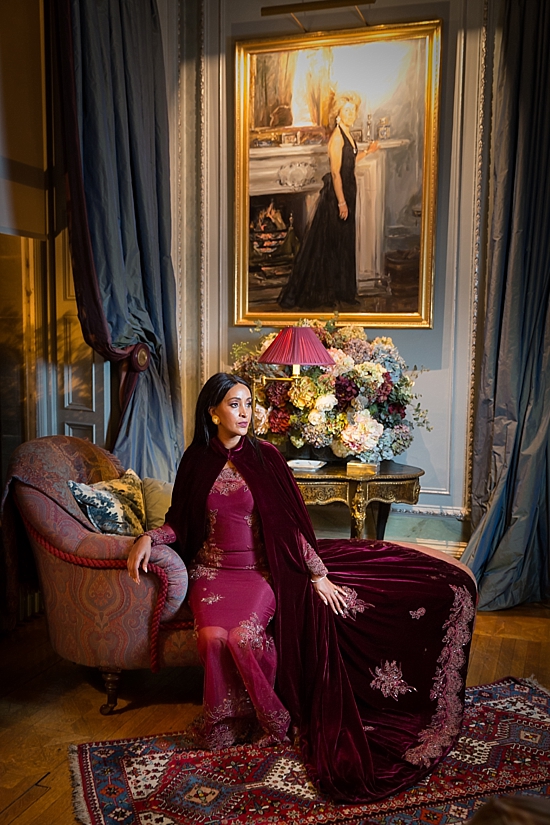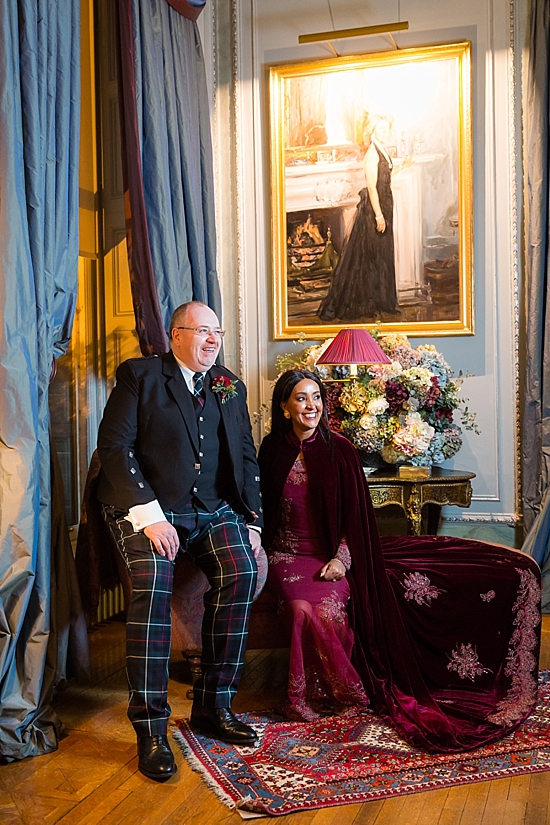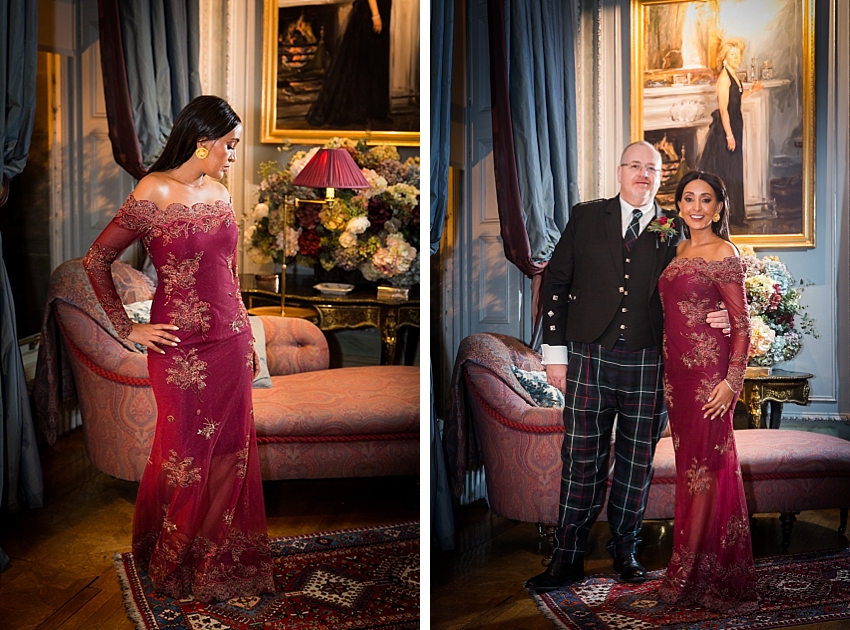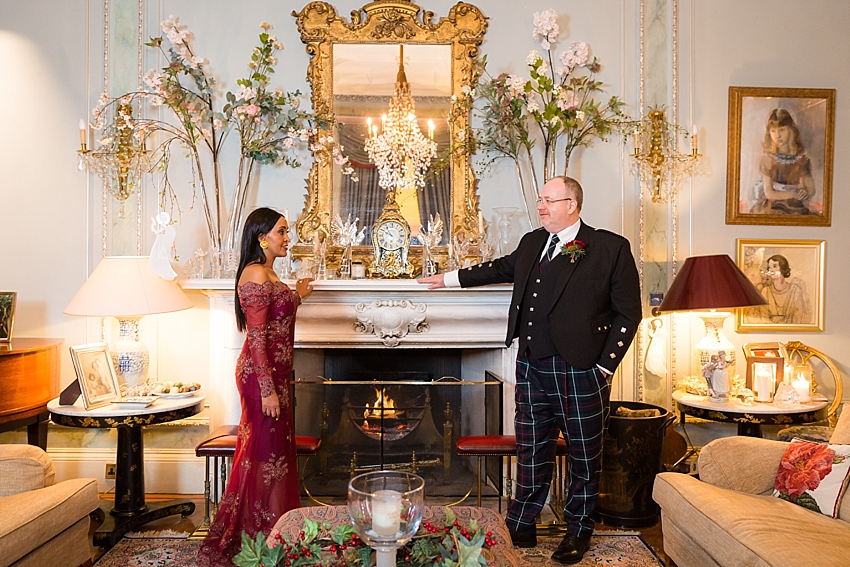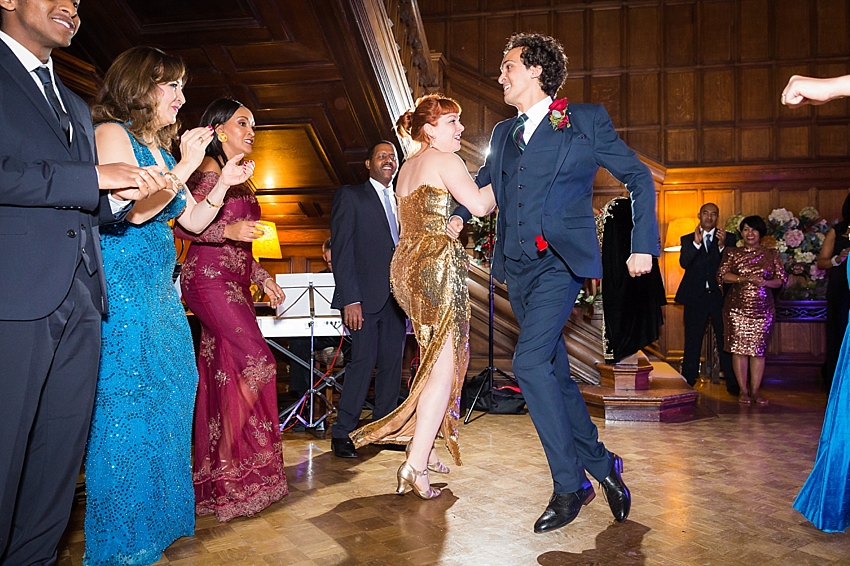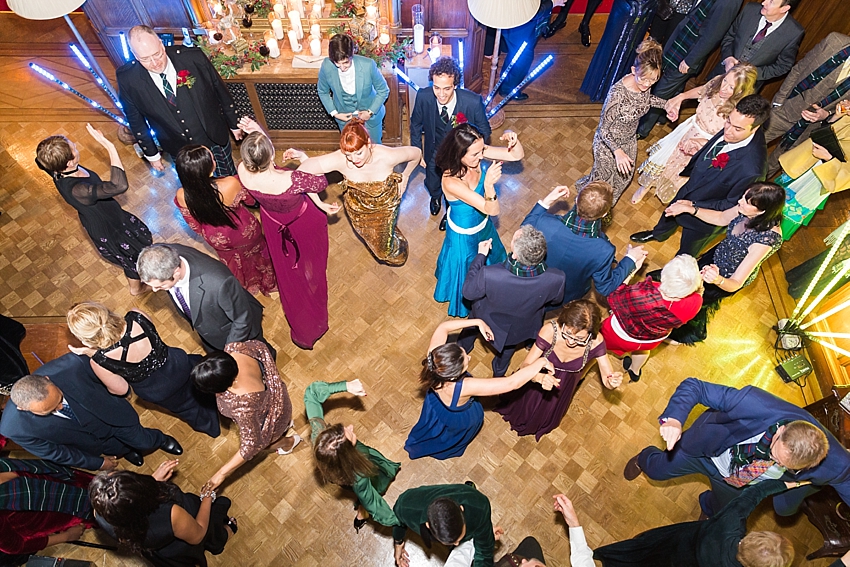 Thank you Freddie and Glenn for choosing us to capture your incredible day at Dundas Castle, we wish you all the very best for your future together and hope our paths will cross again.
Freddie and Glenn's wedding suppliers included:
Posted on 28 November, 2018 by under
Autumn wedding at Mansfield Traquair, Edinburgh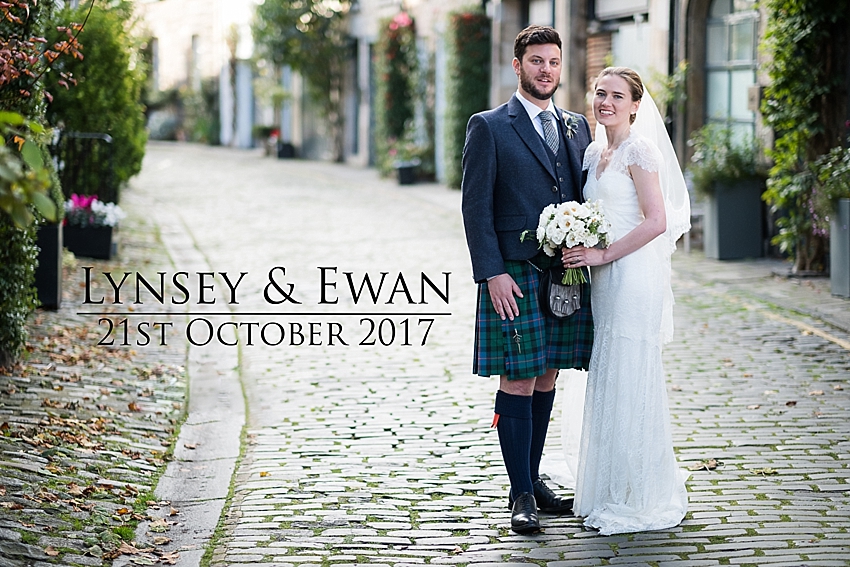 If I had to sum up what a perfect autumn wedding would look like, this would be it: sunshine, no wind, lots of beautiful, colourful foliage and flowers, inside and out. So… without further ado…. introducing a perfect autumn wedding!
Lynsey and Ewan decided to have their October wedding in their hometown of Edinburgh. The couple married at the pretty St. Cuthberts Parish Church in Colinton, before celebrating with family and friends at one of Edinburgh's most impressive wedding venues, Mansfield Traquair.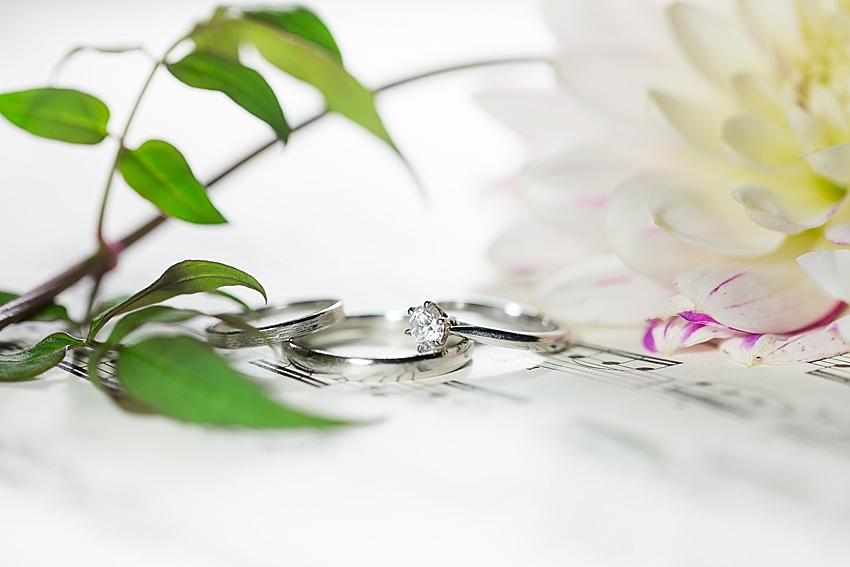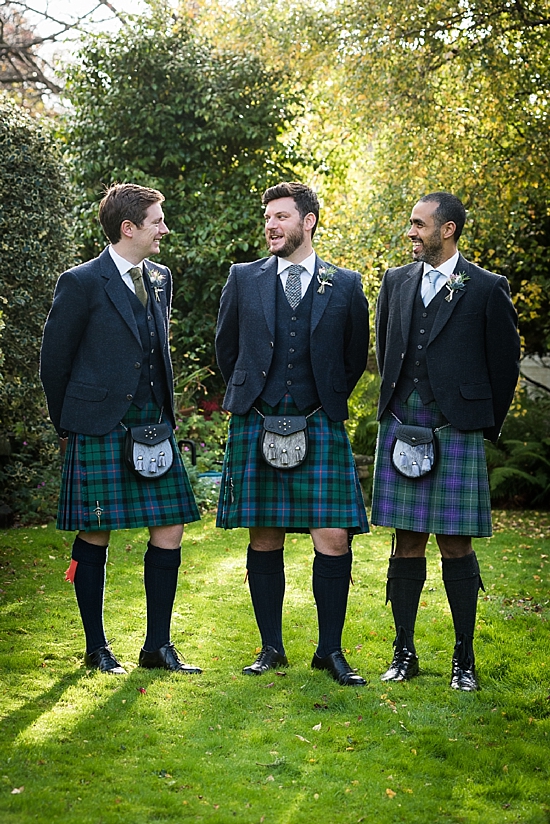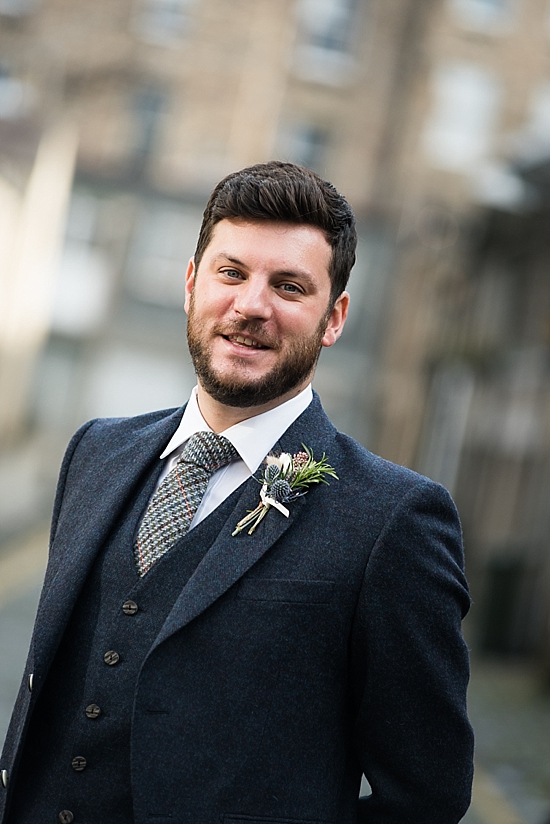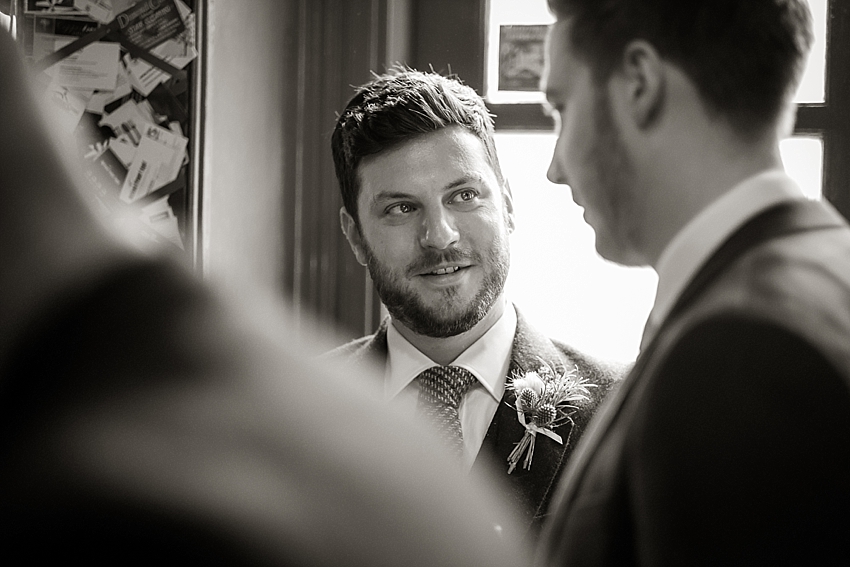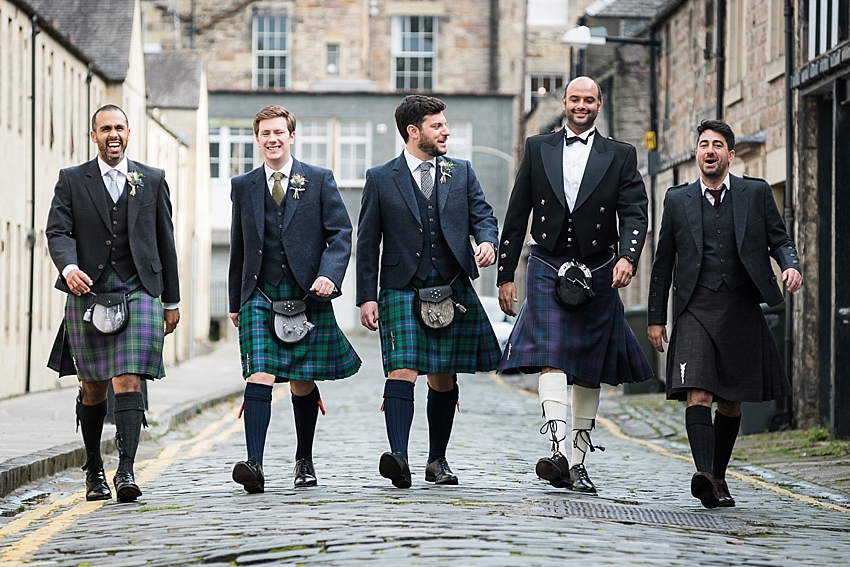 Ewan and his groomsmen travelled in style with their wedding guests in two red double decker buses.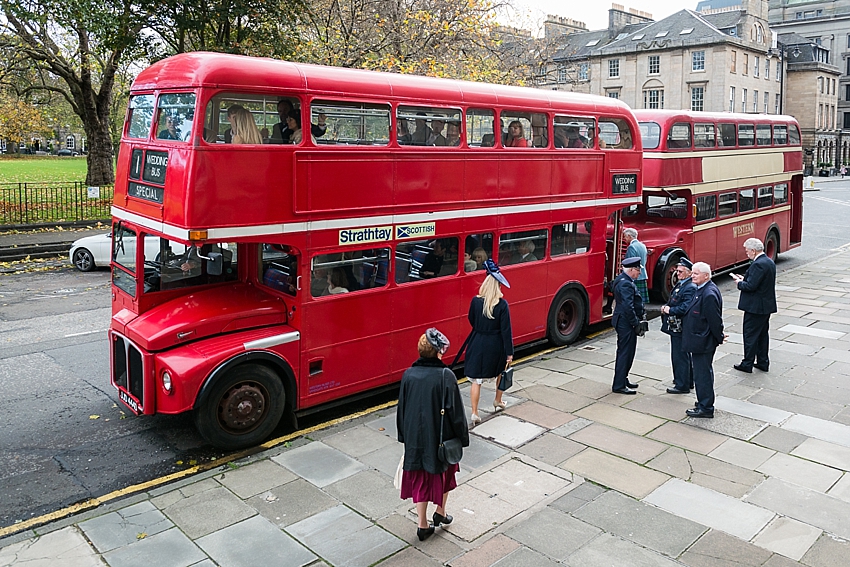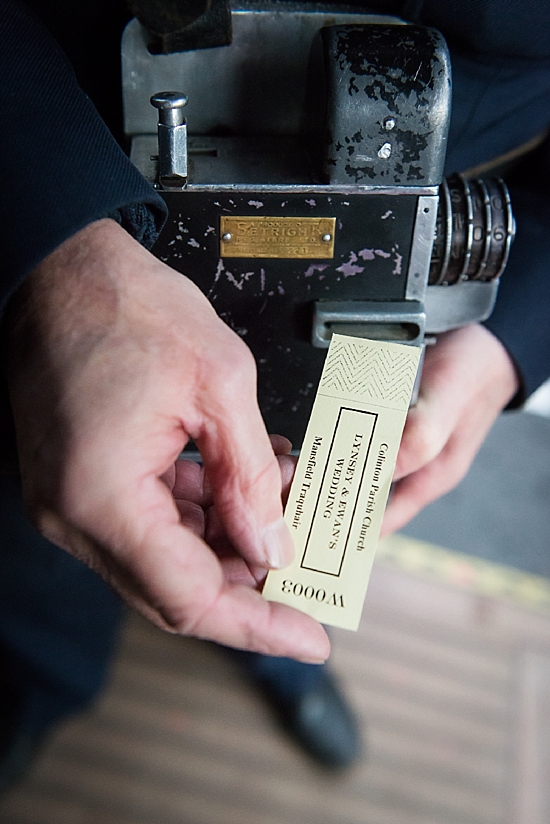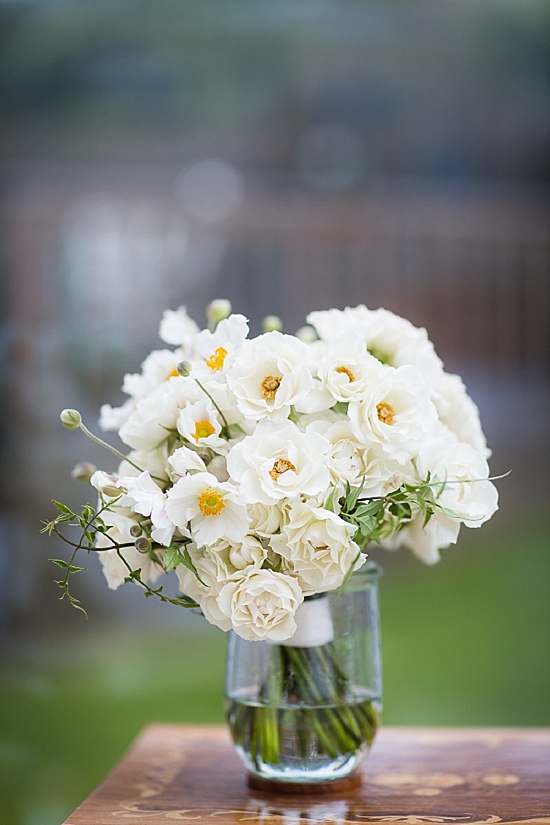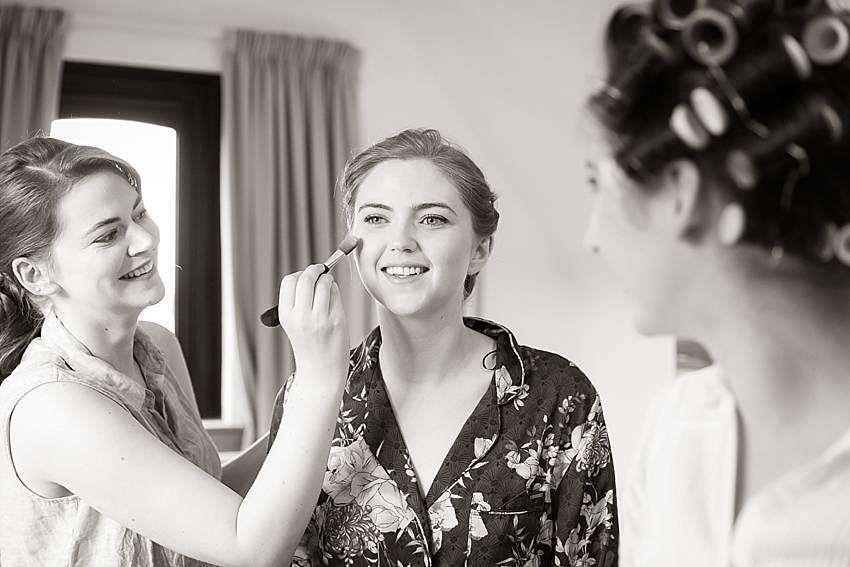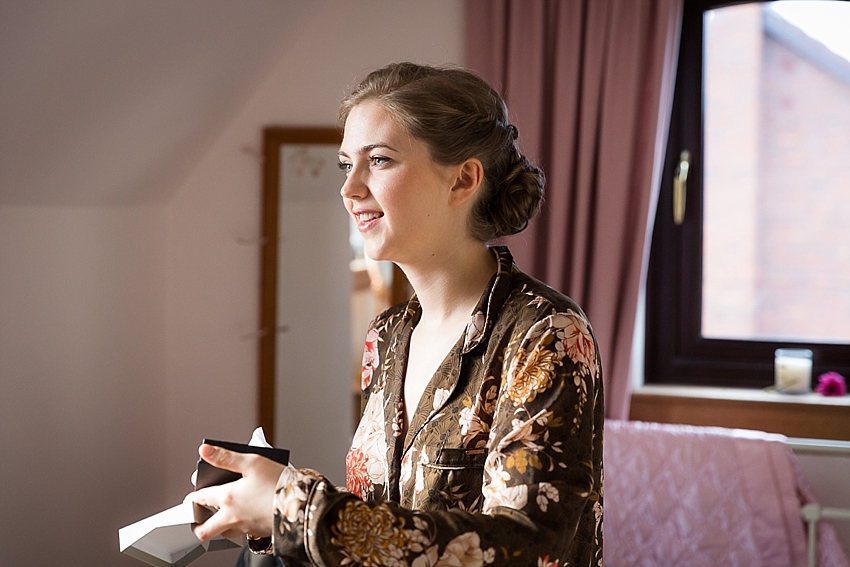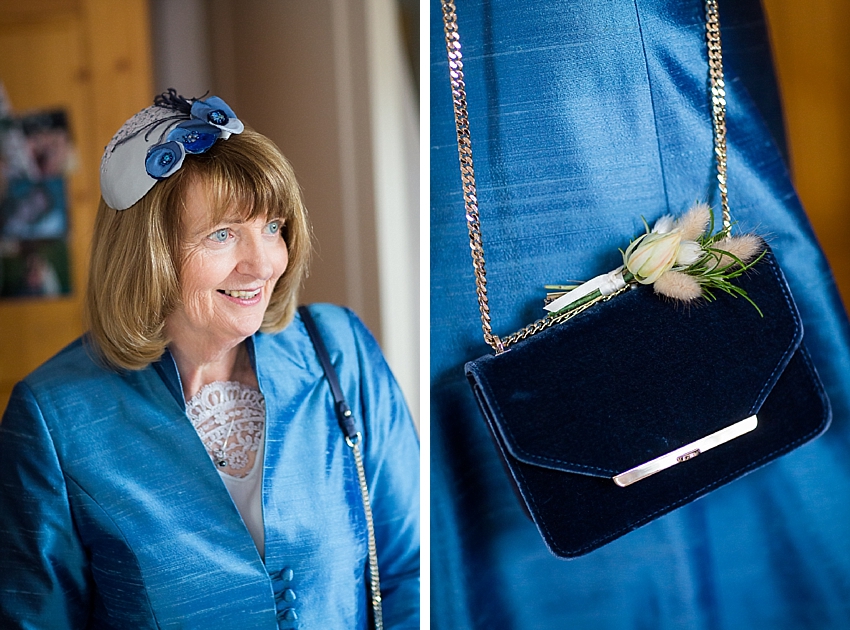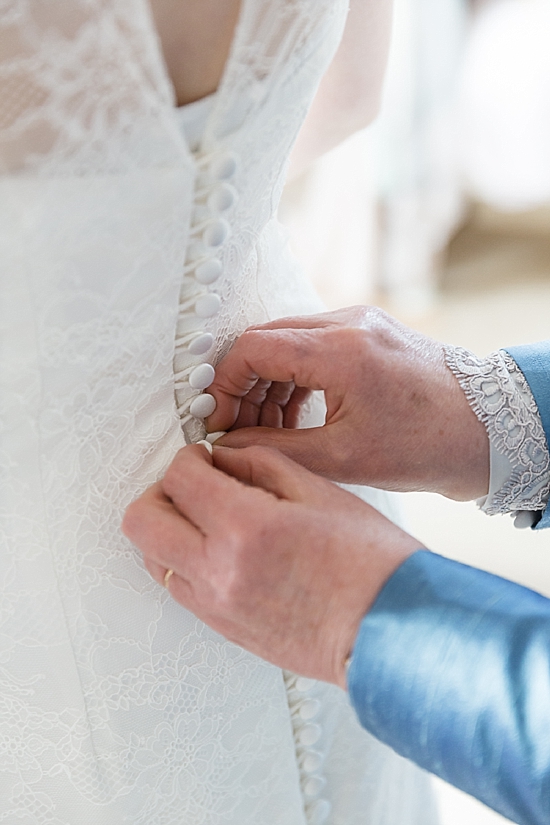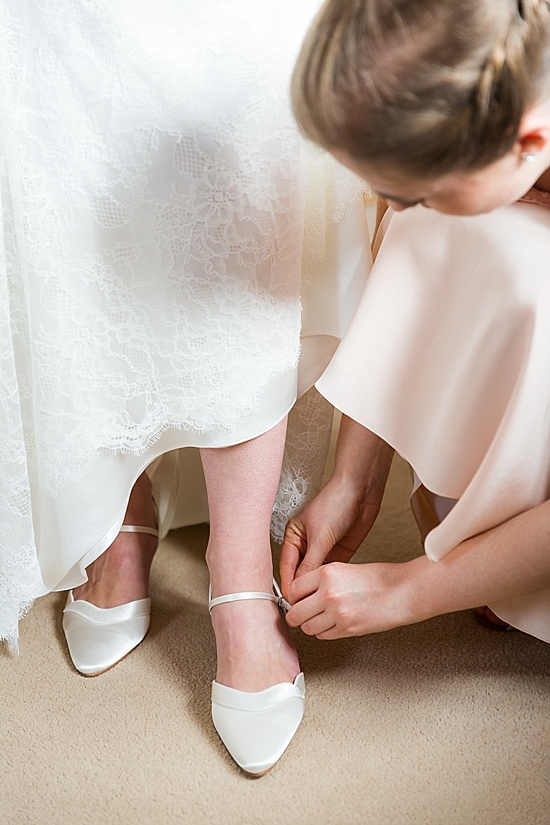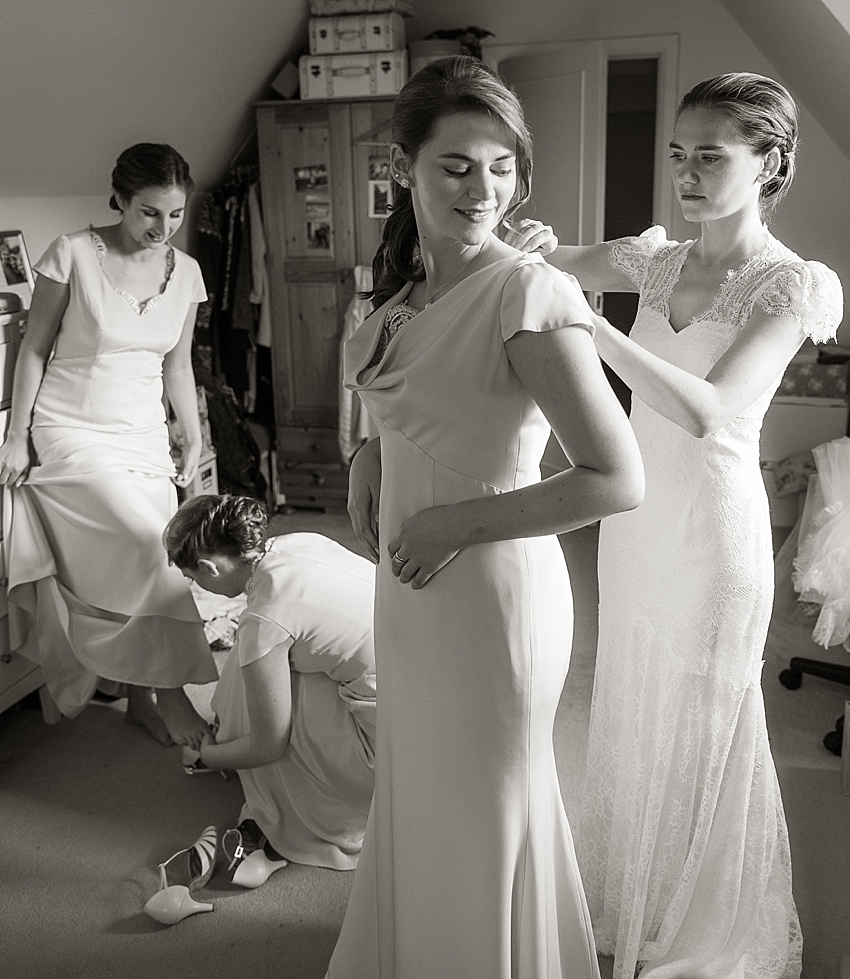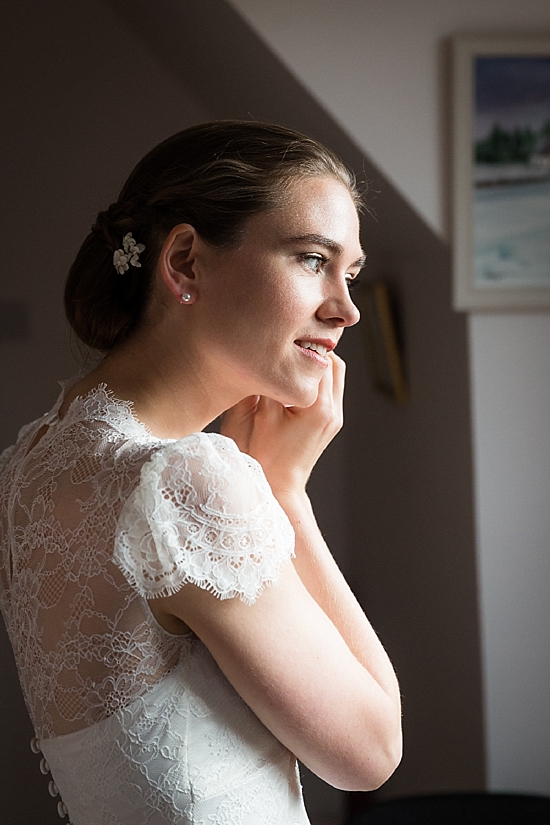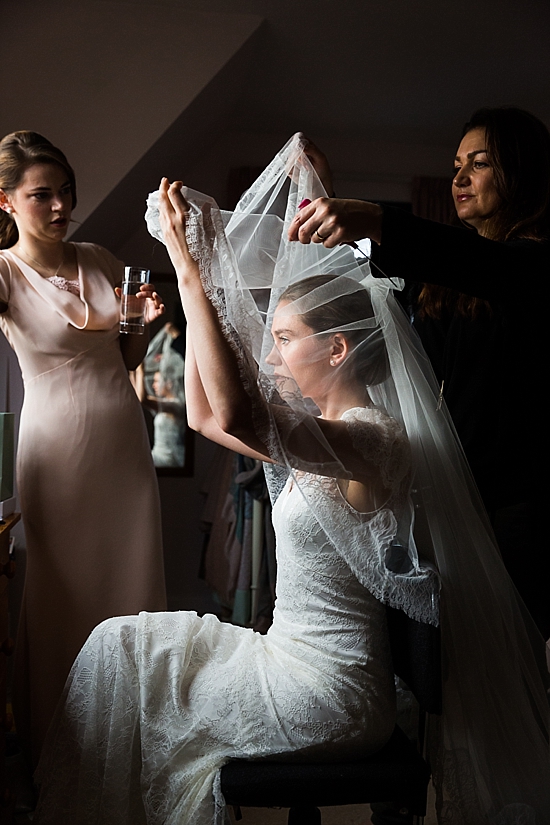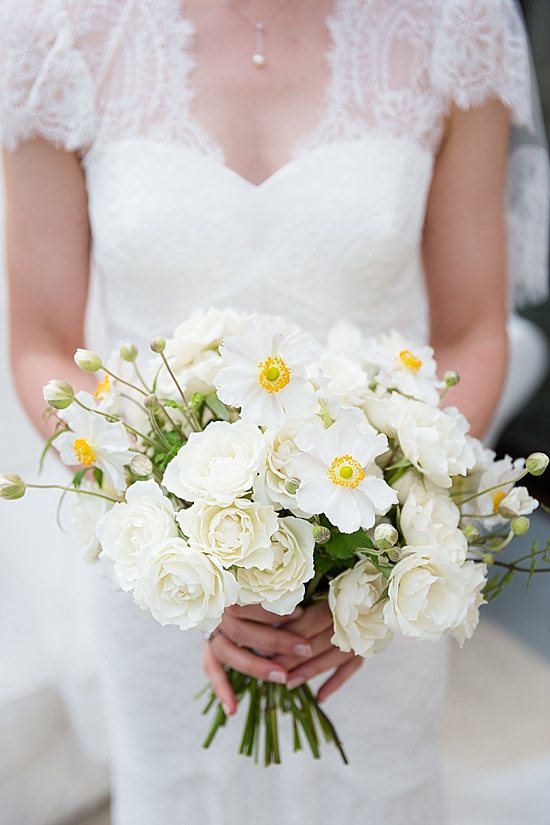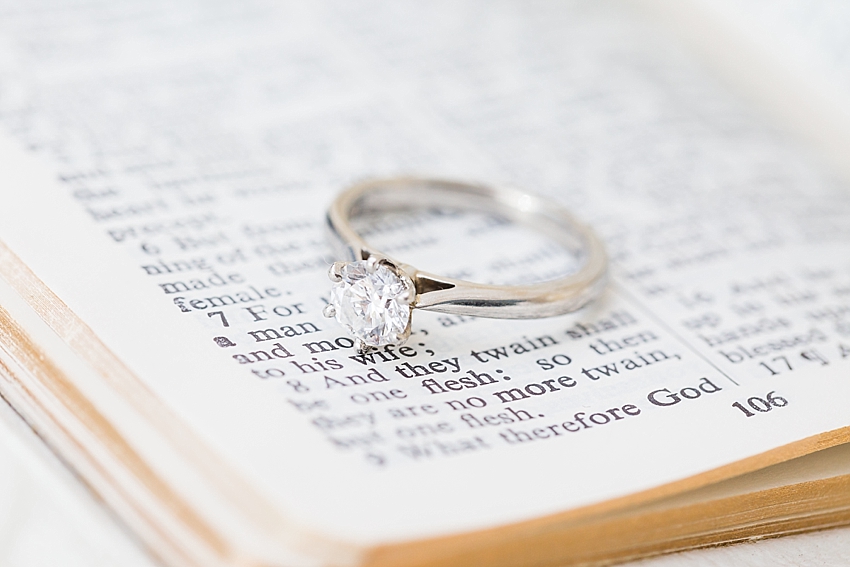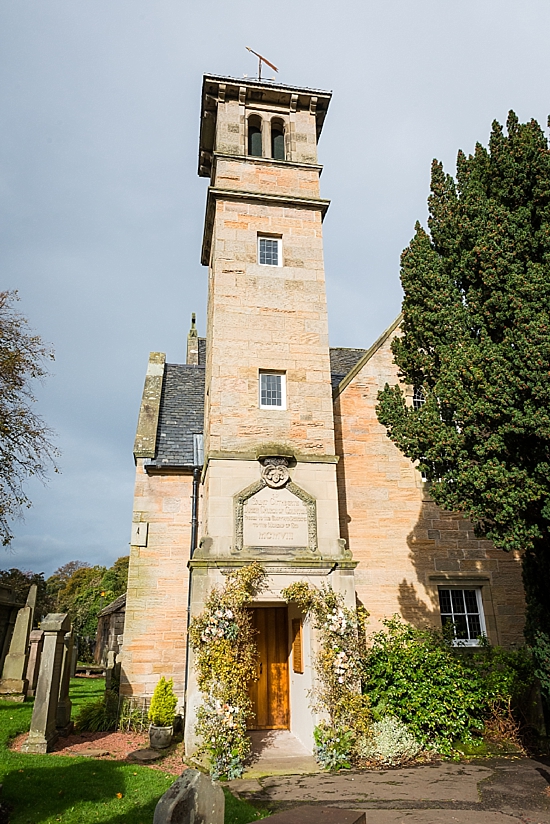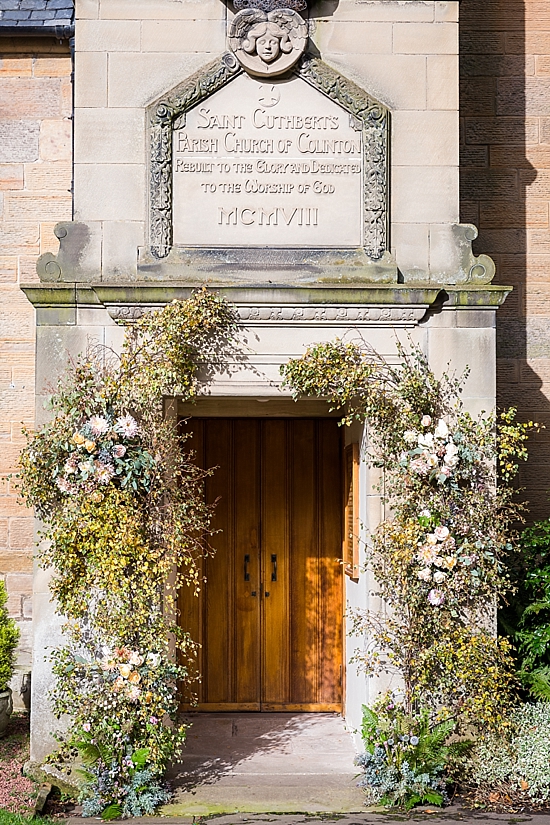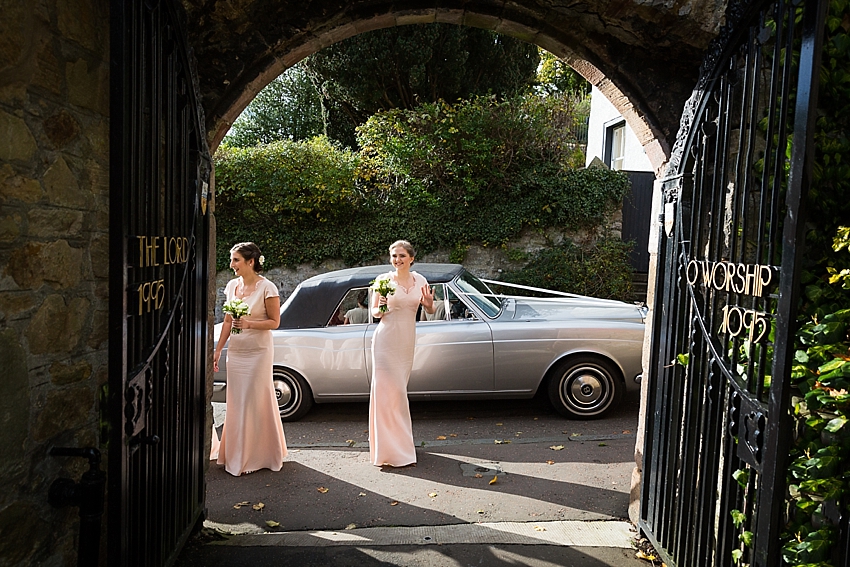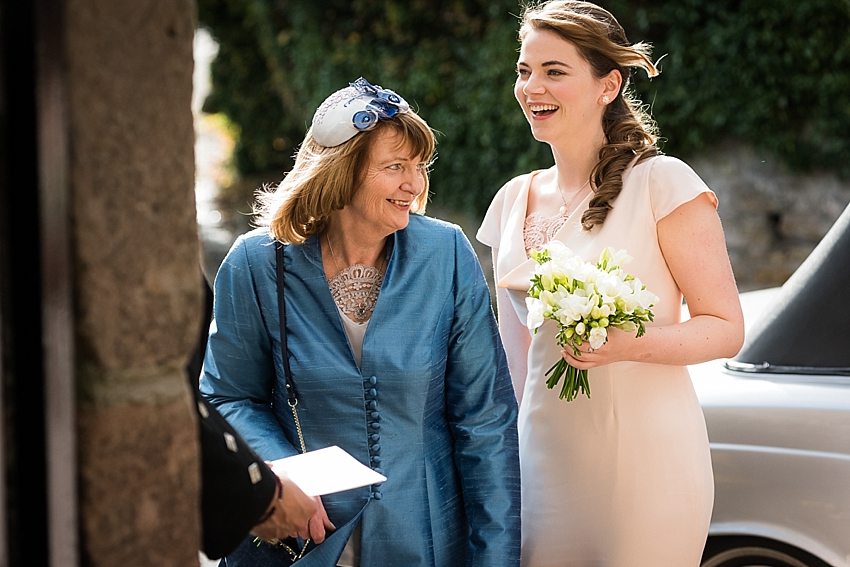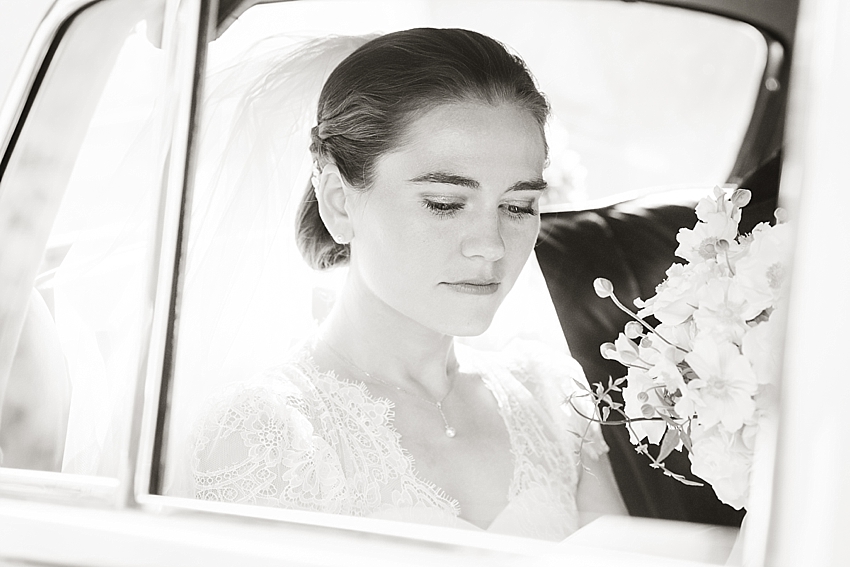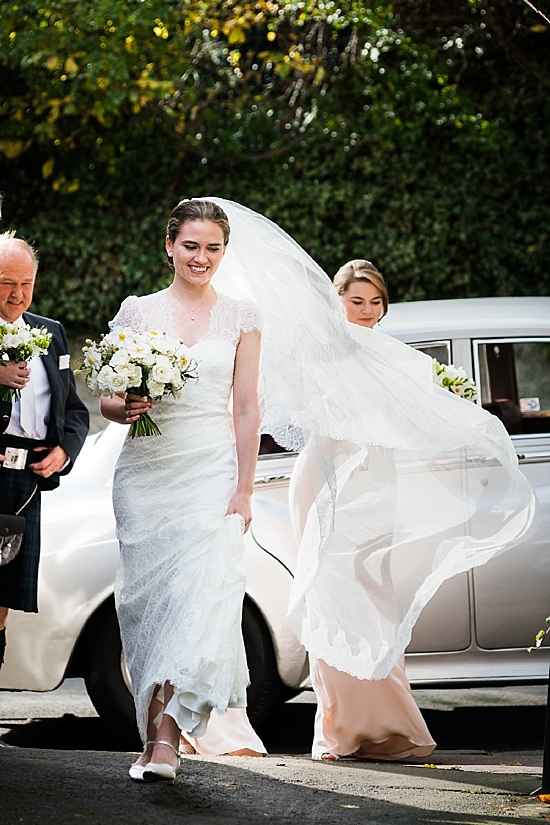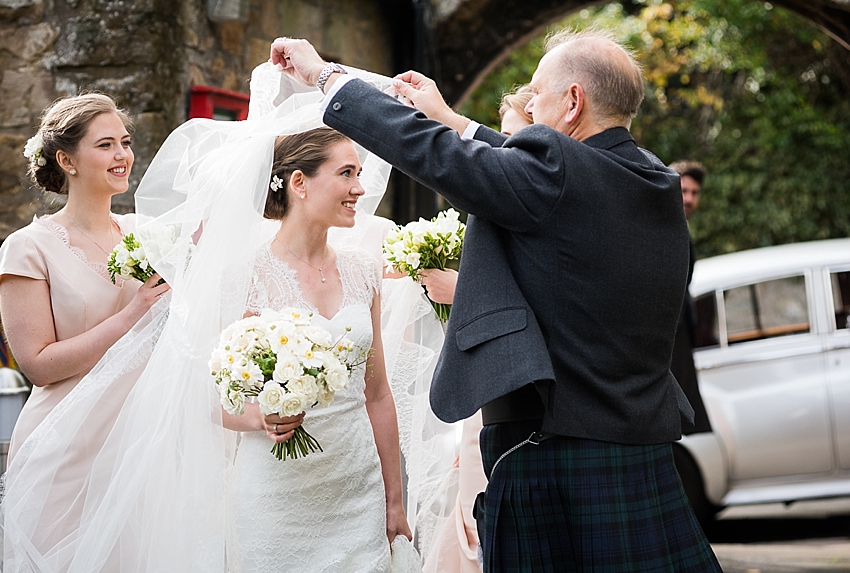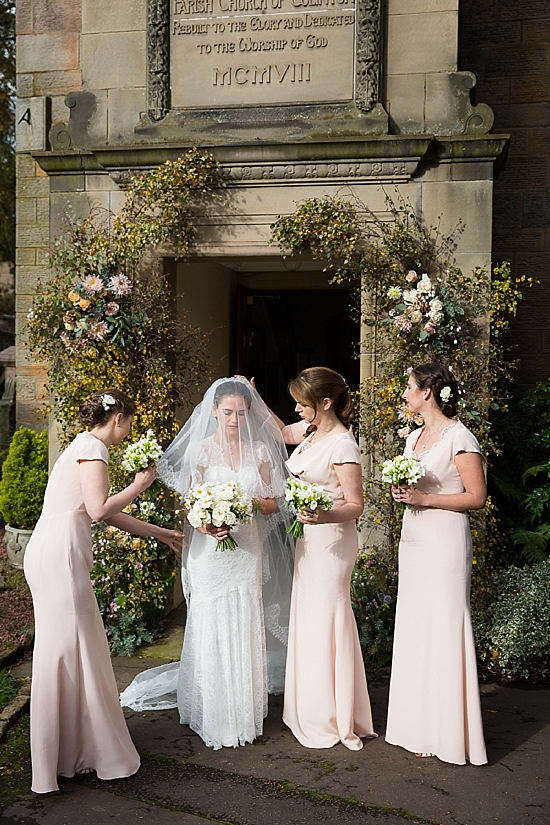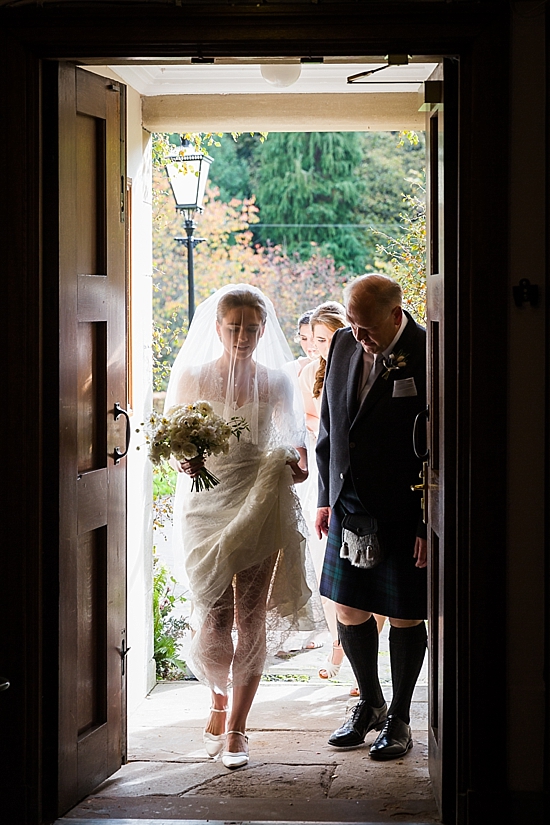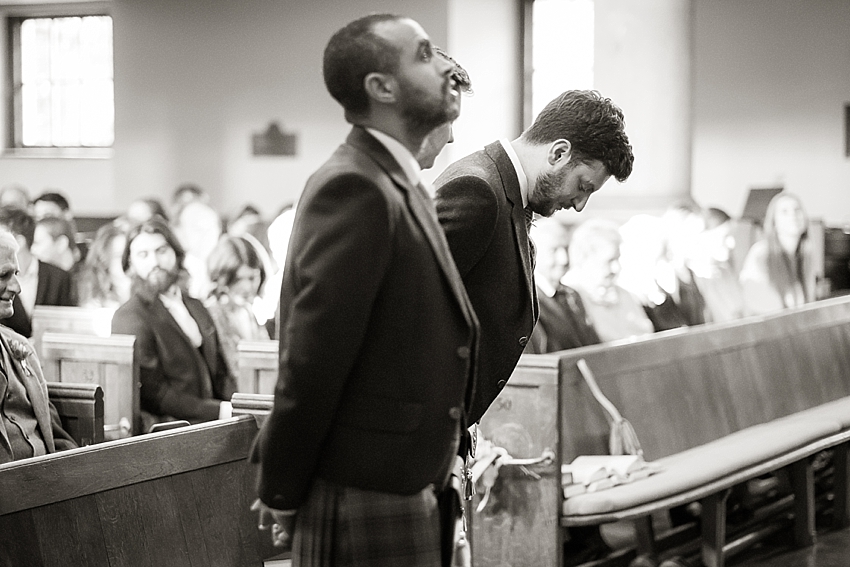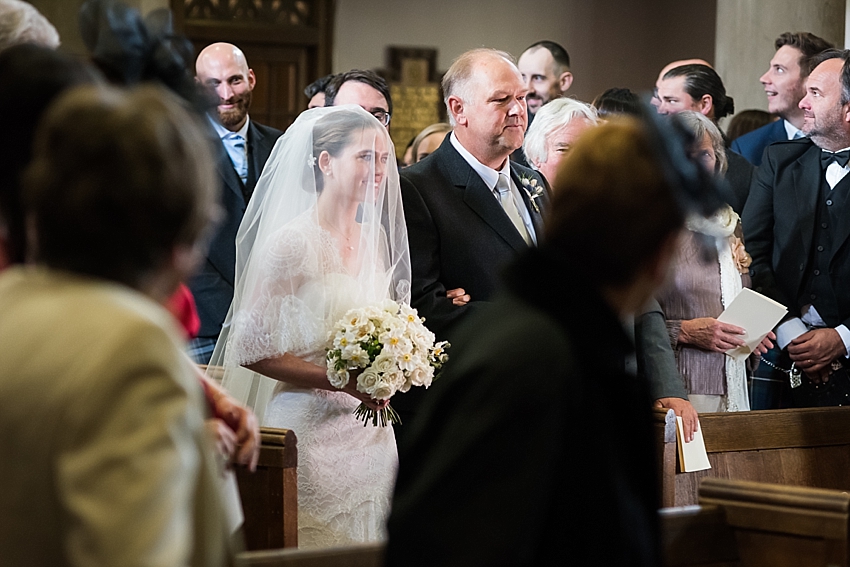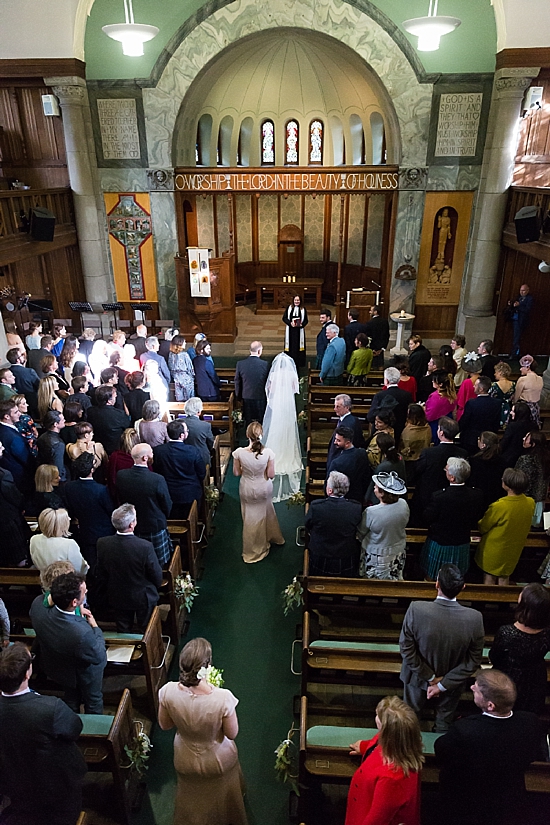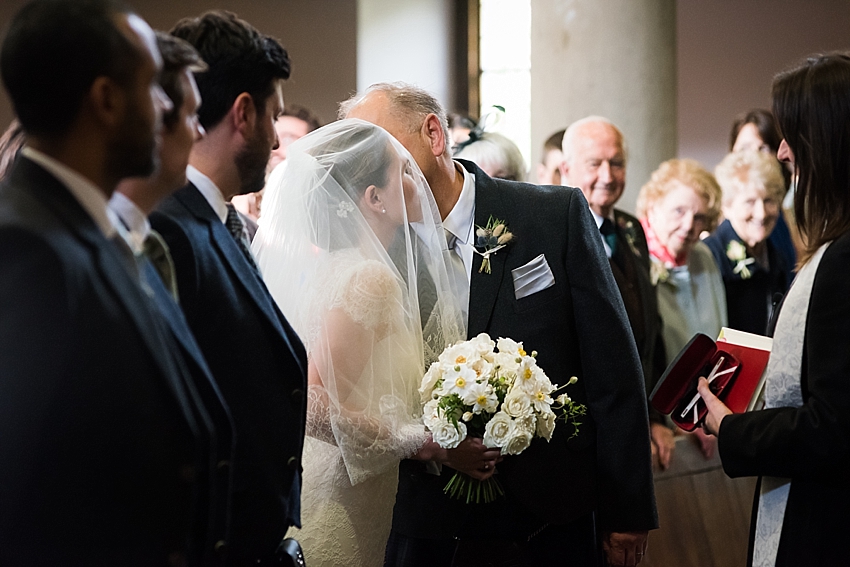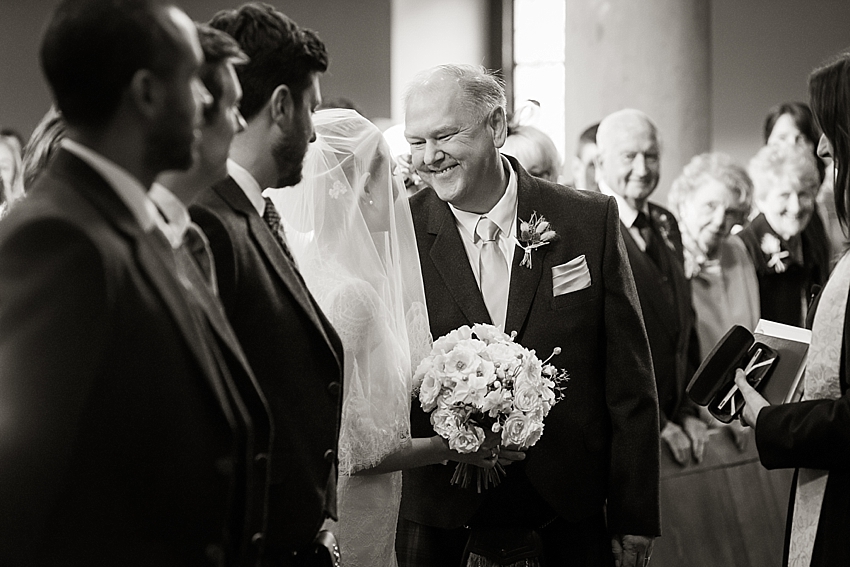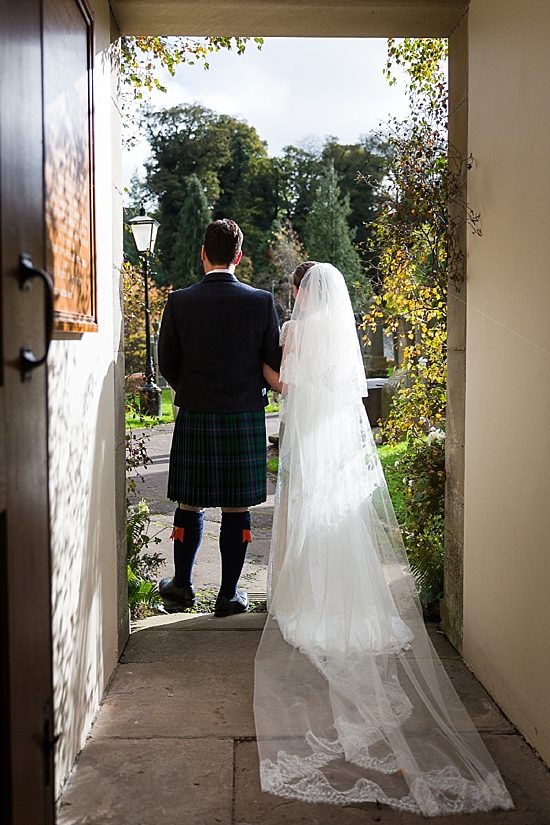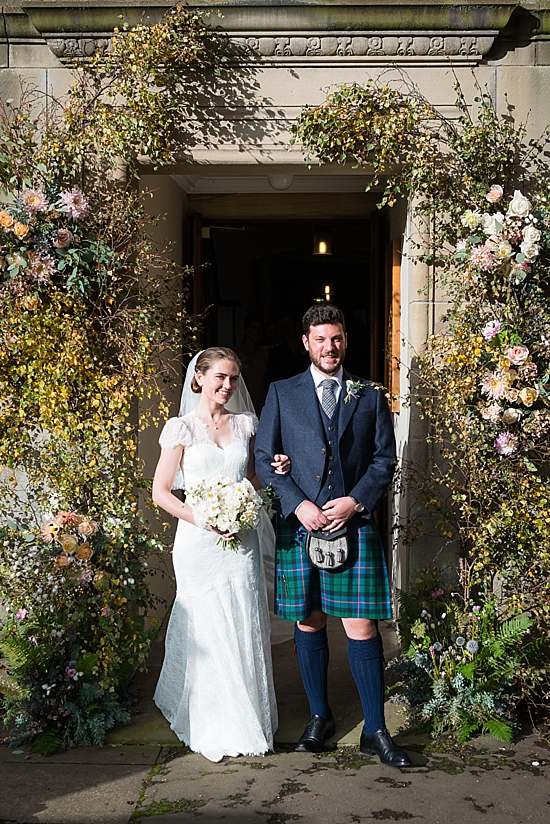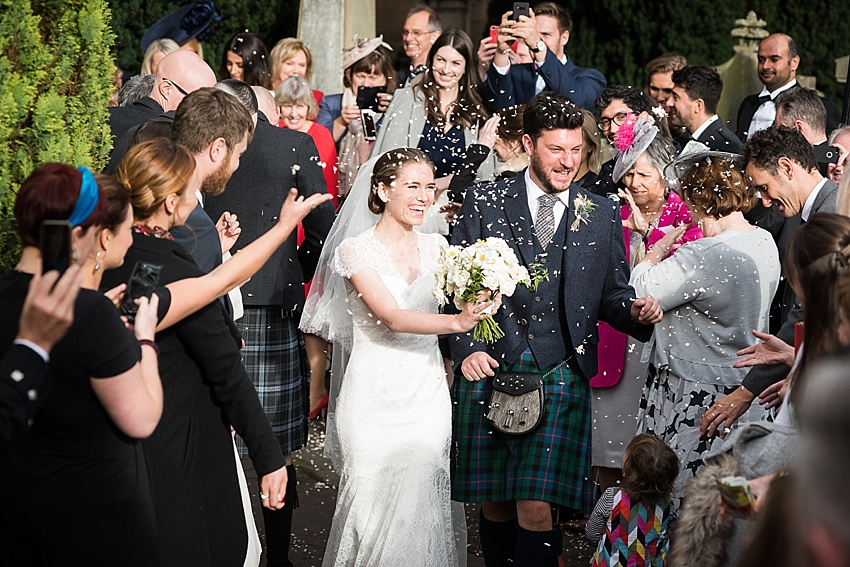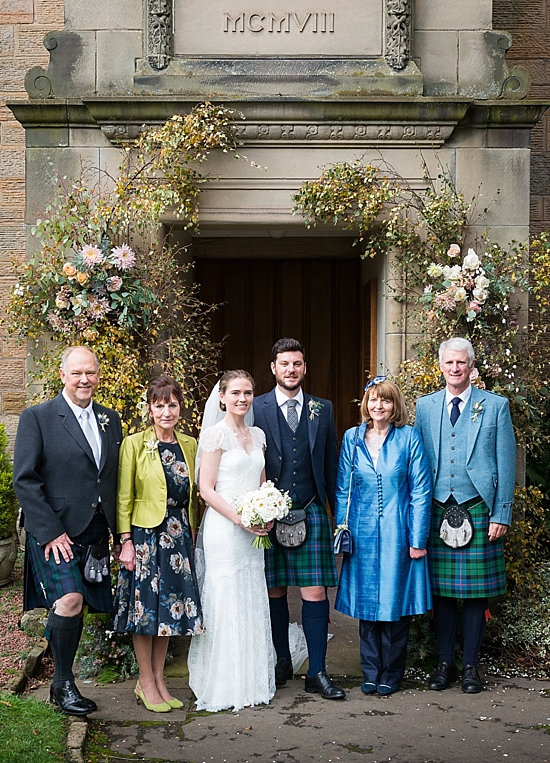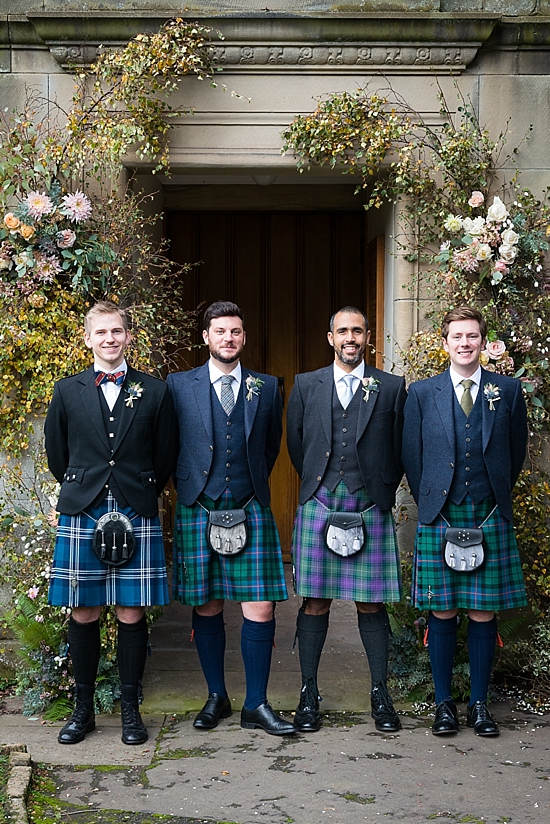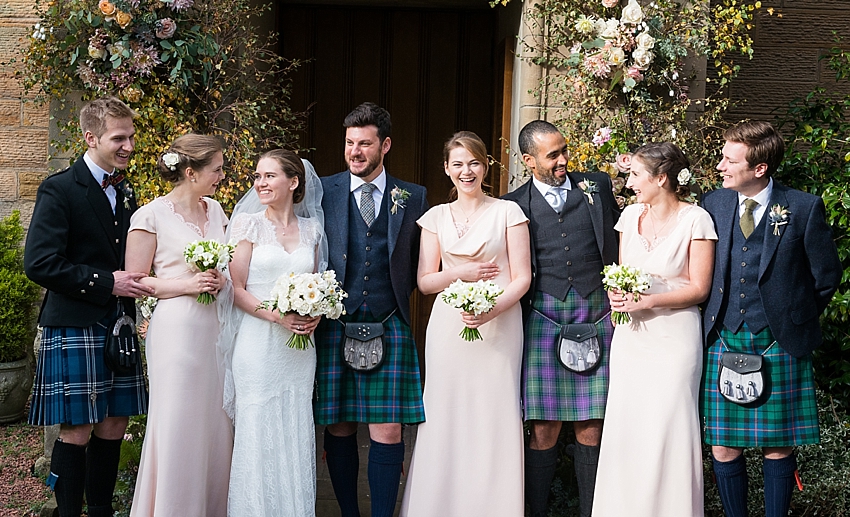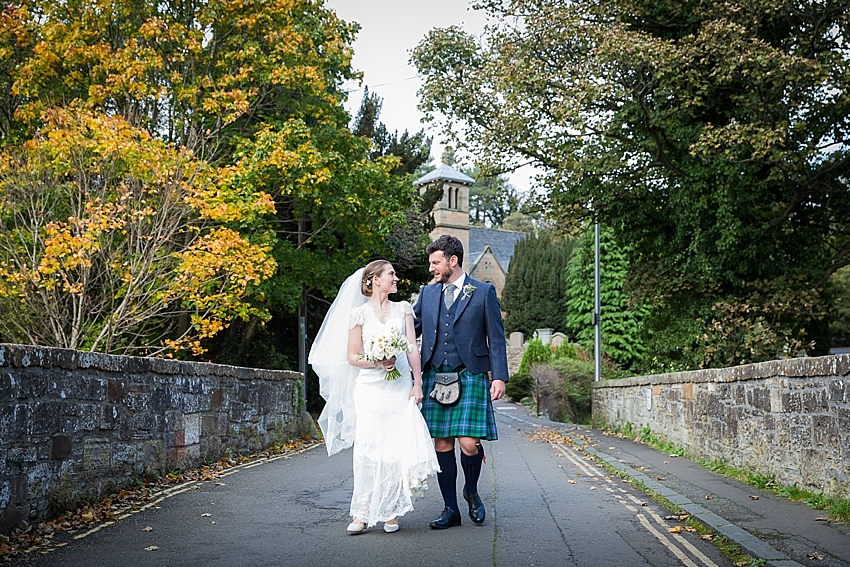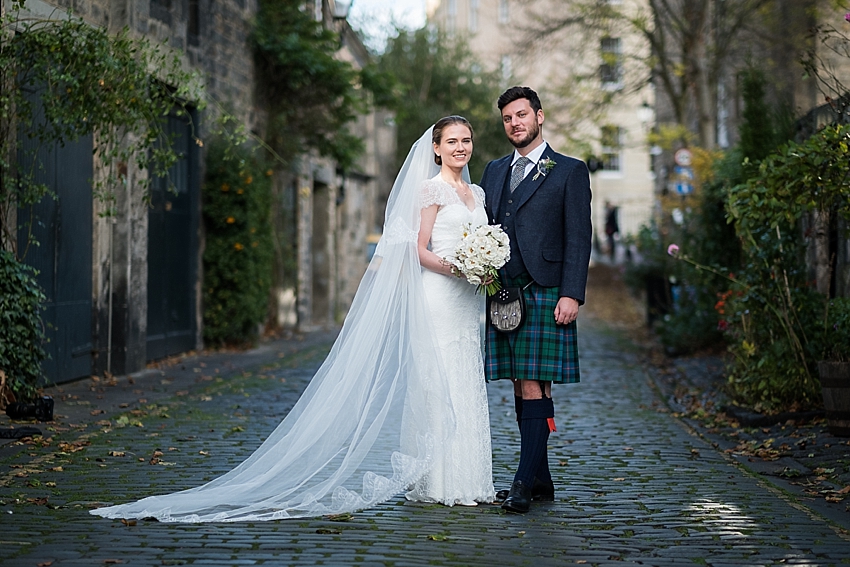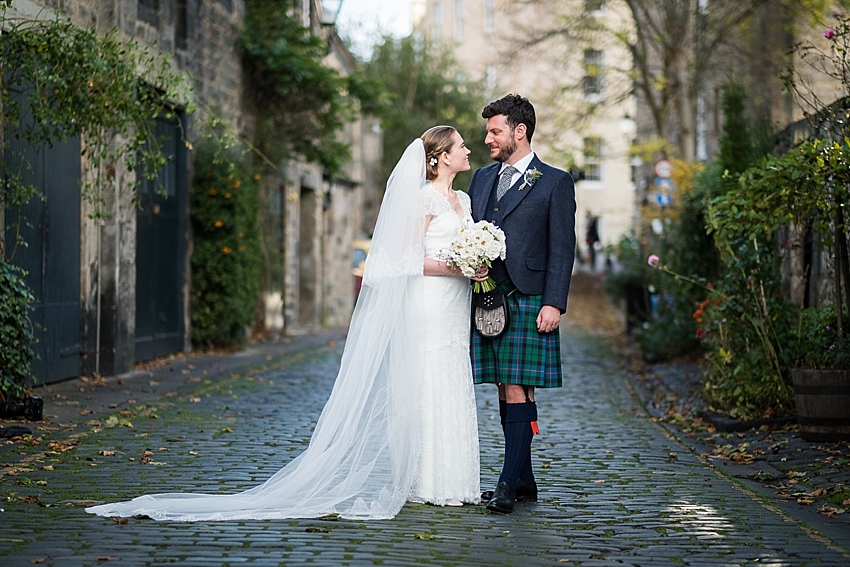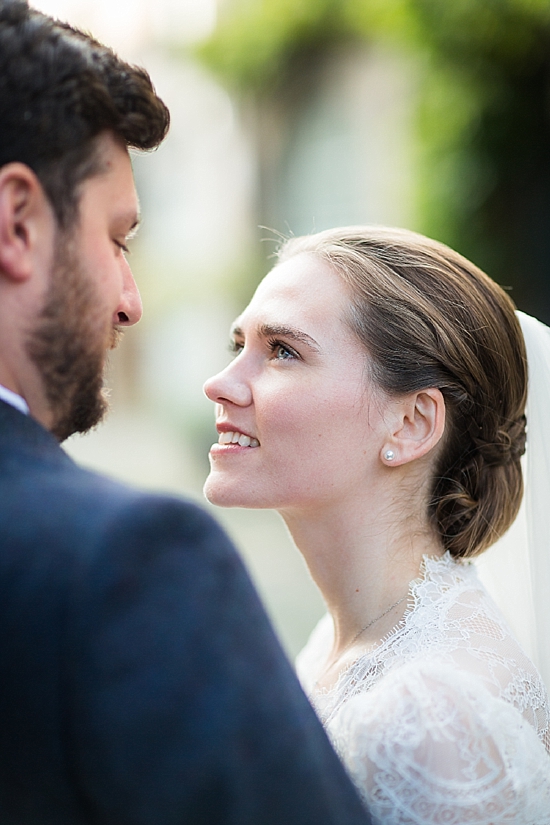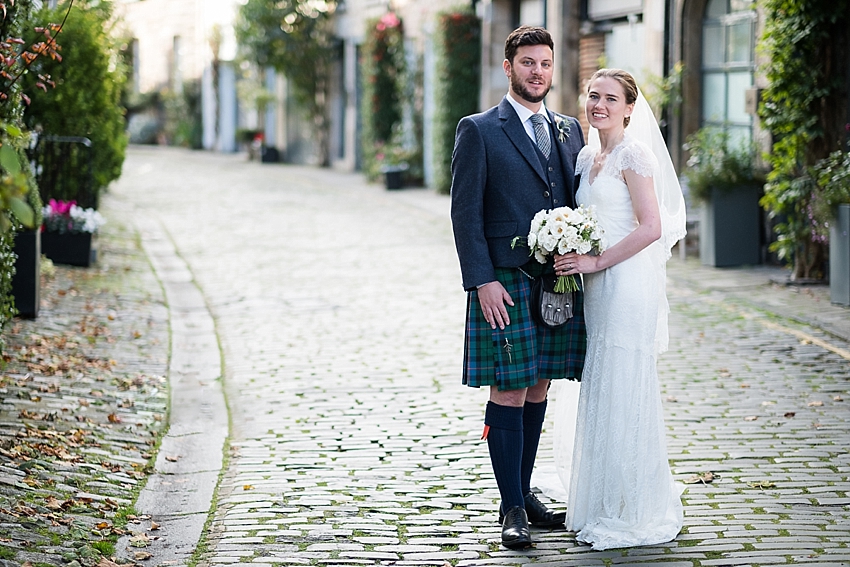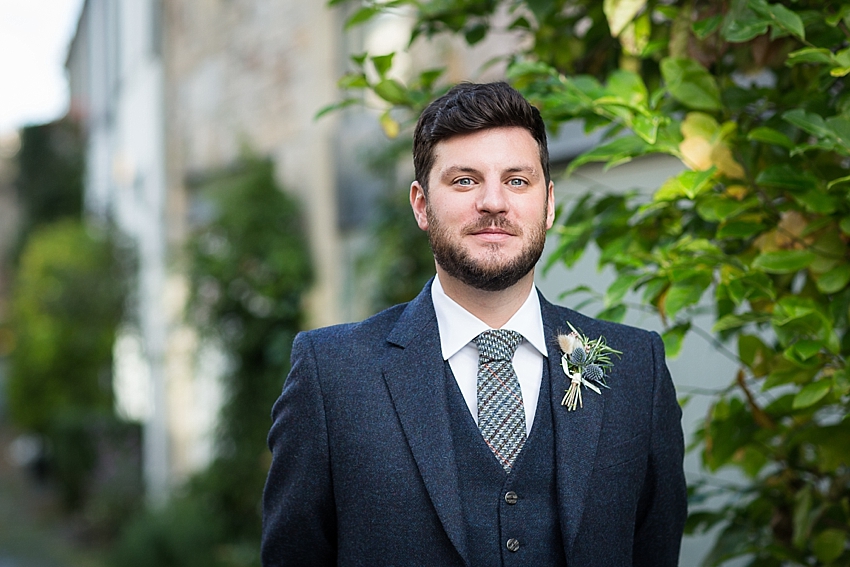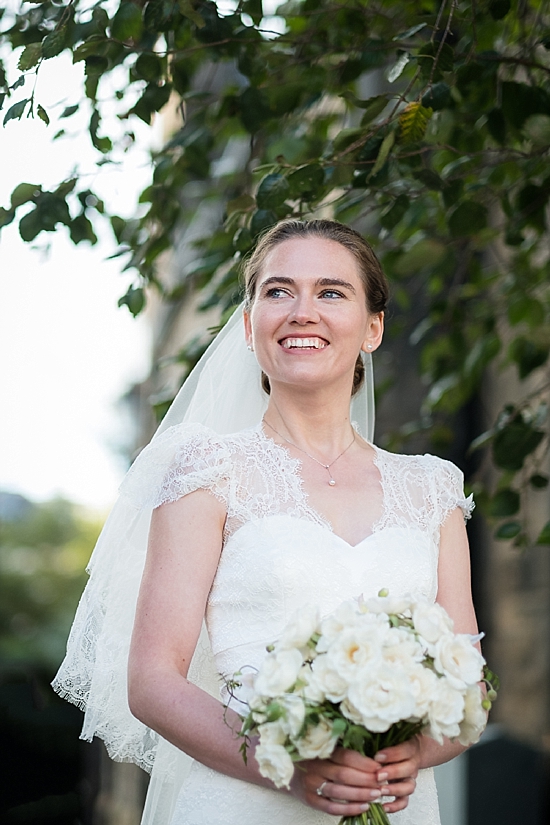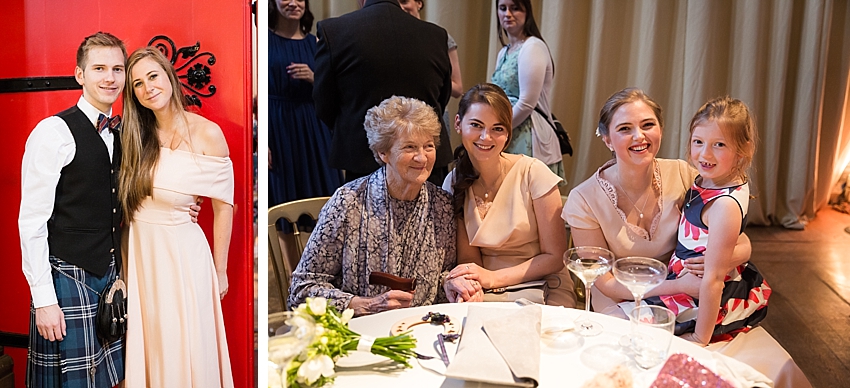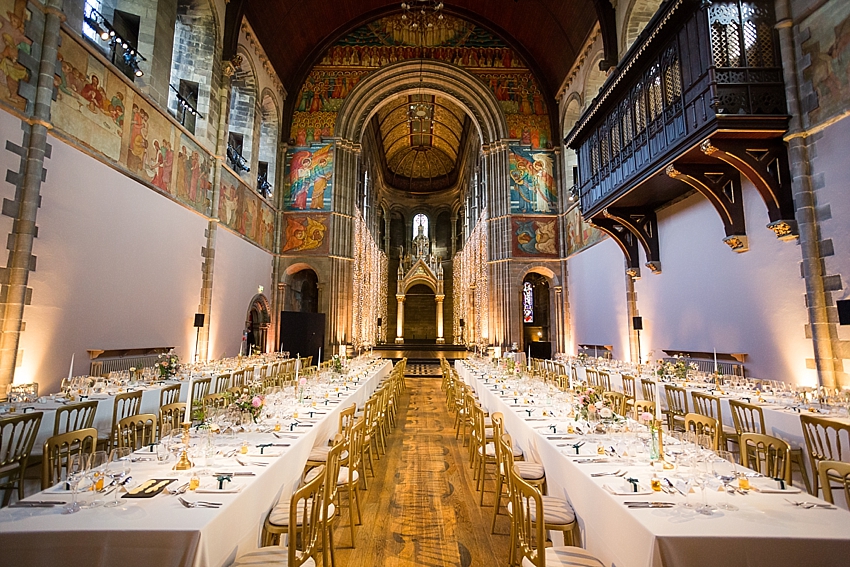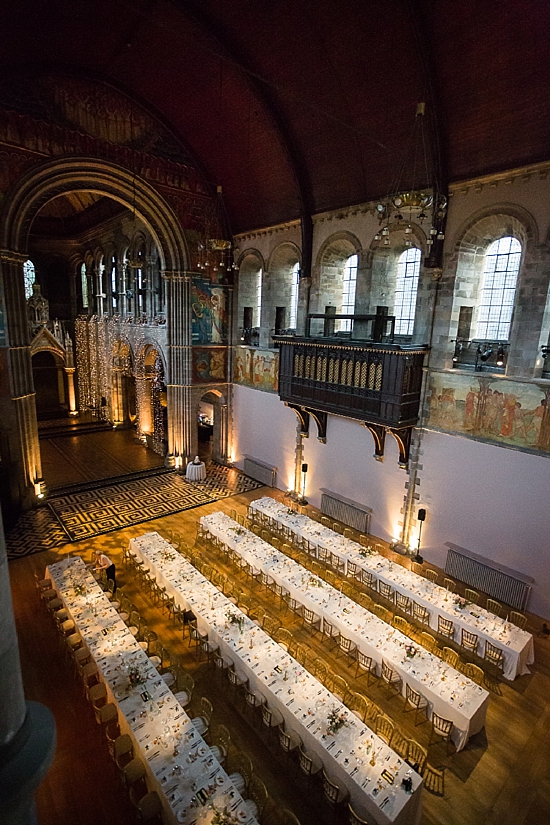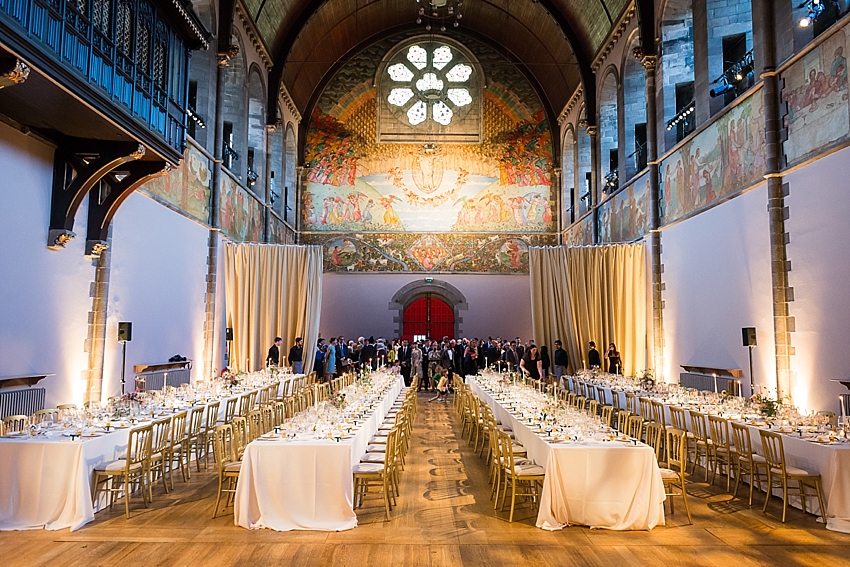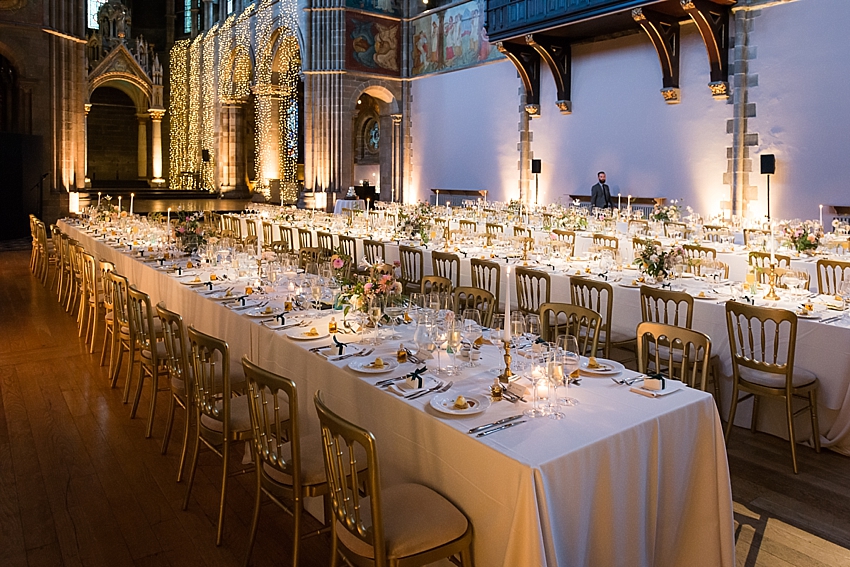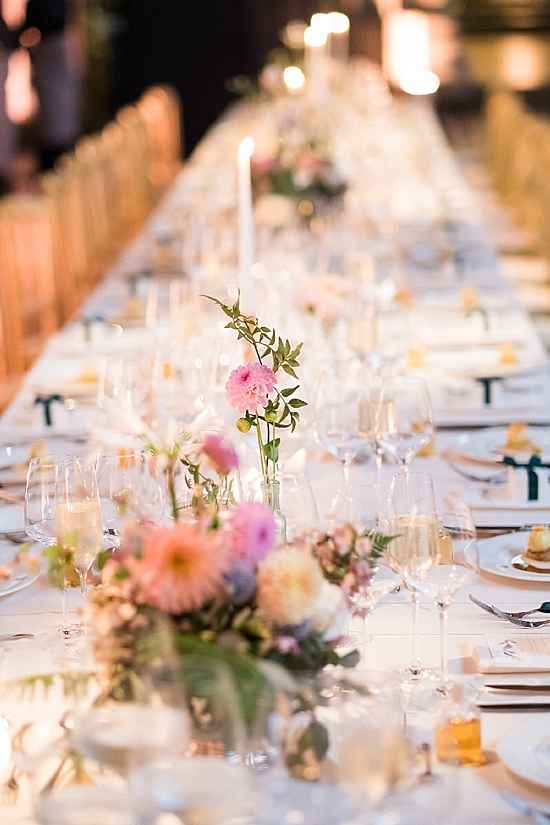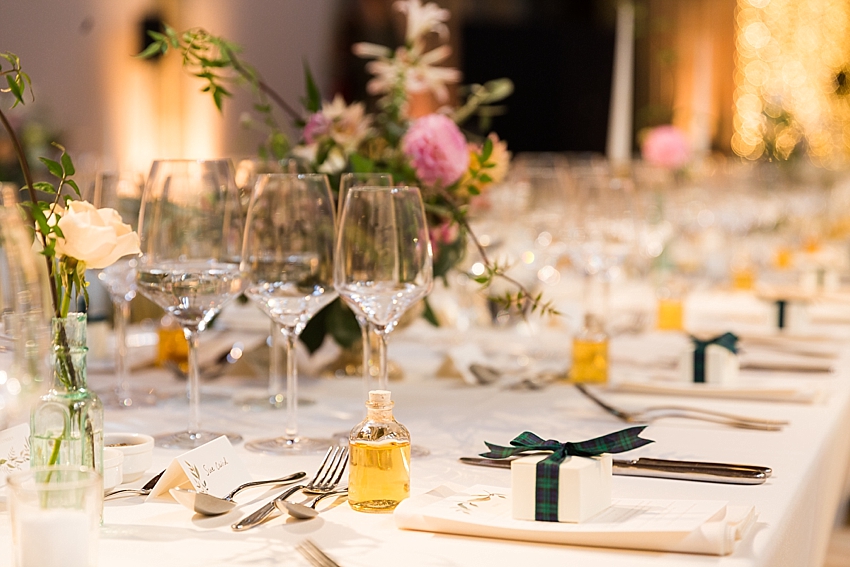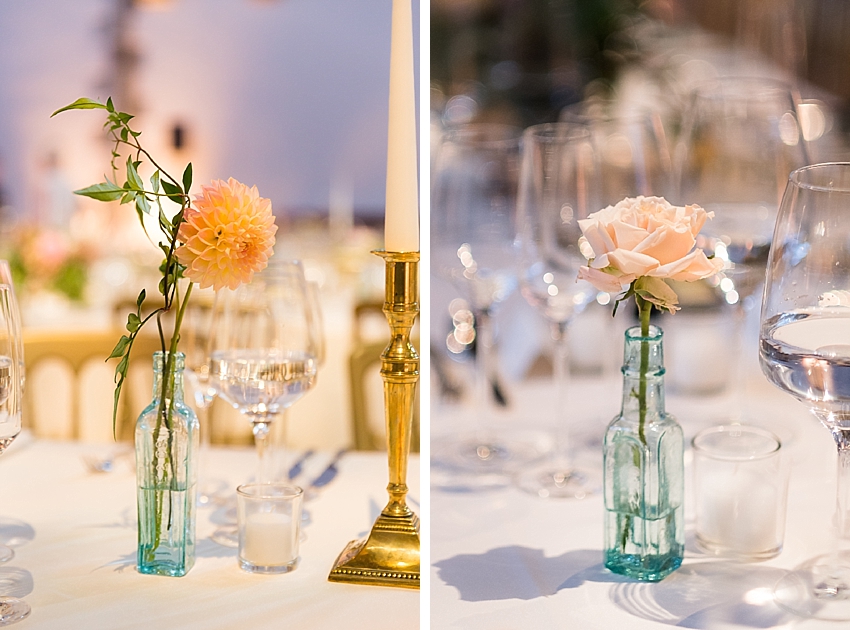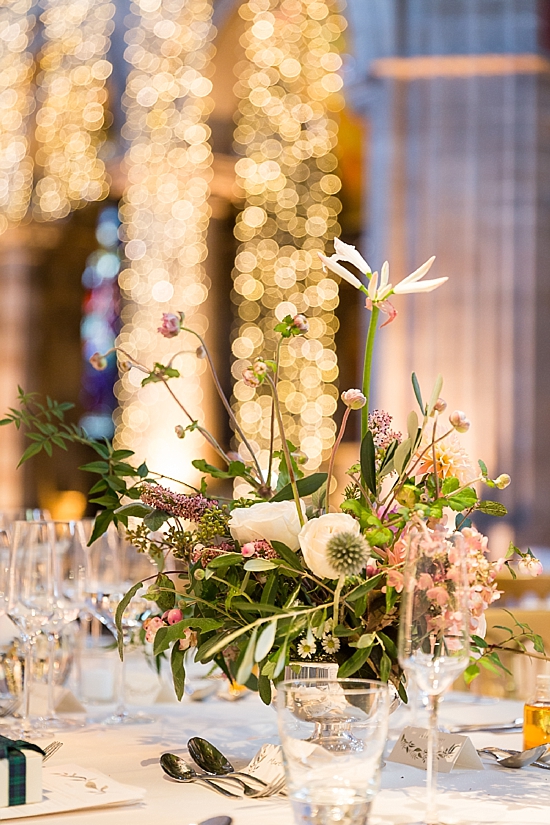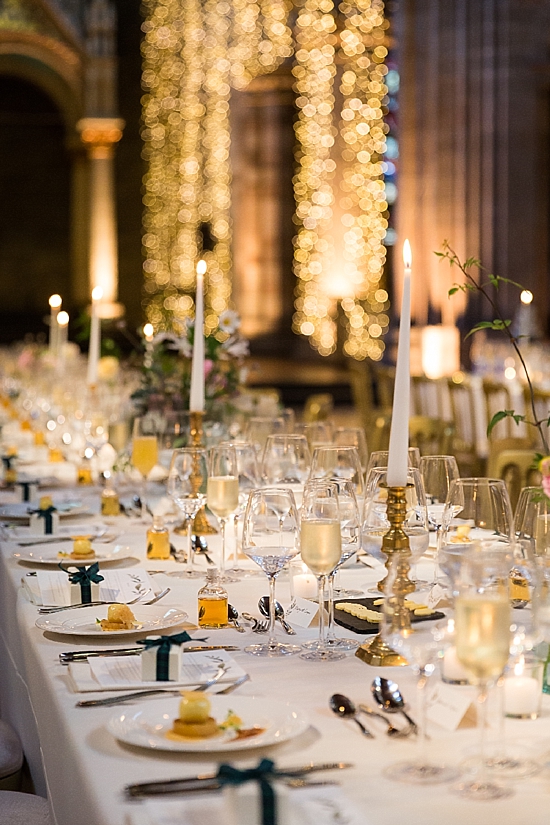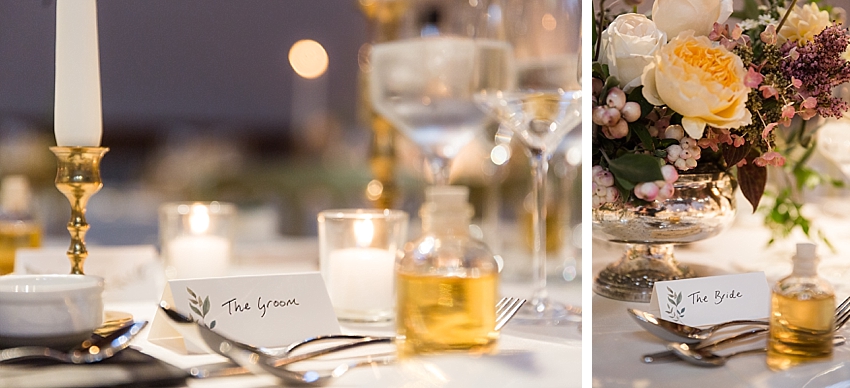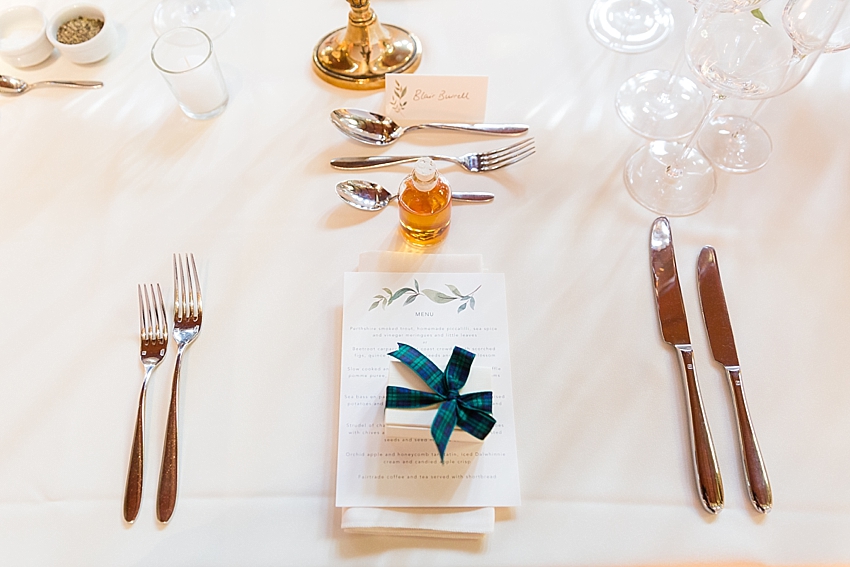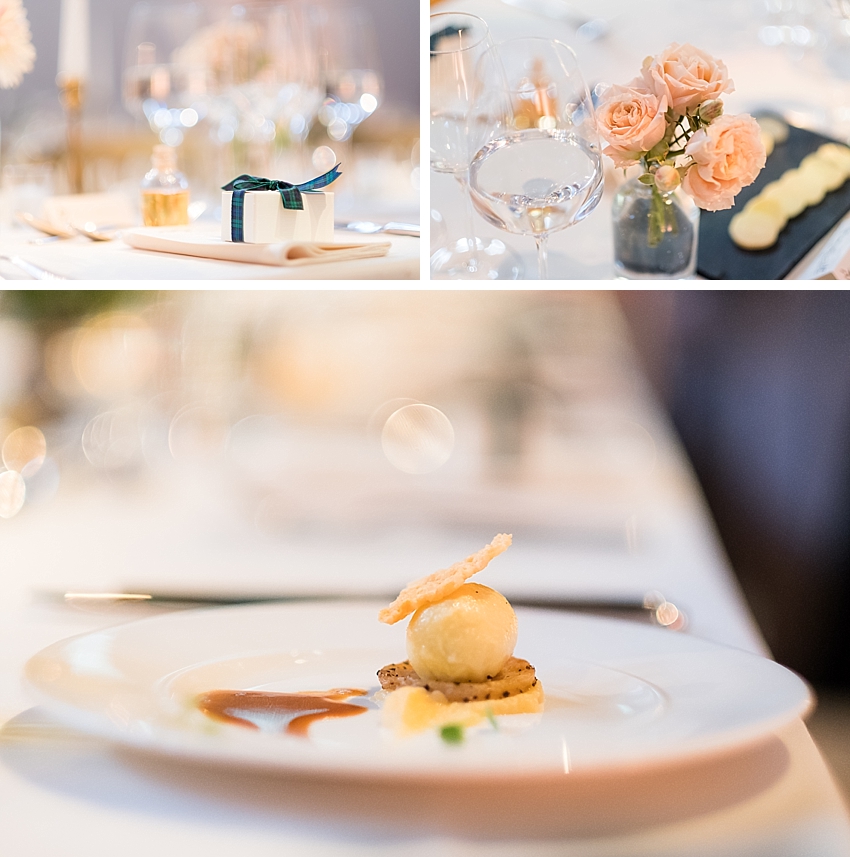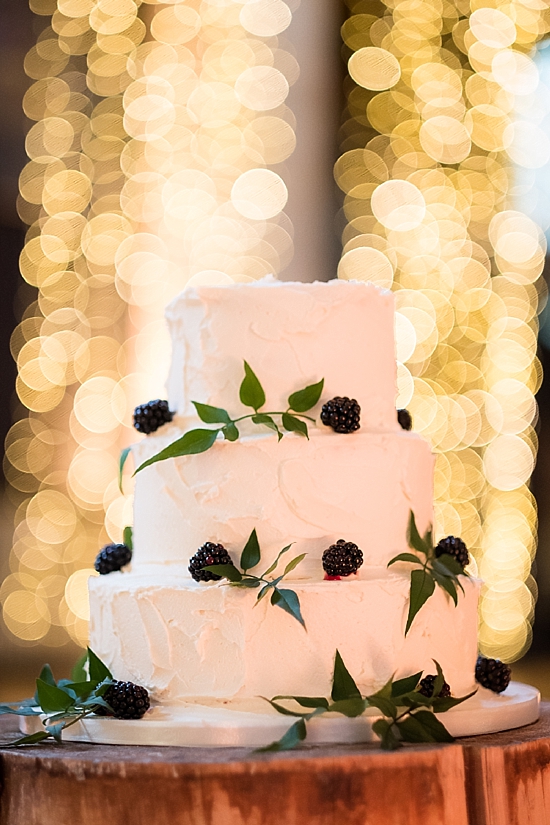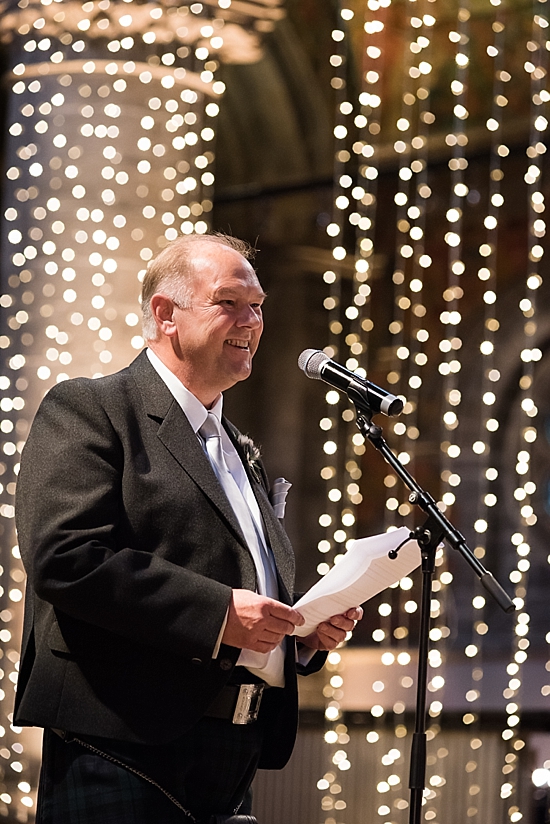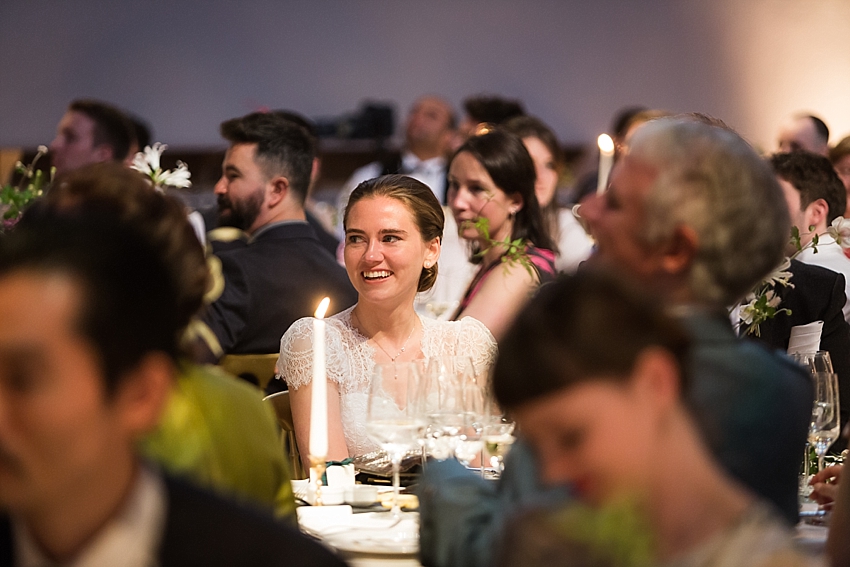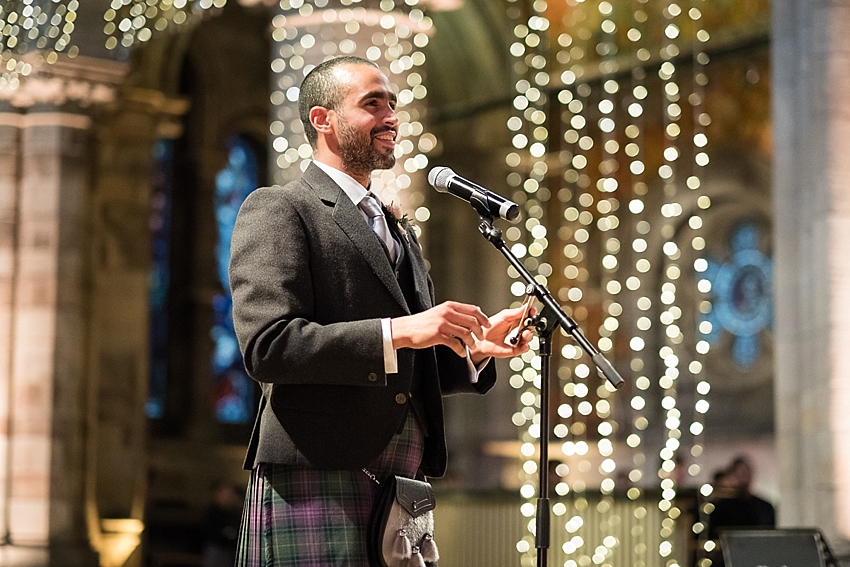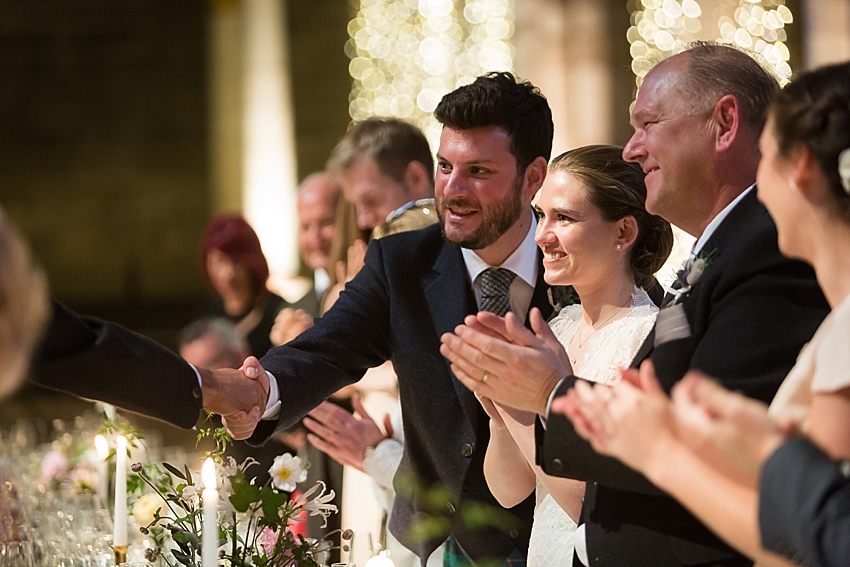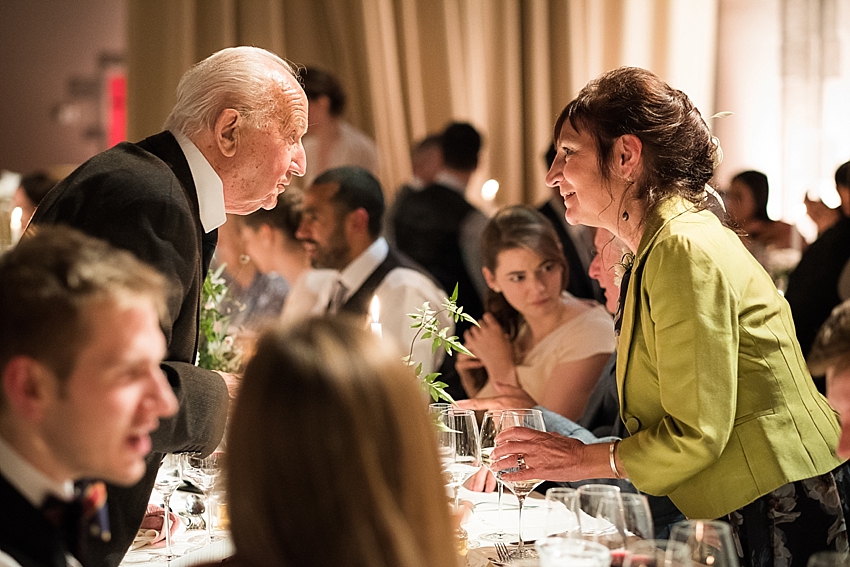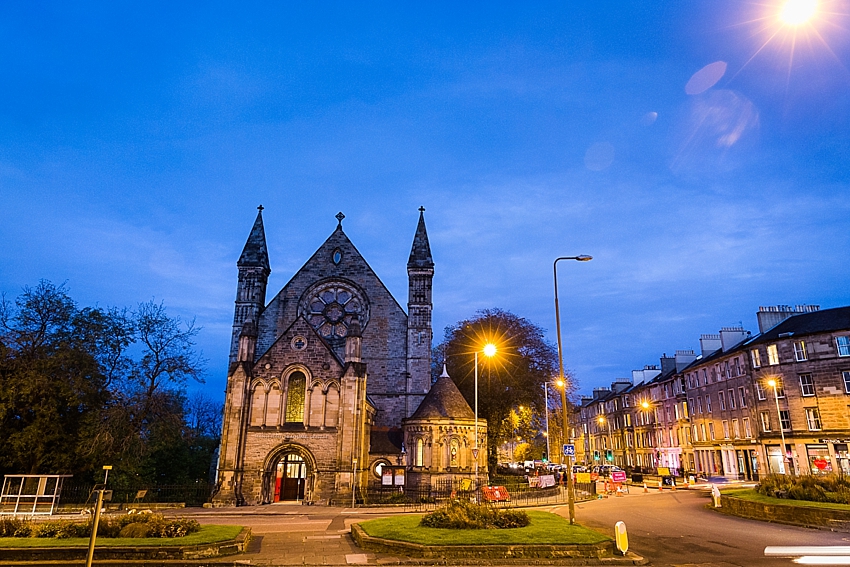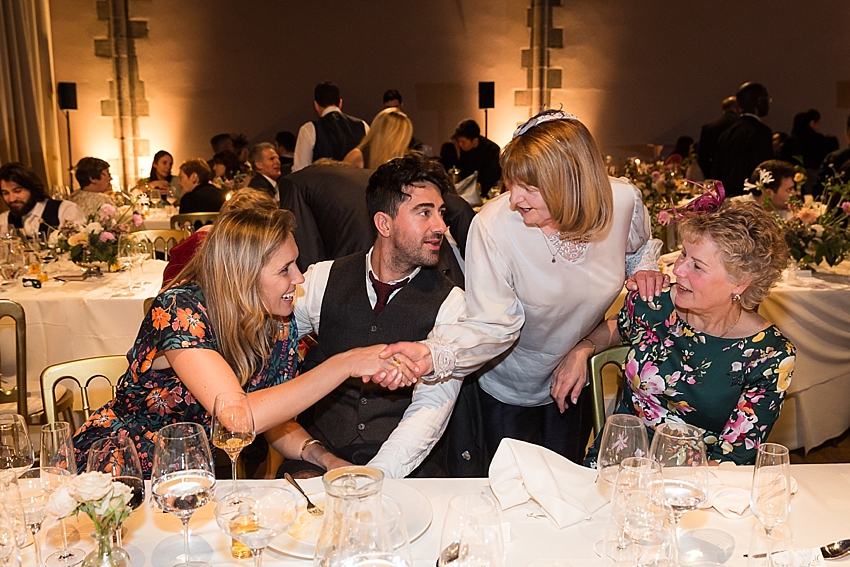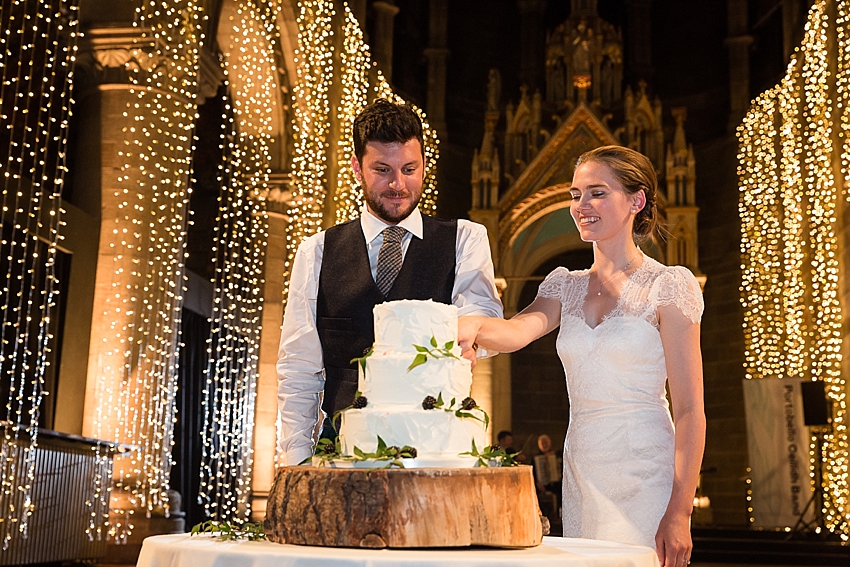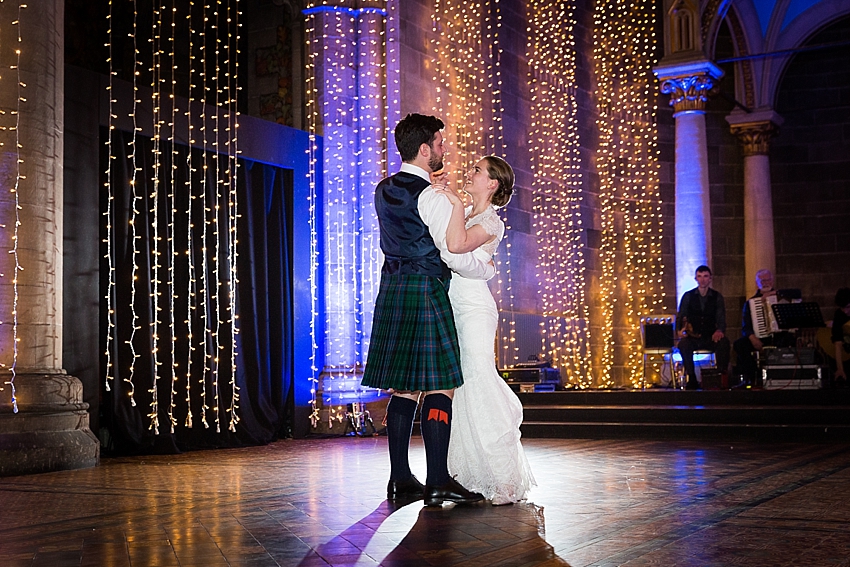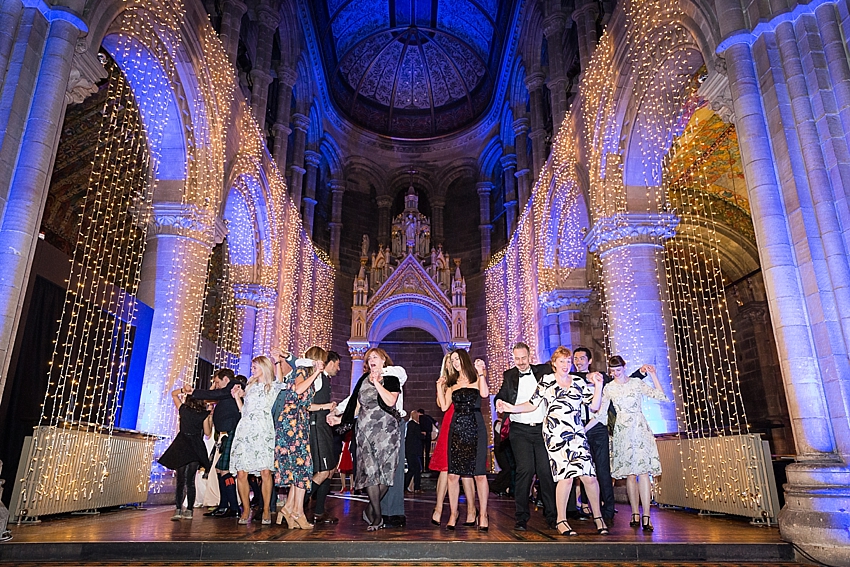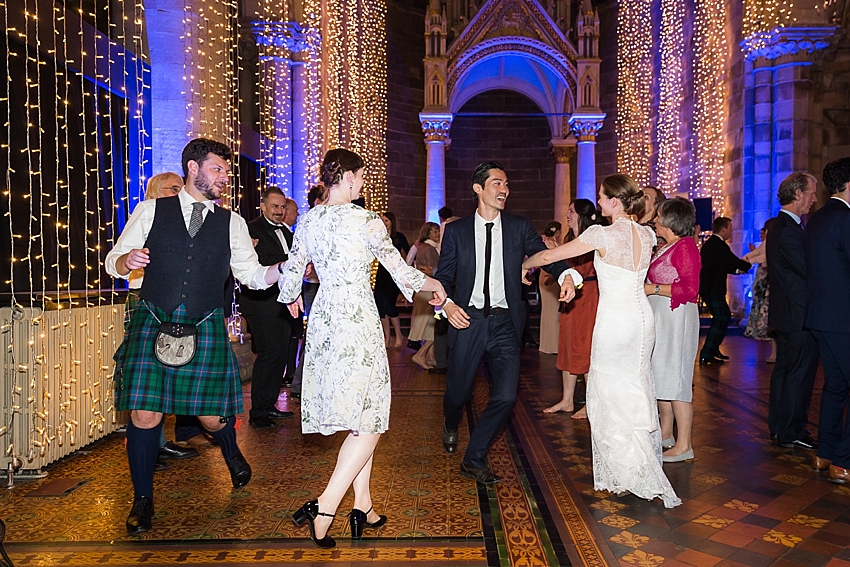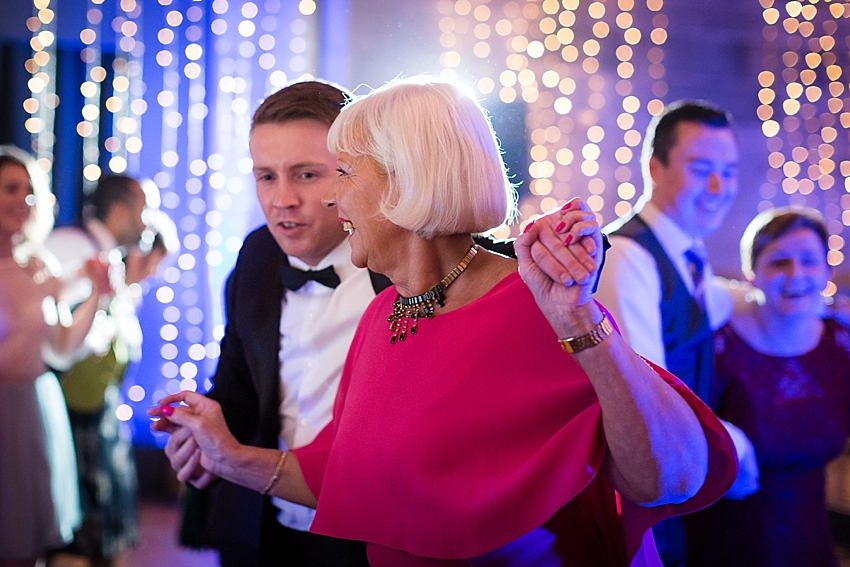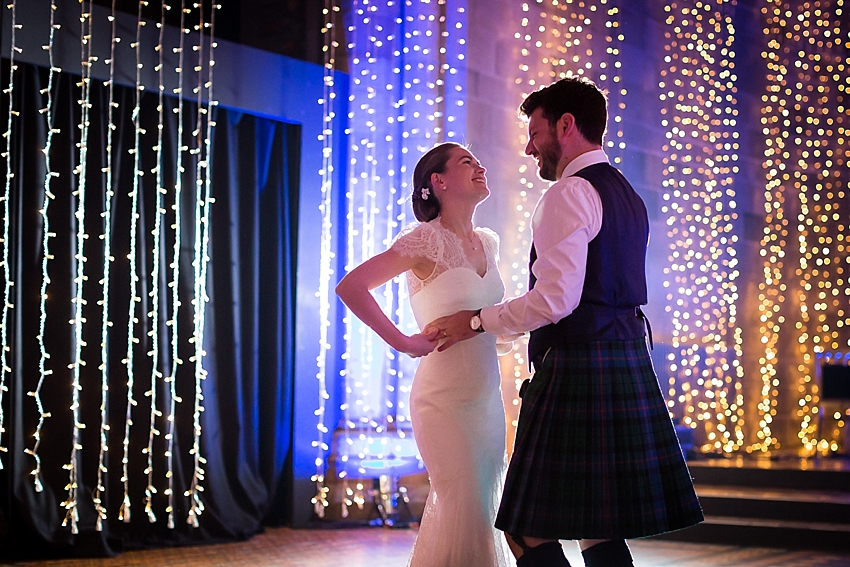 Lynsey and Ewan, we loved capturing your gorgeous wedding! We wish you lots of happiness and excitement in your marriage and in your new international adventure!
Ditte & Chris
Venue: Mansfield Traquair
Wedding dress, bridesmaids dresses and mother-of-the-bride outfit: Freja Designer Dressmaking
Flowers: Hedgerow
Bridal Hair: Gwen Avinou
Music: Portobello ceilidh band and Korda String Quartet
Cake: Too Good To Eat
Posted on 30 September, 2018 by under
A beautiful autumnal Elie wedding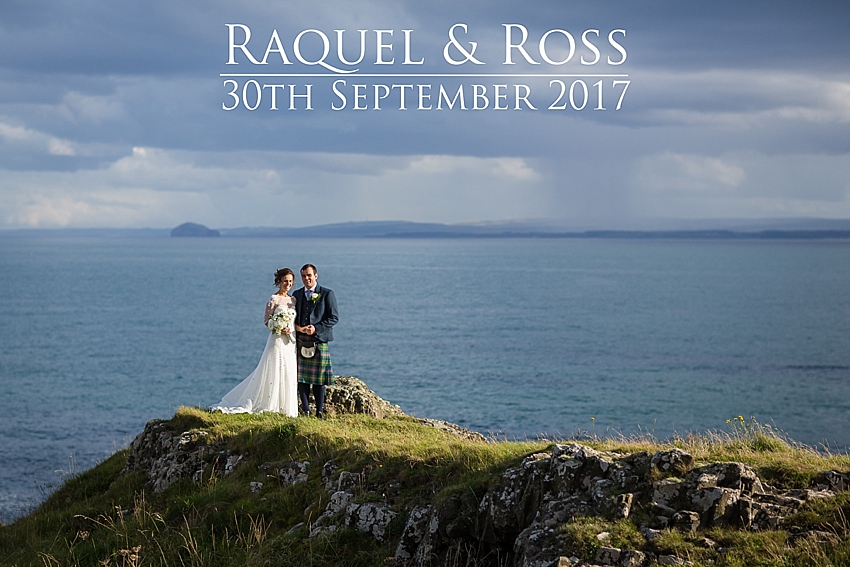 Presenting our favourite Scottish wedding destinations: Elie on the Fife coast.
Elie is a picturesque seaside resort, and the surrounding coastline make it a wonderful place to capture our couples against the dramatic backdrop of the Firth of Forth.
Raquel and Ross' wedding was a perfect case in point, we loved being able to capture them in big landscapes, dramatic light and such a beautiful setting, only one minute's walk from the road…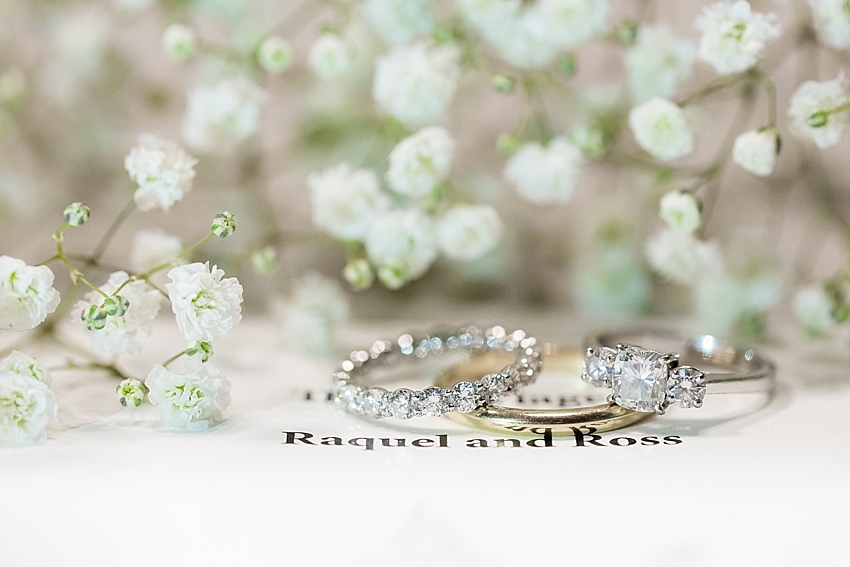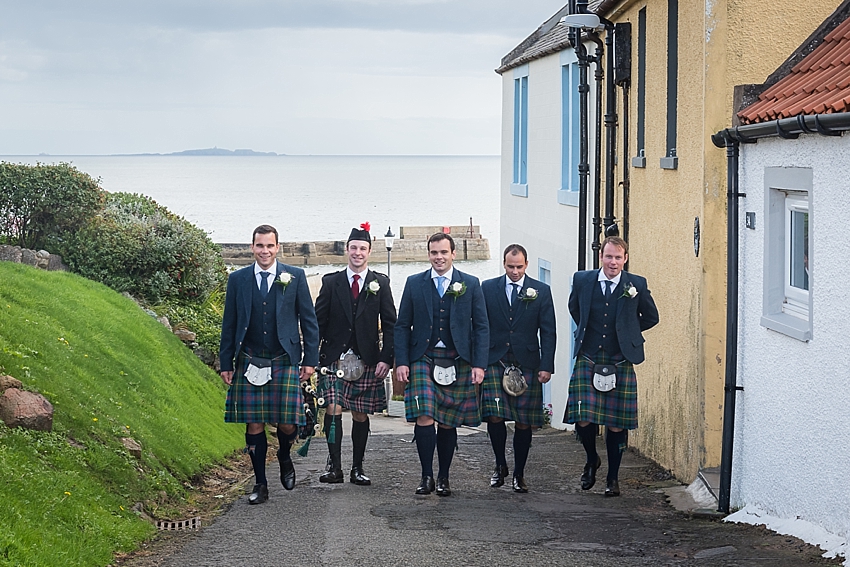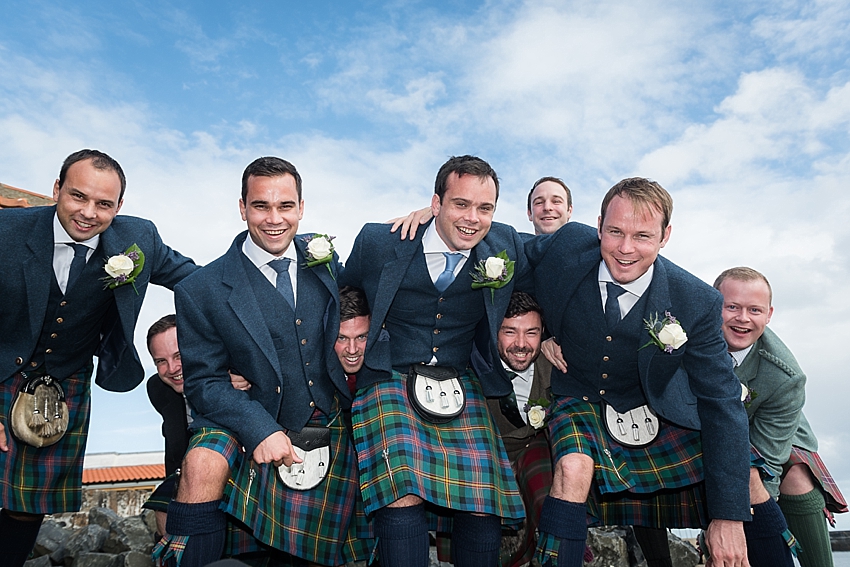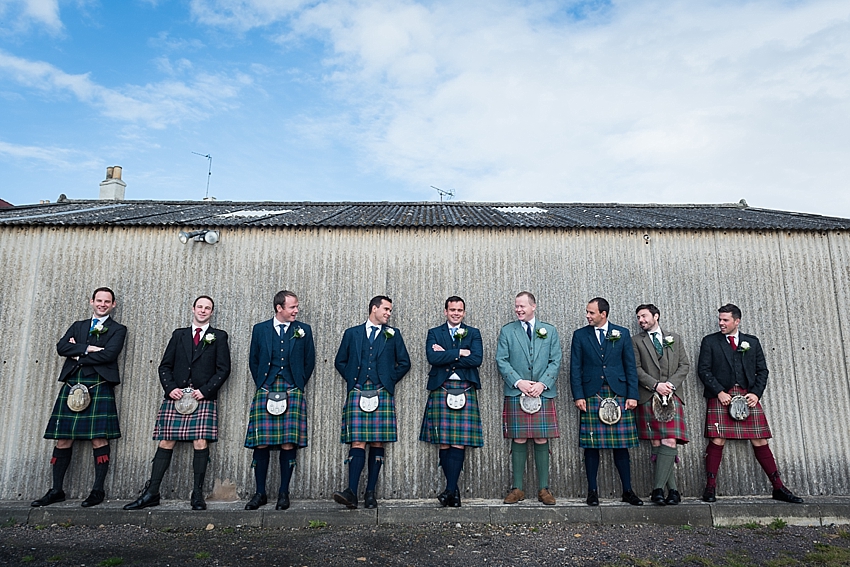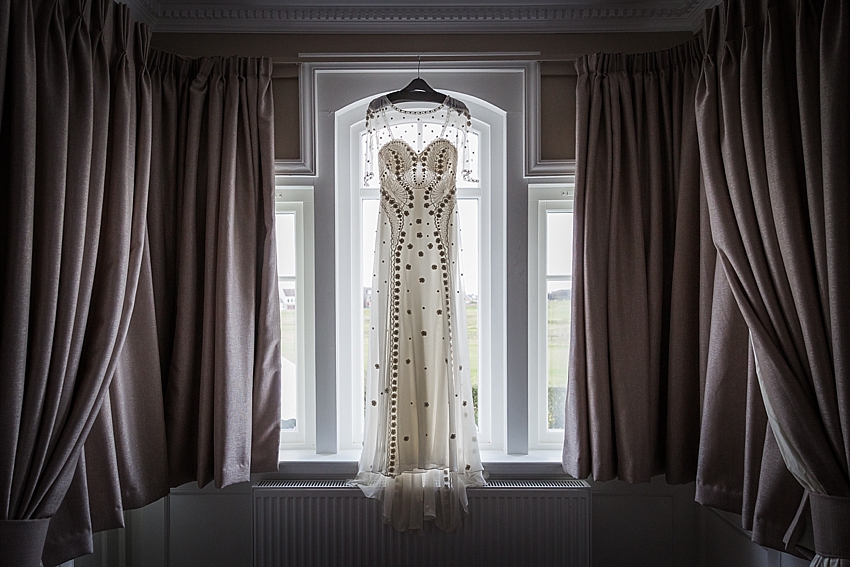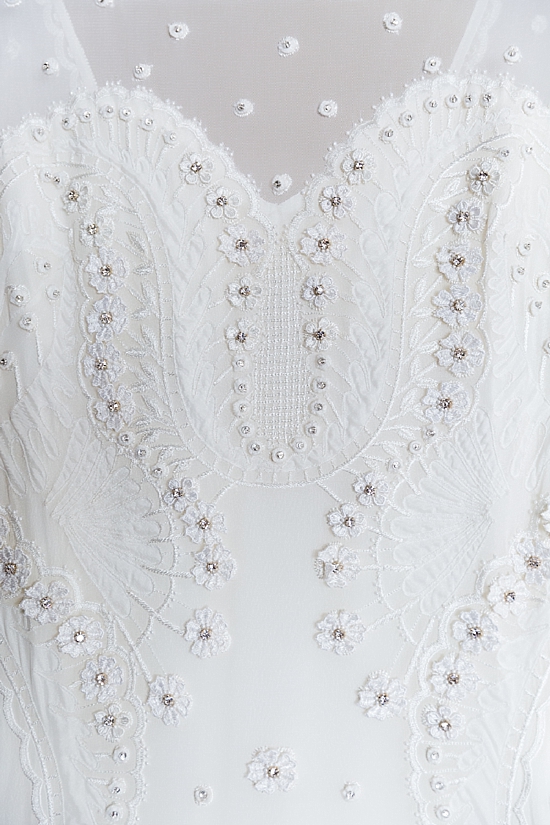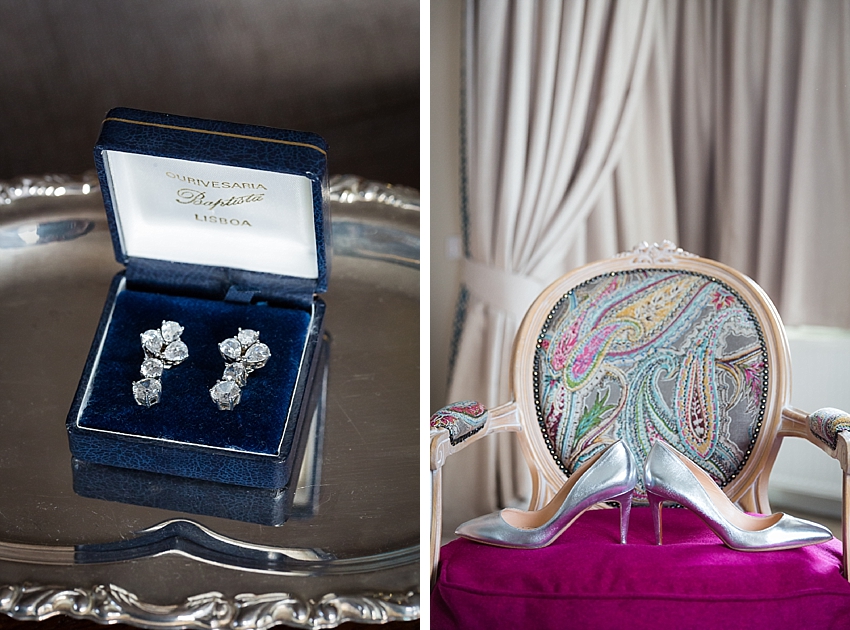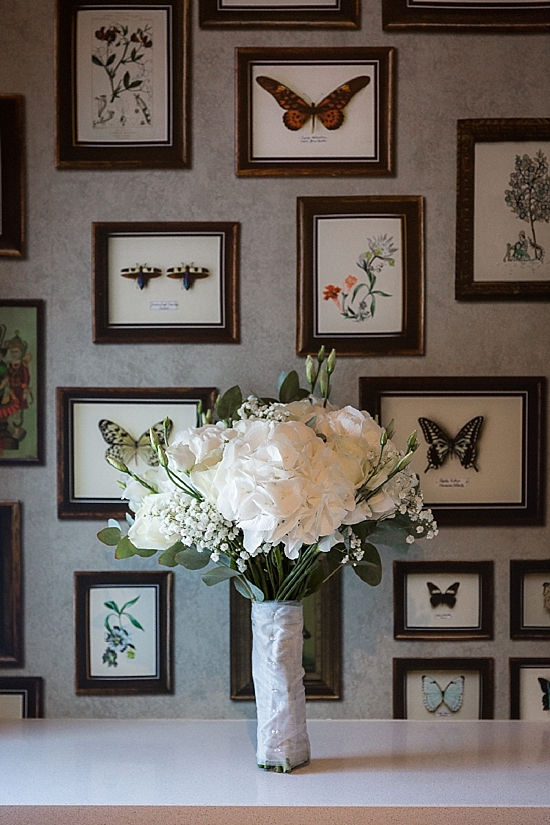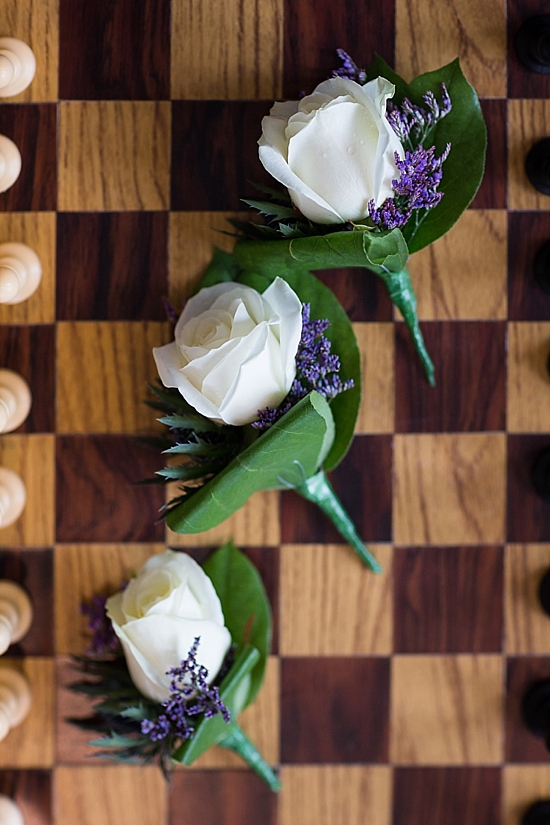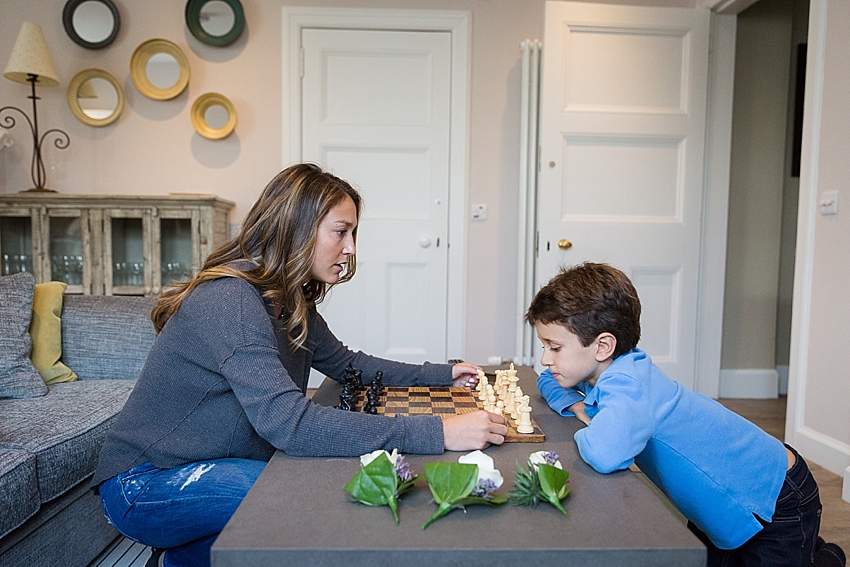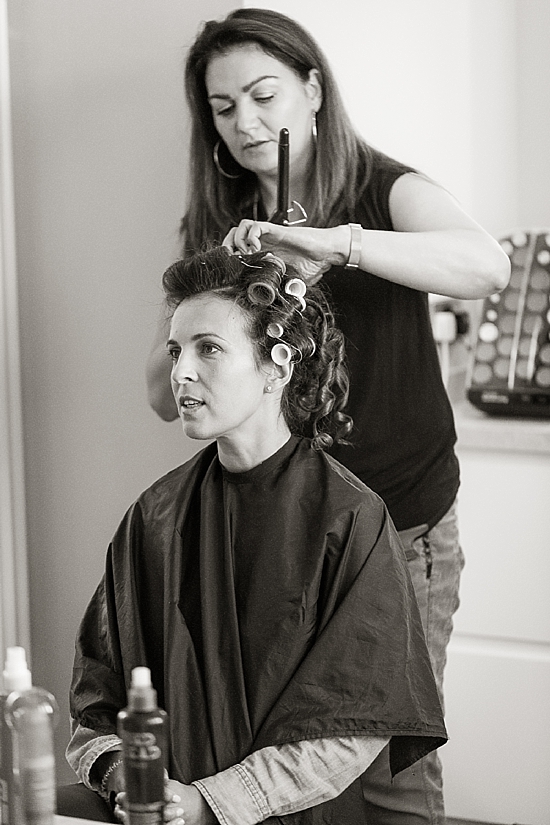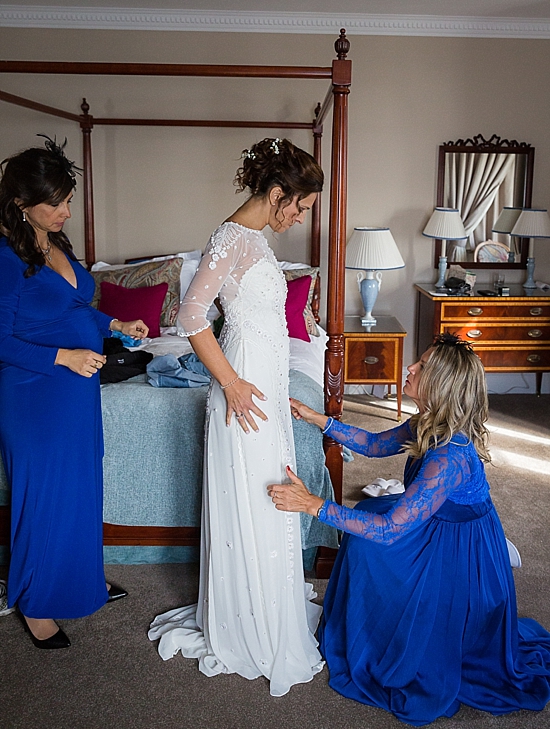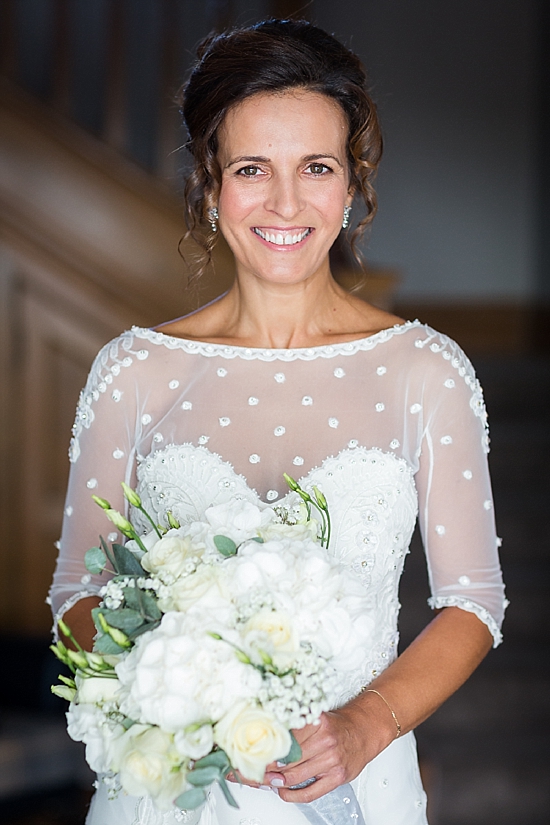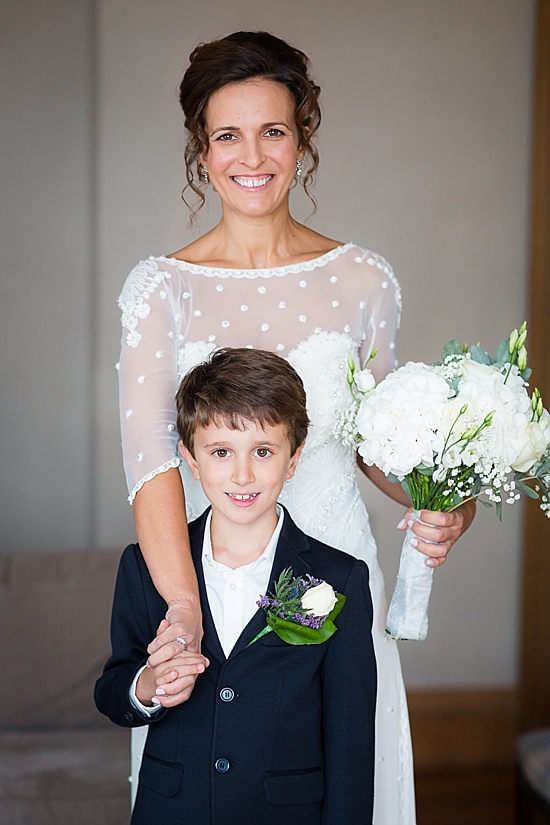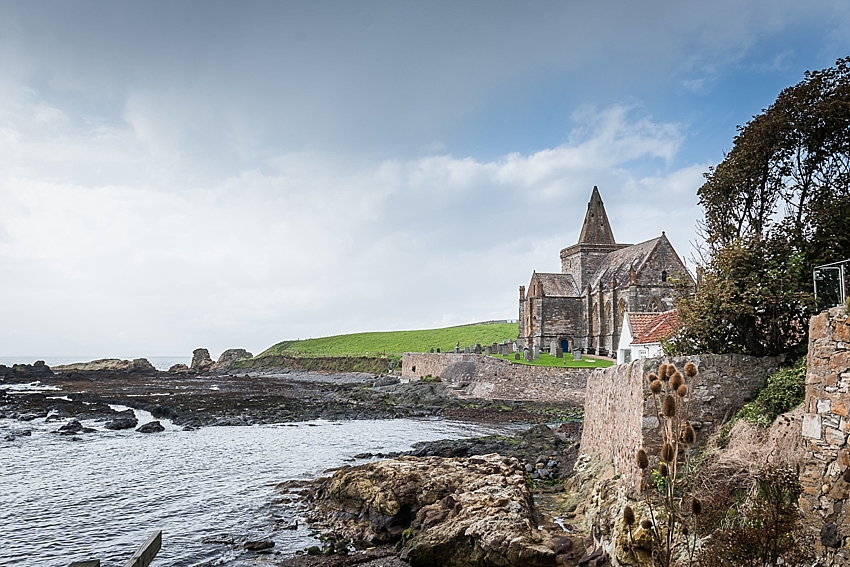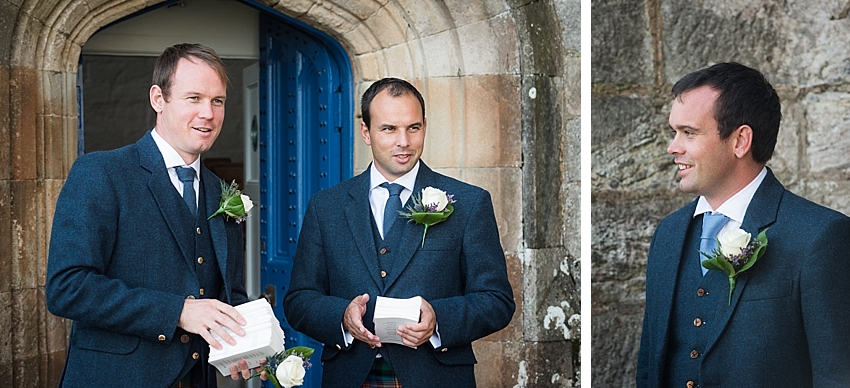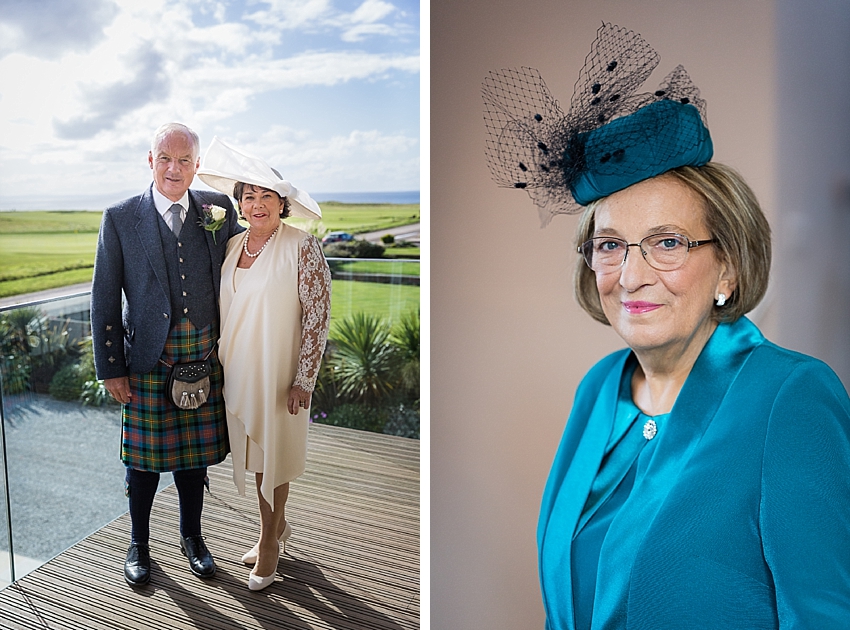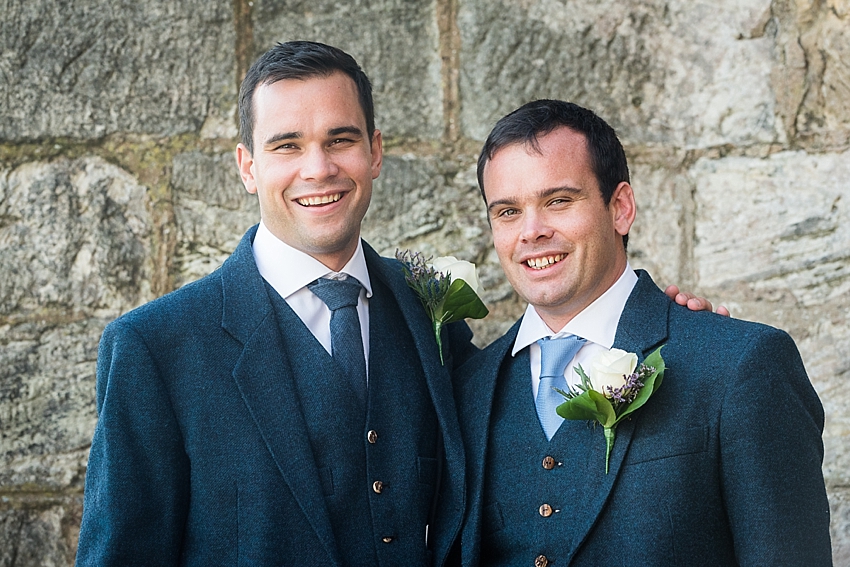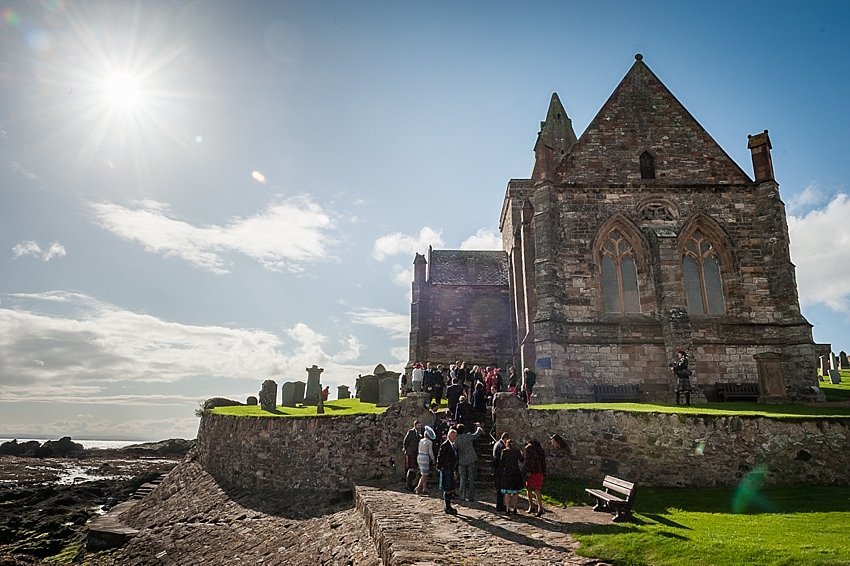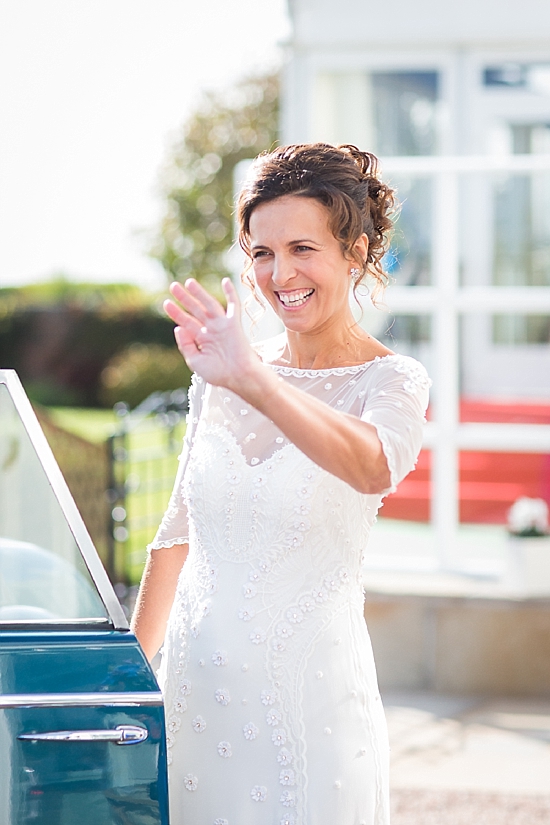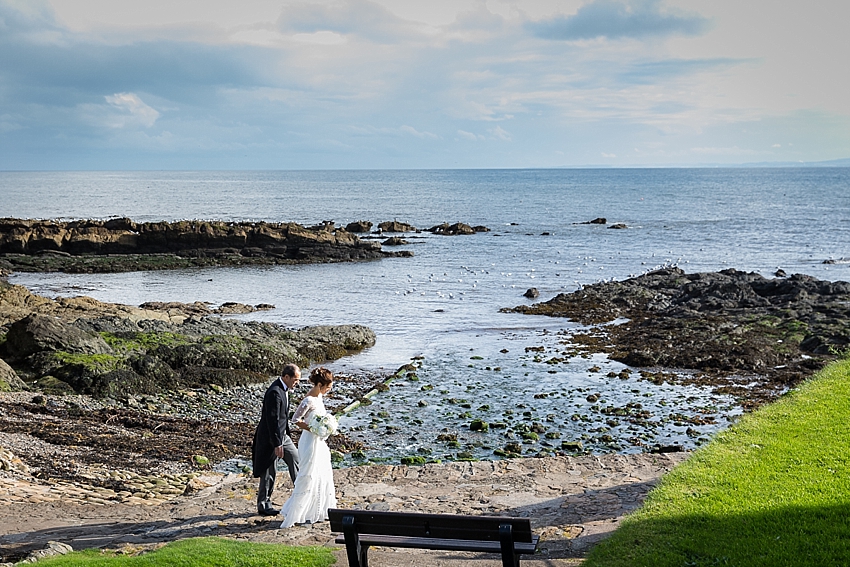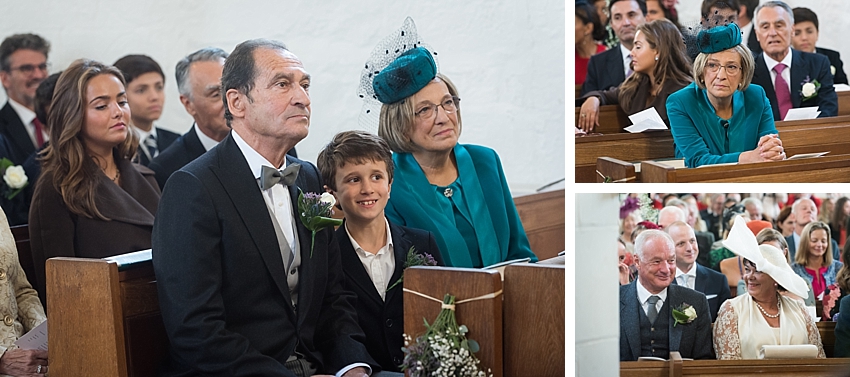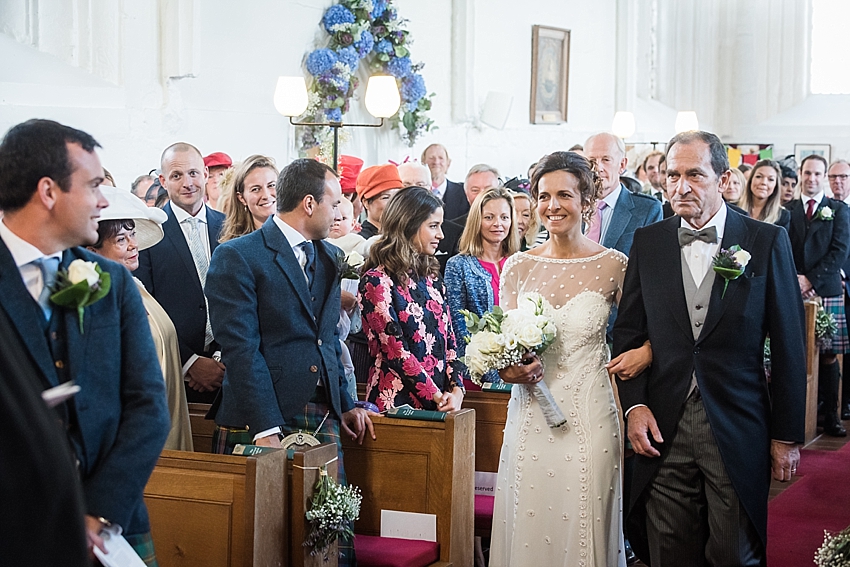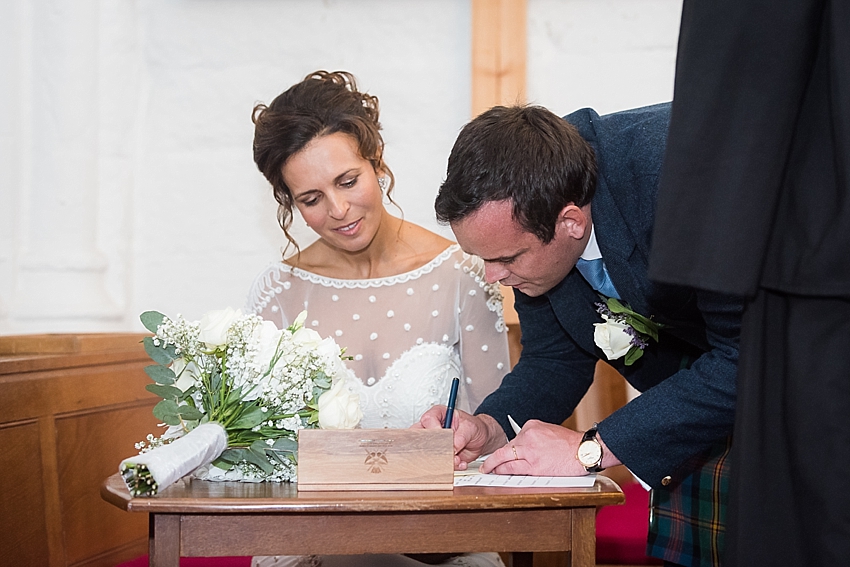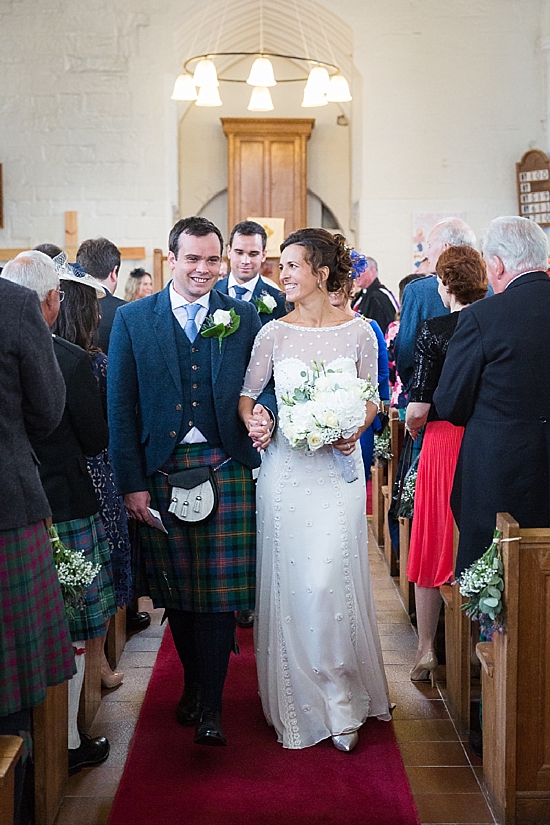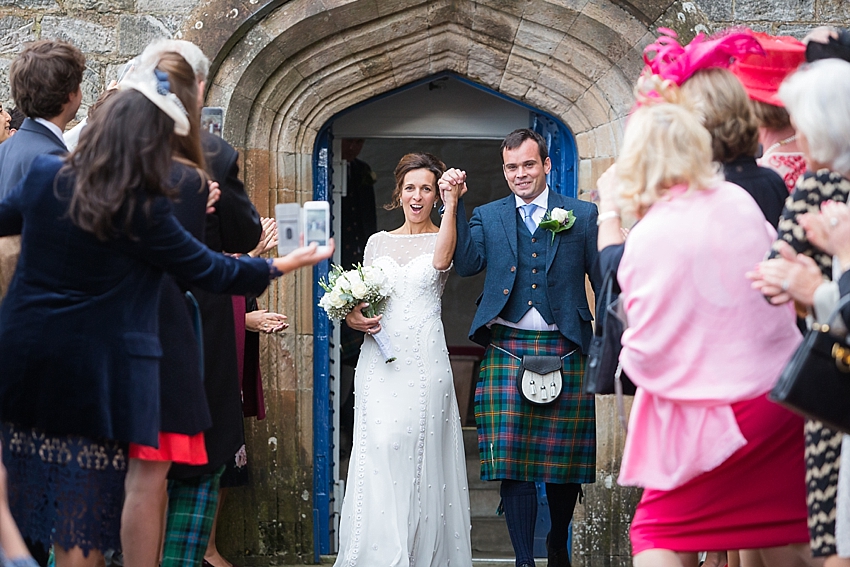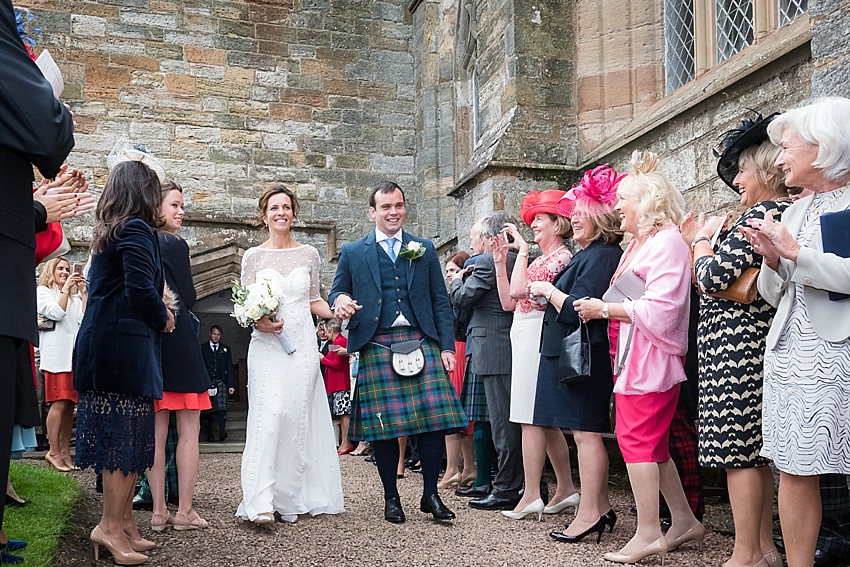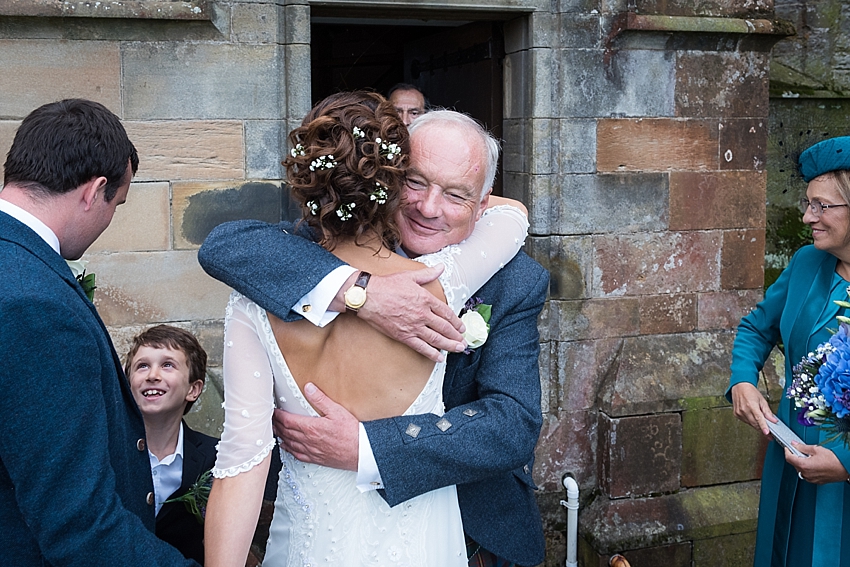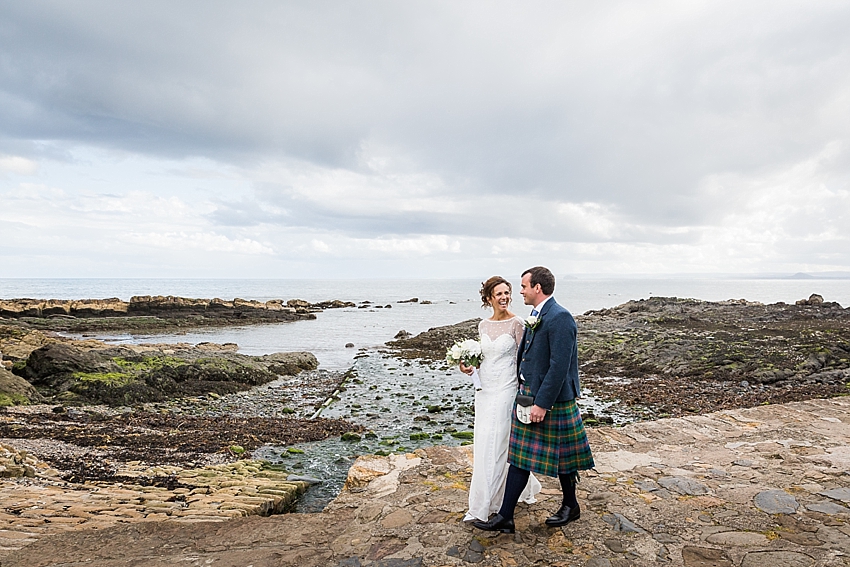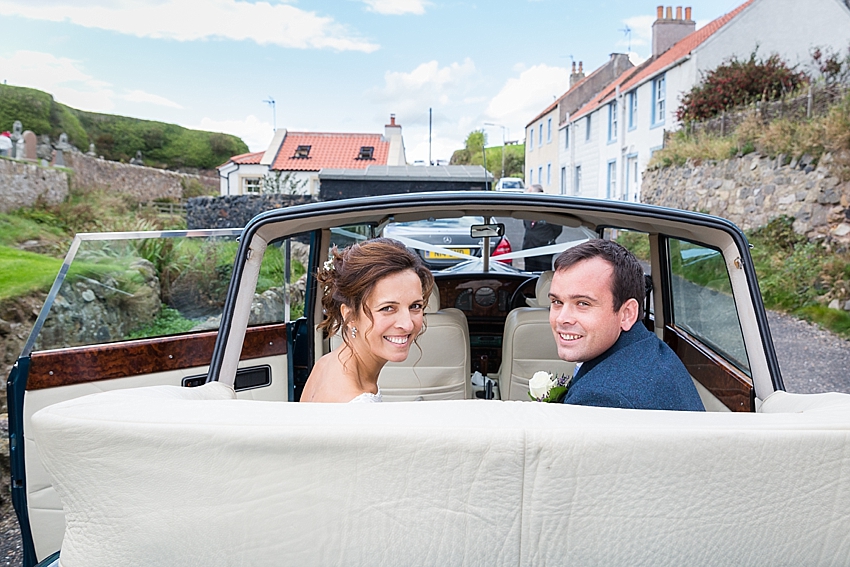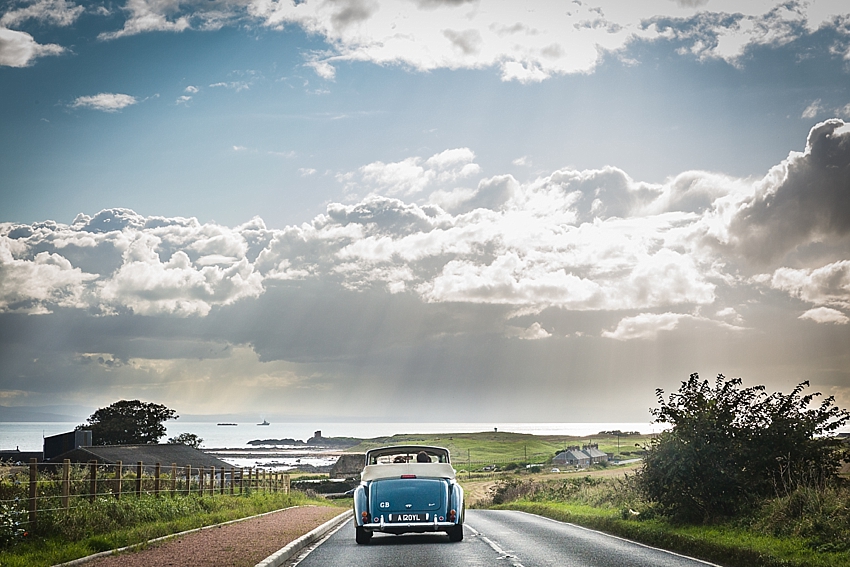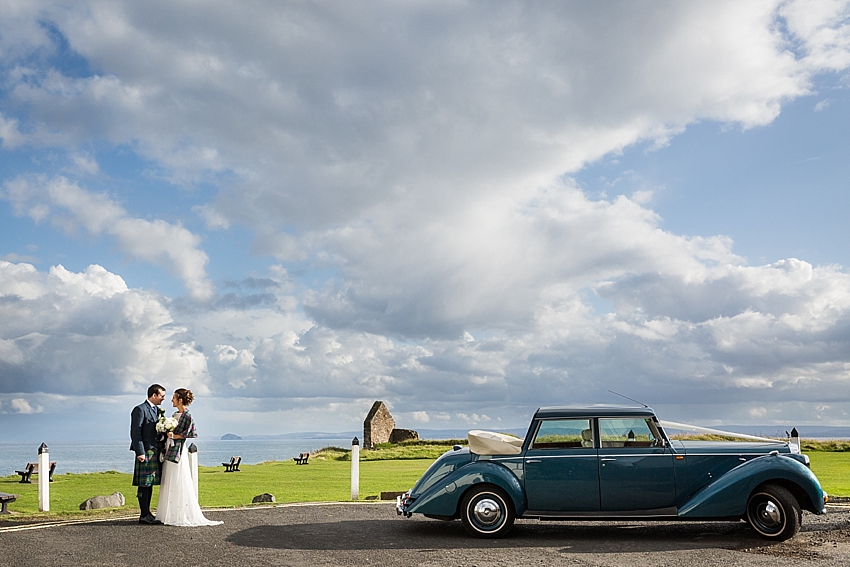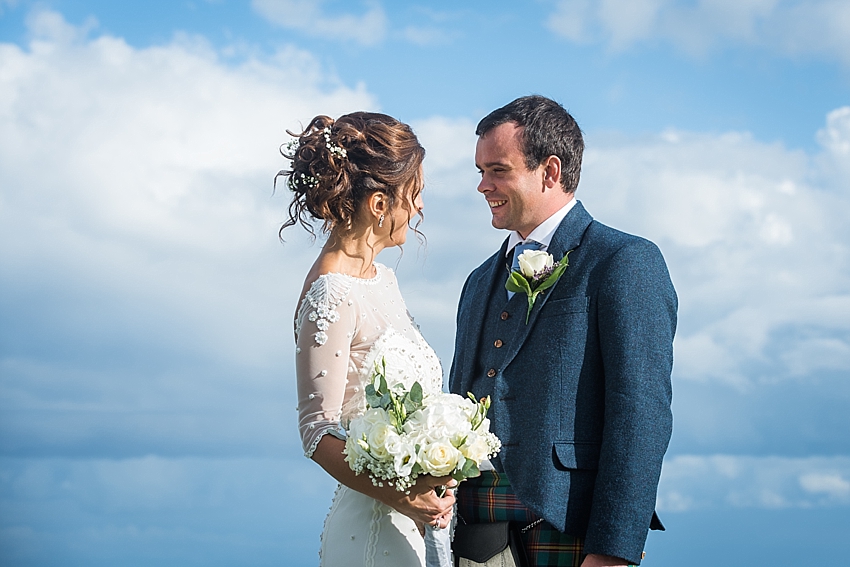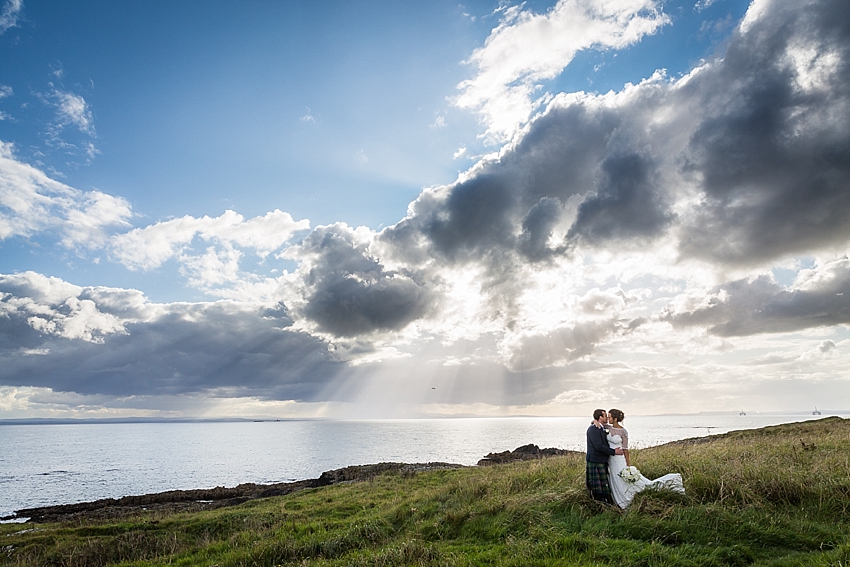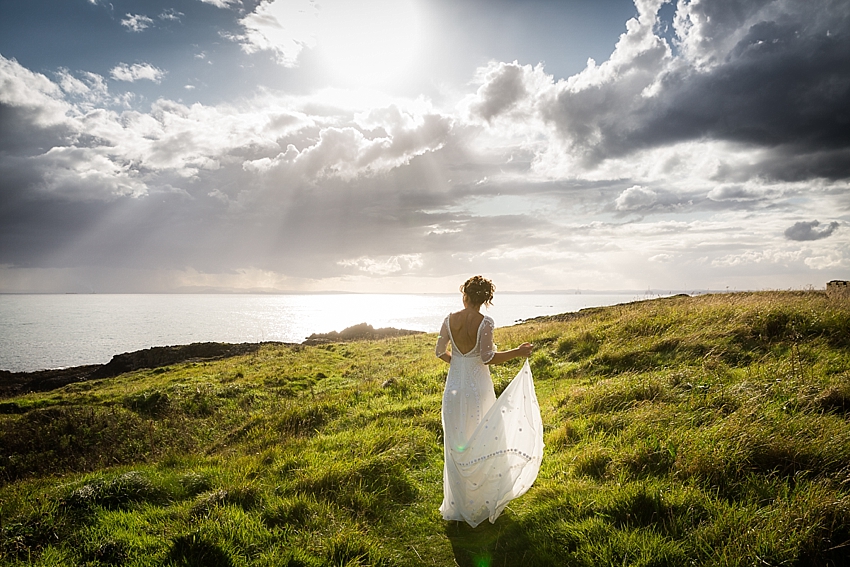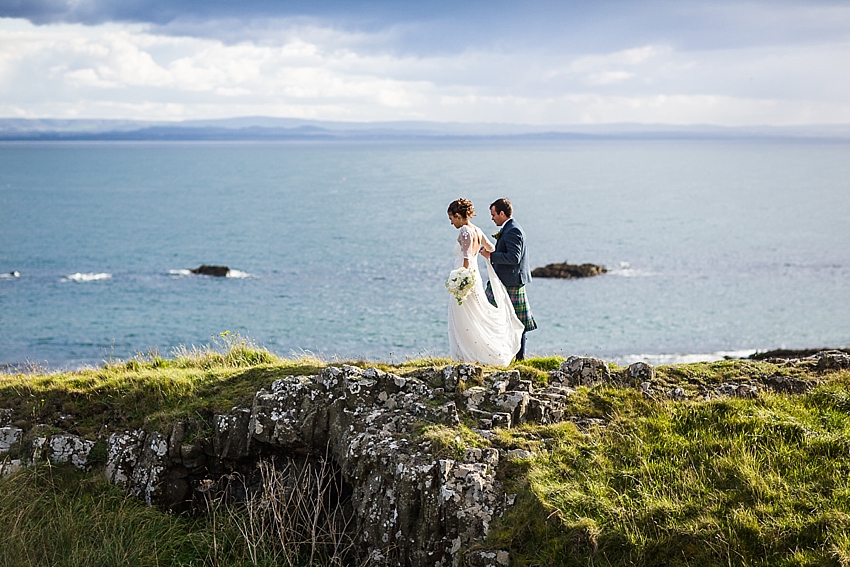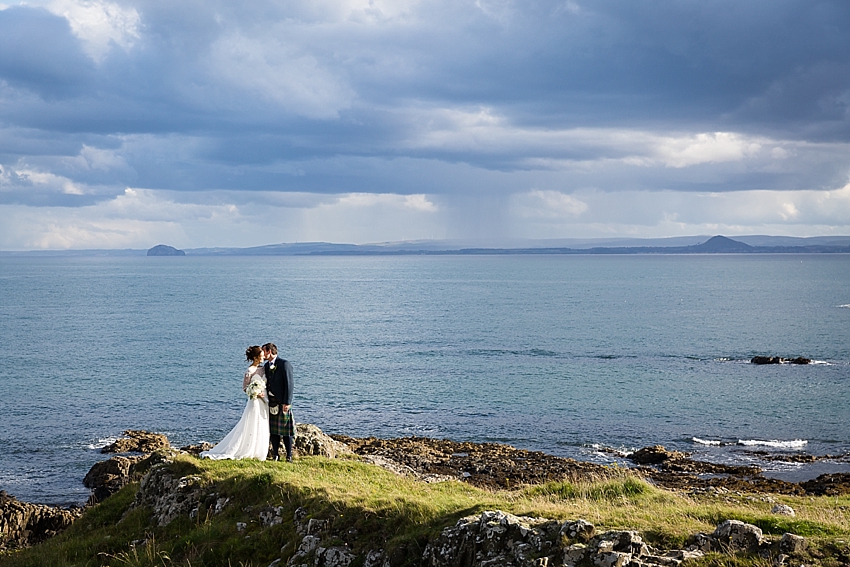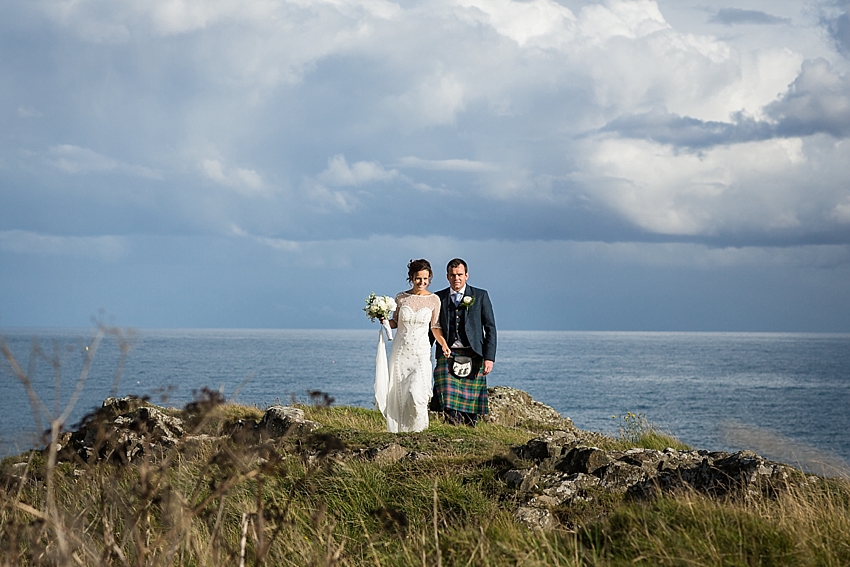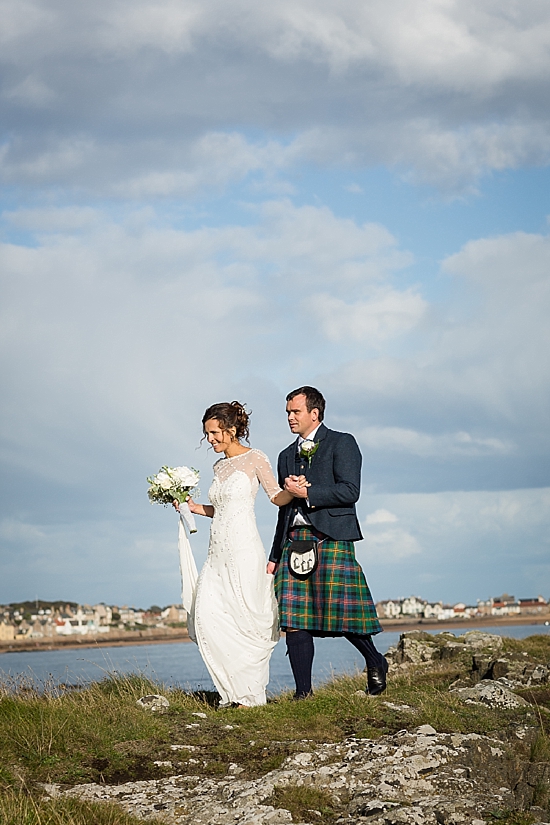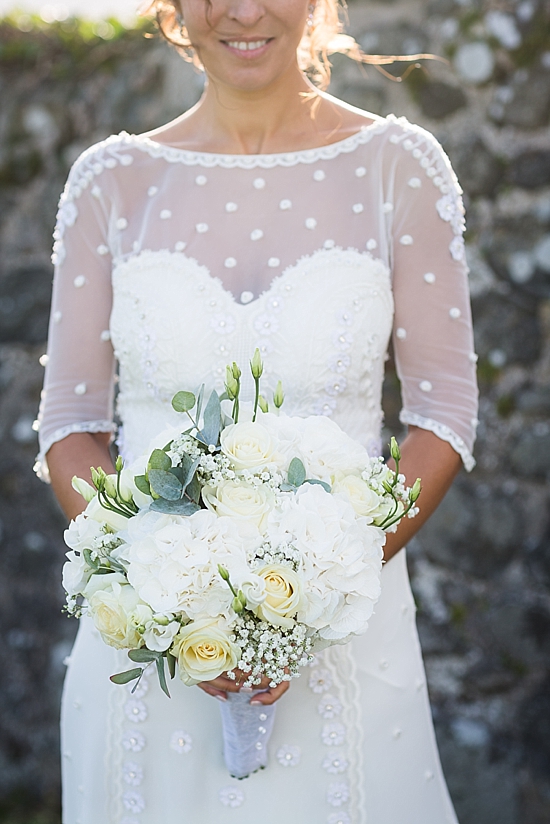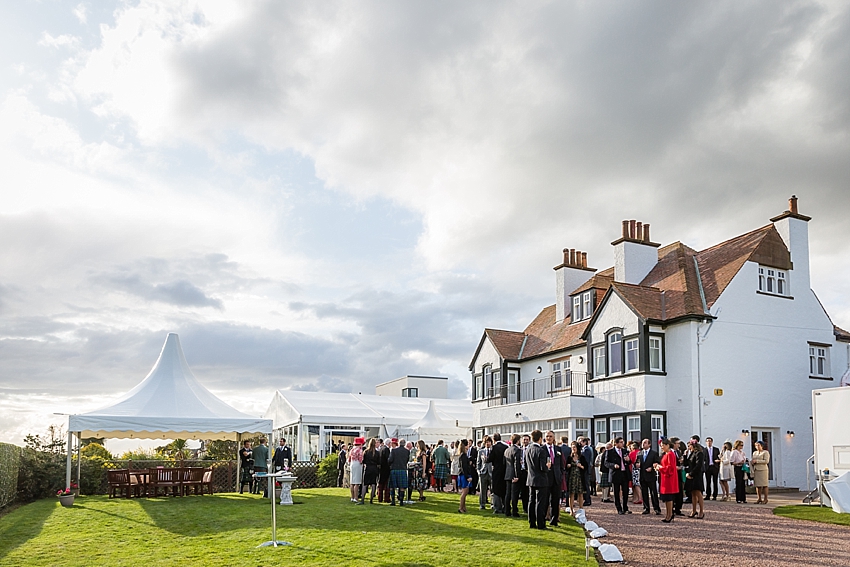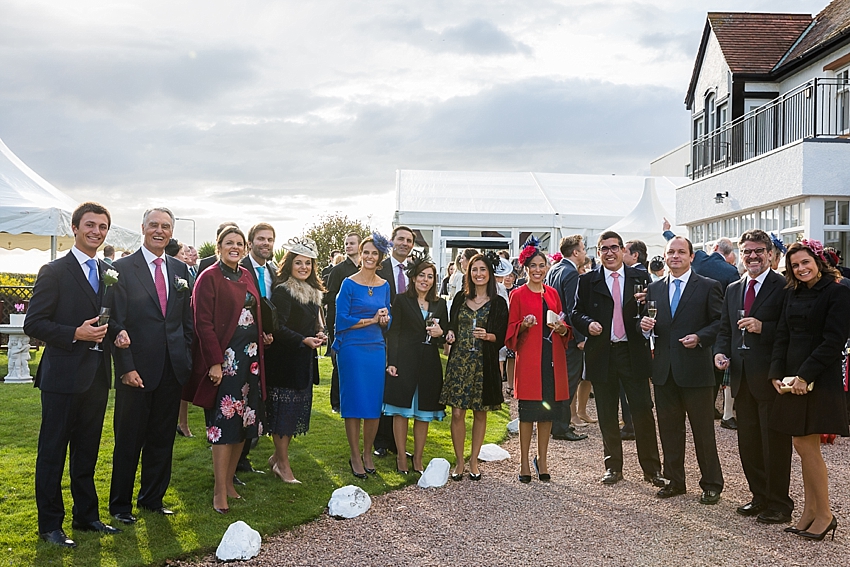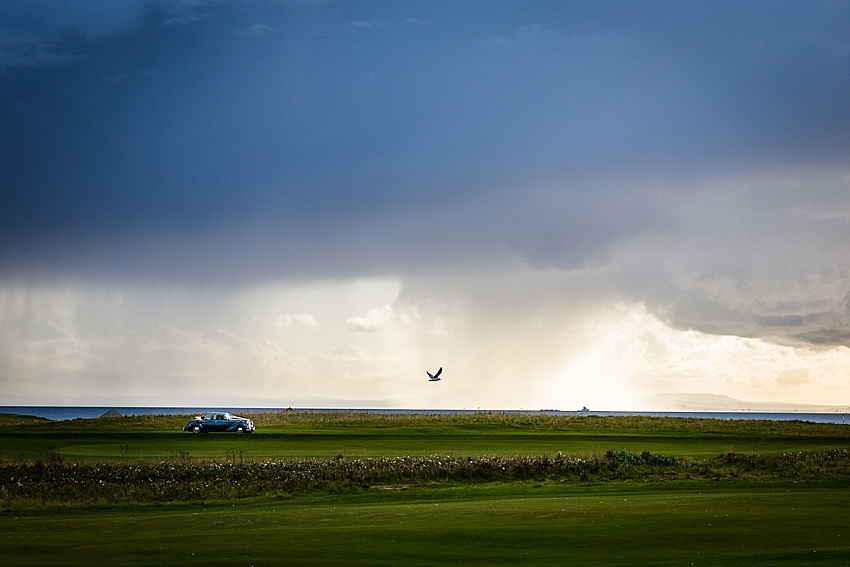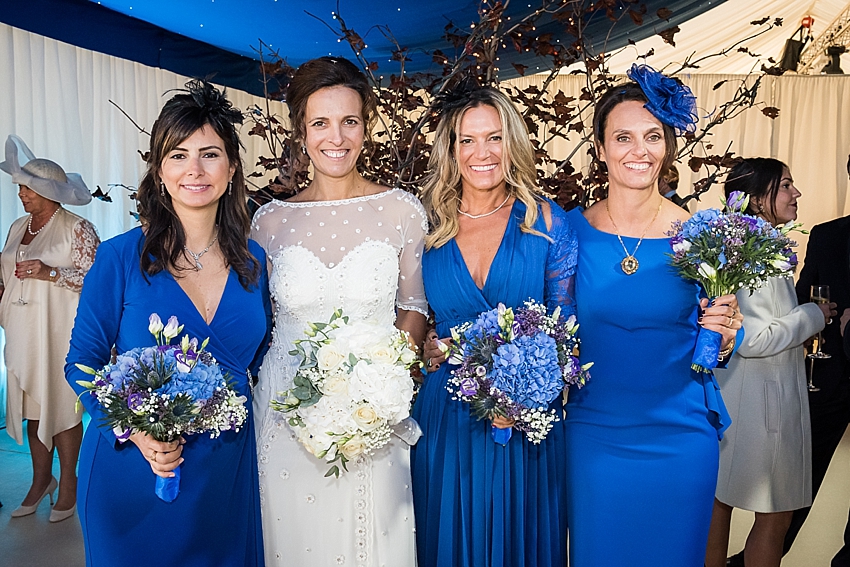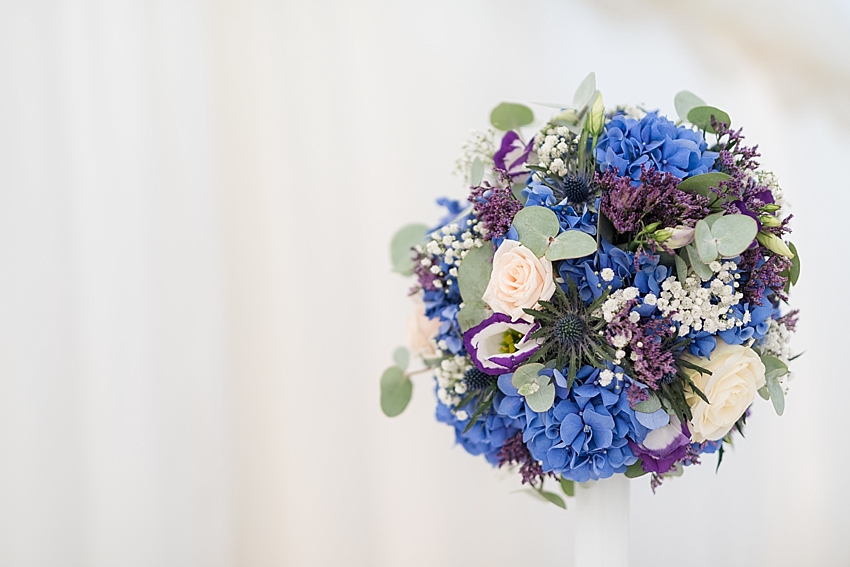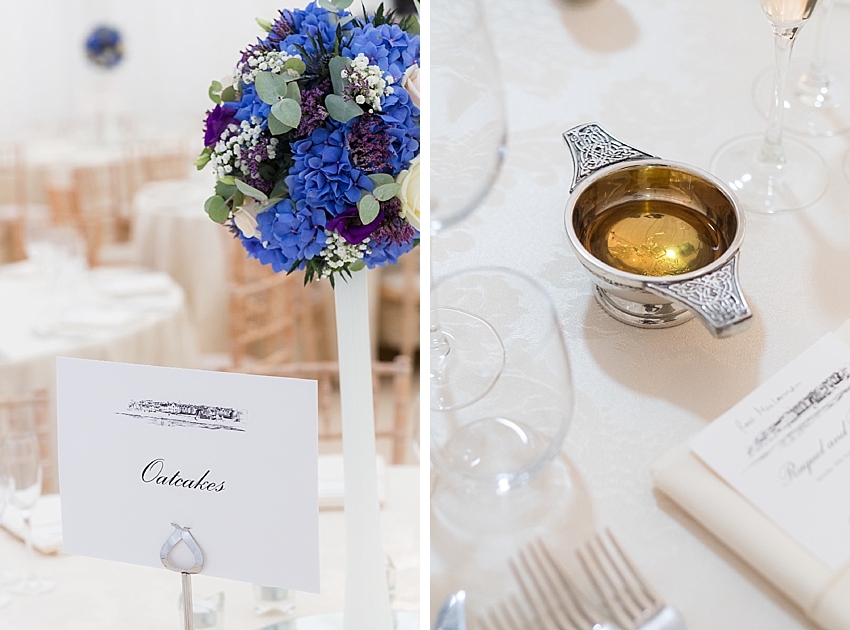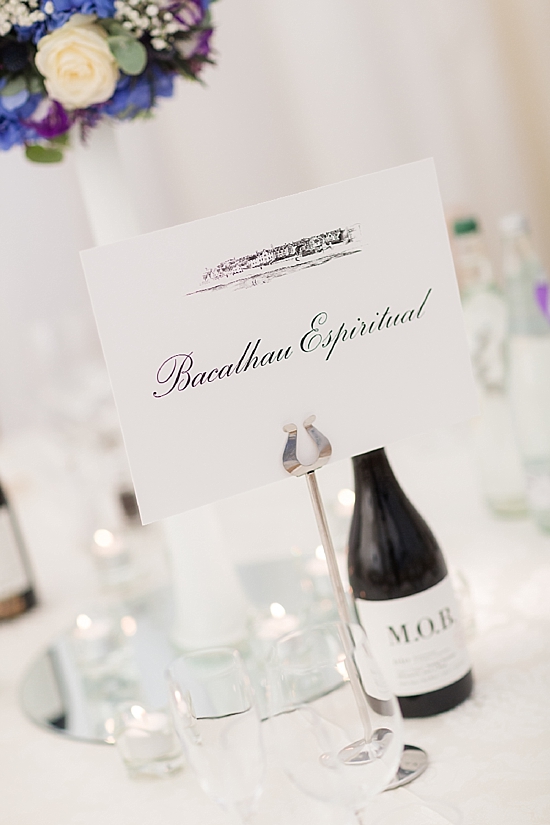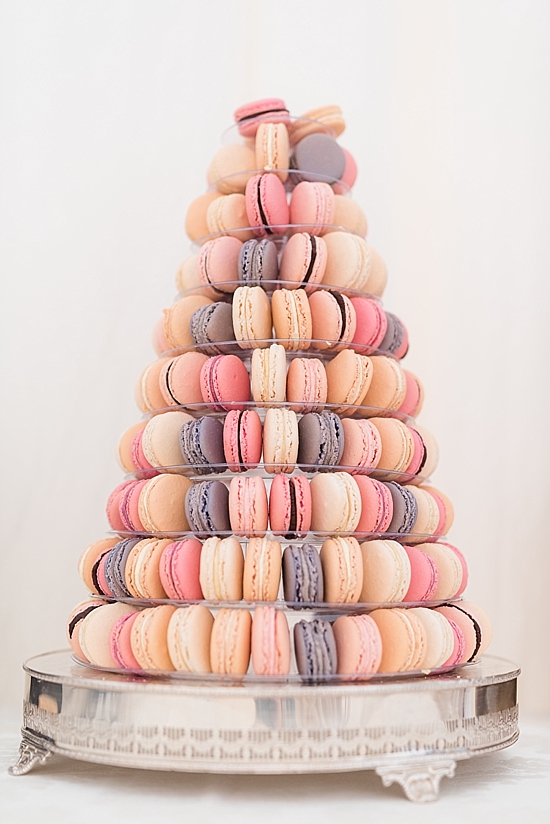 The couple's wedding cake took the form of a tower of macaroons in shades of violet, pink and cream.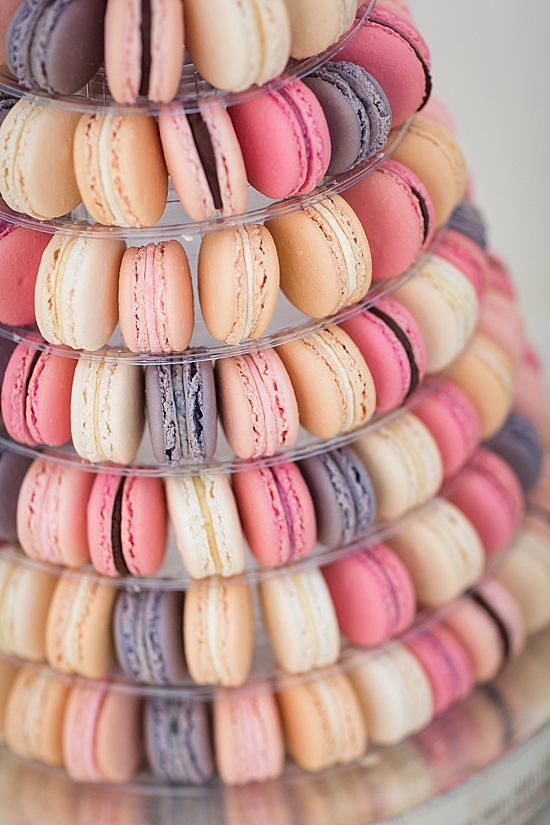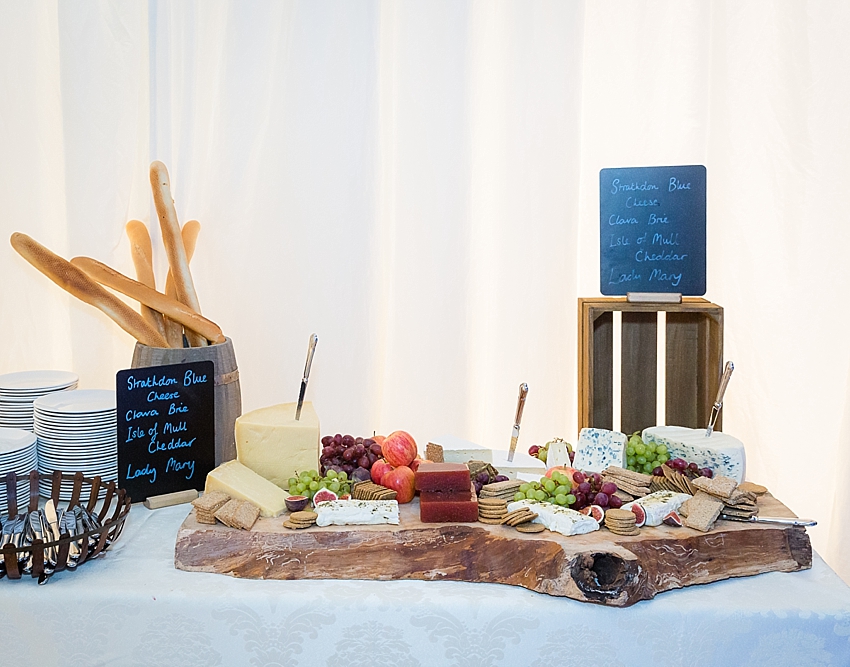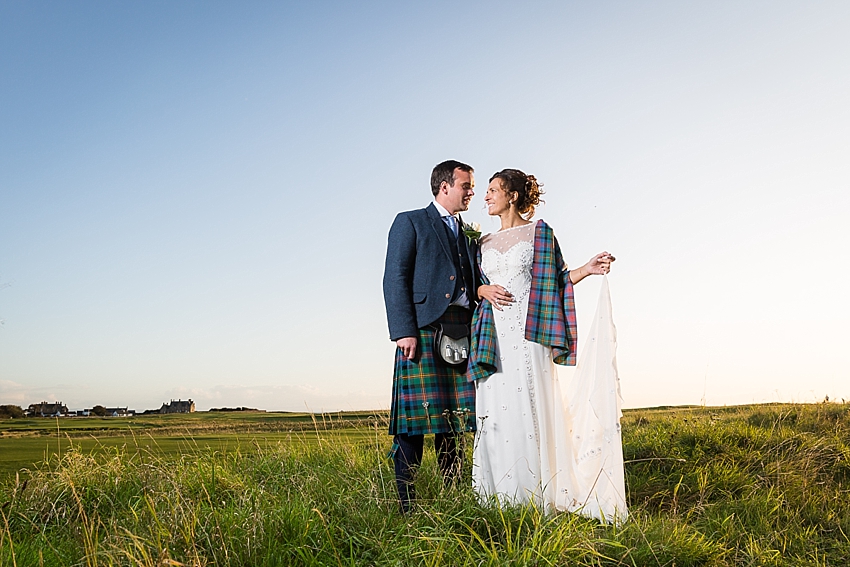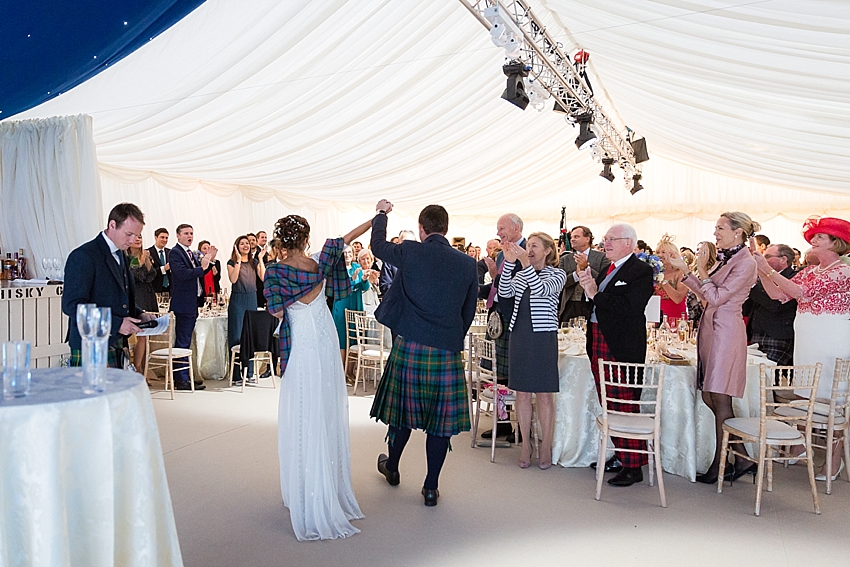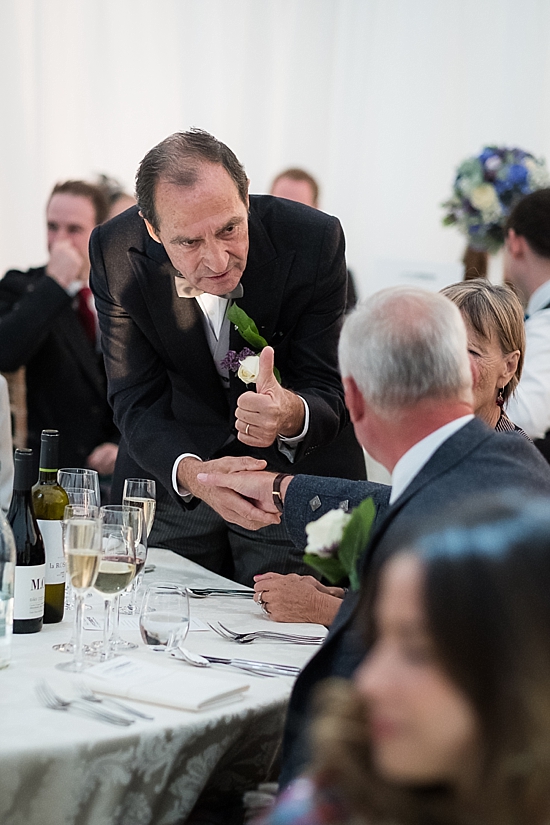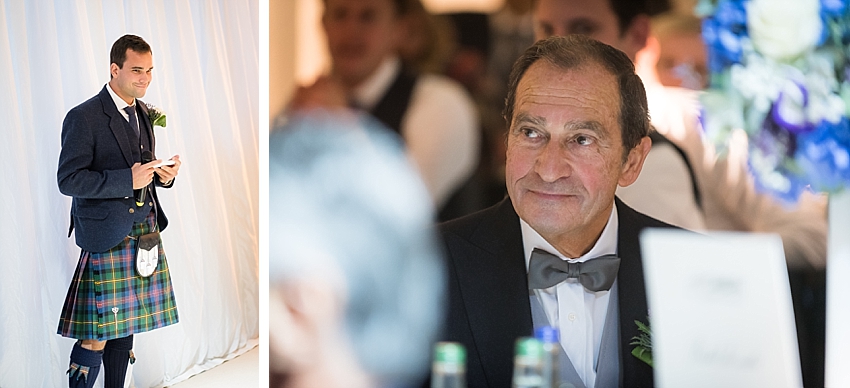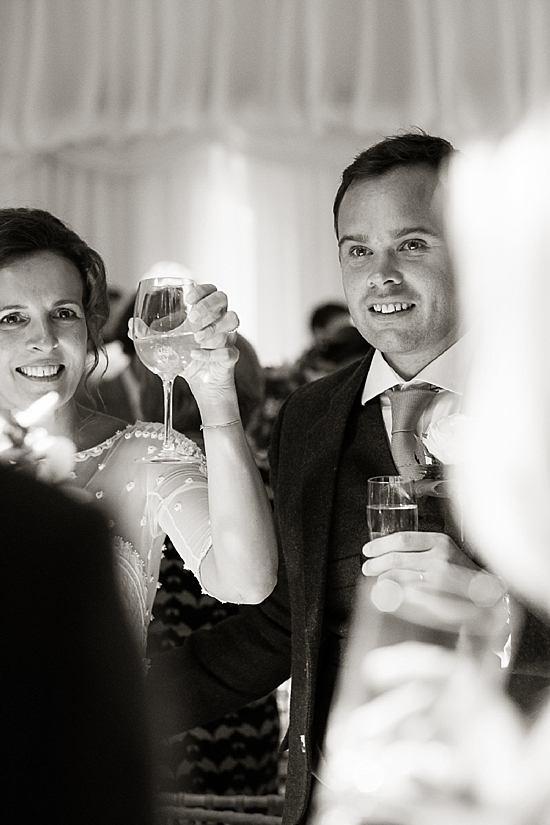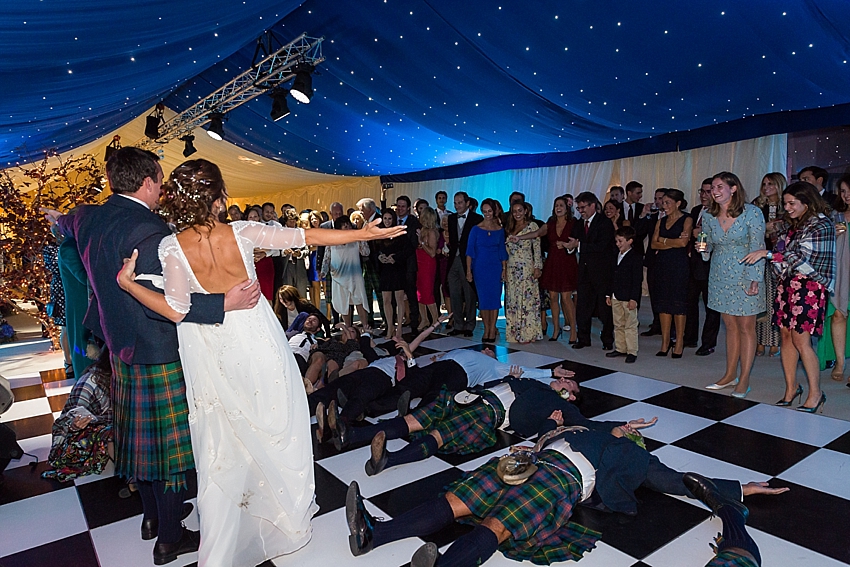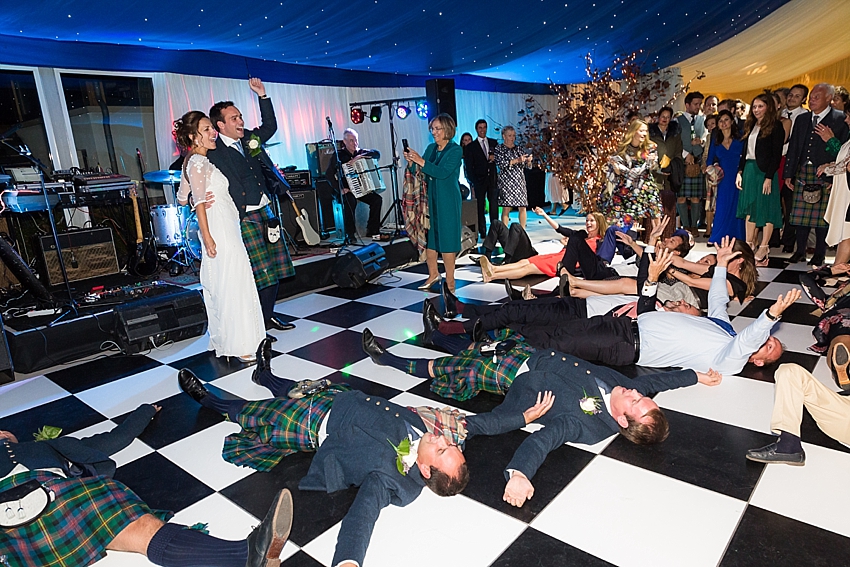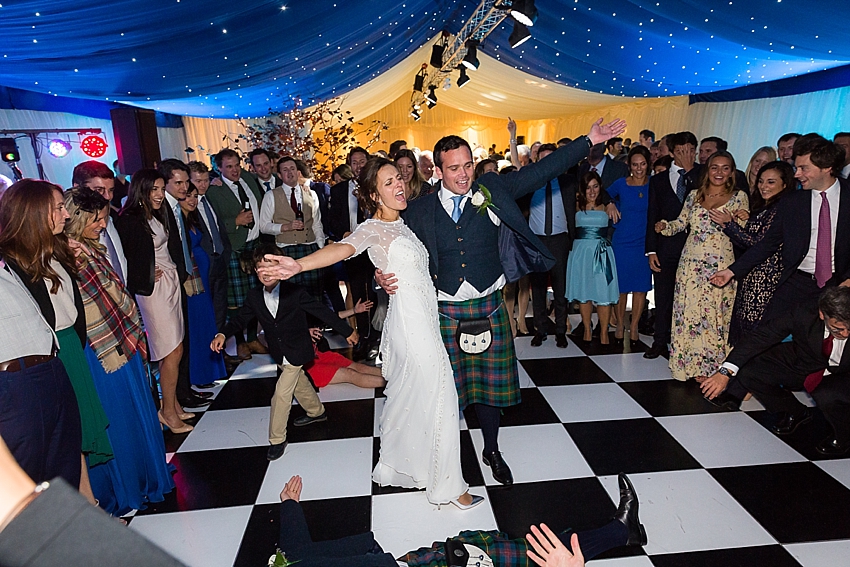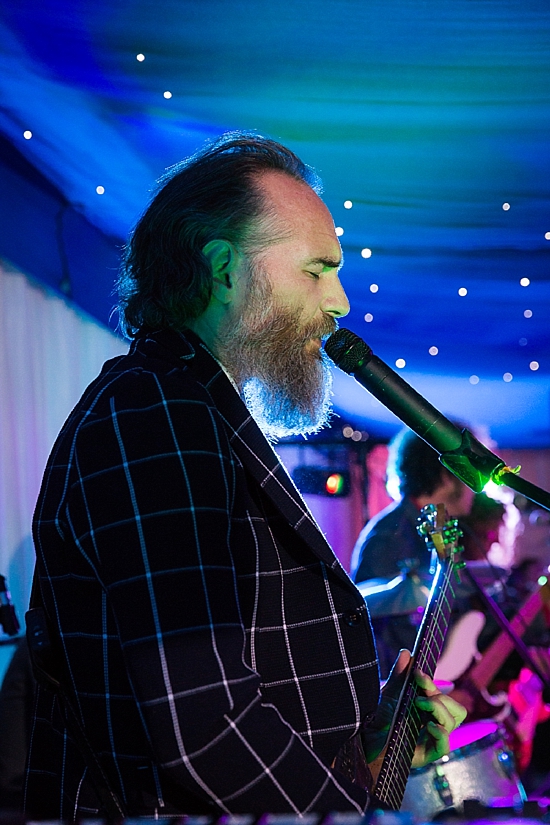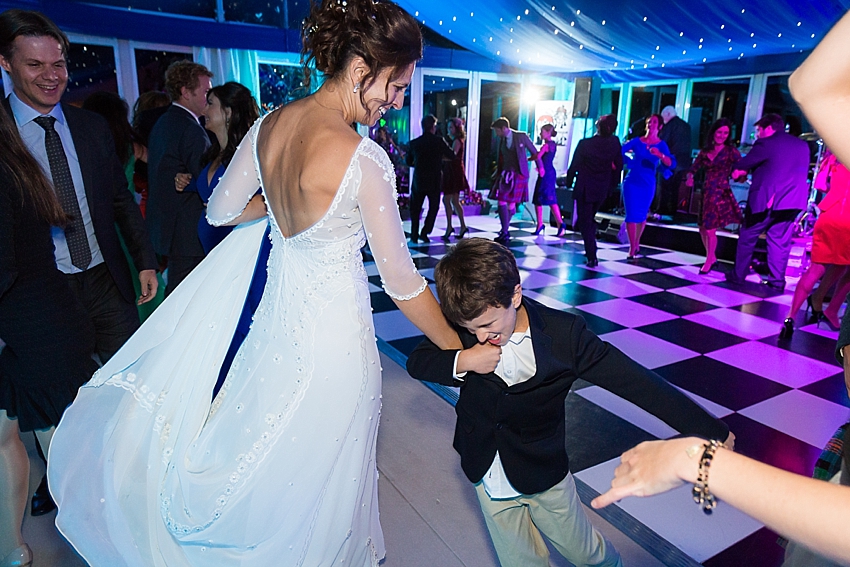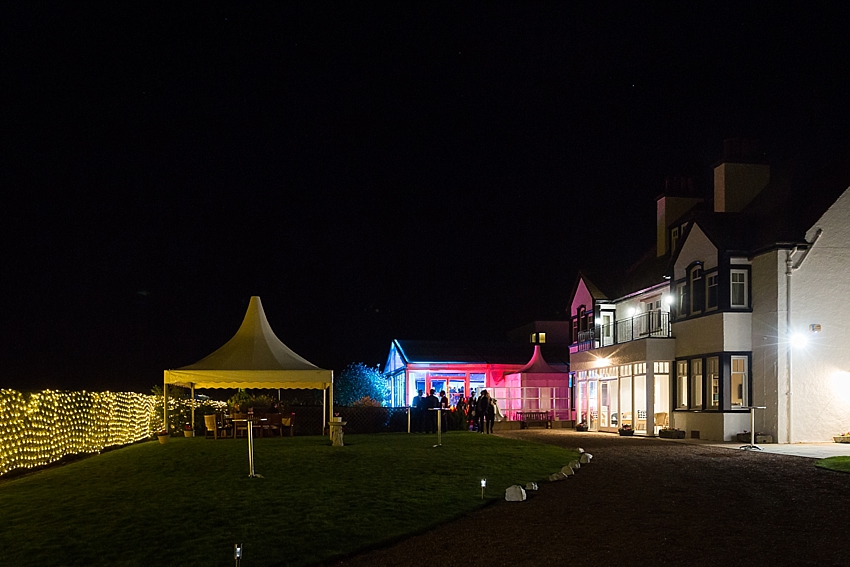 Thank you so much Raquel and Ross for choosing us to capture your wonderful day, and many congratulations on your first year of marriage also! We wish you the very best and hope our paths may cross again.
Raquel and Ross's wedding suppliers included:
Catering: Wilde Thyme
Marquee: Arc Marquees
Hair: McKenzie Hair Design
Makeup: Lynn, EyeCandy
Lighting: Arkwright